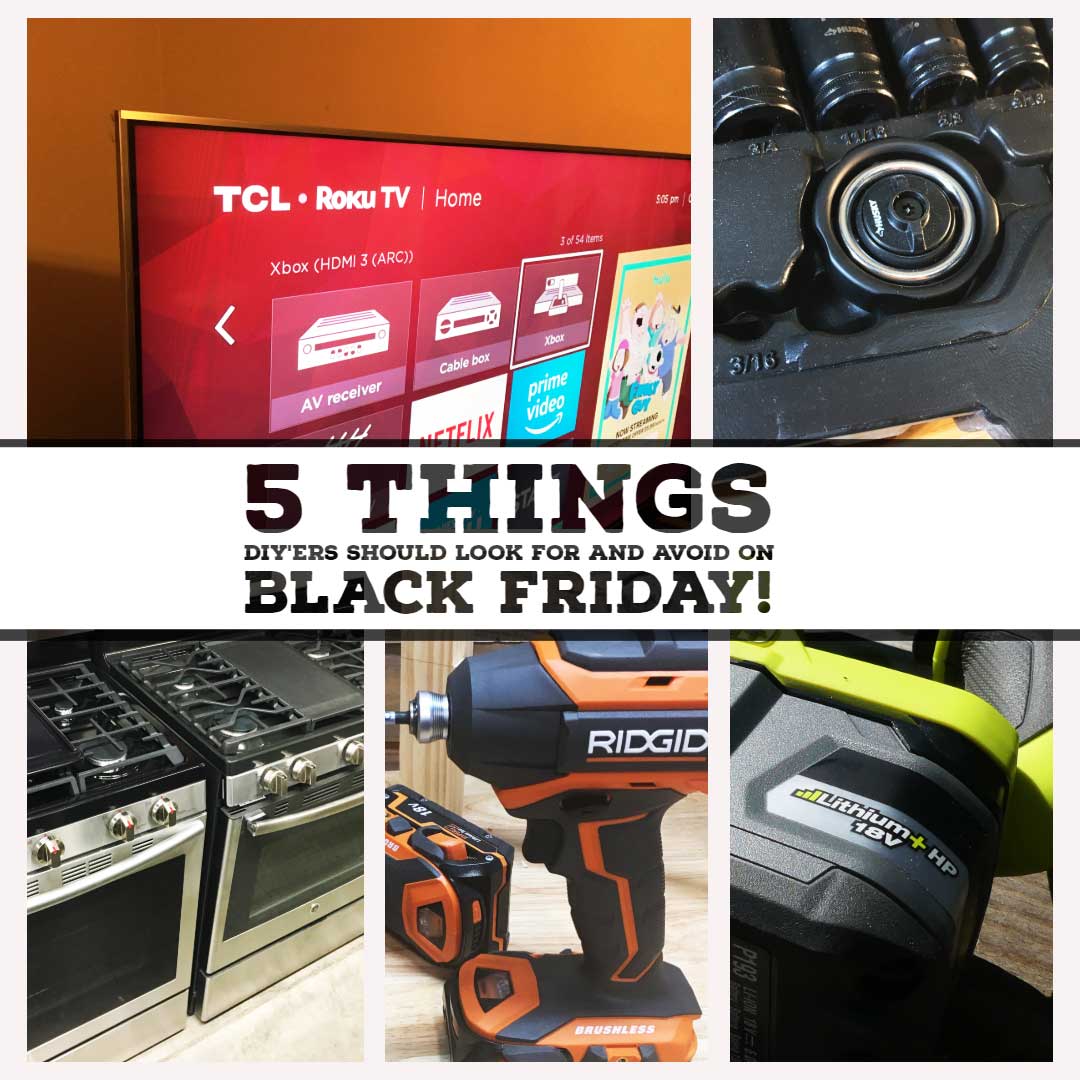 It's one of the most wonderful times of the year right?  All your favorite retailers are marking down products like crazy.  You'd be ridiculous to pass up that 15 piece Tupperware set just so you can get that bonus LED key chain flashlight right?  Well surprisingly, there are some actual good deals to be had on Black Friday and then a few to avoid.  So check out these 5 Things DIY'ers Should Look For And Avoid on Black Friday!
*Affiliate links to follow
Power Tool Batteries – Buy The Store Out
If you're on a cordless tool platform you know the cost of batteries has skyrocketed as the Amp Hours have increased from the standard 2.0 all the way up to 12.0!  If you've been holding off adding to your battery of batteries then wait no more.  Black Friday and Holiday sales are the time to stock up (if you can find them).  Need proof?  A single Ryobi One+ 6.0 Ah battery retails for $119 regularly… right now you get Two Ryobi One+ 6.0 Ah Batteries for the same price.  Two for the price of one!
Door Buster Televisions – Skip It
A 55″ Hi-Def TV for $120?  Total door-buster deal right?  Here's the thing about TV's and even computers on Black Friday and Holiday Sales… a lot of major electronic brands release "Holiday Exclusive" models that have different serial numbers and cheaper prices than their normal collections.  Why is that?  You're getting an inferior product typically.  We're not talking last year's model selling at a discount, we're talking the cheapest parts they can manufacture and still have a working product.  If you see a deal too good to be true, do a search of the model number and see if there are any existing reviews on it.
Wait for the Cyber Monday deals that are moving last year's model at discount if you want a new big screen for your living room upgrade.
Tool Storage – Buy…But Wait
I've been there… strolling down the aisles of your local Home Depot and seeing a massive rolling tool chest and then thinking wouldn't that be nice if it wasn't for that massive price tag?  Well my friend here's a little secret… those giant keepers of tools ALWAYS get holiday sale prices after Thanksgiving and into January.  You're talking $200-$400+ off a lot of times.
If you're going to take the plunge, you might as well save that extra $200 for another new tool to store inside it.
Appliances – Buy
Surprisingly, the best deals to be had on Black Friday come from the kitchen… err… go into the kitchen.  If there was ever a time to buy a new refrigerator, stove or washer & dryer, this is 100% the time to do it.  Don't put off that kitchen remodel any longer.  Major appliance models are marked down as much as 40% or more during this buying season and some even come with add-ons and incentives.   The GE Appliance Suite we upgraded to this year (in Black Stainless Steel ooh la la) is marked down by almost $3000.
Holiday Tool Kits – Cautiously Buy
Beware the stocking-stuffer impulse buy.  A 160 piece drill bit set for $19.99 from some company you've never heard of before might sound like a deal, but you're just taking up space with inferior products.   Instead, look for brands that are still offering their warranties on these "special buys".
Meanwhile Power Tool Combo kits are also a tricky area to navigate and just as easy to impulse buy on.   On one hand, if you're starting to build your tool collection or upgrading some aging kits, the "buy a combo kit, get a free tool deal is fantastic.   On the other hand, it's easy to get sucked into the savings you're getting for a multi-tool combo kit, only to have duplicates on hand that you'll never use.