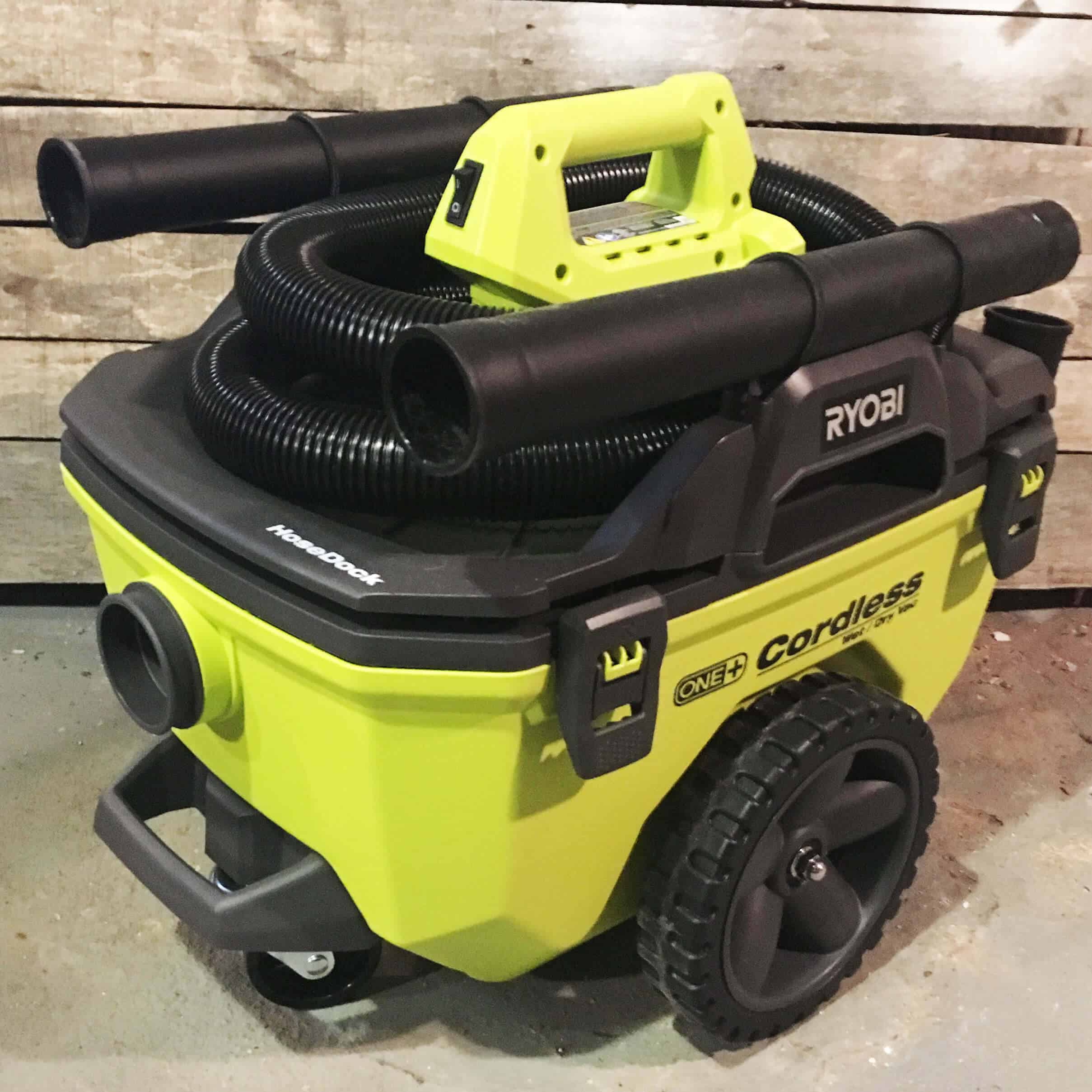 A Tale of Two Vacuums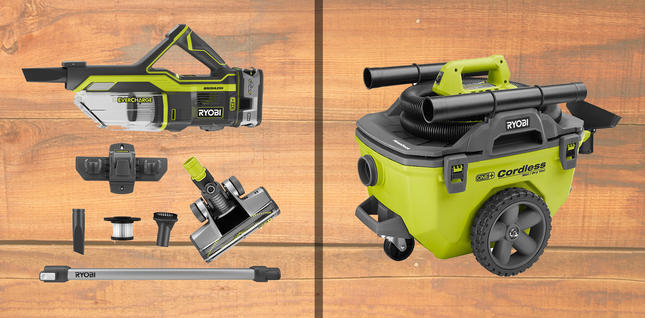 At some point in the last few years, someone in Ryobi's upper management stood up in a meeting and declared that they were going to become one of the industry leaders in DIY and Workshop vacuums. It's a very specific niche to target, but I've got to tell you, I've liked what I've seen so far. From these two vacuums in this review, to a waterproof pool cleaner to the Devour (which I'll be reviewing in the next few weeks), Ryobi has managed to come up with a very diverse line up that all runs on the One+ battery platform. When I tell you that these vacuums suck, I mean it in the best vacuum way possible.
When new packages arrive at our house, my wife generally gives a brief glance and an eye roll because she knows whatever I've received is going to sit in a nice little leaning tower of Pisa box stack in our office adjacent to our family room for a few days. After our daughter has drawn pretty pictures in marker all over the new blank canvases of cardboard boxes, it's time to get down to business and start checking out the new tools. Not with this package. My wife had the battery slapped in (4.0 included) and the vacuum running before I could even read the instructions.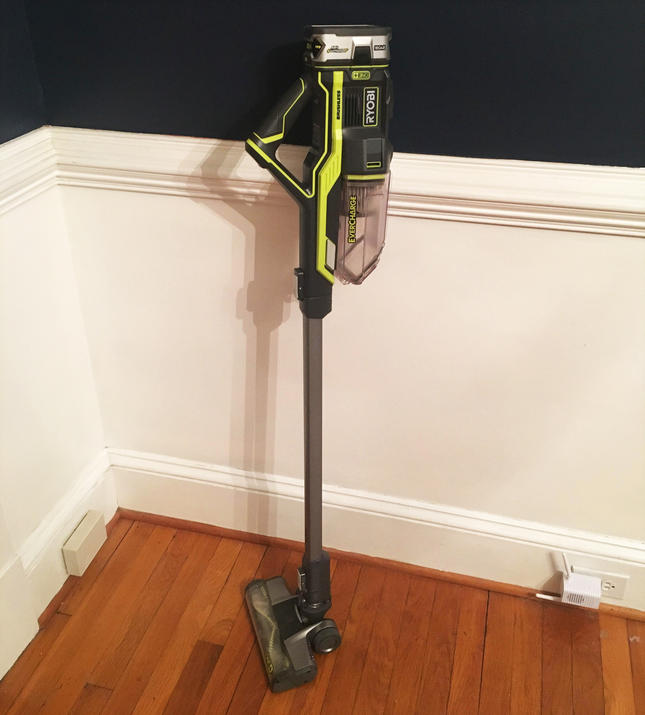 The beauty of a cordless stick vacuum is that it's light weight (under 8lbs.) and you can easily take it anywhere conveniently around the house. With the extension wand and roller bar attached, it's about 45" tall, which means it's even comfortable for a tall guy like myself to use (when I actually got a chance to use it).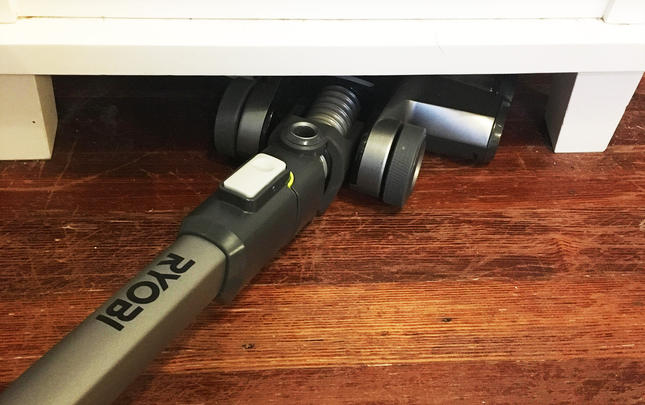 The roller bar (the carpet attachment that looks like an old school push mower) is small, but what it lacks in size, it makes up for in versatility. It pivots at the axis like a pricy Dyson vacuum so you can easily reach underneath furniture and send those dust bunnies to their maker. The roller bar then easily removes and you can swap it out for the crevice tool or the dust brush. The dust cup removes with a push of a button (and doesn't dump the contents onto the floor like some other models) and quickly empties. The HEPA filter pops right out as well if it needs a quick cleaning. If you've got a zoo of pets like we do, you'll appreciate the ease of shaking out the filter. The unit comes with a wall mount that stores the extra attachments and charges the battery (with the cord plugged in) when not in use. You couldn't ask for a better setup.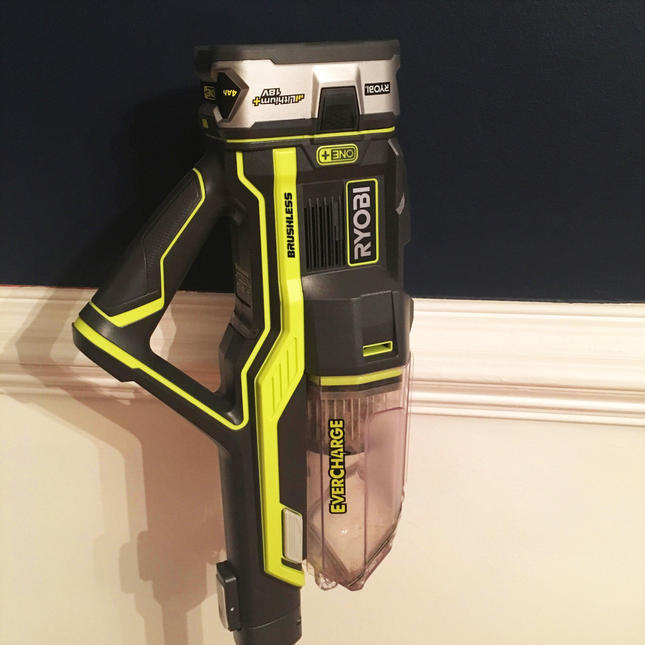 So does it good suck or bad suck? We've got a Dyson Animal that cost more than twice this model and it rarely makes an appearance now. Not because we're dirty, but because this model is extremely convenient to pop out for a few minutes of quick clean up. It runs well on carpets or hardwood floors. You can run it at high or low with the two power setting (at the push of a button), but let's be honest… no one uses a low vacuum setting. Run time on full power is around 25 minutes while the low power will run at 45 with the 4.0 amp battery. It won't replace the high end vacuums when you need a really deep carpet clean (like when you have multiple cats and golden retrievers rolling on the carpet), but it is a great every day vacuum that covers a lot ground and is truly liberating if you've never had a vacuum without a cord before. My only request is that the roller bar really needs to have the function where you can pop the roller out to easily cut away the stray threads or yards and yards of long hairs my wife sheds. It looks like a spinning fur brush after a few uses. Our Roomba has this removal function and we love it!
The Ryobi One+ 18v EverCharge Stick Vacuum is currently available exclusively at The Home Depot (*affiliate link)
While my wife has claimed the Stick Vacuum, this Wet/Dry Vac is all mine. Have you ever been cleaning the shop or the basement with your shop vac and try to tug it along with the hose only to have the whole thing tip over because your power cord gets hung up? Then it starts making that high pitched whine and starts blowing dust out of the unit instead of sucking it in? Yeah… it happens. It happens a lot. Not with this little guy.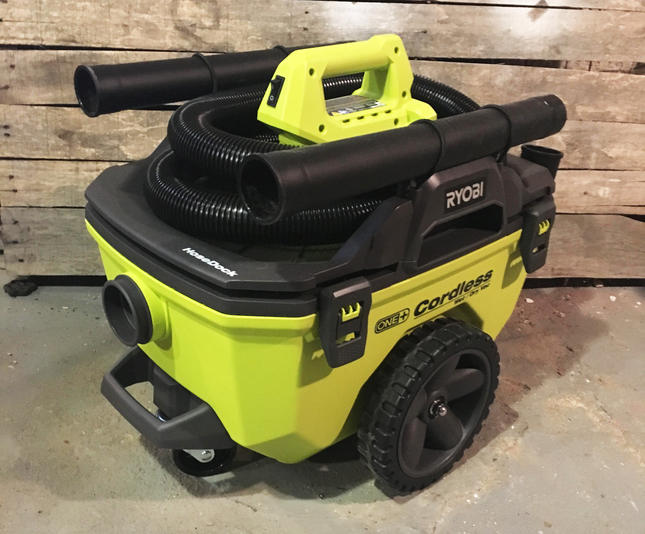 I rightly say little guy too because it's a very low profile shop vac. It's only about 20" tall but comes with two big off road swamper tires that roll over anything and two little swivel wheels on each end that allows this unit to spin 360 degrees and absolutely never tip over. I can't stress again how liberating cordless vacuums are. Remember when Dust-busters were all the rage in the early 90's? It's like that, but better. The vac runs on Ryobi's 18v One+ battery platform, so you can slap a 4.0 ah battery in and get about 30 minutes of run time and 80cfm of suction. It has plenty of juice to clean up the messes I make around the shop.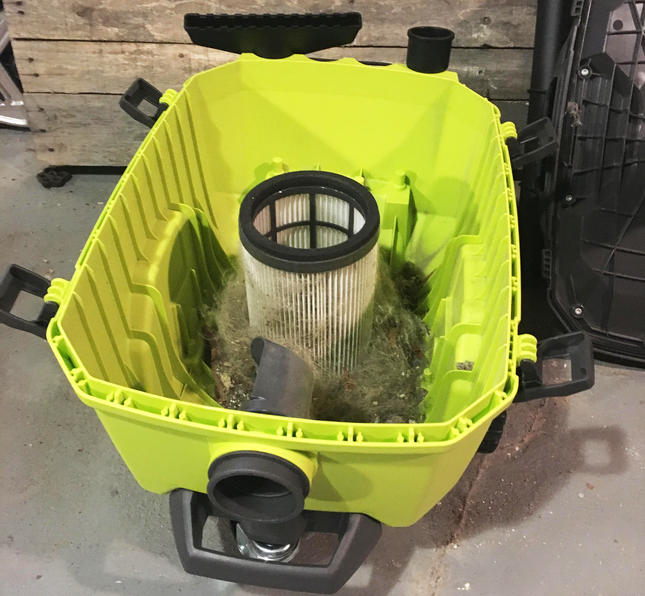 Aside from the cordless advantage, the beauty of this little guy comes in the onboard storage. The hose, crevice attachment, brush and handle all fit neatly on board in a Flat-Pack dream when it's time to put it all away. Little elastic loops hold the pieces secure and the hose fits with no issue. Unlatch the top and you can quickly dump out any liquid or debris you've managed to suck up. The clear advantage here is mobility, but given the tank size and the CFM's, this model is very competitively priced with standard corded shop vacs. Sawdust, smalls scraps, screws and nails all sucked up with ease each time I've used the Ryobi. My only gripe comes with the hose, it's thinner plastic and narrow so I have durability concerns, but it's not a deal breaker. Having this vacuum allows me to dedicate my bigger corded model to dust collection from my tools hooked up to a dust separator. Then I can just roll this little guy out when it comes to clean up time everywhere else around the shop.
The Ryobi One+ 18v 6gal Cordless Wet/Dry Vac is available exclusively at The Home Depot (*affiliate link)
Need something a little more heavy duty? Check out the review of the Ryobi Devour Sweeper!
~ Lazy Guy
The products for this review were provided by Ryobi Power Tools. My opinion on these products are entirely my own.