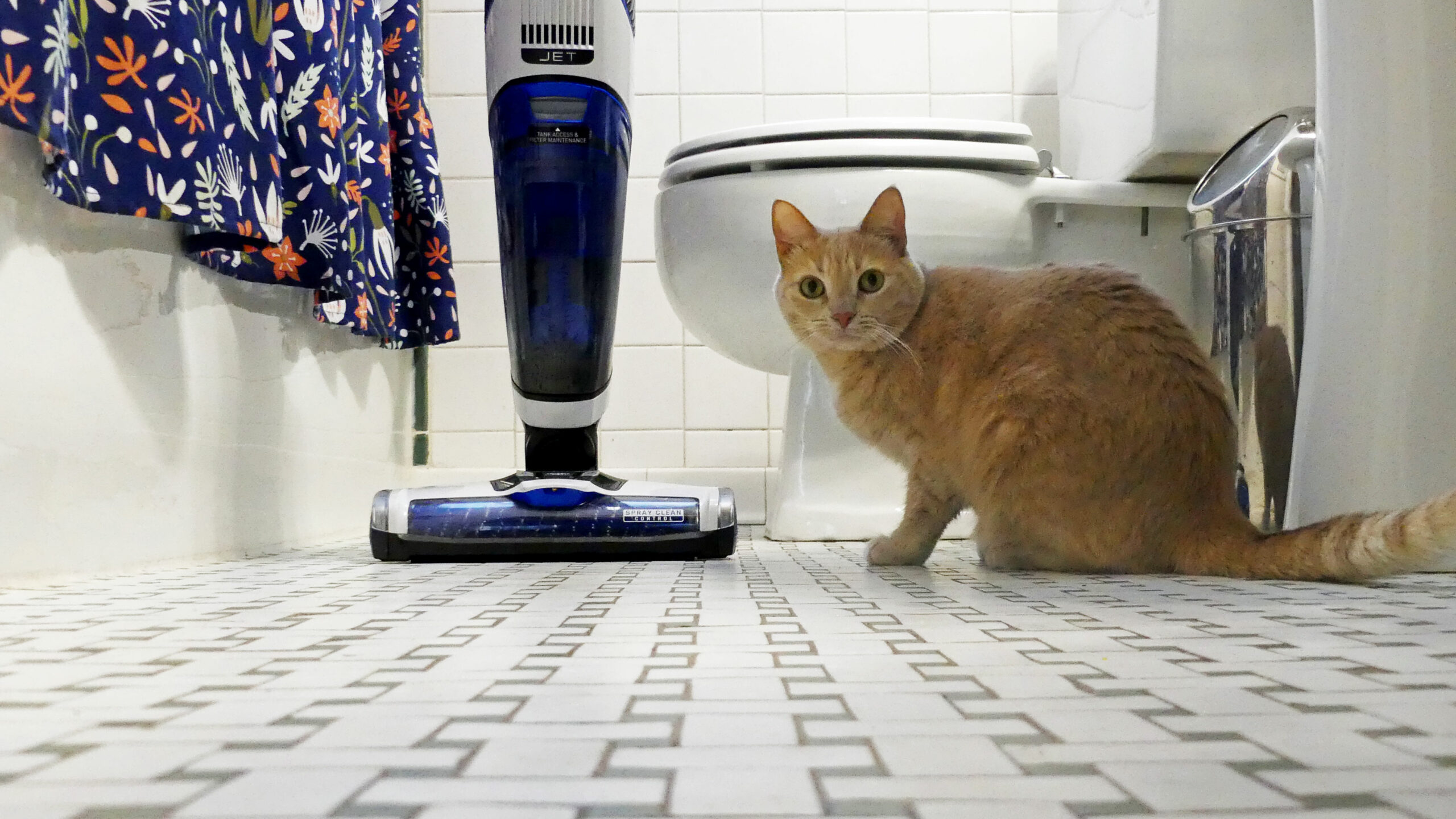 Hoover ONEPWR Vacuums wants me to let you in on our dirty little secret. We're messy. No really. We track a lot of dirt in our house throughout the week and so Hoover asked us to put their new cordless vacuum line to the test. So we did. Ten fold.
*This post has been sponsored by Hoover Vacuums. Affiliate links to follow! If you're reading this at release make sure you read all the way to the bottom for details about our giveaway!
The Hoover ONEPWR collection is a cordless battery powered platform that should remind you of the ever growing battery pattered tool platforms. For good reason.
Challenge Accepted!
Between my Woodworking and Home Improvement projects and my wife riding horses… we track a lot dirt into our house. But wait… there's more. My wife is also a veterinarian so we have… a few pets. Six fur balls of various sizes throughout the house that shed so much that no one in our home can wear black clothing without it looking like a mohair sweater. Our fury friends also like to leave the occasional bodily fluids on whatever new rug we purchased to replace the last one.
But we're not done. We also have also have two young kids that OH MY GOD WHY ARE YOU SMASHING RASPBERRIES INTO THE CARPET WITH YOUR TOES??? You get the point. We make big messes. And we need to clean them up. So let's see how these Cordless Hoover ONEPWR Vacuums stack up!
ONEPWR Blade Max Stick Vacuum
Does the OnePWR Blade Max Stick Vac look familiar to you? It should. Actually a lot of the Hoover ONEPWR Platform might look familiar because they are part of TTI that also owns Ryobi. You might remember the Ryobi Stick Vac review from a few years ago that we absolutely loved! Don't worry, you're not getting some outdated vacuum with Hoover, it's a seriously updated departure from that platform.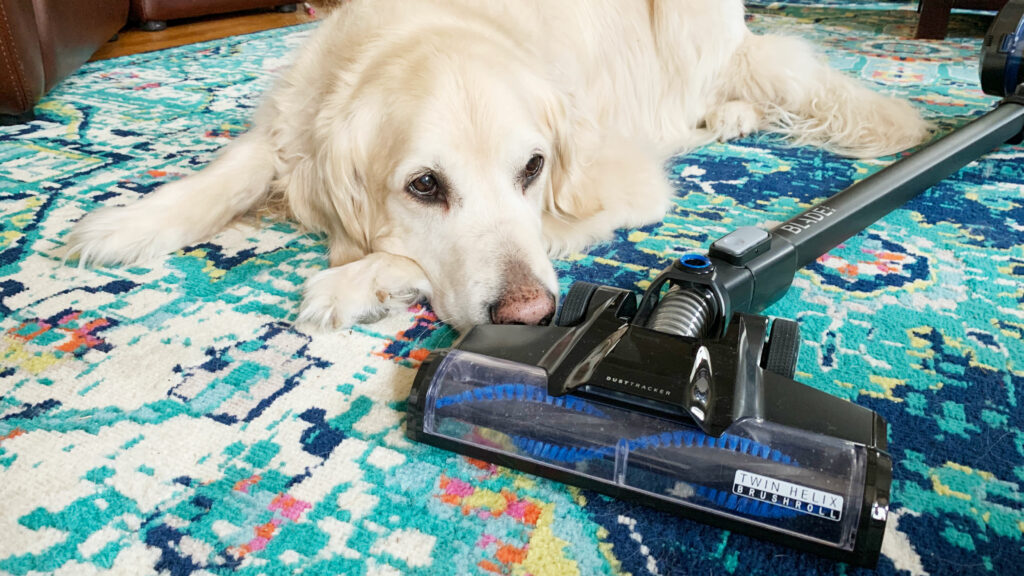 For one thing, the dust and dirt collection has been completely overhauled. Hoover calls it Dual Cyclonic DustVault Technology. I call it high powered suction that does a great job of removing dust particles from the air. The dirt cup (their words not mine) is very easy to remove and clean out. I will say… for the amount of pet hair we acquire… it does fill up quickly though.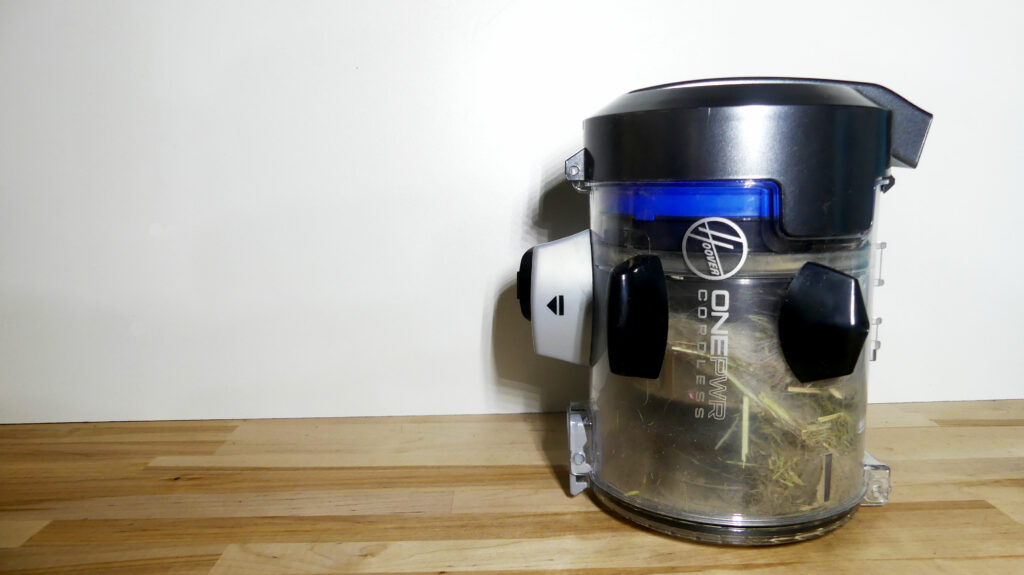 So how does it perform? We have an expensive "Animal" specific vacuum because well… animals. It does a great job with pet hair but it's big and bulky. The brushes are also difficult to remove and require constant trimming. The Hoover Blade Max is light weight and portable and packs a punch. Just don't forget to hit "Carpet mode" on the handle to see the results. The head is smaller, so it will take you longer to cover a bigger surface area.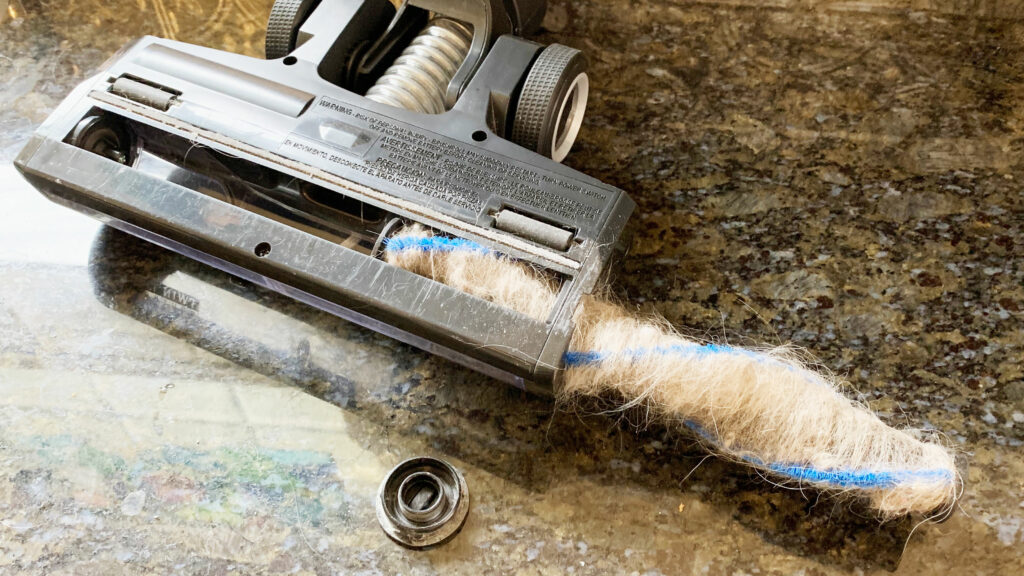 That smaller head size might be a deal killer for some, but it has plenty of power. Also nice… the brush insert removes very easily when you have to cut out the hair your golden retriever, wife and daughter shed… Too rich for your blood? You can also scale back to the OnePWR Blade+ that has a few less bells and whistles and a little shorter run time if you have budget constraints.
ONEPWR FloorMate Jet Hard Floor Cleaner
With carpet and upholstery covered… what about the hardwood floors? Our house is actually all hardwood floors (with rugs everywhere) so a floor cleaner immediately grabbed our attention. The Hoover ONEPWR FloorMate Jet Hard Floor Cleaner (whew… a mouthful) is a wet vacuum. Which means it's perfect for our hardwood floors and the safe enough for the original tile in our bathroom.
So how does it work? It scrubs and cleans! With a sprayer on the front and a microfiber brush roller it's like the big spinning wheel at the car wash… but it won't rip off your antenna or hood ornament. But it's also vacuuming! So you don't have to vacuum or sweep your floors prior to scrubbing them. It's a one stop shop. Oh yeah… you can use it on rugs too!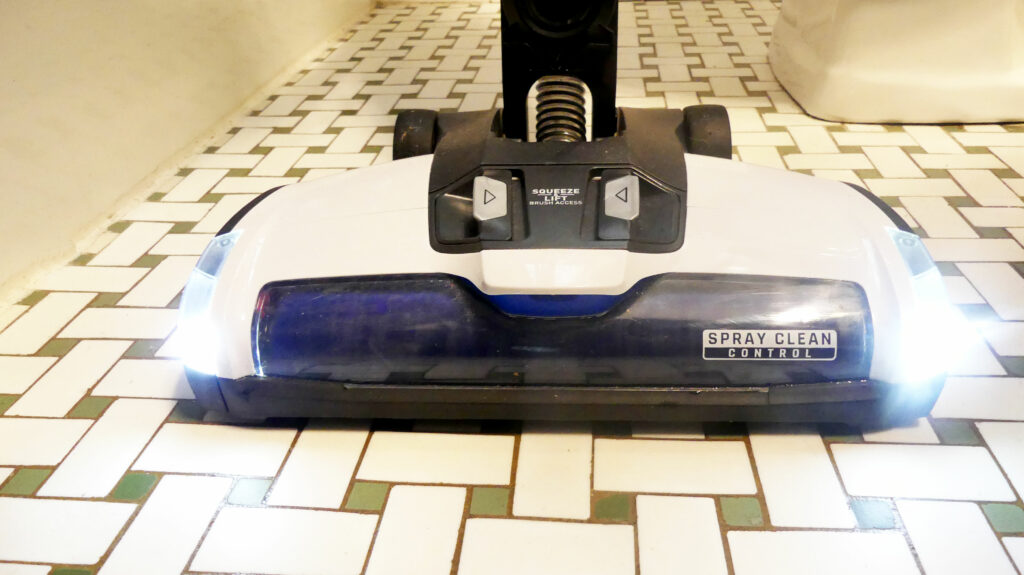 Now all we need is to keep the tiny little foot prints off the floor while everything dries…
ONEPWR Spotless Go Carpet Cleaner
Back to carpets and upholstery which brings us to the ONEPWR Spotless Go Carpet Cleaner. Remember the squished raspberries? That's a best case scenario in our house. We have a 17 year old cat that eats things she shouldn't and kindly returns them a few hours later. Often. I'm not going to show you that in a picture… I'll just recreate a glitter glue accident after play date crafts… pink glitter of course.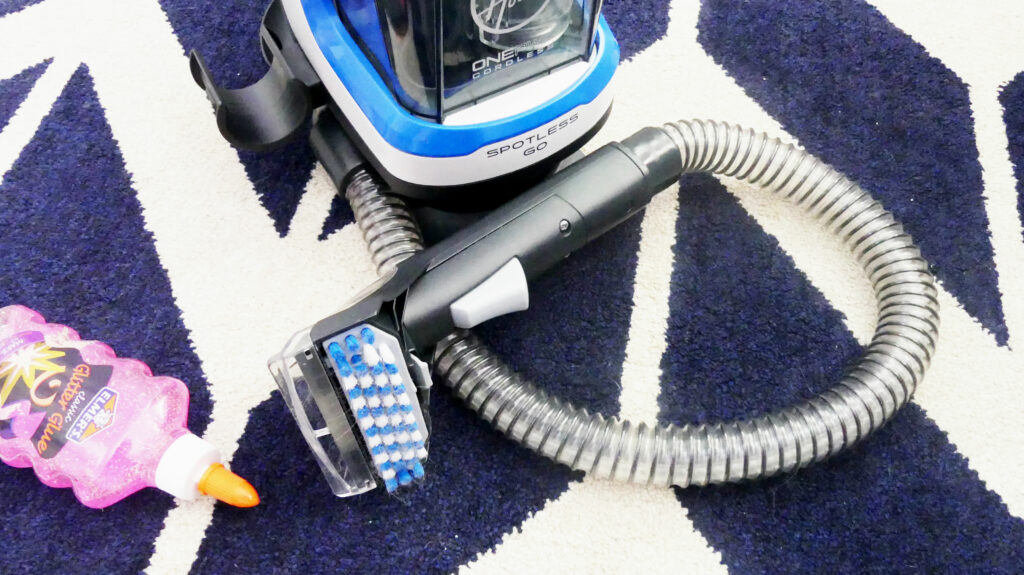 It's perfect for the small messes on your carpet or say… food pack spills on your new turquoise velvet couch… Not that I'm saying that's happened to us… okay it has. A lot.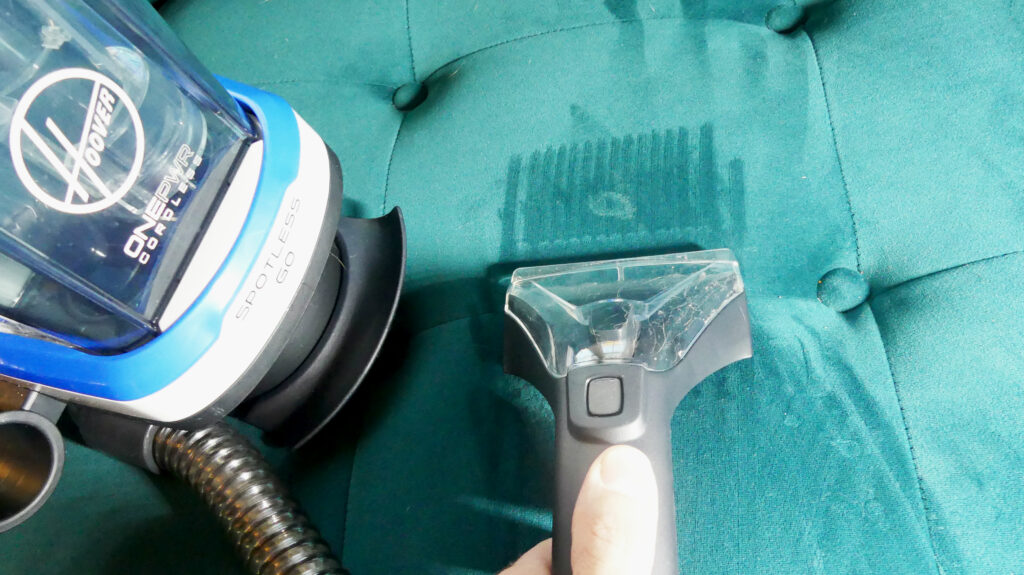 With it's compact size, it's nice to be able to store this Hoover close by because SERIOUSLY! DON'T DRINK GRAPE JUICE WITHOUT A LID!!! Honest review… if you have kids or pets this should be your first purchase out of the line.
Hoover ONEPWR Verdict
I gotta say I love the cordless trend I see in the tool world really pushing into consumer products. Cleaning steps with a corded vacuum… not great. Cordless? All for it! All in all I've been very impressed with the power that comes with the Hoover ONEPWR line. Like the early cordless power tools, you do need to level set run time expectations. You're not going to vacuum your whole house on a single charge. About 45 minutes is what you should expect. Which, if you keep up with your cleaning (bahahaha!) and are spot cleaning and maintaining with this crew you'll be pleasantly pleased. Keep an eye out though because more powerful batteries roll out all the time with cordless lines.
How About A Hoover ONEPWR Giveaway?
Want to win one of these (or a few different) awesome Hoover ONEPWR Products? Head over to my Instagram feed to enter the giveaway with a winner being picked on Cyber Monday!
~Lazy Guy