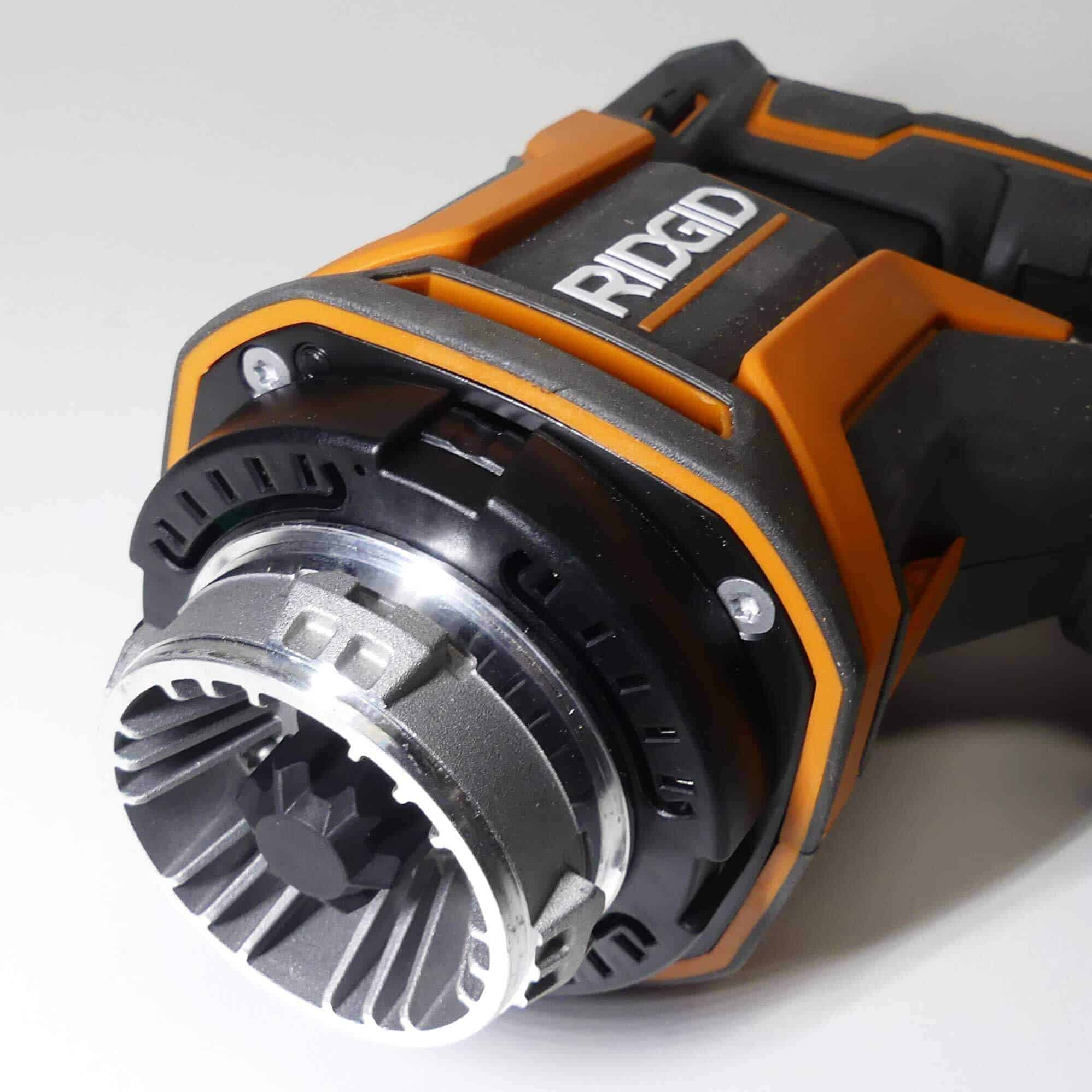 If you're going to toss out words like "OCTANE" and "MegaMax" then you better be talking energy drinks, monster truck rallies or one bad ass tool system.  Since I haven't seen a monster truck rally since I was 8 and my wife tells me not to drink energy drinks, we'll talk about the RIDGID Power Tools MegaMax 18v Octane Brushless Multi-Tool instead.  If you're looking for a pro-grade tool that does it all, then this power tool system is worth a look.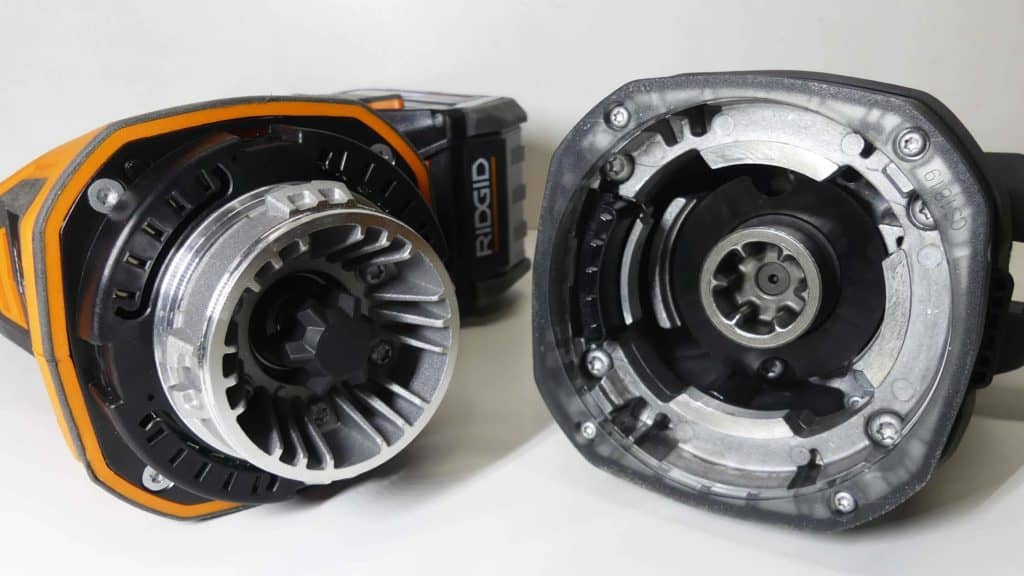 *This post has been sponsored by the Home Depot Pro-Spective Tool Review.  Affiliate links to follow.
What's a MegaMax?
It seems that most brands carry a job site multi-tool line these days.  RIDGID has been sporting the JobMax line for years with interchangeable heads like a right angle driver, reciprocating saw, jig saw and rotary tool.  It's like having a Swiss Army knife of tools within reach.  The only drawback (but also an advantage) is that you're getting a compact tool which means bigger jobs might be out of reach in terms of power.  The MegaMax kit solves that issue.   This is a jobsite tough system that's meant to scare small children when you fire it up because you're getting RIDGID's most powerful brushless tool motor to date, so hold on to your butts.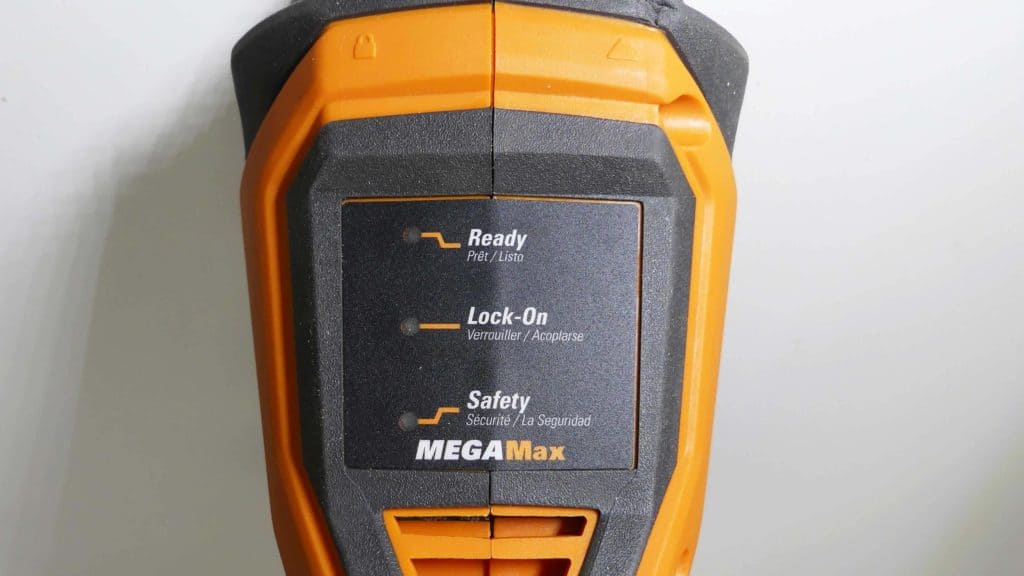 The MegaMax Powerbase
Currently the MegaMax lineup as of Summer 2018 features three different attachments:  the SDS Rotary Hammer, the Right Angle Drill and the Reciprocating Saw Head.  In order to power those tool options you have to have the MegaMax Powerbase.  Looking like a futuristic, snub-nosed laser blaster, the Powerbase is what sets the table for this unique tool line.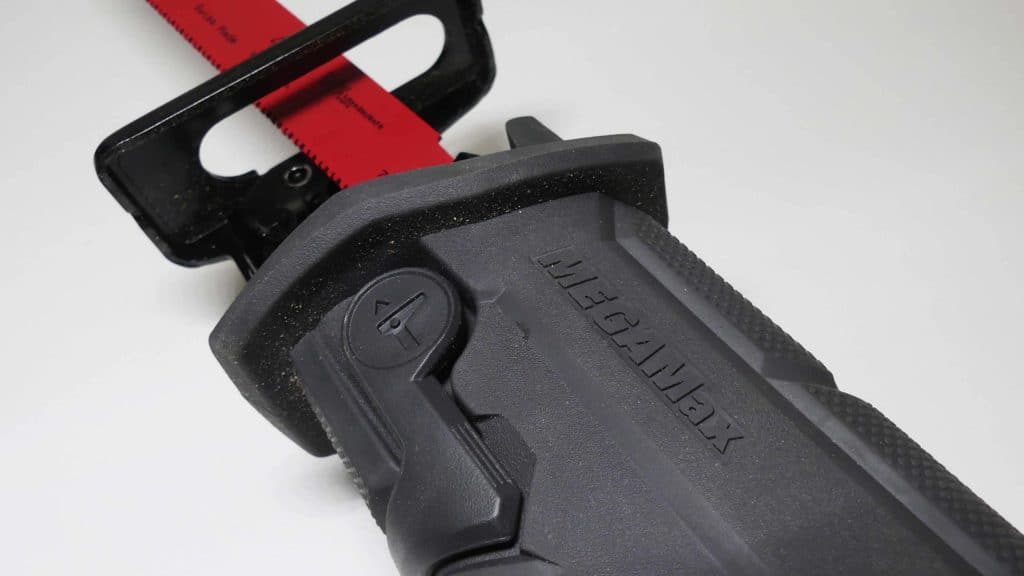 Tools are getting smarter now and this might prove it… The MegaMax Powerbase identifies which tool head is being attached to it and then automatically configures the base for optimal tool performance.  Say what?  You lock the reciprocating saw in place and you're getting different amounts of power than the right angle drill when in use.  So why is that important?  Performance and run time from your batteries.  Rather than force the same output across the attached tools and getting a mixed bag of results when comparing them to the dedicated reciprocating saws and drivers, you're actually getting better performance from this multi-tool kit… which is unheard of.
What's About The RIDGID OCTANE Part?
From the battery itself, to the charger, you're getting a major upgrade with RIDGID's OCTANE line, but how?  The 18v Hyper OCTANE Bluetooth 6.0AH battery does a lot of things, most importantly, it crushes the performance of the standard 18v battery line.  You're looking at 4x the run time with the 6.0AH OCTANE battery.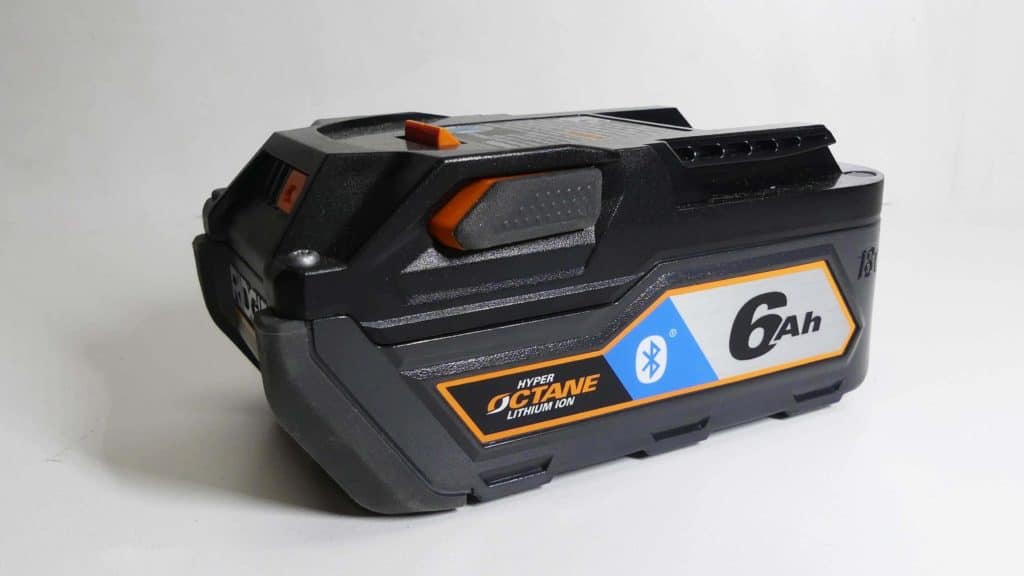 But we've seen this trick before, put a bigger battery into an old tool and it runs longer, however, slap an OCTANE battery onto a RIDGID OCTANE tool like the MegaMax and they're claiming 65% more performance compared to the tool with a standard battery.  How is that possible?  I said tools are getting smarter didn't I?  Well the OCTANE batteries and tools communicate much like the MegaMax powerbase and attachments.  While they probably aren't chatting about the latest episode of Real Housewives of whatever, they are letting each other know exactly which tool is attached and what's the maximum setting for top performance from that battery and tool.  Oh, and you get all the fun Bluetooth features like tool tracking, performance monitoring and alerts!
So what about RIDGID's new charger?  You get all the favorites like wall mounts, dual port sequential charging, USB plug ins, and maintenance mode (which means you can leave them on and not have them burn out), but you're also getting a pair of pass through AC outlets (which is awesome).  If you're short on plugs and big on chargers and batteries needing juice, RIDGID tells me you can daisy chain up to 4 of these units together (because that's the maximum load an average socket can handle).  So I see the potential here for a pretty great battery charger shop hack.
Want To See The RIDGID MegaMax In Action?
Sorry, you're going to have to wait until that video goes up.  Muwhahaha!
~Lazy Guy
Want more RIDGID Tool Reviews?  Check them out here!
*This post has been sponsored by The Home Depot Pro-Spective Tool Review.  I have been compensated for my time and provided with product in exchange for my opinions on this product.  My opinions are my own.