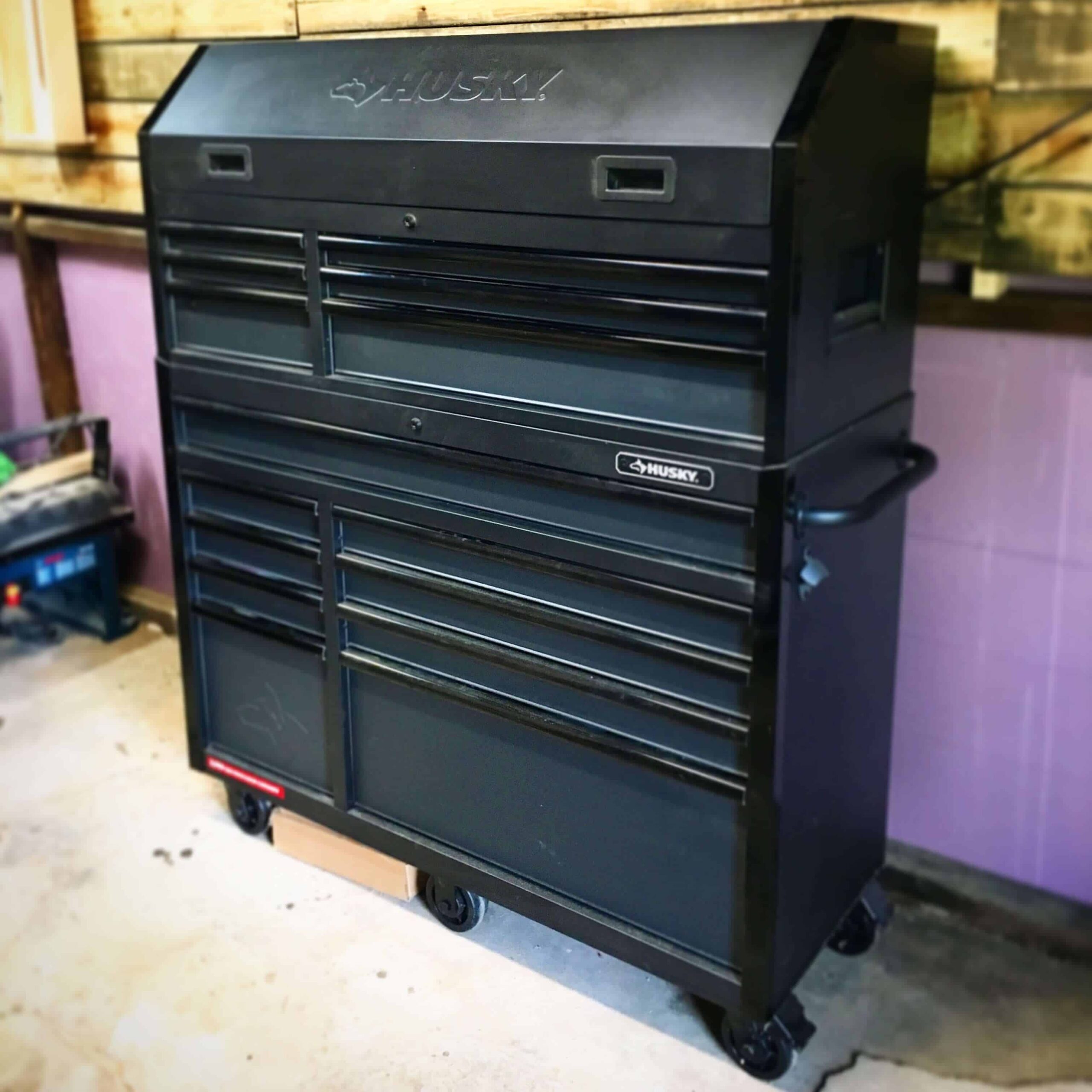 There are few things in your adult life that bring on the same excitement as waking up Christmas morning as a kid and being absolutely surprised about what "Santa" brought you this holiday season.  Okay, so maybe tax refund day or the birth of your first child is just as exciting (what's it going to be a boy, a girl or a puppy?).  So when my wife called me to say there was a 400 pound delivery arriving at our house in the next few minutes from The Home Depot and I hadn't recently been insomnia ordering off the web, I immediately made up an excuse and rushed home from work giddy enough to make me feel like it was an early morning on the 25th of December.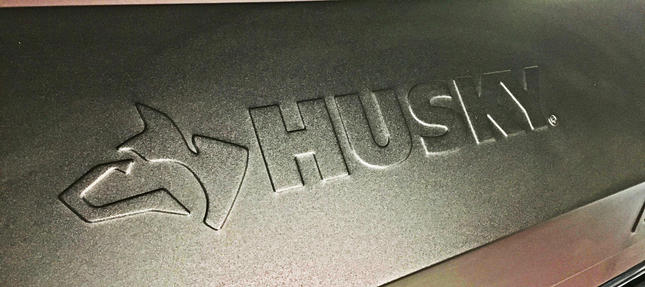 What I came home to was as black as coal and had a matte finish like a pile of ashes, but Lazy Guy was not on the naughty list this year (well… at least not yet, it's summertime still) and this wasn't fitting into a stocking.  What I found sitting unloaded in my yard was the Husky Tools 52" Rolling Tool Chest.  Whenever I go to the store I look at these Husky tool box behemoths and think… someday… someday I too can organize my little shop and store secrets of the world in the many drawers like an ancient apothecary with their cabinets of curiosities.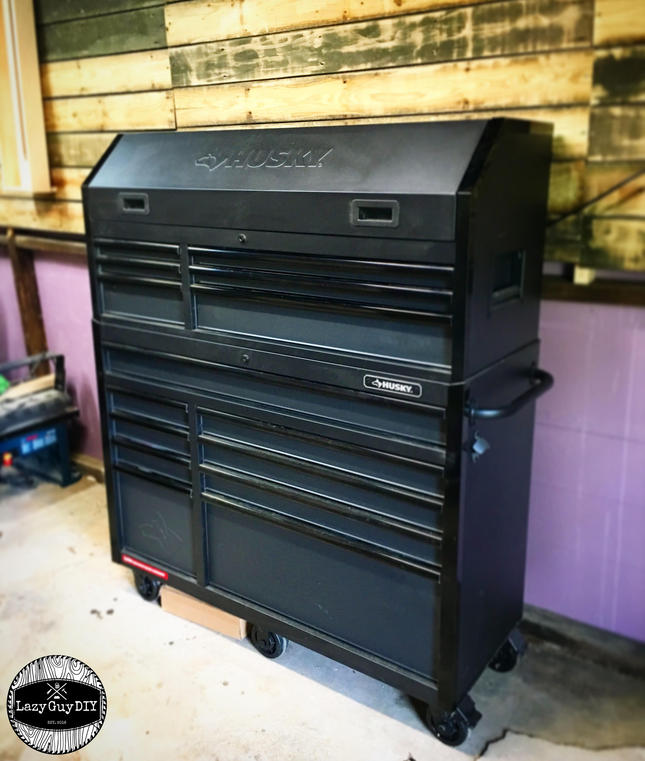 Before we delve into multiple drawers of awesomeness, let me take you back to April when I visited Home Depot HQ in Atlanta to kick off the Pro-Spective review.  We visited their underground bunker that they use for torturing products from in house brands like Husky to absolutely test them to their limits to ensure quality.  One of the first things we saw upon walking into their very own Chamber of Secrets (minus the Basilisk) was a 15" Husky Tool Bag suspended from the ceiling.  Made of water resistant material with 14 pockets and a heavy duty zipper, you don't suspect anything more substantial than that from a tool bag.  That is until you realize the bag is being suspended from the ceiling with several hundred pounds of weight hanging from the handle so you know that no matter how much weight you put in that sucker… those handles are never failing.  I immediately thought of the opening scene of the movie Cliffhanger and if only Husky had made that girl's backpack… The mad scientists down there went to great lengths to show us how much quality testing goes on behind the scenes so if your ratchet tie-down straps say they can hold a load up to 600 pounds, they actually will probably hold twice that.  Did I mention the tool chests and workbenches had a crumple weight strong enough to hold up a Corvette?  Yep.  I pictured a yellow Vette when they told us that.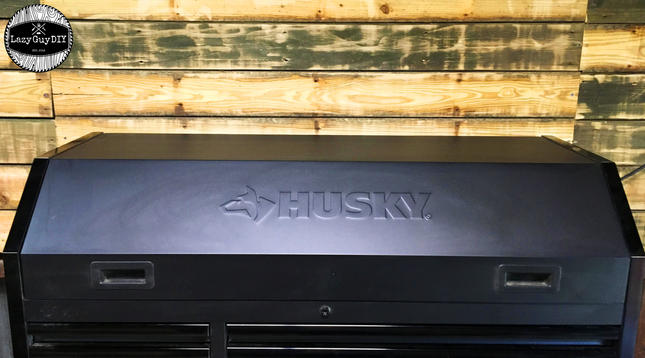 Back to the problem and the massive solution at hand, I don't know how many times I've mentioned how small my workshop is.  I mean… not as small as Sam's shop from DIY Huntress (but then she's like 2 feet shorter than I am and needs a lot less space) but let's just say I'm often playing Tetris with shop components to maximize my workspace that's only 160 square feet when it's empty.  With floor space and work surfaces at a minimum, smaller items in my shop typically got relegated to "the pile" that is a black hole of all things I can never find when I need them.  The dead zone is an old workbench I built years ago and a half baker's rack that are just piled up with "stuff".  Here's your insider exclusive that hardly anyone has ever seen: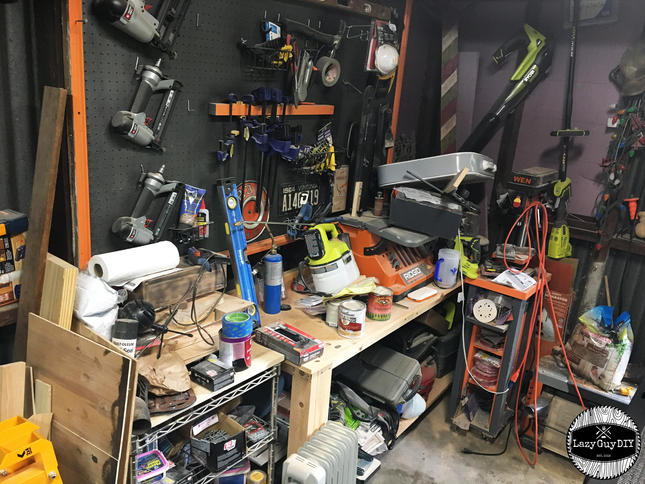 Embarrassing… but I own it as my own piece of abstract art.  This massive 52" Husky Tool Chest was going to change all of that and free up some much needed real estate.  But how?  It's 52" wide, almost 65" tall and 20" deep, how is that going to free up space?  15 drawers of organizational bliss my friends.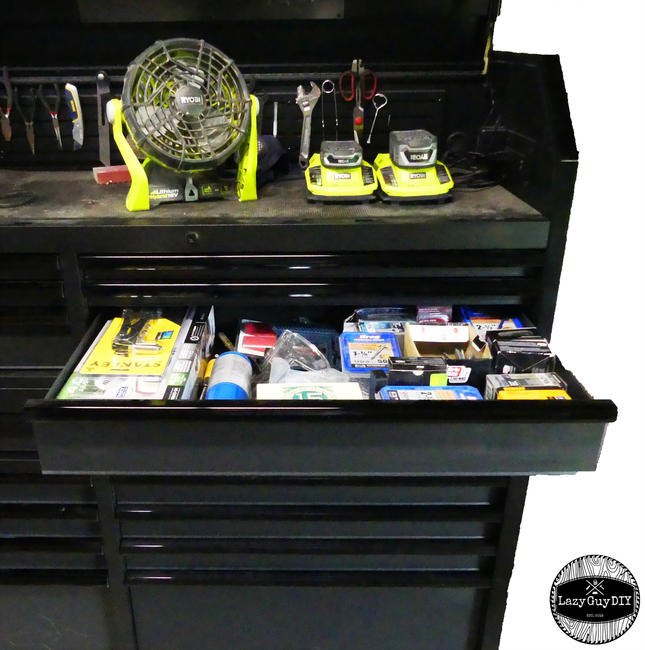 The unit is broken down into a cabinet (bottom) and chest (top).  At the lowest level of the cabinet are deep pocket drawers that are around a foot and a half deep.  If you have one of those large plastic circular saw cases sitting around, it fits perfectly in them with the handle down.  Since most of my hand held power tools are within easy reach on my metal pegboards, I never seem to have a good dedicated spot to put my corded routers, sanders or circular saws.  They now occupy the ground floor of The Dark Tower.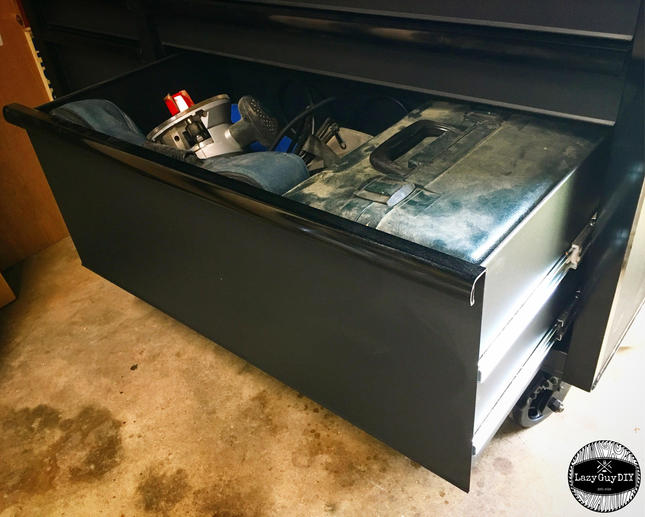 While there are a ton of great features like locks galore for various compartments for securing your stuff, wheel locks, a HAL 9000 (just kidding, not yet) and soft drawer slides that will hold up to a 120 lb. of weight… the top chest easily impresses the most with enough features to give Batman's utility belt a run for its money.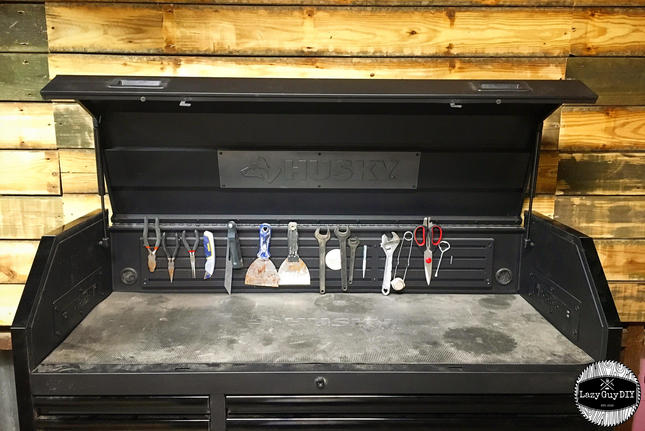 Aside from my impressive collection of dust that really makes these images pop… the top is roomy enough to store plenty of tools including the back panel that's magnetic for your various hand tools.  I already have a variety of Husky Magnetic products around my shop like the Screwdriver Holder and 12″ Small Parts Organizer attached to my walls that help me combat the cluttering forces of evil you saw in the shop image at the above.  But that's not my favorite part…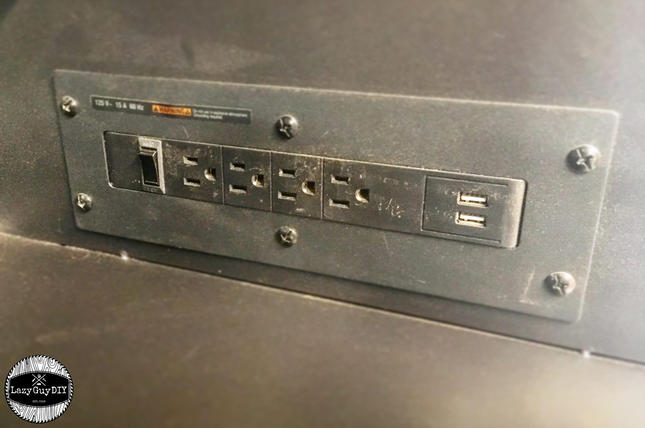 Both sides of the top case house an inset strip of electrical outlets and oh yeah… USB plugs.  That's 8 electrical outlets and 4 USB hubs total for those counting.  I didn't even have that many outlets in my shop prior to this arriving.  #Upgrade!  It's a perfect place to plug in rogue chargers, maybe your Go Pro for action shots in the shop and then something to play your tunes from and still keep them all protected under the lid if things start getting crazy.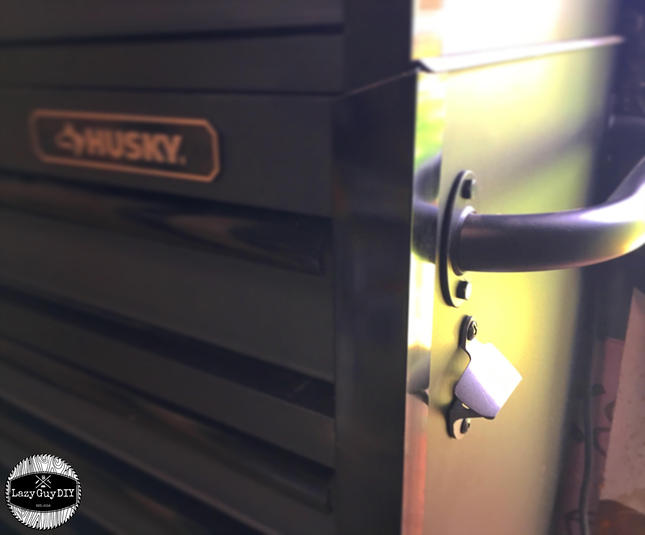 If that wasn't enough… it comes with a bottle opener on the side so you can maintain your dehydration levels with frosty cold beverages that you will obviously be enjoying responsibly in celebration after you've put your power tools away.  Or maybe you're just a day drinker…  full of sadness.
The Husky 52″ Tool Chest comes in Matte Black  with 15 Drawers or traditional Black and Silver with 13 Drawers or 18 Drawers.  Not big enough?  You can always upgrade to 56″ and 23 Drawers in Matte Black as well.   This is by far one of my favorite things ever (behind my wife, daughter and dog of course… and maybe buffalo jerky…), so after a few weeks of use I can absolutely recommend splurging for one of these if you get the chance.  There will be no remorse.  As for as the black hole piles of doom in the back of my shop?  They are gone and everything is starting to become a lot more organized.  Keep an eye out on the "long term projects" section to see progress and more shop organization that this monster has absolutely inspired.
~ Lazy Guy
*This review has been Sponsored by The Home Depot and The Pro-Spective Review.  I have been compensated for my time and provided with product in exchange for my opinion.  And darn it my opinion counts… at least I think it does. Ha!  Product links included in this post are affiliate links.