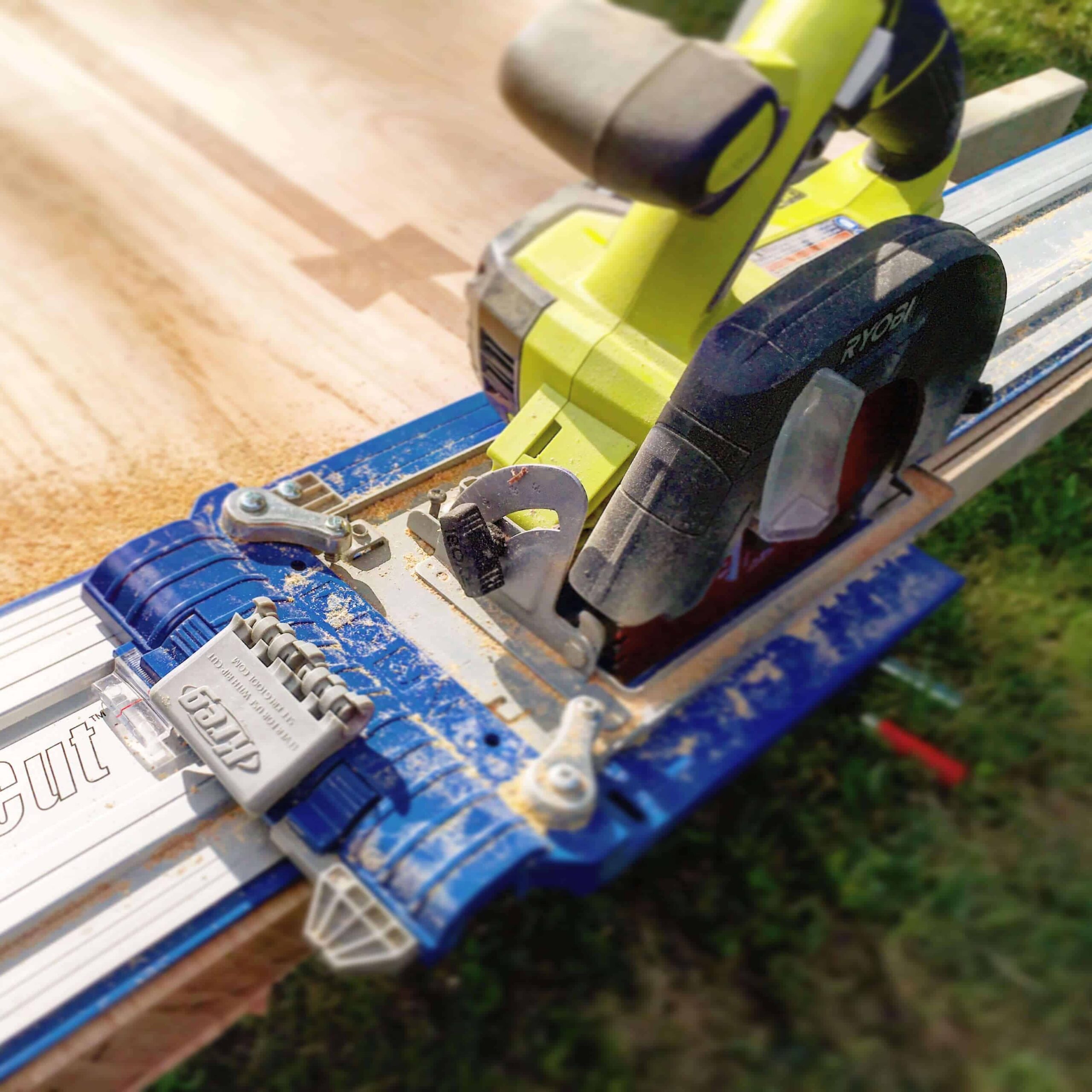 *Updated 7/2019
Being doped up on cold medicine and coughing until your vocal cords feel bruised isn't what I call a hotbed for creativity or decision making.  Have you ever been driving and attempted not to sneeze while trying to keep your eyes on the road?  It doesn't go well and then you ultimately end up sneezing all over your steering wheel.   Imagine doing the same while operating a power tool… that has a recipe for disaster (and a missing finger) written all over it.  So I kept the shop time to a minimum this past week and instead took to the inter-webs for inspiration.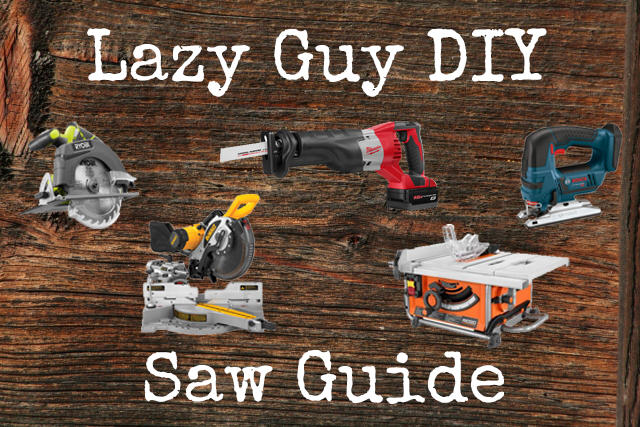 My friend April from Uncookie Cutter posted a beginner's guide the other day for choosing a Miter Saw or Circular Saw and it made me stop and think just how many saws do I now own?  I have a few duplicates (most for good reason) that all get used situationally, some are corded and some are battery operated and then one is just collecting dust in the basement while the upgrade gets used on the regular.  When it comes down to the final tally I have 14 different saws.  Seriously 14?  How can I possibly use over a dozen different saws?  Surprisingly, they all get used (except for the Jig Saws… you ruin every project I begrudgingly bring you in on).  Before you pass judgment, let's take a minute and look at what saws I have in the shop and what jobs are they best used for.   But take note, if you see a highlighted link for a tool, that's an affiliate link, which means if you buy something, a portion of your sale will go directly to me at no cost to you and all the cost to the store you bought it from… Muwhahahahahahaha!
1. Miter Saw
If my shop were a person, then the miter saw would be its backbone.  Unfortunately, this analogy would also mean my scary old shop personified would look a lot like the little old angry man that yells at you to get off his lawn and then proceeds to spray you with his hose.  I picture a combination of Mr. Fredricksen from the Pixar movie Up and Clint Eastwood from Gran Torino (but probably not as racist).  Back to the topic at hand though, why is the miter saw so important?  I cut a ton of dimensional lumber for my projects so it's only natural that a good chop saw will handle a majority of the work.  You can of course make those same cuts with a circular saw and a speed square as a guide, but I want a setup that lets me cut consistent, straight cuts every time and oh yeah… do it quickly.  But… what if I need to cut at an angle (called a miter)?  What if I need to cut a bevel (oh dear, what's that)?  Or make a dado cut (oh man)?  The more projects you get into the more those types of cuts will be a necessity in your work, which is why I think a good miter saw should be your first purchase.  Most people recommend the circular saw for a first DIY'er saw purchase, but I say nah good sir (while pointing my finger).  You can get a quality entry level Sliding Compound Miter Saw these days for under $150 that will pay for itself with just one project like the Toddler Table and Chairs that were my first sale.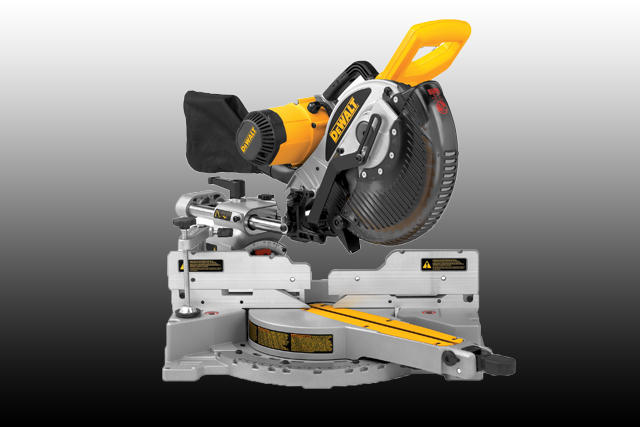 Let's talk bells and whistles first, miter saws come with a lot of options these days, almost as many choices as a Chipotle build your own burrito (minus the salmonella) .  Bevel, double bevel, laser guide, sliding pistons, electric brake, adjustable fence, dust collection, job light… the list goes on.  Just like your burrito, some things are just bonus and some are like that delicious Queso that isn't an option, it's a necessity.  Here's all you need to look for… "Sliding Miter Saw".  That's it.  Once the manufacturers add that feature, they've usually added an expanded bevel, extended miters, lasers, electric brakes, dust collection… you name it.
The best thing… for a beginner DIY'er
You can pick up a nice entry level model with those exact same features from Ryobi with their 15 amp 10" sliding Miter Saw (*updated 2019) for under $220 right now.  Because of the slider, you get 2 extra inches of crosscut capability for a little over $10 over the non-sliding model. Twelve inch boards?  No problem.   The saw I used?  The RIDGID 10" sliding compound miter (with dual lasers!).  It was the crown jewel of my shop and it's actually such a good model, that after a new version was released a few years ago, RIDGID actually brought this model back by popular demand and it's still on sale today several years later for around $350.  I started smaller though and worked my way up.
Money not an object?
The best all around sliding miter saw on the market at the time of this post (2019) according to most experts was the DEWALT DWS779 12" double bevel sliding compound miter, that will now run you just under $350.  What am I using now?  The Bosch 12″ Glide Miter.  It's a massive saw that as a small footprint because of the gliders, check out my review why it's perfect for smaller shops!
2. Reciprocating Saw
Omaha!  Omaha!  Like Peyton Manning (minus the largest head in NFL history) I'm calling an audible at the line of scrimmage here.  The next saw you should take a look at is the reciprocating saw, sometimes called a rip saw or the Saw-Zall (which is a trademarked name like going to make a Xerox of something).  Chances are if you're a beginner DIY'er you've found the mother load of reclaimed wood in the form of breaking down pallets.  In fun news, pallets are free (never pay for pallets!) in annoying news, they are awful to breakdown if you don't know what you're doing.  Don't waste time with wrecking bars that cost you hundreds of dollars or hammers and pry bars, you'll damage the wood.  With a reciprocating saw and a good blade, you can cut through those pallet nails like butter.  I can breakdown an entire double sided pallet in less than 5 minutes.  I've timed myself.  With a demolition blade or a metal blade, there are few things a reciprocating saw can't cut through and on top of that, your forearms will look like Mark McGuire's after a few days of using it (without allegedly* taking HGH).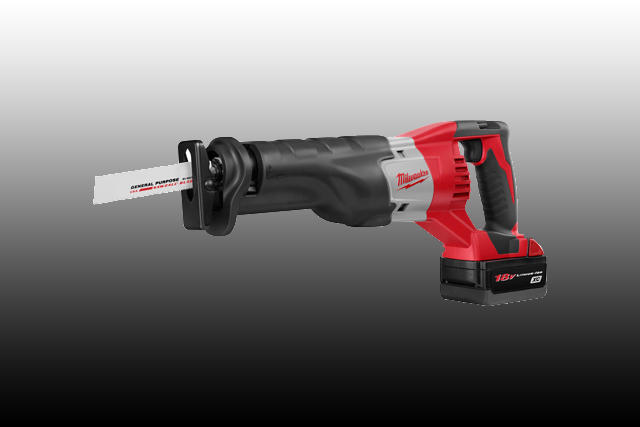 So which models do we like the most?  First off… it's all about the blade.  Don't use factory blades, pick up a package of Diablo Demon Carbide Tipped Blades that match the project you're working on.  If you're breaking down pallets, pick the demolition blade that's good for wood and metal.  You don't want to try to cut nails on a blade meant only for cutting wood.   With the blade leveling the playing field, your next decision comes down to cordless or tethered to an extension cord.  With a bigger battery and the new brushless motors in a lot of new models, cordless reciprocating saws are a great option these days for the convenience factor alone, but you pay for that convenience in dollars and time of use.  I have a RIDGID Otane cordless reciprocating saw that's a beast for the toughest tasks.  One of the top dogs in the market right now the Milwaukee M18 Fuel Sawzall but I also really like the Sub-Compact Milwaukee M18 Fuel Hackzall that packs a punch!
Money No Object?
Check out this review of one of the toughest reciprocating saws on the market!
3. Circular Saw
That's right, the expert pick for the first saw you should buy falls to number three on my list and it's actually appropriate because I own three circular saws.  I have two cordless and one with an electrical outlet tether.   Two have 7.25" blades and the other has a 6.50" and that extra blade width is important depending on the jobs you're working on and how heavy of a power tool you want spinning a blade of death in your hands.  I mentioned above that you can easily use a circular saw and a speed square to make quick cuts on dimensional lumber like 2×4's in lieu of a miter saw, but that's not what I use mine for.  I use my circular saw for big nasty straight cuts through thick pieces of wood like live edge lumber or most importantly, breaking down plywood while using a Kreg Rip Cut.  Using a scrap piece of (straight) lumber as a guide, I can cut the entire length of my projects without having to worry about making accurate cuts on my table saw.  Using a Kreg Rip Cut, I can breakdown an entire 4'x8' sheet of plywood without an extra set of hands.  With the right companions, I find a circular saw makes my building life a lot easier (it generally has no bearing on my personal life).  Once again, it's absolutely worth upgrading to a quality blade, don't use the factory blade.  Check out the diablo circular saw blades when you make your purchase.  I go with a 40 tpi when I know I'm cutting plywood.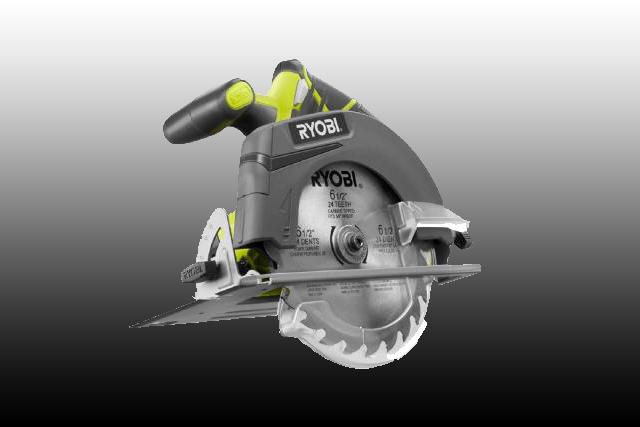 Oh dear, cordless or power cord decision time again?  In this case, I say go cordless all the way.  I've yet to run out of juice when using either my 6.50" Ryobi One+ (under $70 bare tool) or my 7.25" RIDGID Octane 18v (under $150 bare tool).  I actually use the smaller Ryobi more than my tough looking RIDGID because the Ryobi weighs only 5 lbs. compared to the almost 10 pounder.  But when it comes to those thicker cuts it's the bigger blade all the way.
Money No Object?
The hands down best circular saws on the market belong to Makita right now.  Don't even come at me with the DeWALT's FlexVolts or the Milwaukee 12aH batteries.  The Makita XSH04 is a pint sized powerhouse while the XSH06 and XSH08Z (that can use the track saw guide!) are 36v of raw power.  Want more detail on these Makita's, check out these reviews!
4. Manual Saw
What?  Not a power tool?  Yes, occasionally you need to go old fashion and use manpower rather than electric power.  I'm gonna keep this brief because I don't want to spark the whole debate over western vs. eastern style saws (for those who don't know, it comes down to handle placement and whether the saw cuts on the push motion or the pull motion).  Bottom line, you should have a few manual saws in your shop laying around for when the occasion arises that you'll ultimately need one.  A manual saw isn't flashy, but for a rather low investment, it can't hurt to pick one up.  Mix it up a little and pick up a Japenese Pull Saw if you haven't used one.  A 9.5″ Ryoba Double Edge is perfect for cutting dowels, flush cuts and across the grain.  A 6″ Dozuki is great for against the grain dovetails.  I'm also a huge fan of shopping vintage now and picking up a nice old Disston panel saw!
Want to see a power tool user's guide to hand tool to learn more about saws and bench planes?  Check out this newer post!
5. Table Saw
Here's where we start to separate from the herd.  For an experienced carpenter, you can make almost any cut using a table saw with the help of a few jigs.  You can even cut circles on a table saw.  Seriously a circle with a straight cutting blade.  But for those with a small budget or an even smaller workspace, a full-sized table saw might not be in the cards.  With that said, once I got a good table saw, in the words of Puff Daddy, "can't nobody hold me down, oh no."  Or maybe that was Mace who said the actual line.   I dunno.  The whole song was a sample on top of a sample of un-originality.  Yeah I said it.  Anywho, I use the table saw a lot of for rip cuts (cutting a board down the length), breaking down plywood and oh yeah… dado cuts for drawer bottoms.  Throw a sled on top (the cutting kind, not the winter fun kind) and you can pretty much put a drop cloth over your miter saw and retire it.  Use your fences and tracks right and taper cuts and miters are a breeze.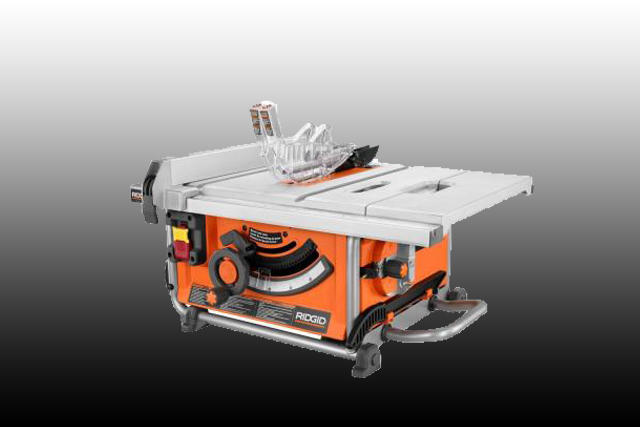 Before picking a table saw, you need to consider your space.  Having constantly reminded you all I work in a tiny shop, I need something that's compact and easy to store, so I had a RIDGID 10" Compact Table Saw as my first big boy (but still a jobsite) saw.  It fits right under my workbench when not in use or I can set it up and make cuts with ease in the matter of seconds.  I've also recently reviewed the DeWALT 10″ DW745S that's a great compact table saw.
Money Is No Object
Just this past year I upgraded my table saw to a Saw Stop.  It's life changing.  Put any part of your body into the blade and the blade stops and drops in milliseconds.  That's worth the $2k price tag.  I ended up getting the Saw Stop Contractor's saw (check out my review) but they offer Job Site, Professional Cabinet and Industrial Cabinet Saws as well.  A new saw is cheaper than a new hand.
6. Scroll Saws
Now you're just showing off.  Scroll saws are a fun little addition to a shop if you're working on smaller crafts or décor pieces.  Ever see those cut outs of states people have on their walls or did you catch the Epoxy Filled Heart Key holder I made a few months ago?  Scroll saws use a thin blade and a controlled speed to allow you to make precision cuts on a flat work surface.  You can trace out any design on a piece of wood and with some patience, you can cut it out with this saw.  You see a lot of monogrammed letters or cursive script from people these days done on a scroll saw.  I don't do a lot of décor pieces so it's on the bottom of my list, but it's actually one of the easiest power saws to use for beginners.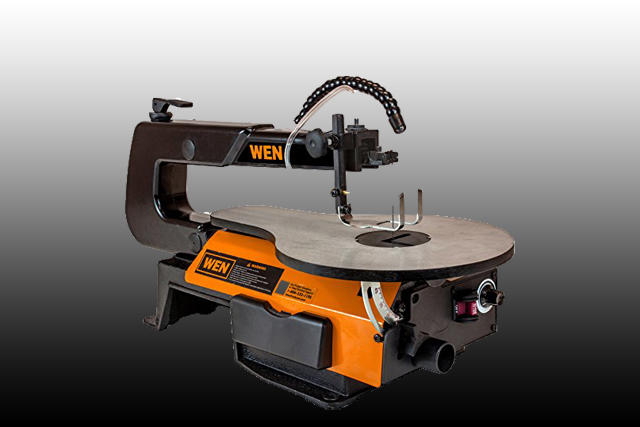 I am definitely not an authority on this type of saw, I have a Shop Fox 16" Scroll Saw off of Amazon ($160ish, heavy discounts during the holidays) that had meh reviews.  Those serious about their scroll work really like the DEWALT 20" 1.3 amp scroll saw, but that retails for around $450.  This is definitely a tool you should try on a budget then upgrade as you get more serious in my opinion.
7. Being trampled to death by Black Friday Shoppers.
8. Jig Saw
I don't know if I can say this enough on here… I hate Jig Saws.  I've never used a Jig Saw and had positive results.  I've owned three.  One a really cheap corded version, another expensive corded version and then a mid-range cordless version.  I've paid for better blades, I've adjusted the speeds, I've cut slow, I've cut fast, I've used a guide rail… EVERY TIME the cut wanders or the blade bends.  It's 100% user error though.  I'll admit it.  They say a Jig Saw is a great beginner's tool because it's easy to use and at a good price point.  I say, whoever "they" are that think that can go kick rocks.  I'm so adamant about this that I'm not even going to recommend a brand.  You can use them for cutting out patterns or circles like other tools.  They are convenient because you can make a pilot hole with a drill bit and insert the blade to start your cut, but DON'T BELIEVE THE LIES.  Your cuts will get away from you and damage your hard work.  Okay… I'm being a little dramatic, but here's how you know my opinions haven't been influenced.  This is all me.  I hate Jig Saws, flesh colored band aids and wet paper.  Welcome to my nightmare.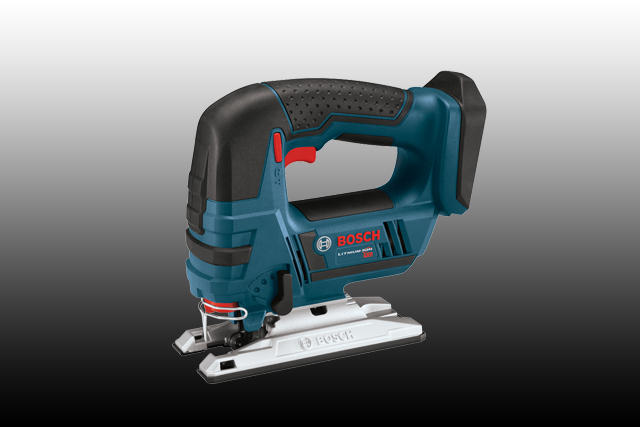 Of course there are plenty of other saw choices for a shop from Band Saws to Radial Arm saws… but i'm not talking about them… so it's sort of like they don't exist in this one sided conversation.  Ha!  Have a favorite saw I missed?  Let me know!
~ Lazy Guy