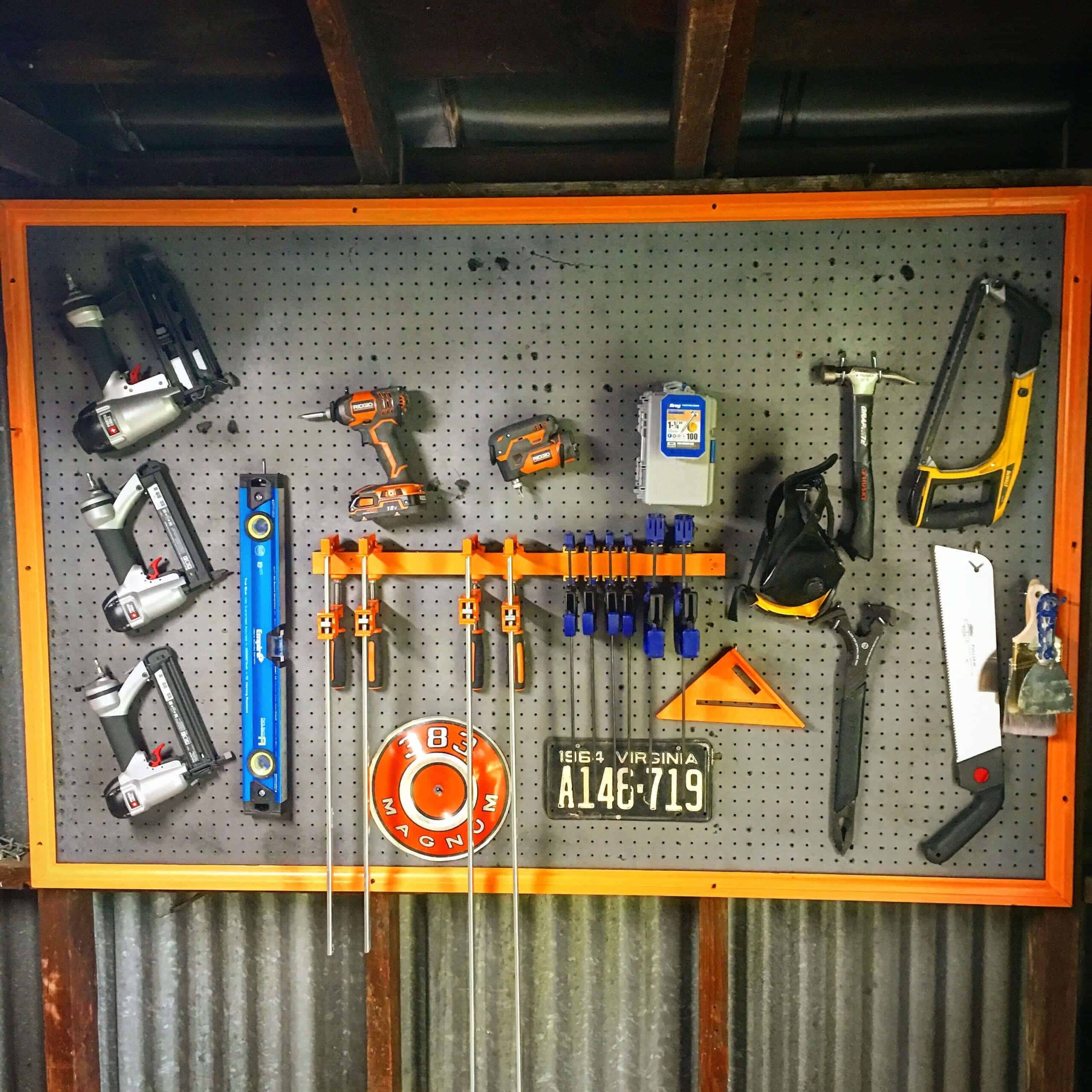 Whoa…It was May the last time I added a post about the garage conversion.  I know you all have been sitting on the edge of your seat for an update.  Who wouldn't be?  Well amazingly, there has been a ridiculous amount of progress on the garage since we last chatted about it.  So let's catch you up. When we last talked I was still running away with my skirt pulled up from finding "friends" living in the garage.   With the new chicken treadle feeder, those unwanted guests ended up finding a new home within the next few weeks.  But at that period of time, the garage looked a lot like this: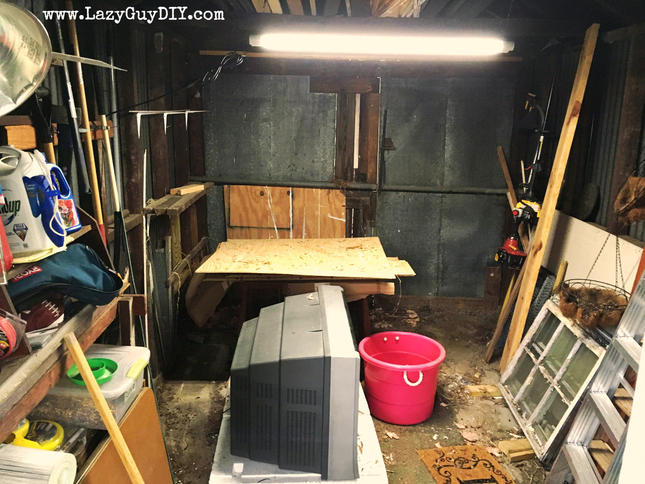 That was the cleaned out version…  For real.  Before this stage "things" were stacked up to the ceiling and you could only make it through the giant clutter towers by sucking it in.  I mean, who doesn't want a massive 300 lb TV just chilling in their garage?  Maybe I want to sit on that pink bucket and watch a few episodes of Game of Thrones in the dark?Seriously, this was after 2 days of clearing stuff out.  And we were all like "OMG look how awesome it looks!"  And then we gossiped about the TV show Pretty Little Liars because we just used "OMG" in a sentence.
Well since that pic back in May everything from crappy shelving to random bottles of mystery fluid have been tossed and the walls and floors have been stripped down and even vacuumed.  Seriously, I've vacuumed the garage floor more often than my house floor recently.
Then a funny thing happened this weekend… I ran out of things to take out of the garage and now have started to put stuff back in.  This cramped, crappy, cluttered garage is actually turning into a wood shop (that can only be described with tongue tying alliteration).
The first sign that things were headed in the right direction wasn't actually from a sign, but from the tired looking pegboard already in the garage.  Brown and blah, but in good shape.  You've probably seen it in the background of some of my recent post: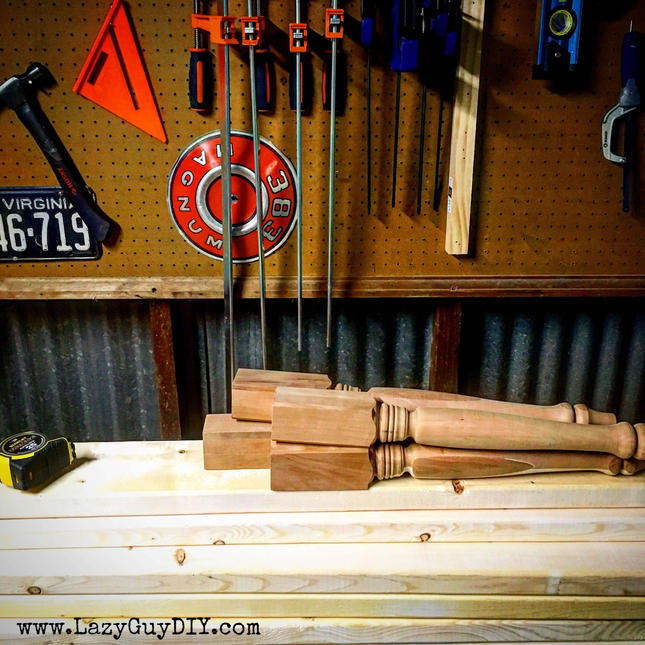 A lot of meh, but hey, at least I started moving tools in!
So I went to the Home Depot and looked at the clearance cans of paint to see what $9.00 purchase was going to be my unifying shop theme.  And before you judge and say, "Lazy Guy you prima dona, this is a wood shop!  Why are you trying to make this place pretty and matchy?"  Well if your house was being photographed or videoed and seen nationally (who am I kidding, it's only my parents who read the blog) you'd want it looking good too wouldn't you?  If you've ever quickly cleaned your house before people came over you're a liar.
Back to my boring post about pegboards!  Low and behold, Home Depot had a big can of orange, yes bright orange paint on markdown.  If Home Depot stores had a life blood, it would be exactly this color… and they were selling it on markdown!  I also grabbed a few cans of Rust-Oleum Flat-Soft Iron Metallic Spray Paint.  Think shiny gun metal grey.  Also, I had read online that rolling or painting a pegboard is terrible, I so I opted for the spray paint route and it worked wonders.  So long story short… You'll be seeing A LOT of Orange and Gun Metal Grey in my posts from here on out.  This 4×8 sheet took about 3 cans worth to fully coat.  I've also come to the realization that I need more tools to hang on my pegboard, preferably orange and black RIDGID tools (hint hint).  I have plenty of big power tools but they don't hang on the pegboard very well.  Need…more…tools…reason…justified…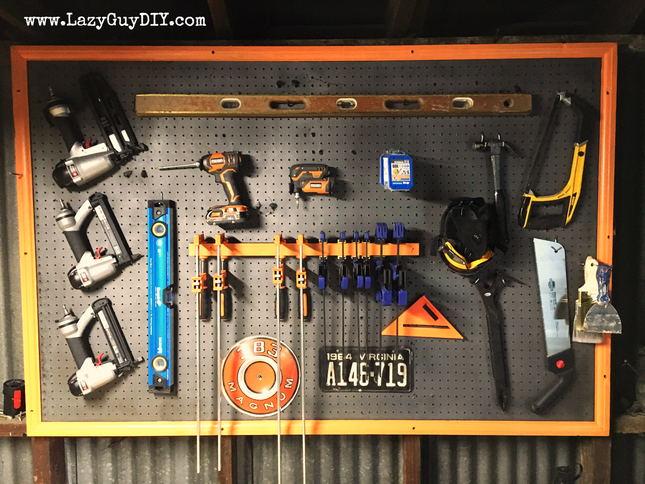 Another thing that needed to be addressed was my Dust Collection (or DC like the cool kids say).  I have none.  If I'm making saw dust clouds inside, I live in my RZ Dust Mask and my dust goggles.  I do however, have a 9 gallon RIDGID shop vac that I obsessively clean the floors with and occasionally duct tape to the dust ports on my power tools to keep the air semi-breathable.  No I didn't drop a couple hundred dollars on a new DC system, but I did spend a few dollars on some upgrades to my trusty shop vac.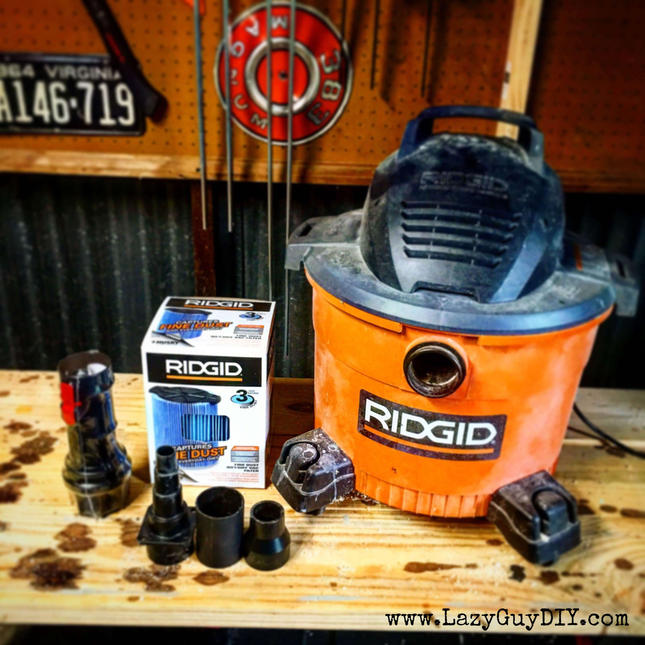 First place I started with was the RIDGID Upgraded 3-Layer Filter (and the most expensive upgrade at $20 whole dollars!).  If i'm just sucking up debris (with my vacuum) then the standard filter is fine, but I'm using this thing to suck up tiny dust particles.  The upgraded filter really helps on getting those instead of just blowing those back out into my work space.  It also means I don't have to live in my dust mask and goggles the whole time.  Next was the RIDGID diffuser/muffler on the left (this was an impulse buy).  What this thing is advertised to do is lower the decibel level and diffuse the exhaust without hurting the performance.  I'd say it dulls the noise of the vacuum compared to outright lowering it, but your real benefit comes from the diffuser that keep it from blasting air like a wind tunnel out of the exhaust.  The other three pieces are "universal" shop vac attachments.  I'm going to use "universal" loosely because honestly, not a single one fit my tools other than the vacuum itself.  Why my RIDGID tools don't easily connect to my RIDGID vacuum is beyond me.  
Just like how the grocery store hides everything you really need like milk and bread in the back of the store, i'm holding out on what you really want to know at the end of my post.  How about the new tools and the workbenches?
Well thanks to my wonderful wife (Mrs. Lazy Guy) I'm the proud owner of quite a few new tools in the last year to go towards this operation.  So not only does that benefit me, but also you the readers since it gives me a chance to expand what i'm working on.  I'm holding off on building a new fancy workbench and just using one I made a few years back, but what I am doing is building rolling stations for each of these power tools.  There are some awesome examples out there like Brad's flip top Planer stand on Fix This, Build That, or April's Rolling Drill Press cart from WilkerDo's.  However, I'm winging it and building whatever feels right for me.  Number one priority is that these pieces are multi-functional since I have such limited space, so what might work for them might not work for me.  For example, I'm in the process of building a Drill Press cart for my WEN 8-Inch Drill Press, but I've also decided the bottom half of the cart would make great storage for all of my sanders and disks.  It's like the "TurDucken" of power tool carts!  Once i'm finished with that I'll be moving on to a stand for my new RIDGID 13″ Thickness Planer and my RIDGID Sliding Compound Miter saw.  All of these will be on wheels and will be stored against the wall when I'm not using them.
But where are the pictures of all of these things?  Patience grasshoppa.  I'm going to have a big shop reveal here in a few weeks once everything is finished.  For now, you get the sneak peaks I have on here or you can follow me on Instagram. ~ Lazy Guy