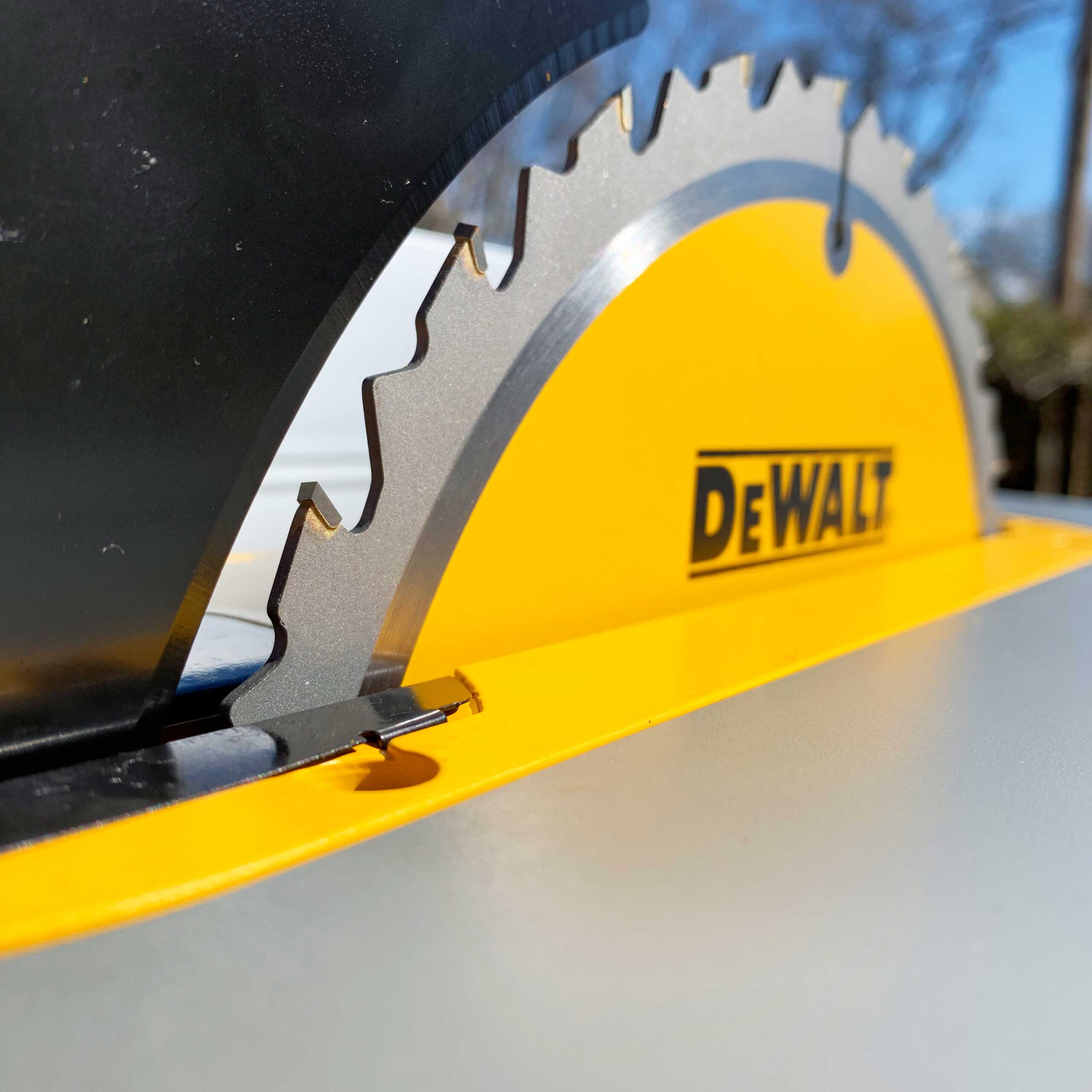 The first Table Saw I ever purchased was a mistake. The plastic case was so flimsy that if you put any weight on the table it would flex… which is not great for accuracy. It was also a spinning wheel of death. The DeWALT DW745S on the other hand, is what I'd call a great Compact Table Saw that's a perfect fit for beginners or space conscientious DIY'ers alike!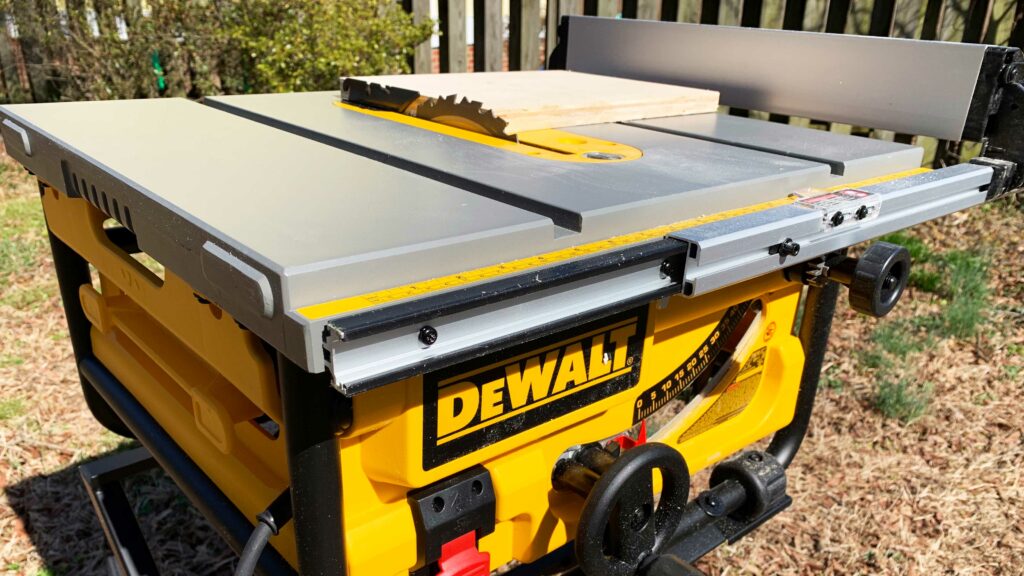 This review is sponsored by The Home Depot Pro-Spective Tool Review. If you love power tools check out the rest of the reviews here! Affiliate links will follow.
Compact Job Site Table Saw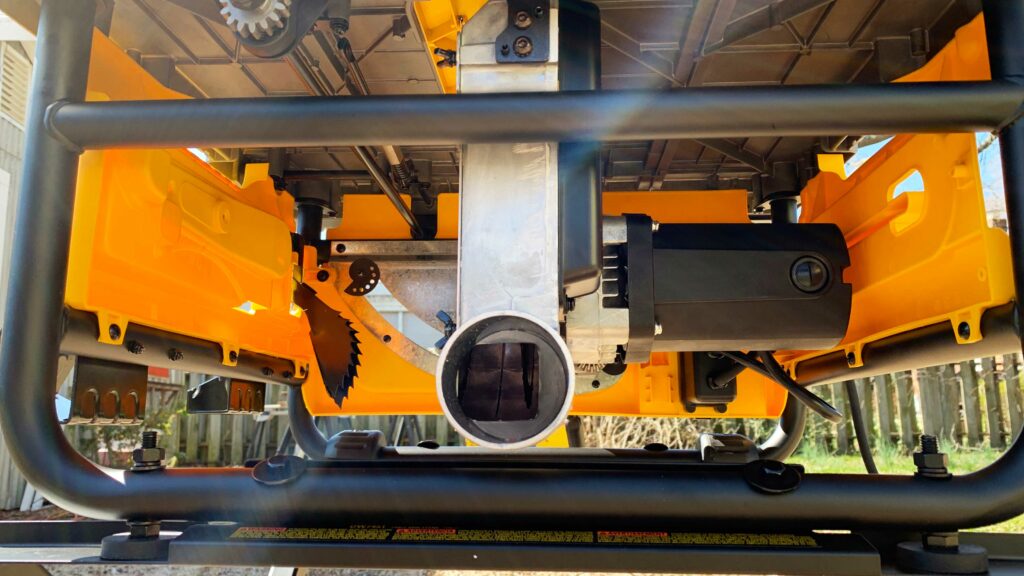 If you're new to Table Saws, hearing Job Site, Contractor and Cabinet Table Saw might be a bit confusing. Just know that a Job Site Saw is meant to be portable and easy to pack up while the others grow progressively bigger and more permanent in location. Which is why a Job Site Saw is perfect for newbies because it's great for someone without a dedicated work space or is spatially challenged in their shop size.
New Woodworker? Check out 5 Things Every New Woodworker Needs!
At just under 2′ x 2′ for the table, this DeWALT is one of the smallest Table Saws I've used and it actually reminds me of a Tile Saw in stature. Which concerned me at first. Over the last few years before I picked up my Saw Stop I had been using a much bigger RIDGID Job Site Table saw. The table on that saw was significantly bigger, plus it expanded which was also partially one of the issues.
Table Saw Features To Love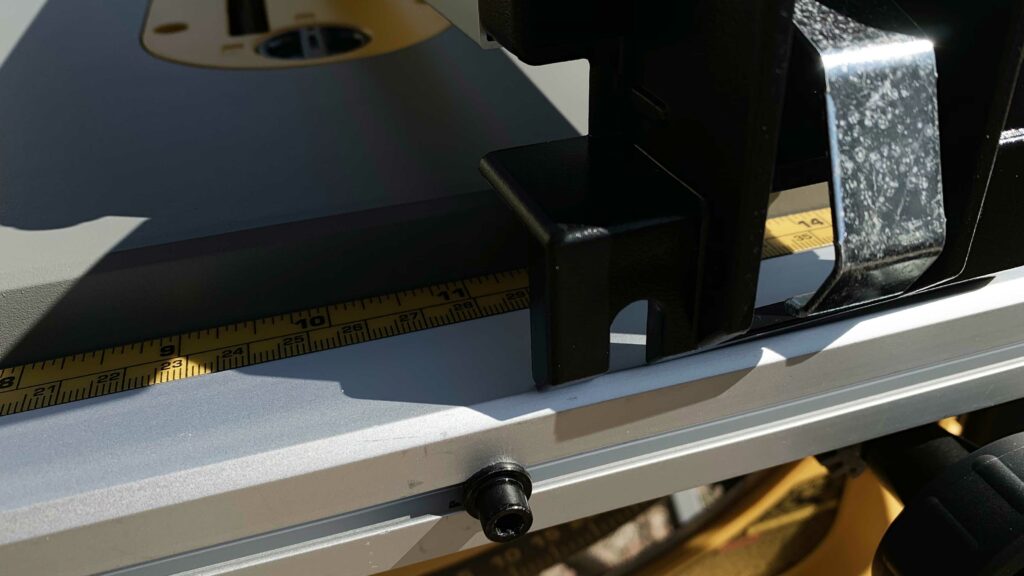 Out of the box the saw blade was accurate and square with the table. A lot of times you have to make minor adjustments, but not in this case. Which brings me to the fence. One of the biggest challenges with a Table Saw is how accurate the fence is and how much you have to fiddle with it to get a square line. The DeWALT DW745S uses a rack and pinion system to attach the fence which is honestly my favorite feature of the saw.
In order to make adjustments to the fence, you simply release the lock and slide the table rails. With the rack and pinion system, the fence remains square throughout adjustments. You can also dial in increments with the hand wheel on the front.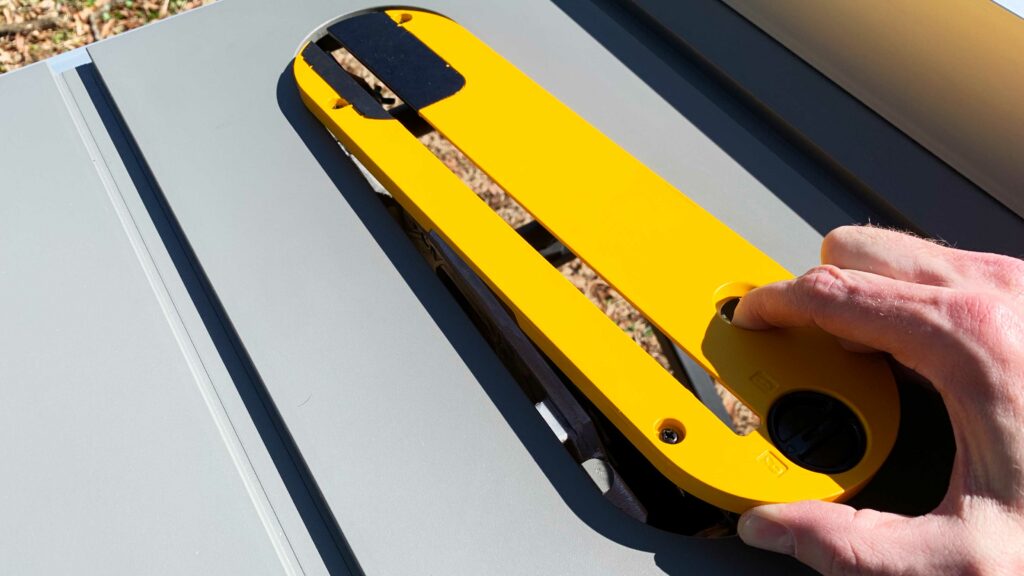 Another little detail is how easy it is to remove the blade insert. Most blade inserts are friction held and require you to pry them up. The DeWALT has an insert lock and easy to grab finger hole for easy removal. Which means you have one less step to worry about with saw blade maintenance. However, it is not recommended to use a dado stack on this saw.
Finding The Right Fit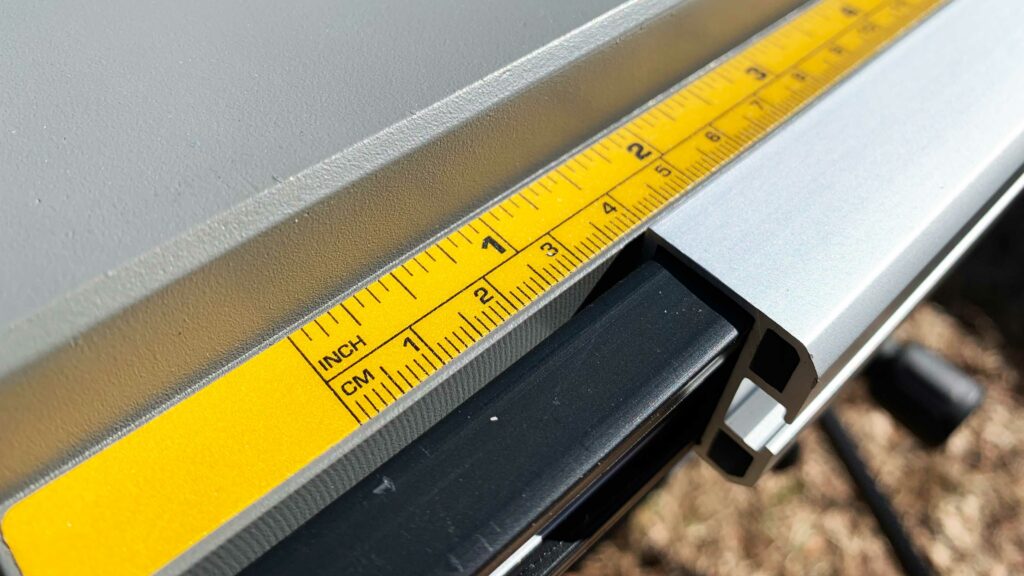 I should mention that this isn't a brand new saw on the market. It's actually been out for at least two years now, but it's recently been bumped down to a more budget friendly price bucket. Which brings me to why I think this is a good fit for a beginner DIY'er. At under $300 you're getting a proven table saw that addresses all of the issues that come with a budget machine. It does come with it's own stand (that you have to detach with wrenches to break down) but because the table is so small, you'll never break down sheet goods with it in it's current state.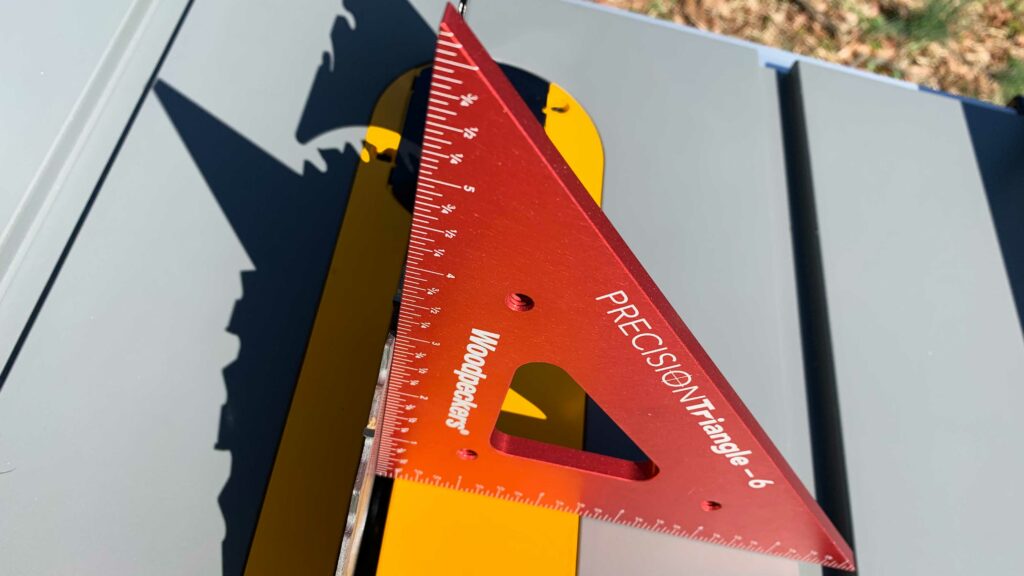 Which is why I think this is the perfect Table Saw if you're insetting it into an out feed table or workbench like this set up from Tamar from 3×3 Custom. It's sturdy and accurate. The compact size is actually a bonus when you're building a custom set up, plus you'll still spend hundreds if not thousands of dollars less than if you purchased a full sized cabinet saw. The 10″ saw blade and 15 amp motor had plenty of power to rip through 3/4″ plywood and still slice through hardwoods.
Bonus!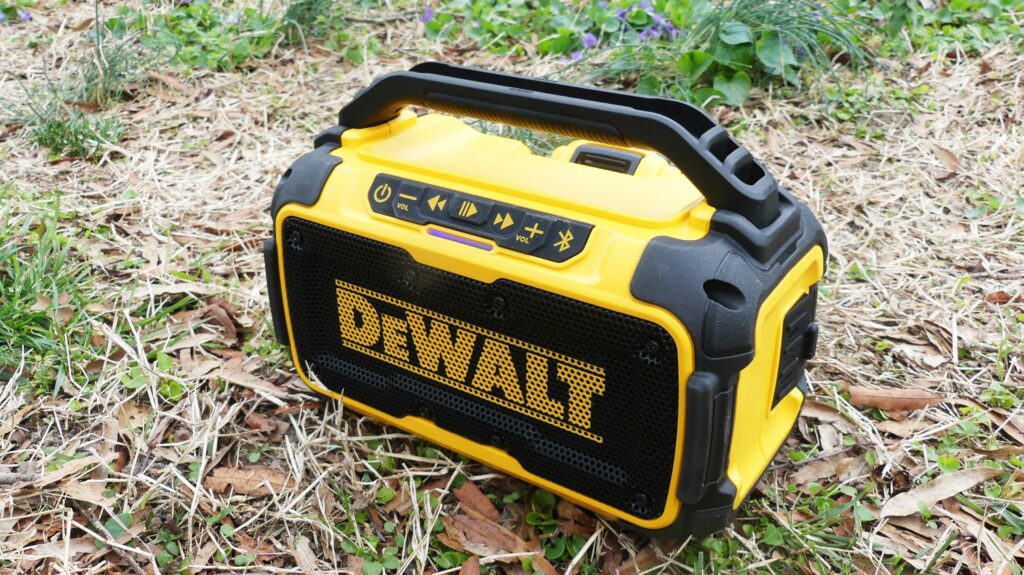 Just for fun during testing I also hooked up the DeWALT 20v MAX Bluetooth speaker. It's job site tough and connects via Bluetooth from up to 100 ft away.
~Lazy Guy
Love DeWALT Tools? Check out more DeWALT Tool Reviews in the DeWALT Feed!
This post has been sponsored by The Home Depot as part of the Pro-Spective Tool Review. I have been compensated for my time and provided with product in exchange for my opinion. My opinion is my own.