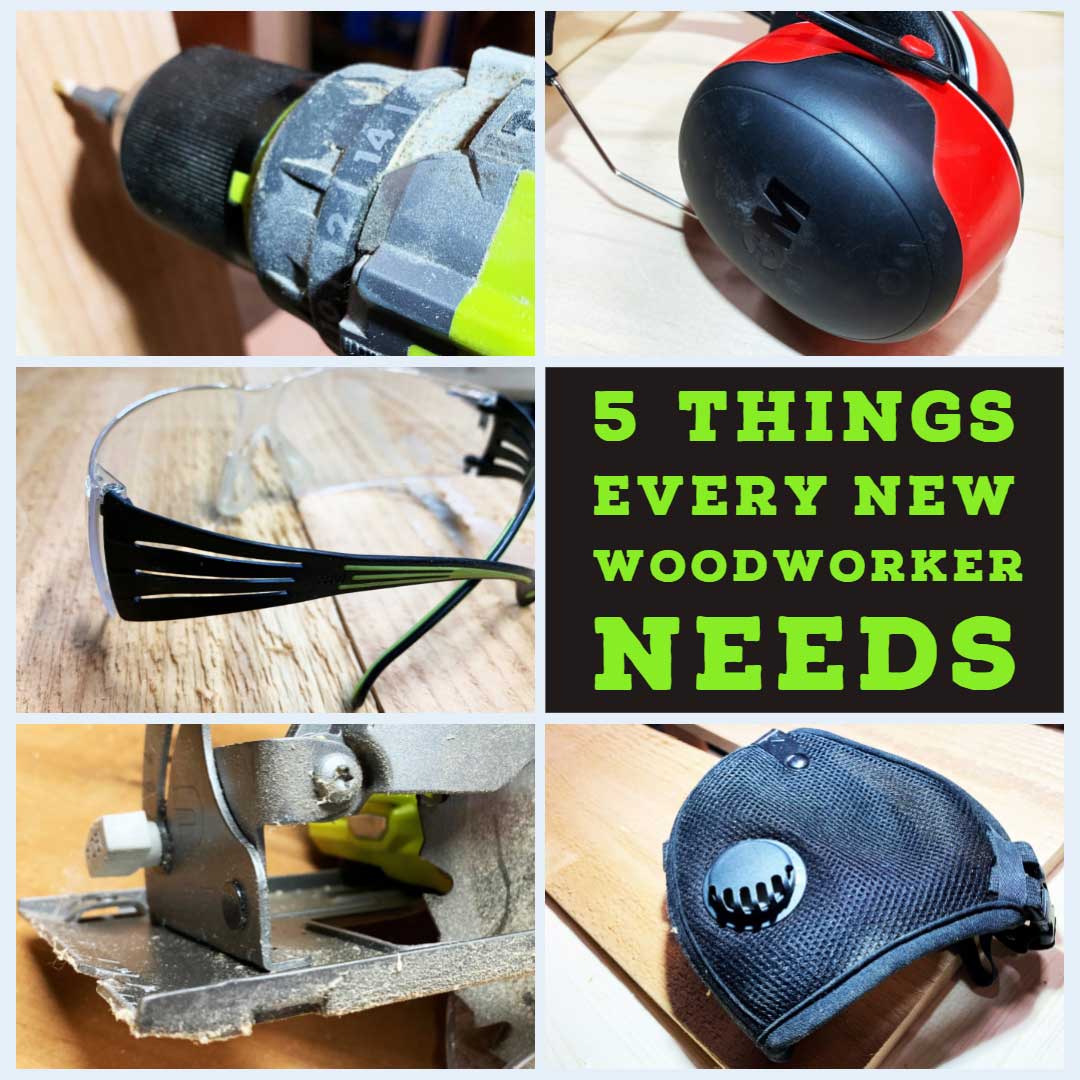 If there's one question I get asked almost weekly, it's how tall am I? But after that I get asked what purchases should someone make who is just getting into Woodworking? So in this "5 Things" let's talk about what you need to get started!
Links to products below will be affiliate links, however, this is not a sponsored post just good old fashioned opinion.
1. Use Protection
What's amazing is that eye and ear protection is one of the most overlooked purchases when it comes to starting up your hobby. It should honestly be the first thing you purchase. You might have a back up eye or ear if you accidentally damage one, but let's be honest… you should aim to keep both. I got an eye injury from the wind blowing sawdust off a sheet of plywood one day. Accidents happen. Be prepared.
Safety Glasses
3M Secure Fit 400 Safety Glasses – Industry favorites because they're comfortable, cheap and fit well. The ear pieces are flexible which makes pairing them with ear protection a non-issue.
DeWALT DPG82 Safety Goggles – These are perfect for projects that make a ton of sawdust like sanding. I also love them for demo work too in case the debris starts flying.
Ear Protection
3M Pro-Grade Ear Muff – There are plenty of "in ear" options for ear protection that are fine, but over the ear options are a lot more comfortable. I can wear these for hours and not realize it.
IsoTunes Xtra Bluetooth Ear Protection – Sometimes I get bored in the shop with noise canceling ear protection which is why I love these noise canceling headphones. They're OSHA Compliant too which means these aren't just normal ear buds, they're meant to go to work.
2. Breathe Easy
Guess what? Sawdust is a human carcinogen. That means all that sawdust you're breathing in because you don't want to wear a dust mask is actually trying to kill you. You might think it's a case of the sniffles, but that's your body telling you something is really wrong.
GVS Half Mask Respirator – I've found this model to be one of the most comfortable to wear aside from RZ-Masks (the M2.5 has the best fit). Just know that if you have a beard the effectiveness drops significantly.
RIDGID Shop Vac & Dustopper– A real dust collection system is going to break the bank right out of the gate. We're talking hundreds if not thousands of dollar. A Shop Vac teamed up with a dust separator hooked up to your power tools goes a long way.
3. Screw It
The first cordless tool kit you buy is going to set the tone for the rest of your cordless tools you own. Once you buy into a battery platform it's easier (and cheaper) to stay brand loyal. The first tool purchase needs to be a drill and driver kit though. Standard drills are for… drilling holes… impact drivers are for driving screws and bolts. It seems silly to have two, but you'll get it.
Ryobi 18v Combo Kit – This is a great intro kit that will introduce you to the largest tool platform out there. Not to mention it will hold up to your DIY'er needs. You're not working a construction site so the benefits of a more expensive tool kit will never come into play.
Milwaukee M12 Fuel Combo Kit – I'll ask you to slightly disregard what I said above because the M12 line is phenomenal. The tools run on a 12v battery instead of the normal 18v and that might seem like a disadvantage… but the compact size does not compromise the power in this tool line. They're just more convenient than their bigger, bulkier brethran.
4. Cut It Out
You're going to need a saw and depending on your budget, it's going to determine a lot of this list for you. I'd prioritize a miter saw, but if money is tight you can make due with a circular saw. You can honestly hold off on a table saw for a while as you build your craft, so don't feel the pressure of needing to order one.
Miter Saw
DeWALT 10″ Miter Saw – $200 for a tool is going to hurt if this is one of your first purchases, but it will be the workhorse of your shop. DeWALT saws are extremely accurate out of the box and will run forever. Don't fall victim to the bells and whistles of other brands until you're ready for them.
RIDGID 10″ Sliding Miter – If your budgets allows it, upgrade to a slider miter saw. You'll never go back to a standard chop saw. You have a larger cutting capacity and you can cut dados right out of the gate. Did I mention RIDGID tools have a lifetime warranty?
Circular Saw
I'll make this simple, if you bought a Drill/Driver Kit, buy the same brand of circular saw. For a beginner, a $74 Ryobi 18v 6-1/2″ Circular Saw will be just as valuable to you the $350 Makita X2 7-1/4″ Rear Handle Saw I use. You're making straight cuts in basic material. Don't overthink it.
5. Smooth Operator
It's the one thing you'll hate with a passion but love the results from. You're going to need to pick up a sander. Sure you can hand sand everything… but ugh. Quarter sheet, Belt sanders and 5″ Random Orbit Sanders are going to be the most common available to you. Stick with the ROS the the best results.
DeWALT 5″ Corded ROS – Corded you say? Yes. Corded. The best battery operated Random Orbit Sanders will run for about 30 minutes tops with a large battery. That doesn't usually cut it for me so I lean towards corded models. For under $60 you can't go wrong with this DeWALT.
Once you're up and running you should check out my other ongoing Tool Reviews so you can expand your shop. Then don't forget to take a look at these 5 Things That Will Help You Cheat At Woodworking!
~Lazy Guy
Like this post? Pin it to Pinterest!