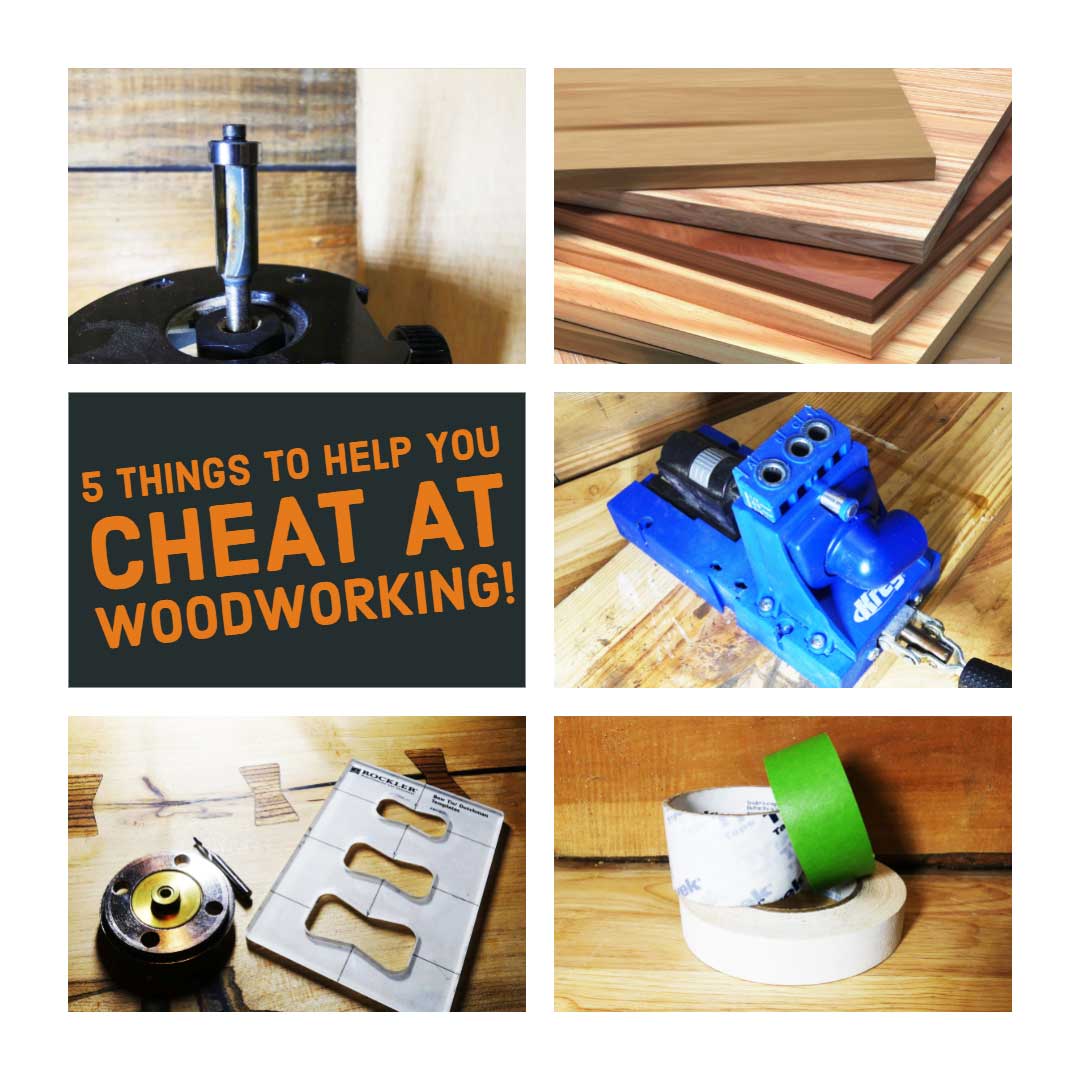 Woodworking purists look away!  Whether it's time, laziness (my hand is raised) or just plain ease of use, there are ways to cut corners in woodworking to make your life a lot easier.  Is it cheating?  Depends on who you ask, but ultimately, you can get similar results as doing it the hard way in half the time.  So if you're okay with these, so am I!
1. Flush Trim Router Bits
I'm going to let you in on a little secret… I don't always cut straight lines when ripping down sheet goods.  Put a straight edge against my cut line sometimes and it might have more waves then a day at the beach.  My solution?  Attach a Flush Trim Router Bit (with bearing) to a router and use a straight edge as a guide to even out that cut.  One or two quick passes and that wonky cut will be as straight as an arrow!
2. Edge Banding
If you work with a lot of plywood, then you know you can't just leave an exposed edge on a finished build (I mean, you can…)  Paint it or stain it all you want, it's never going to blend in.  Grab an iron and pick up a roll of veneer Edge Banding and you can make those sheet goods look like a solid piece of hardwood.  Run a strip across the edge and the iron will activate the adhesive to give you the finished look you've been looking for!  Don't forget a budget friendly edge band trimmer to cut off the extra.
3. Pocket Holes
Hate them or love them, pocket holes have revolutionized woodworking in the last few years by making joint assembly a breeze.  A few quick trigger pulls with your drill into your pocket hole jig and you can assemble pieces of furniture in the matter of minutes instead of taking several hours or days.  You can't go wrong by starting off with a Kreg R3 kit and then working your way up to a K5 Master or Foreman to streamline your process.
4. Router Inlay Kits
I'm sure you've seen bow tie or butterfly inlays at this point on high end woodworking pieces.  Often used to prevent additional splitting in live edge lumber or as a functionally fashionable way to join two pieces of material, inlays immediately add an additional layer of craftsmanship to any build.  The problem is that it's not easy (and it's time consuming) to chisel out the void and then carefully cut out an inlay to snugly fit in the hole.  So I slap on an Inlay Key Template and use a plunge base router to knock out finished inlays in the matter of minutes.  Don't forget the Router Inlay Guide that attaches to your router base.
5. Premium Tape
It's not a sexy pick, but it's something most people overlook when woodworking.  Name something else that can keep your glue ups clean, replace a pair of clamps, prevent tear out, give you a smooth finish for epoxy pours or lock a project down tight to your work surface?  I always keep a roll of Double Sided Carpet Tape, Bleed Proof painters tape and Installation Tape on hand at all times.
The painter's tape is perfect for temporary zero clearance inserts on your table saw or running along a cut line to prevent tear outs with sheet goods.  Place it over a joint before your glue up and no matter how much you clamp your project, those little glue pockets won't be leaking out!
The Carpet tape is so strong that it can stick a warped board to a planing jig for a thickness planer, lock down router jigs or even keep your project in place on your workbench.
Installation Tape is a go to for epoxy pours.  It holds up to temperature changes which is extremely important when epoxy goes exothermic (heats up due to the chemical reaction) where normal tape would lose adhesiveness.  Then the lack of texture (kind of like packing tape) leaves a perfectly smooth surface that makes for the perfect pour!
Like this post?  Make sure you share it on Pinterest and check back for more "5 Things" topics for quick picks to make your DIY Life easier!
~Lazy Guy