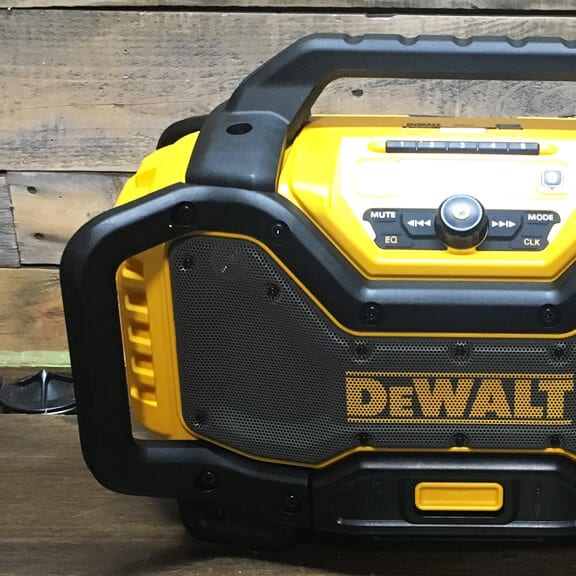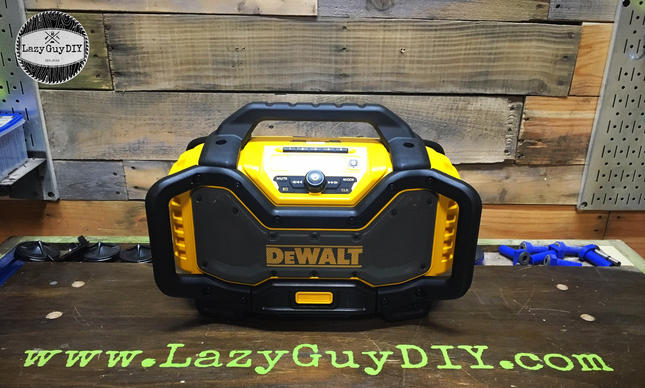 What's ruggedly handsome, carries a good tune and is always willing to help out a friend?  Surprisingly, this isn't about me.  You lost me at carries a good tune.  I'm a terrible singer….  but that doesn't keep me from cranking my tunes in the shop and scaring the neighbors away with my takes on monster ballads or spitting mad rhymes of old school rap.  What you're looking for is DeWALT's Battery Charging Bluetooth radio (model #DCRO25).
First Impressions
I mentioned rugged already but I'll say it again, this thing is rugged looking.  It looks like it's got a NASCAR roll-bar cage on it to protect it from bump drafting or being smashed into the wall.  Full disclosure, everything I know about NASCAR I learned from the movie Days of Thunder, so let's try a better real world application.  The radio looks like it's built to survive the rigors of a job site or even a crazy weekend of camping.  I generally use my Amazon Echo in my shop but I worry about the amount of sawdust it collects and question how durable the Echo would be if a leaning stack of lumber falls on it.  The DeWALT is big enough to put out big sound, but not so big it's taking up a ton of real estate.  The display lights up bright blue with easy to identify buttons to turn it on, adjust volume or pick a listening source.  Most importantly, it has a USB input in a closed compartment so you can hook up your phone, play your tunes and not worry about it being exposed to the elements or a dance off gone wrong.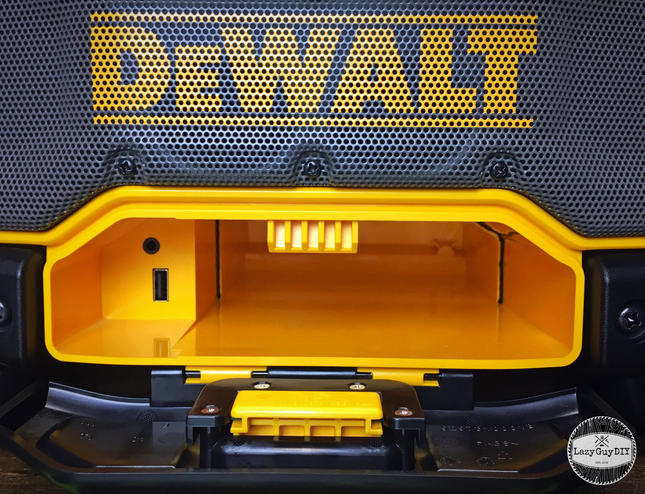 But What Does It Do?
The obvious is that it plays your audio content via Bluetooth or the auxiliary input if you need to pick your own poison, or a FM/AM tuner if you want to listen to the radio.  But as the name states, it's also a charger.  It accepts one of DeWALT's slide on 20v or 60v FlexVolt batteries on the back of the unit to charge as long as you have the unit plugged into an outlet.  Unplug the cord and guess what?  This thing runs off of the DeWALT battery.  That means you're portable.  Where you're going… you don't need roads (but you do need a charged DeWALT battery).  When the unit is plugged in it has two additional AC outlets on the side so you're not tying up coveted outlet space.  If that wasn't enough… it's also got a built in bottle opener on the other side… because it's 5 O'clock somewhere.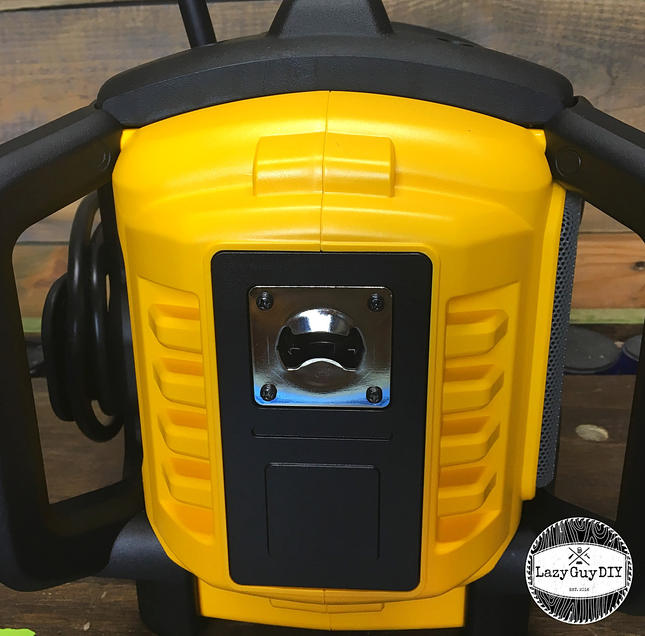 How Easy Is The Set Up?
This was probably the easiest Bluetooth set up I've ever encountered.  Meanwhile it took us a good 6 months to get the one on my wife's car paired.  In literally under 30 seconds I hit the well-marked Bluetooth button on the interface, opened up my iPhone's settings and selected the Bluetooth menu.  The DCRO25 (model number not a scary robot name) was already in queue to pair so I hit connect and was done.  This was very important because my 2 year old daughter was shouting at me to play a song right that very second.  Full disclosure, we went with Moana's "How Far I'll Go" on this manly piece of equipment.  I'm not ashamed.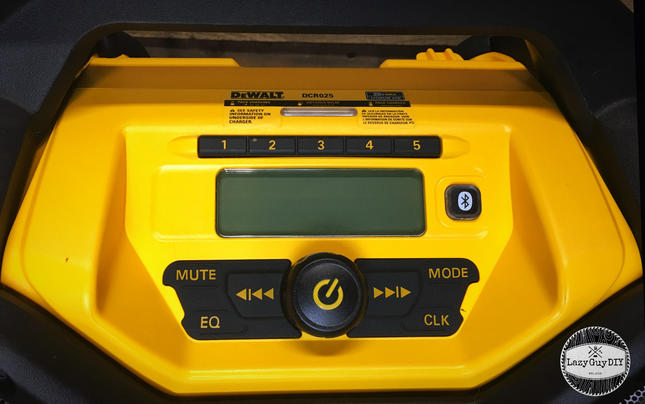 But How Did It Sound?
Moana's ballad of independence wasn't extremely impressive or inspiring on first listen.  But then it turned out my daughter had chosen a bootlegged version on YouTube as our first choice so the sound issue was completely skewed because of the quality of the content.  Take two I played from Pandora via Bluetooth and chose a bluesy and horn heavy song from the band… well… The Heavy.  All the boxes were checked for a solid sound without sounding underwater at high and low levels like some rugged speakers often do, but the real test would be the next song.  I fired up the "Old School Rap" mix and went with a bass heavy song from Naughty By Nature.  This is when I realized the unit does have speakers that were able to put out a good amount of bass but not so much that is sounds like that guy whose trunk rattles when he drives by because he's got his sub-woofers cranked too high.  Podcasts on the other hand had a slight metallic sound when people were talking no matter the quality of broadcast.  It's not a deal breaker like it would be for music, but it's noticeable.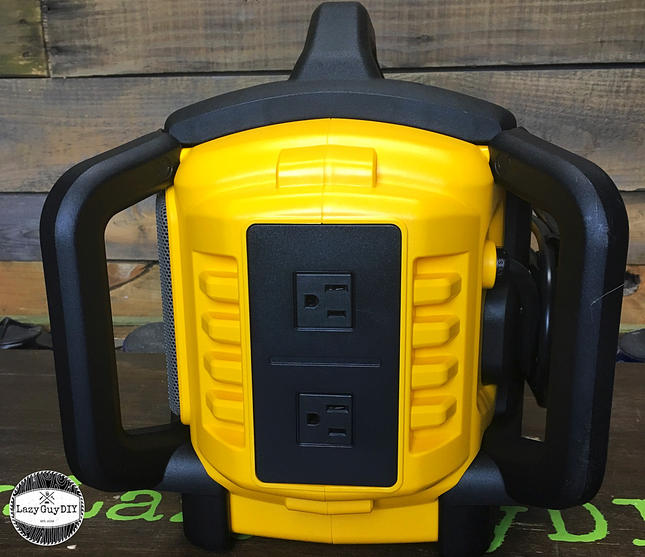 Final Take
The unit is VERY Yellow and Black and is a great addition for those who want to add another quality DeWALT product to their collection.  Even if you aren't brand specific, I do see this as a good addition to bring your job site some tunes that will run all day or even a great companion for camping or tailgating.  It's made to be tough so you don't have to worry about babysitting it like you might have to for a fancy Bose speaker.  It does come as a bare tool which means that the DeWALT battery is not included.  If you already have DeWALT batteries this is an easy purchase to make for a quality portable speaker/charger system that will hold up to the riggers of partying hard.  Oh, and did I mention it has a built in bottle opener?  Cheers!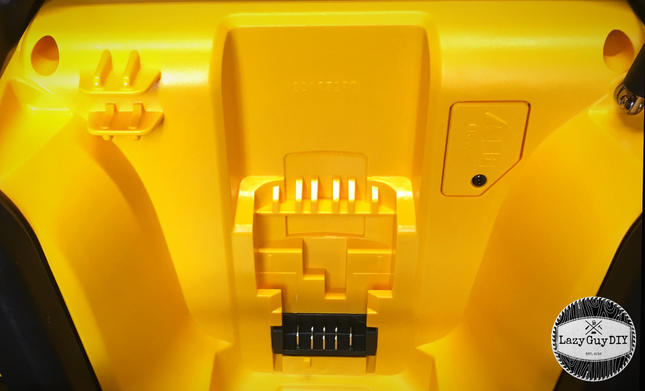 The DeWALT 20-Volt or 60-Volt Lithium-Ion Battery Charger/Bluetooth Radio is now available at The Home Depot for around $199.
~ Lazy Guy
Can't get enough DeWALT tool reviews?  Check out the DeWALT tool feed!
*This post is Sponsored by The Home Depot as part of the Pro-Spective tool review program.  I have been compensated for my opinion on this product, but my opinions are my own (unless there's a vote about adding another pet to our household and then my opinion doesn't count).  All products reviewed for this program will be available for purchase at The Home Depot and can be found via the affiliate link within the post.  If you do make an online purchase via the link a portion of that sale will go to this website at no additional cost to you.   It's kind of like Blanche, Rose and Dorothy saying "Thank you for being a friend" but less Golden Girl'ie.