When your job has you on the move from job site to job site, your gear better be mobile. If you're a project manager or a technician chances are you have a laptop, business phone, hard copy documents and a ton of compact tools with you on each visit. So where do you store all of those? Husky Tools has an answer!
*This review is part of The Home Depot Pro-Spective Tool Review! Affiliate links to follow. If you want to keep up with the latest reviews from this series check it out here!
Tag It & Bag It
Look, we know that what you haul your gear around in isn't a sexy pick, but it's a necessity. You can toss your gear in your passenger's seat or you can show up to a job site professional and organized. We've talked stack-able pack outs before like these from Milwaukee and Husky or even What To Take On An Install, but this is different, this is the business side.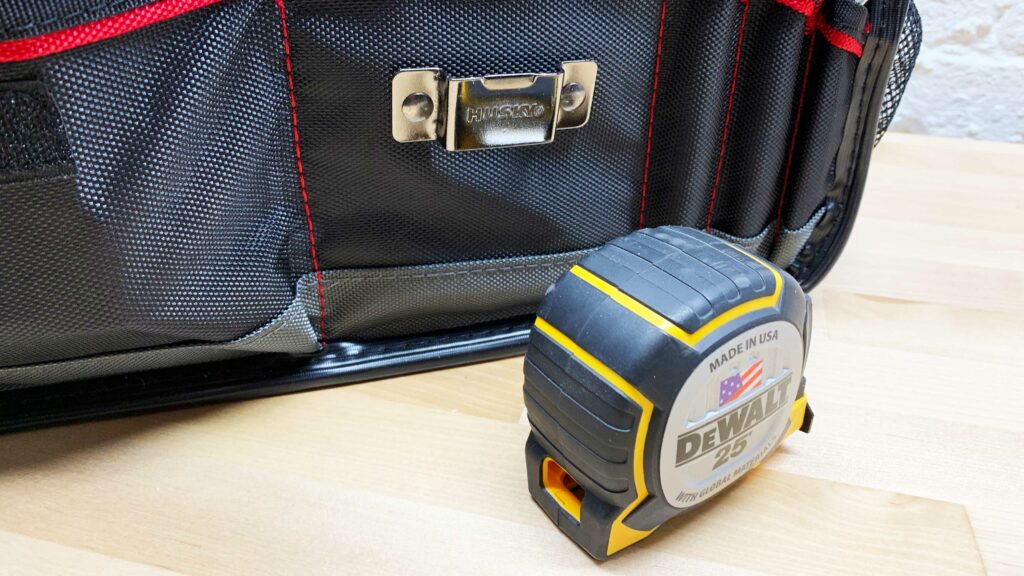 I'm not going to lie… when this showed up I thought it was a soft sided cooler (pictured at top of page). That's padding though, not insulation. So don't throw in your Miller Time beverages with hopes of a frosty refreshment at the end of the day. It is, however, perfect for dropping in your laptop and file folders.
The inner compartment has plenty of pockets and dividers to keep your workflow organized while the outside is like Batman's utility belt. You have enough pockets to go around to store pens, notepads, basic hand tools and of course a few bottles of water.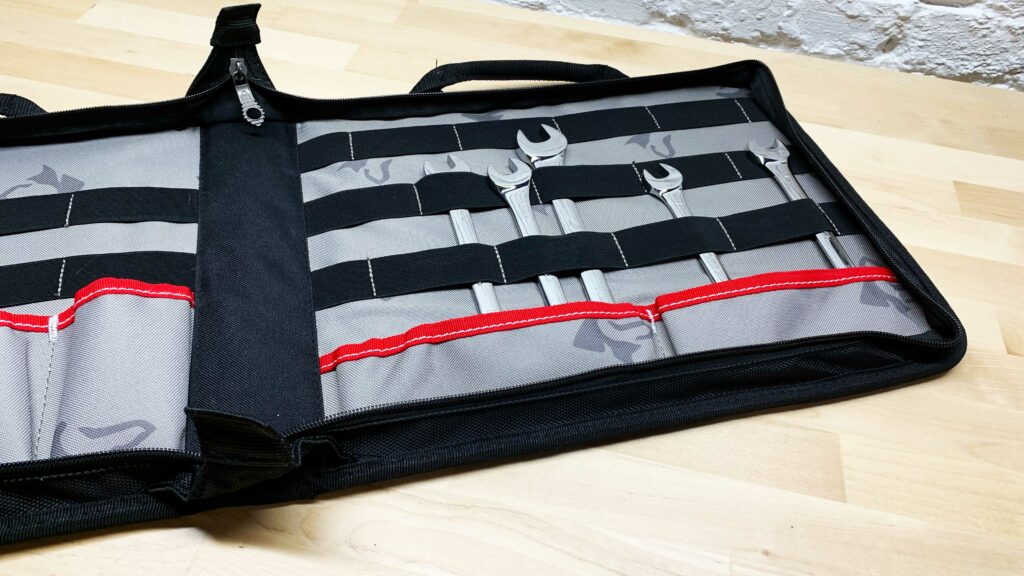 If contractors were walking around with a tool friendly Trapper Keeper (sans neon colors and unicorns) this would be their first choice. There's nothing wrong with job-site unicorns by the way! The Husky Pro Tool Organizer is a great compact kit that lets you bring your essentials with you.
With ten interior pockets and five elastic straps you can store everything from wrenches to screwdrivers in this zip to close tool carrier. Even better, it will fit right into your Pro Mobile Office (you can see it below) when you're on the go!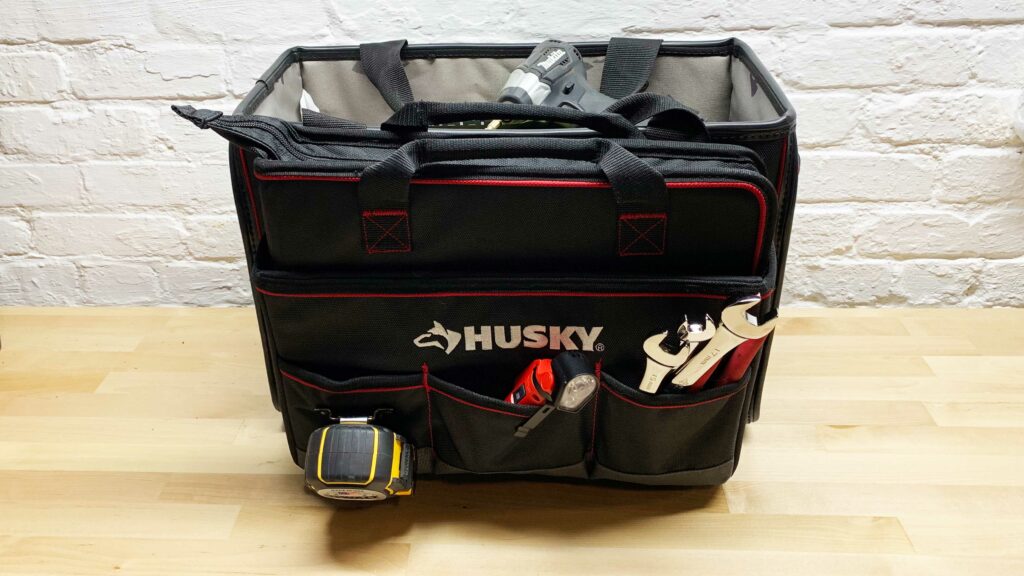 Next up, the Husky 19″ Pro Hybrid Tote is a rugged tool organizer that also perfectly stores a laptop or tablet for the job site. Usually you might be afraid to throw a drill or a set of sockets in the same bag as your computer, but this tote is perfect when you need to bring it all.
Six external pockets, 18 internal pockets and five elastic straps round out this tool organizer. You've got plenty of space for quick access and perfect organization. Dual truck handles are reinforced and sturdy for carrying a fully loaded bag. My only suggestion would be to add a shoulder strap to a set up that can carry this much, but otherwise it's a great size and a great solution to bring to the next appointment.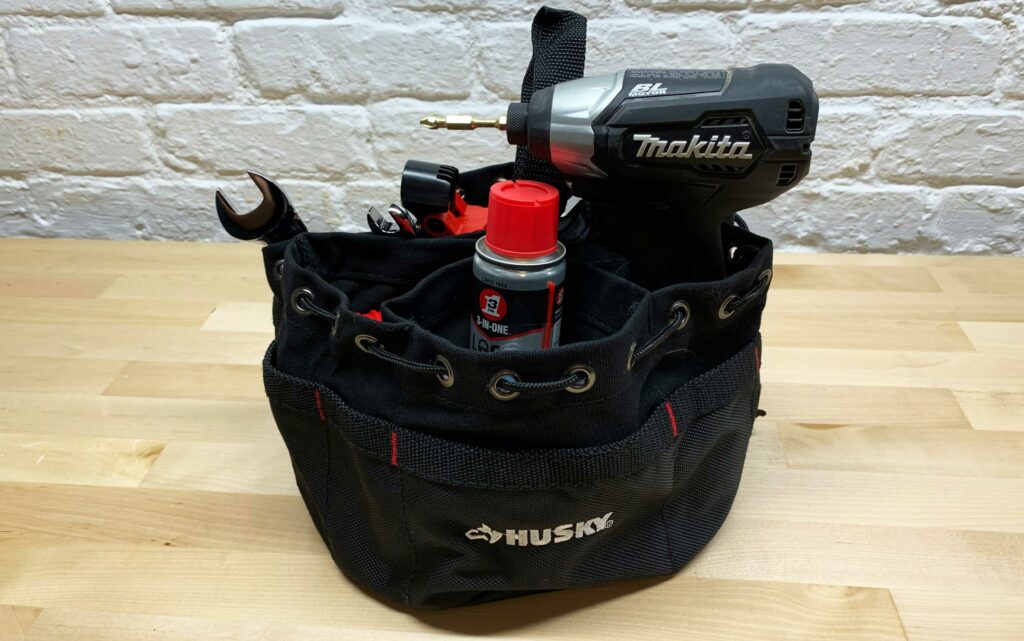 Last but not least, the Canvas Small parts organizer is meant for the multi-tiered organizer. With six divider pockets, you can load this carrier up, pull the drawstring and keep your gear in place. But don't stop there, the idea for this tote is to stack 3-4 in a 5 gallon bucket for easy transport.
Bonus!
What's that cool little red Milwaukee flashlight you keep seeing in the Husky bags? That's the Milwaukee 500-Lumen LED Pivoting Rechargeable Flashlight. All day run time, rechargeable through USB, 110 degree pivoting head and a magnetic base for convenience!
~Lazy Guy DIY
*This post is sponsored by The Home Depot Pro-Spective Tool Review. I've been compensated for my time and provided with product in exchange for my opinion. My opinion is my own.