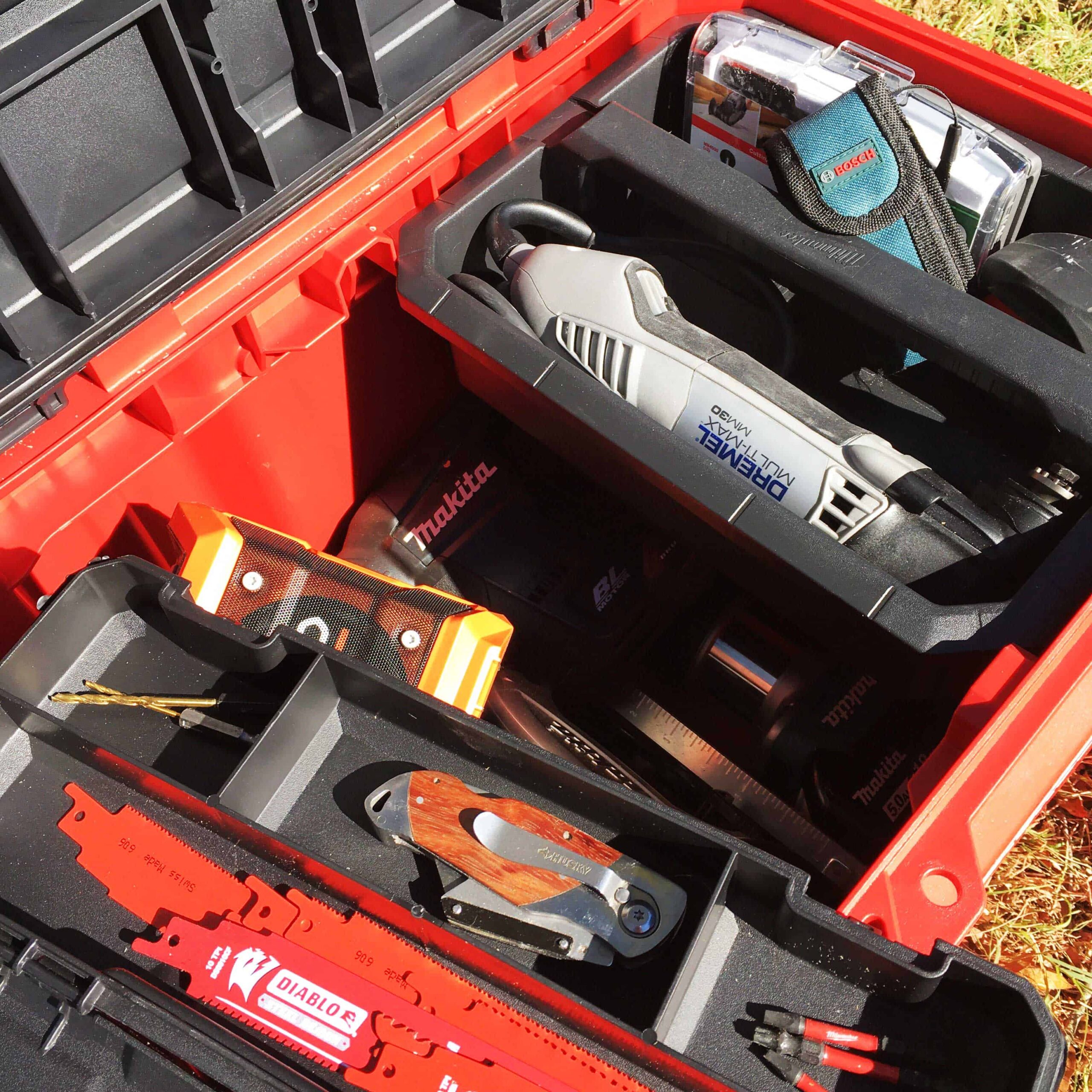 I hate Custom Install work.  Let's just get that out of the way early.  I only take on a handful of commission builds a year now and I almost NEVER Install my work anymore.  There are too many factors to take in account and let's be honest… things are much easier when all your tools are in their place at home.  Alas… work is work and sometimes you've got to visit the client… so what Tools should you take on your Install?
This post is part of The Home Depot Pro-Spective Tool Review Campaign.  Affiliate Links will be linked below.
Pack Up A Pack Out On An Install
I've reviewed a handful of Pack Out kits recently that are stack-able containers that attach to a rolling base that make life much easier.  I recommend the Husky Connect System or the Milwaukee Pack Out kits.  Believe me, as a person who used to loosely throw tools in my trunk space and occasionally use a tool bag… you're going to want to upgrade.  One trip with a system on wheels looks a lot more professional than 11 trips to find the right drill bit.
Will Your Install Go The Distance?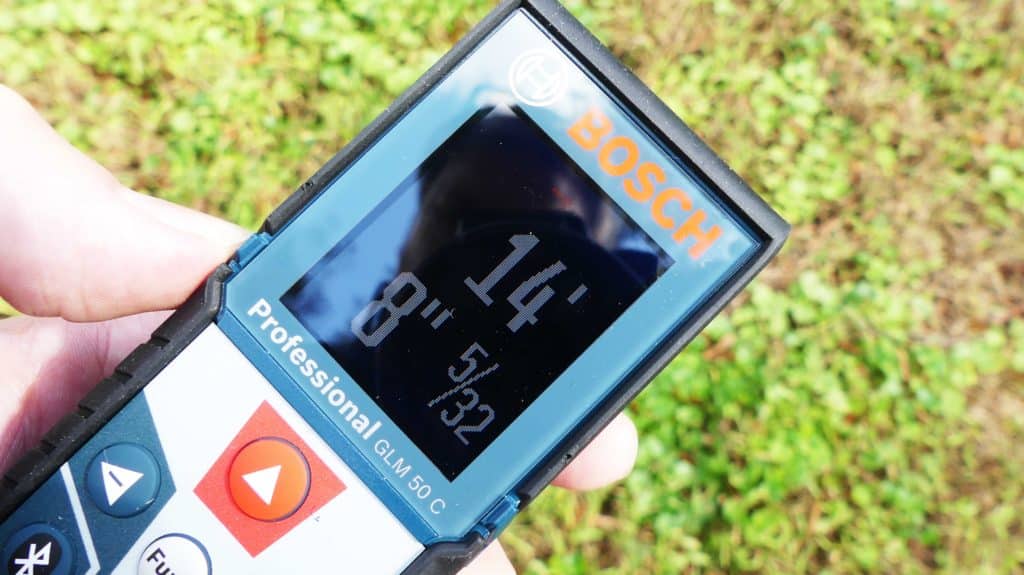 My very first consultation I did something really stupid.  I didn't bring a tape measure.  I ended up borrowing one from the client (real professional) but now I always keep two in my center console.  My go to these days is Milwaukee's 25 ft. Premium Tape Measure which is a change from what my opinion was when I did a Tape Measure shootout a while ago.  Having numbers on the back of the tape makes a lot of sense.
Even more fun (and accurate) I've upgraded to the Bosch Blaze 165′ GL50 CX Laser Distance Measure.  Smaller than a cellphone, point this little guy at any surface and you get an accurate measurement with 1/16th of an inch… at up to 165′.  There are multiple measurement modes that take the guesswork out of dimensional measuring and oh yeah… it connects to Bluetooth so you can send it all to your phone AND attach it to pictures.
Be Ready To Do Some Damage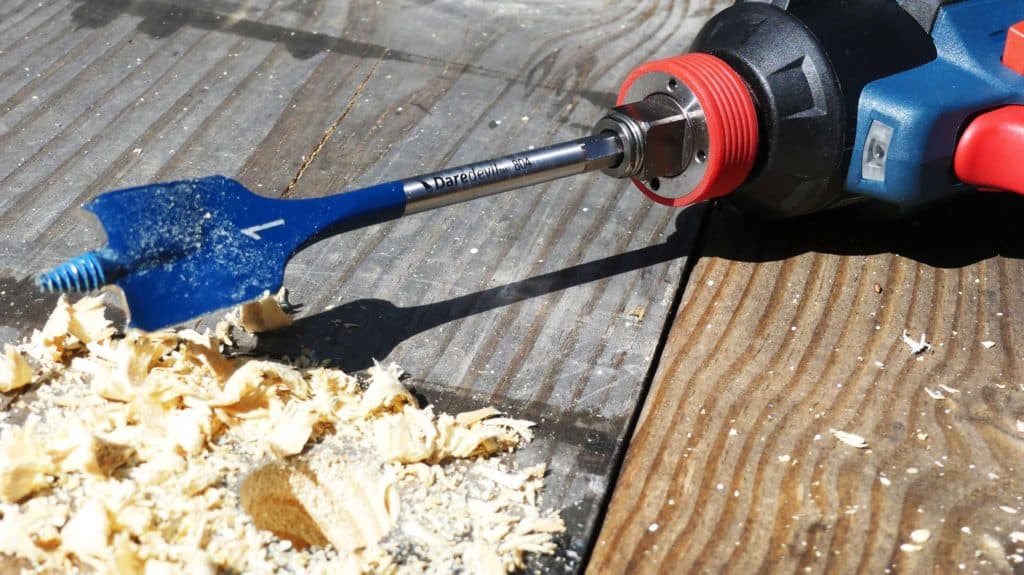 One of the worst feelings on an install is when you have this fully built piece and then it doesn't fit in the space.  Never trust a client's measurements… it will only lead to tears.  Sometimes (with the client's permission) you might need to make change either to the piece or to the space.  For that reason I always pack a few accessories to do some damage.
Sometimes you need to get down and dirty and make some nasty on the job site cuts and the best tool to do that is a reciprocating saw.  You'll always find the red Diablo blades in my kits with a Demo Demon General Purpose blade, Carbide Wood Cutting blade and Steel Demon Metal Cutting blade to handle whatever material gets thrown at me.
Of course you'll have drill bits, but I also like to pack spade (or paddle) bits.  The Bosch Daredevil 12 pack is a great kit that runs from 1/4″ to 1-1/4″ that will easily bore perfect holes.  The tips are threaded (like a screw) that make for more accurate and faster hole drilling.
Go Compact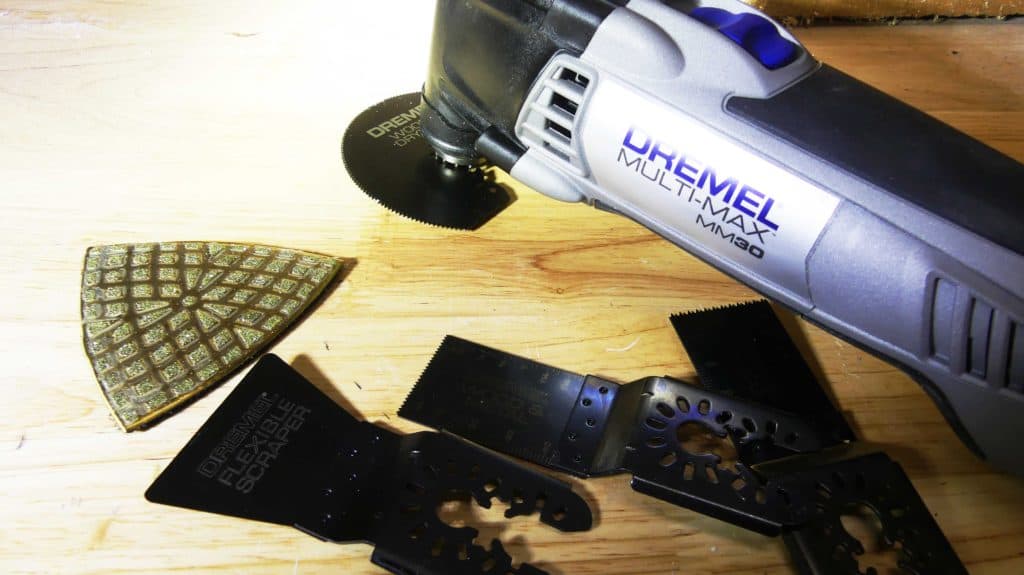 While it would be nice to pack up all of your workshop with you, sometimes you've got to trim it down and bring an abbreviated version of your tool collection to an Install.  Compact tools are just as powerful as their bigger brethren these days so you can pack the power without the weight or size.
So I'm only traveling with one main battery platform, I've been leaning on the Makita Compact LXT line recently.  The 6-1/2″ (XSH04) Circular Saw is a monster for any size saw (check out the review). The Sub-compact LXT Reciprocating Saw has more than enough power to cut through anything and the Sub-Compact Impact Driver is a beast.  When things go really badly, I usually have the LXT Cordless Compact Router on hand as well.
I also like to bring an Oscillating tool like the Dremel MultiMax because you can tackle a little bit of everything with it.  From tile cutting to sanding to even metal cutting, it does a little bit of everything in a small package.  You're always going to need extra blades though, so make sure you bring a pack of the Universal Accessory Kit or the Cutting and Variety Kit that Dremel offers.
Just For Fun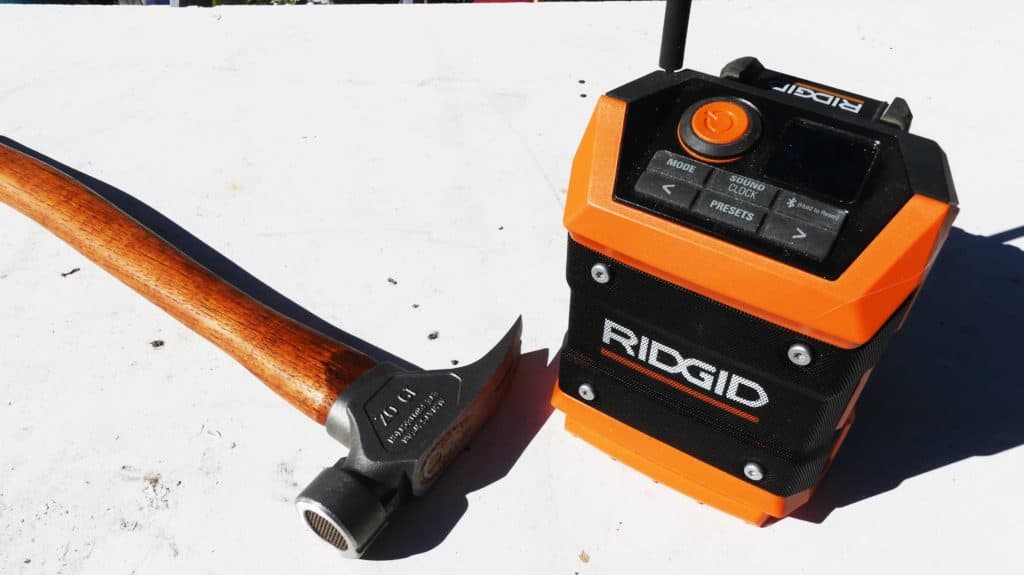 Remember to pack the tunes.  You know what's boring?  Listening to nothing.  Absolutely nothing.  RIDGID's new 18v Mini Bluetooth Radio is a pint sized audio Swiss Army Knife that easily stows in your Pack Out.  Pair with your smart phone to stream audio, run a USB to connect directly (and charge) or tune to AM or FM radio.  Slap on a RIDGID 18v battery and you'll go for hours!
~ Lazy Guy
*This post is part of The Home Depot Pro-Spective Tool Review Program.  I have been compensated for my time and provided with tools in exchange for my opinion.  My opinion is my own.