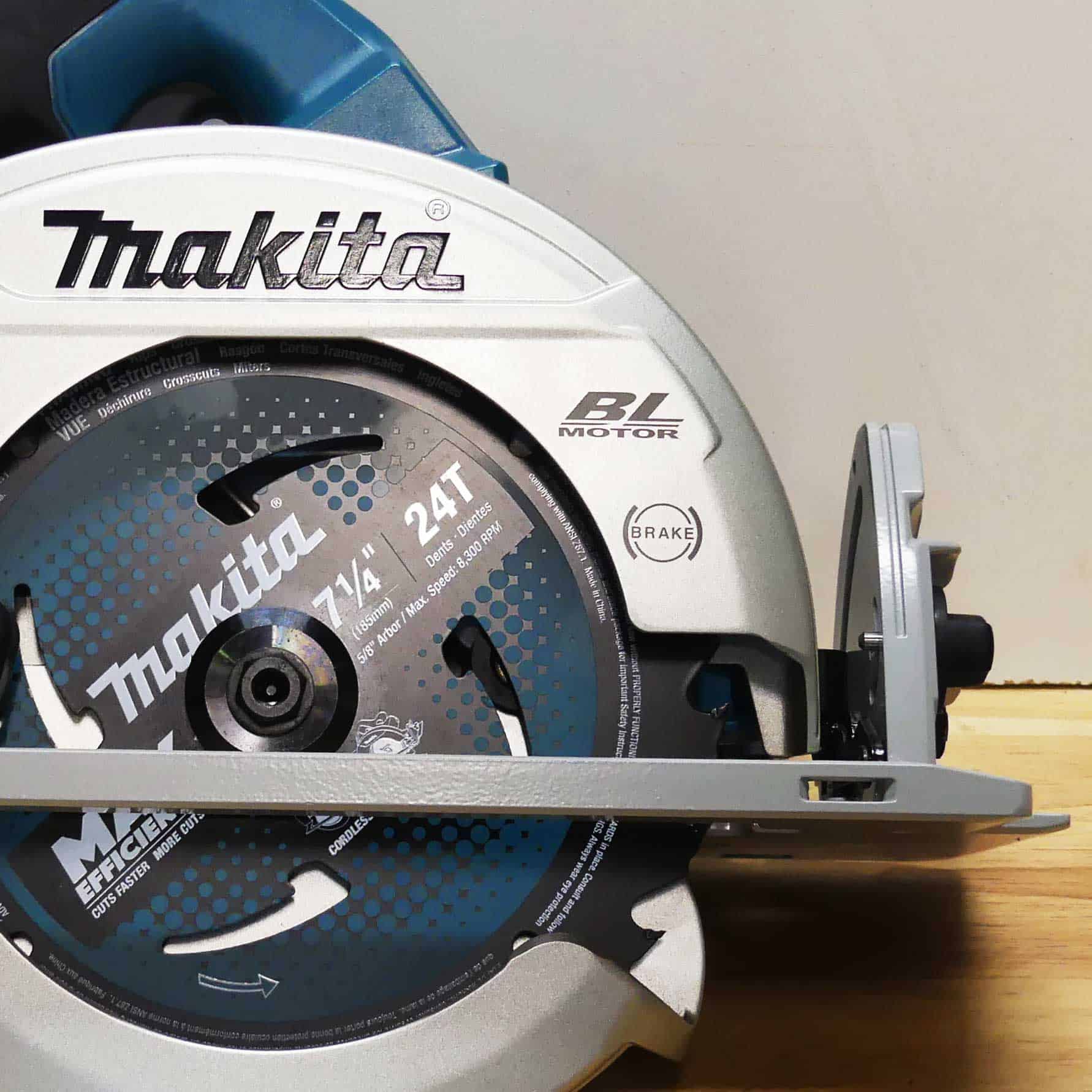 I said it a few months ago that if you're following the Makita LXT 18v tool line to keep an eye on the size of their current offerings because things are about to get a lot more compact. Sub-Compact in fact (no rhyming intended). First things get bigger and more powerful, then they get smaller. That's the trend. We're about to get a new and smaller iPhone after they made them almost tablet size (that stood no chance of fitting into your front pocket). Makita's new line of Circular Saws (with the XSH06 & XSH04) are bringing the power and a slightly smaller stature coming in on the heels of the Rear Handled beast of a XSR01 we talked about a few weeks ago.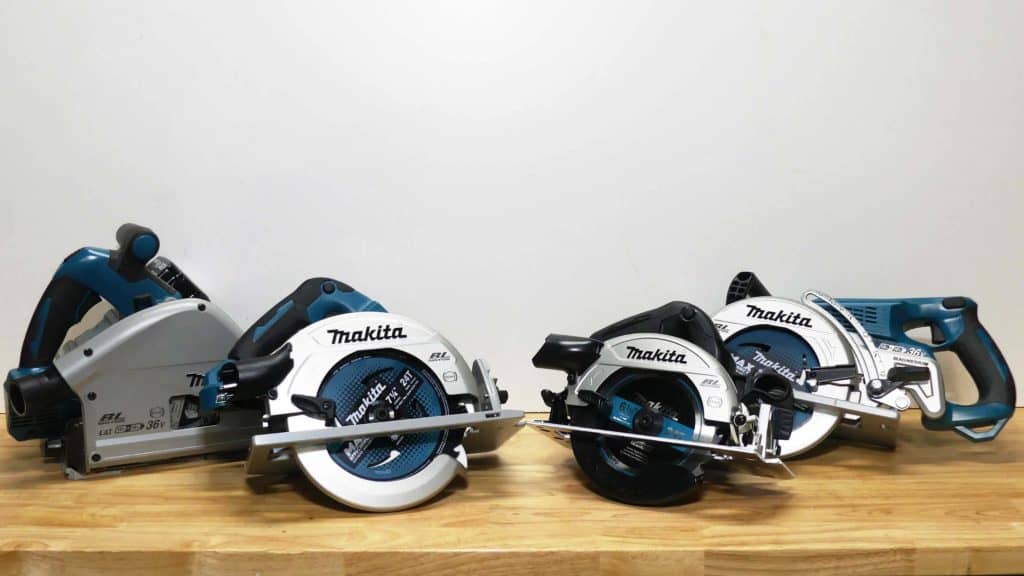 Makita XSH06 X2 LXT 36v Brushless 7-1/4″ Circular Saw
There's a clear division in the circular saw world depending on if you're team left blade, right blade, sidewinder, hypoid or team worm drive. Does that sound like I'm speaking Greek to you? It all has to do with the position of the blade (the top right saw is left blade, while the other three are right blade) and the other terms have to do with where the motor is mounted. Bottom line, all saws cut, it's just a matter of comfort, control and of course power. The Rear Handle XSR01 (pictured top right) dominated the cordless tool world when it came out a year ago, but those right blade, sidewinder pundits wanted a saw that could hang too… and they got it.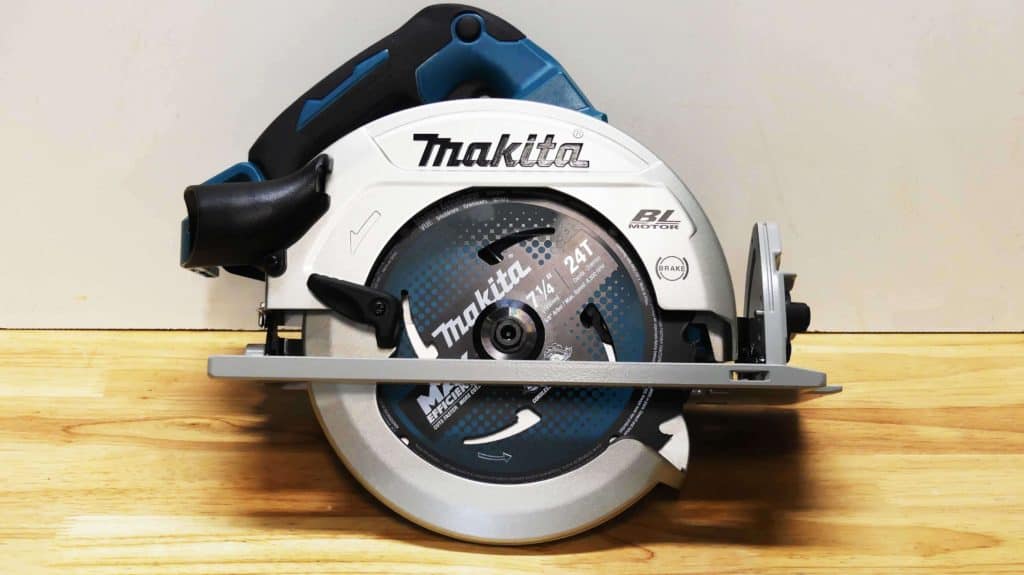 Smaller Circular Saw, More Power
The Makita XSH06 comes out later this month and it is a MONSTER. One of the big complaints about the Rear Handle model is just how big and heavy the saw is at almost 13 lbs with both batteries attached and 17-1/2″ long. It's a big saw for big jobs. The new XSH06 is only 10-1/2 lbs and 13-1/2″ and believe it or not… has more power and gets more cuts per charge. Slap in two 5.0 LXT batteries and you're getting up to 610 cross cuts on 2×4's compared to the Rear Handle saw's 558. And oh yeah, you're getting 6,000 RPM's with the new model compared to the 5100 RPM's from big brother.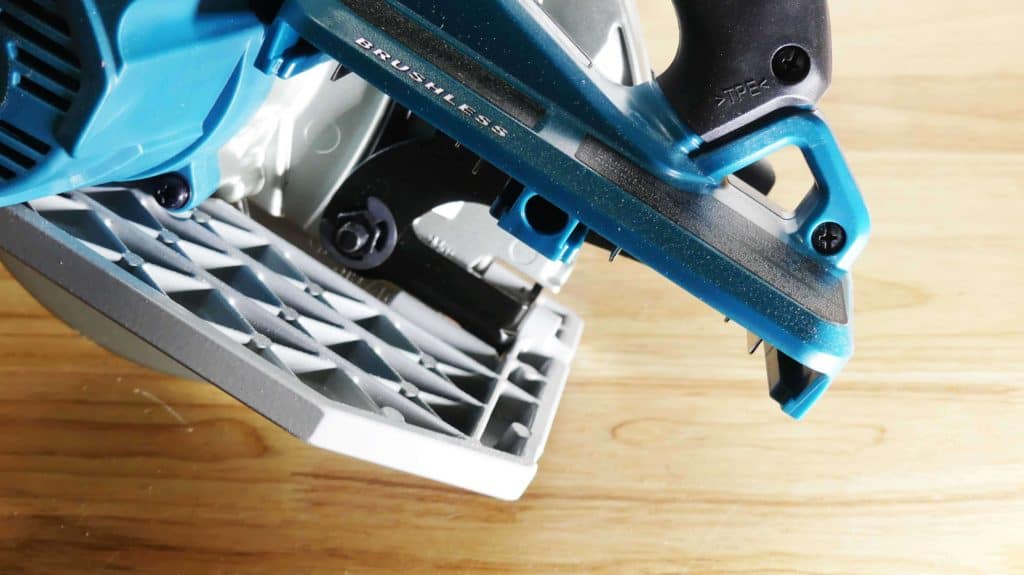 Makita's New Circular Saw Upgrades
One of the upgrades I really like is how easy it is to get to the batteries. I always found it difficult, especially with the rafter hook on the Rear Handle model to swap out batteries. You've got a clear path here (and yes, there is an optional rafter hook you can attach). If you haven't used the LXT X2 line before, you are rocking two 18v batteries at once, so you do get a little heft with the power, but every company is going bigger with batteries and honestly, two 5.0's weigh the same as the monster 9 and 12.0's you're starting to see. You get the same great Electronic brake to quickly stop your blade after a cut which I always find to be difficult to remember if I'm using another brand's saw that doesn't have that feature. Set a saw down too quickly and you'll see it take a quick walk with maximum damage to everything around it.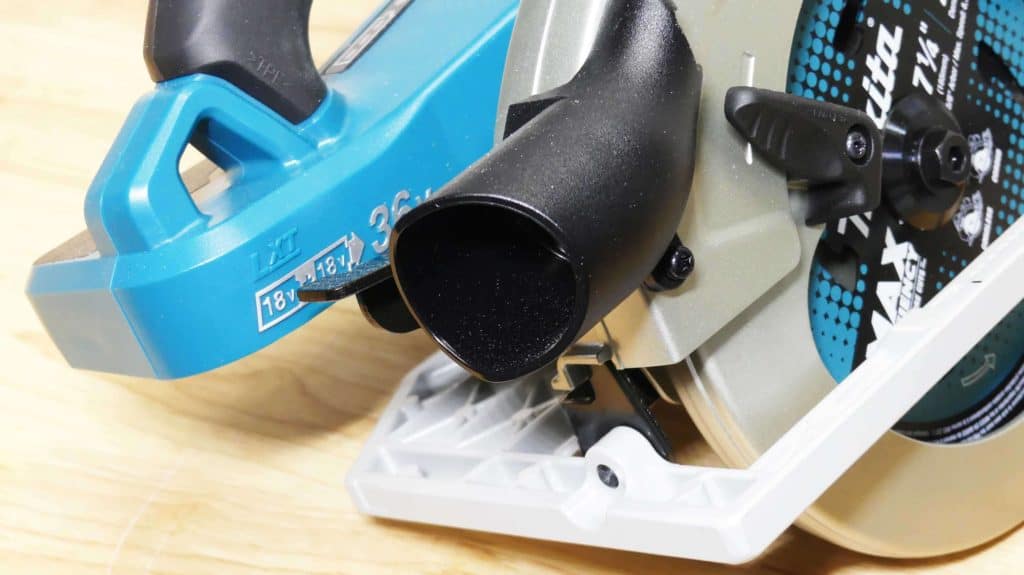 An Enemy To Sawdust
While I'm gushing about great features, Makita added a removable dust port on this new line of circular saws. It attaches with a screwdriver in seconds, but having dust collection on a circular saw is a feature I've been waiting to hit the US markets for the last couple years (Europe is always way ahead of us). Without fail, if you use a circular saw indoors (like a tiny metal shop like mine) you're going to see a rooster tail of sawdust blasting in every direction. Hook up your dust collection and you'll see a significant improvement in clean up time and your lungs will thank you.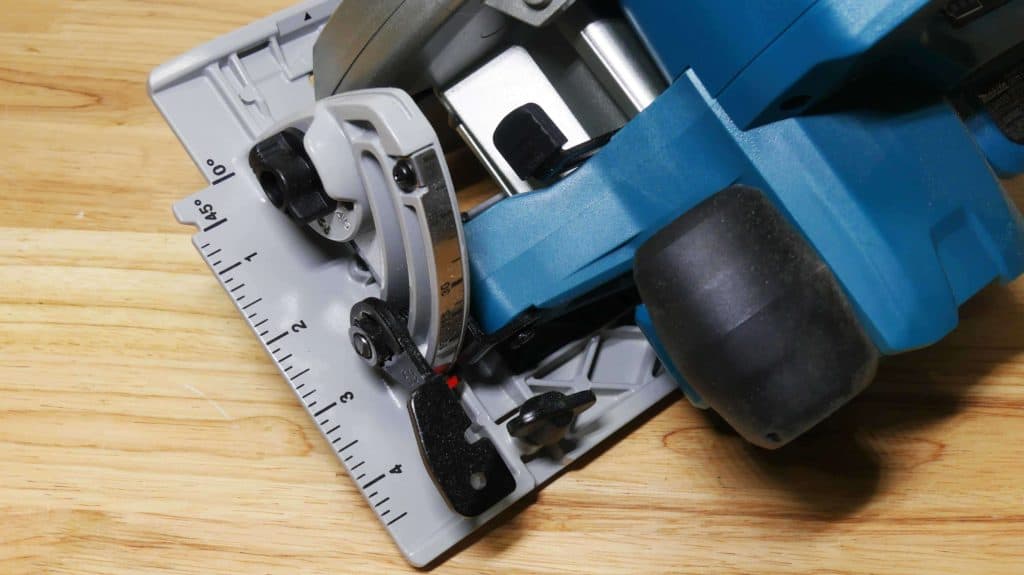 Does My Circular Saw Need A Flashy Shoe?
Want more brownie points? One of the trends in circular saws that looks cool that makes absolutely no sense is having the writing on the shoe all the same color as the base. When you start getting these crazy gun metal colored shoes it looks cool… right up until the point where you need to actually see a measurement to use it as a guide. Then you're on your own because regardless of how the sun hits it… you're not seeing it. Makita's Die Cast Magnesium base is tough as nails and extremely easy to see. Smart. Tough. Practical.
The Makita X2 LXT 7-1/4″ XSH06 comes out later this month.
Makita 18v LXT XSH04 6-1/2″ Circular Saw
A smaller, more compact design isn't always good enough. We need to go Sub-Compact! Like I said in the intro, you're going to see a ton more sub-compact models from Makita this year, like the Sub-Compact LXT Reciprocating Saw I used on the Built In Closet project. One of the reasons why 12v battery tools are so popular with tradesmen is sometimes you don't always need that amped up monster tool for your job. Sure when you have plenty of room to maneuver around, those big tools are awesome to flex with, but it's the little guys doing the real work. With the XSH04 you're getting the size of 12v tool with the power of the LXT 18v line.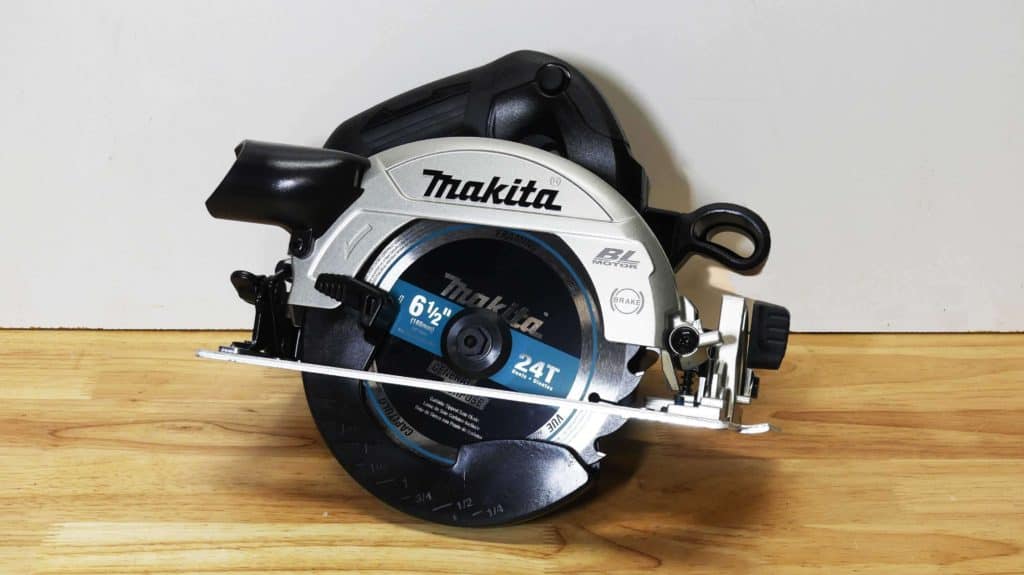 Tiny And Fierce
Weighing in at only 6.4 lbs with an LXT battery attached, I'll be honest and say that I've eaten burritos that were heavier than this circular saw. Okay, maybe not, but a majority of my cordless power tools easily eclipse the weight class this saw comes ready to fight in. Having a 6-1/2″ saw blade might scare some people off, but it cuts 2×4's and 2×10's every bit as well as it's 7-1/4″ brethren.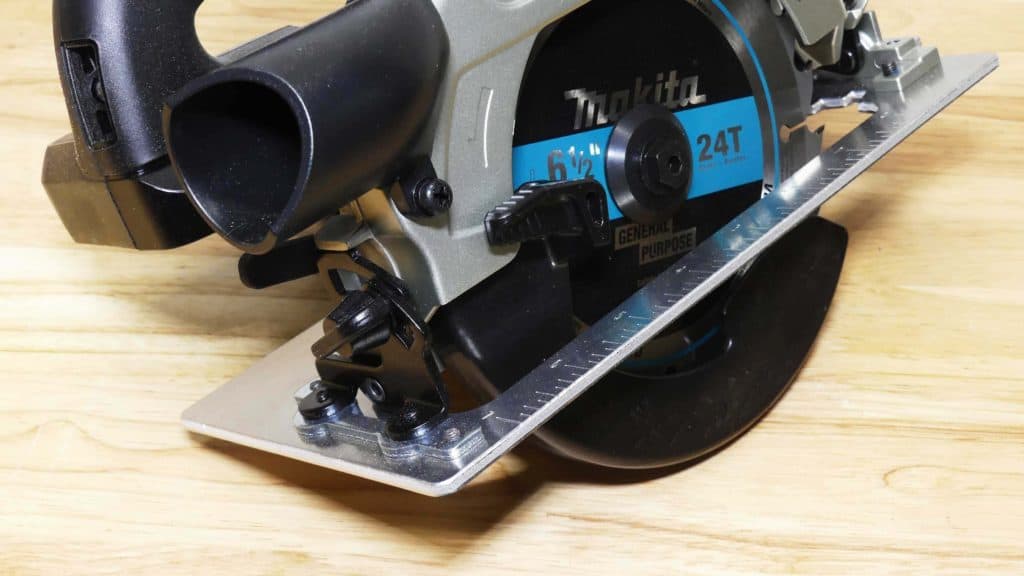 Holding It's Own
So a smaller circular saw means a lot less power right? Nope. You're looking at 5,000 RPM's and up to 174 cross cuts on 2×10's with a 5.0 ah battery. Wait wait wait, the XSH06 we talked about above was cutting 600+ cross cuts and this one is hitting under 200? Pay attention, the 600+ were cross cuts on 2×4's with two batteries and a bigger blade. This model runs on a single LXT battery and is knocking out 2×10's like a heavy weight champ. Plus, let's not forget that you're still getting that great detachable dust port for your DC needs too!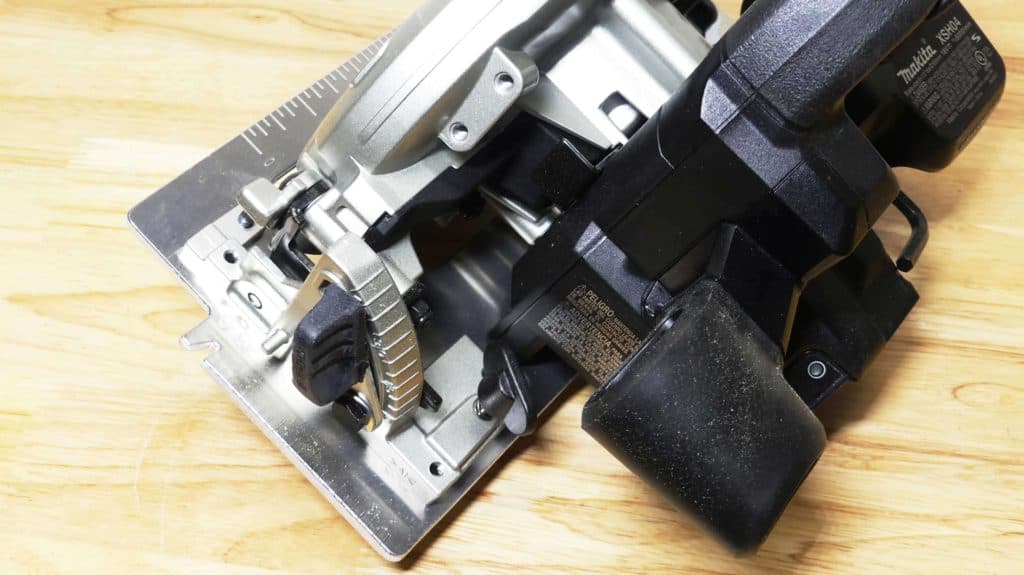 Lightening The Load
One thing you're going to notice in the pictures is that high visibility shoe from the model above is gone. You still get the durable die cast magnesium… but only on the blade guard. The aluminum base is lightweight and that's what we're going for here. You do lose that great feature from the big boys, but keep in mind that this is also a smaller, more budget friendly saw. This is a circular saw you can easily take up on a ladder and (carefully) use one handed when the situation calls for you to abandon your safety regulations and get the job done.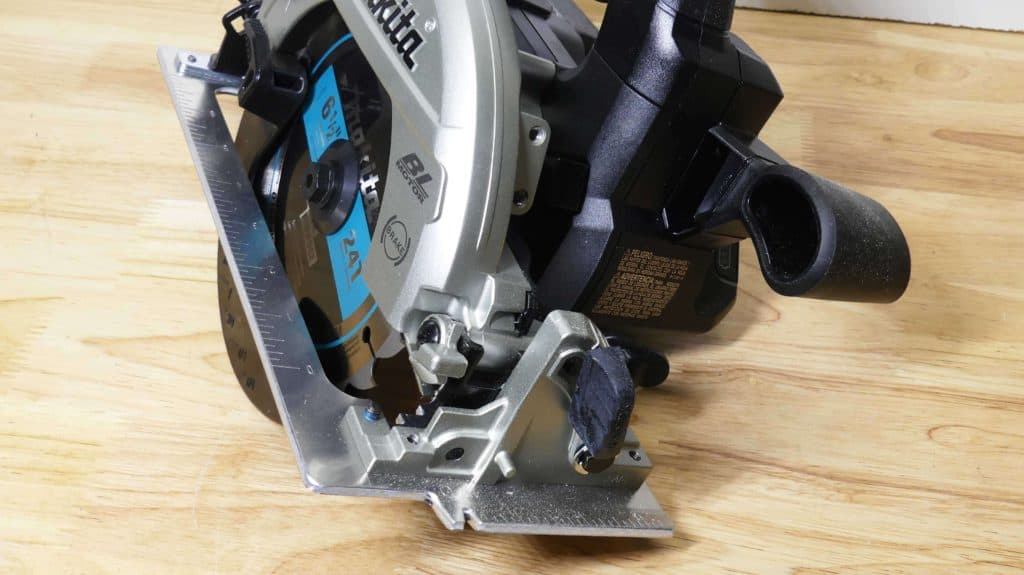 With a brushless motor, lightweight design and blade brake, you're really getting a fully loaded circular saw in sub-compact package. Given the price point, this should make some of the bigger saws nervous for sure and give them a run for their money in performance. Remember how every high school had that sketchy little guy everyone was afraid to mess with? You might be twice his size, but homeboy was crazy and could hold his own… this is that little guy… just less sketchy and more bad ass.
The Makita LXT 6-1/2″ XSH04 Circular Saw is available now at Home Depot *affiliate link
~ Lazy Guy
Loving the Makita LXT line? Check out these other Makita Reviews on Lazy Guy DIY!
*the tools featured in this post have been provided by Makita Tools USA in exchange for my opinion on these products. My opinion is my own.