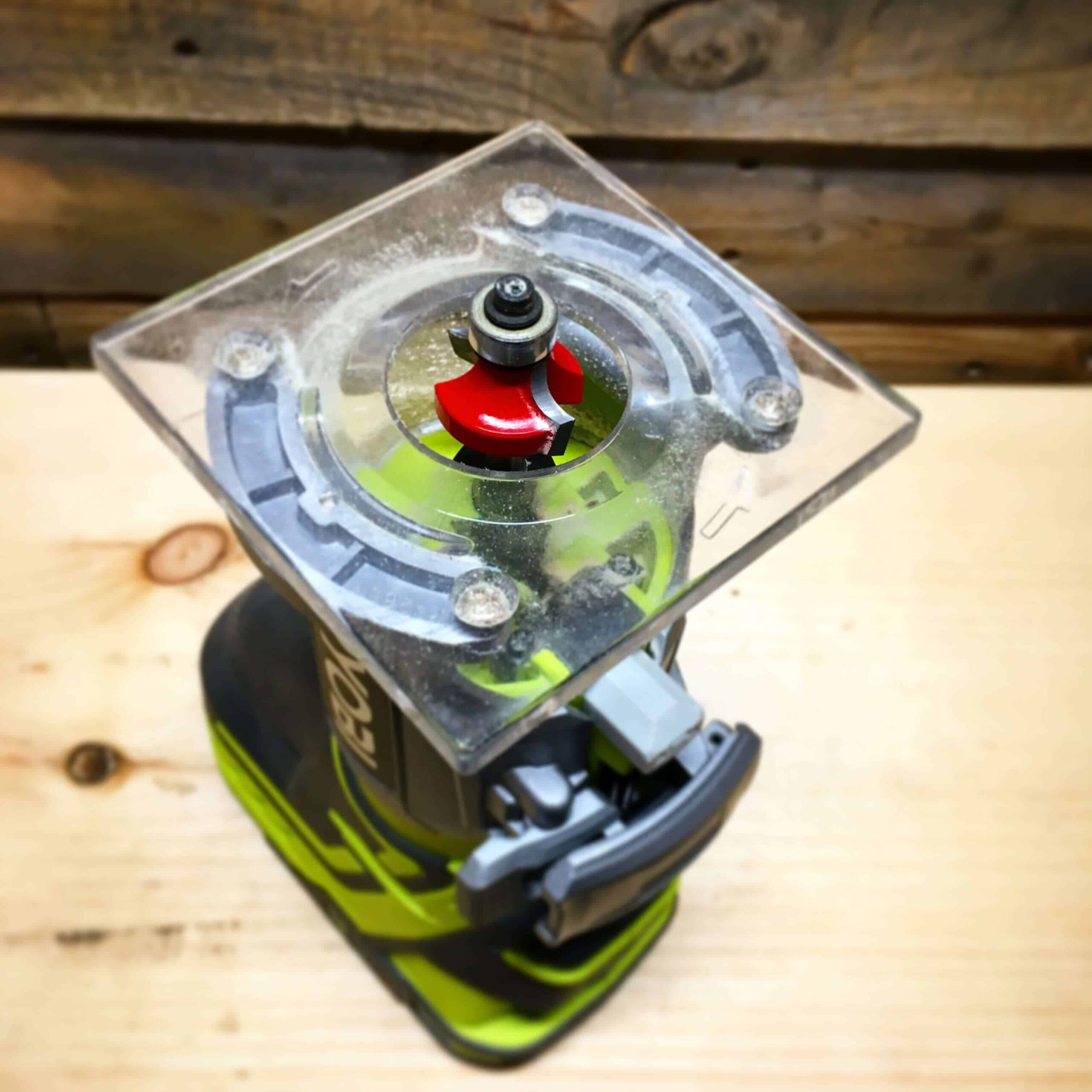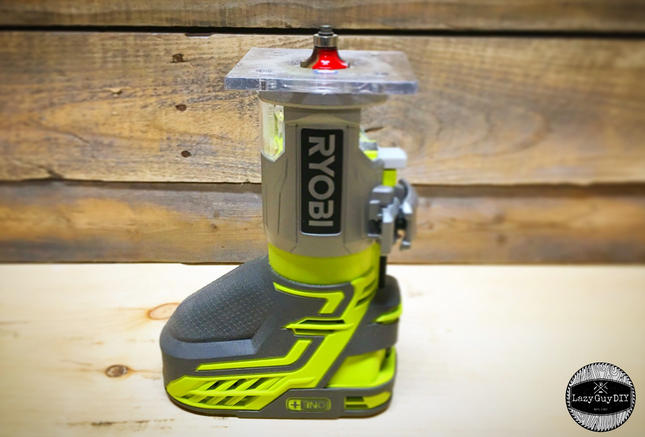 Cordless Like Never Before
It's pretty much a given that whenever you talk about a Router, you need to play the song "You Spin Me Round" in your head. Whether you choose the 80's version by Dead or Alive or the Flo-Rida version (Right Round) featuring Ke$ha (she still had the $ back then), that's up to you. But when you have around 29,000 RPM's spinning through the new Ryobi One+ 18v Cordless Trim Router (P601) it's going to be hard not to take one of those tunes for a spin.
I've actually been hands on with this router since January of this year (don't worry Mrs. Lazy Guy, it's been strictly professional) and there are a lot of things to like. First off, there are only two cordless routers on the market at the time of this post and you're looking at one of them. RIDGID makes the other with a price point of around $120 while the Ryobi is around $70. There are rumors of a few new cordless models from competing brands coming out this year but they continue to be delayed. The addition of brushless motors in handheld tools has really closed the gap between corded and cordless tools in the last few months and if there was ever a tool that needed to cut the cord it would be the router.
First Impressions Of The Ryobi Trim Router
The design team went above and beyond to make sure you know this is something new and groundbreaking. There's no confusing this router with the one your granddad used to use in his shop. It screams new tech with a design that looks like it's ready for a Sci-Fi movie like the 5th Element (and that's not a bad thing) with the mix of Ryobi green, metallic silver, a translucent plate and rubberized black grips. Oh, and it has LED work lights (headlights on a router!)! If you remember Ryobi's first limited run cordless router (P600) you will immediately realize the value of these updates. Without a battery this unit is light, it's under 3 pounds so maneuverability will be a big selling point. But take note, this is a bare tool, which means you're supplying your own battery. I would recommend investing in a Ryobi One+ 4 amh battery (they go on sale a ton!) if you're going to be doing any marathon routing sessions. There is a trade off in run time for the convenience of going cordless and also about 2 pounds in battery weight, but that's nothing compared to the weight of most corded models.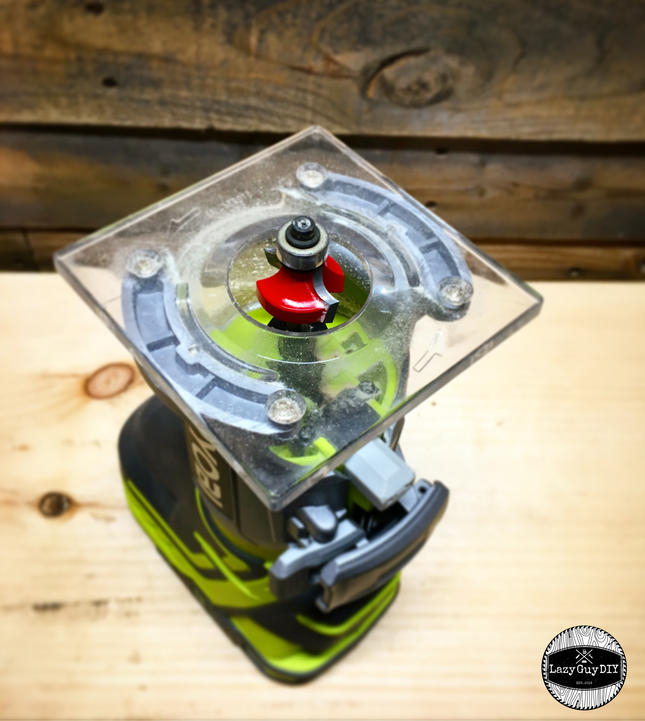 The Trim Router Set Up
The Ryobi model is very straight forward. You have one speed which means you can't accidentally adjust the RPM's and have whoopsie tear out. But that also means you always have the same RPM's and depending on the type of material you're working on, you might have tear out here too since you can't slow down the speed. Once again this is about convenience and getting the most bang for your buck at this price point.
Changing the bit is about as easy as you can get (by the way, it accepts 0.25" bits). Take the battery off (seriously always take the battery off, would you put your hand in a plugged in blender?), set the unit upside down, then unlatch the base and slide it off. Use the spindle lock and the provided wrench to loosen the collet and you're in business. Setting the unit upside down gives you a stable base to very easily swap out your router bits. The awkwardness of trying to do the same with a corded model will make you immediately appreciate how well this is designed.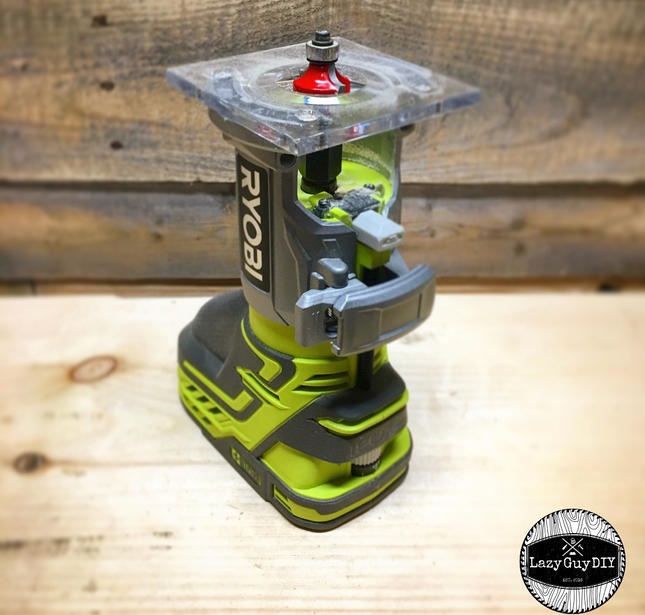 Adjusting the depth is easily controlled by the latch on the base that lets you move one direction (not the band) or the other in incremental amounts. I mentioned before there's a translucent plate and that's not something that goes unappreciated (like all my hard work around the house). I'm hopeful more brands take note of this because the line of site when cutting is fantastic. Throw in the square shape of the plate that makes an excellent guide for straight cuts and you've got a tiny detail that makes a big impression.
This Is Not A Test
Well, it sort of is a test, but why try this Ryobi out on scraps when I know I'll be extra careful when I use it on a commissioned project? The pressure is on. When you turn the Ryobi Router on, it goes from 0-29,000 RPM's (without a bit) like it's running a Fast & Furious quarter mile blowing through a full tank of NOS. You immediately feel the torque and you start living your life a quarter mile at a time. This isn't a slow start model so you want to make sure you aren't engaged with your material when you flip the switch or that torque at bingo will make cuts you're not ready for.
Because it's so light weight, ripping ogees or round overs is a breeze. That's where the Ryobi router really excels. It's made for quick jobs where you're performing edge work to finish off your pieces and don't need to pull out the heavyweight corded unit. With a guide or a jig set up you can definitely run dados or I've even seen people cut slots for biscuits. It's like a featherweight boxer who uses speed and agility to get in and get out quickly for the win. It's a friendly design that is perfect for someone new to using a router or it's a precision instrument in the hands of a skilled craftsmen.
What's The Call On The Ryobi Cordless Trim Router?
At only $70, it's impossible to beat the value you get with this little Ryobi Router. The majority of the competition in the compact group comes in corded form at almost double the price. It's a great tool to add to your inventory especially if the idea of a router has intimidated you in the past. Whether you're new to DIY or are a 7 fingered veteran of woodcraft, cutting the cord on a router is a game changer that's worth experiencing. This isn't a tool you purchase and it sits collecting dust, it's going to be making dust.
The only real drawback I've found is in the ergonomics of the grip. The placement that Ryobi wants you to use per the grip zone doesn't give you the ability to control the unit like you would normally get in a traditional model with knobs to grasp. I find myself wanting to grip the unit on the back of the spindle housing which means with bigger hands my fingers would be awfully close to an exposed spinning bit. I move my hand out of Kenny Loggin's "Danger Zone" and grip a little higher and place the other hand on top of the battery unit It's not a game changer, but I'm clearly not in the intended grip zone but it seems to work out fine. Also, I would love to see Ryobi come out with a plunge base for this unit. I find plunge bases to be my most used routers and with the slide off base it currently uses, I could very easily see a plunger being an add on in the near future.
The Ryobi One+ 18v Cordless Router is available now through The Home Depot for $69.
~Lazy Guy
Can't get enough Ryobi Power Tools? Check out the Ryobi Tool Review Feed!
*This review is Sponsored by The Home Depot. I have been compensated for my time and provided with product in exchange for my review. My opinions are my own. You can tell because there's no way a corporate write up for a tool would reference Ke$ha or the Fast & Furious and still sound credible… but I do. Product links included in this review are affiliate links, which means if you make a purchase using a link, a portion of your sale will go to this website at no additional cost to you. It's like a finder's fee for discovering buried treasure. But like cool Indiana Jones buried treasure, not Nic Cage National Treasure… buried treasure.