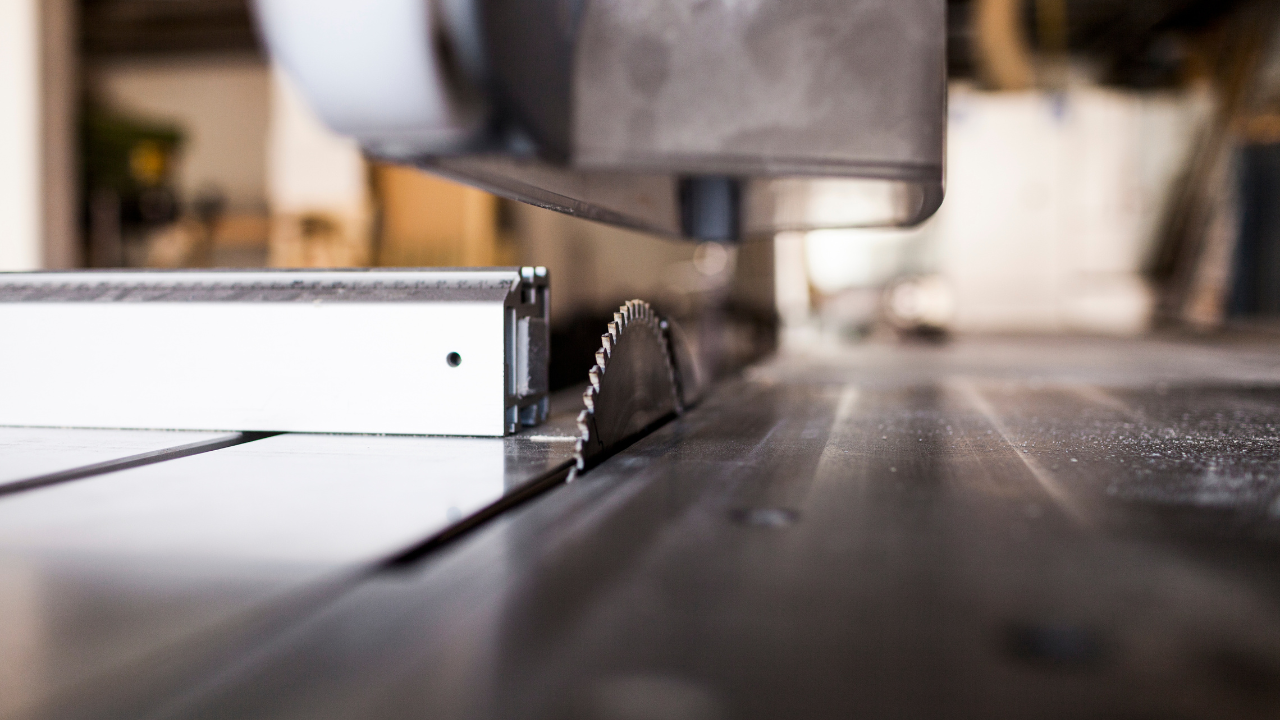 Why You Shouldn't Use a Plastic Push Stick on a Table Saw
As a woodworker you either subconsciously dread this day or you truck on with blissful ignorance.  I had an accident on the table saw and it sent me to the hospital.  But it wasn't the table saw that got me, it was the push stick.  This is why I'll probably never use a plastic push stick again.
Let's set the scene first.
I was on the road filming the home renovation TV show I'm a carpenter on called Renovation Hunters.  We're filming in remote locations often time using jobsite table saws and power tools pretty much strictly running on batteries.  They're compact workhorses that we use and abuse each season while we face a blitz schedule renovation.  
In this particular location we were eyeballs deep in custom trim work, sometimes requiring multiple cuts per piece.  These particular cuts required a kerf cut on the backside to form a chair rail on a wonky divided wall.  That's not an easy cut on 3/4″ trim work and even more difficult on a jobsite saw.  So we slapped on our eye and ear protection, checked the fence to make sure there was no pinching for kickback and then had a second person holding a feather board for an additional safety measure.  I fed the board through without event, guiding the last little bit past the blade with the plastic push stick that came with the saw… then the sh*t hit the fan.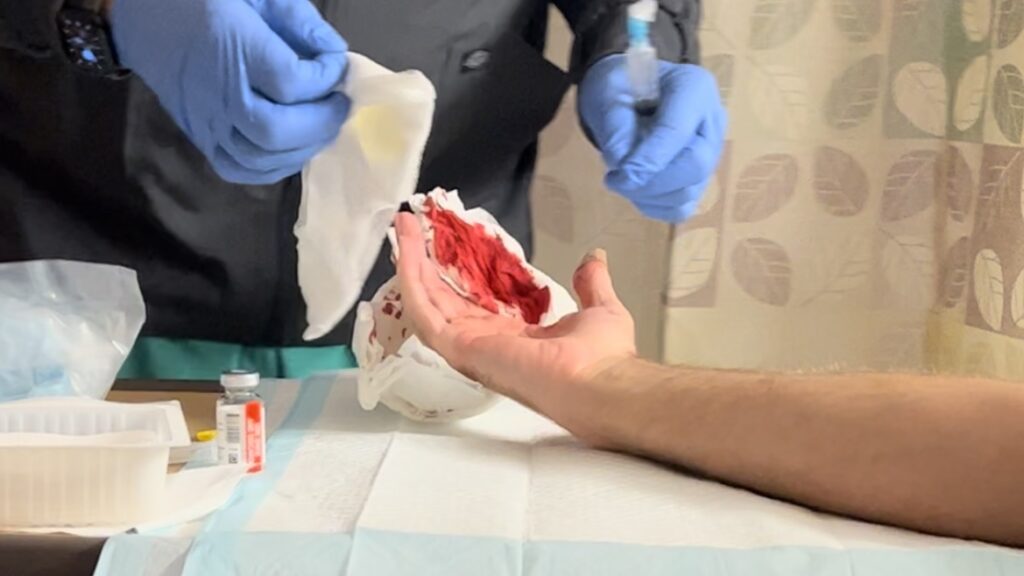 You see, earlier when I grabbed the push stick from the saw sheath I thought to myself, that felt weird.  And then when I was cutting I could feel a tiny vibration and I thought to myself again, that feels weird.  Then a split second before the piece of trim work cleared the blade I watched in slow-motion as the push stick snapped a few inches from the top and with directly into the spinning blade with my hand following behind it.  The plastic push stick exploded into multiple pieces sending shards all over the jobsite and several large jagged pieces into the palm of my right hand between my thumb and index finger.  There's blood splatter all over me and all over the concrete slab I was working on.  The first thing I do is make sure I have all of my fingers.  Check.  I then make sure they all wiggle.  Check.  Then comes the blood pouring out.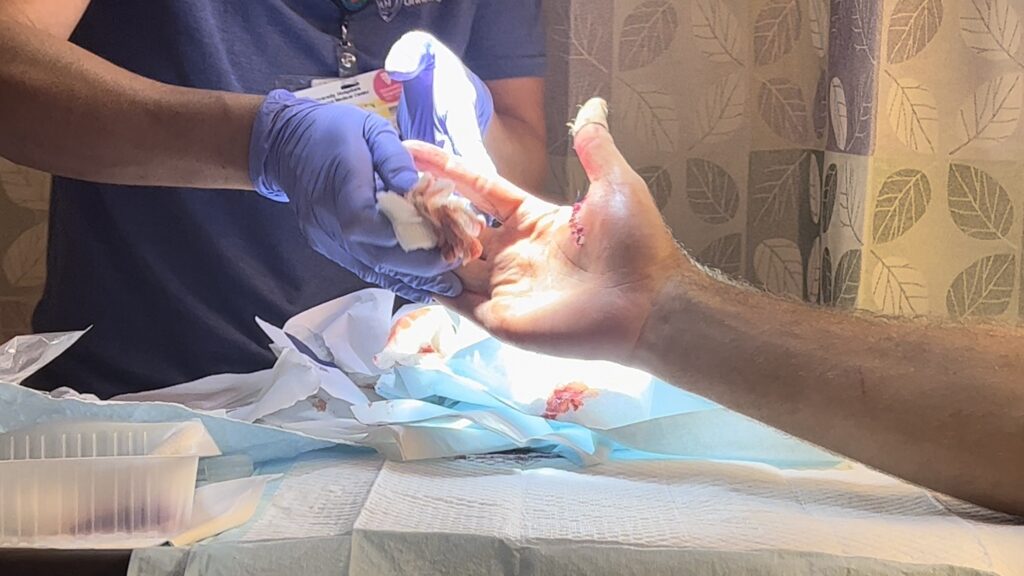 After a brief on camera interview, I got whisked off to the hospital where I was filmed getting my 16 stitches and actually got a chance to reflect on what happened.  It was bad, but it wasn't really bad.  But could it have been prevented?
Plastic Push Stick Problems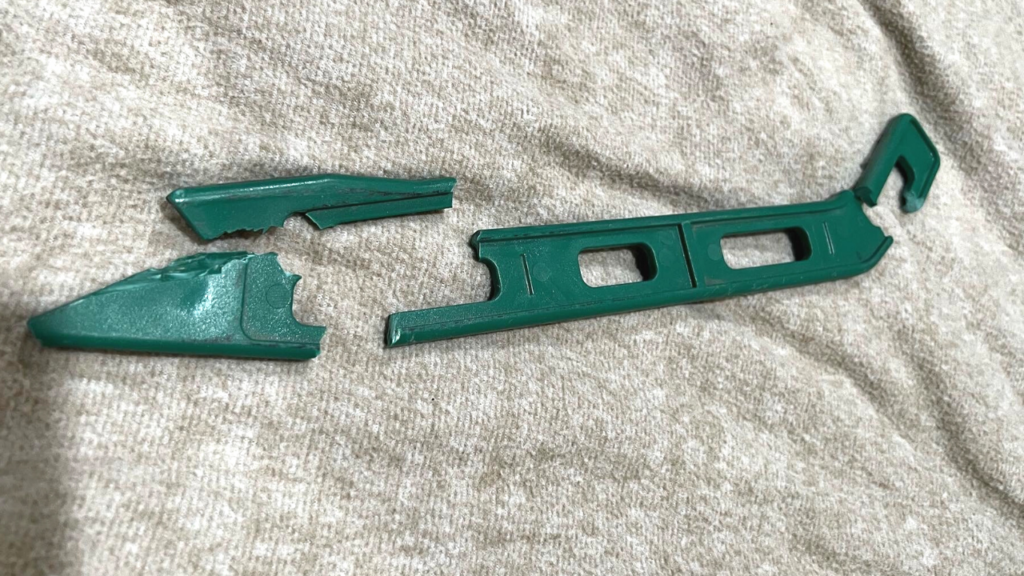 First off, I want to be absolutely clear.  This isn't the fault of the manufacturer.  Almost every table saw sold comes with a plastic push stick.  Some are solid, some have cutouts like the one I used to help cut down on additional weight for a compact saw.  The problem is that hardened plastic is good at its job of being shatter resistant which makes coming into contact with the blade all the more dangerous.  If you drop it on the floor or step on it, it's going to be fine.  If it hits a saw blade it's going to flex, impact and shatter hardened projectiles in all directions.  I'm honestly lucky I didn't get impaled by any pieces in my face or torso.  Thanks for taking one for the team right hand!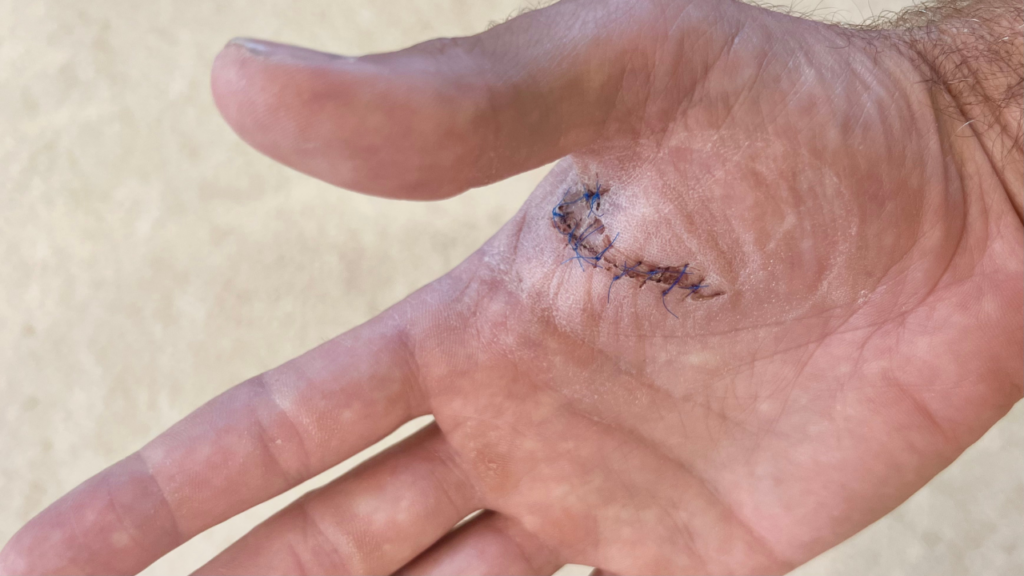 If I had been using a scrap piece of wood or MDF the saw would have taken a little cut out of the material and we would have moved on.  End of story.  Which is why I'll be tossing my plastic push sticks in the trash and only using wooden or MDF push sticks going forward.  Don't get me wrong, I love the Micro-Jig GRR-Rippers and Push Block and will be using those for when the cut calls for them.  But for normal cuts needing a push stick… I'll be using something else.  
Free Push Stick Plan Round Up!
So as I see new ones pop up, I'll continue to add them to the list, but here are some of the better free plans I've found for wooden or MDF push sticks.  If you know of any others, add them to the comments below!