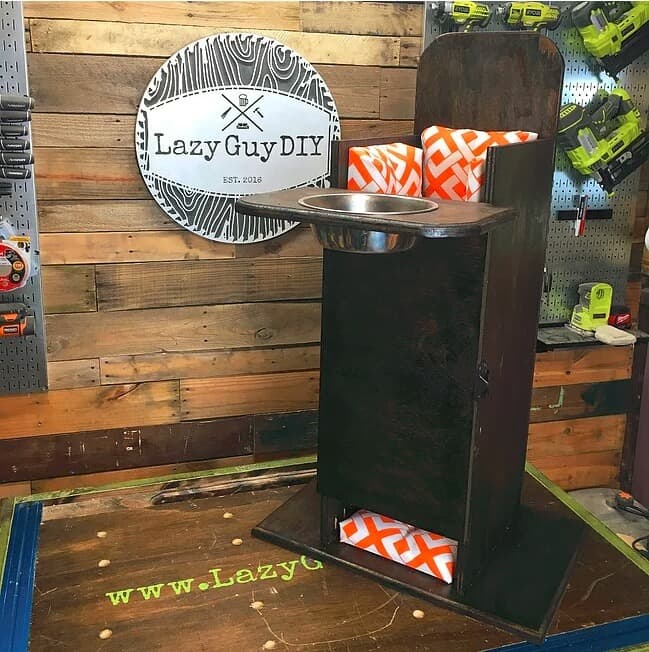 Gift giving is tough. It's even more difficult when your significant other keeps their wish list locked down tighter than Fort Knox… which is odd considering I'm supposed to be getting this stuff for her… I guess that just means I should be more observant and in tune with my wife's needs and wants and I'd naturally know what it is I could get her. This year was different though.
A Gift Worth Giving
Mrs. Lazy Guy wanted a wood lathe! And she got one. But on her actual birthday she had something else on her mind rather than turning wood. In a rare moment, we had the house and evening to ourselves. We had sent the kiddo away for her first ever sleepover earlier that day. Things were looking good. I asked the wife if she wanted to get dinner from her favorite local restaurant. She said yes. I said do you want to do something special tonight that we don't normally get to do when the kid is home. She said yes… Oh boy.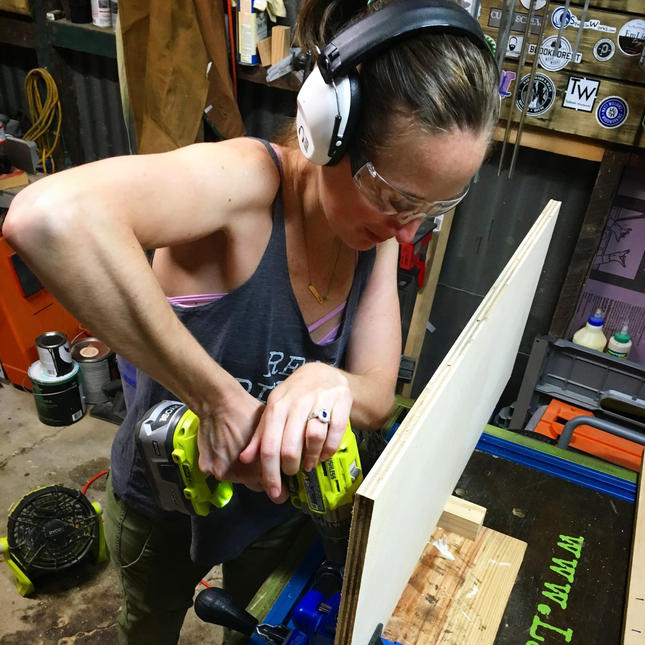 So we ordered our food for carry out and headed to the Home Depot for supplies. What my wife really wanted for her birthday was to get some shop time with me and build her first woodworking project. And she crushed it.

Canine Mega Esophagus
This is Norbet. He's a retired racing Greyhound that's the furry family member of one of my wife's friends. He's also a patient of hers. When I call my wife "Mrs. Lazy Guy" it's not entirely accurate. She's actually "Dr. Mrs. Lazy Guy" and is a veterinarian. Yes, I gave up on trying to be a doctor years ago and decided it was easier just to marry one. But enough about my conquests in life and back to Norbet. He unfortunately has been battling with bone cancer and recently had one of his hind legs amputated.
During recovery they discovered that he also has a condition called Canine Mega Esophagus (Canine ME). The long and short of it is that it's difficult for the dog to eat or drink in a normal 4 legged (or 3 legged) position. They have to be vertical in order for their food and sometimes water to travel down their esophagus. The muscles won't allow it. Up until a few years ago, this was pretty much a death sentence for dogs. Owners would have to hold the dog upright (and food) and assist them with eating every meal. When you have a 85+ pound Greyhound that is pretty much the same size as the owner, that's not really a long term option.

DIY Baily Chair For Dogs
Enter the Bailey Chair and the project my wife wanted to build. Named after the dog who the original chair was designed for (who went on to live a long and happy life) this little throne seats the dog upright and allows the dog (and owner) to comfortably make it through meal time. The problem is plans are not readily available for a DIY version. There are a few sites that sell their own models, but building plans are scarce, so in honor of Norbet, we are putting build plans up (for free!) below and on websites like Build Something and Ryobi Nation so they are easier to find and hopefully save a few more furry friends.



Tools and Supplies Needed
Drill/Driver –

Ryobi One+ Drill/ Driver Kit

Jig Saw –

Ryobi One+ Jig Saw

Miter Saw (

You can substitute a circular saw

) –

Ryobi One+One 10" Sliding Miter Saw

Table Saw (

You can substitute a circular saw

) –

RIDGID 10" Contractor's Table Saw

Pocket Hole Jig –

Kreg K5 Master

Router (

optional for decorative round over edge

) –

Ryobi One+ Trim Router

Speed Square
¾" sanded plywood (

we used a full sheet 4×8 sheet since the dog is large

)
1-1/4" pocket screws
Wood Glue
Hinges
*Please note, like a tailored suit, these chairs are custom built to fit each dog, so the measurements we used for Norbet (a giant Greyhound) won't work for your Yorkie Poo. Because of Norbet's weight loss we also added the padded sides and bottom for comfort, but that's completely optional for the build.
Step 1: Measure Your Pooch
You need three measurements to get started:
Measurement A

– Shoulder Blade to Shoulder Blade. I'd call this the dog's withers, but then they aren't a horse so…

Measurement B

– Shoulder to Tush. You want to get the length of your dog of how high their shoulders will be when they are sitting in an upright position.

Measurement C

– Shoulder to Front of Chest – Measure too small and you crush your dog, too big and your dog slides out the bottom…
Step 2: Back Support
Take Measurement A (shoulder to shoulder) and add 3"- 4" (depending on if you add a cushion) and Measurement B (shoulder to bottom) and add 4"- 6". In our case, Norbet is 7 ½" (A) by 32" (B), so I ripped a piece of plywood down to 11" x 38". On the bottom of one end (inside facing) we pre-drilled a pair of ¾" pocket holes.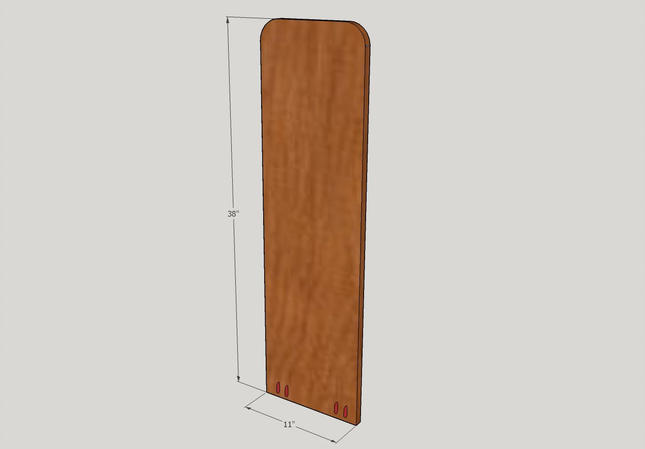 On the top, we traced a round edge and used a jig saw to create the decorative rounded headboard. I HATE using jig saws, but we faired pretty well here. The real jig saw test will happen later.
Step 3: Side Supports
Using Measurement C (Shoulder to Chest) +2"- 3" (depending on if you add a cushion) and Measurement B (Shoulder to bottom) I cut (2) pieces of plywood for the side panels.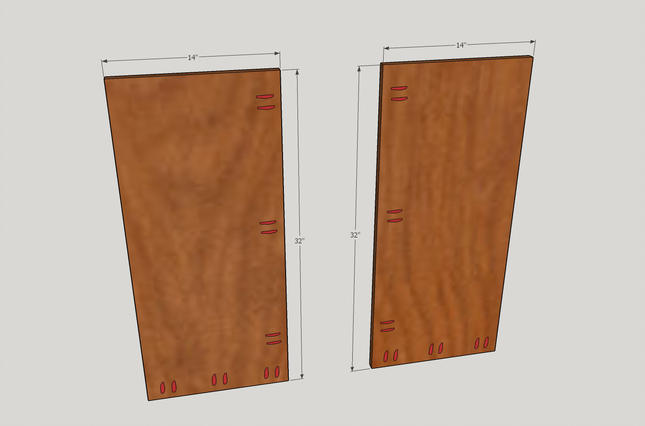 For Norbet, he's 32" (B) by 11 ½" (C) so we cut both of our panels to 14" x 32". Using your pocket hole jig, pre-drill a set of ¾" holes on the bottom edge and inside facing edge of both panels.
Step 4: Assemble The Frame
Using wood glue on the joint and 1-1/4" pocket screws, attach each side panel to the back panel. It's personal preference as to whether you want the pocket holes outward or inward facing. We choose inward knowing the cushions would cover them up.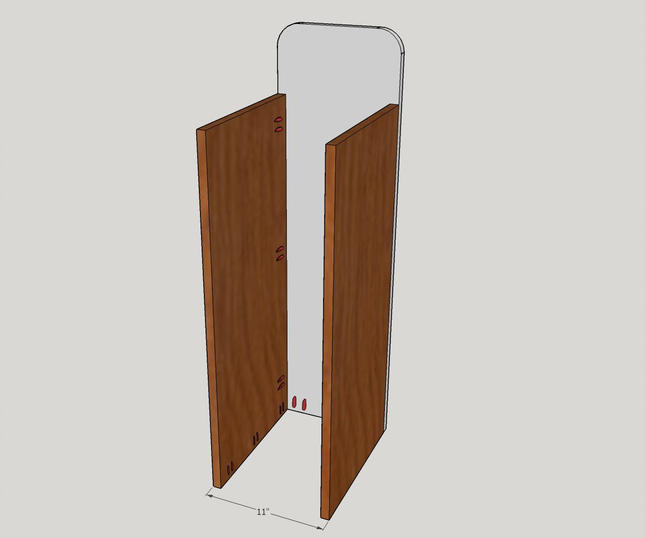 Make sure your edges are flush when attaching. Don't worry about square-ness yet because the pocket screws will naturally tilt the material inward until we attach it in the next step.
Step 5: Add the Bass… err Base
The bigger the dog, the bigger the base you're going to need. The last thing you want is for your poor dog to be locked into this device chowing away and topple over. So because of the size, we cut a panel of plywood to 16" by 24" adding about 4"- 6" to each side and about 1" of overhang in the front. To fancy it up, we took a palm router with a rounder over bit and ran it over the edge of three sides. It's completely cosmetic.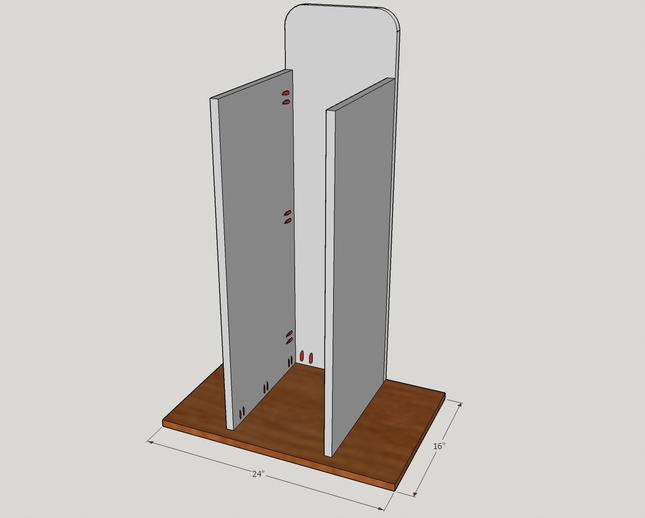 We attached the back panel of the frame first to the base (flush with the back) using the pre-drilled ¾" pocket holes from earlier with wood glue and 1-1/4" pocket screws. Then with a speed square to check square-ness, we attached the side panels to the base as well. If you're going to patch the pocket holes, now is a good time. I generally use DAP Wood Filler to generously fill the hole and let it dry for a few hours. Once dried, you can sand off the excess and paint it or stain it. They won't be 100% invisible, but they won't be blatant pocket holes. Or don't fill them. No worries.
Step 6: Hold The Door
Measuring the width from side panel to side panel (in our case it was 11") we cut a panel for the door. This is where it really depends on the shape and size of your dog. For bigger dogs, you need to leave a few inches below the door for their feet to hang out for little dogs you can just close it off completely.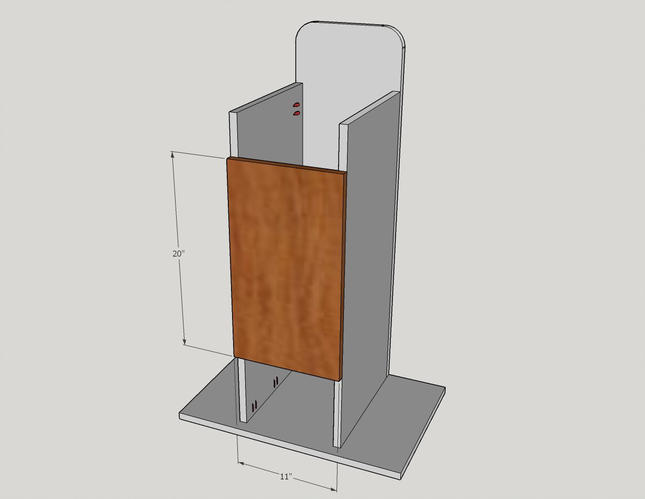 As far as height, it all depends on the shape of your dog's face. Since Norbet has a long pointy nose, we had to allow for him to sit upright and still have enough clearance to eat. Our panel ended up being 11" x 20".
Step 7: Dinner Is Served
But wait, we need to add the tray! Using the bowl as a guide, we cut a piece of plywood to 14" (3" wider than the frame) by 12" to accommodate Norbet's bowl. Once again, we used the jig saw to cut rounded edges for the front and then used the router with a round over bit to make it fancy. For the bowl insert we traced the outline of the bowl we would use (make sure it's got a lip) and then drew another circle ¼" skinnier on the inside. Using a drill bit for a pilot hole, we then used the jig saw to cut out the circle. Did I mention my hatred of jig saws?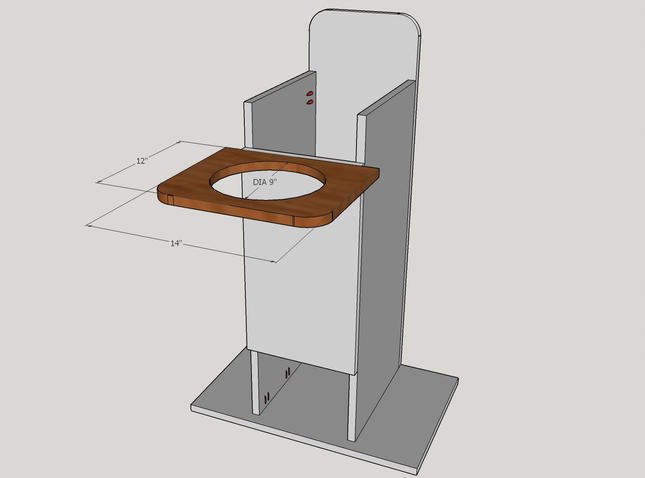 This actually went pretty well. If you go slow it's really not that bad. We also used the round over bit and the router to soften the edge of the cut out. Once again completely optional. With the hole all cut out, we pre-drilled a set of ¾" pocket holes on the underside of the tray. We attached the bowl directly to the door with wood glue and 1-1/4" pocket screws. This is where you'll understand the beauty of pocket screws. They make ridiculously strong joints. You won't need any additional supports underneath.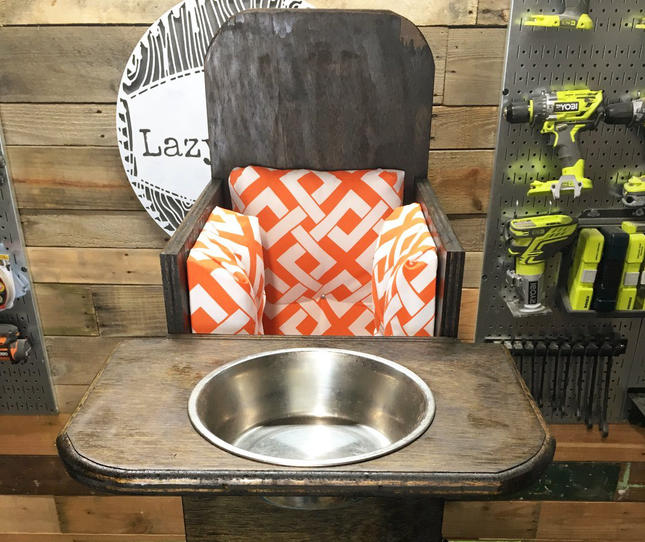 If you want to add a finish, apply it now and then add your hardware once it's complete. Dinner is served!
Step 8: Adding Cushions (

Optional

)
Because of how skinny Norbet had gotten and how bony he is, we decided it would be best if we added some cushions to make chow time a little more comfortable. Had either of us made custom upholstery before? Nope. Plus furniture cushions and fabric are expensive. So I had an idea… It's summer clearance time at our local stores so we bought two outdoor love seat cushions for super cheap. Using underlayment (thin plywood) as backing, we cut out a panel for the bottom, three sides of the chair, then we cut up the padding inside love seat cushions to the same size as the panels.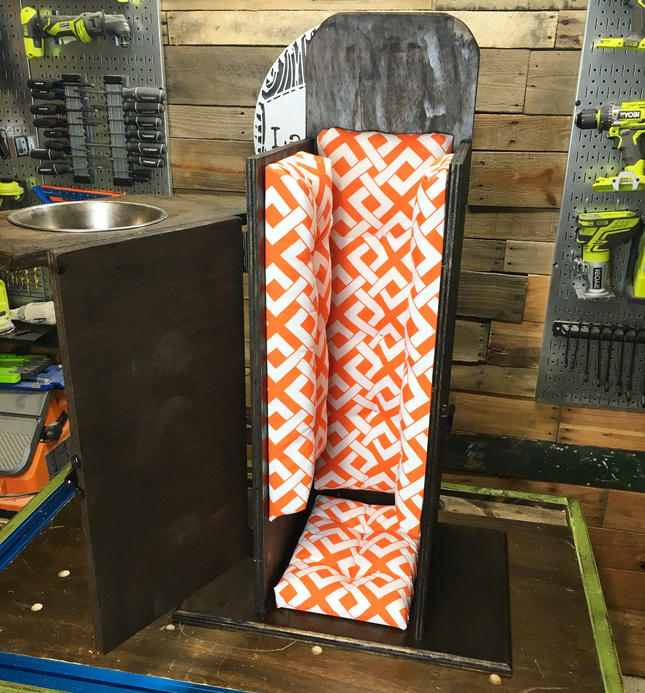 We attached the cushioning with spray adhesive to each panel and then wrapped each piece with outdoor fabric. A few staples later to hold the fabric in place and we had four cushions. We attached them directly to the chair with ¾" wood screws creating a baffle/gusset effect on each cushion.
Bailey Chairs For Everyone!
That's it! This is an extremely easy build that only took us a few hours one night to assemble. The design lends itself to a ton of personalization so bling it out! This is a special chair for a special dog, it's as good looking as you want to make it. Even if you don't have a dog, this is a great project if you check with your local SPCA or adoption center to see if they have any dogs in need of a Bailey chair. Having an easy way to feed them will significantly increase the chance for these dogs to find a forever home.
*Unfortunately, prior to this post going up, Norbet who inspired this post only got a chance to use his Bailey Chair a few times before he passed away. If you would like to make a donation in Norbet's name you can visit www.JamesRiverGreyhounds.org and click the donate button at the top of the page.
If you have any questions about this build please feel free to reach out in our contact section and if you happen to build one yourself, absolutely send a picture so we can share on Social Media!
~ Lazy Guy