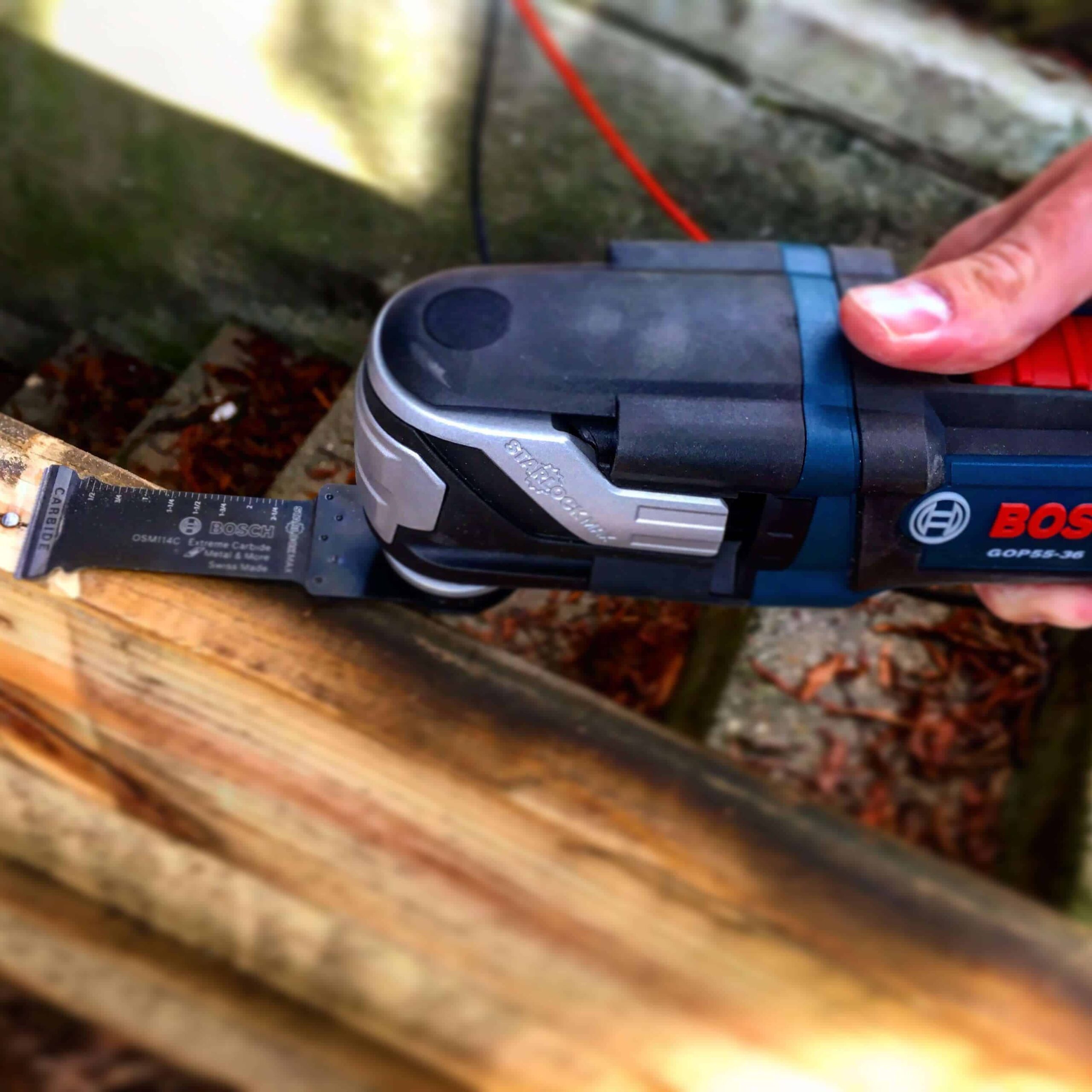 When a new box of surprises arrives from a tool company… I get excited.  It's not Charlie Bucket excited where I break into a song with a bedridden grandparent, but it might as well be.  Maybe I'll back it down to how excited my toddler daughter gets when she finds anything that combines the color pink that also happens to be dusted with glitter.  Which in turn… covers all of us and our pets with glitter.  Seriously… glitter toys are the devil.  I can explain away sawdust (man glitter) to my sports buddies… but they aren't letting pink glitter on my face slide.  Back to the tools though… I generally work with consumer or pro-sumer grade tools.  They blend the perfect amount of power with a DIY'er friendly budget and have plenty of "oomph" to get most jobs done right.  These are the tools for the nice guys (and gals).  The weekend warriors and the project makers.  But occasionally I get my hands on something a little meaner.  You know, one of those tools that the standard models are afraid to make eye contact with in the hallway.  That tool with enough power and brute strength that children and small animals run for cover when you flip the switch and unleash the fury.  In this case, I'm talking about the Bosch 5.5 Amp StarLockMAX Oscillating Multi-Tool GOP55-36 (*affiliate link).

The Bosch GOP55 Brings The Power
You're talking up to 20,000 OPM's (oscillations per minute) from a corded 5.5 amp hand tool that sounds impressive even without any context or comparison.  But any old tool company can make a product that shakes back and forth really quickly… only to shake itself to pieces and fail after a few times of use.  That's not the case here like my heavy duty Bosch Routers.   There's something more under the skin of this Bosch tool.  The entire construction is solid with reinforced metal gearing that stands up to the abuse this beefier motor dishes out.
I've got a handful of other Oscillating Multi-Tools (OMT's) that you can barely use for more than a few minutes before your hands start going numb from the vibrations.  Not this model.  Because of the tough construction and StarkLock (more on that in a minute) connection, you're not sending all of that wasted energy back into your arms.  It's getting pushed right back into your work surface for maximum power (and maximum effort in the words of Wade Wilson).

Bosch StarLock Connection
Alright, cozy yourself up for a second and get comfy, let's have a fire side chat (sorry, no bear skin rug) about the StarLock connection.  Basic science has taught us that metal is a fantastic conductor of heat, especially when friction is involved.  So whether you're cutting through bolts or breaking up tile, your blade is going to be heating up… which is problematic when you have to swap them out.  The StarLock system has two benefits:  Tool-less changes and a Gi-Joe Kung Fu grip that's never letting go.  Just a quick pull of the release handle on the side of the unit and the hot blade easily drops right off (no burnt fingers).  But "easily removed" doesn't mean your blades are going to fall off mid-use.  No, while you might think the "Star" in StarLock is referring to one of those shiny star stickers our grade school teacher would only put on Shannon's "Excellent A+" book reports (or one of those stupid Apple A+ stickers), it's actually referring to the grip pattern that holds the StarLock blades in place.
The best way I can describe it (other than a jello mold shaped star) is a cog or bottle cap top with a dozen teeth making sure the blade never slides or shifts.  That goes a long way in reducing that vibration I mentioned early.  Less vibration in the blades means more precision cutting, but also a grip that isn't going to fail you mid-project.  Bonus, it also lets you mount the accessory securely in any direction (preferably not back towards your hand).

Bosch Compatability
Speaking of blades… the Bosch GOP55-36 works with all StarLock, StarLockPlus & StarLockMax (for the really tough projects) accessories.  From plunge blades, to sanding pads, to knives and scrapers, there are over 40 different StarLock accessories you can snap onto your model and do some real damage with (in the most precise way possible).  I've been using mine mostly with the metal cutting carbide blades for sheering through stripped out decking screws in the porch I'm tearing out.  I'm repurposing the lumber for another project so I don't want to go into full demolition mode (but I could with a quick blade change).  With the compact design, I'm able to easily slide the blade underneath a decking board and cut through the stubborn screws in seconds given the amount of power I'm throwing at it.  I've actually seen videos online of people using this OMT instead of a reciprocating saw.  You can literally cut a 2×4 in half with it.  Try that with one of the "other" guys' models.  See you in an hour.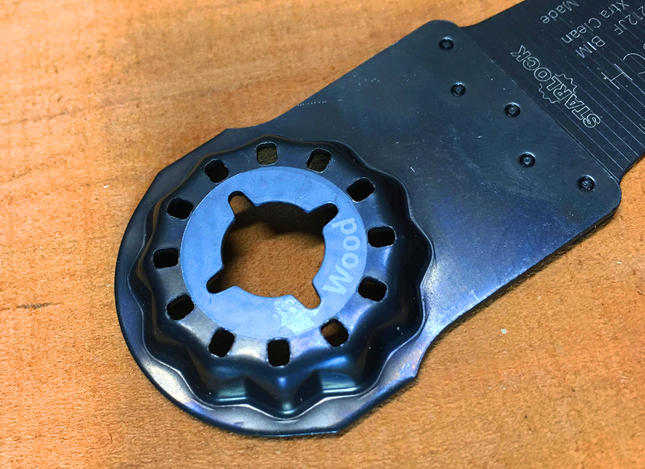 Next project up I have to rough out a few holes for electrical work boxes for the interior and exterior walls of my shop.  Quick work for the Bosch whether I'm cutting through wood or metal.  After that I'll slap on the attachment for scraping up tiles for the bathroom overhaul we've been putting off forever.  The bottom line is, Oscillating Multi-Tools are the Swiss Army Knife of power tools.  They can be used in pretty much all trades whether you're a carpenter, electrician, GC or even a plumber.   Short of having to cut or grind through Adamantium, there aren't many materials that the G0P55-36 can't muscle its way through.

The Bosch GOP55 Bottom Line
So let's talk the important details if you haven't already clicked ahead to see the price (affiliate links to follow).  The model I tested is the Bosch GOP55-36C2 that's a 40 piece kit with a hard case that retails for $399.00.  That's a ton of attachments.  You can also get the Bosch GOP55-36B that comes with only one plunge blade attachment and a soft sided case for $259.00.  Those are big price tags if you were originally considering something like the Dremel Multi-Max 5 amp OMT that comes from the same family tree and retails for $99 (and no StarLock!).  Just like cars though, a three cylinder 55 horsepower Geo Metro could probably drive you from point A to point B, but a v12, 690 horsepower Lamborghini Aventador will do it faster and with more power (oh, and look good too).  Fancy car jokes aside, if your work depends on speed, accuracy and enough power to tackle pretty much any task, you know the value of spending more money on reliability when you know you're going to need it.  A ton of power and a gritty toughness is something I've consistently found with the Bosch tools I've been using recently and you'll find the exact same qualities here in the GOP55-36 OMT.
~ Lazy Guy
*This product was provided by Bosch Tools and The Home Depot Pro-Spective Tool Reivew in exchange for my opinion and review.  My opinions are my own, but can be heavily influenced with a donation of some Epic-Bar Buffalo Jerky bars and a bottle of Pappy Van Winkle… but then I'll be really sleepy and need a nap.