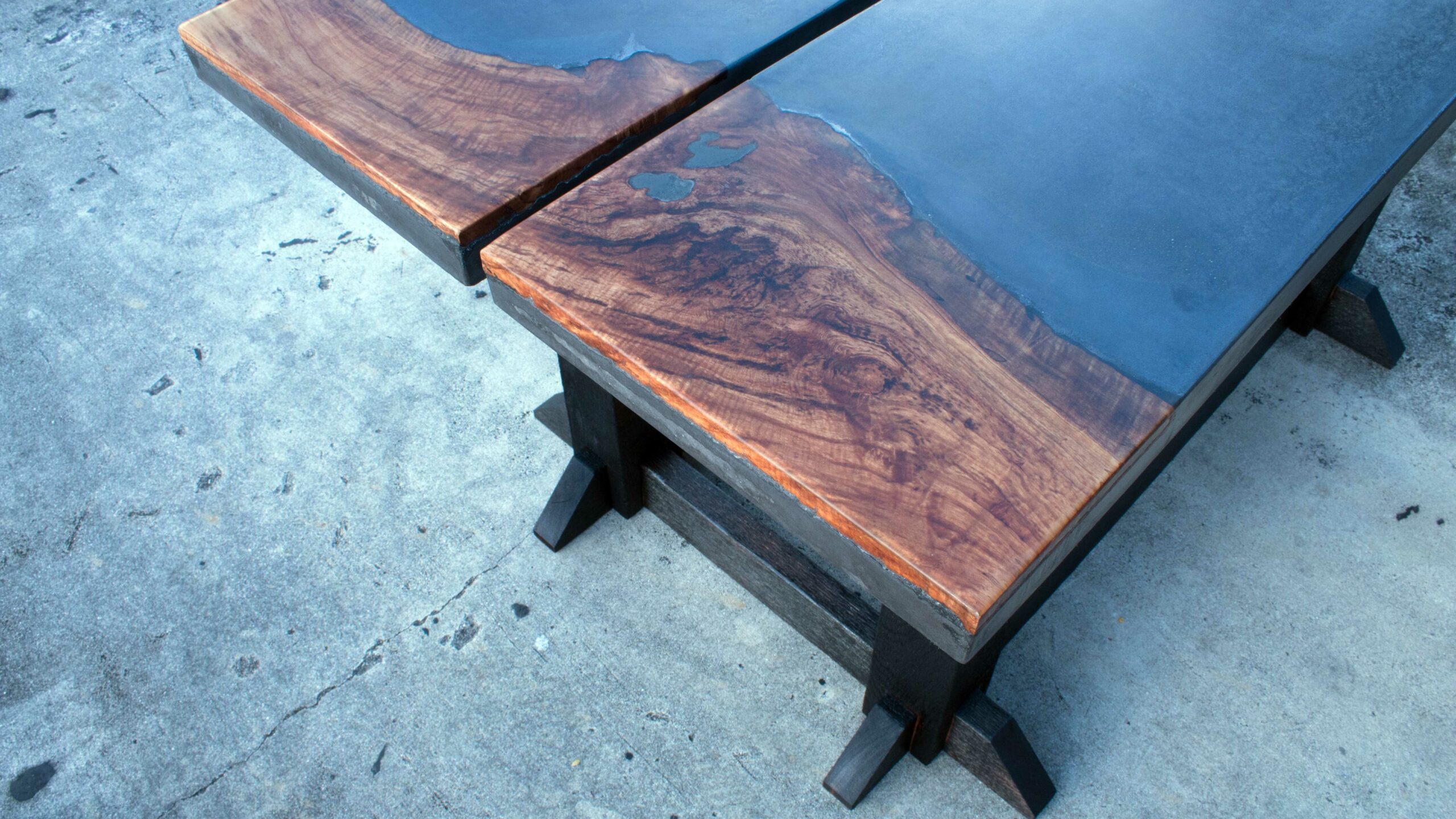 What happens when you add One part Concrete, One Part Spalted Maple and then finish it off with One Part Shou Sugi Ban? You get our first project from Chris from Cow Dog Craft Works with this fantastic Outdoor Dining Table!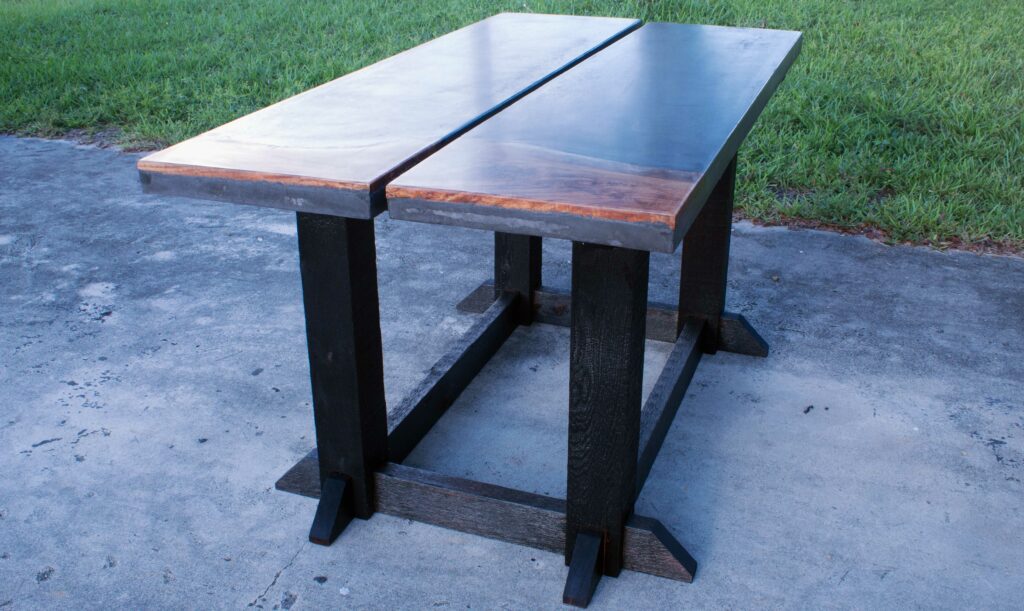 Wondering who this Chris guy is and why is he posting projects on Lazy Guy DIY? Check out the recent announcement about my two new content contributors!
Now that you're caught up, let's hear from Chris! Then don't forget to follow him over on Instagram and YouTube!
Concrete & Live Edge Outdoor Dining Table
The table top uses a blend of glass fiber reinforced concrete (GFRC) with epoxy sealed live edge spalted maple. The top is then mounted to a classic castle jointed base with a Shou Sugi Ban treatment. It's then finished with an outdoor varnish to create a solid, durable, outdoor dining table that is perfect for withstanding the elements.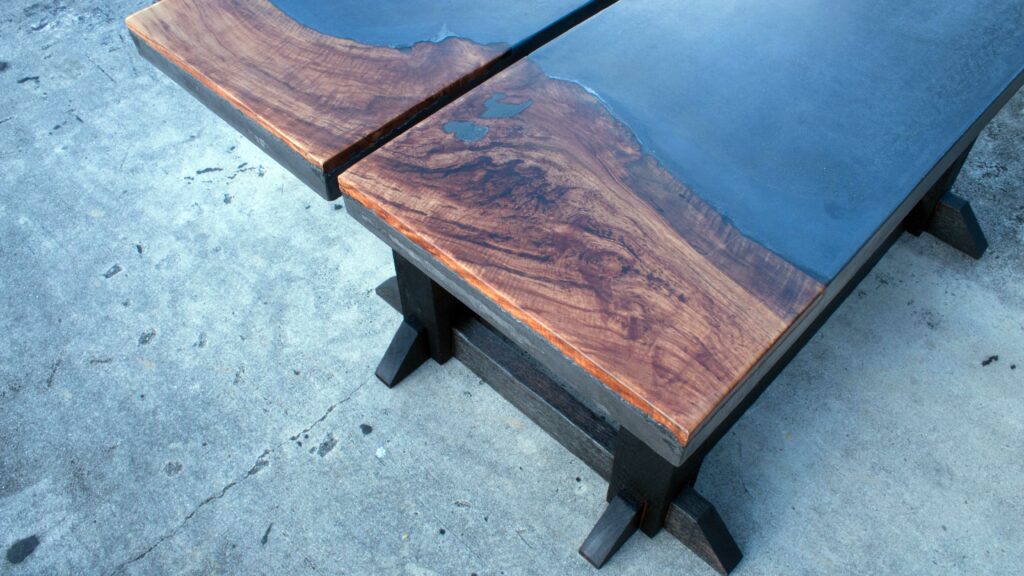 Prepping The Live Edge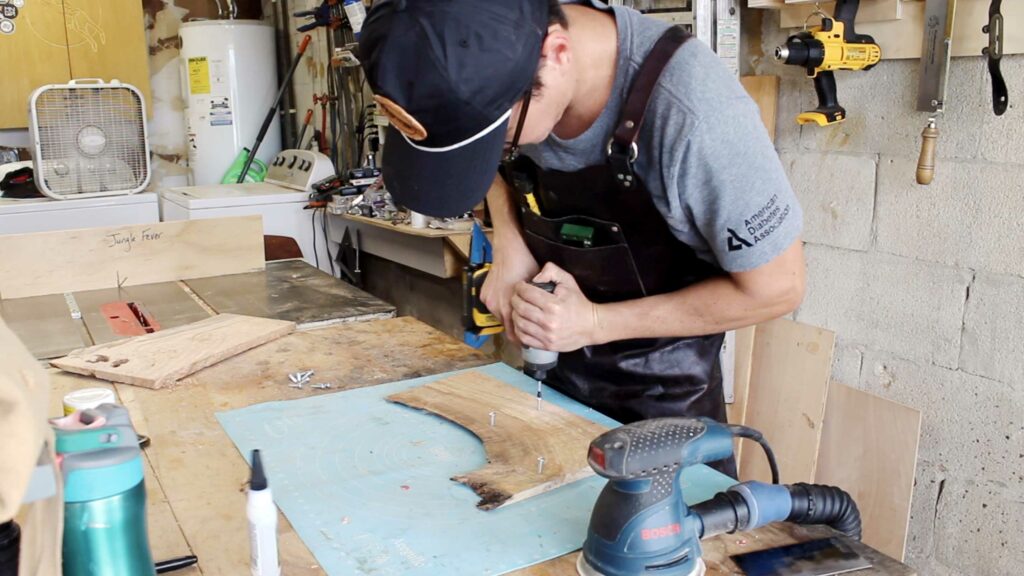 To seal out the maple, I mixed up table top epoxy and applied it to the wood in two applications. Once as a seal coat and the other as a finish coat. The nice thing here is that I'm really just going for one show side. So the side with the screws in it, while still receiving epoxy, doesn't need to be perfect since the concrete is going to cover it. I used a propane torch to break the surface tension and release any bubbles in the epoxy
Pouring The Concrete Top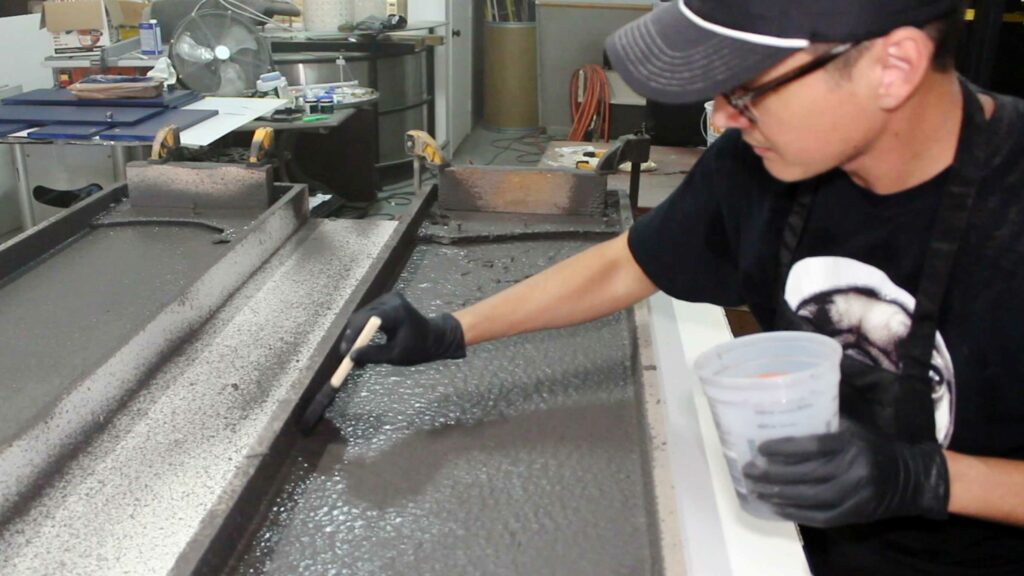 Each GFRC concrete mix is different. Plus, if you go with standard concrete instead of Glass Fiber Reinforced Concrete, you're going to have to add re-bar or wire mesh. Which makes it heavier. This mix starts with the face mix and requires a blend of modifier, water, pigment. Then the concrete face mix. We loaded it into a pneumatic hopper gun and sprayed it down into the molds. Then we mixed the backer which has the glass fiber reinforcement and dumped it into the molds.
After it cured, I hit the whole top with diamond pads before taking it back to my shop to hit it with a base coat of pure tung oil. Pure tung oil can be used as an all natural sealing finish for concrete. I poured it on thick and let it set in before wiping off the excess. I did this process a couple times over a few days just to ensure there was a solid base layer that soaked into the concrete.
Building The Dining Table Base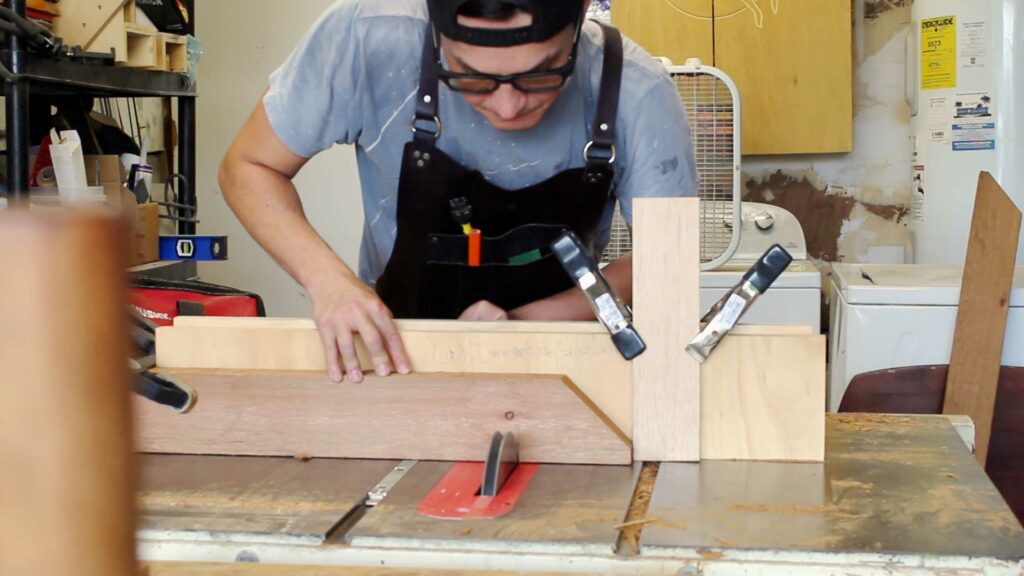 For the base: this is a four post castle joint with a Shou Sugi ban finish. If you're not familiar with a castle joint: it's a half lapped joint acting as the tenon in a four way mortise. This results in an incredibly strong and stable joint. This base is going to involve eight total castle joints, four on the top and four of the bottom of the base.
I cut everything to length, namely 28 inch legs out of cedar 4×4's and rough cut 2×4 stretchers. Then cut a 45 to bevel the ends of the stretchers for a nice aesthetic and a bit of angular support. I marked out the thickness of the tenon on the 4×4 leg post before breaking out the tenon jig and the dado stack to hog out a majority of the material.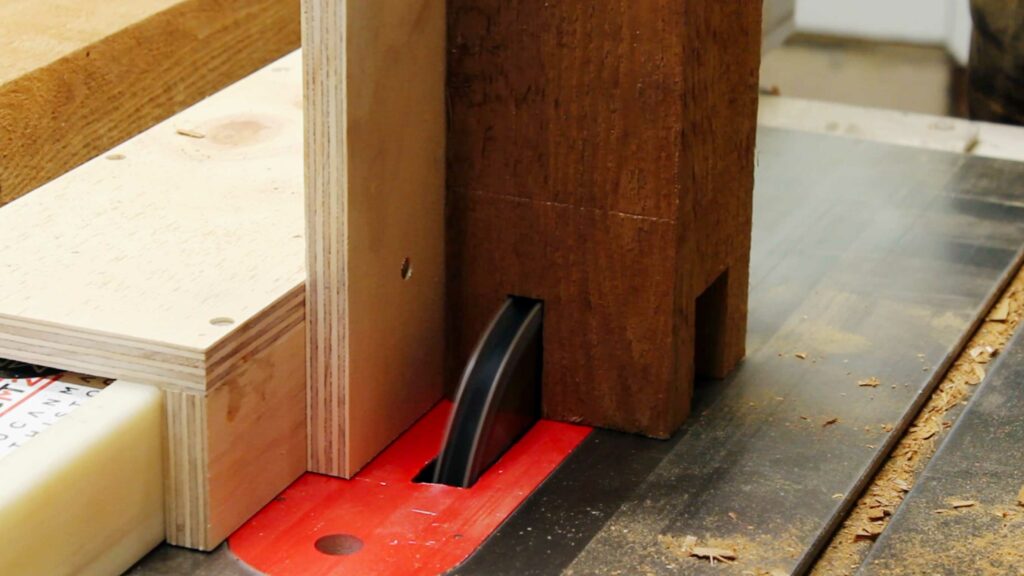 For the half laps, I similarly laid out my joint and set the depth of the dado stack. Using my miter gauge, a backstop, and a stop block, I hogged out the waste for the stretchers on the top and bottom of the table. Then to fit everything, I added some glue to the inside of the mortises and popped everything together.
Shou Sugi Ban
I used a forstner bit to bore a hole into the top of the half lap of the castle joint. Then a big ass drill bit for a pilot hole for the 6 ¾ outdoor rated flat lock fasteners. Part of the reasoning behind the fastener is that I wanted to use a Shou Sugi ban treatment and burn the whole base to a black, alligator skin finish. I've got a lot of concerns about cooking glue with an open flame under that high heat.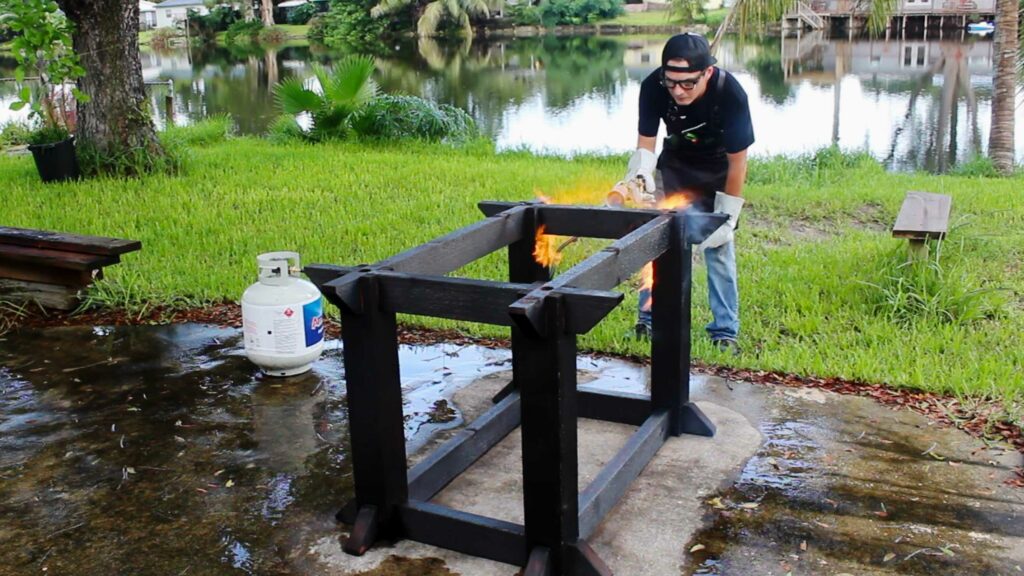 If you're not familiar with Shou Sugi ban, it's an ancient Japanese wood burning technique that provides great weather resistance to wood. It's traditionally used on siding but has also been used on furniture. It's also used, albeit in a different version and capacity, in whiskey making which has the insides of the oak barrels charred to provide rot resistance and flavor.
Final Dining Table Finish
To further protect the wood, I used outdoor water based varnish. No sanding between coats. To apply, I used an HVLP sprayer and if you choose to spray would recommend diluting with 20% water to help lower viscosity per directions. This can also be brushed on with a foam brush and won't require dilution whatsoever. I sprayed the base with multiple thin to medium coasts as well as a plywood substrate that I would later inlay into the concrete slab with construction adhesive.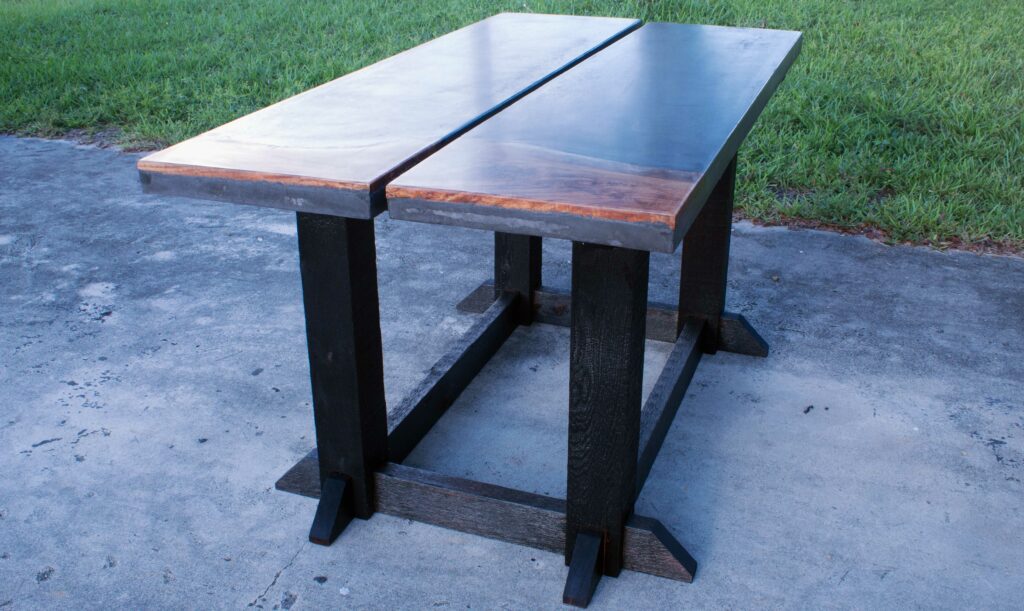 After the finish cured, I drilled mending straps into the base with outdoor rated screws and fired a pan head screw from the underside into the plywood substrate to attach the top. As a final seal on the top, I mixed up more pure tung oil with melted beeswax. The beeswax begins to firm up almost immediately on application so I rubbed it in pretty vigorously before scraping the excess with a flexible scraper. Then I hand buffed with shop rags. I waited one week for a full cure on the finish.
Watch The Build Video
Supplies For Dining Table Build
Cedar 4×4's & 2×2's for legs and stretchers
3/4″ Plywood
6-3/4″ flatlock screws
Simpson Strong Tie Mending Straps
Like this build by Chris? Check out the Cow Dog Craft Works Feed and don't forget to look for projects from Graham from Minerva Enterprises as well!