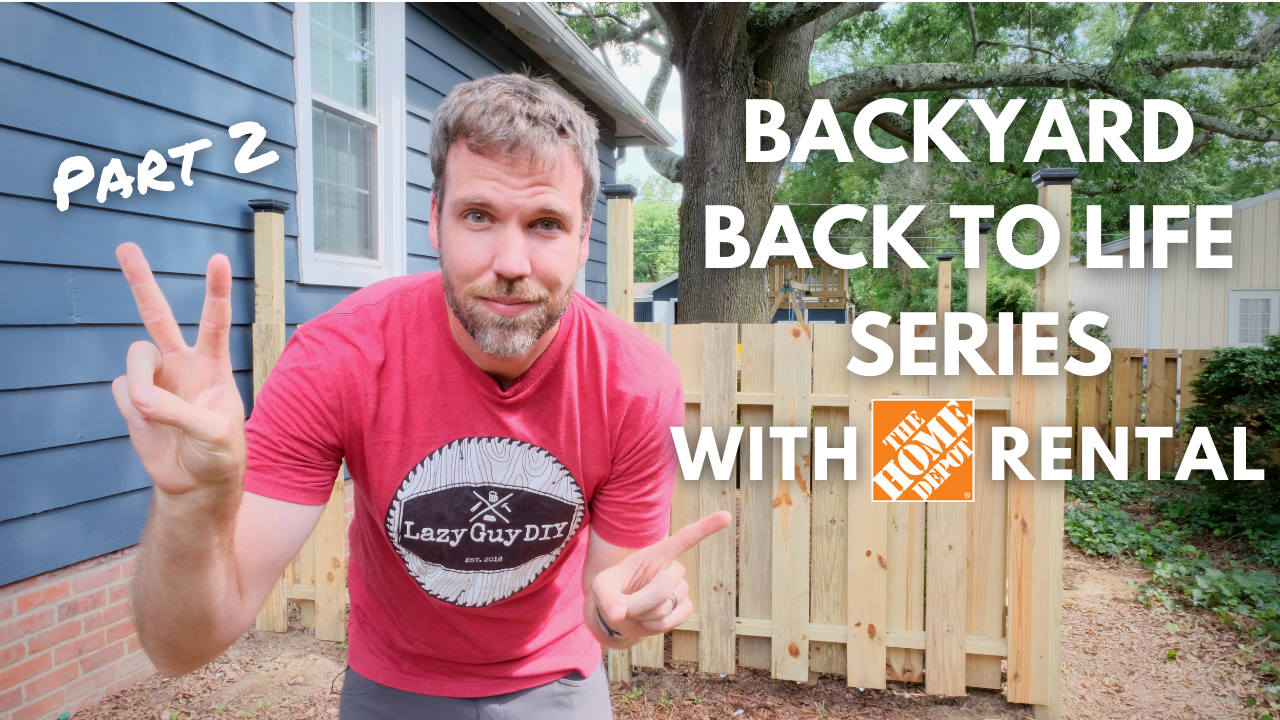 They say fences make good neighbors, but I say a bigger fenced in yard where my kids can play and not escape from is even better! That's why in the second part of this Backyard Back To Life Series with our friends from The Home Depot Rental, we'll be focusing on tearing down an old fence and extending it out for a larger living/playing space.
A Backyard Recap
Need a refresher as to how this project kicked off? Don't you worry, I barely remember yesterday these days now that we've got three interns under the age of seven. Our fenced in backyard has a few years of neglect which meant overgrown shrubbery, weeds, a holly tree and more. Which is impressive given the size of our small city yard. Though it's little… the out of control-ness is fierce. Check out the full website post or watch the YouTube video to catchup on how we tamed the jungle.
Before we move forward with the project, it's worth mentioning that if you have a home improvement project or a backyard improvement project like me, you should go check out our friends from The Home Depot Rental.  You can now reserve your rental tools online ahead of time up to 30 days in advance to make sure you have the right gear to get the project done. 
A Side Project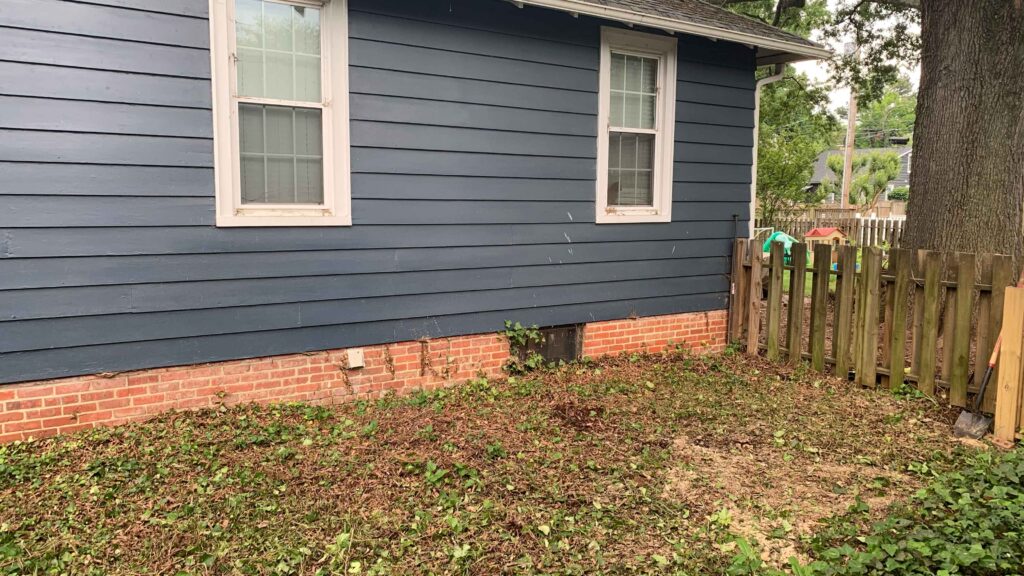 When you last saw this space, I had started clearing out overgrowth and removed the holly tree that had started to reach out and touch both houses.  It was dead space that wasn't used and frankly, I felt like it was a liability of cover that could conceal some bad deeds that come along with living in a major city.  With the area cleared and now maintained, it was time to bring some value back to it.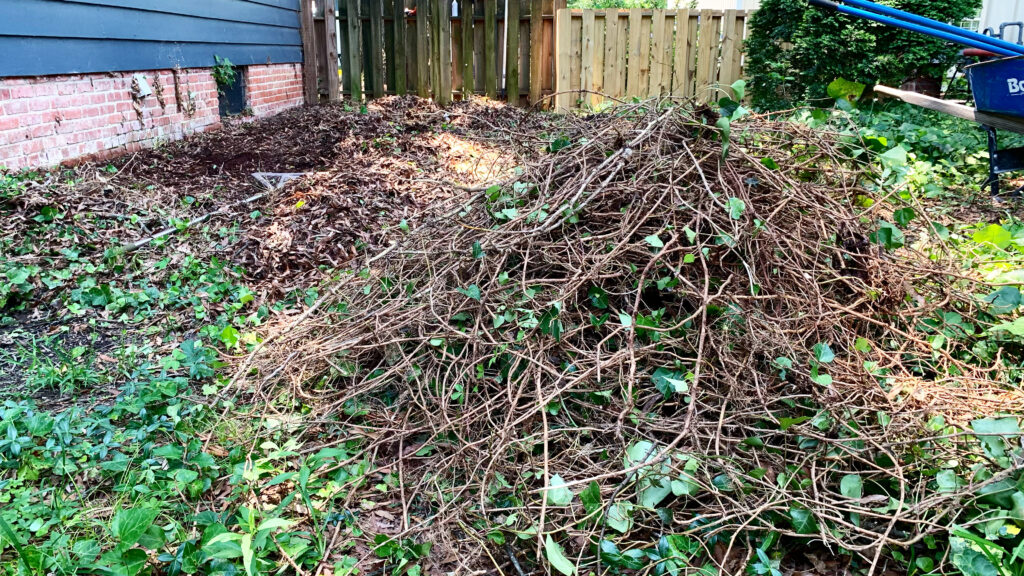 But first… I might have cleared the top layer of things, but I quickly realized that letting ivy run rampant for more than a decade left miles and miles of roots in the ground. Try as I might to ignore them, I realized when trying to use a shovel or the post hole digger I rented, I was going to have to remove them. So I did… over several days. Seriously. Miles and miles of roots and vines were pulled up in this soon to be 10×20 fenced-in side yard.
I'll Keep You Posted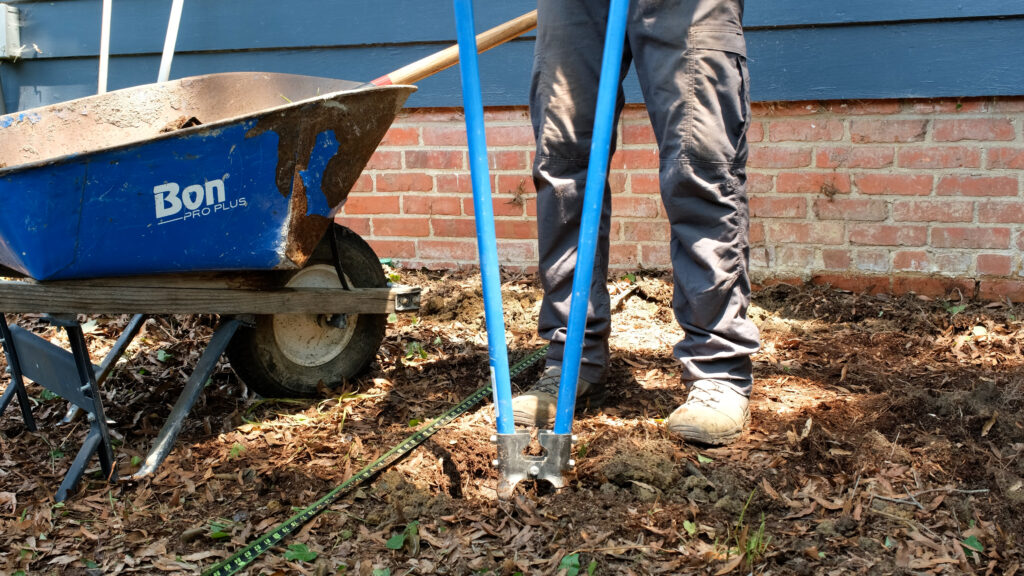 With the area cleared I was able to go in and start digging post holes and filling my rented wheelbarrow (save that dirt).  When adding posts for fences you need to dig them anywhere from 18" to 24" deep and then at least 3" wider than the posts you're adding.  My plan was to dig the posts evenly spaced and connect the new fence into the existing fence from our yard.  All went well right until the point where I started hitting the tree roots to the massive willow oak from our backyard.  So a pair of the posts had to get shifted slightly.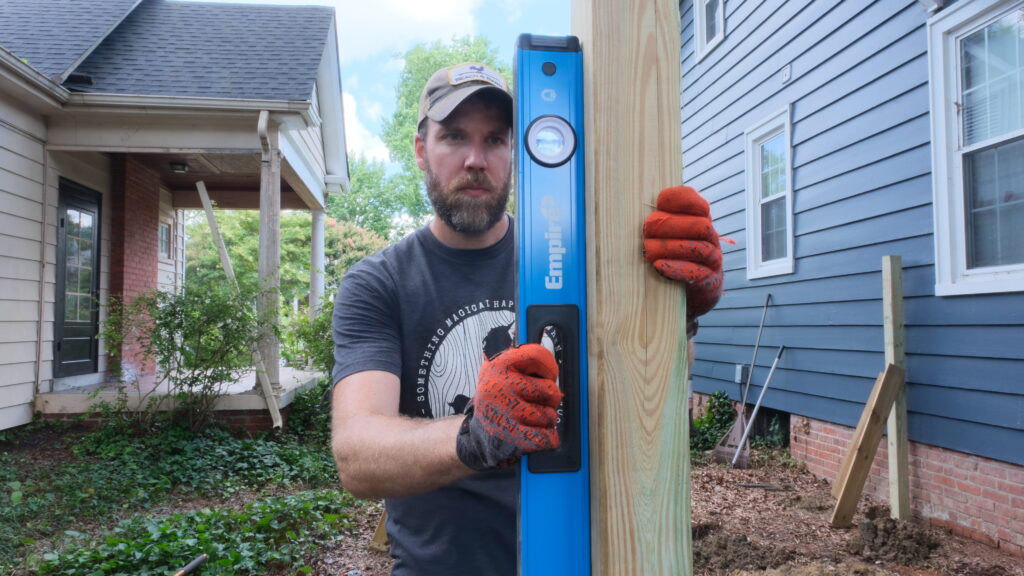 With the holes dug I started placing the 4×4 posts and then using scrap wood supports to secure their position as I leveled them.  Can we also talk about how fierce my beard is in this pic?  After the area was prepped, I grabbed 10 bags of fast setting concrete mix.  You need about two per hole.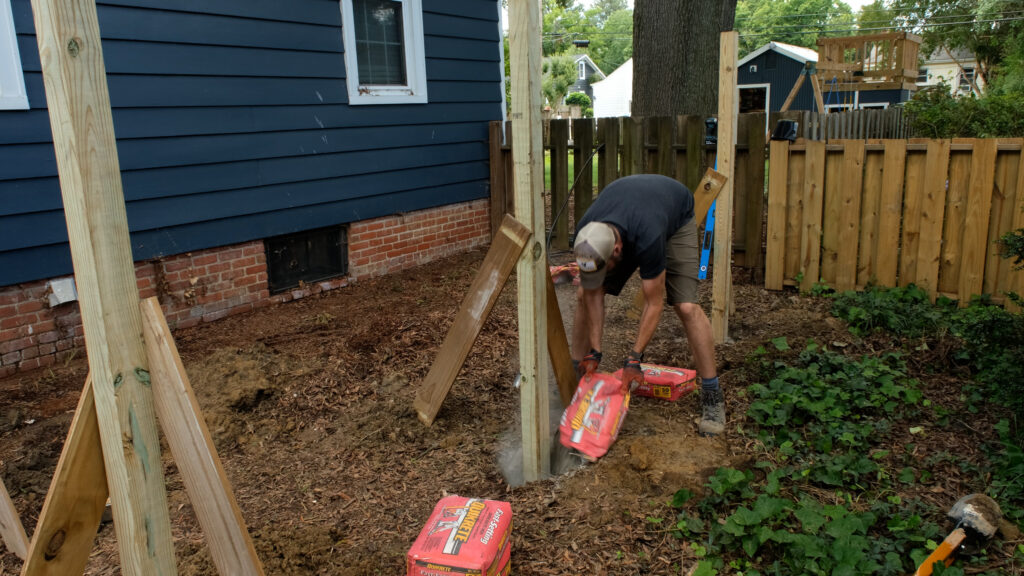 Taking advice from my neighbor who puts up posts regularly, I didn't pour and saturate the concrete mix as directed. With rain in the forecast and a ton of moisture in the soil, I wetted the mix sparingly to get it started and let nature do the rest. By the next morning, everything was solid and ready to roll.
Tear It Down, Put It Back Up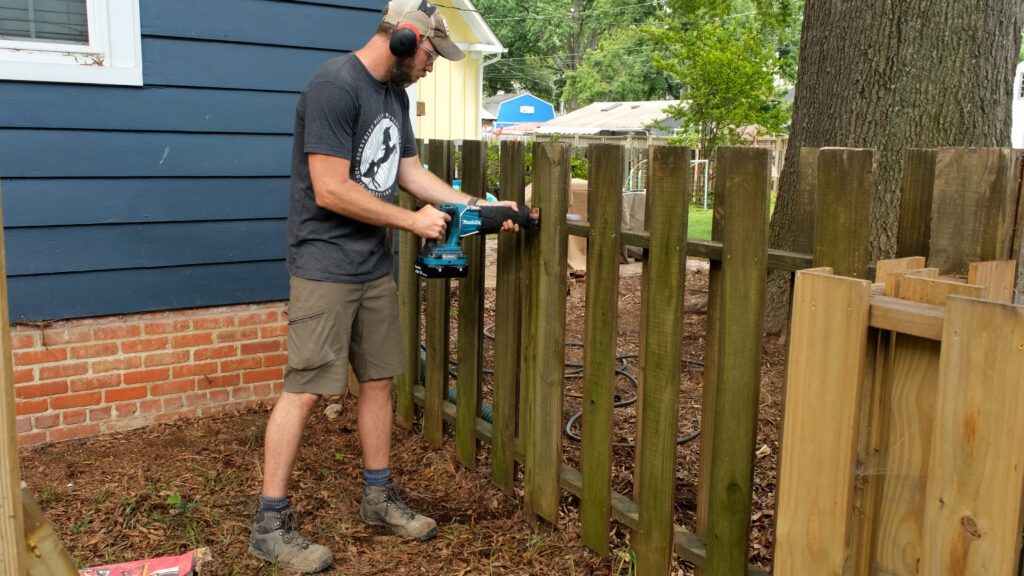 While the new fence posts were settling and the concrete curing, it was time to open up that last portion of backyard.  The old fence was ready to go down and to do so, I brought out the rented heavy duty Makita reciprocating saw with a demolition blade.  This also allowed me to carefully disassemble the fence so I could reuse and recycle the fence pickets for another part of this project.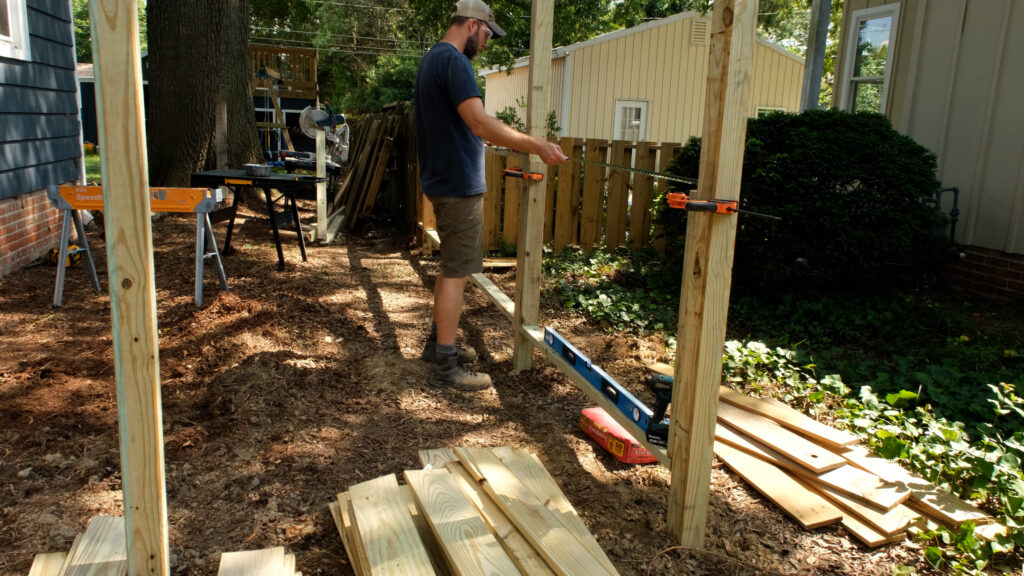 With my defense down, it was time to fence it back up!  The new fence design was going to be the same as the old one in order to match the flow of the fence line.  A pressure treated 2×4 frame and the pickets attached to it alternating from side to side.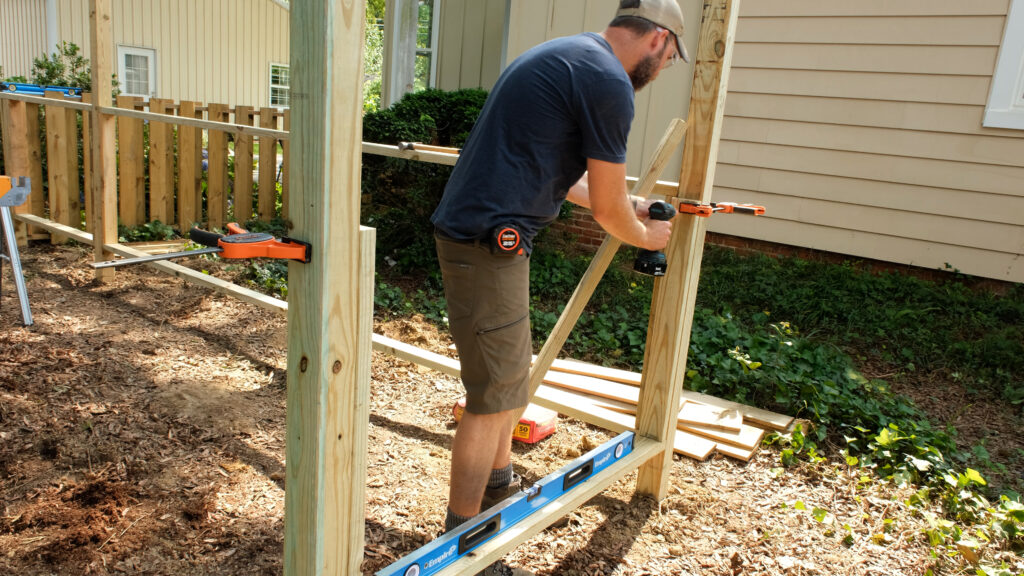 To attach the frame, I used 2" star tip decking screws and then drove them with a Makita 18v Brushless Impact driver that's perfect for tougher pressure treated material.  With the rectangular frames secure (also adding a little more strength to the fence) it was time to pull out the big guns.  Literally.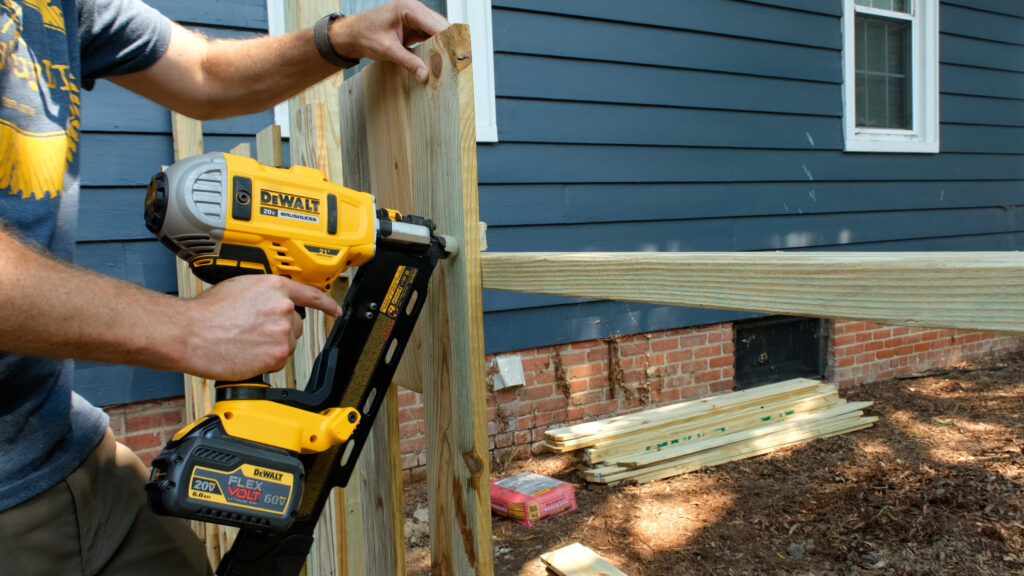 One of my favorite tools I continue to rent is the DeWALT 20v Framing Nailer.  From the shed addition to the in-wall dresser projects, if you're framing up the build, you need a great framing nail gun.  Otherwise, you're stuck hammering nails yourself and wasting time.  I know my way around a framing hammer, but I'm still not that fast and efficient with it as a nailer.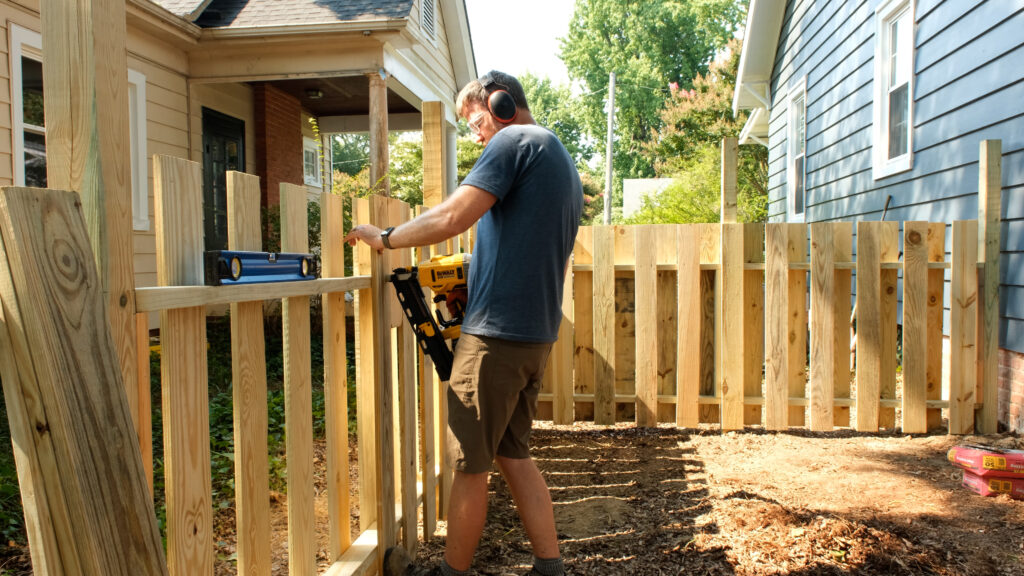 In order to get the correct spacing, I made a quick jig. Using a scrap piece of 1×6 fence picket and 2×4, the jig sits between the attached fence picket and the new picket giving me the right height to place the next picket. I secured it with one nail from the nail gun and then pulled out my level to make sure my pickets were straight. Attaching the pickets took no time at all. Pre-cutting them to 54" to match the other part of the fence… time consuming.
Space To Move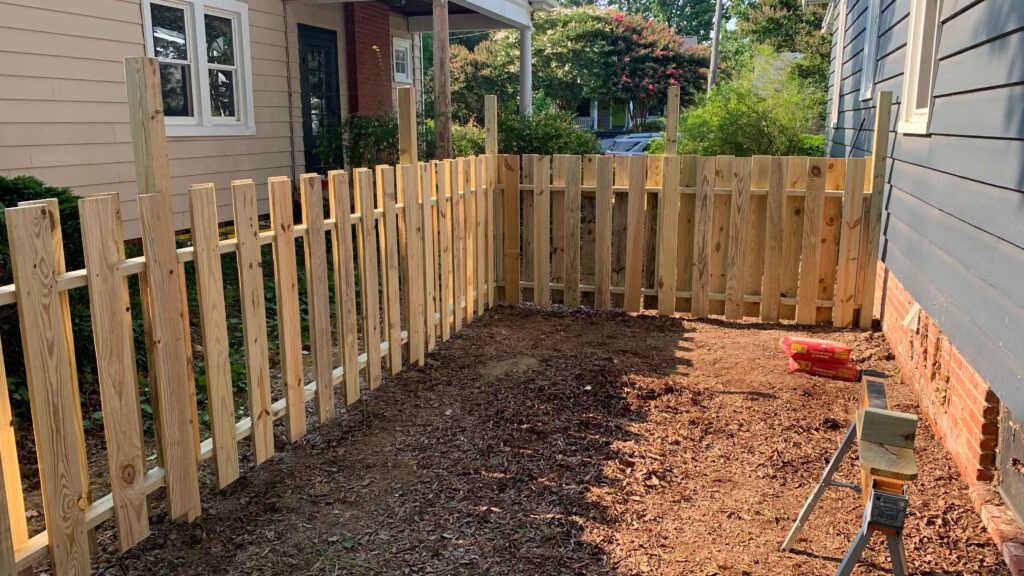 Now fully installed, it's time to start thinking phase 3!  That's right, you're going to have to come back and see what the final reveal of this space looks like and how I got there.  Just as a reminder, this space is going to be used as bonus play space for my kids.  Sure, they have the whole backyard, thanks to our big Willow Oak tree, this is a nice shady spot protected in between houses to put some fun play toys.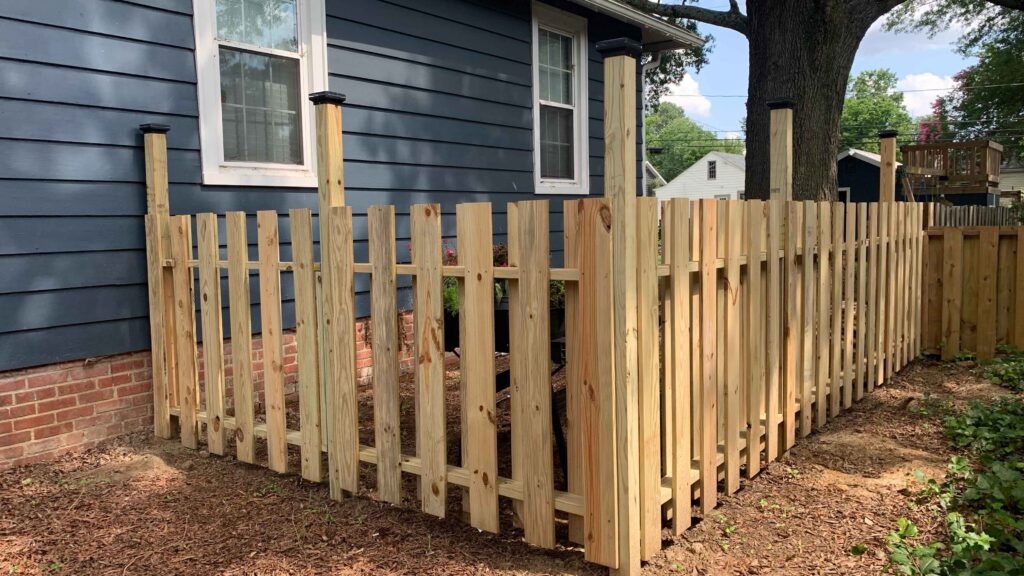 And what about the longer fence posts? For starters, off camera I evened them out so they were all the same height and then added these nifty solar post lights. As part of phase 3, I'll be using some of that reclaimed fence I took down and will be making hanging planters that will add an extra layer of privacy and a pop of color in the fence line. Until then… stay tuned for the final reveal!
~Lazy Guy