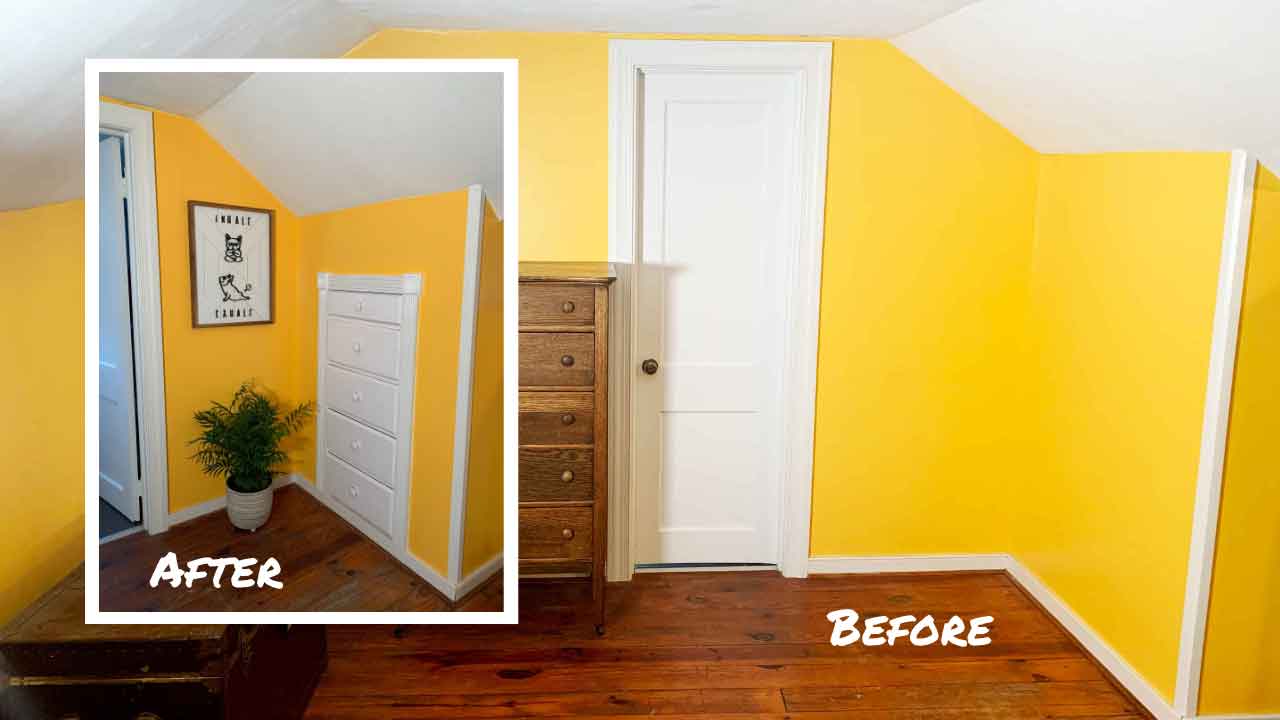 If you live in an older house, especially one like ours that's a Craftsman Style Bungalow with dormers on the second floor, you probably have a kick wall or pony wall. That is, a weird short wall in a corner because of the contours of the roof line, with dead space behind it. If you do, that's a perfect spot to install a flush mount built in dresser. It will take up no floor space, give you storage and then give that weird wall a purpose. So to build this out, I teamed up with my friends from The Home Depot Rental, grabbed some tools and got building!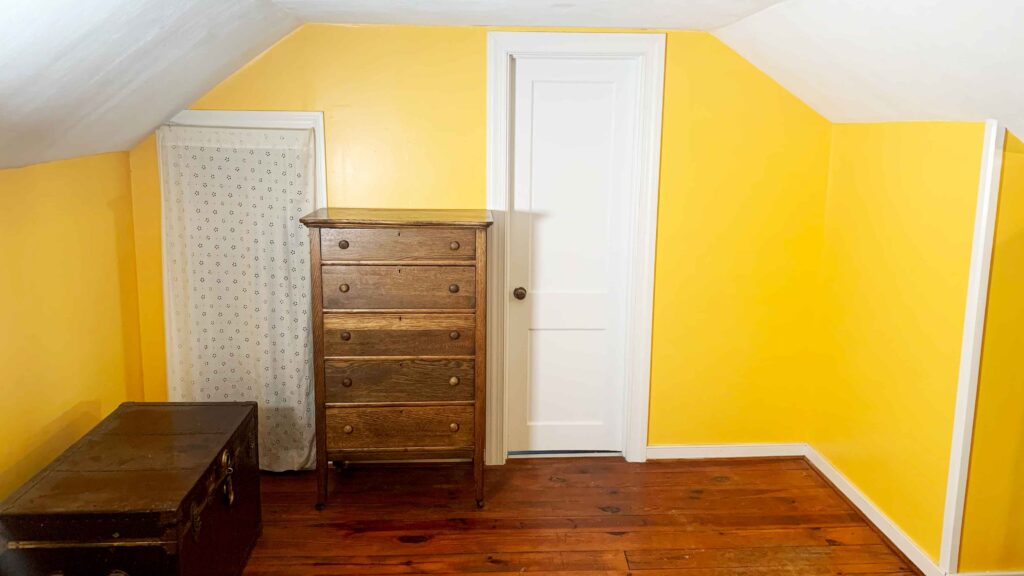 This post is sponsored by The Home Depot Rental.  For this project, I rented a few essential tools, but also used a handful of my own which any weekend warrior should have in their tool collection.  If you don't have them… you know where to rent them!
Tools Used On This Project
Rented
Makita Compact 8.5" Compound Sliding Miter Saw – This little saw packs a punch and made it easy to transport upstairs to the workspace.  It was perfect for cutting trim work for on site installation.
DeWALT 20v 18 Gauge Brad Nailer – The convenience of a battery powered tool without an air tank and hose is a game changer.  The brad nailer was a great fit for installing trim and assembling the dresser carcass.
DeWALT 20v Framing Nailer – Ditto on the battery powered tool convenience.  But also the right tool for framing out the hole used to hole the dresser.
Karcher Wet/Dry Shop Vac– When it comes to cutting a hole into drywall you're going to make a mess… so prepare to clean it up!
Other Tools Used
Watch The Built In Dresser Installation Video
Where To Install Your Built In Dresser
So here's where I tell you that, like snowflakes, every home is different.  I couldn't exactly plan out the dresser size and shape until I opened up my wall and had a look inside.  And at that point with a large hole in the wall… you're committed.  Speaking of, to cut the hole, I marked out a rough outline of where I wanted the dresser to go and then used a drywall saw to cut out my panel.  If I had hit studs, I would have made sure they were non-loadbearing and then cut them with a reciprocating saw to complete my cutout.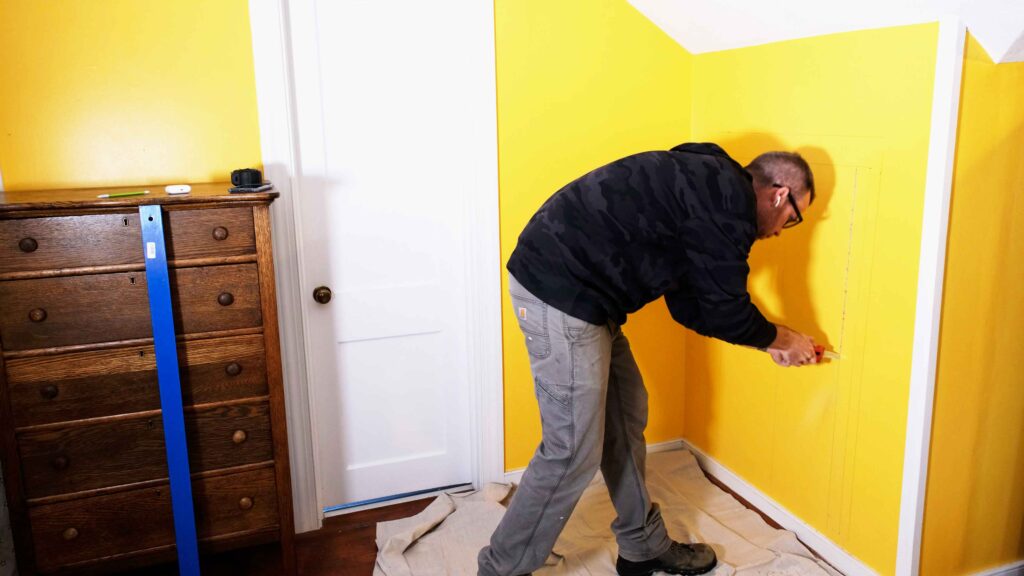 I actually lucked out because I could clearly see the studs in the wall and had a clear shot at a 24" wide space on center with no studs. So it was all handsaw cutting. The real wait and see game was what my roof line did behind the wall. I could either have several feet of clearance at the top of my proposed dresser or several inches. With the wall opened up I found I had several feet of clearance and even more impressive… an almost 16' x 16' unfinished dead space that was just an empty room that hadn't been touched in decades.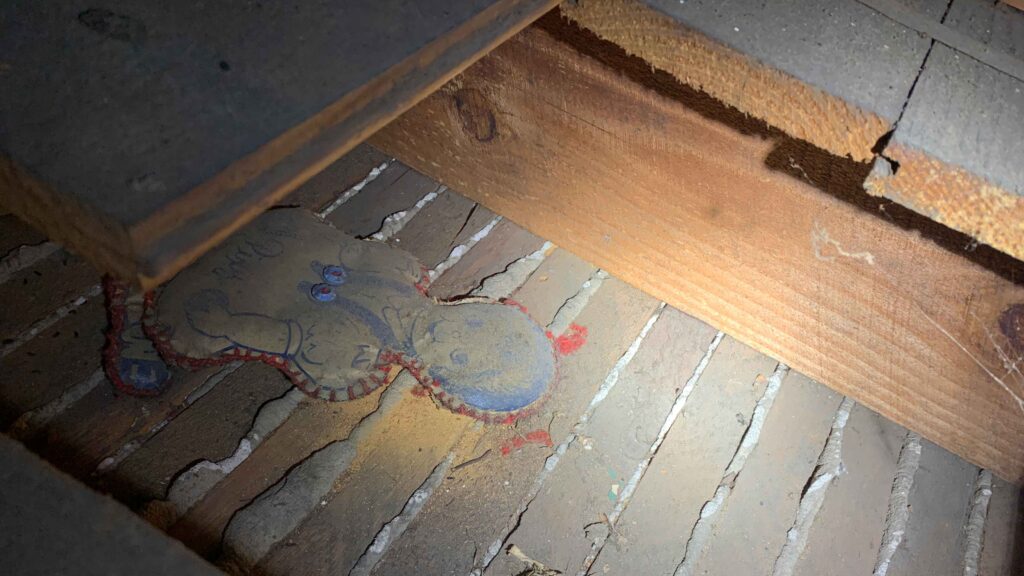 If a ghost or a demon was living there… I wouldn't have been surprised… and that's when I found the forgotten doll. Named Pixy with a partially chewed up head… I left that haunted doll where it was, buried it under insulation and left that curse for the next homeowner.
Framing Up The Hole
In order to place a dresser into the hole, I would need to sure up the framing. Using construction grade 2×4's I cut pieces to tie into the existing studs to frame up the opening. I attached them to the existing studs in the wall with the DeWALT 20v Framing Nailer.
Depending on the depth of your dresser and what's on the floor behind the wall, you might need to build a little platform for the dresser to sit on as well so all the weight isn't hanging from your studs. 
Building The Dresser
Although my channel is "Lazy Guy" DIY, I didn't go the easy route and just buy a dresser and stick it into the hole in the wall. But that is absolutely a possibility if your space allows it and you have a dresser. Instead, I did build a carcass and drawers for the dresser.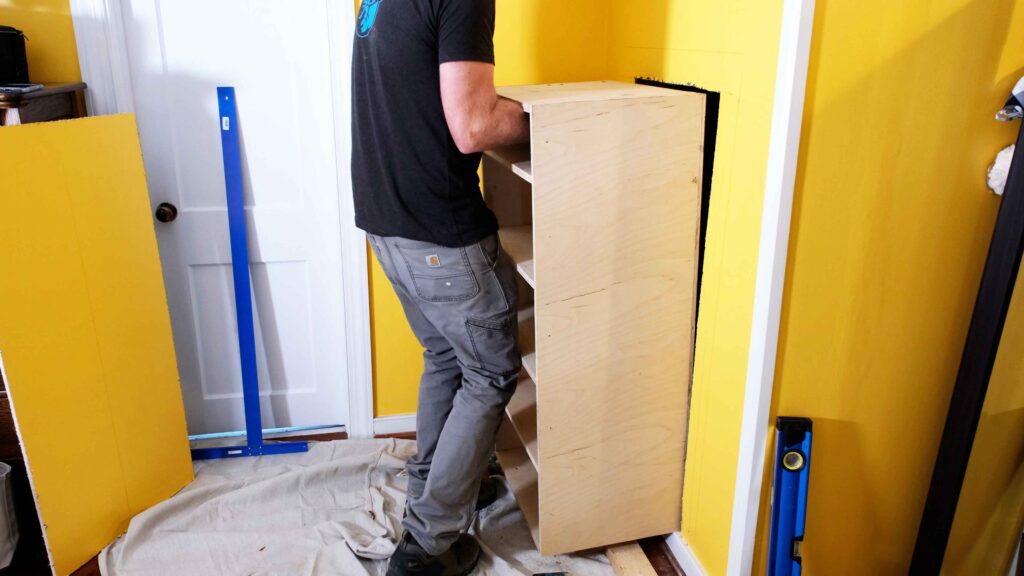 This part of the process is going to be completely different for every person who builds this out. You'll need to build a drawer box that fits to the measurement of the hole you framed out and to a depth that works for your space. You're better off to err on the side of caution and assemble yours an 1/8" or a 1/16" smaller than your opening. If it's too small you can shim it and trim it out. If it's too big, it's back to the drawing board for assembly. For my build, I used ¾" plywood for the carcass and assembled it with pocket holes. I had room enough to space out boxes to hold four deep drawers and one smaller drawer at the top.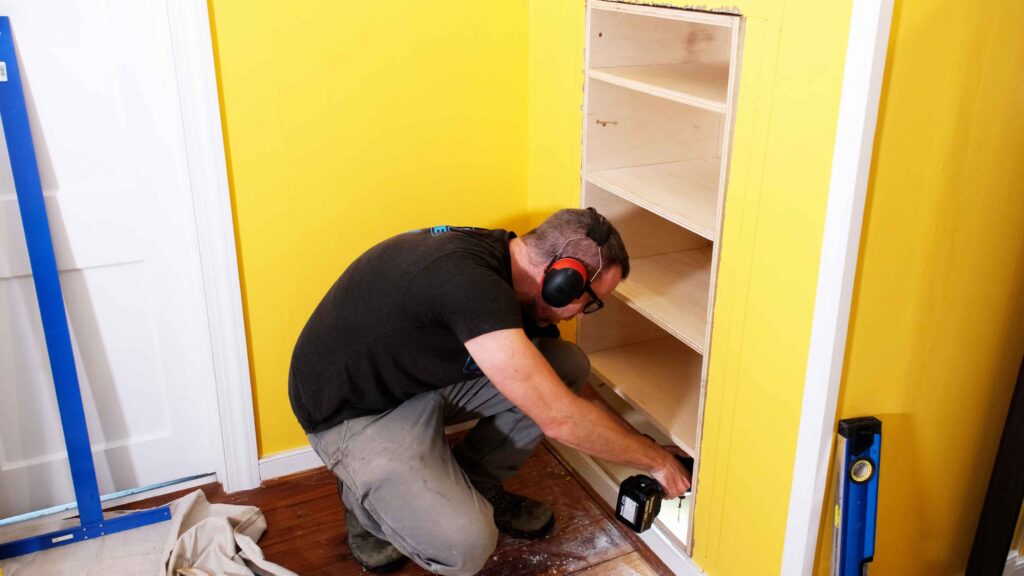 For the installation, I pre-drilled several holes into the dresser box to drive screws directly into the 2×4 framing. I didn't skimp here, I pre-drilled 16 holes (overkill), three each in the top and bottom and one more one each side of the drawer boxes. I then closed my eyes… crossed my fingers… then set the dresser box in the frame hoping for a close fit.
To my surprise… it fit! I then used a drill driver to add 3" wood screws and attach the dresser box to the frame.
A Note About The Drawers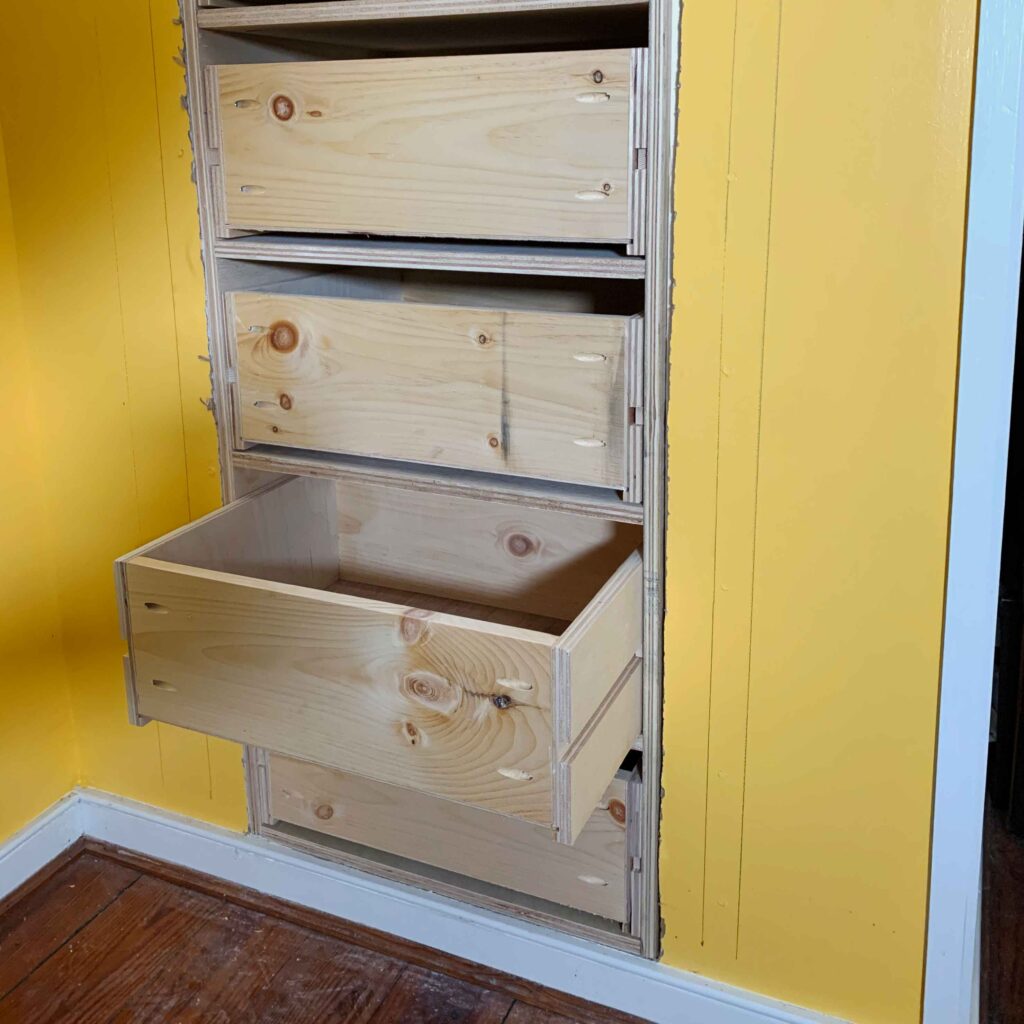 Building drawers is one of those things that can be done a hundred different ways. Installation has even more options. You can have the drawer faces cover the drawer boxes with an overhang. They can be inset in the box. You can use store bought drawer slides (that can be side mounted, top mounted or even under mounted) or even friction fit a drawer. Because we live in a craftsman style home, I wanted to up my craft game and assemble my own drawer slides.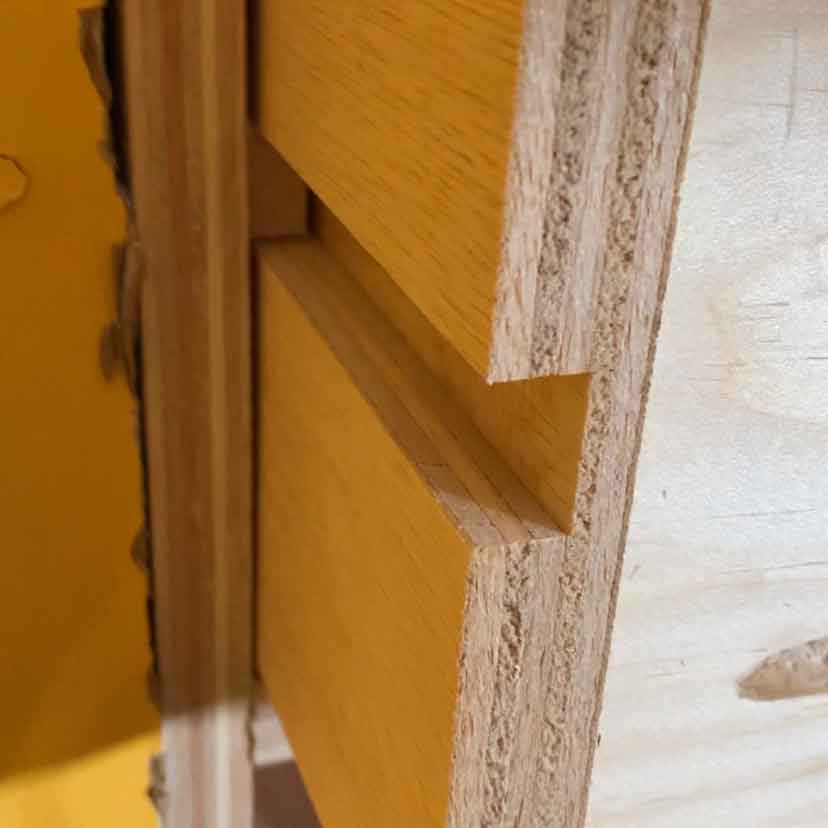 Basically, I use a dado stack sawblade and cut a track into the sides of the drawers and then install a wooden track for each drawer in each drawer box. You do not need to do that. If you're interested and have access to a dado saw blade for a table saw, you can see a version of this process on my Jigsaw Puzzle Tray with Storage I built recently. This is just a scaled up version. As far as physically building the custom drawers, I have my own method of assembling them I like. If you want to check it out, I have a full Tutorial with Video called "How To Build A Better Drawer".
Finishing The Installation
Once the drawers are built and fitted into the dresser (with drawer faces on), it's time to finish up this build. For the trim, I made life simple and used the little 8.5" blade Makita for quick cuts. And then made it even more simple by using a pre-made door trim kit.
After cutting it down to size to fit (and overlap the edge of my dresser box), I tacked it into place using the DeWALT 20v Brad Nailer. Then with a little bit of caulking, patching and painting… this project was finished. Oh wait… this is where you pull out the shop vac to clean up your mess! Okay… now you're finished.
I'm really happy how this turned out because this is a major win/win (and maybe a win!). Not only do materials cost less than a new dresser, but I also took up zero floor space AND added storage. You can't beat that.
~Lazy Guy
*This post and project were sponsored by The Home Depot Rental. I was provided with tools and compensated for my time to bring you this tutorial. My experience and opinion is my own.