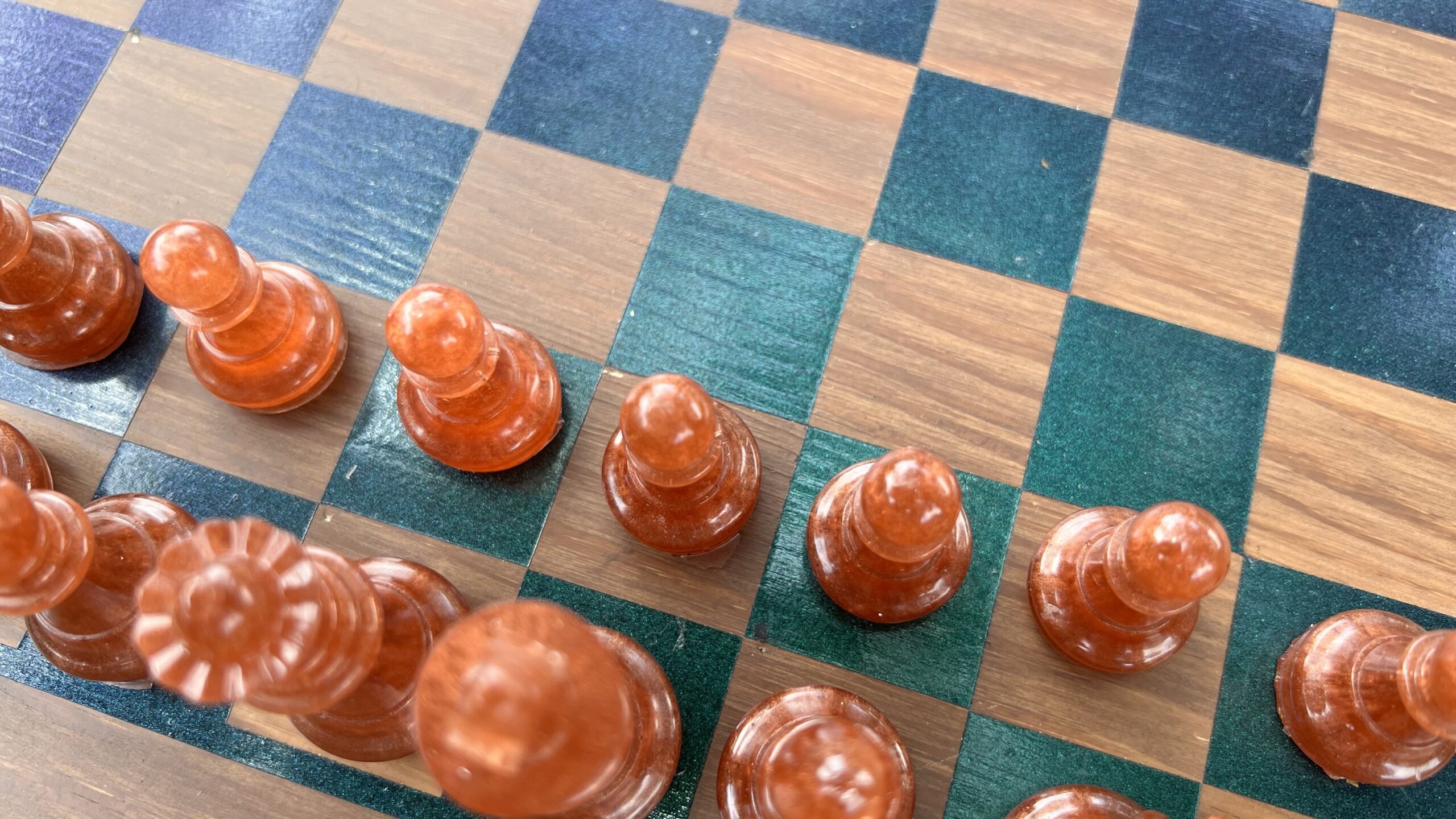 School is out and summer is in full swing and like any good parent I want my kids to sit around and play games all day.  Oh wait, not video games, but maybe learn a skill and strategy with something like Chess or Checkers?  That's why I decided to team up with our friends from Krylon Spray Paint on another project and work on an outdoor game board.  But with a little flare of fun.  This can be an easy and fun project with a few basic supplies you can pick up from the store or you can really test your limits and try some new techniques.  Being Lazy Guy DIY, I opted for the full gambit of making components for a simple game board… but it turned out great!  Oh, and the game board changes colors thanks to the magic of Krylon Color Morph Spray Paint.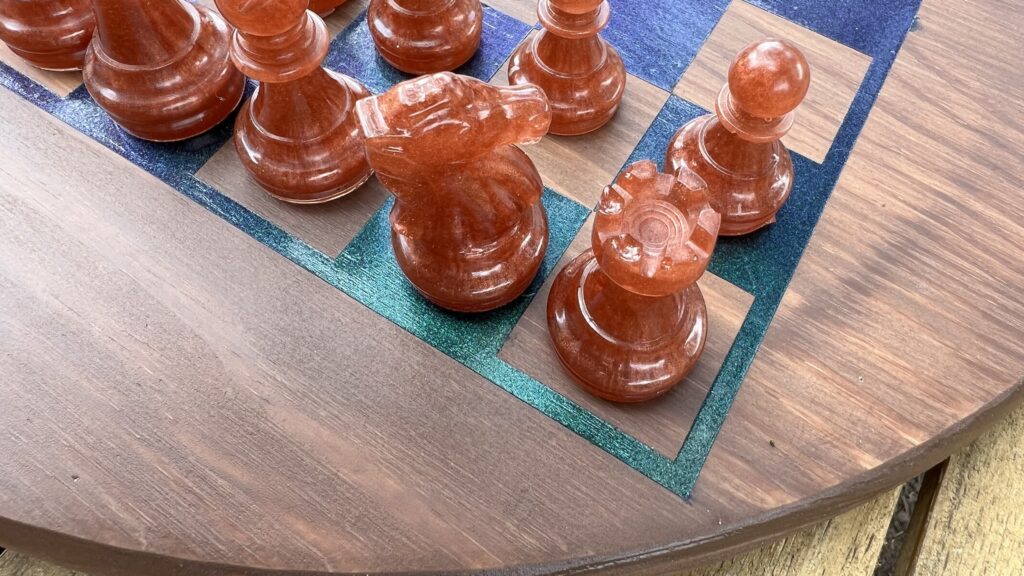 For the base of the game board, you can go a few routes and either buy a pre-cut round board, square panel or if you want a challenge, make your own round.  I use a super simple table saw jig whenever I make rounds regardless of material even if it's a glued up panel or even wood cookies.  All you need is a scrap piece of plywood, a table saw, a nail through the bottom as an axis and then sprinkle in a little math and you have a jig for repeatable circles!  Say you want a 12" round for this game board, measure 6" from the nail to the edge of your saw blade on your table saw and that radius will give you a 12" diameter circle in the final cut.  Then you just slowly spin your material into the sawblade a little bit at a time until you can fully pass the material by the blade.  Note that there will be a tiny hole in the bottom of your final round, so make sure you're cutting it pretty side up!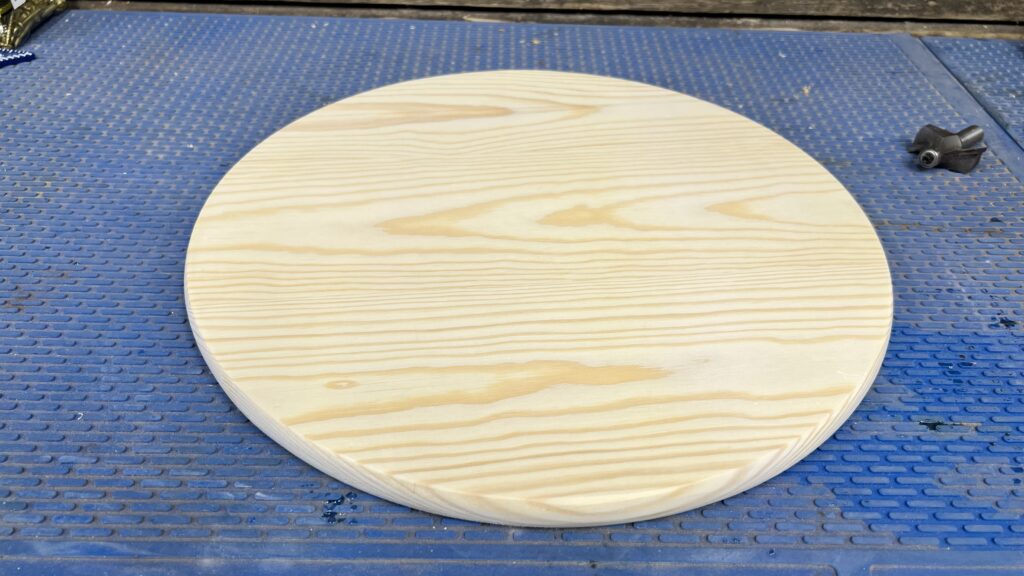 With the round cut, I had mentioned I wanted this to be an outdoor game board, so time to prep for the elements!  Why an "outdoor" game board?  So I can throw the kids in the backyard and get some work done?  Or because the sun shining on the Krylon Color Morph Spray Paint will look even cooler?  You decide.  I opted to use Thompson's WaterSeal in Chestnut Brown to seal up and protect the board.  One application and a little dry time and the board was good to go!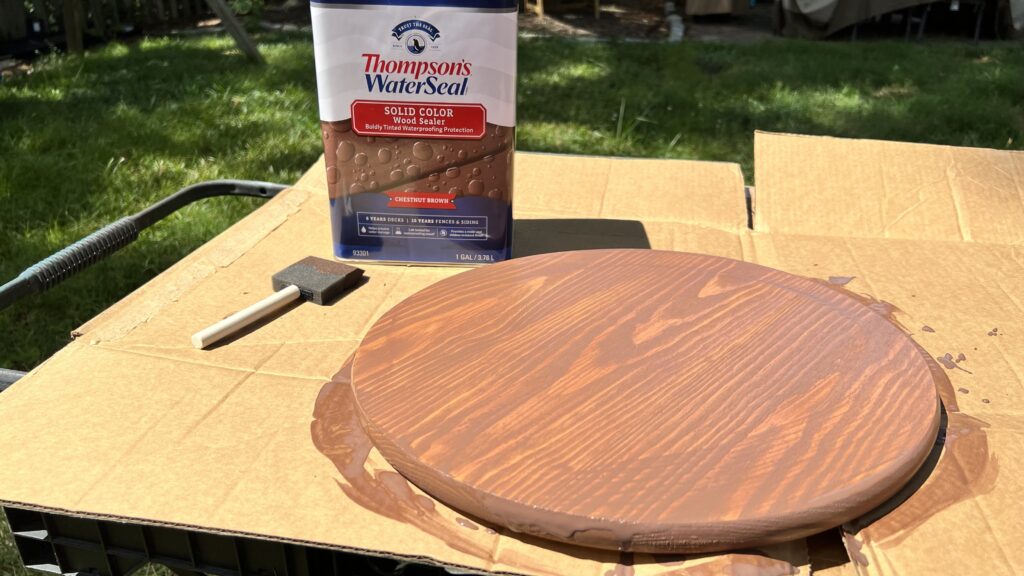 But what about the layout of the game board?  For that I used my wife's vinyl cutter to print out the squares with a 10" x 10" playing surface.  If you don't have access to a vinyl cutter, you can always use painter's tape and a lot of patience or pick up a template at your local craft store.  Now for the flare.  I wanted the playing surface to be a little more fun which is why I chose to use the Krylon Color Morph Spray Paint.  It comes in three color changing options from Purple to Green, Purple to Blue and Green to Gold.  I tested all three, but my daughter ended up picking the Purple to Green for this project.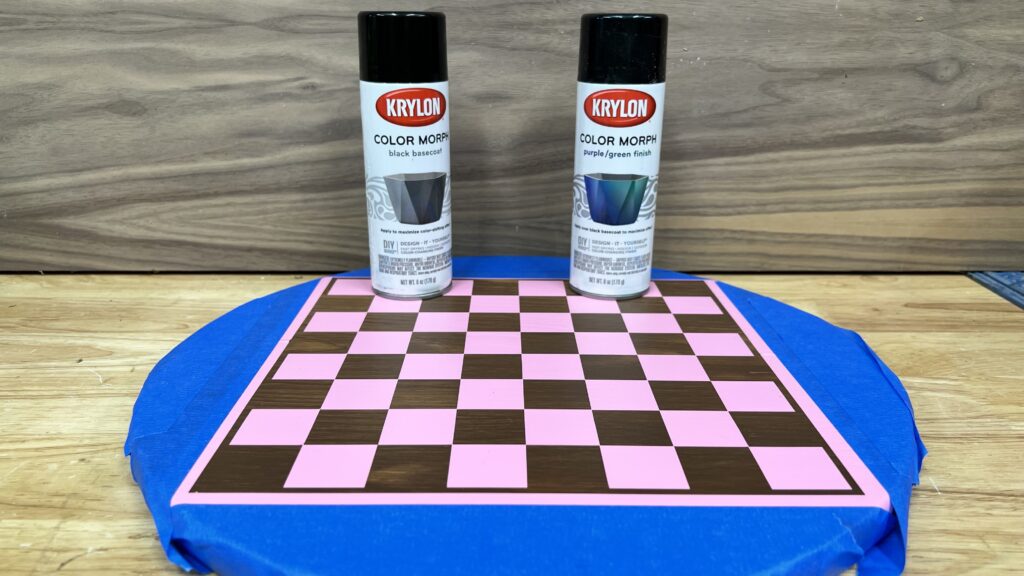 Before you start applying the Color Morph, you'll need to apply the Krylon Color Morph Black Basecoat first.  Without the black basecoat, the color shifting topcoat won't have the desired effect.  So give it a spray in a well ventilated space and within an hour it's dry to touch and ready for the flashy coat.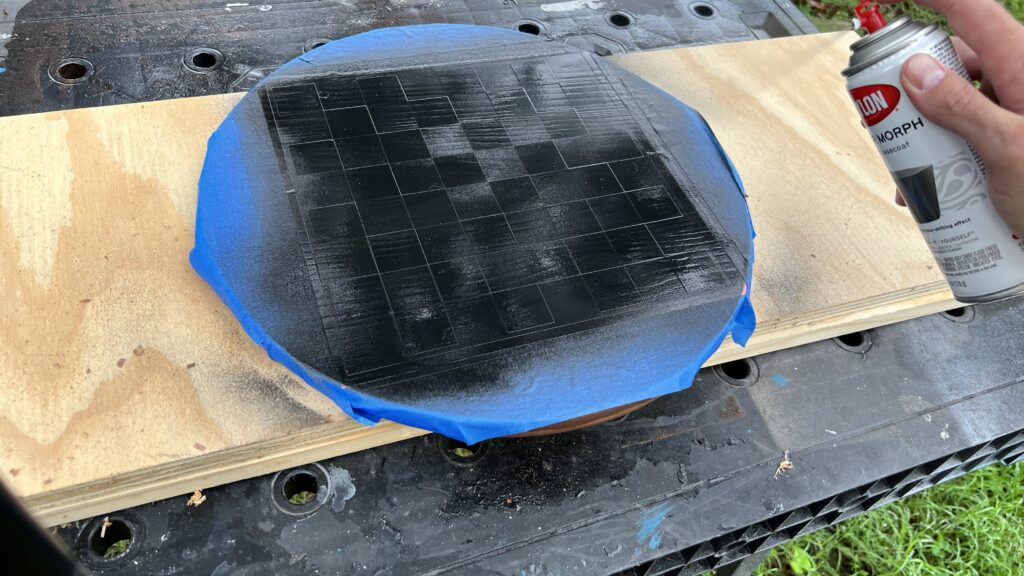 Now for the fun part.  I applied two coats of the Krylon Color Morph Purple to Green Spray Paint for good measure.  One coat would have been fine, but I wanted to sparkle the sparkle off this sparkly game board.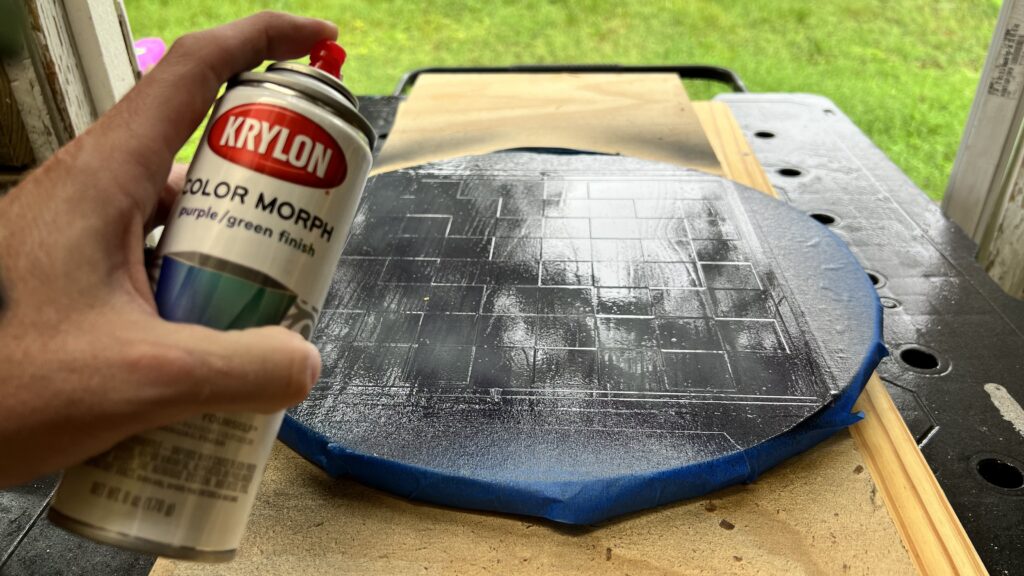 Extra coats don't equal extra sparkle, but once it dried, the results were a ton of fun to see.  I absolutely recommend letting the paint dry and cure for a full 24 hours in a cool dry place though.  Little hands want to immediately touch the sparkly surface and it's still a little tacky even after an hour of dry time.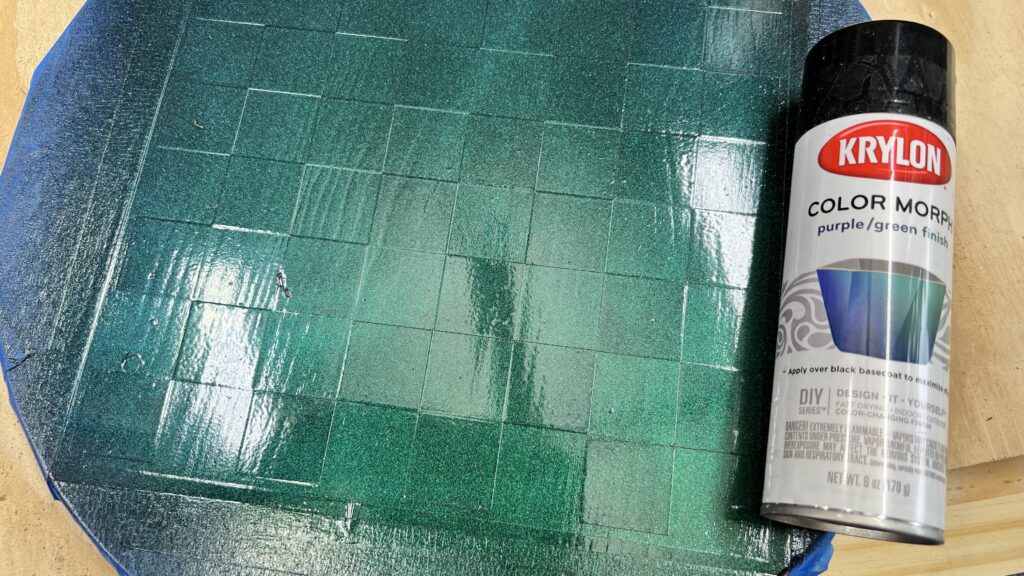 With the game board finished, what about the game pieces?  For those I ended grabbing some epoxy game piece molds and pouring Table Top Epoxy with a variety of pigments.  After pouring two sets of different colors, I then had games pieces that could easily survive the elements of the outdoors if my kids happened to forget to put them away.  Plus, the kids got to pick the colors which is another added element of fun for them from the epoxy to the game board surface.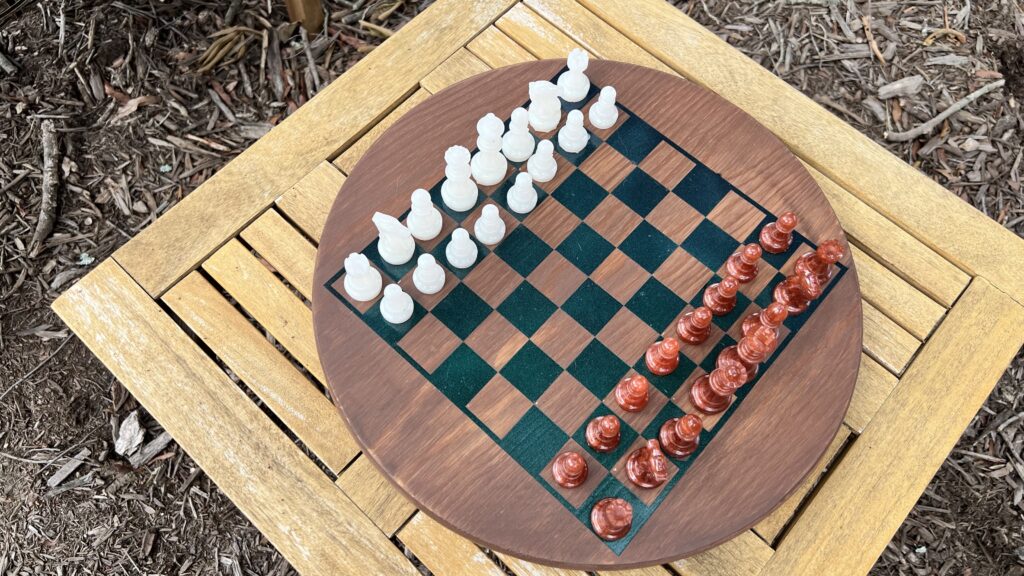 It might sound like a lot of work, but this whole project only took a weekend to finish.  With the round cut, the water proofing stain went on and cured overnight.  Meanwhile, we poured our first set of game pieces to cure that same night.  The next morning, we popped our molds and poured a new set of game pieces.  Then we sprayed our coat of Krylon Color Morph Black Basecoat.  Then the Krylon Color Morph Purple to Blue spray paint went on shortly after that.  By evening time, we popped the second molds and pulled the vinyl off the gameboard for the big reveal.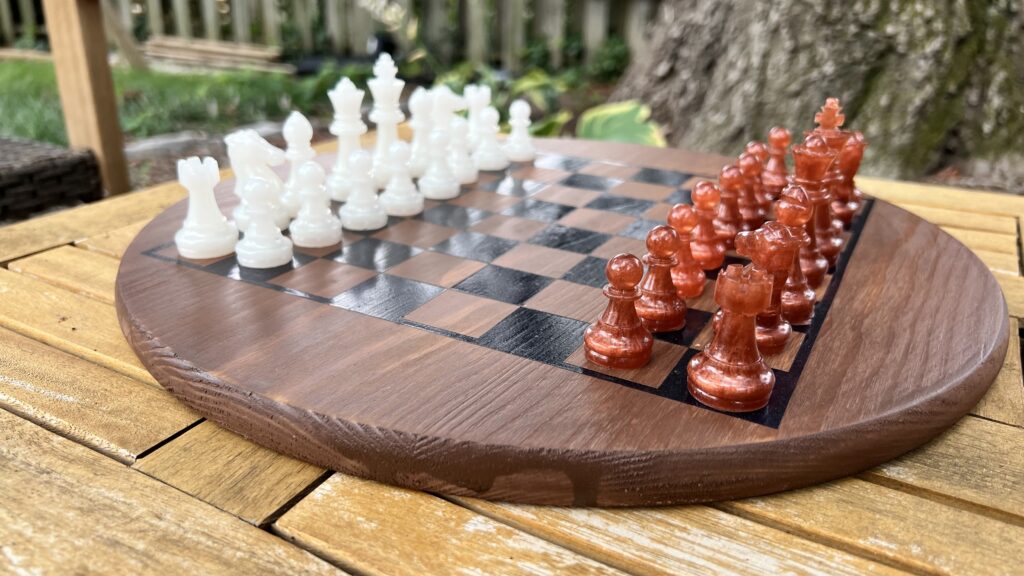 Now all I need to do is teach my four- and eight-year-old how to play chess and checkers. But that's for another tutorial.
~Lazy Guy