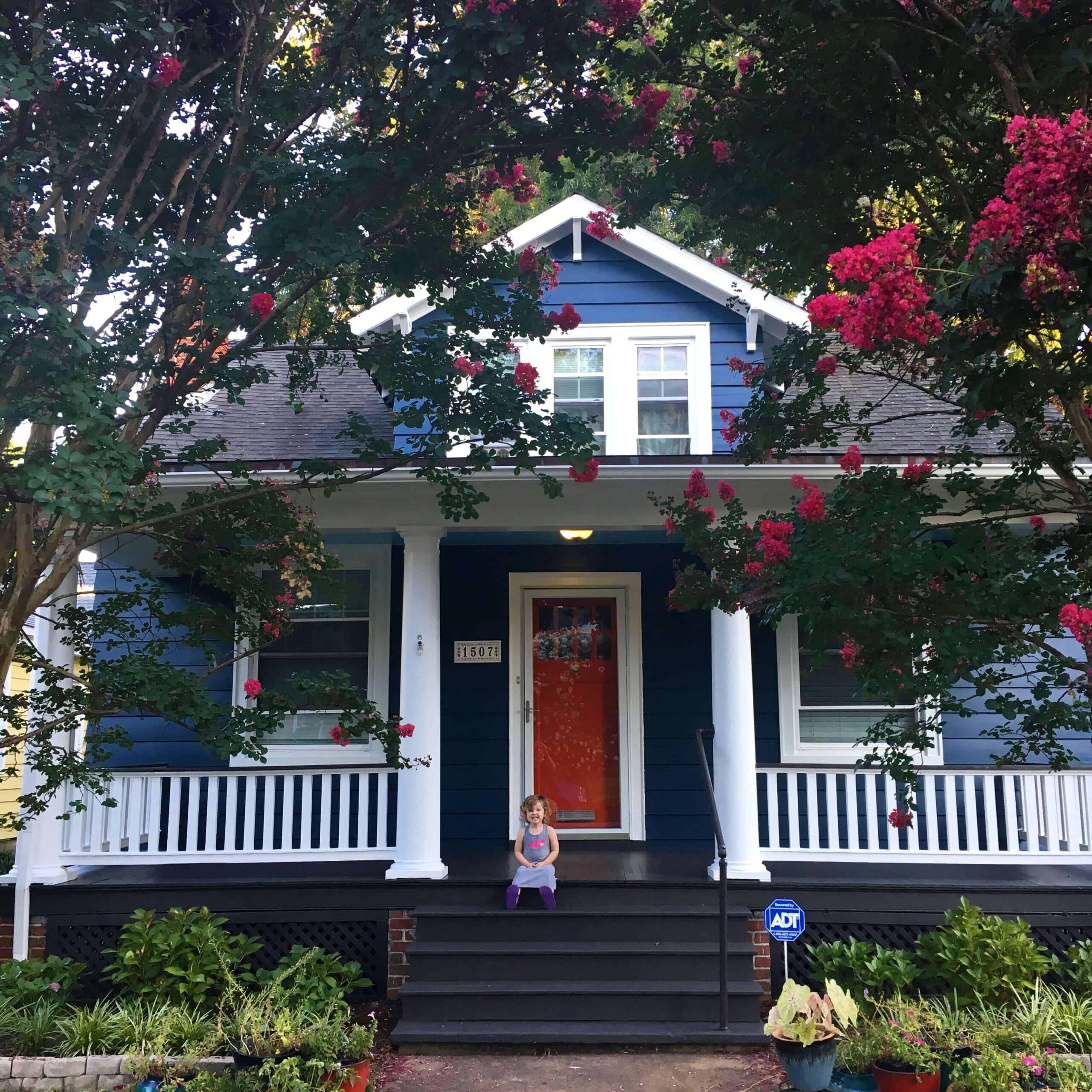 It's lonely up here on this pedestal you've put me on.  Your own personal source for the most laid back approach to woodworking and DIY on the web (trademark pending).  My jokes and sarcasm mixed in with tutorials and reviews are written specifically for you.  It's like I've given you ear buds that broadcast directly to your soul right?  Those other people think I'm talking to them, but nay, I am talking only to you.  Mind the cape please.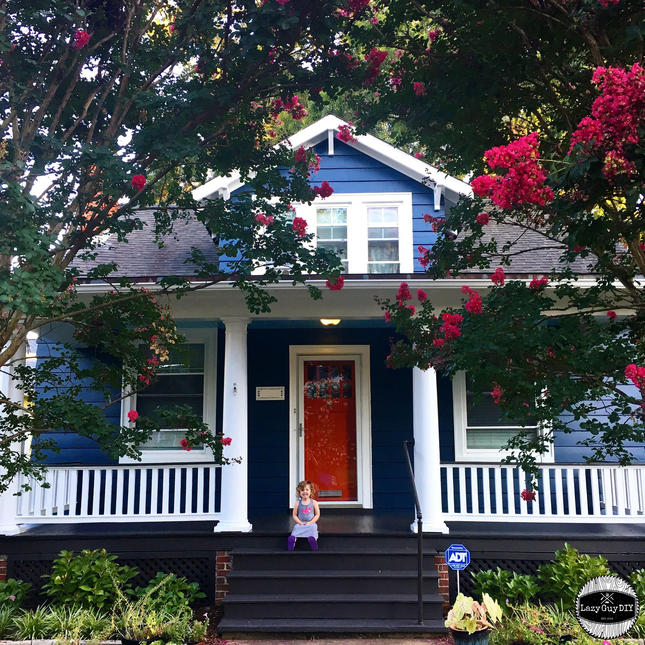 Well (insert your name for effect), I've got some heartbreaking news.  Lazy Guy can't do it all (but he can speak in 3rd person) by himself.  There's a limit as to how many projects a person can handle and this is one of those times I've decided that I can't "Do It Myself".  It's okay though, really.  Even Spider-Man couldn't save Gwen Stacy (or Andrew Garfield's reboot of the movie franchise) but luckily no one plummets to their death from this decision.  If anything… I'm saving my own life since my wife won't be killing me for not getting it done.  Yes, an executive decision was made to get help.  It was like a superhero team up!  But in true Lazy Guy form, I just did the bare minimum in setting the stage and I let my sidekicks do all of the work.  What was this epic undertaking you might ask?  I hired a painter to paint our house.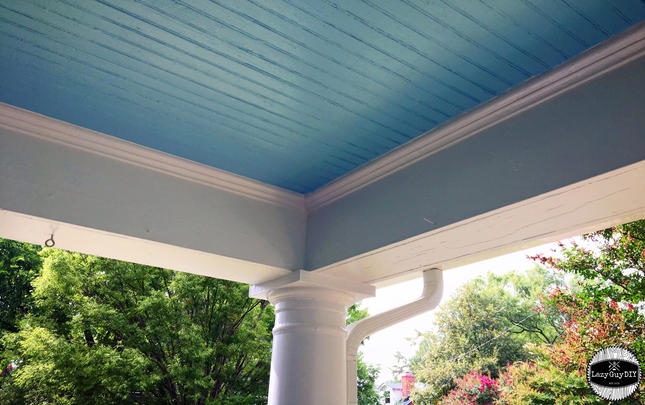 All superhero analogies aside, there's a real stigma and a lot pressure for DIY'ers to truly be able to "Do It Yourself" on literally everything.  Whether it's the late night YouTube troll or even one of your peers in the industry, the second someone sees that post that you contracted out work, there's blood in the water.  The sharks are swarming and the comments roll that you're not up to the task to give people advice on their own projects because you couldn't even do it yourself.  Well I'm here to deliver a straight shot to the baby maker to those people because you know what?  It's okay to know your limits.  I know my limits.  I can't say the word Crayon, Band-Aids and wet paper weird me out and there was no way in hell I would get a project like this done on nights and weekends in the next year.  An old house like ours with wooden siding requires scraping, caulking and painting because like most people, we neglected the outside of our house and mainly focused on indoor projects that improved our living space.  When you have a house that was built in the 1920's like our Craftsman Style Bungalow… that's not a great strategy.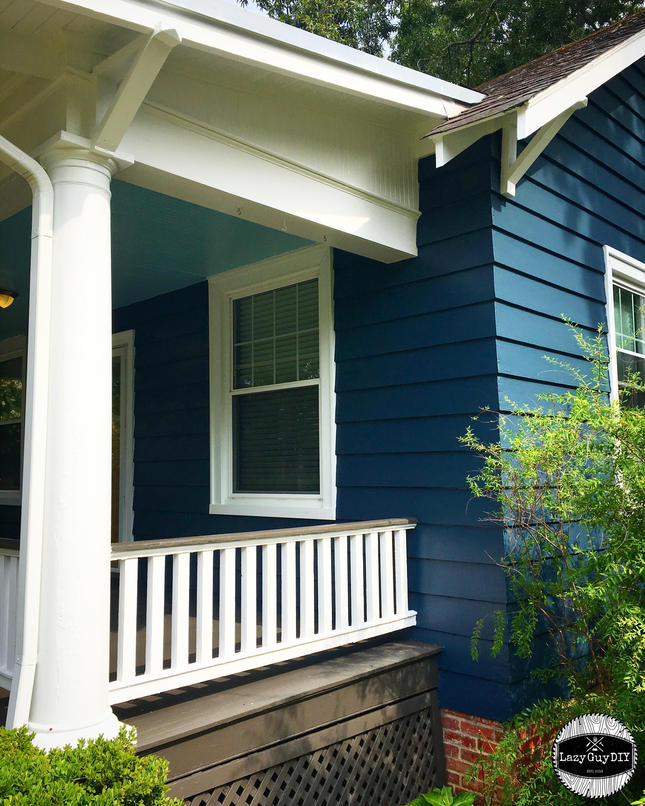 Last year, we did our research, found a handful of painters that were well reviewed and then had them come out to give us estimates.  We happily decided on Joshua and his crew from River City Painters who are local to the Richmond area and who everyone seems to love.  Then in true form… we (me..) let the ball drop and let time get away from us and got nothing done.  Insert the excuse monster that we had to get new gutters first (another project I contracted out, gasp), but once those were up, we reached back out to Joshua and set up the job.  I don't regret it even a little bit.  In fact, I'm publicly boasting how great of a job they did.  In less than a week the crew came out, scraped the entire house and used more bottles of caulk than most stores have in stock to prep the surface and then applied two coats of our newly chosen paint color (Sherwin Williams Navy Seawall) to the entire exterior of our house.  Did I mention it was pushing 100 degrees during all of this?  If I were doing this myself, I would still be scraping the back corner of our house (because it's in the shade) and then taking nap breaks every 20 minutes because it was melt your face off hot outside.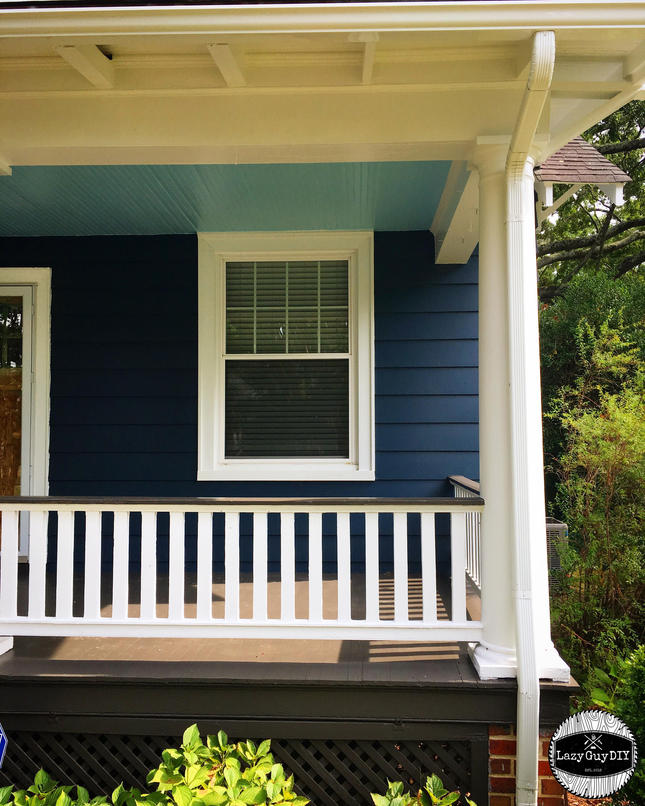 So if you take anything from this post, it's to make sure you look pretty on the outside and then it doesn't matter what you look like on the inside in life and in houses… Ha!  Or just know that sometimes it's okay to ask for a little help from the pros.  Sure I could have gotten paint and equipment for a sponsored post to do this myself, but it wouldn't have looked as good and it would be snowing by the time I got to it.  What we spent on the job I saved in time I could apply towards other projects for this site.
~ Lazy Guy
Like Home Improvement Projects? Check out our scary basement makeover!