Chances are regardless of your skill level with tools, you probably have a set of wrenches or sockets sitting around that you picked up in a multi-piece tool set at some point.  You most likely even lost a few pieces of the set too.  WHERE DID MY 9/16″ SOCKET GO!!!!!!!!  The struggle is real.  One thing is for certain, when you pick up a set of sockets or wrenches, you know immediately upon using it that not all hand tools are equal in terms of quality.  Surprisingly though, that doesn't mean you have to drop a fortune to get a quality set.  While other brands offer single wrenches for $100 a pop… the truth is you and I don't need to go that route to have the same experience.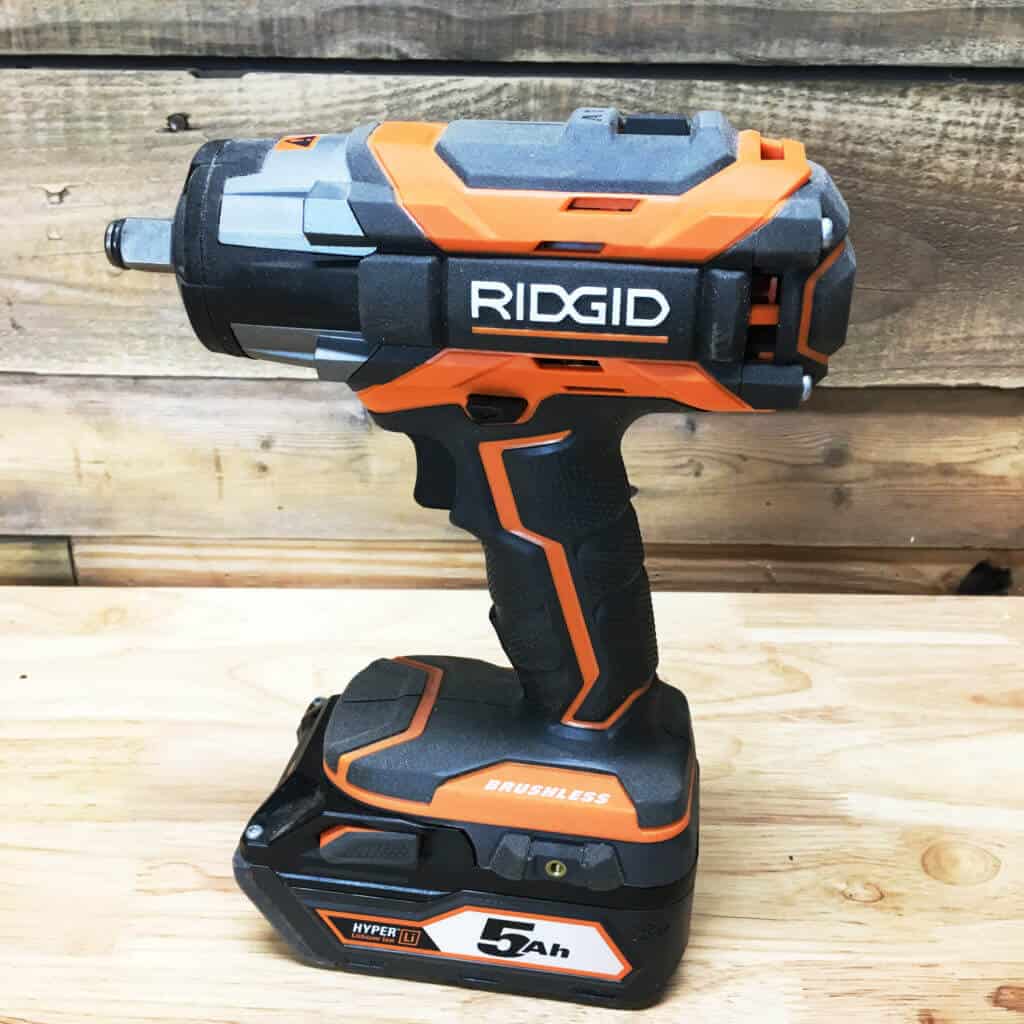 Because I am Lazy Guy, I'm going to give you the easy route first.  Why build muscles when I can make 5400 pounds per inch of torque with the RIDGID 18v Gen5X 1/2″ Impact Wrench (*affiliate link)?  People often make the mistake of trying to force their Impact Drivers in situations where an Impact Wrench is really the tool they need to have in hand.  Think lug nuts on your car or driving a big old anchor bolt into a cinder block wall or concrete foundation.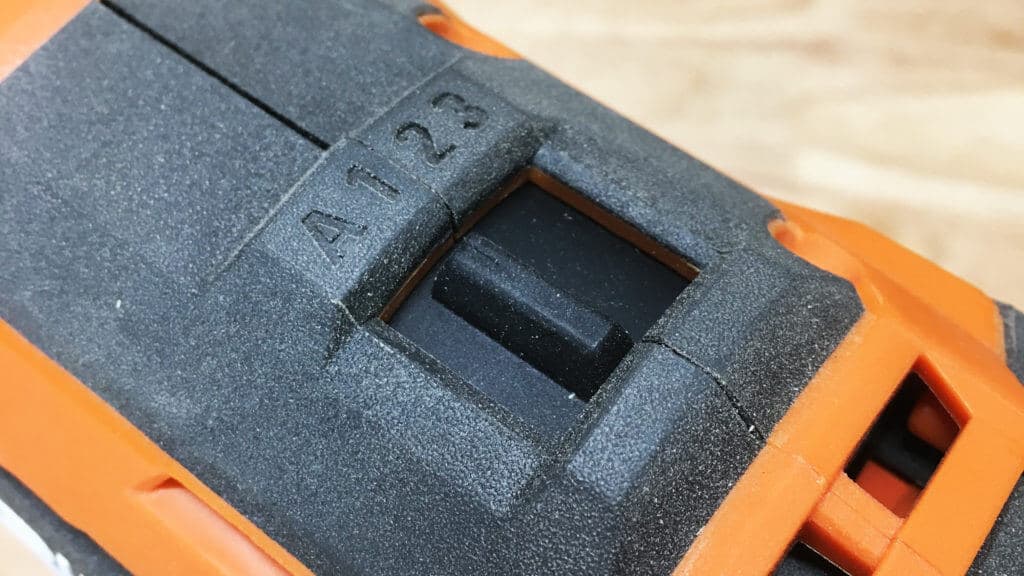 The RIDGID comes with four speed settings that adjust the power based on the demands and precision needed on your task.  Flip the switch to "A" for "Auto Mode" and the tool will automatically shut the impact motion down if you start over tightening.  This is without a doubt a Pro-Grade tool that you can easily bring to work and know that it's going to deliver.  A standard lug nut on a vehicle is generally torqued to 80 to 120 ft/lbs. while this model can handle up to 450 ft/lbs of torque.  I think we've got that task covered.  Pair this impact wrench with a 1/2″ Husky Socket Set (*affiliate link) and you're in business (the anvil is 1/2″ on this tool).
Speaking of socket sets and wrenches…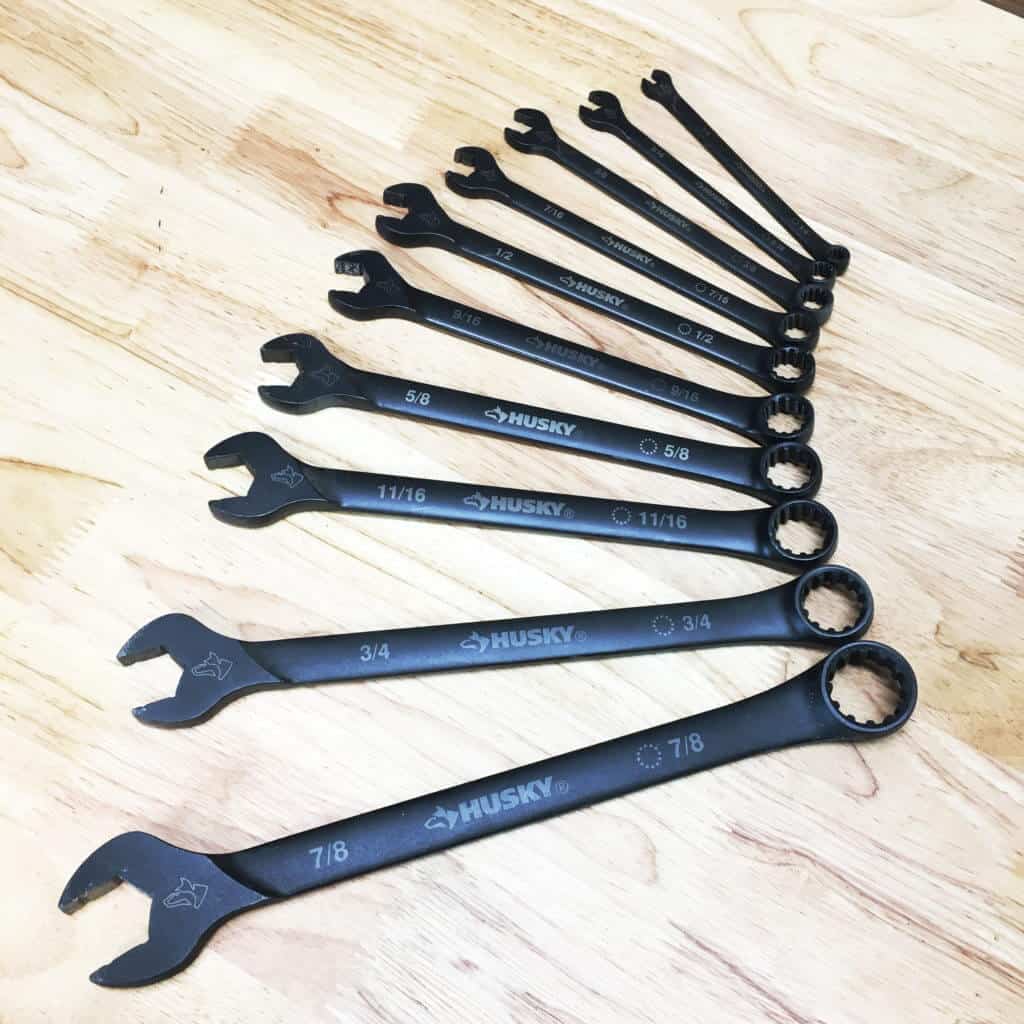 While looks aren't everything, I actually purchased this Husky Tools 10 piece combination wrench set a while back because that matte black is… how do I say this technically?   Bad ass looking.  I was already in the market for an upgraded wrench set and I knew I was going to go with Husky after watching their product testing last year at the tool event.   For about a year now I've been using the Metric and SAE 10 Piece Wrench (*affiliate link) sets and will never go back.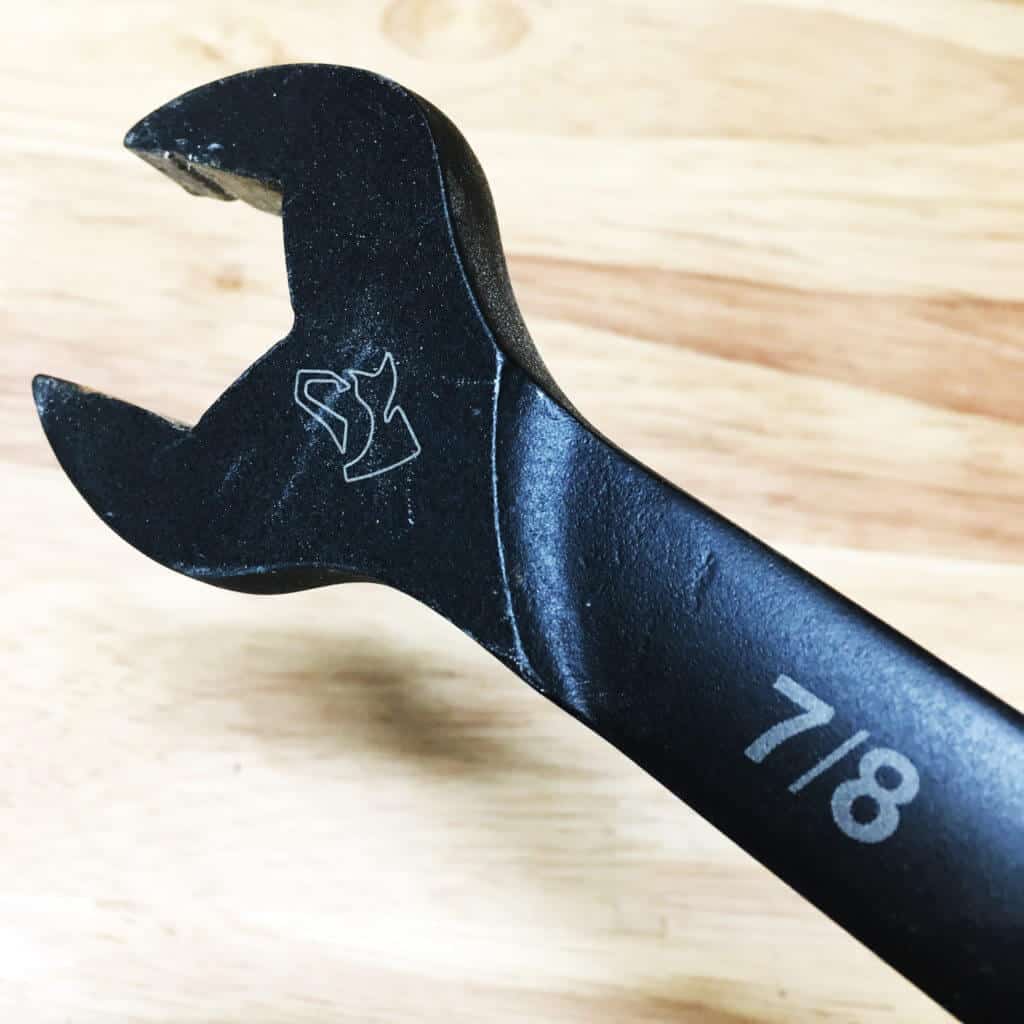 These wrenches are 10% longer than standard wrenches and offer Husky's "Surface Grip" technology that holds stronger and more securely on the flat surface of the fasteners rather than the corners.  What does that mean?  No wearing off or rounding over on the edges if you even try to over torque.  You get a controlled grip with plenty of leverage every time you put these wrenches to work.  Oh, did I mention Husky wrenches are guaranteed forever?  Yes I said forever.  If one of these wrenches ever fails they'll replace it for free.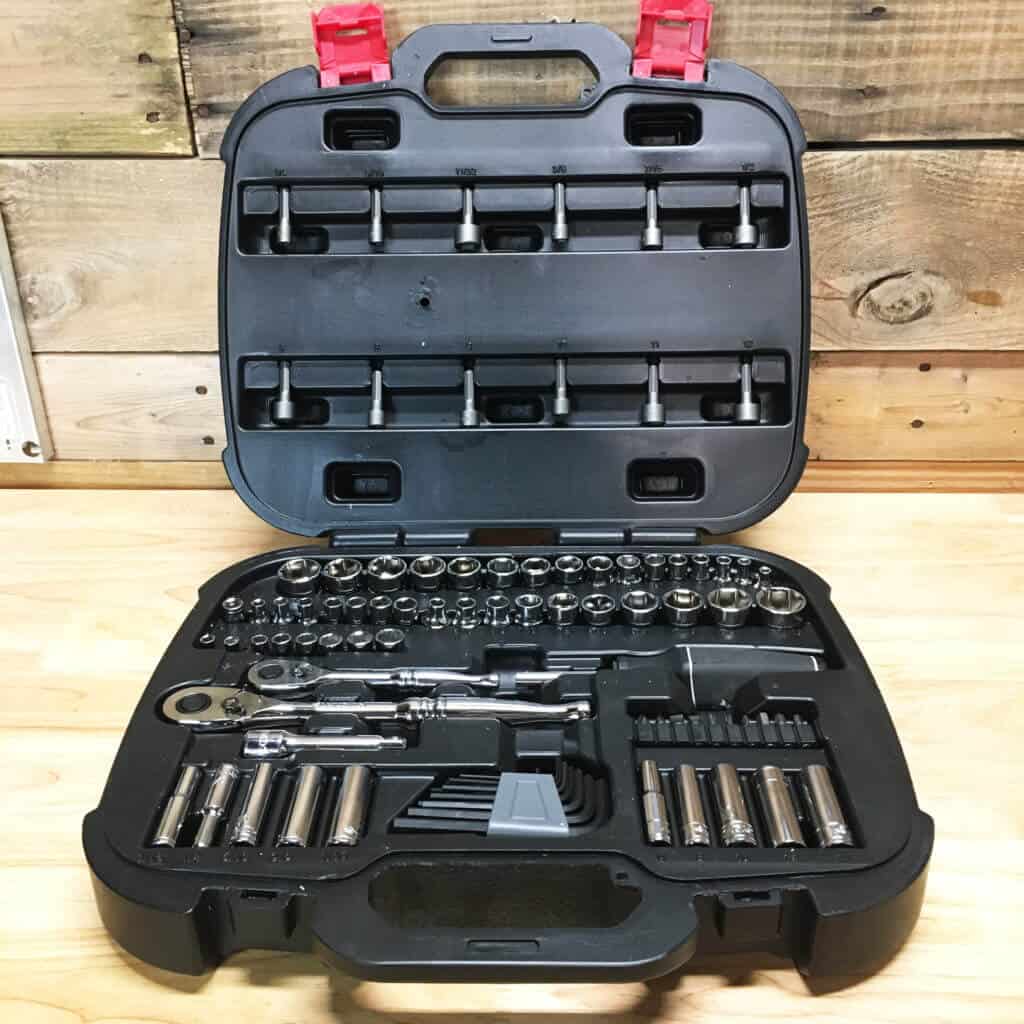 If you're looking to replace that bargain socket set someone picked up for you as a stocking stuffer one Christmas then you should definitely check out the Husky 92 piece Mechanics Tool Set (*affiliate link).  I recently took this kit to an install of my Sliding Barn Door build and I had everything I possibly needed to install the always difficult sliding barn door hardware.  From standard sockets, to 6-point sockets to 12-point sockets… you get a total of 52 sockets in this kit with two ratchets and 38 additional accessories.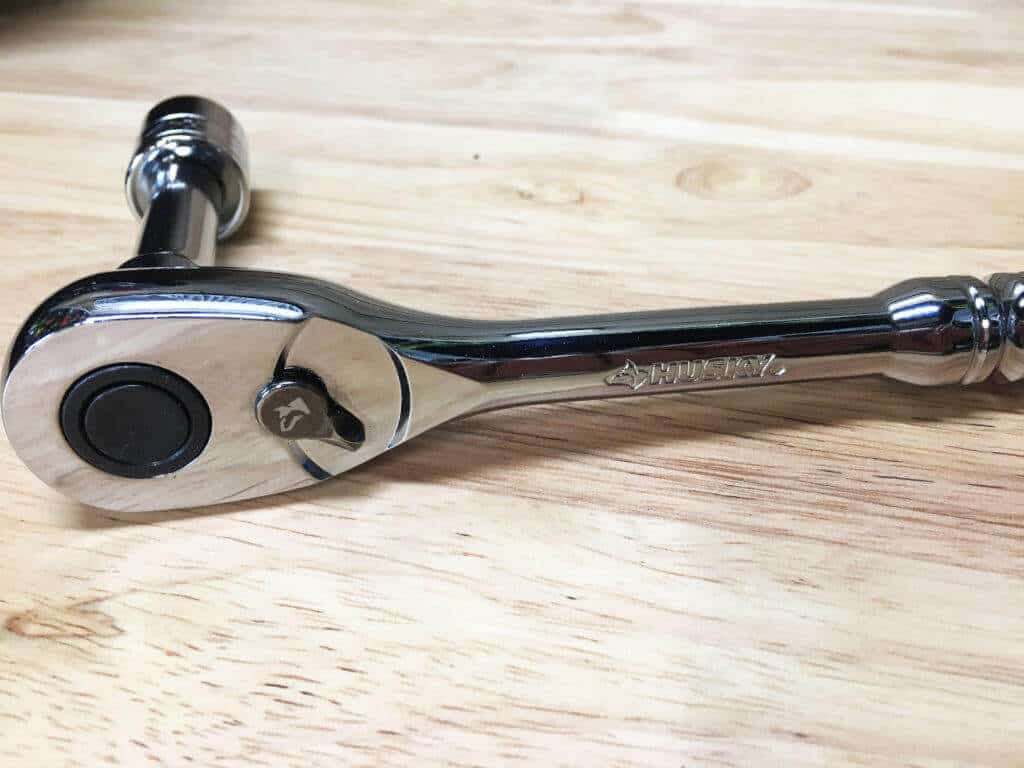 Let's talk about the ratchet though.  With 72 teeth, you only need 5 degrees worth of swing arc to move a fastener.  Think about that the next time you're trying to use a socket and ratchet in a tight space.  5 degrees worth of movement is next to nothing to get a bolt head to move.  Not good enough for you?  Husky also makes a 100 Position series ratchet (*affiliate link) that only need 3.6 degrees of arc to move a fastener!  Plus it comes in that awesome matte black.  I'm sold.
Quick Update* I just received an updated set of combination wrenches from Husky Tools and they are AWESOME!  Take a look in the video below:
---
~ Lazy Guy
Looking for a great way to store your new socket and wrench sets in your shop?  Check out some of the Husky brand organizers I highlighted this post about tool storage!
*This review was sponsored by the Home Depot Pro-Spective Tool Review program.  I have been compensated in exchange for my time and opinion of these products for review.  My opinions are my own.