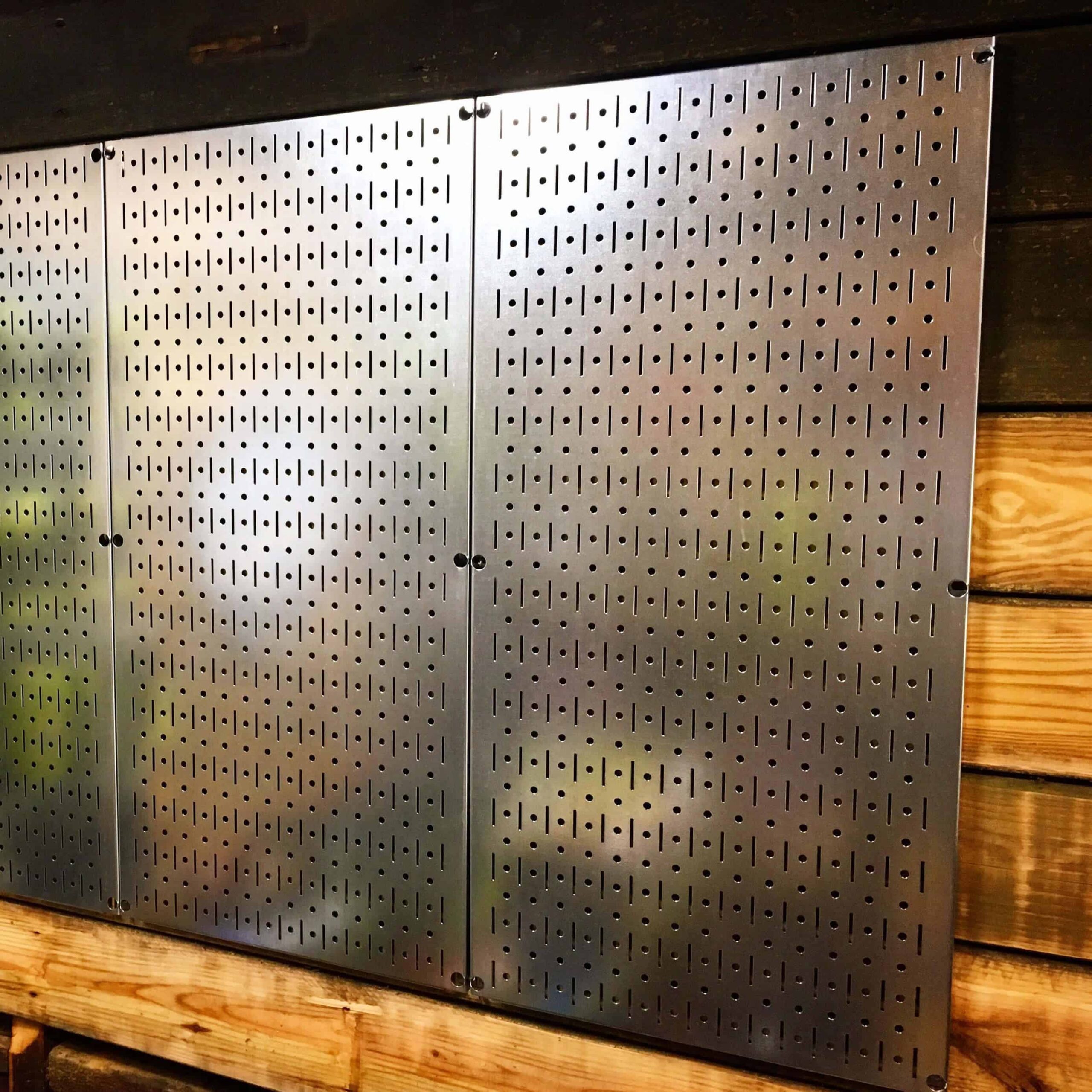 Like clockwork every week I get asked a ton about something very specific in my content. Is it a question about something I built like my awesome workbench or everyone's favorite reception desk? Nope. Not even close. It's my metal pegboards on my shop walls (they are shiny and metallic, how can you not be drawn to them?). You know… something I bought instead of made (excuse me as I shed a lone tear as a failed content creator). People love them and constantly want to know where I got them. But then I get a few detractors that say this is a frivolous shop upgrade. I disagree.

Why Metal Pegboards
There's a big difference between superficial looks and functional awesomeness. Take the mullet for example: At first glance you might think this is a silly hairstyle, but when you're facing your adversary head on, all they can see is your short haircut and they think, "oh man, this guy is all business, I'm in trouble now". But as you walk away after dismantling your foe, they see those flowing locks blowing in the breeze and they say, "I bet this guy can still let loose and get down, I'm okay with this defeat." Pure. Functional. Awesomeness. Well it worked for Billy Ray Cyrus and Jean Claude Van Damme in the 80's and 90's didn't it?
So because I get so many questions about the pegboards, let's talk about them and let me give you some other shop upgrades that fall in that "functional awesomeness" category and I'll let you know how I attach them to my boards. (hold on to your butts because there are affiliate links to follow)
Meet Wall Control
Wall Control Metal Pegboards (various sizes and colors $18.00-$80.00)
Based out of the greater Atlanta area, Wall Control takes the mushy cardboard standard out of traditional pegboards and gives you the ability to store some serious tools on the wall. I use a combo of Wall Control brand hooks and accessories and any traditional ¼" pegboard products to store my valuable equipment. Whether it's hand tools, power tools or accessory storage, everything I need is always within reach when it's easily stored on my pegboards instead of hidden away in a pile or a drawer. I've got half a dozen panels up in my shop now loaded down with tools and I'm forever trying to magically create new walls so I can add more. Given the price point, reliability and space saving ability these boards give you, they seem like a no brainer over a piece of shop furniture that's significantly more expensive and eats up a lot of floor space.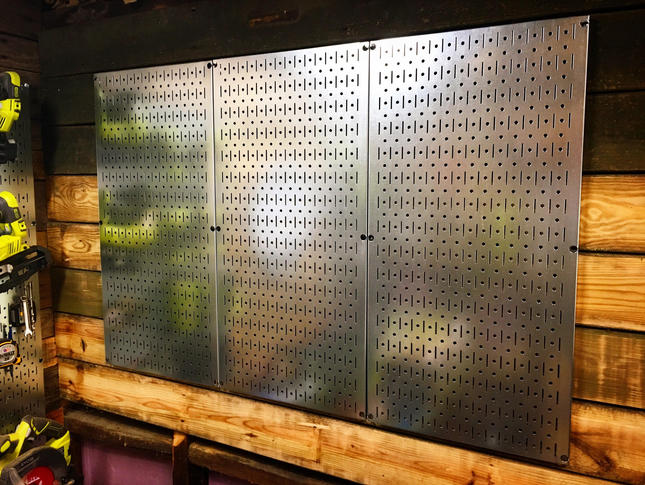 Win Tool Storage With Pegboard Accessories
I'm a sucker for matte black anything. It reminds me of the original Mad Max V8 Interceptor. It says I don't need something shiny to look cool, plus I'm never going to clean you. I'm tough. Which is why I love Husky's matte black hand tools. Did I already own a set of wrenches? I wouldn't call it a set anymore. More like two or three out of a full set that I've lost over the years.
These wrenches have a 15 degree offset and an extended handle that makes them more ergonomic for use and oh yeah… they are indestructible. Okay.. maybe not completely unbreakable (like Kimmy Schmit), but they have a lifetime guarantee if the tool ever fails you. I've seen the tests Husky puts their hand tools through… you'd need red hot lava and a hydraulic press if you wanted to damage these wrenches.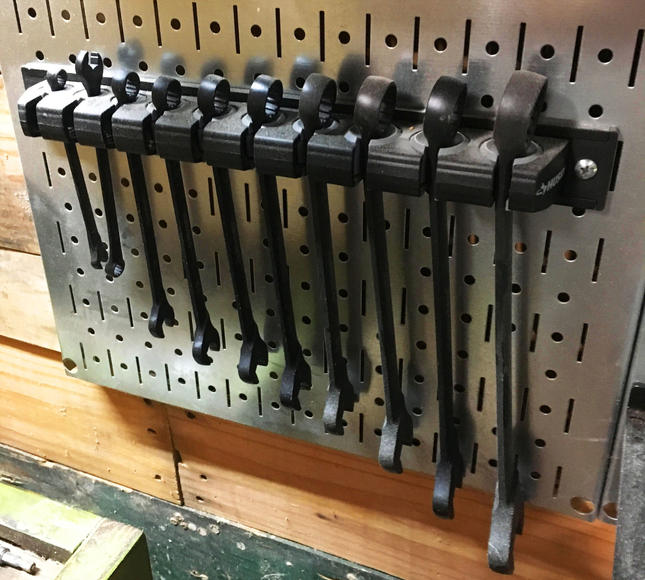 Pegboard Storage Solution:
Husky 13.75" 10-Compartment Magnetic Wrench Organizer does the trick with the exact number of slots…now to buy the metric set too…
I used contractor pencils for years when working on projects and enjoyed how they never rolled away but hated how they were never sharp enough for a fine line (and try to put one behind your ear). Also… stopping your project to sharpen? "Ain't nobody got time for that!" So I switched over to using Sharpies, but guess what? Sharpies dry out and gum up within a few line strikes (especially with plenty of sawdust), so now what? Enter the RevMark Quick Draw Marker.
The initial appeal of this product is that it's got a big clip that easily attaches to your work clothes so you don't lose it. I choose to rebel and just set the marker down on my work surface, lose the cap and then find it hours later. And that's the beauty of the RevMark… unlike it's marker brethren, you can leave this sucker uncapped for 3 days and it will still work. It's contractor made and contractor grade, so sawdust and dirt won't slow it down. It comes in a variety of colors like the new "white" and has a standard and ultrafine tip option.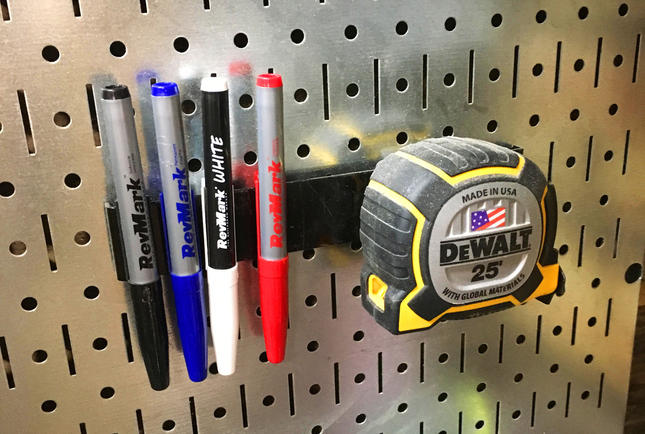 Pegboard Storage Solution:
The markers clip right onto the Wall Control 8" Slotted Hanger ($3.99 or part of the accessory kit) but it's also what I use for my tape measures (which I no longer lose!).
Speakers you say? Yes. Speakers. I once researched AV equipment for over a year before I finally purchased the set up I have for my surround sound in the house. Almost a decade later the components I bought are still heavily sought after on the internet because they sound so great. So when I say these speakers rock, you better believe it.
Powered by the Ryobi One+ battery platform or plugged into an AC outlet, you can have up to 5 of these speakers around your shop wirelessly through their the SKAA technology… and you can spread them out over 150 ft. maintaining awesome sound. So I can run my tunes through BlueTooth off of my Amazon Echo (through voice command!) with two speakers in my shop, have another speaker or two in my yard and add another in the house so everyone everywhere can rock their faceoff with me when the new Taylor Swift album comes out. Oh… and they sound awesome and are rugged enough to withstand the rigors of a sawdust filled shop or nice enough looking to have in the house. Workshops and tunes go together like peas and carrots. Treat your ears to some sound candy.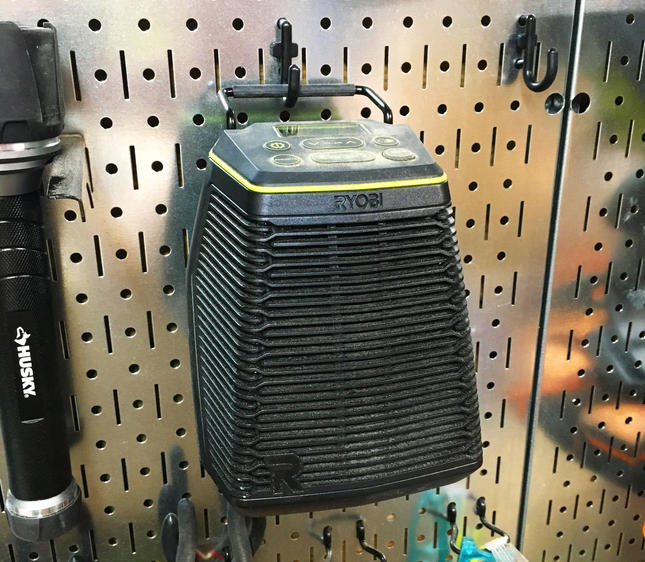 Pegboard Storage Solution:
No need to get fancy here, any hook system will work since the speakers come with their own handle. Or use Wall Control's medium slotted hooks that come in the accessory pack.
When I went to the Home Depot event in Atlanta in the spring they had a couple 5 gallon buckets sitting around with a giant block of ice and a handle protruding out of it like the sword in the stone. While no one would be pulling Excalibur out of these buckets, what you could see was the extreme toughness that comes from this Husky flashlight. It was solidly frozen in a block of ice like a prehistoric wooly mammoth and the light was still shining. "Virtually unbreakable".
It's got a lifetime warranty (if you'd ever need it) and is rated to withstand the abuse of a 30 ft. drop. So when I trip the breaker in my shop and need a light that I know is going to work every time I know this is the one.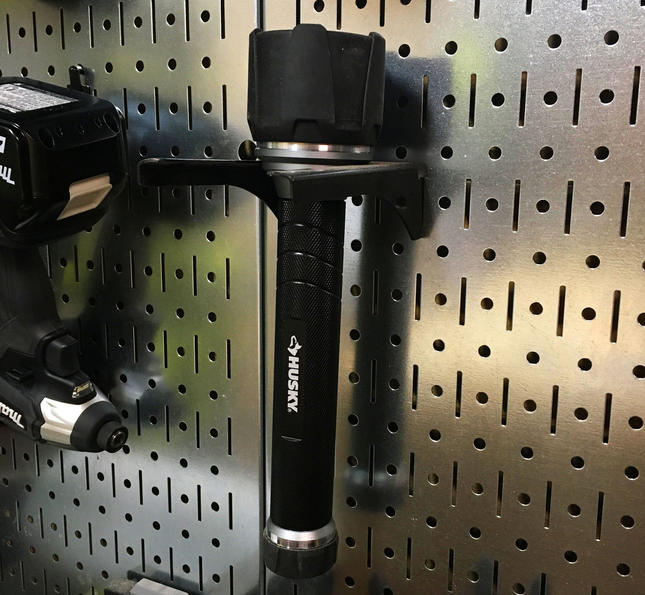 Pegboard Storage Solution:
The flashlight fits perfectly in the Wall Control 2" Slotted Handle Bracket ($3.99 or part of the accessory pack).
I'm almost positive when I first started this site I had a post complaining about sanding. It's amazing what a little time and a little knowledge can do for something you think is so terrible. It's now something I look forward to because there's nothing like taking a rough surface and then making it glass smooth. That's craftsmanship right there (even if I am using an electric sander 90% of the time). There is still one aspect that's a major PITA when using a random orbit sander… and that's the amount of sanding discs you burn through. Sand sand sand… change out the disc. Sand sand sand… change out the disc.
It's a constant and if you're not careful you can damage your surface when your disc goes bad and you don't notice. But then Diablo has now come out with the SandNet discs that look like a thin canvas screen. It slaps on like Velcro and lasts 10x longer than a normal sanding disc. If it starts clogging up with sawdust you just pull it off, shake it or blow it off… start using it again. They come in grits from 80 to 400 so you can hit all progressions. They are my new go to when it's time to finish a project.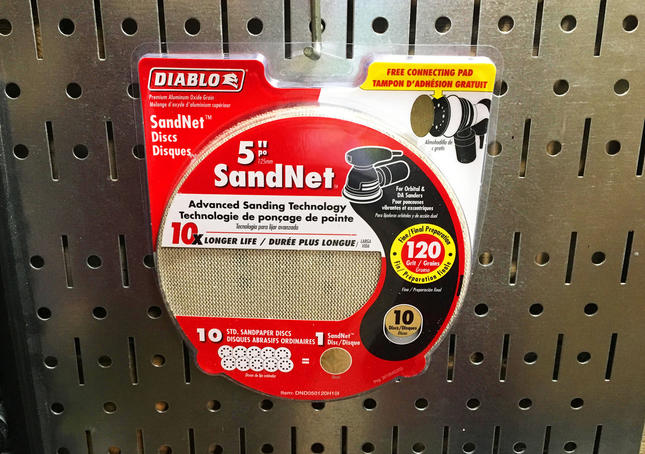 Pegboard Storage Solution:
Don't get flashy here, all you need is a standard ¼" hook sold at any store.
Screwdrivers? How do you upgrade a screwdriver to make it better? I've got the traditional black rubber handled Husky Screwdriver set that is nearly indestructible (like the flashlight!) that you can leave outside for years without the tiniest bit of rust or wear to it (I know… I've tried). So what could possibly excite me about another set from Husky? Magnetic tips are a good start. Screwdrivers and driver bits that aren't magnetic are the devil when working with tiny hardware, but that's still not the fun part. How about a diamond cut coating on each tip? That's something that's unique enough in the industry that these screwdrivers took top honors at the Pro Tool Innovation awards this year in the hand tool category.
Diamond coating (synthetic diamonds, not the girl's best friend kind) creates such a high level of grip and durability that loosening and tightening screws is a breeze. You know what else is cool? Color coating the handles. Blue for Philips Head, Red for Straight slot… sounds simple but you'd be surprised how nice it is. The bad news is these aren't available until the end of October… so you will have to wait.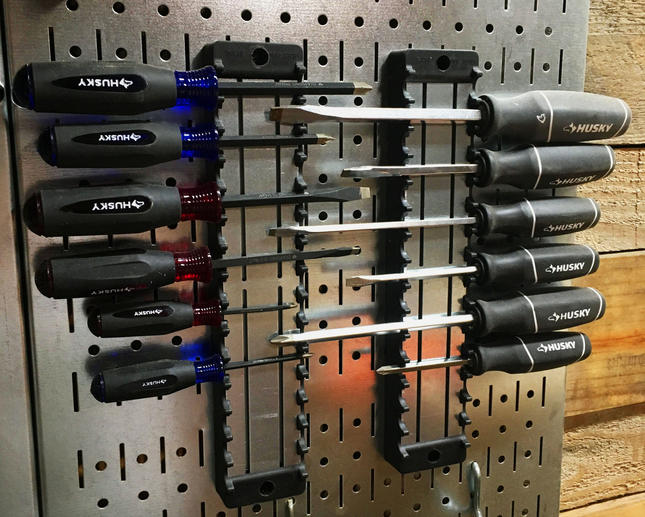 Pegboard Storage Solution:
The Husky Magnetic Screwdriver Holder holds up to 15 screwdrivers and mounts directly to the pegboards.
If you're a tool company and you make an impact driver, chances are you also sell your own driver bits. While I haven't tried every drill or driver out there, I have definitely tried my own share of impact rated bits and despite claims… not every brand makes the greatest and most durable bit known to man. There is always going to be controversy as to which tool is the best, but people seem to agree that the Milwaukee Shockwave series is by far the industry leader.
When I was working on my deck demo and tried to back out embedded deck screws I wore through Philips head bits every other board.. that is until I picked up a pack of Shockwave bits. The same drill bit is still in my impact driver weeks later. It's a terrible business decision to make something that rarely needs replacing… but as a consumer… I love it.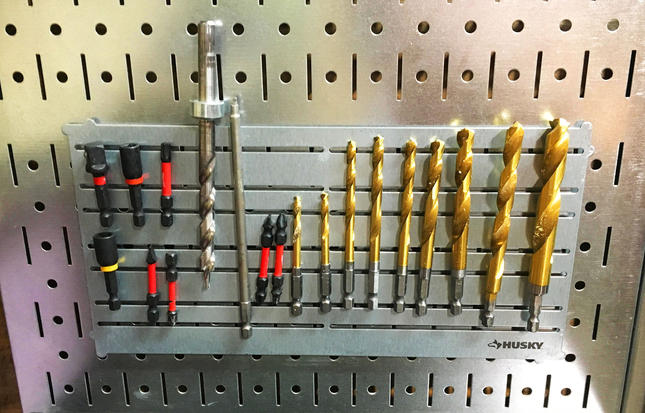 Pegboard Storage Solution:
Call me a weirdo or just plain practical, but I keep two separate drill and driver bit sets going. One stays in the convenient carrying case and the other are attached loosely to the Husky 12" 1- Compartment Magnetic Small Parts Panel. Whether it's my Kreg drill and driver or my Shockwave bits, they are easily in reach.
~Lazy Guy
*Several tools on this post have been provided by The Home Depot as part of the Pro-Spective Tool Review or by the product manufacturer. I have been compensated for my time or provided with product in exchange for my review on these products. My opinions are my own and I'm definitely sold on each of the products I've mentioned above… I chose to include them, have a little faith. Ha!