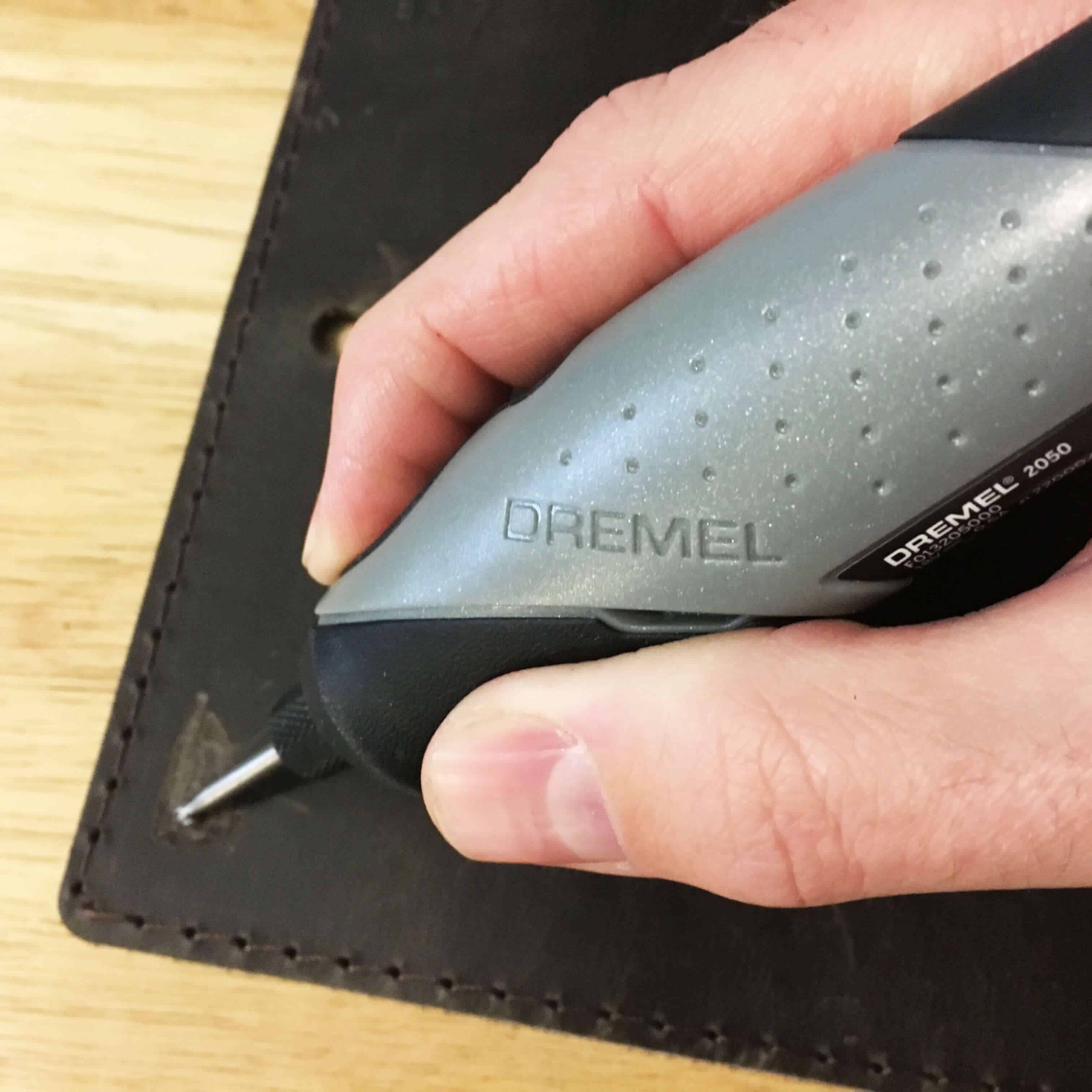 Alright, I need to be honest here… I don't craft often. If the project I'm working on doesn't take up more than 2/3's of my workshop like my FLOW Sliding Barn Door then I start getting antsy. You can't put off big builds if they take up your entire work space and boy do I love half finishing projects (can you feel my wife roll her eyes from there?). But I've got another Dremel to test out which means it's time to get crafty! Man-Crafty. We're looking at the Dremel Stylo+ (*affiliate link) this round and I've got some manly leather to get crazy with.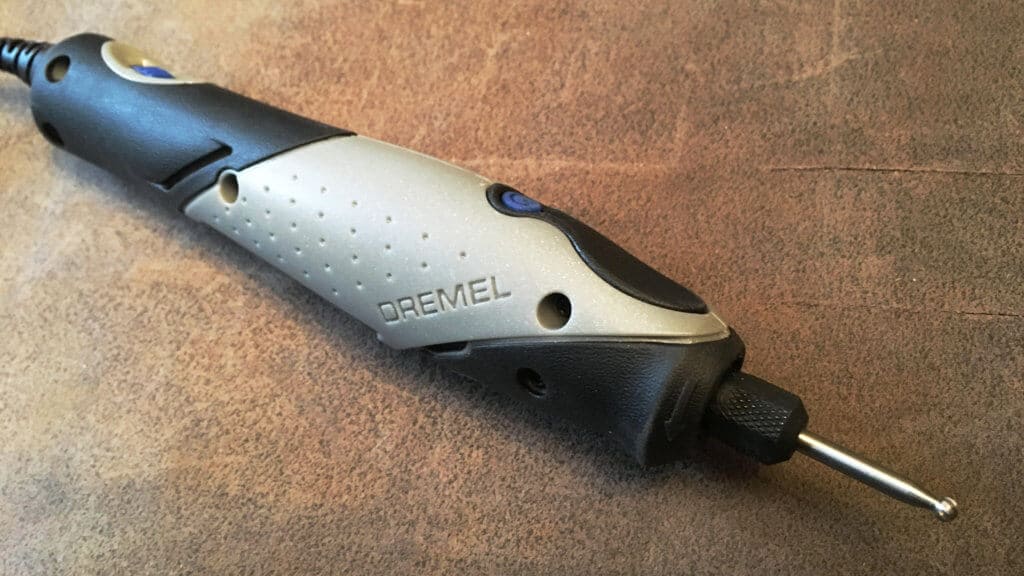 First off let's talk about the tool, the Dremel Stylo is cigar size and can be held just like a pen for detail work. A few months ago I was at an event hosted by Home Depot and Dremel where we tried out this new product line before sitting down to dinner. Etching into material gets a little addictive because even Jimmy DiResta couldn't get enough and started grabbing restaurant decor like vases and left his own unique DiResta mark on them… all of them. No object was safe. But if you can write with a pen you can etch with a Dremel Stylo.
My dad dropped off a couple rolls of leather recently so I immediately thought about using the Dremel Stylo for etching in a design for a secret project. Time to be honest again, my lettering skills are terrible. If you've ever received a handwritten note from me I'm embarrassed that you even had to attempt to decipher it. So rather than freehand on the fly, I sketched out a template and went to work.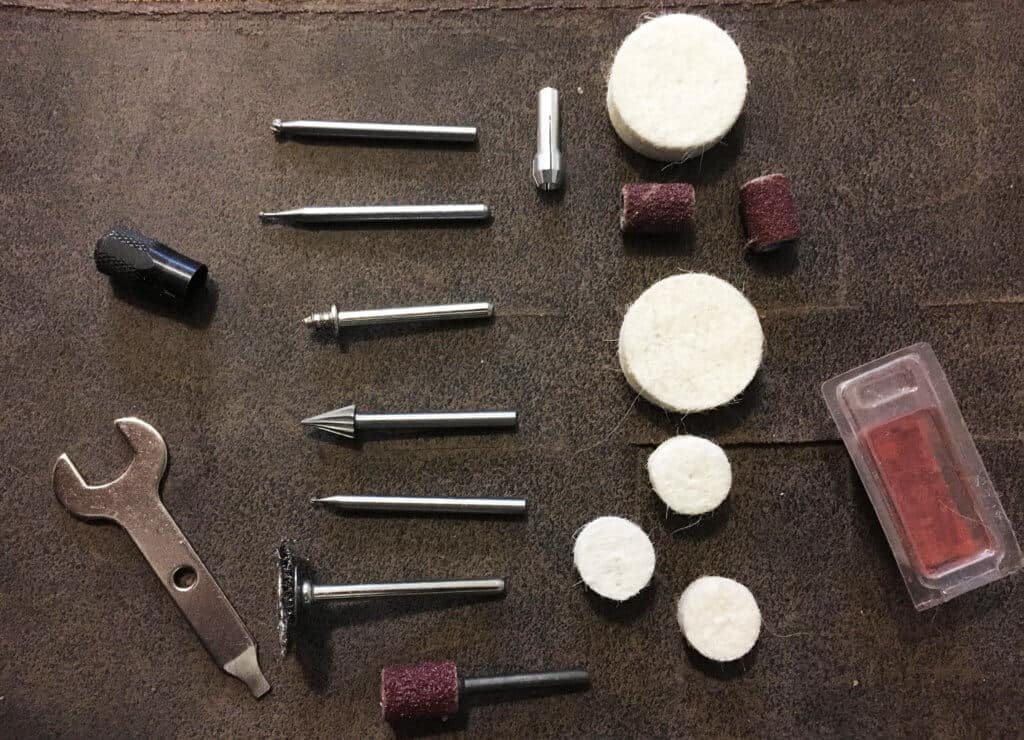 One thing I will say about "crafting" is that it's quiet enough to do while my kid is napping. There's something about running rough cut maple through the thickness planer that always seems to wake my daughter up. Meanwhile, the little Stylo is quiet enough to crank up to the 22,000 max RPM's without worrying about making too much noise… UNLESS you have jerk cats like we do that do wind sprints around the house and knock crap over loud enough to wake up the kid to remind her that her sparkling unicorn and flamingo string lights are out of batteries. Which, by the way… Home Depot sells their own online brand of HDX AA batteries (*affiliate link). Home Depot to the rescue! Back to man-crafting.
With my leather cut out and etched with my secret design it was time to fasten it down to the hardwood wood piece I had already prepped. Here's a common problem with smaller crafting projects though… tiny screws! Tiny screws are made cheaply too which means when you really have to give a little oomph to drive them in, you often get cam out that absolutely strips the screw heads. That's not a good look for a crafted piece. So I've also been testing Makita's Impact Gold (*affiliate link) power bits which are perfect for high torque impact drivers and delicate little screw heads such as these.
So with the leather pieces all screwed in can I show you the project yet? Heck no I can't! But I can tell you that the Dremel Stylo was a great little handheld engraver that I'll definitely be using again… unless… have you seen the new Dremel DigiLab Laser Cutter yet? Holy crap I want one. Now.
~Lazy Guy
*This post has been sponsored by The Home Depot as part of the Pro-Spective Tool review program. I have been compensated for my time in exchange for my opinion on these products. My opinion is my own.