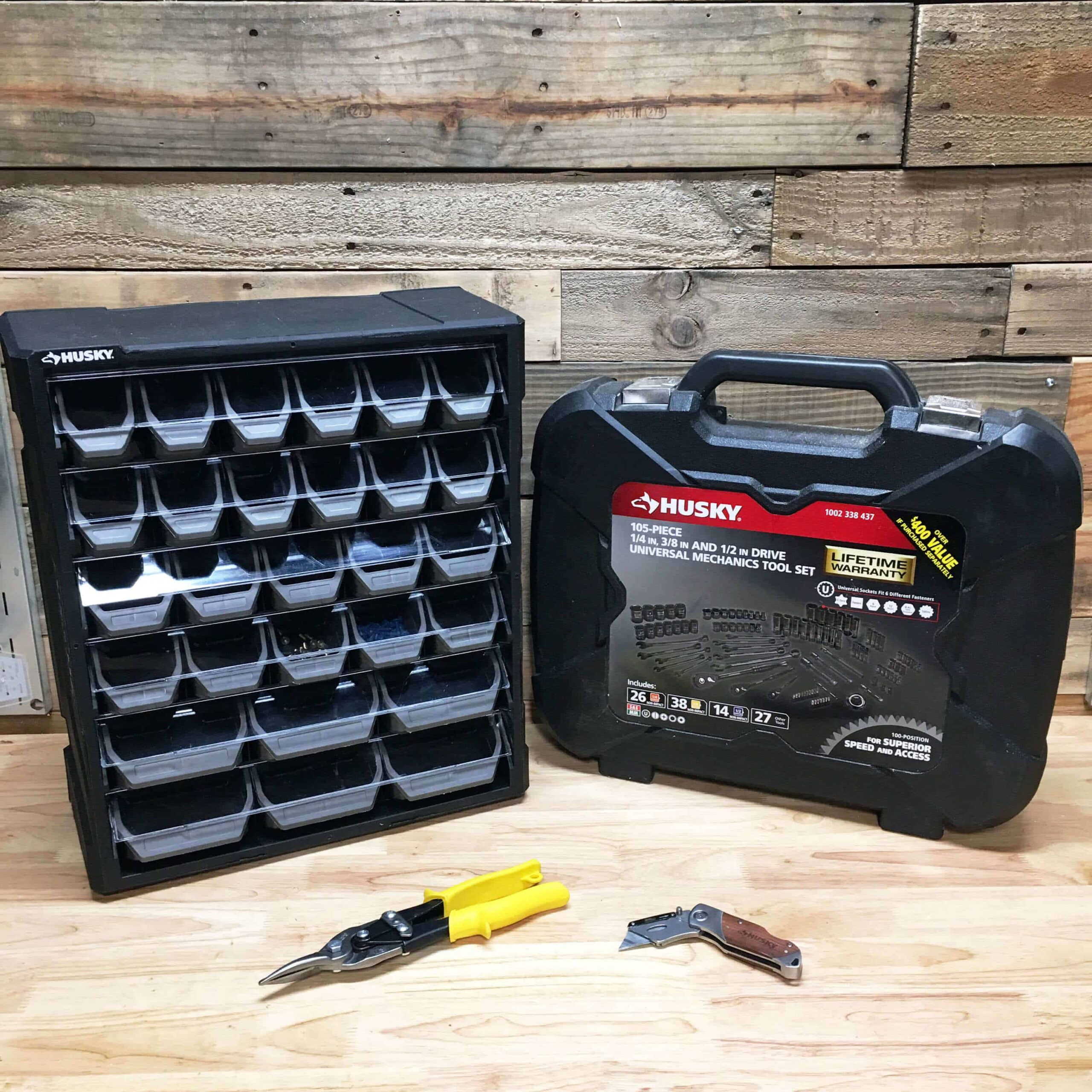 This week's Home Depot Pro-Spective review round up might not have the flash of a torque heavy power tool, but that's okay, hand tools and shop accessories are a big part of the workshop and are sometimes easily overlooked.  When you start hearing terms like "guaranteed for life" being thrown around, you should take notice at what these products can do for your work space.
I've made this even easier, instead of having to read you can just hit play and watch the video this week!  Team Lazy fans rejoice!  No more reading… unless you want to…  You'll find a full rundown and an instant take on these tools for the workshop!  Product links below are affiliate links.
---
---
This post has been sponsored by The Home Depot Pro-Spective Tool Review Program.
Like an old school pocket knife look and feel.  With a locking standard sized utility blade, I can easily carry this cutter with me like a normal knife and clip it to my pants pockets.  And man… does it look great with the wooden side.  Oh yeah… like most Husky Tools it has a lifetime warranty.  If you ever damage it, bring it in and have it replaced, no questions asked, no receipt required.  Look familiar?  I used this blade on the roofing repair and live edge cherry bookcase tutorials!
66 sockets, 10 wrenches, 3 ratchets and 21 accessories all in matte black with a sturdy carrying case.   The ratchets are part of the Husky 100 Position series which means you only need a minuscule 3.6 degrees of arc swing to for ratcheting in hard to work areas.  And guess what… these are also guaranteed for life.  Want to see a few of the other wrenches offered by Husky Tools?  Check out this quick video showing some of the variations.  
What has 12 small, 10 medium and 6 large drawers that mounts on the wall of your shop?  This unit!  I'm all about tool storage on my walls so this durable storage unit is the perfect spot to easily store all my odds and ends that I usually throw in junk drawer (that's overflowing).  Instead, this has clear view doors that keep the sawdust out but let me easily see which screws, washers and so forth I'm storing when I need it.  Or I can go back to the drawer…  Love tool storage?  Check out my previous posts on the Husky Rolling Tool Chest or wall mounted clamp storage.
I've cut sheet metal more in the last year than I probably have in my entire life combined.  A good pair of aviation snips make all the difference when working with metal (and a nice pair of gloves to avoid cutting up your hands).  Just like on my emergency roofing repair post, a pair of snips like these from Wiss will cut through up to 18 gauge carbon steel like butter.  I specifically remember my dad having a pair of bright yellow handled (well dirty at that point) snips in his workshop and sure enough… a pair from Wiss.
*This post has been sponsored by The Home Depot Pro-Spective Tool Review.  I have been compensated for my time and provided with tools in exchange for my opinion on these products.  My opinion is my own.