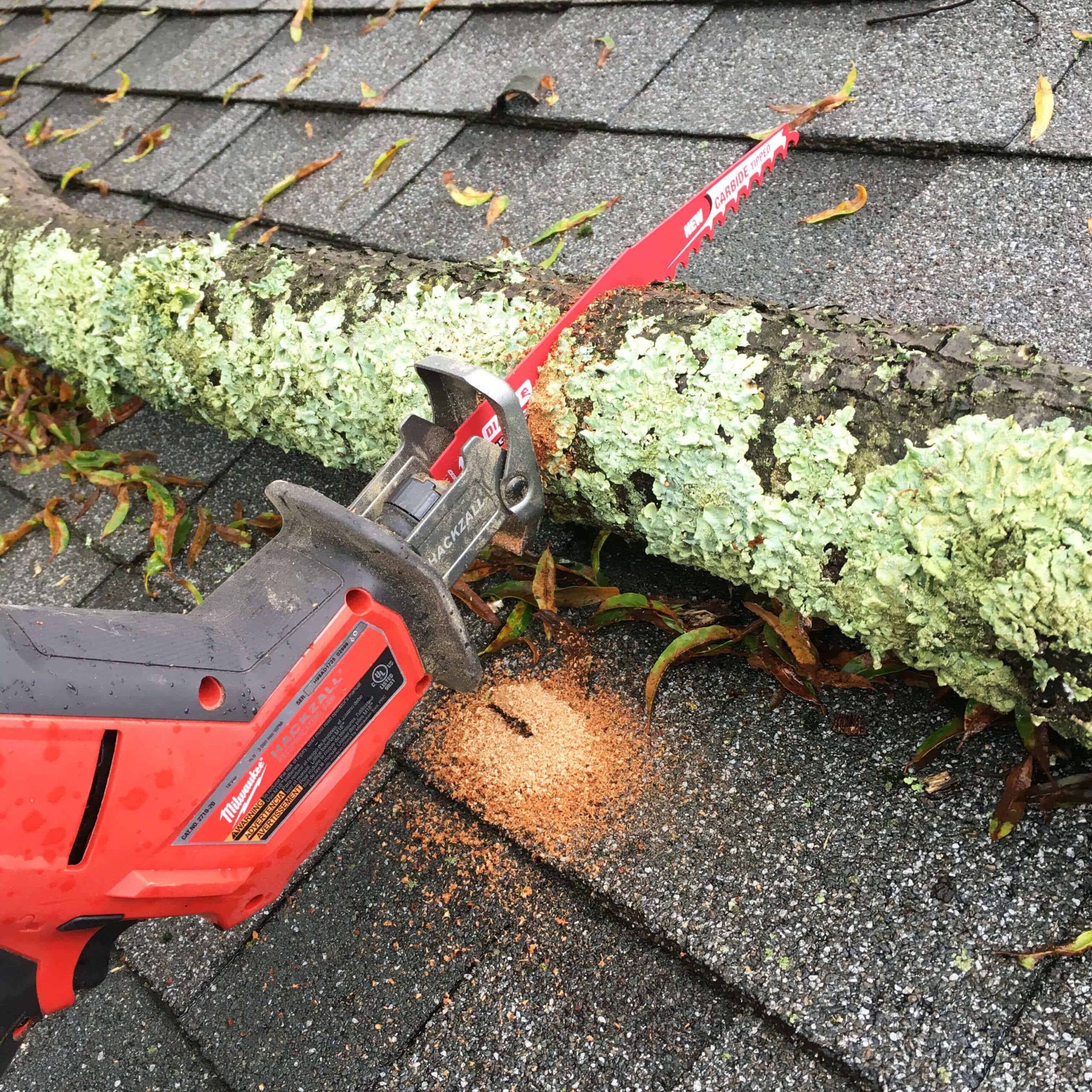 Maybe it's my magic power (why couldn't it be the ability to control squirrels?) or maybe it's because I'm actually getting time to work on the house, but without fail, it seems like we run into the need for an emergency repair on something around the house whenever a three day weekend hits.  That means when I break something on Sunday morning, we've got to wait until Tuesday before someone can come out or be charged an arm and a leg for off hour visits.  This time it was a hole in the roof, last time it was a broken pipe, the time before that was the HVAC.  With home ownership the fun never ends, but one thing is for sure, a roofing emergency is something that can't wait.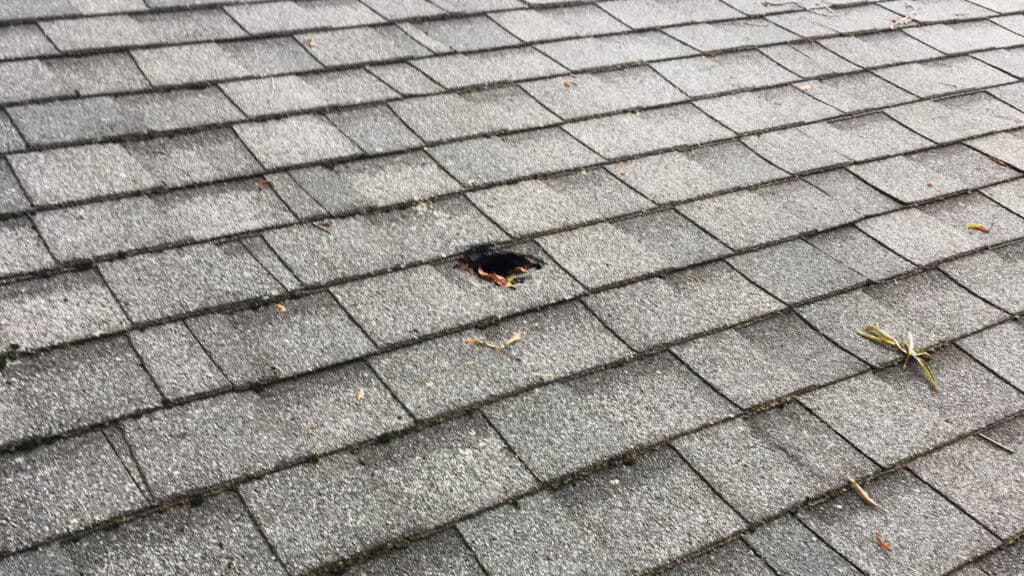 April showers bring May flowers, but in this case, April got lazy (I can relate) so all of the major storms decided to hit Virginia in the last few days of May… with a vengeance.  During one of the storms a big limb broke off our tree and hit our house.  To make it more fun, the limb was precariously sitting on the roof right above where the power line connects and runs into the utility box.  So in a way, we were lucky we didn't have a live wire waiting to greet us out our back door, but also it meant I needed to go up on the roof and then cut the limb into pieces to I could safely remove it.  For that I pulled out my trusty Milwaukee Hackzall I reviewed a while back and easily cut up pieces (while standing on a ladder) without falling or cutting another hole into my roof.  Unfortunately, even though the self inflicted holes never came to fruition, there was a bigger hole waiting just below the surface.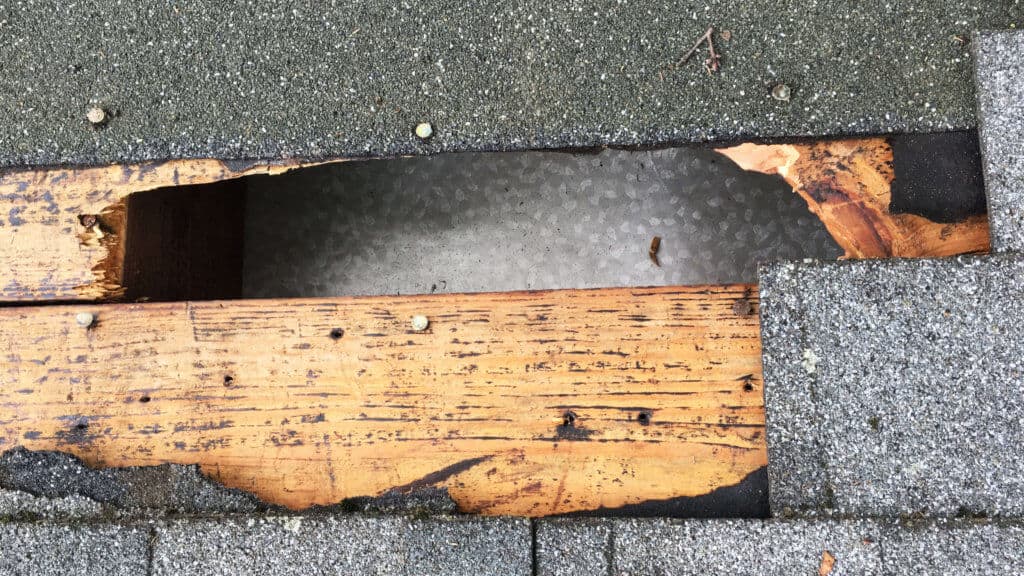 I was cleaning my gutters (finally) in preparation for a forecast of (more) storms that were supposed hit every day over the next week when I noticed something funny on my roof.  Holy crap!  There's a hole in my roof!  It looked like someone put a fist through my roofing.  Upon closer inspection (after removing some of the tar paper and busted shingles) that fist size hole was actually an entire section of roof sheathing (boards that make up the roofing) that got smashed in from the impact of the tree limb.  A section roughly 15″ by 3″ was sitting wide open looking into my attic crawl space.  Now what?
You Have A Hole, Now What?
First off, I want to state the obvious that before you do anything with your roofing, please make sure you're comfortable being on a ladder and comfortable working on the pitch of your roof.  I've been on my roof many times, not in a creepy way like I go up there to drink beers and stare into my neighbor's yards, but more so to clean off debris from our tree or make minor repairs to the house.  With that said… document everything.  This is 100% an insurance claim worth making.  Especially if you have water damage indoors.  So take pictures, after that's done, I'll show you next how to put on a temporary patch to keep water out that's more effective that putting a tarp up.
Surface Prepping The Damage
In order to see the extent of the damage, I did have to remove some of the shingles and tar paper.  That fist sized hole was clearly the tip of the iceberg so using my new trusty Husky Folding Utility Knife I cut away a minimal amount of the excess shingles and tar paper to assess the problem.  The key here is to take out enough to see the damage, but also not leave a huge bald patch on your roof.  Kind of like getting gum in your hair and cutting it out.  You can take your time and plan for the future or just shave your head.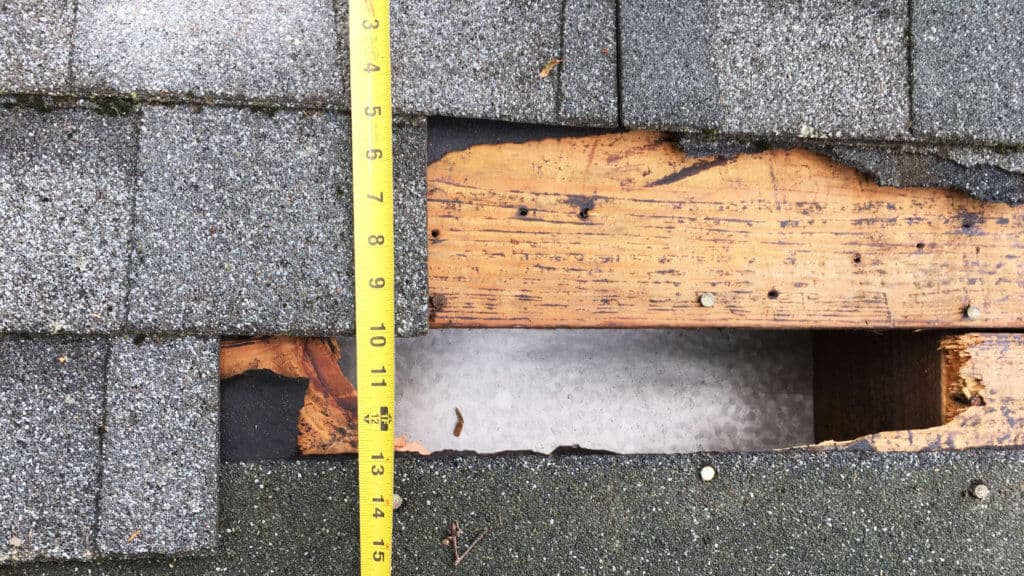 While you're up there (all about minimizing ladder trips) figure out the size for your roof patch by adding about 6″ of coverage to each side of the hole.  With a 15″ x 3″ hole, I wanted to cover an area of about 27″ x 15″.
Meanwhile On The Ground…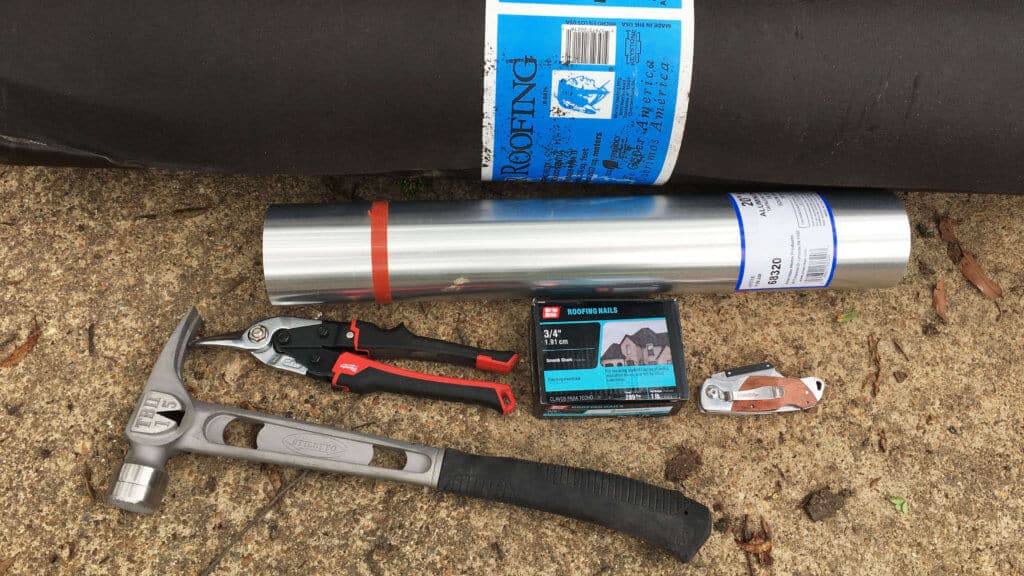 So what do you need to repair the damage?  A roll of tar paper (why they don't sell small rolls I'm not sure…), metal flashing, roofing nails, aviation snips, a hammer (you don't really need to use an expensive Stiletto, but if you've got one… might as well use it) and a utility knife.  Also… begrudgingly… a pair of pants with a hammer loop if you don't have a tool belt handy.  You know my feeling on hammer loops…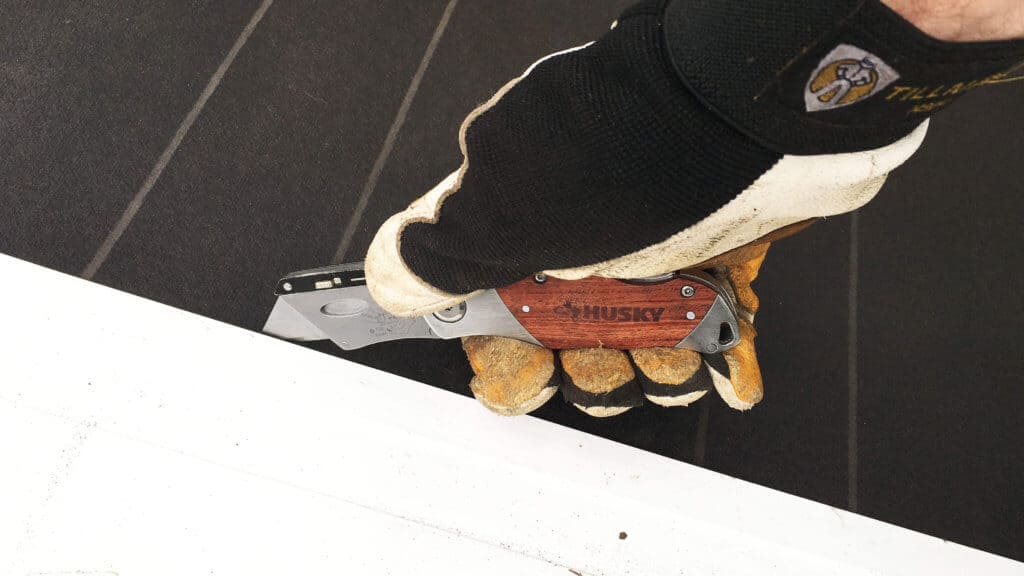 With your feet firmly planted on the ground you want to cut your tar paper and metal flashing to size.  The tar paper cuts pretty easily with a utility knife.  For those of you thinking of skipping the tar paper step, think again, this is your first line of defense over your newly aerated home.  Even though I'll never use the other 215 square feet left over, it's necessary if you have any weather coming before you can get a repair.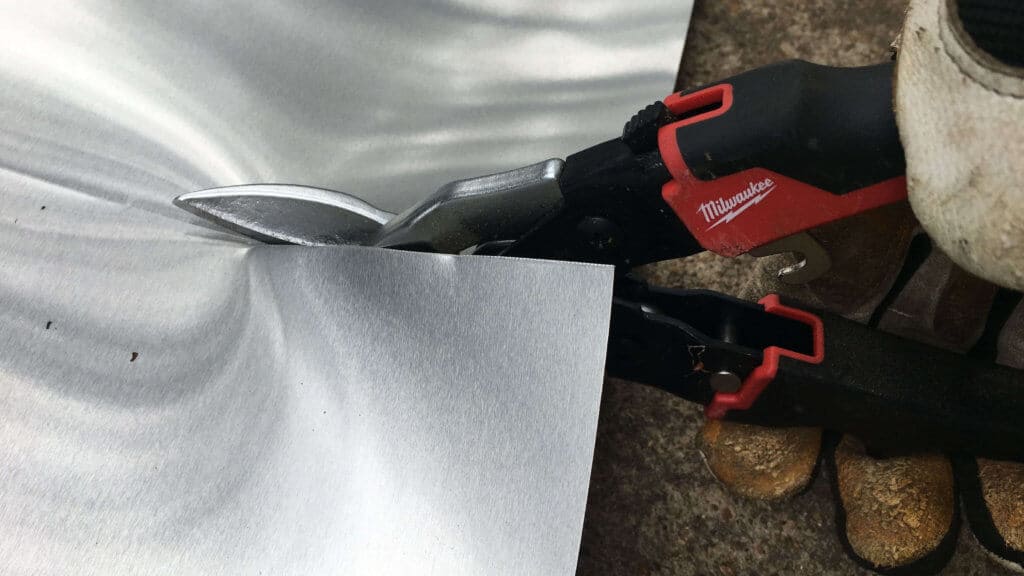 For the metal flashing, I love a good pair of aviation snips.  They are specifically meant to be used to cut this kind of metal and although I don't cut sheet metal a ton, it's good to have a pair that cuts like a sharp knife sliding through Christmas wrapping paper (you know what I'm talking about).  Also… wear gloves.  Metal edges are sharp.  Fingers are soft.
Emergency (Temporary) Roof Repair
Once again I'm going to stress, this is a temporary patch for your roof until you can get it professionally repaired.  Don't go crying to Lazy Guy when two years later you have water damage because you left the patch on.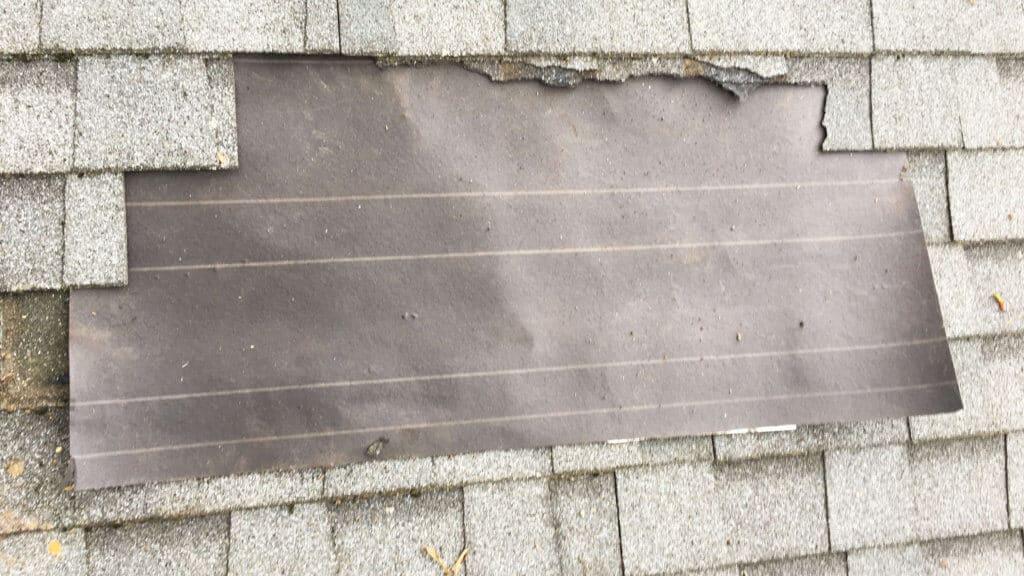 Back up on the roof you're going to want to slide your pre-cut tar paper several inches under the shingles above the hole and under any shingles on the sides (if possible).  You might have to remove an old roofing nail or two, but the idea is to put a barrier wide enough that even crazy sideways rain isn't going to get under the patch.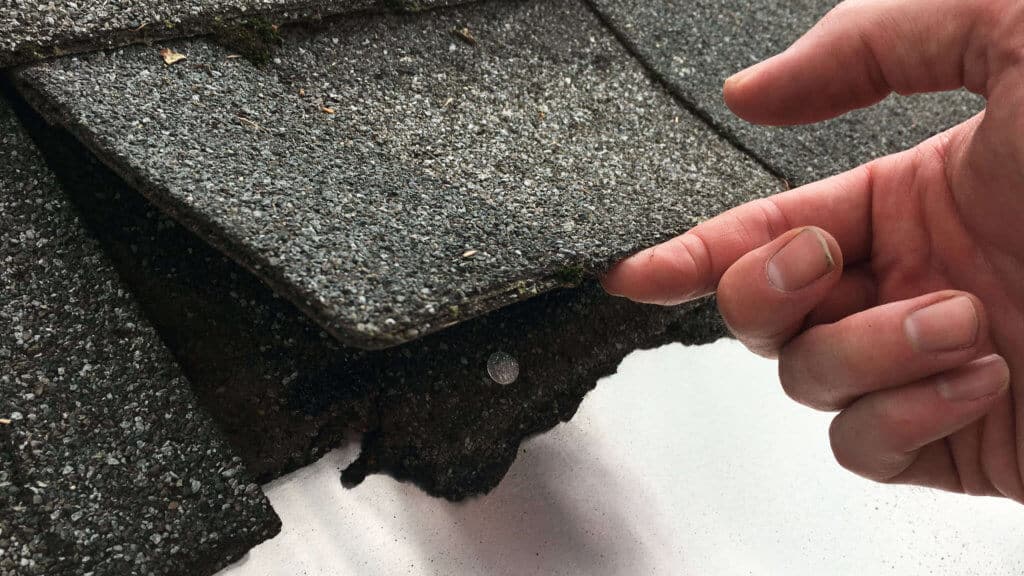 With the tar paper in place, slide the pre-cut flashing under the same shingles so your tar paper is completely covered.  Now here's the tricky part.  The last thing you want to do is put this patch on and then nail directly through the top layer of shingles and leave a new nail sized hole for the water to seep into.  So as you can see in the picture above, where possible I nailed under a layer of shingles to hold the tar paper and metal flashing in place.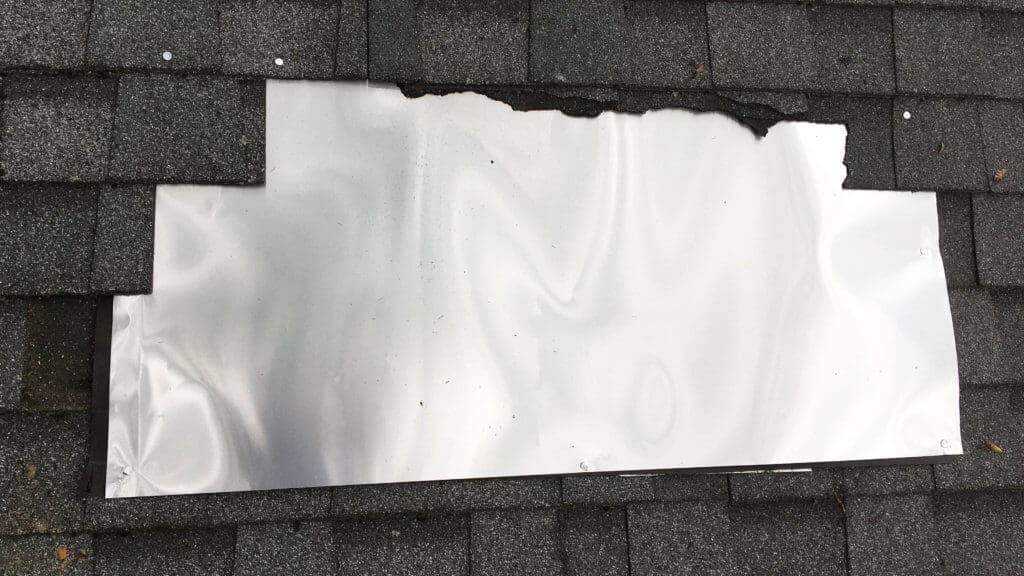 Of course, that's in a perfect world.  I did have to add a few nails on the sides and bottom to hold everything in place.  It does not do you any good to have a patch and then have the first gust of wind blow it up and off and leave your roof more exposed.
Now what?  Call a roofer and get some estimates.  Depending on what your insurance deductible is and depending on the extent of your damage you might avoid making an insurance claim altogether.  Our estimates all fell within a few dollars under our deductible.  Guess who is going to pay out of pocket?
~ Lazy Guy