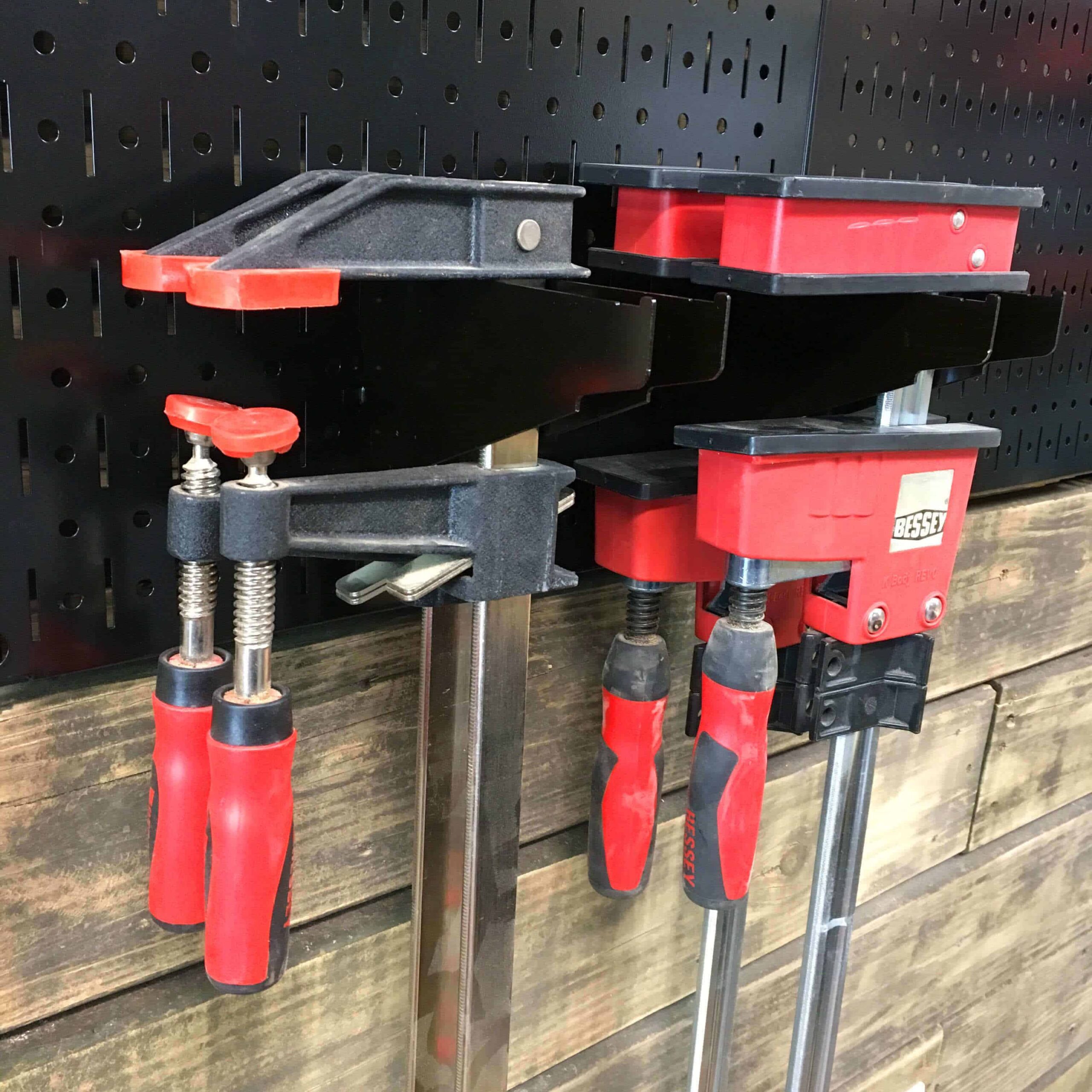 Like a billionaire owning a garage full of exotic cars or an eccentric old lady collecting cats there's one thing every woodworker starts to covet… more clamps!  You can never have enough clamps!  But if you keep buying more, what do you do about clamp storage?  They're big, they're heavy and let's be honest… there's not a great way to store them unless you fabricate it yourself.  That is until now!  I teamed up with Wall Control, Inc. to bring you a new workshop solution that finally let's your store your clamps (plus batteries and chargers!) on Wall Control metal pegboards!
---
After checking out the video, make sure you subscribe to my YouTube channel so you're up to date on all the newest happenings on Lazy Guy DIY!
---
I've been using Wall Control pegboards in my shop since I converted my work space a few years ago, plus I've touched on some additional storage solutions for my pegboards before… but that's not what you're here for.  Let's find out how the new set up came to be.  For starters, I installed two sets of  16″ x 32″ black vertical panels that if you need install help, I run through the entire process in the video above.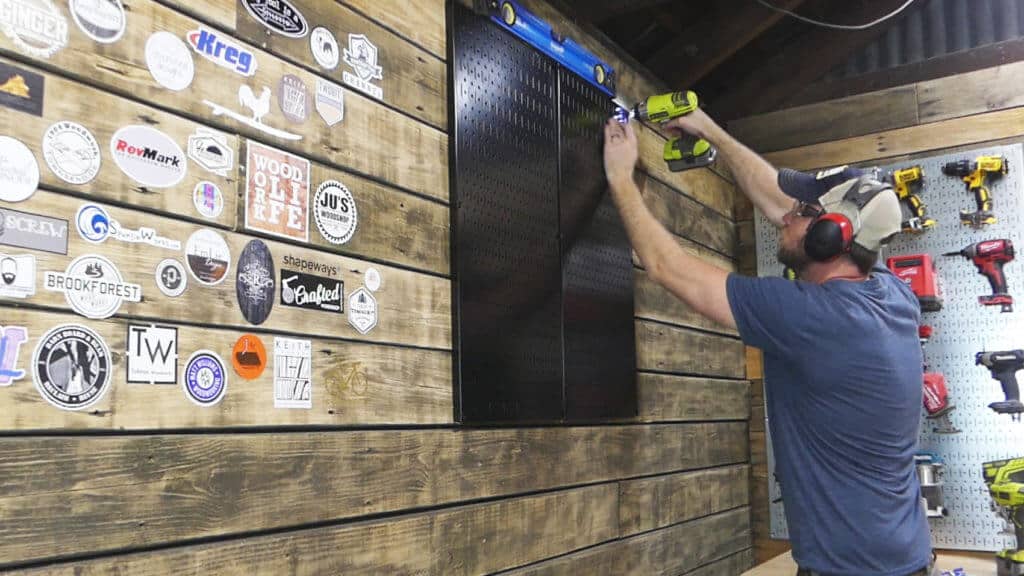 With the pegboards up, the magic happens when we add a Wall Control accessory that served another purpose before we came up with this solution.  These 6″ brackets (pictured below) originally are used for mounting the 6″ slotted shelves to the pegboards.  Guess what perfectly works in securing  and storing clamps?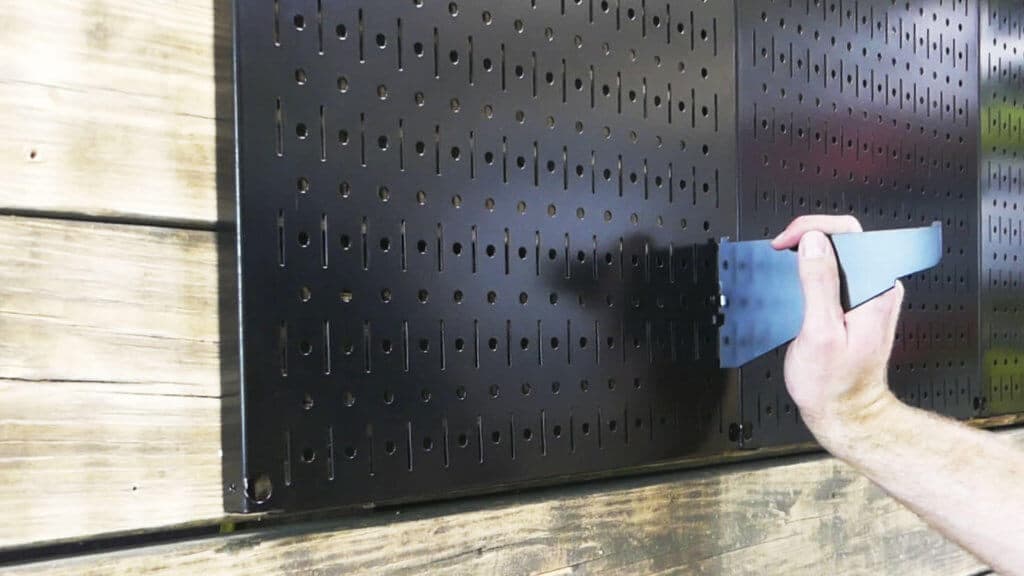 That's right, with a pair of the shelving brackets (available for individual purchase soon!) you can store your bar clamps, C-clamps, pipe clamps and even speed clamps on your pegboards in any arrangement that your boards can hold!  At the time of this post, you'll have to purchase the brackets by adding the shelving kits to your cart and making a note at check out that you only need the brackets.  There has not been a another custom clamp storage solution like this anywhere on the market.  Mind blown right?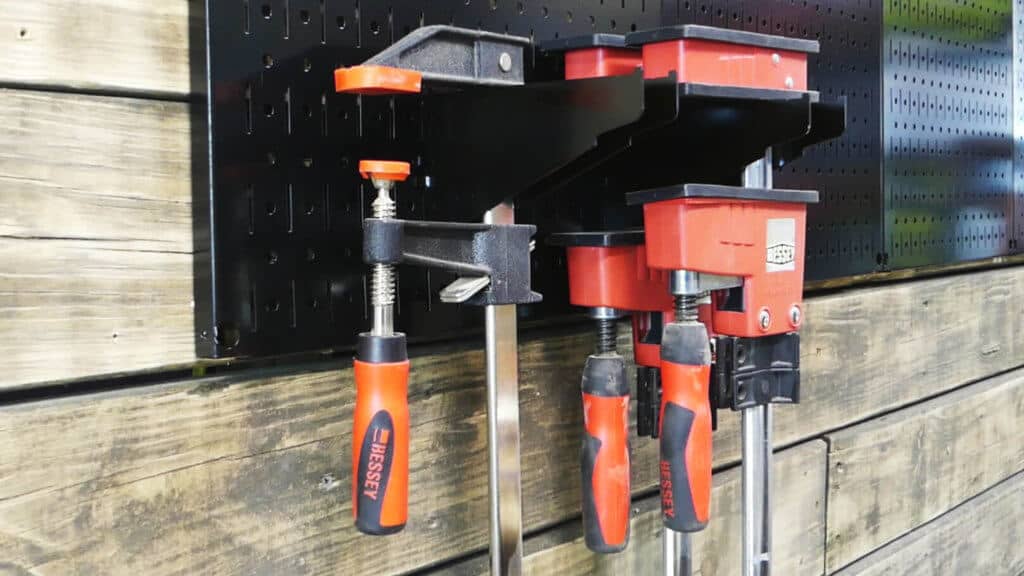 Let's not stop there, how about batteries?  The more cordless tools you get, the more batteries and chargers you end up with.  It's a great issue to have, but it's also a storage nightmare.  I figured why not come up with a solution using more existing Wall Control products.  For the batteries, you're going to start out with needing the 14″ Slotted Accessory Hangers.  They sell individually and they are also excellent for keeping tape measure and shop markers organized.  This time we're using them for something else!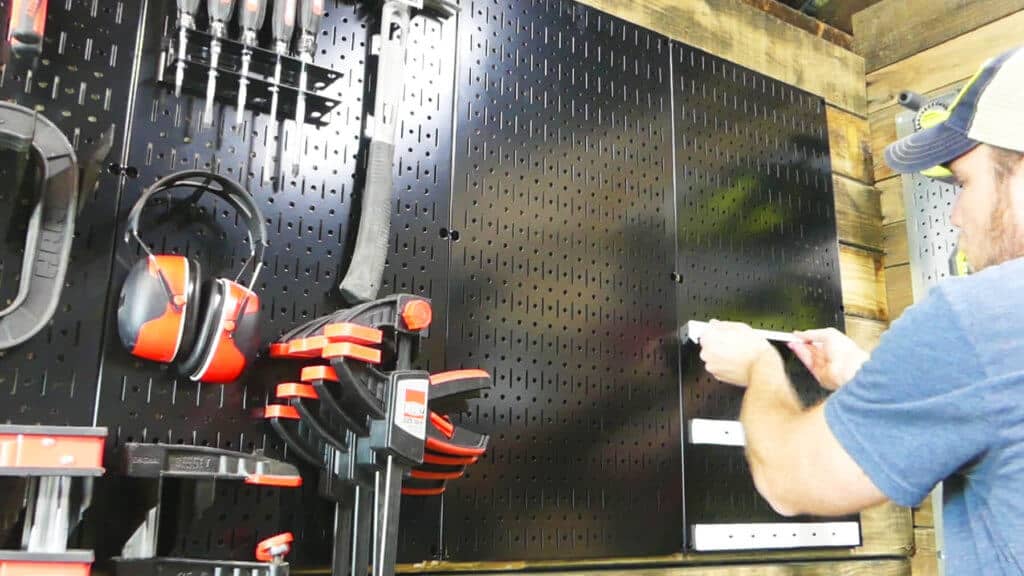 Once you have the hangers installed, it's just a matter of popping on the hanging plastic bins that come in packs of three.  Don't worry, I've tested out batteries from pretty much every major tool brand on the market, and regardless of voltage or amp hours, they all seem to fit inside these bins securely.  My thought is as they're charged, I'm going to flip them forwards or backwards to let me know which ones are ready to use.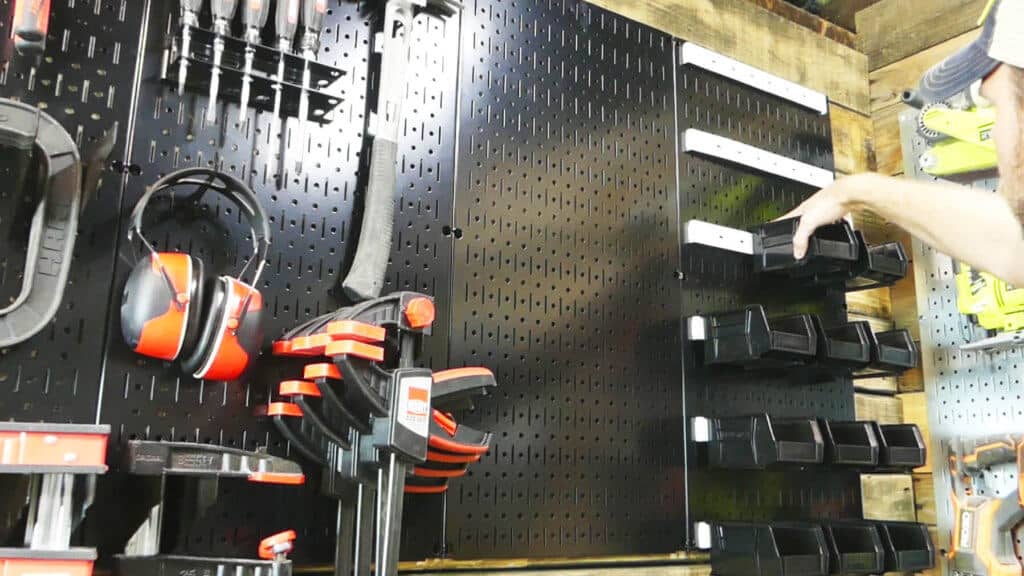 For the actual battery chargers, I went with a simple solution… shelves!  For my biggest chargers I installed the 9″ Pegboard Shelf and for the smaller charges I used the 6″ Pegboard Shelves.  They easily install on the pegboards and they sit securely.  I know you're going to ask about whether I have them plugged in or not.  For the photos I do not have them plugged in, but what I'm doing is running the cords up the pegboards and plugging them into a surge protector that's mounted above my boards.  I have a ceiling mounted socket that's going to let me plug everything in and keep the unsightly cords tucked away.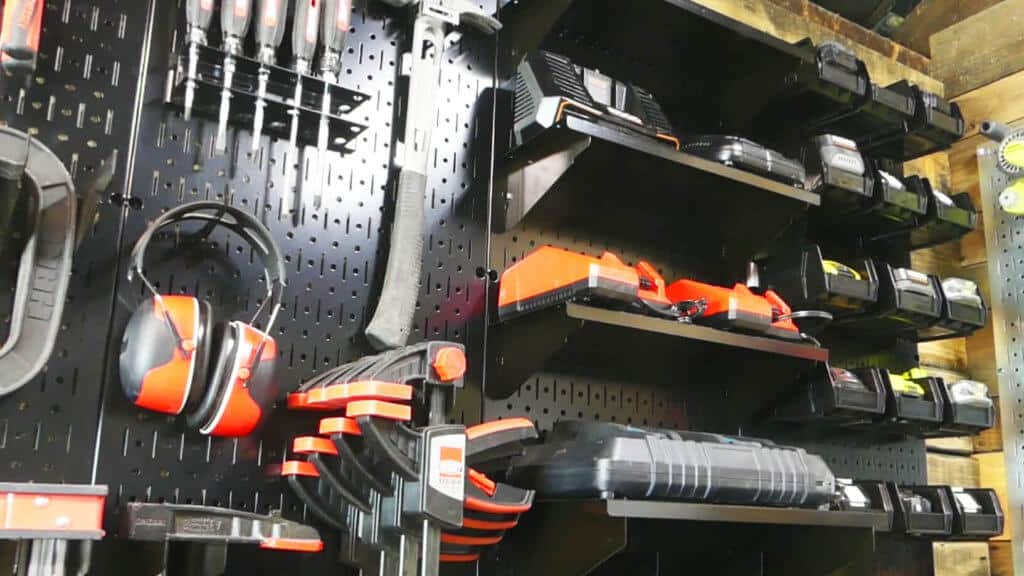 Okay, so I might be a little OCD here with my shop organization, but let's be honest… if I don't have an obvious spot for something I'm just going to dump it on my workbench or pile it in a corner on the floor.  I knew from the start I needed something that was a space saving solution for all of my equipment in the shop and Wall Control pegboards just make my life a whole lot easier.  If you're going to place an order, be sure to use promo code: "LazyGuyDIY" for a discounted price!
~Lazy Guy
*This post was a collaborative project with Wall Control, Inc.  I have been compensated for my time and provided with product in exchange for my opinion and experience with Wall Control's products.  There are no affiliate links on this post.