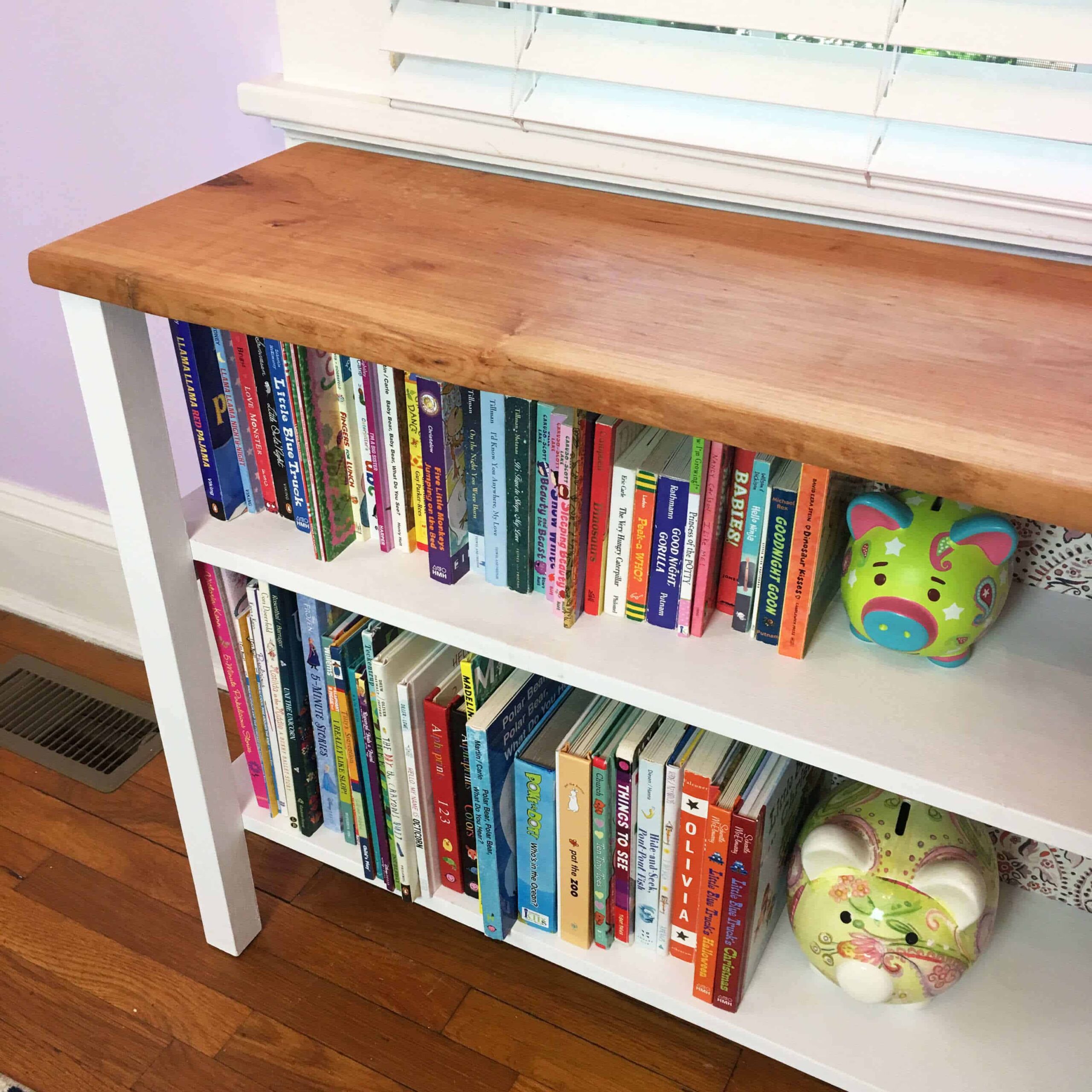 "Do you think you can build a children's bookcase?  Can you design a bookcase for our daughter's room?  Have you come up with a design for the bookcase yet? Do you think you can start the bookcase after this next project?  What do you mean you've only worked on the live edge top?  So no finished bookcase yet?"  My wife is going to read this first paragraph and immediately give me dirty looks because this might sound a lot like nagging out of context (especially given she's 8 months pregnant).  I assure you it's not nagging.  It's taken me almost a year to get to this project finished since she first asked, so when you spread those out over 365 days and then some… these few gentle reminders barely scratch the surface of nagging.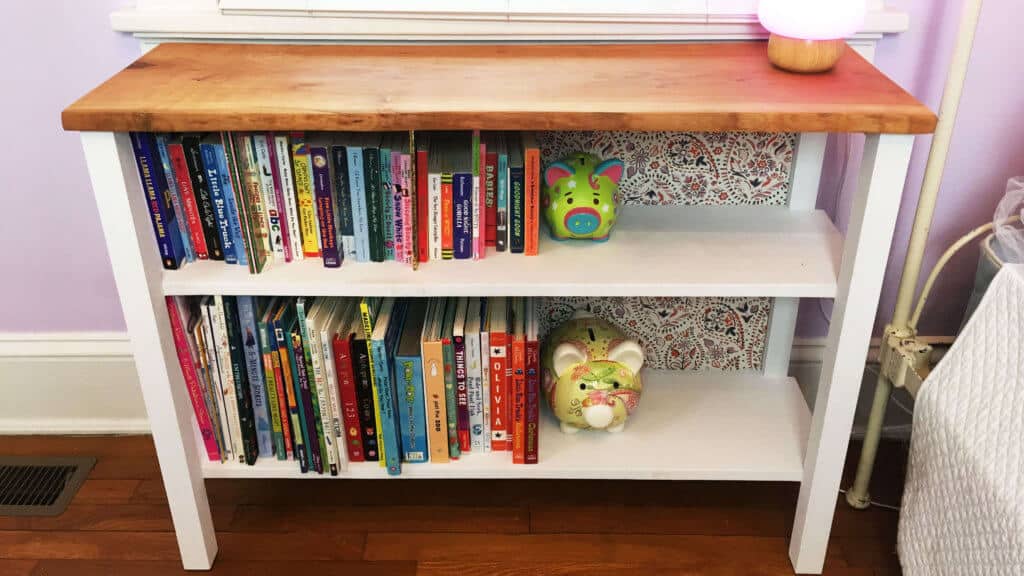 So while this bookcase might have taken a long time to come to fruition, this is a great piece of rustic furniture that you could easily knock out over a long weekend.  I've done the hard part with the planning, now it's time for you to capitalize and build it quick!
---
Materials & Supplies Used
* affiliate links will be highlighted
12″-14″ wide x 38″ long piece of live edge lumber (or substitute with a 2x thick board)
(2) prime cut 2 x 2 x 96 (square edges, not rounded)
(1) 1 x 10 x 96
(2) prime cut 1 x 2 x 96 (square edges, not rounded)
2′ x 4′ underlayment project panel
Sandpaper in 120, 180, 220 & 300 grit
Spax 2-1/2 & 1-1/4″ wood screws
Wood Glue (any wood to wood connection should have some glue)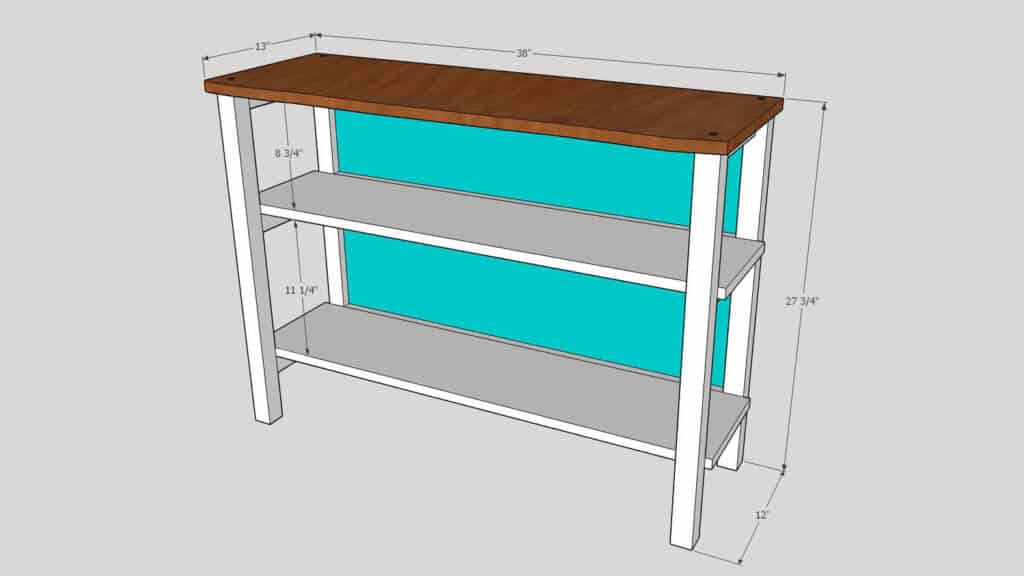 Tools & Accessories Used
* affiliate links will be highlighted
Miter Saw
Circular Saw
Table Saw
Drill & Driver
Brad Gun
Random Orbit Sander
Thickness planer (for the live edge slab)
Bar Clamps
---
Step 1:  Pick Your Bookcase Top
Like an old school "choose your adventure" story, that first decision you make will determine what kind of journey you're about to go on.  In my case, I had a 5 foot piece of cherry wood that I had been saving for a project.  The only problem was it measured up to 16″ wide in some spots and my thickness planer can only manage 13″ tops.  Using a circular saw and an edge guide I squared off three sides to roughly the size I needed (13″ wide by 38″ long).  Of course I could have used my router sled method for leveling this bigger slab but I was already too far behind!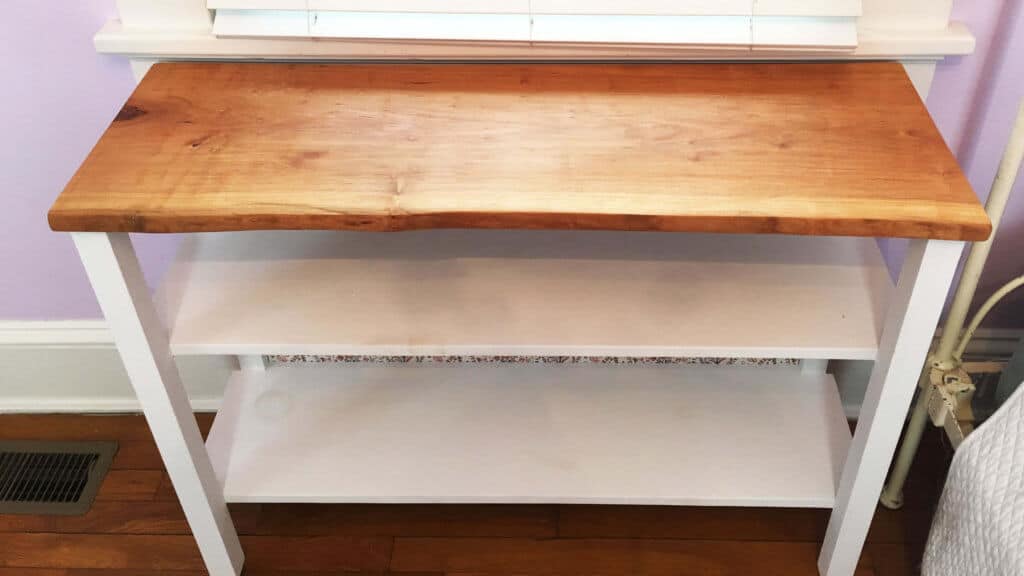 After a fad diet and lots of cardio (or a few runs through my thickness planer) my piece of cherry wood had slimmed down to the size I needed for my build.  If you don't have access to Live Edge Material (read that post about how I source mine locally!) you can always use a combination of 2 x material to get the right thickness and width.  Four 2×4's joined together will give you 14″ wide that will work just fine.
Now is a good of a time as any to start sanding.  If you use live edge material, just know that the bark needs to come off now rather than later.  Clean off the bark and start standing smooth!  I use a progression of grits from 120 (sometimes 80 for the really rough areas) and then work my way up to a 220 grit with a random orbit sander.  Once you're glass smooth you can go ahead and apply your finish coats so it has plenty of time to dry and release vapors while you're building the base.  For my cherry wood I used Walrus oil cutting board oil and wax.
Step 2: Bookcase Leg Day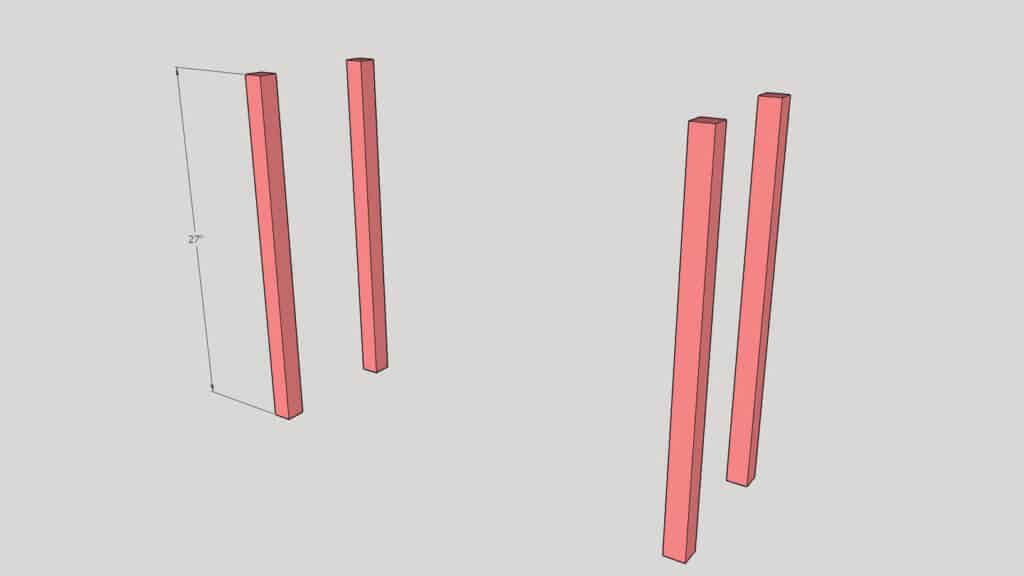 The reason you're paying a few bucks extra at your local Home Depot for the prime cut 2×2's is so everything will fit nice and squarely.  Those budget pieces have rounded edges you'll need to cut off.  Who has time to mill their own lumber?  If you do have the time, go to town.  Cut four 2×2's to 27″.  I do like to lightly sand these pieces on the flat surfaces just to take off whatever weird coating might have gone on them in transit.  It usually makes for a better finish be it stain or paint.
Step 3:  Furniture Support Group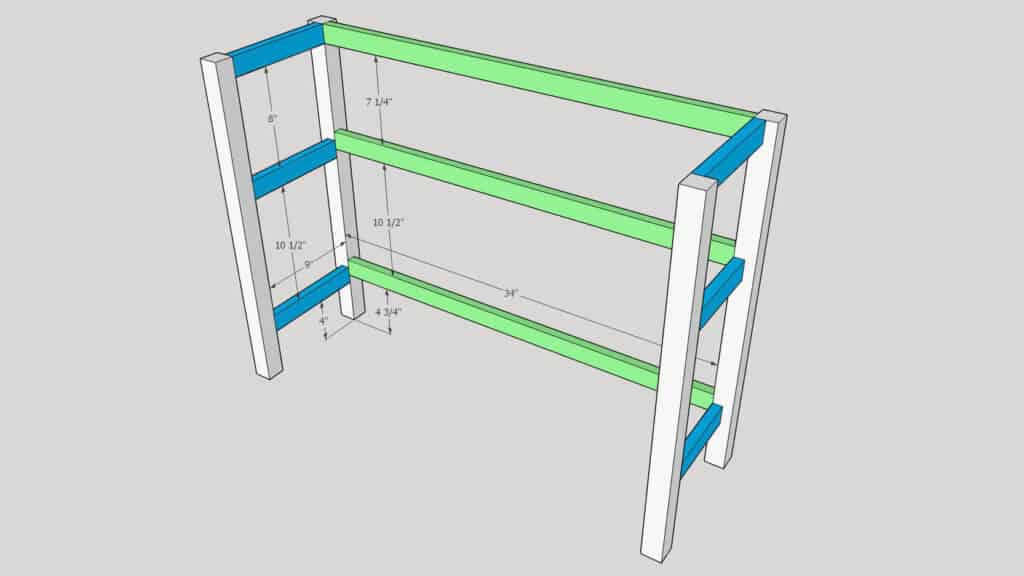 Again using prime cut lumber (all 4 sides square…it's hip to be square!) cut six 1×2's to 9″.  You're going to be using these to attach your legs, mount your live edge top AND hold your bottom shelves on.  They're pretty much all-stars.  While you're at it, cut three more pieces of 1×2 to 34″.  You're going to be using these as supports as well and to attach the backer board.  Go ahead an lightly sand both batches of 1×2's for a better finish.
Step 4:  Hidden Hardware
Unlike the purists in the woodworking world, I have no qualms with a pocket hole joint.  With that said… I didn't want to go around patching pocket hole joints on this build (remember how far behind I was?).  So instead we're doing something new, we're using counter sinks and plug cutters.  If this is a new concept for you, keep reading!  If you'd rather just use pocket holes, go for it!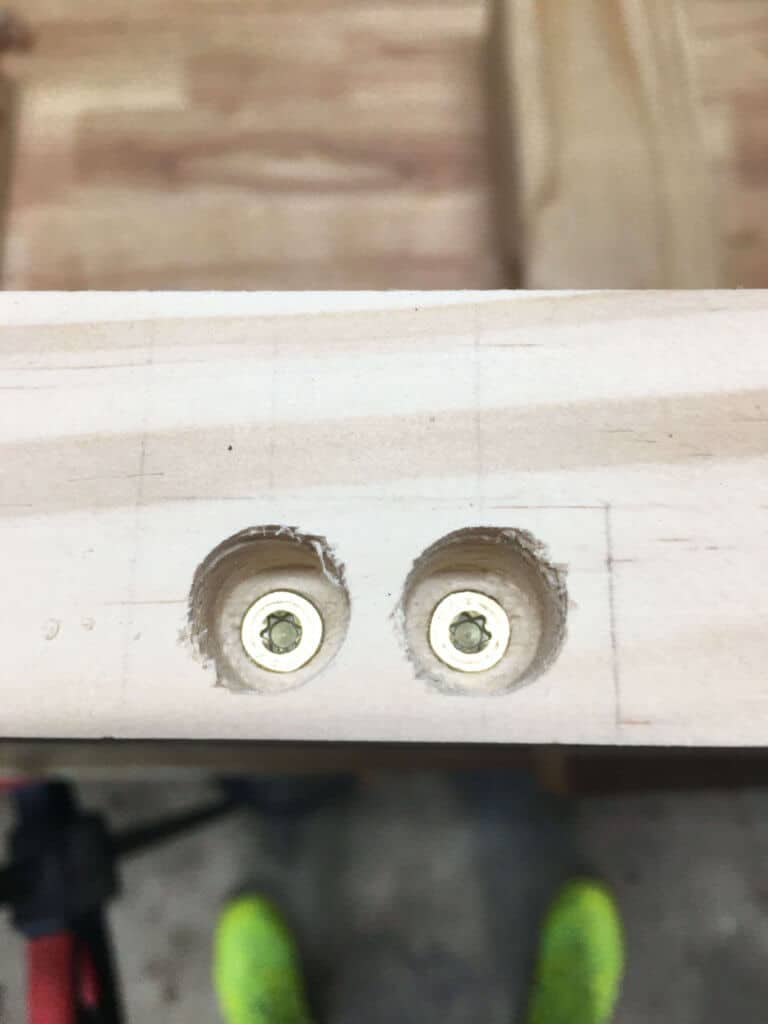 With a counter sink, essentially you're using a drill bit for a pilot hole and then cutting a slightly larger hole around it that fits your screw head.  If you barely drill into the surface, you get a deep enough impression to inset just the screw head.  If you drill even deeper, you can hide that screw head and then cover it up with a wooden plug (or dowel), cut the plug flush and then sand it smooth like nothing was ever there.  It's "smooth.  Real smooth."  (I'm already regretting that Gatorade commercial reference)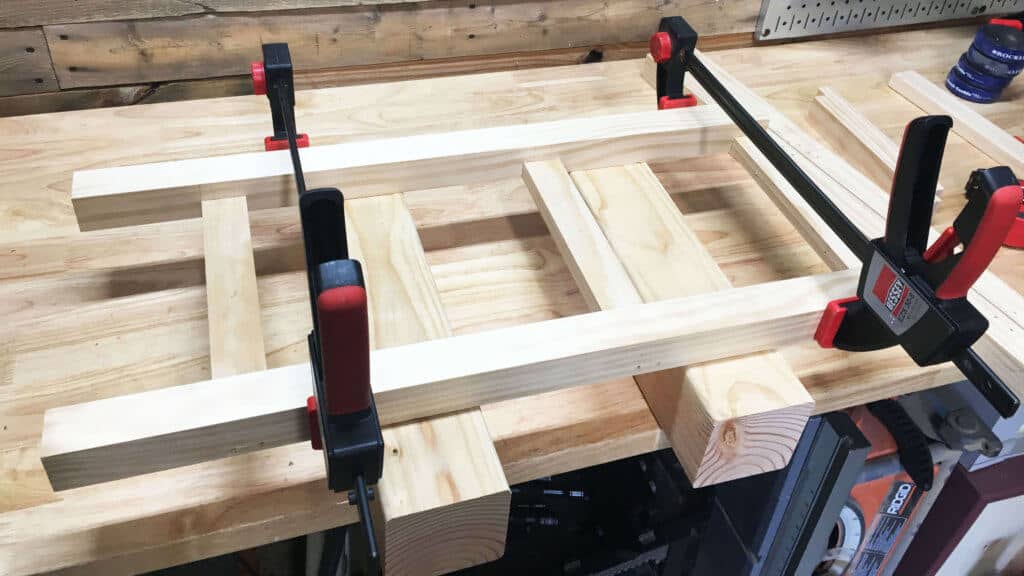 In order to line up my holes for the supports, I dry fit my 2×2 legs with my 9″ 1×2 supports and held them together with two pairs of clamps.  I spaced the bottom two shelves hopefully wide enough to accommodate a majority of my daughter's books at 11″.  I then used a 3/8's counter sink and pre-drilled two holes per each location a 1×2 would attach to the 2×2.  It's a tight fit… especially if you're attached your 1×2's flush with the outside edge, but absolutely doable.  With your counter sinks ready, go back and add wood glue to each of your joints and attach with wood screws.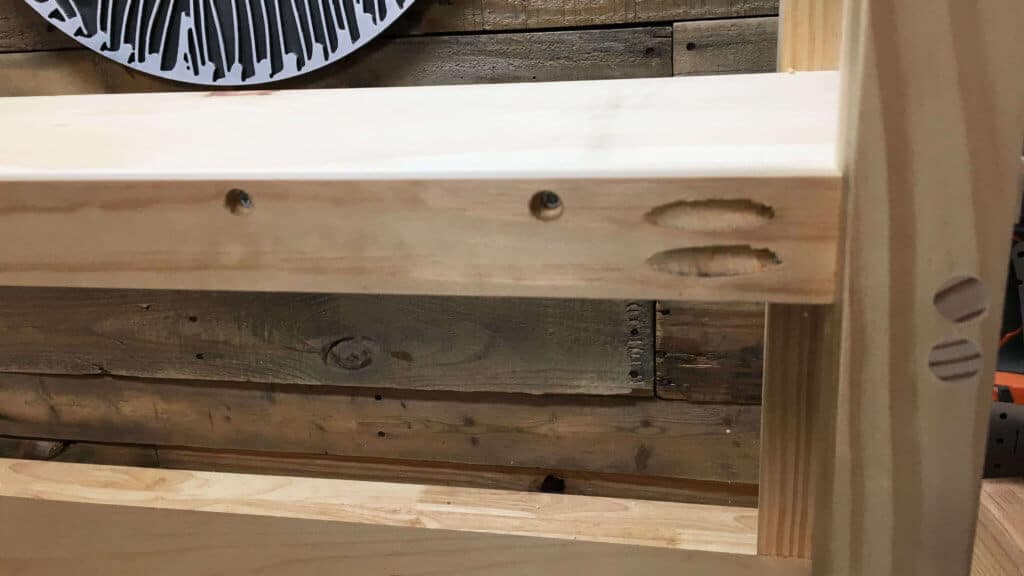 Because the shelves are going to be sitting on top of the 9″ 1×2's and then sitting flush with the lateral 34″ 1×2's (to sneakily attach for strength), you need to attach the lateral supports 3/4″ higher up than the side supports.  Guess what?  No counter sinks or plugs this time.  I pre-drilled a pair of 3/4″ depth pocket holes and attached with the holes facing outward.  No one will ever know because they are going to be covered up by the backer board.
Step 5:  Plugs, Not Drugs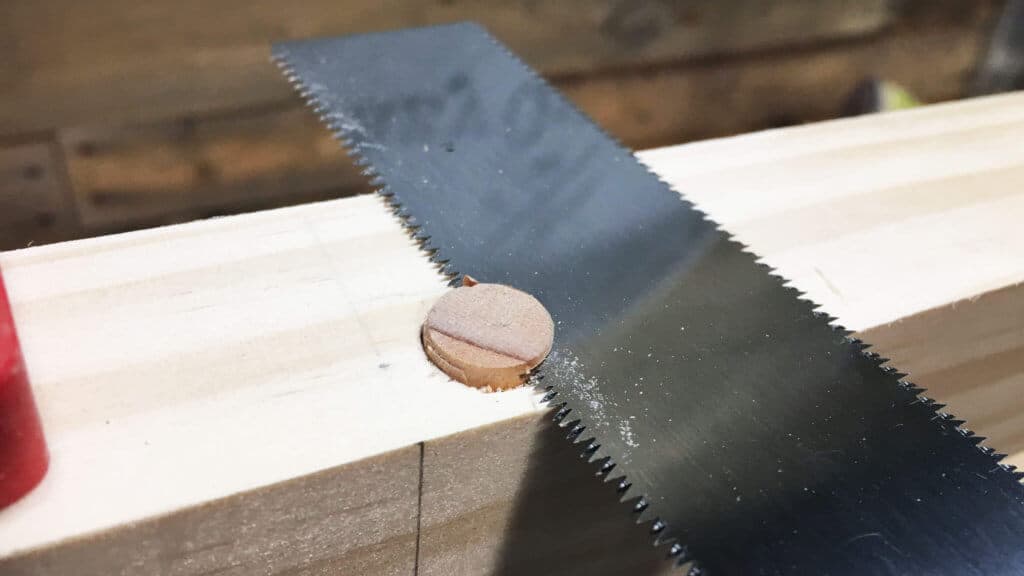 Don't worry, I didn't forget.  If you happen to have a drill press, this step is really easy, drop in the plug cutters and pop out a bunch of plugs that are deeper than counter sunk holes.  If you don't have a drill press, just make sure you securely clamp down whatever piece of scrap wood you're cutting plugs into (with a sacrificial piece underneath) and use a drill or driver to cut and pop out 24 plugs.  Holy hell, is that right?  Twenty-four plugs?  I apologize in advance.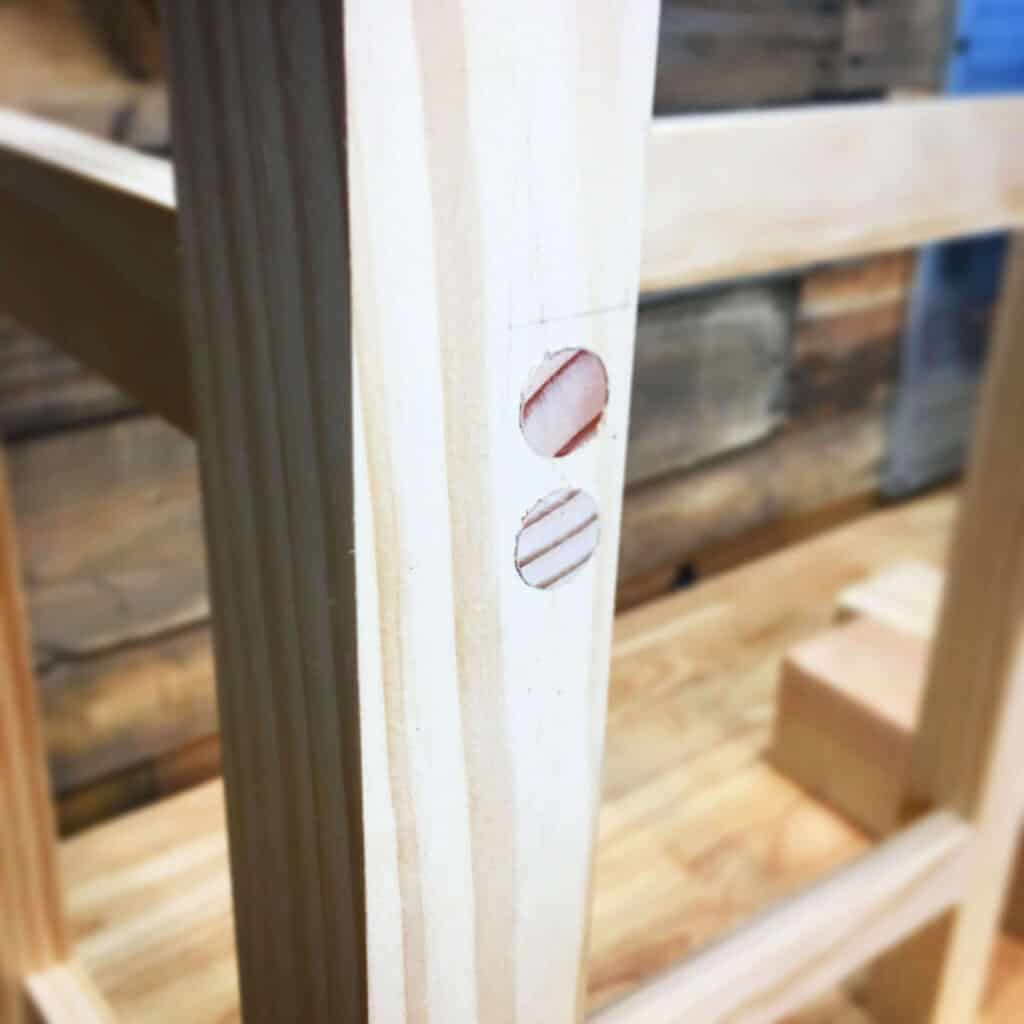 Add a little wood glue to the hole, tap the plugs in either with a mallet or by striking a hammer onto a scrap piece of wood to drive them in.  Don't damage them by hitting them directly with a metal hammer.  When the glue has dried, use a flush cut saw to take off the excess material and then sand smooth.  If you have any imperfections you can patch with wood putty or a combination of sawdust and wood glue. Then sand smooth once it dries.
Step 6:  A Quick Detour
Before we add the shelves, flip the unit over and pre-drill (with the counter sink if you want) on the bottom side of the 9″ 1×2's for the sides and then only the 34″ 1×2 that will attach to the bookcase top.  With furniture builds, convertibles and jumping waves at the beach, you want to make sure your top doesn't pop off so these pre-drilled holes are going to do the job.
Step 7:  Shelving
Alright, I'm going to ask you to do something you might not be comfortable with, but it's time to pull out your table saw.  After you cut two pieces down to 38″ you're going to need to rip them so they are only 9″ wide.  I promise you it's not that scary.  The more you use a table saw the more you appreciate it.  Lightly sand the pieces so they'll be ready for finishing later.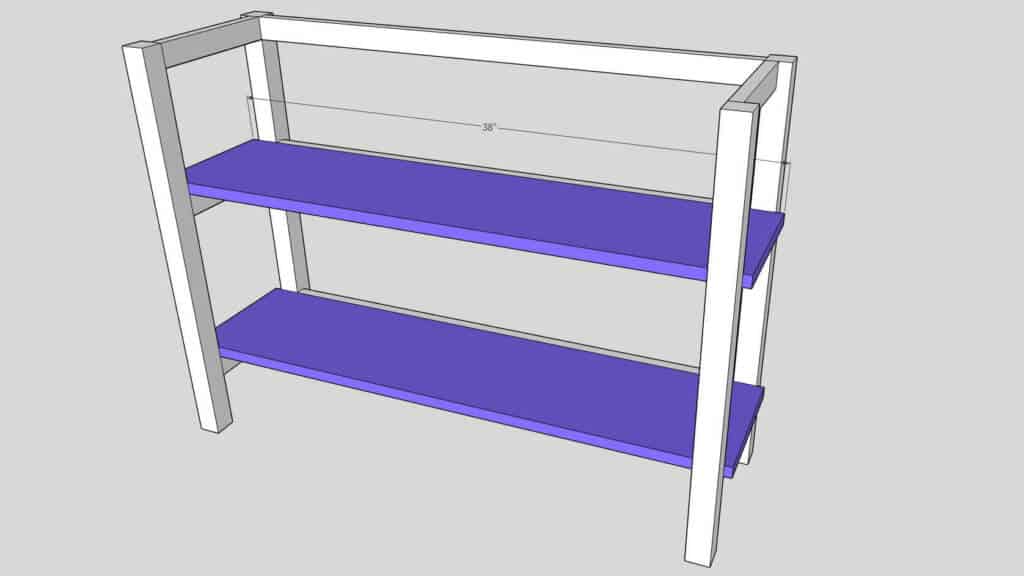 If you've cut your shelves to the right width, you should be able to slide them right on top of the 9″ supports and then attach from underneath with wood glue and wood screws.  With those in place, looking from the back of the bookcase, take your counter sink and pre-drill holes into the 34″ lateral 1×2 support and add wood screws to strengthen the shelving.  Don't worry, these get covered.  Just make sure the support and the shelf are flush on the top.
Step 8:  Add Your Finish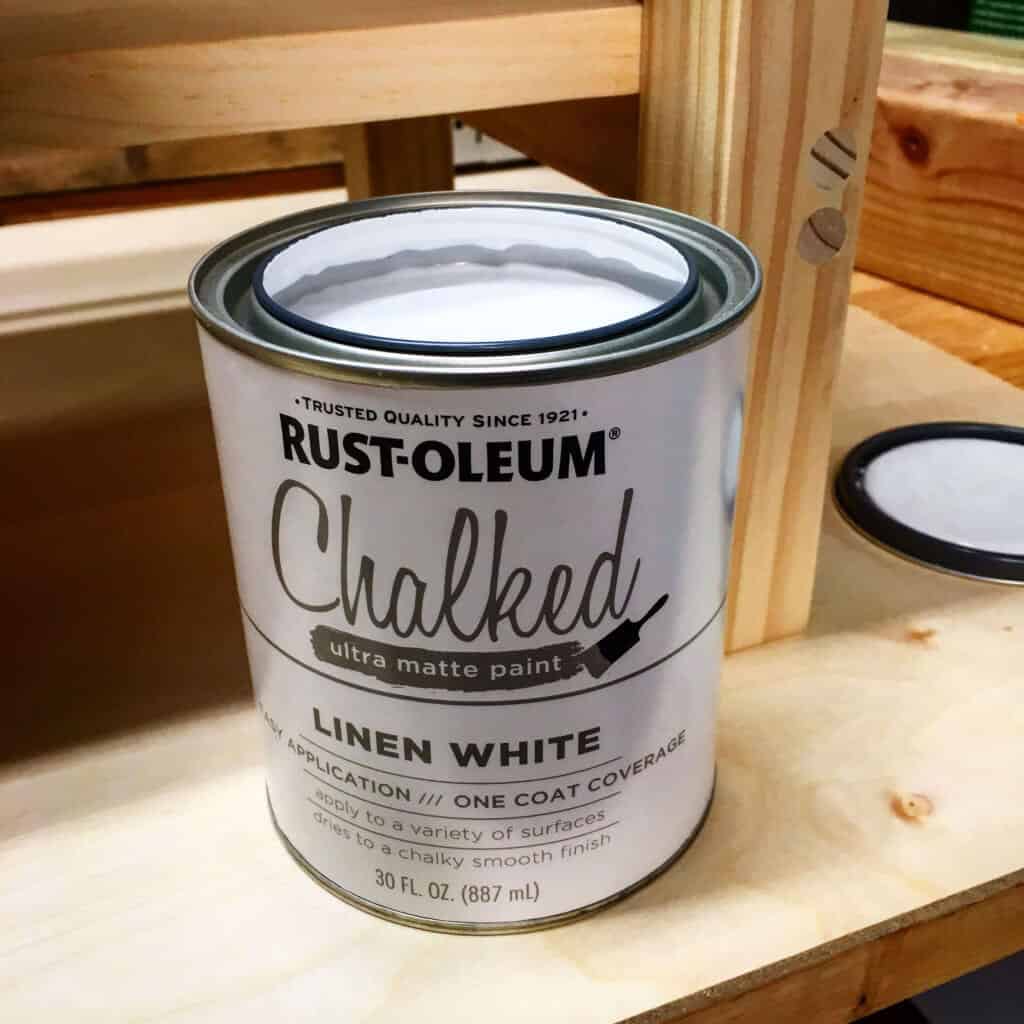 With everything given a final sanding job and cleaned off, it's time to add your finish, especially before you add the backer board or the top.  You don't want to accidentally get paint on those.  I'm not the cleanest painter either.  I went with Rust-Oleum Linen White Matte Chalked Paint for my build.  Two coats of coverage and this thing looked great!  I did lightly hand sand with 220 grit sandpaper between coats to give the smoothest finish.
Step 9: The Opposite Of Mardi Gras
Yes my friends, no matter how many beads you earn for this project, we're going to be putting our tops back on.  For good.  With the top laying upside down, I marked exactly where the bookcase frame would attach, then I added a little wood glue then attached with wood screws.  It's extremely important you know your length of screw and the thickness of both pieces of wood (including your counter sink depth) because the last thing you want to do is drive a screw right through your fancy top.  With the top secure, go ahead and attach some clamps (or all the clamps!) and let it dry.
Step 10:  Fancy Pieces of Flair
Making up (kissing ass) for my intro, my wife occasionally (usually) has great ideas when it comes to add-on's for my projects.  In this case, rather than just painting the backer board with a pop of color, she recommended using removable wallpaper for a little personalized fun.  We had our daughter choose her own pattern (out of our choices… otherwise we'd have princess unicorns) so that way she would be more accepting of a new piece of furniture showing up in her room.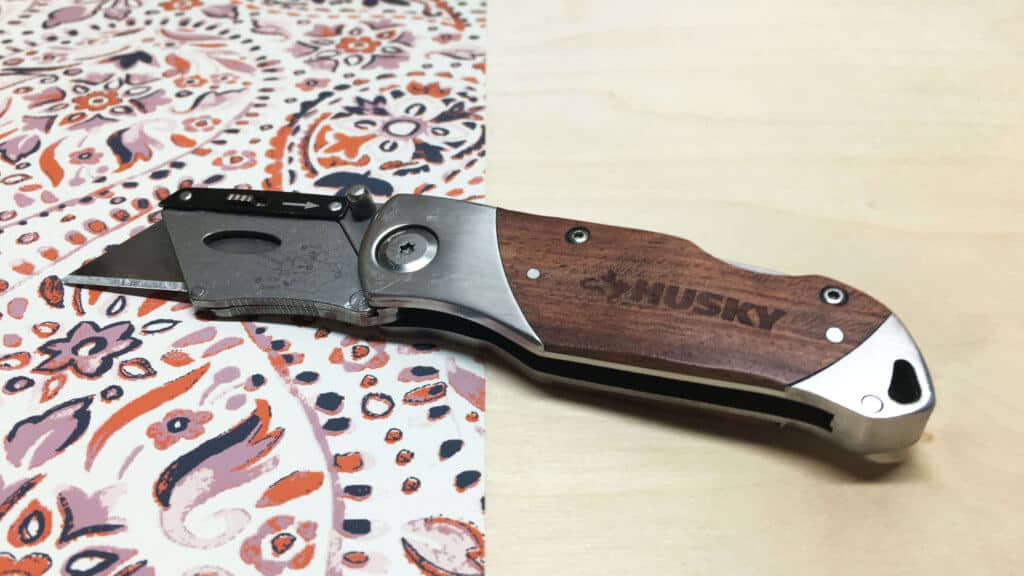 For the backer board, I cut a 24″x 48″ project panel sheet of plywood underlayment down to 22.25″ x 34′ with my table saw.  Once I had a good dry fit, I started attaching the wallpaper to the inward facing side.  I'll admit… this is one of those jobs where having an extra set of hands would be really useful given how… well self sticking it is.  If you've ever pulled a piece of plastic wrap off for leftovers and had it fold over on itself and never recover… this is 1000 times worse.  With the first piece on, depending on your pattern, you can have an easy time of matching up the second piece or you can unleash a string of expletives like I did until you get it right.  Using a (really awesome looking Husky tools folding) utility knife, cut away the excess.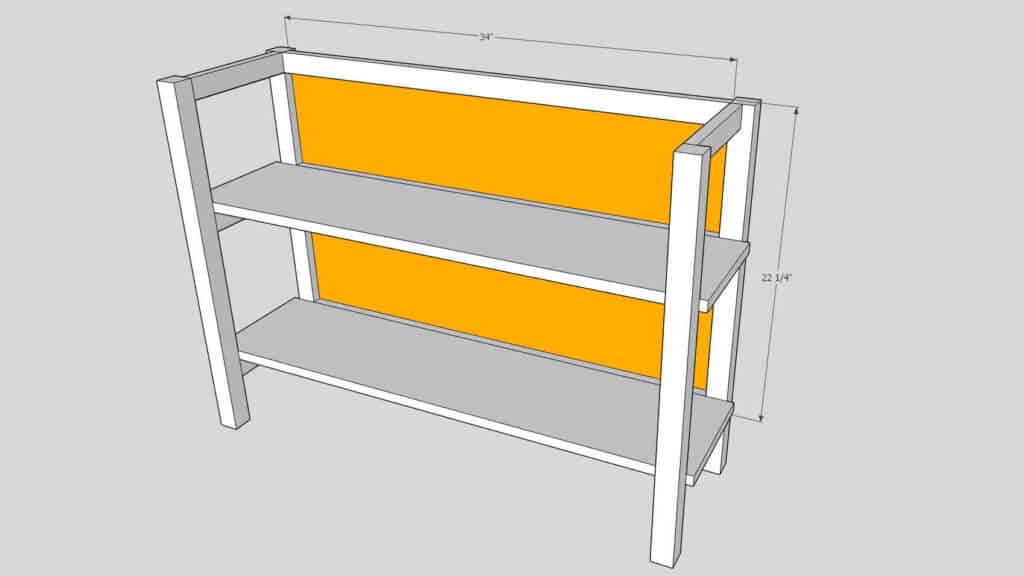 I then attached the backer board with a couple brand nails from the back to the lateral supports and then called it a day.  This build is done.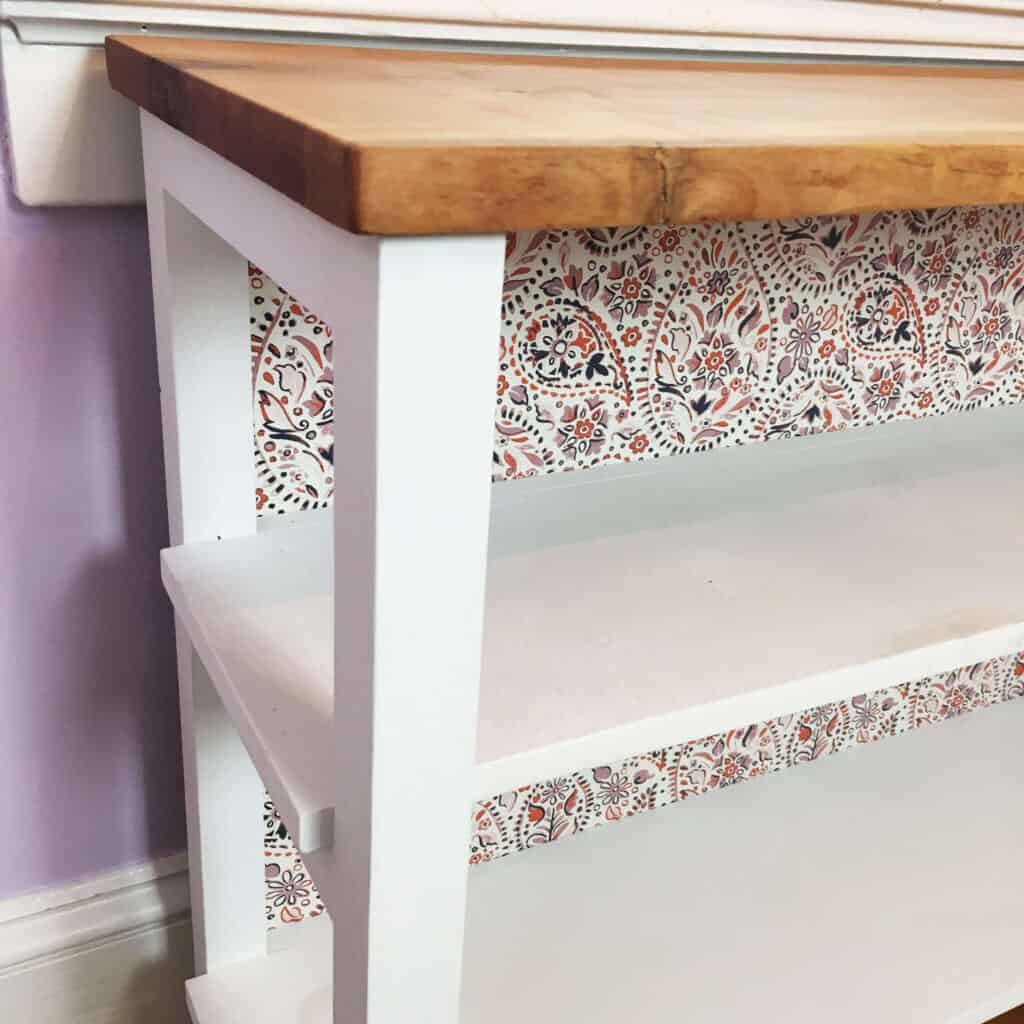 ~Lazy Guy