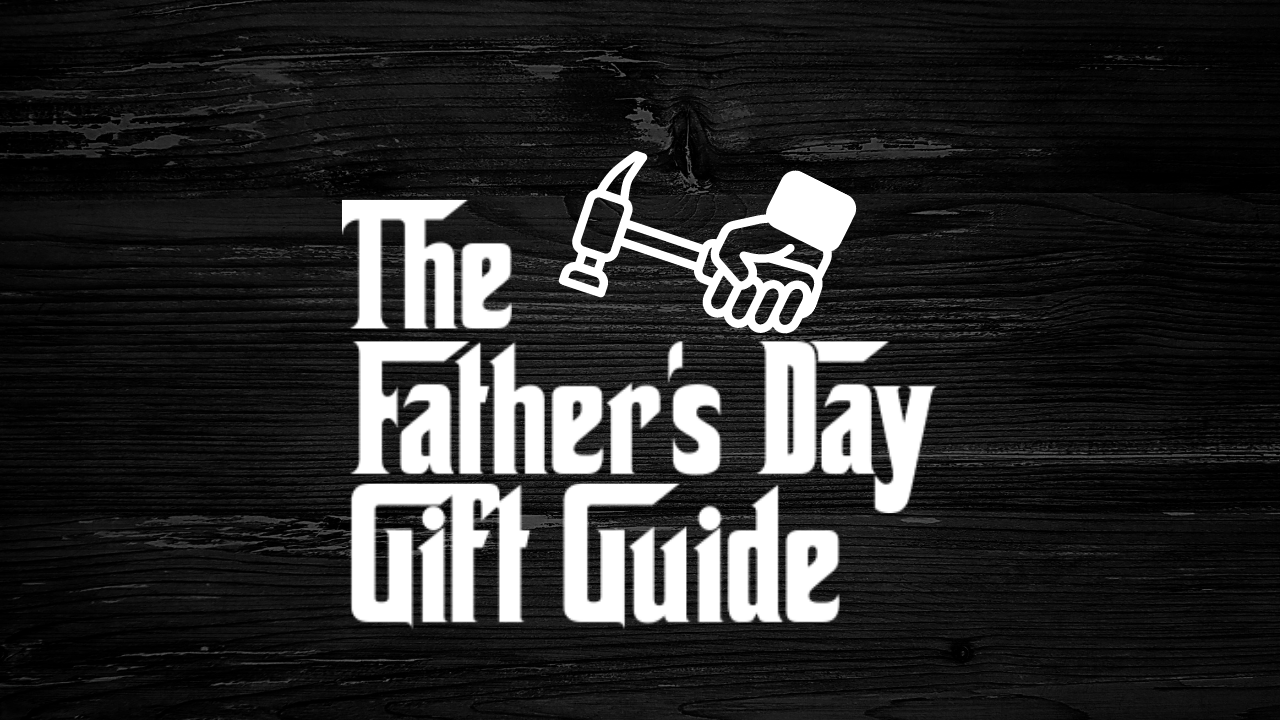 In case you forgot… Father's Day is just under 2 weeks away. Ah crap. And with how shipping takes these days, nothing is guaranteed to arrive on time. So I picked some quick Father's Day Gift Guide Ideas that should make it before dad gets disappointed with ties again (does anyone still give ties and socks). Now that I'm a dad of three, it's easy to see how priorities shift, so let's check out these picks and get buying!
For The Dad With Projects On The Go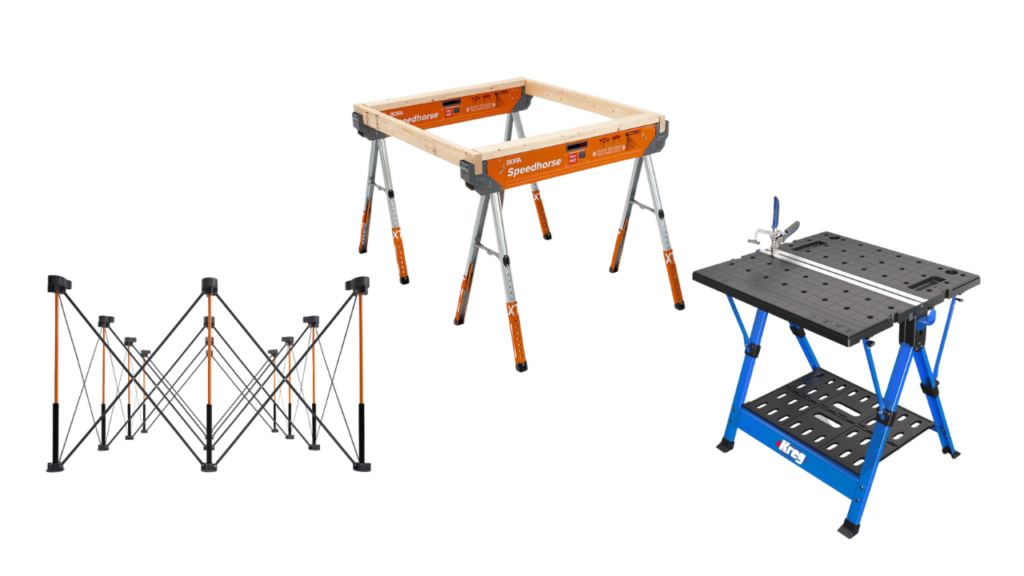 Whether his workspace is mobile or just a temporary set up outside of the garage, a worksite that can be stowed away is a major win. That's why I love these portable work surfaces:
Bora Tool Centipede – $80-$200 -Think Pop-Up tent, but for a workbench! This collapsible base expands to hold a sheet of plywood to create a work surface anywhere! Ranging in various sized, the Centipede 4×8, Centipede 2×4 or Centipede 4×4 clamp down on your plywood sheet and hold steady for a tough and temporary job site. They also come in 30″ and 36″ height variety for you vertically accomplished people like myself.
Bora Portamate SpeedHorse Sawhorse – $140-$200 (pair)- Strong enough to support 1500 lbs. each, the Bora SpeedHorse is a Sawhorse that's sturdy and unfolds with one hand in 1.6 seconds. Plus it has enough bells and whistles that you'll wonder why you used a homemade 2×4 sawhorse for so long. Go with the Original SpeedHorse (pair) or the Speedhorse XT (pair) that comes with adjustable height legs.
Kreg KWS1000 Mobile Project Center -$170 – Part workbench, part sawhorse, part assembly table and part clamping surface, the Kreg Mobile Project Center does it all. And oh yeah… you can connect them together to make a larger work surface!
For The Dad Who Loves Tools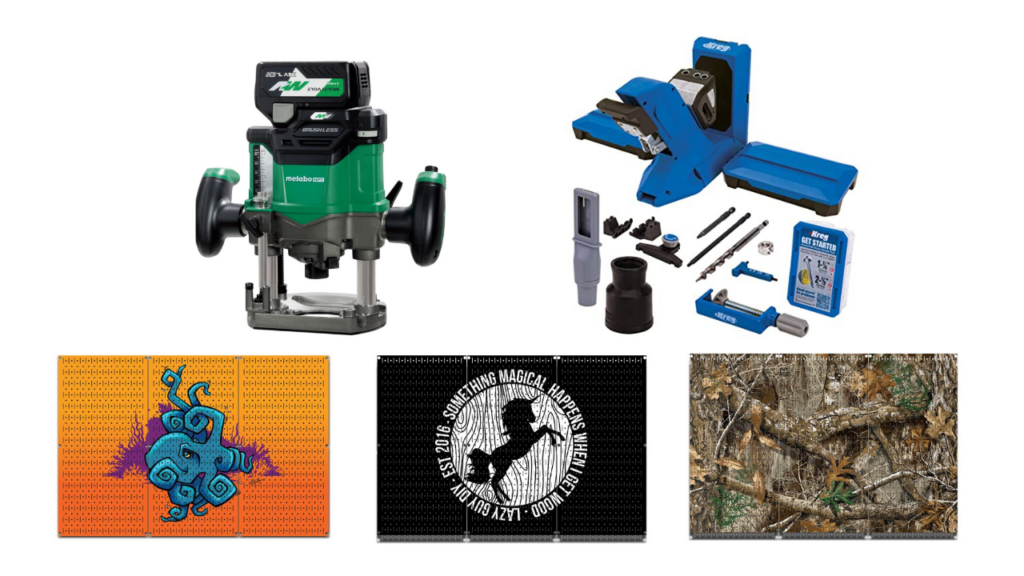 Metabo HPT 36v Plunge Router – $399 – Believe it or not, this is actually the first dedicated base, battery powered plunge router on the market. I got to go hands on with this a few months ago before release and loved it. My other plunge routers are either bulky and corded or the battery powered models had an aftermarket base. The Metabo is a great middle weight size platform with plenty of maneuverability.
Kreg's New Pocket Hole Jig – $99-$149 – Regardless of your skill level, pocket holes are a great way to join material in a furniture build. Whether it's a full assembly or just knocking out a carcass, Kreg's new line up has a ton of improvements you will love! The 520 Jig comes with a new pistol grip for securing a workpiece while the 720 Pro Jig automatically adjusts to the depth of the material. Check out my full review of the new Kreg Line Up!
Hangtime Store Custom Wall Control – We know I love my Wall Control pegboards… like literally… there's a Lazy Guy DIY edition of Wall Control pegboards for Woodworker Tool Storage (promo code "LazyGuyDIY15"). But what's even cooler is that now you can customize these metal pegboards for dad with ANY image, logo or graphic with Hangtime Store. Use Promo code "LazyHang10" for a discount and then pick up your accessories at Wall Control with my promo code there!
For The Dad Who Wears Clothes…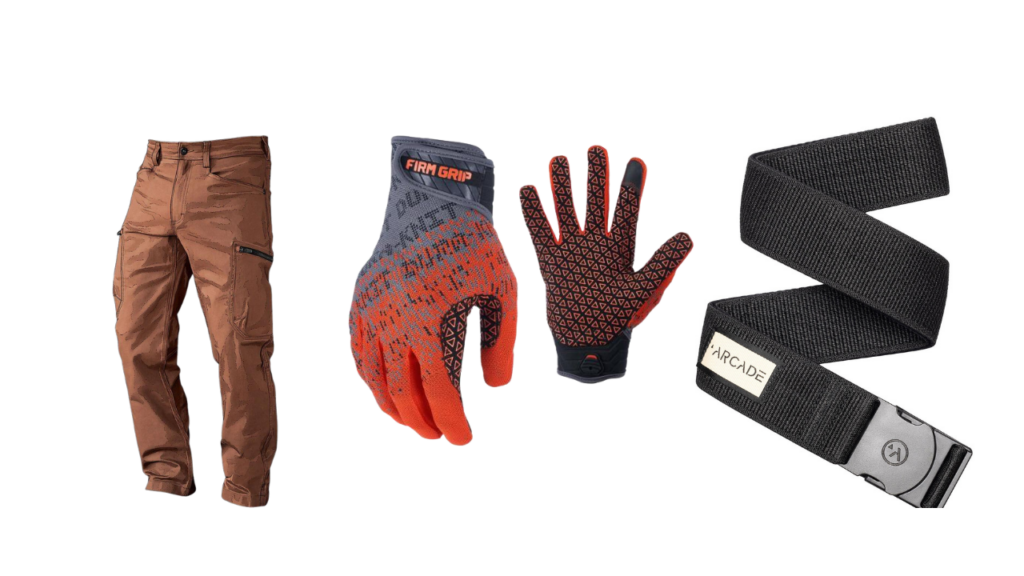 Okay… wait… all dads should be wearing clothes. Unsolicited nudism isn't as funny as it was 20 years ago and it's even weirder with a parent. What I mean is dads who wear work clothes. Check out these picks:
Duluth Trading Co. Firehose Boundary Pants or AKHG Stone Run Workpants – $74-$89 – I'm constantly trying out new work pants each year in a search for something that's are durable, comfortable and not ugly (because this dad likes to have style at Home Depot). What I like about the Boundary Pants and the AKHG Stone Run pants from Duluth is they check all the boxes and don't look like your standard work pant. Which means I can clean up quick, throw on a shirt and still have my workpants on to do something with the family. What I like about the boundary pants is you get the storage capabilities of a cargo pant, without the cargo pant stigma. If you're the sort of guy who likes skinny pants… they sell these in slim fit as well.
Arcade Adventure Belts – $25-$30 – So you got new pants? How about a new belt? I often look to the hiking and outdoor world when trying out new work gear. With a seat belt style closure, my wife asked if I buckled myself in the first time I used this belt. Indeed I did. But they come in a variety of colors, adjust to fit (most) sized bodies, plus they're comfortable if you're getting a little dad bod pudge.
Firm Grip Dura-Knit Work Gloves – $15 – Just like sneakers are being 3-D knit for a flexible and snug fit, these new Dura-Knit gloves from Firm Grip fit like… well… a glove. Easily one of the more comfortable work gloves I've ever tried with no sacrifice in dexterity or strength.
Have new favorites you're getting or giving for Father's Day this year? Leave a comment and let us know what your best picks are! Need additional inspiration? Checkout our past gift guides for more ideas!
~Lazy Guy