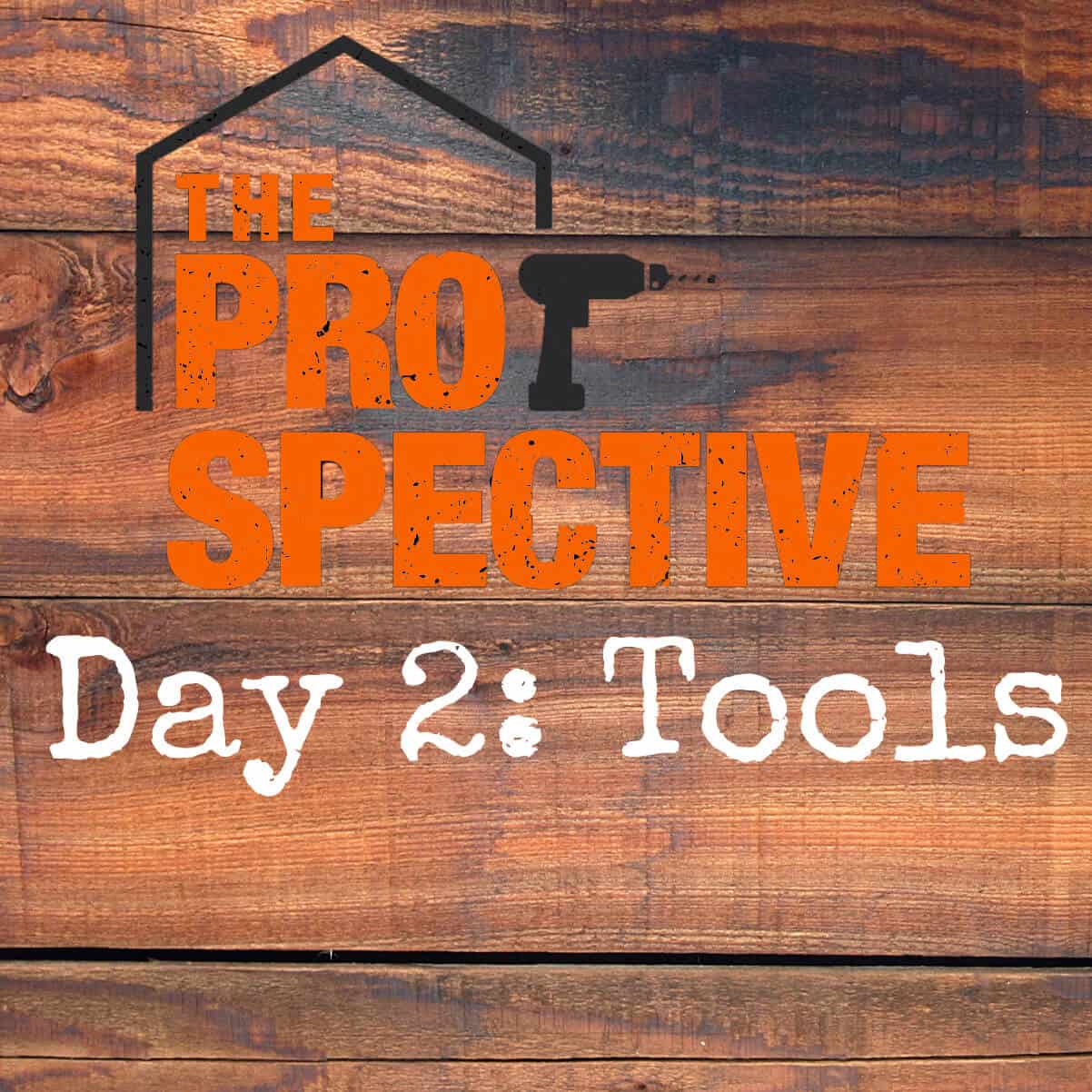 Day 2:  There's a Tool For That…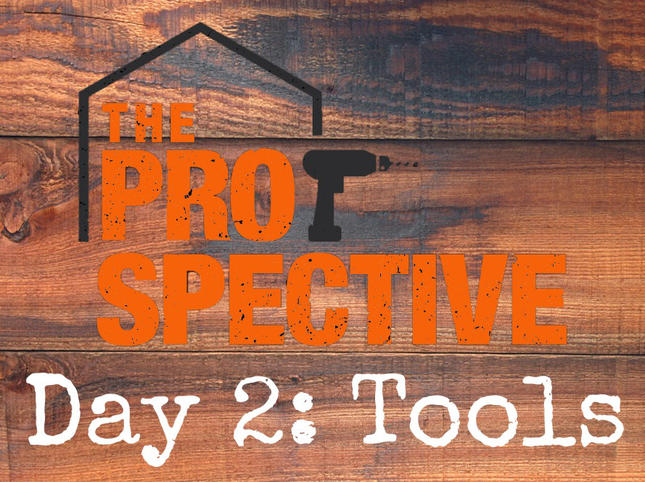 This was the be all do all reason for being in Atlanta for the Home Depot Event.  What were we there for?  Tools of course.  Mix in the biggest bloggers, major magazine writers, caffeine and a chic industrial warehouse space to really do some damage in and you've got yourself a recipe for some fun.  Ryobi, RIDGID, DeWALT, Milwaukee, Makita, Bosch, Dremel, Husky and Diablo were just a few of the heavy hitters there with a full repertoire of their newest products… and they wanted us to be hands on with them.  Each tool company had a designated space to let the chosen ones (Harry Potter, Anakin or Neo, your pick) come through and learn as much as they could with a blitz style approach.  Divide and conquer.  Take no prisoners.  When a booth has ballistic glass and requires you to put on eye protection you know you're in for a good time.
So what sort of stuff did we see?
*Before we start… This trip was sponsored by The Home Depot for the Pro-Spective Tool Program.  I have been compensated for my time but my opinions on these tools are my own.  And really… this was as close as you can possibly get to being a kid in a candy store as an adult.  So many tools!  So much fun.  And the cookies were good too!  Speaking of candy store, each of these tools will be available at The Home Depot, just be aware that links below are affiliate links which means a portion of your purchase will go to this site at no additional cost to you.  It's like a tip for carrying your bags or just being awesome!
Top Tools & Trends
Bluetooth Attachments 
The very same bluetooth that connects your phone to your car and lets you listen to songs from your youth and then discretely turn your volume down to avoid embarrassment at stoplights when you have the windows down.  For the record, I embrace my awful singing when at stoplights.  Just try and stop me when "Ice Ice Baby" comes on.
"A1A… Beachfront Avenue!"
Alright stop (collaborate and listen, I couldn't help myself).  But how does that apply to tools?  The first example is the Milwaukee Tick (pictured below).  This little guy is made to mount on just about any surface, whether you screw it down or attach it with an industrial adhesive, the basic idea is to have a LoJack for your stuff.  You simply connect the device via bluetooth to the (free) One-Key App and with your phone you can find any individual Tick down to a few feet of accuracy (like a find your phone app).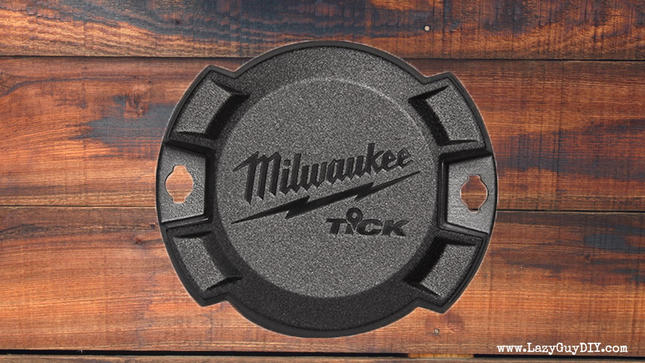 This is obviously great for contractors or people working at various job sites so you can easily locate your tools or equipment like ladders if they so happen to get misplaced or "walk away".  If you're not a pro but more of a DIY'er this is also great if you have a neighbor or family member that likes to "borrow" your stuff.
"Ted, do you still have my air compressor?"
"Of course not, I gave it back last week!"
"That's funny.  Because I can see it's sitting in the back left hand corner of your garage…. TED."
At about $29 for one or a 4 pack for $100 it's a great way to have a little piece of mind.  Now to pull the curtain away a little bit from this magic… the location finder only shows the last location the Tick was in contact with the One-Key App.  So that's great if you left your stuff behind somewhere, but will require some luck as it needs to ping off someone else's One-Key App to find the new location if someone steals your stuff.
Smart Batteries
This is where the whole bluetooth trend really blew me away.  While the Tick is a basic line of defense, Smart Tools (or more so smart batteries) are here for the tech savvy tool user to really take control of their inventory.  Unfortunately, Smart Tools won't do the work for you, but I'm sure Google will come out with that option shortly once their self driving cars stop crashing.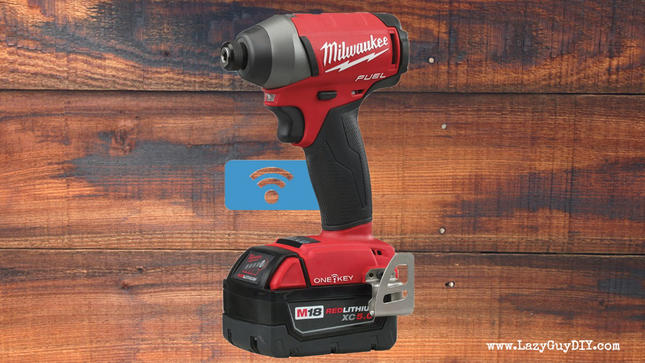 DeWALT and RIDGID all have a version of this concept ready to roll out in the near future, but it's Milwaukee leading the way with the One-Key app and batteries for most of their tool line up right now.  You get the same "find my tool" capabilities from these companies, but let's crank this up to 11.  Let's say your tool walks itself out of your garage, but with these apps you can actually shut the tool down so it can no longer be used, even if they swap out the batteries.  Your neighbor said he wanted to borrower your impact driver for the weekend and it's a month later?  Hit the kill switch so they can't continue to use it or even better yet… set off an annoying alarm on the battery that either helps you find it if you misplaced it or convinces your neighbor it's time to bring it home.  Not that paranoid, but still don't like people borrowing your stuff?  You can also set a distance on the apps where the tools will no longer work if they get a certain number of feet away from you and your phone.  So like Thor's Hammer, only those who are worthy (or close to you and your phone) can use the tools.  There's also a bunch of great performance info you can get sent back to you or user settings but that's not nearly as fun.
Cordless Everything
Brushless motors have opened a lot of doors in the tool world because removing the friction of a brush cuts down on power consumption and really allows batteries to produce at a level they never could before.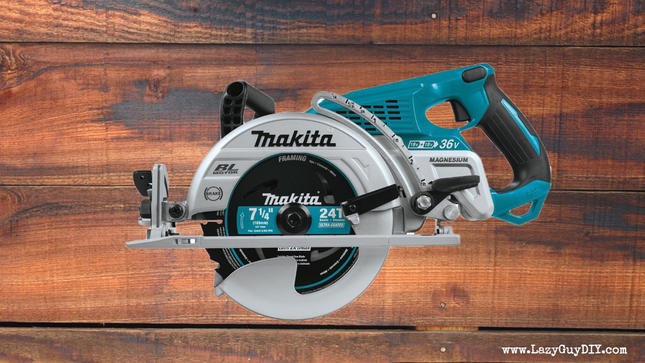 Something like Makita's Rear Handle Circular Saw (pictured above) runs off of two batteries (and was still light as a feather) and cut through material like it was nothing.  Usually when you start a circular saw you can feel the torque tilt the saw in your hands.  Not this guy, it was smooth at the start and had an electric brake to immediately stop the blade.  You get the feeling of a precision instrument rather than a wild tool of destruction.  Even with how impressive that saw performed, that's not all brushless motors can do for the tool world.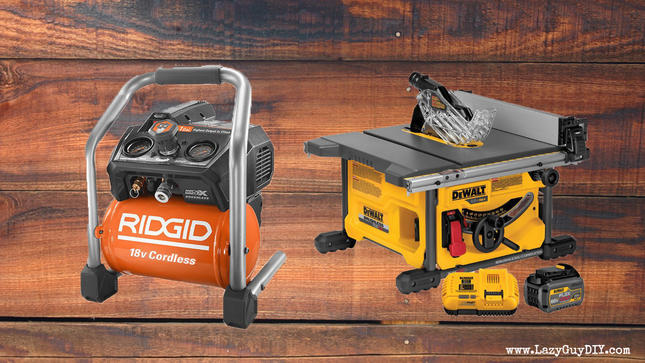 Have you ever seen a cordless table saw or miter saw before?  How about a battery powered air compressor?  DeWALT's FlexVolt series has been on the market for a few months now but the idea of having a Cordless Table Saw or Miter Saw is very new.   Even more so because you can still run an extension cord to them if you need to go the traditional route (it's a Hybrid like a Prius, but A LOT cooler).  This is something you couldn't even dream about a year ago.  Think about having the ability to work on a house flip without having to turn the power on?  Now throw in the fact that RIDGID has an 18v Cordless Air Compressor that you can hook any of your pneumatic tools up to (nailers, grinders, torque wrenches) and no job site or location is off limits.
Rule #76: No Excuses.  Play like a champion.  Even if you have a stage 5 clinger…
Indestructible Accessories
Okay, maybe not indestructible, but how about extremely tough and durable?  Sounds like the lamest Superhero, ever.  Introducing extremely durable man!  You throw everything him and he's still there!  Well in the real world, for starters, Bosch has a new line of drill bits that let you use them on pretty any material without having to swap out mid project.  We were able to drill straight through a cinder block (easily) move on to a piece of steel (even easier) and then (very easily) drive the bit through 2x material.  That's a line up that would normally dull a blade or bits in seconds.  Which is why you would have to constantly change your bit.  Carbide to the rescue!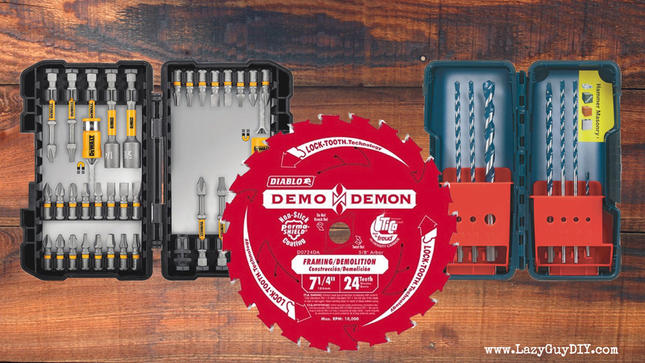 DeWALT's Max Impact drill and driving bits aren't new, they've been around for a few years boasting a 10x more durable impact rated bit than standard bits.   But why stop at 10?  The newest iteration claims to be 50x more durable than a standard bit.  No that's not a typo.  I said 50 time more durable than standard bits.  That's right… 50 is the new 10.  With two different areas on the shaft of the bits absorbing the torque you get a performance that can actually hold up to the power of today's drivers.
But the belle of the ball was absolutely Diablo's Demo Demon Circular Saw Blade.  They took about four dozen lag screws and drove them into a 2x piece of material, laid asphalt shingles and metal sheeting on top and then placed plywood on top of that.  Then they fired up two circular saws to start cutting through the lag screws (remember the ballistic glass?).  The first saw had an Irwin Marples Demo Blade and the second had the Diablo Demo Demon blade (Marples vs Demon?  This already sounds unfair).  The Irwin shot sparks and died by the 3rd bolt sheering off multiple teeth.  The Diablo cut through every bolt without hesitation.  Don't believe me?  Watch my Instagram Video of the cuts.  This is why I always recommend swapping out factory blades with the red guys from Diablo.  They did a similar head to head with reciprocating saws with pruning blades cutting through 5″-6″ logs.  I won't spoil it for you but the results were en fuego.
Unexpected Awesomeness
A battery charger, a vacuum and a garage door accessory all walk into a bar… Sounds boring right?  Take another look because these little guys pack some serious punch.  Ryobi's Garage Door Opener is already one of the most versatile electronics in your garage (with bluetooth, One+ battery charging and a parking sensor to start) but one of the newest snap on additions is a motion sensing security camera.  If you're worried about the security of your garage or want to know who's stealing beer out of your mini fridge, add this to your growing inventory of Ryobi add-ons to give your opener an eye in the sky.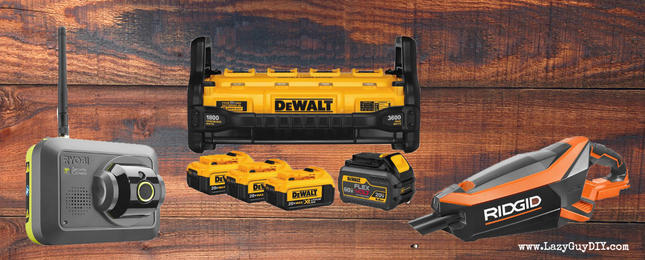 Remember the old Black & Decker Dust-Busters?  If you gave one of those tired units some of the MLB's alleged "cream" or "clear" banned substances then you'll end up with RIDGID's 18v hand-held shop vac.  It's the strongest hand-held vac on the market and it has enough suction power that it makes the competition look like a bunch of asthmatics.  They've taken one of the dullest home cleaning products from the past and gave it enough power that it gobbles up handfuls of heavy nuts and bolts like it's the hungry hungry hippo that you've always wanted it to be.
And then there's the battery charger.  We've seen chargers before from other brands, but DeWALT's 1800 Portable Power Station is different from the other sheep in the herd.  For starters, it charges batteries consecutively (all at once) instead of sequentially (one at a time).  But oh yeah… this is a power station, which means it's basically a portable generator when you slap your charged batteries in.  You can plug your corded tools directly into this unit and while the flux capacitor isn't (it might not have a flux capacitor) spitting out 1.21 Gigawatts, it probably could power a normal DeIorean.  The power station fits nicely onto DeWALT's stackable tool boxes and is the perfect companion for those using the bigger FlexVolt tools on a powerless job site who need a quick power stash.
But Wait There's More…
Aside from the tools, the networking and the awesome volunteering opportunity that took place during the week, what the experience really provided was an opportunity to get a first look on quite a few tools & accessories that I'm going to use hands on in my shop over the next year.   I'll be bringing you multiple reviews each month in my own sarcastic and pop culture filled manner.  So sit back and get ready for heck of a year in tools made possible by the awesome folks at Team Home Depot.
I'm gonna need a bigger shop.
~ Lazy Guy
Missed out on day one of the Home Depot Headquarters tour?  Check it out here!