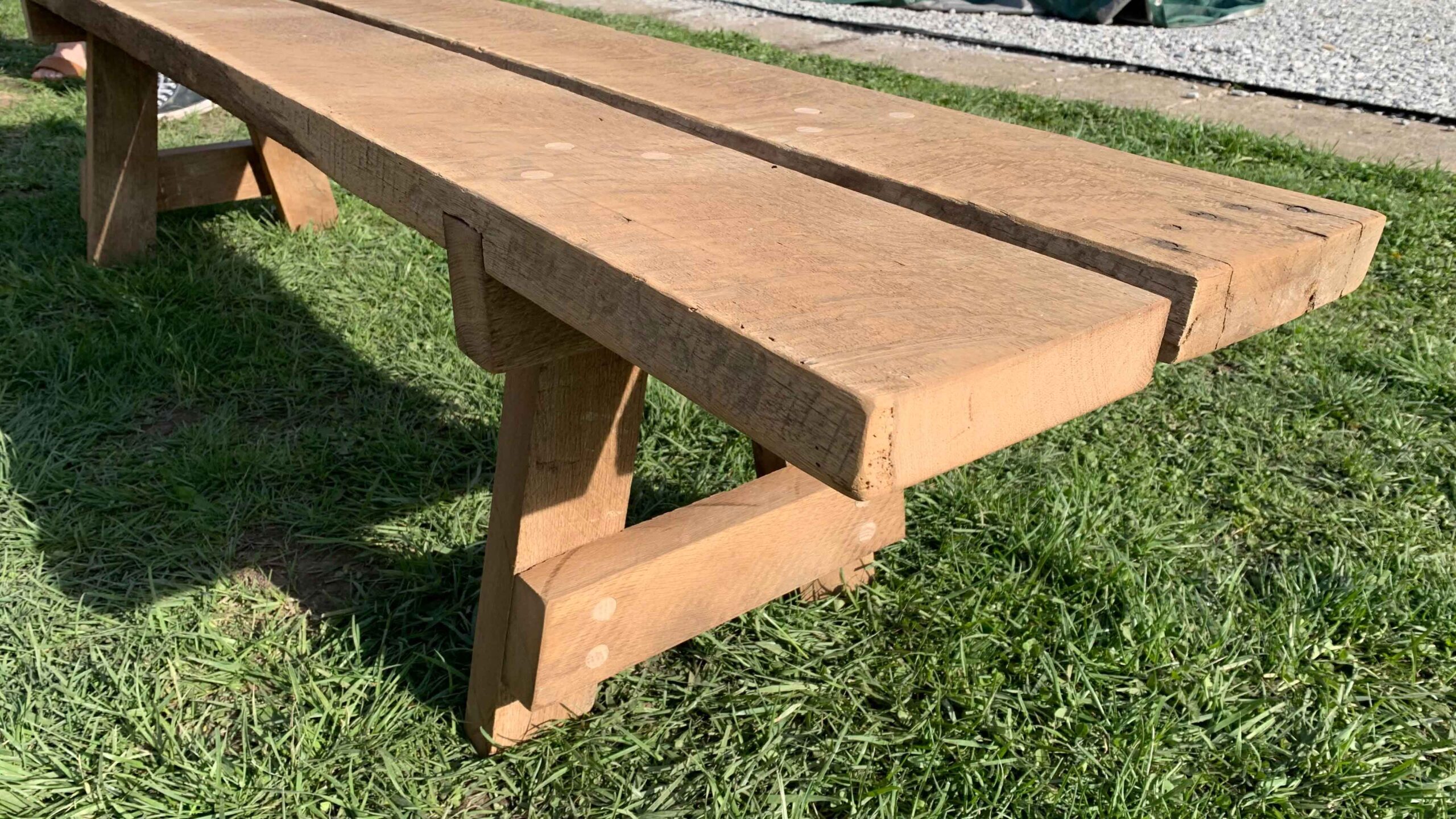 Years ago I made a 6 foot Farmhouse Style Bench as one of my first projects for the website. While I was filming a renovation tv show last month, one of my on camera builds was to make a Rustic Barn Wood Bench where I borrowed a few ques from memory to design this bench. So technically… wait for it… this is a son of bench… Yep. I went there.
For this build the materials I used were 100+ year old barn wood that I physically pulled out of a barn. Like farm to table (or bench)! So the beams I used were actually 2″ thick rather than the 1-1/2″ that you would pick up from your local big box store. If you're following along with the build plans on your own, just adjust the dados to 1-1/2″.
Bench Build Materials
Bench Dimensions: 16″ W x 18″ H x 82″ L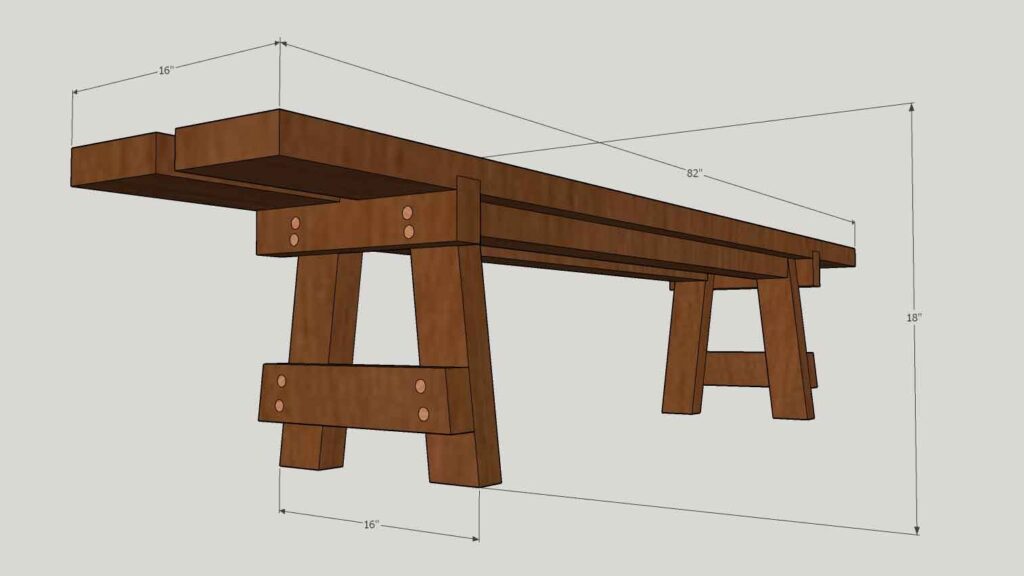 *Note these are actual measurements in the build plan below. If you substitute store bought 2x material you'll need to adjust any 2″ material in my plans to 1-1/2″ thickness.
Bench Seat – (2) 2″ x 7.25″ x 82″ boards
Leg Base – (2) 2″ x 3.50″ x 16″ boards
Legs – (4) 2″ x 3.50″ x 17″ boards
Leg Cross Brace (2) 2″ x 3.50″ x 16″ boards
Lateral Supports (2) 2″ x 3.50″ x 50″ boards
3/4″ dowel rod
2-1/2″ wood screws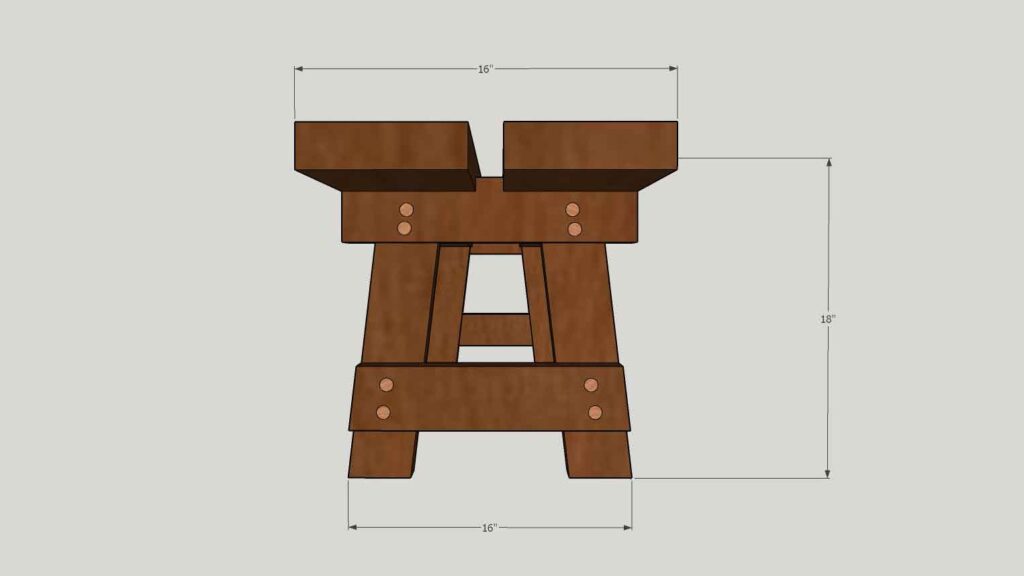 Tools & Supplies
Miter Saw or Circular Saw
Table Saw (only if you need to rip material to dimensions)
Drill & Driver
Sander
Hand saw
Wood Glue
Speed Square
Straight Edge
Clamps
Rustic Bench Build Step 1
The great thing about 100+ year old white oak when you pull it out of a barn is that there's not going to be any wood movement and these suckers were straight as an arrow. If you can't find barn wood like I did, go ahead and use 2×8's from your big box store. Cut a pair down for the seat base to 82″ long and they should be 7-1/4″ wide.
Using a sliding miter saw or a speed square with a circular saw with a depth set to 3/4″, cut a dado 12″ in from each end. Again, adjust the width of the dado to 1-1/2″ if you're using 1-1/2″ material. If you've never cut a dado with a sliding miter saw, here's a quick video from my channel showing you how. If you've never used a circular saw to cut a dado, mark out the cut, then use a speed square as a guide for the saw shoe and make multiple passes until you have dado groove cut. You might need a chisel to clean up the cut. If you have a router and a straight cut bit, I have a tutorial for a dado jig you can use as well!
Rustic Bench Build Step 2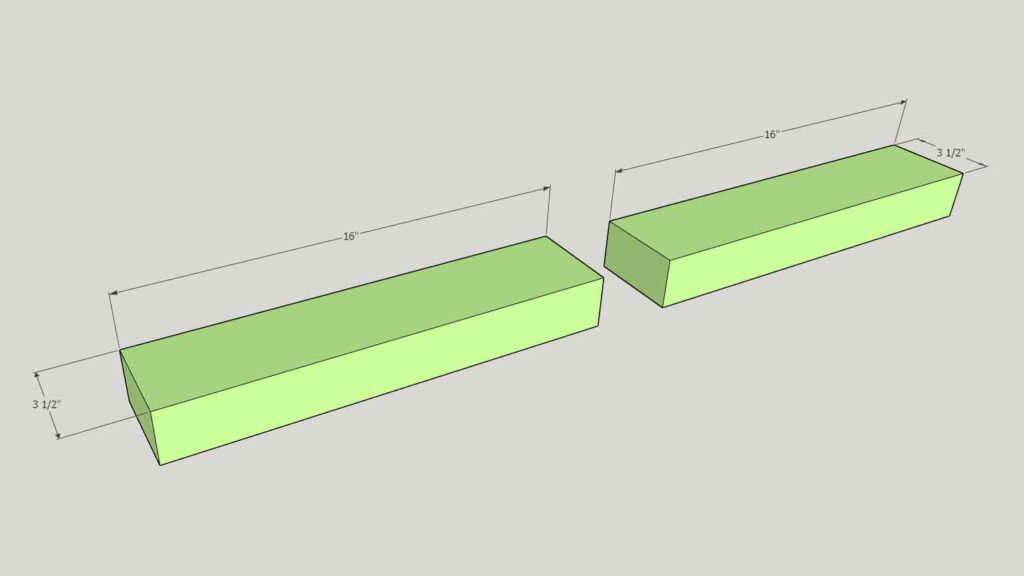 Now that you've cut those dados, you'll cut a pair of boards to 3-1/2″ x 16″ for your leg bases. When you lay out your 82″ seat boards, these two 16″ will slide right into the dados.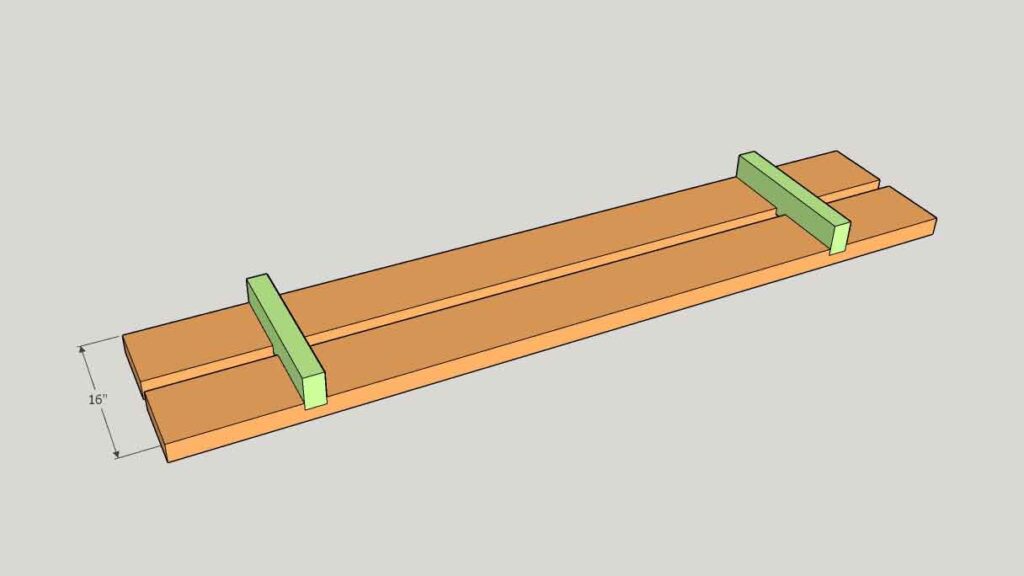 Add wood glue in the dado and clamp these into place. Make sure your ends are sitting flush and you clamp both sides so the support seats into the dado.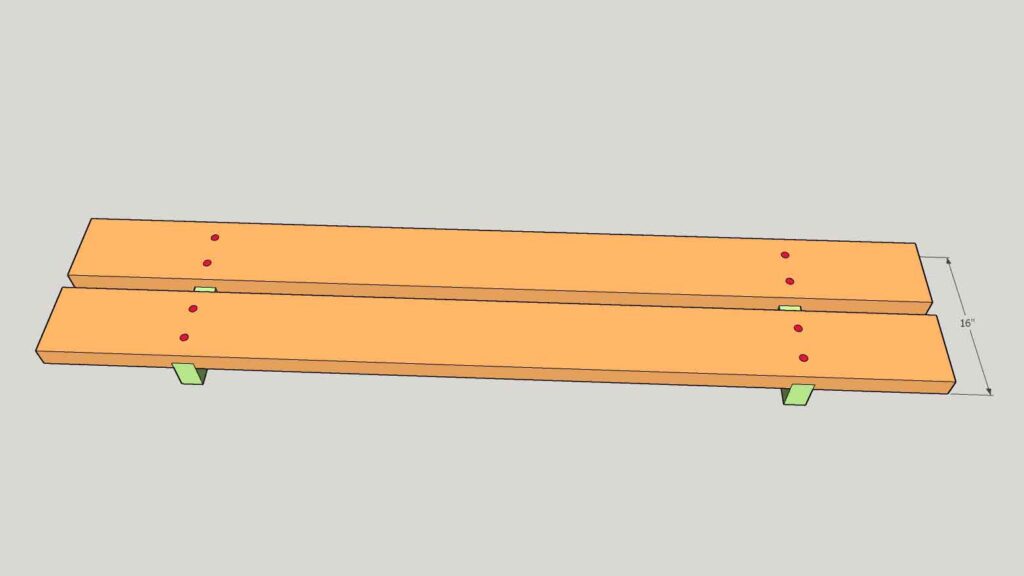 Once the wood glue has dried on the leg bases, we can flip the bench over to the top view. Using a standard drill bit, pre-drill a pair of pilot holes from the top into the leg base for wood screws for extra support. Before you add the wood screws, take a drill and the 3/4″ paddle bit then add a 1/2″ deep (don't call all the way through) hole on each pilot hole.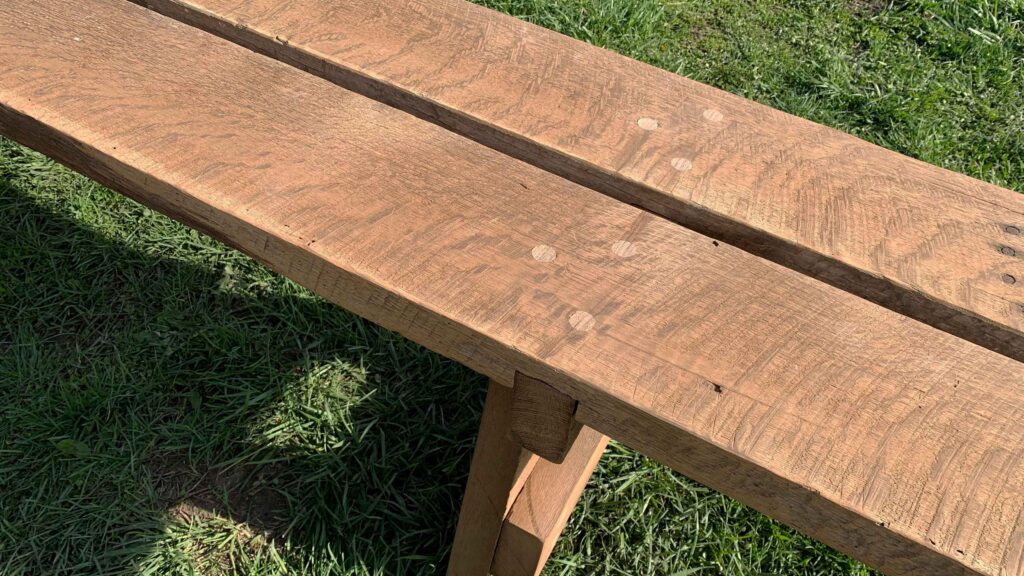 You'll then add wood screws into the hole, add some wood glue, then tap the 3/4″ dowel into the hole and cut off the excess with the hand saw. So now you look fancy and rustic… but you'll have the added strength of wood screws without seeing them.
Rustic Bench Build Step 3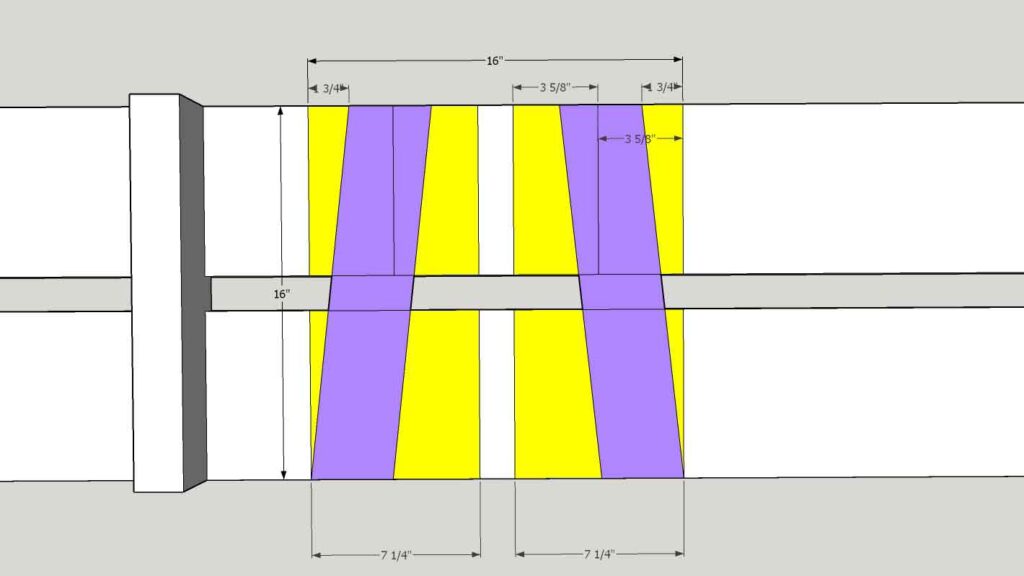 Full discretion, I hate angles. But I've dumbed down how I got the angles to the legs so even I can do it! On the bottom side of the bench I marked out a 16″ x 16″ square. I then marked out the 7.25″ seat boards from the outside in. Before you ask "why didn't you just turn this 90 degrees and use the actual boards?" Because I want to mark the leg boards on the edge and cut them. I then pre-cut four 3.50″ boards for the legs to 17″.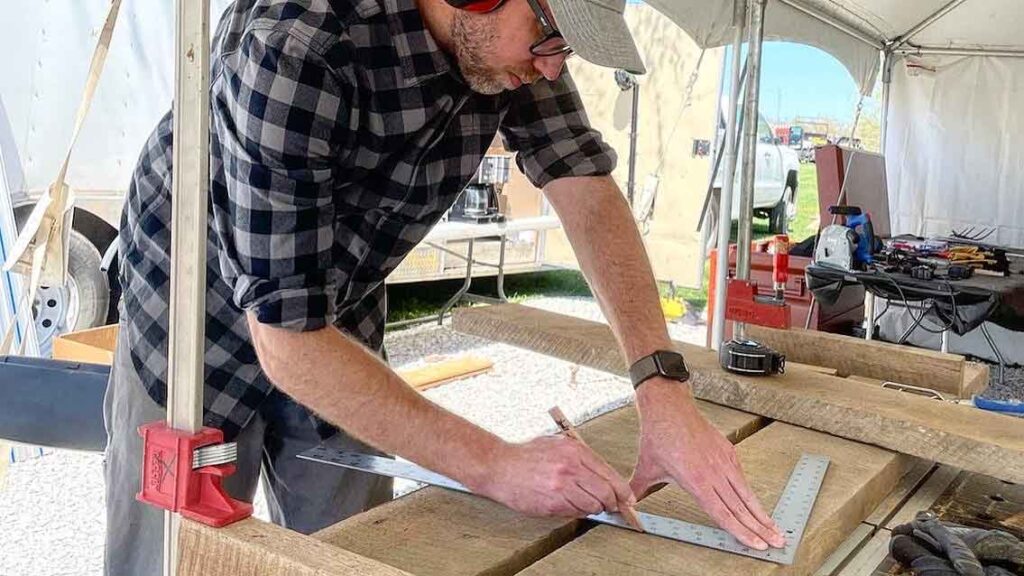 Using the bottom, outside edge of the 16″ x 16″ square, I angled the leg board so that it hits the center of the 7.25″ block at the top of the square (shown in purple). I then marked the underside where the legs hung over the edge and cut off the excess angles. It's something odd like a 21.3 degree angle, so I'd rather just do it this way and line up a miter for all four legs on the template. Also, if you're using 2x 1.5″ material instead of the 2″ barn wood I used, you'll need to adjust your leg length slightly to achieve and bench with 18″ height.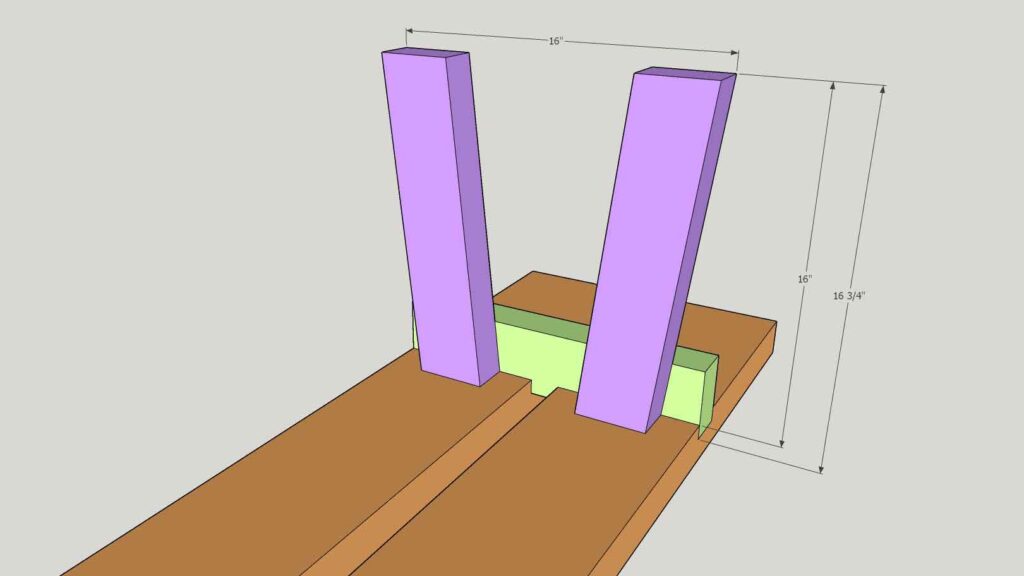 When attaching the legs, use wood glue and clamps at first to attach them. The legs will meet at the center of the 7.25″ seat and then the outer edge will extend even with the side of the seat. From foot to seat the height of the bench will be 18″ if you're using 2″ thick material.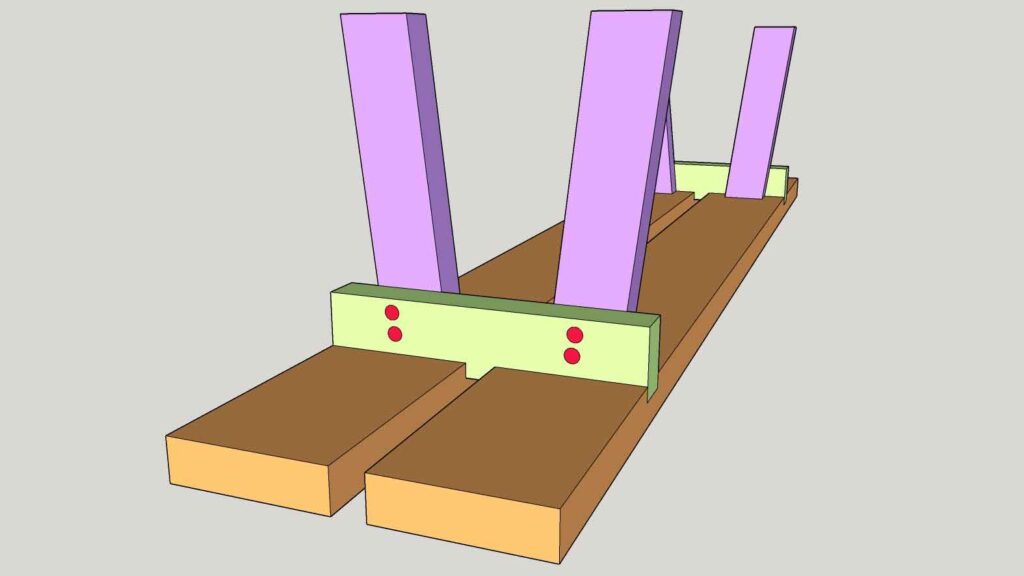 Using the same technique with the pilot holes and 3/4″ paddle bit, attach the legs to the base with glue and wood screws. Add the dowels and cut them and sand them flush.
Rustic Bench Step 4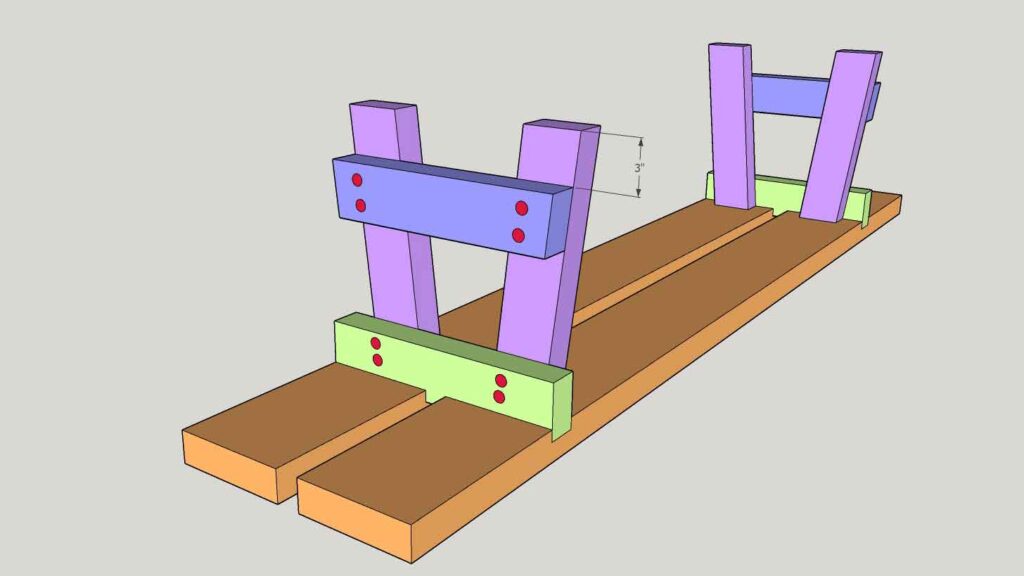 Cut two more pieces of 3.50″ material to 16″. Then mark out 3″ from the bottom of the legs. Line up the 16″ cross braces, mark the angle and hang over (angle should be the same as the leg angle) and cut off the excess. Using the same technique as above, glue, clamp, drill pilot holes, add 3/4″ holes, wood screws and then plug and cut flush with dowels.
Rustic Bench Step 5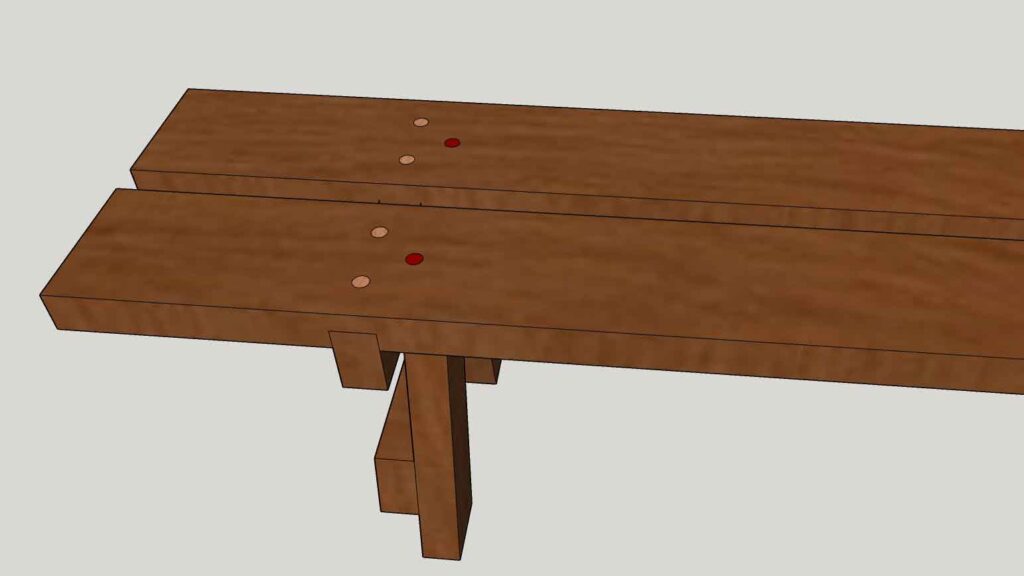 For added strength, I added another wood screw and flush cut dowel plug from the top into the leg below. Plus… those contrasting plugs look great on the final reveal. Sort of like a bowling alley lines.
Rustic Bench Step 6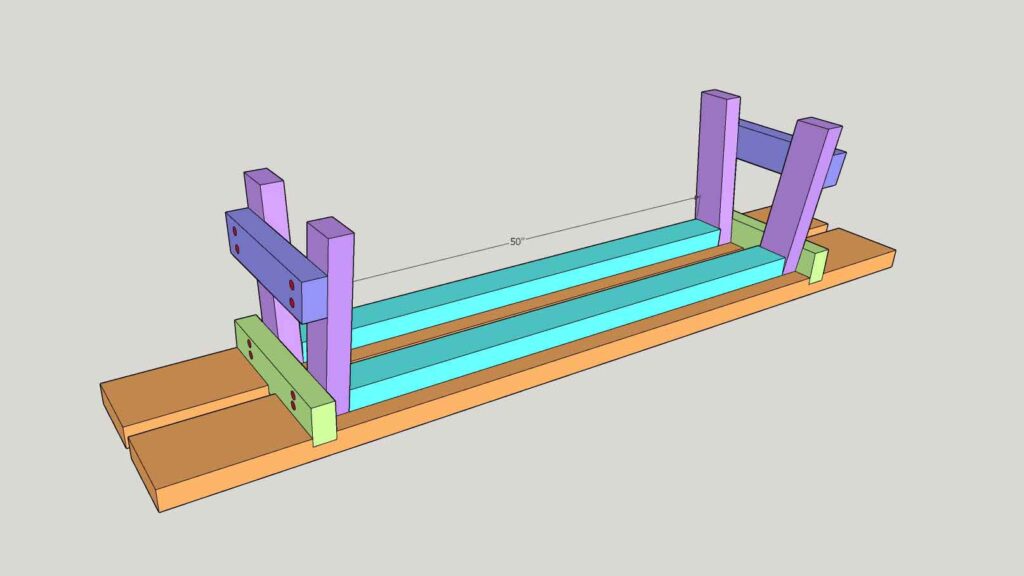 And just for EVEN MORE added strength… I cut a pair of 50″ lateral supports out of 3.50″ material. I lined them up, added glue, pre-drilled and drove wood screws into each to secure the bench. These supports work to push against the support in the dado to make sure the legs don't flex too much. So why this much extra added strength??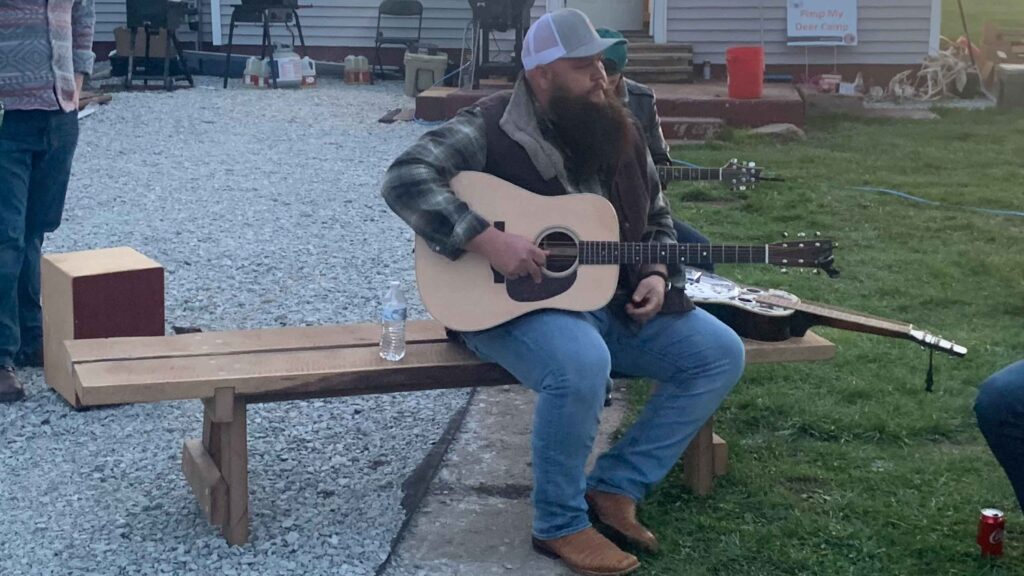 Country music star Larry Fleet picked up my bench shortly after I finished it and started warming up on it. During the filming of the renovation tv show, we had a live concert on the job site. But then…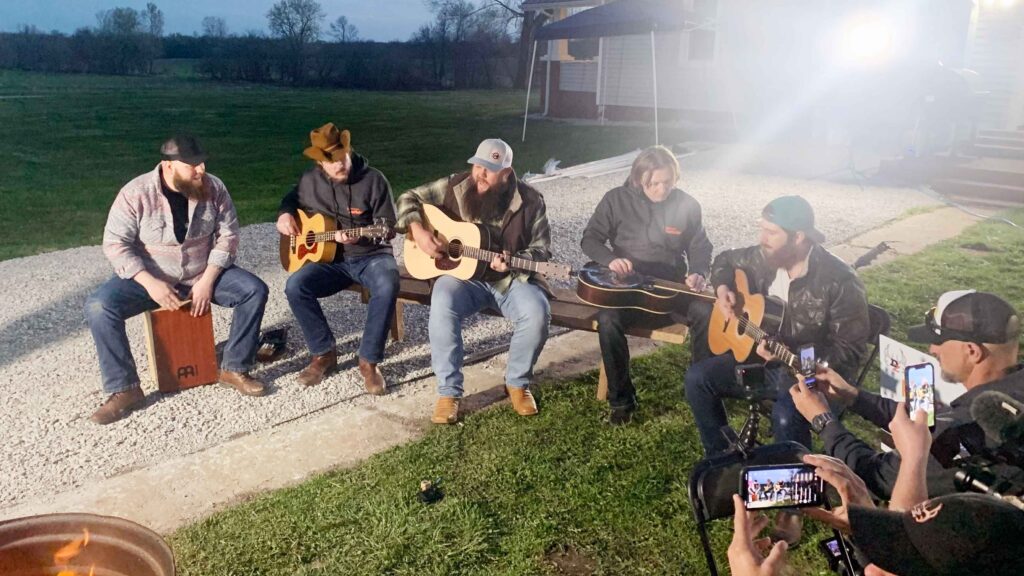 A few more band members joined him on it during the live broadcast… So when it doubt… make that build strong enough to hold a country music band.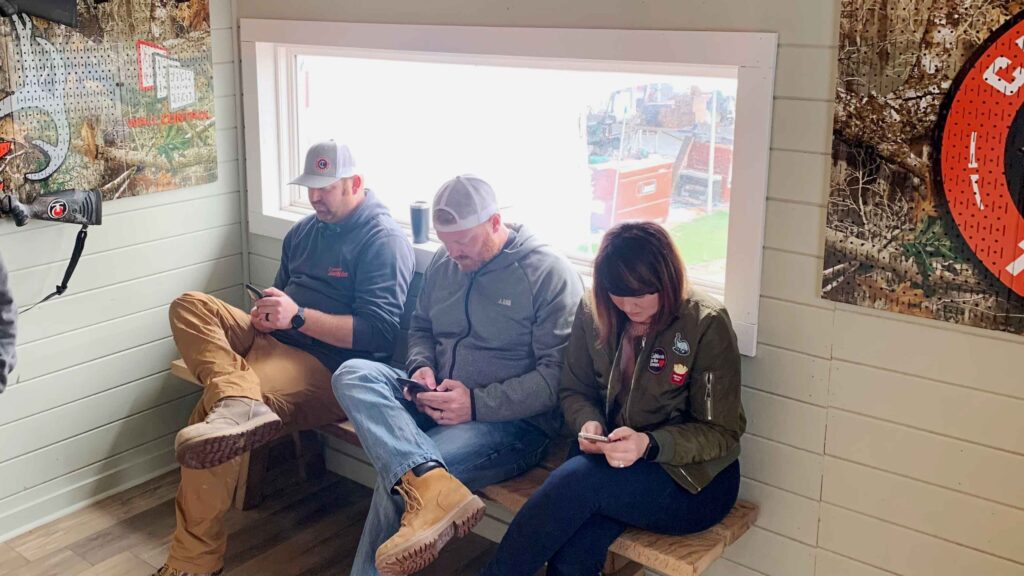 Or a couple makers/influencers.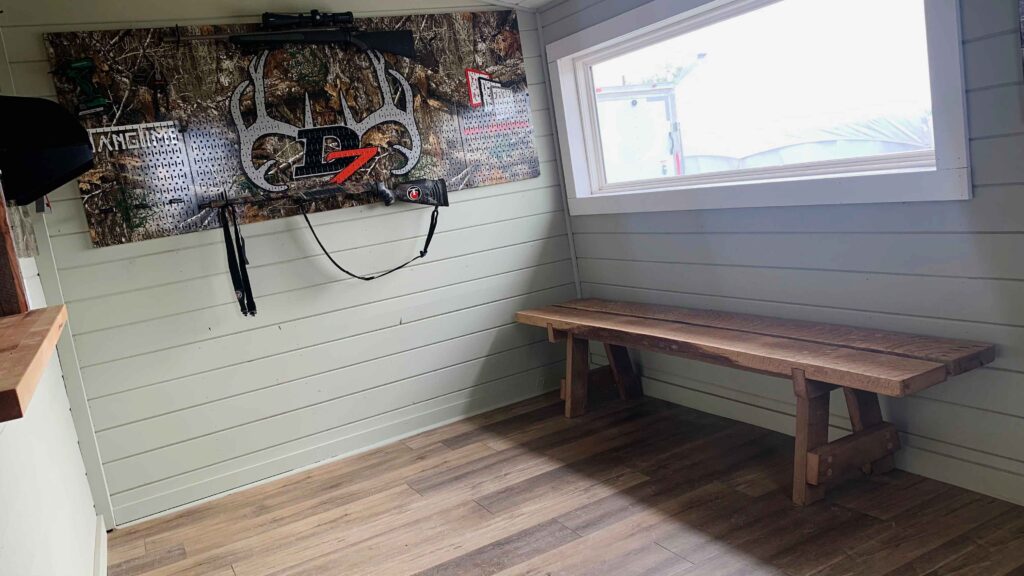 The final build went into a mud-room I flipped and will be used for taking off boots and gear. So the question comes down to how I finished this build? And the answer is… I didn't add any finish. In this case, it was 100+ year old barn wood that had been exposed to the elements for decades.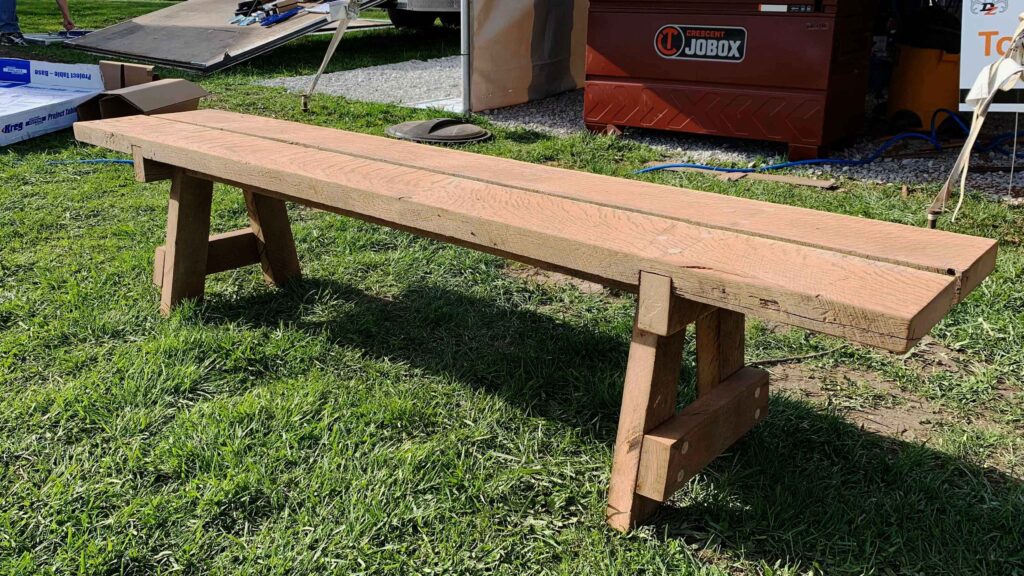 It didn't need to be protected or have that weathered patina messed with. It was pure… rustic… bliss.
~Lazy Guy