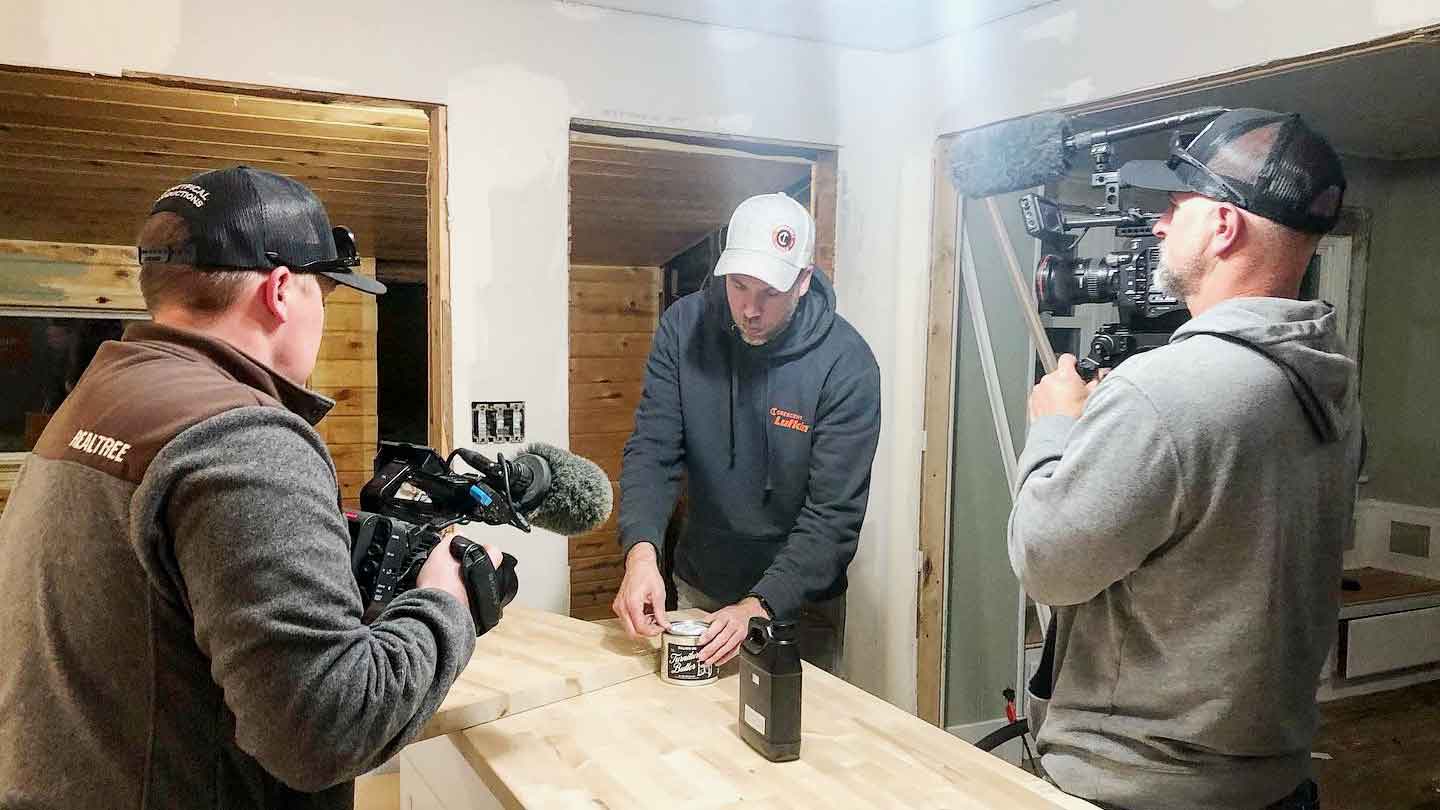 So a funny thing happened last week… I filmed a TV show. And not just a little guest appearance. This was a week long shoot for a pilot that could be potentially picked up by a major network. I've gotten a lot of questions from people asking about my experience so I figured I'd share how it happened and how it went.
When One TV Turns Off Another Turns On
In the 5+ years I've been running my channel, I've gotten a handful of requests from production companies to apply to be a contestant on a show or even host a show. It's actually pretty common so I'm not unique with that. But I mean… how could networks resist this extremely tired looking, middle-aged (crap… I am middle-aged) face? A few weeks before I was very excited about a callback on a Travel channel style show. What's more exciting to a person who's been homebound for a year than a show that lets you travel around the country? Ultimately, that dead ended. As did my dreams…
But as Fergie has taught us, we should work on our fitness and blow kisses or something like that. Also, Fergie has taught us we should spell words often in songs. Adamlicious. A to the D, to the A, to the M. L-I-C-I-OUS! Please stop.
That's when I got a DM, not a spam email, asking if I'd be interested in being part of a new TV show. Sure enough, my business partner Raechal, from The Builders Challenge got a similar DM asking if we'd be interested in being part of a kitchen restoration show. The initial conversation we had was that it was a competition show pitting teams against each other for a kitchen install. That wasn't the case. While Raechal and I have been business partners the last few years, we're not renovation partners and we'd definitely get our asses handed to us on a competition show. But we agreed to hear more about it.
Wait, It's A Hunting TV Show?
When the first call was scheduled, I was excited because a few of my internet friends were also included. Sarah from Tool Girls Garage and Rob from Ginger Woodworks. Then also… Hal Shaffer. He's the co-host of the popular Outdoor Channel Hunting Show DropZone TV. Wait what? Turns out, this was not a competition show. This was a renovation show where they were assembling a team of woodworkers and DIY'ers to flip a hundred year old cabin that was being used as the headquarters by the DropZone TV crew for their filmed hunts. Interesting.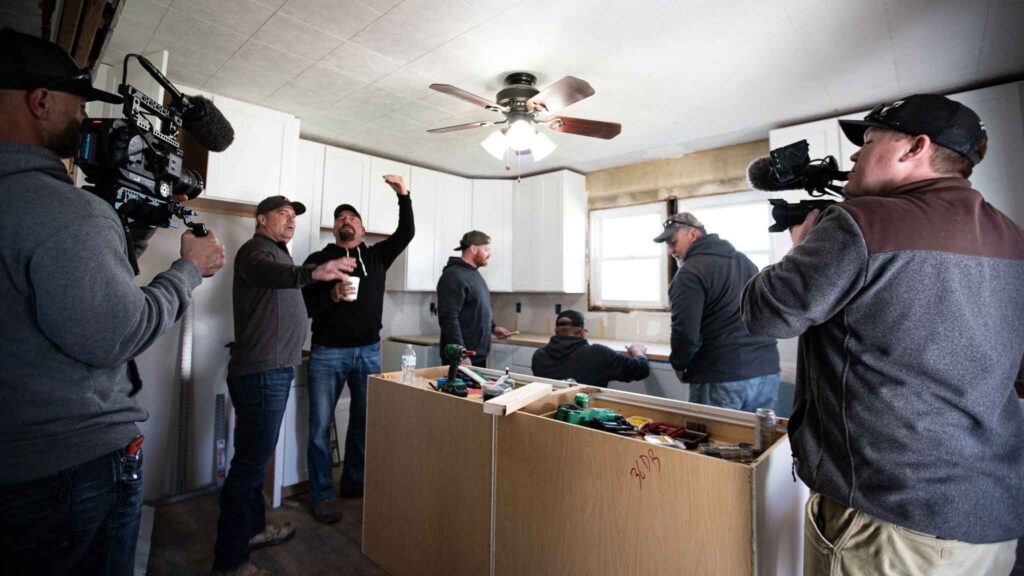 Quick side note. I grew up in rural Virginia. I learned to shoot and hunt from dad, but more importantly I have a ton of fond memories spending time with my family going to deer camp every season. I was also a shooting instructor during the summers at 4-H camp (where I met my wife!) where I'd teach kids how to respect and safely use firearms. I'm not here to politicize or argue guns or hunting, but it is part of my upbringing. With that said, Hal (our host) and crew are hunters and this renovation project is for a hunting cabin. There wasn't any hunting in the show, but it runs tangential.
How To Video Conference A Renovation
After a few days our team was assembled. Raechal and I, Sarah and Rob and then Dane from The Remodelers Life. Plus our General Contractor, Kevin from KM Tarkovich Construction. We had received a few interior shots of the cabin and learned that not only would we be flipping the kitchen, but also a dining room and mudroom. It was up to each of us to pitch ideas for the flip, then start planning what we'd need to make it happen. All through zoom calls and emails. Sight (and site) unseen.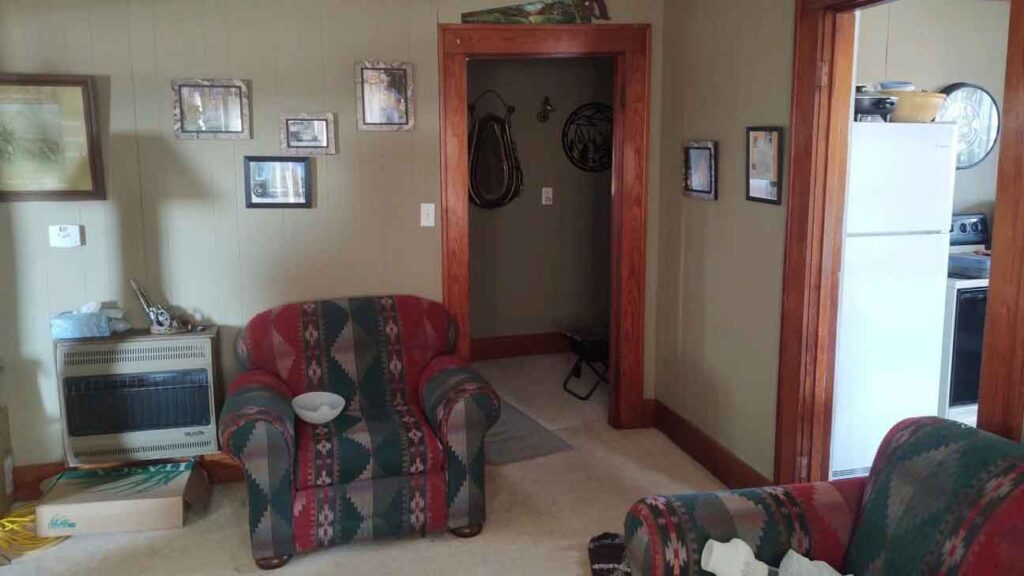 If you've ever renovated a house, especially one that's close to a hundred years old, red flags should be going off. With the focus on the kitchen and help from the show's sponsors Crescent Tools and Metabo HPT, we had a rough plan, a materials list and plenty of tools requested to have on site. Each of us as influencers (I know… I hate the term too), brought in some of our own brand partners to help with materials or equipment as well. I of course… brought in Wall Control and Hangtime Store for some truly epic customized metal pegboards for the mudroom. More on that later.
As for the dining room and the mudroom plans… it was sort of a let's wait and see when we get there and wing it approach. What could go wrong?
Welcome To Rural Missouri!
I mentioned before I grew up in rural Virginia. However… it's been a few decades since the state or county paved most of the dirt roads we would drive on. This part of Missouri hadn't caught up yet. Navigation would take you down dirt roads with creek beds flowing through them just to get to a destination like the hotel or restaurant. It's also Amish Country, so there were as many horse and buggies as there were cars on the road at times. Also… running to the hardware store wasn't convenient to anyone.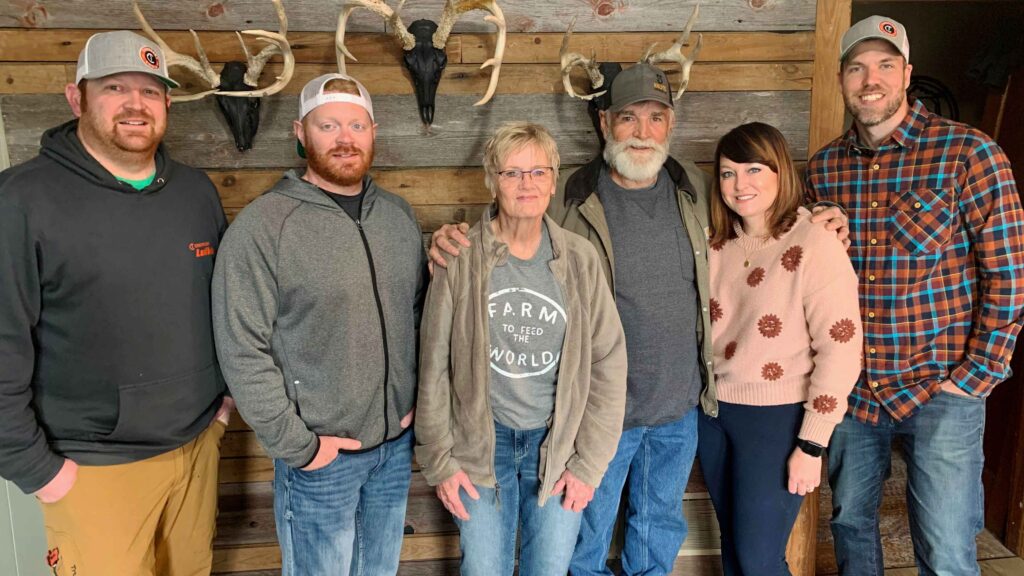 When we got to the cabin, we found it sitting smack in the middle of a multi-generational working farm. The DropZone guys lease the cabin and land for hunting, but Larry, the farmer, owns the house and 1200 acres around it. When the hunting guys aren't there, Larry and his family use the cabin for hosting family and get togethers. Even more fun… Larry's father originally borrowed money from THE J.C. Penny to build the house. So there's a history here in this renovation. Not a gut and go. Larry grew up in this house and had memories there.
Renovation Realities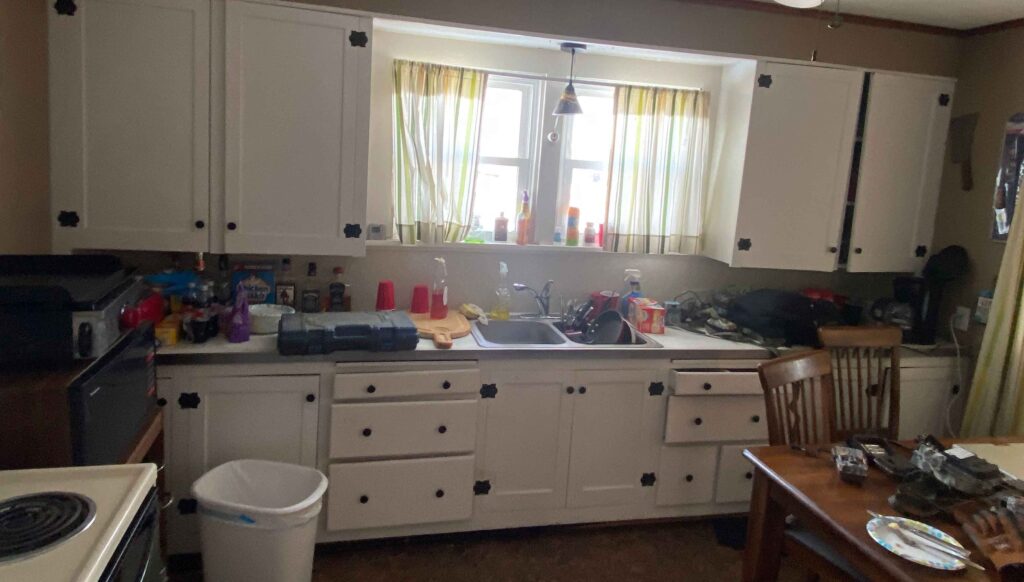 In good news, there was a scout crew with Kevin, who had done some demolition and framing before we arrived. In bad news… the floor in the corner of one of the rooms had about an 8″ drop that did everything from crumble the plaster walls to give door frames a slightly tilted and abstract look. That's being nice.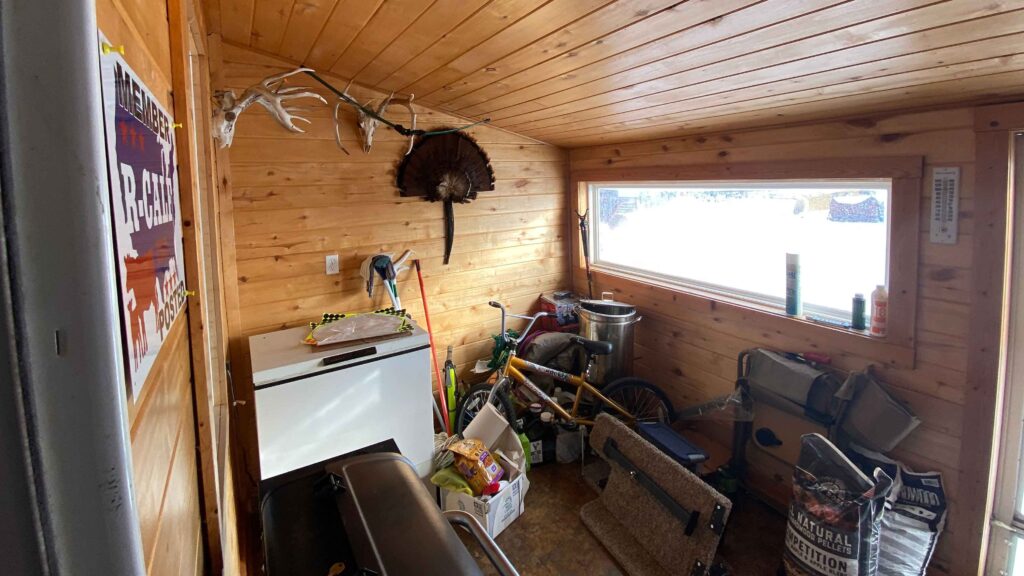 Oh, and the mudroom that was apparently solely my responsibility had an exterior door that was under 6 foot tall . I'd have to add moving that door and adding a full sized door to another wall to my list of responsibilities in the flip. No biggie (biggie, biggie, can't you see).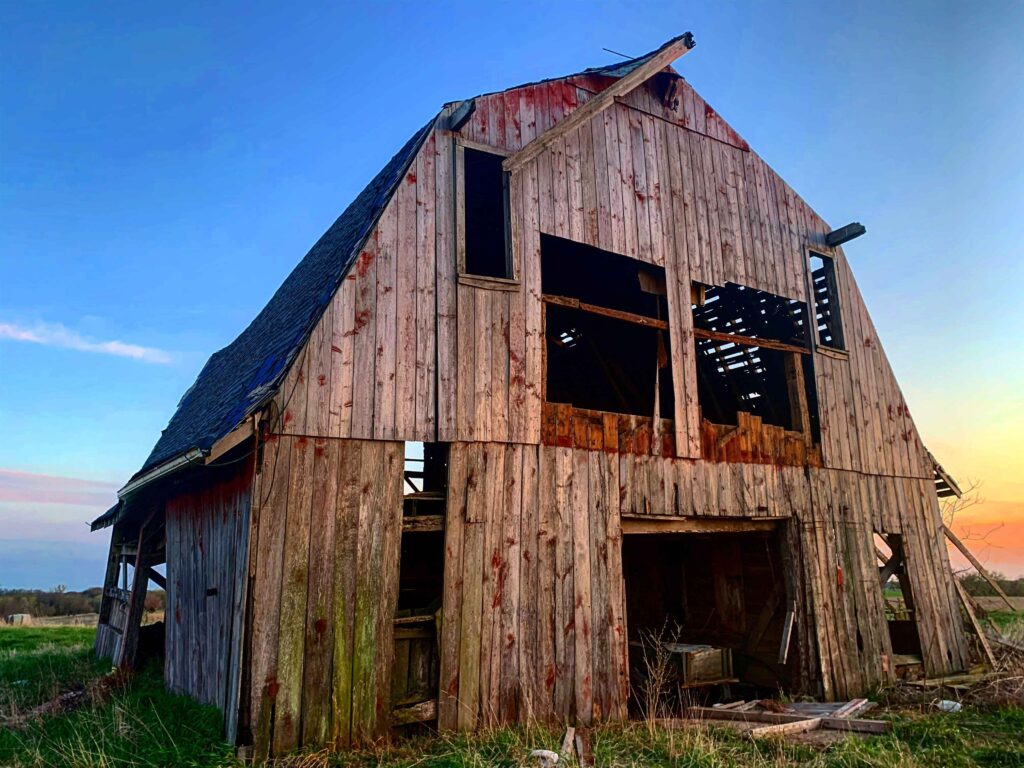 A bright spot upon arrival was that we had a basically endless supply of rustic material we could use in our renovation. However, that came in the shape of a 150+ year old barn that was going to be torn down soon. We could salvage whatever we wanted from it. So with a few hours of sunlight left, we took wrecking bars and reciprocating saws and went to work safely removing old growth oak beams and panels that eventually went into our furniture builds and trim work.
The Reality Of TV
The beauty of TV is that you don't see what happens exactly behind the scenes, so you generally don't get a feel for the panic. I'm fortunate enough to know a few people who have been on renovation shows, so I knew going in that days would be extremely long. Expectations would have to be curbed. But most importantly, you needed to be flexible. It's one thing to be at home in our shops or with all of our familiar tools to complete a project. It's another when you're working on site, with borrowed tools in high stress situations with a deadline. We pulled off a month and a half flip in 6 days with a core crew of six people with a ton of help from the production crew.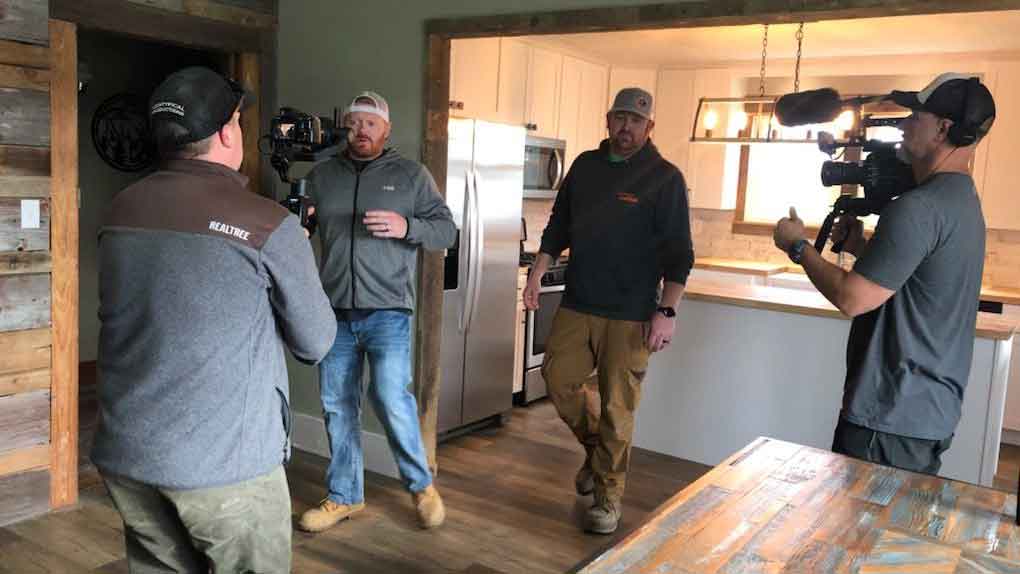 Speaking of… what about the production crew? Other than the fact they were truly amazing people who are your off camera friends. I can't say you had cameras in your face 24/7, but there were cameras everywhere and often. You have to be conscious of bad tool habits on camera and safety equipment at all times because we're the experts, they're not. But you start to get into a rhythm where they'd anticipate some exciting shots or you'd call them over before you started something new.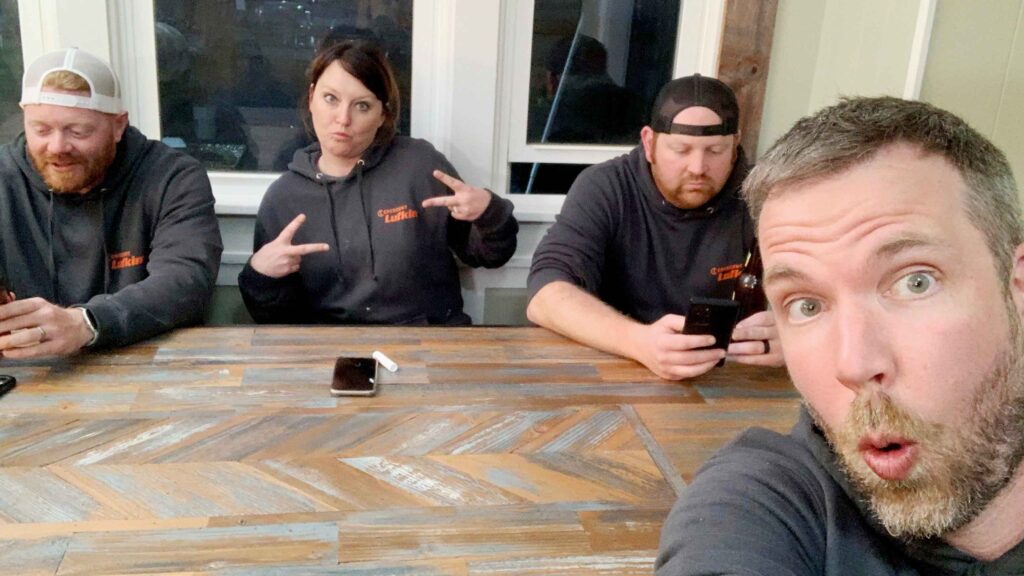 The beauty of hiring influencers to complete this work really shines with interviews and updates. Guess who is constantly on camera talking about what they're working on to their audience? Yep. This guy and my five friends. If anything, it was easier to have someone there filming you while you talked and not have to worry about setting up a shot or hit the record button and run quickly to get into position.
Lights, Camera, Action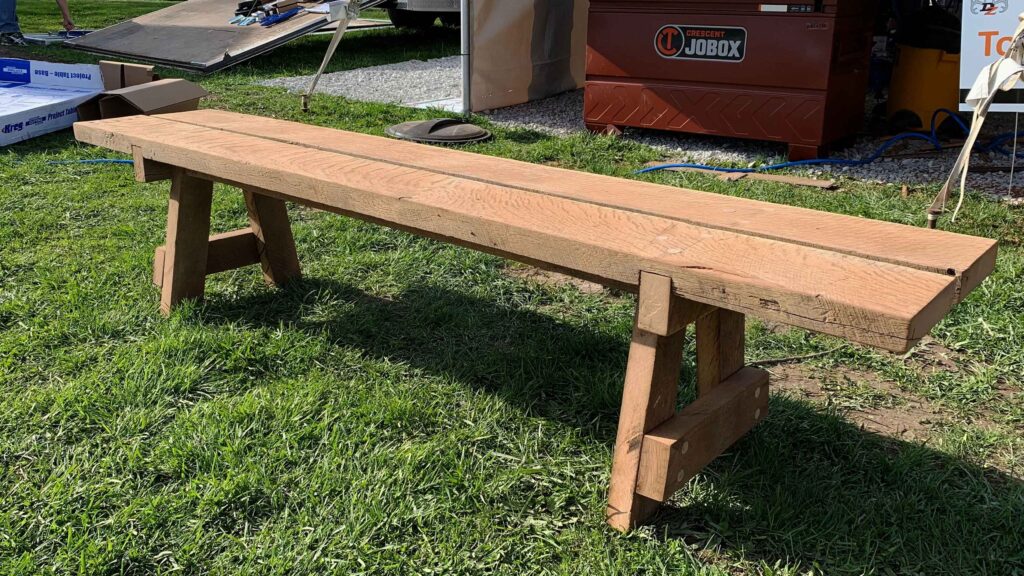 I'm a pretty laidback guy. In fact, I have a website that is a "laidback approach to DIY, Woodworking and tool reviews". You might have heard of it. So I got into my comfort zone on set by building a piece of furniture the first day for my mudroom flip. I took a pair of 150+ year old white oak beams and made a rustic bench for taking boots off. I had no plan going in and let the material speak to me. Yes that sound lame, but that's what I did.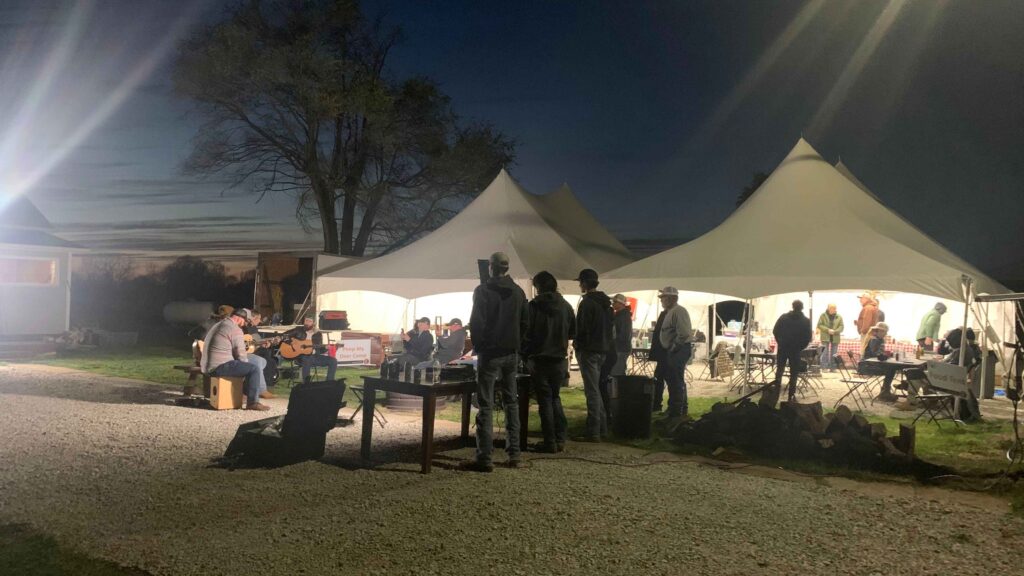 While this is going on, stars of other Outdoor Channel and Discovery Network shows are walking through, checking out progress and saying hello. Then a big tour bus pulls up. Rising country star Larry Fleet and his band have arrived. They're going to be performing an intimate concert for all the guests around a campfire by the cabin that night for the show. As the day winds down, the beers start cracking and the fire get stoked, someone grabs my newly completed bench and sets it up for the band to use. Now I am confident in my build techniques. Even one like this which was one of my fastest furniture builds ever… but if you ever wanted a furniture stress test, watch the big man who is the lead singer and his bandmates sit on your build and perform on camera, in front of an audience within falling distance of a bonfire. I might have peed a little.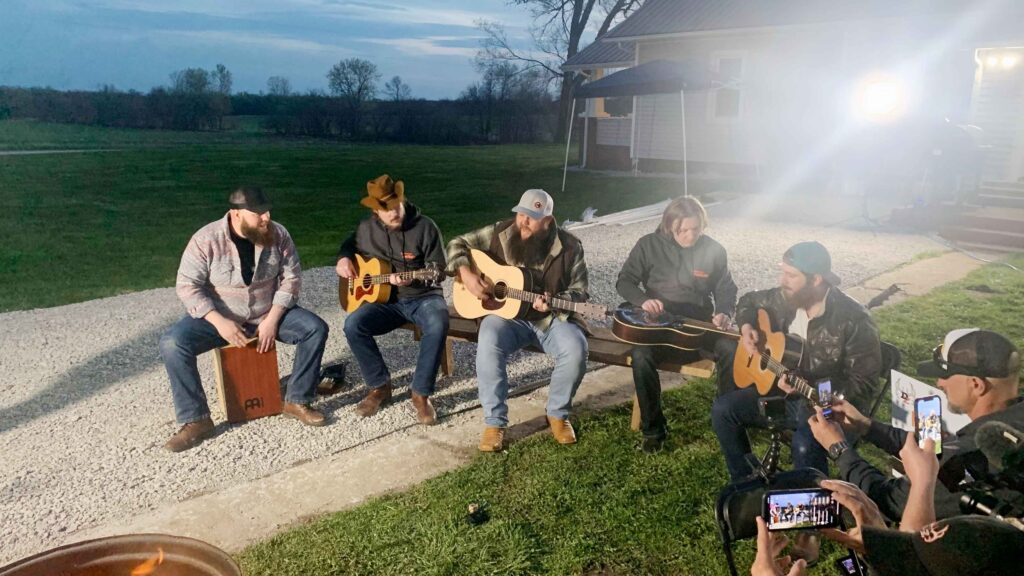 That moment was the most stress I had all week. After that, you put your nose down and got to work. You ate when you could and went back to work. You'd wake up in the mornings barely able to move, pop an Advil, hop in the truck and start knocking out projects. You could tell the production crew was starting to panic mid-week. To give you a clue as to what projects we had to knock out in 6 days, here's where we stood. Flooring had to be installed in 3 rooms (after one floor's foundation was repaired). Cabinetry, countertops, tiling, appliances, hardware had to be installed. That was just the kitchen. Rooms had to be painted, I had to move a door from one exterior wall to another (which had it's own surprises). Said hole from previous door had to be repaired and replaced by scabbing in wood paneling. Plaster walls had to be repaired or replaced with a barn wood accent wall. A window seat had to be restored. Trim had to be handmade and installed. And oh yeah… an entire dining room suite had to be built. Six days. Six people. Bring it.
Flipping Out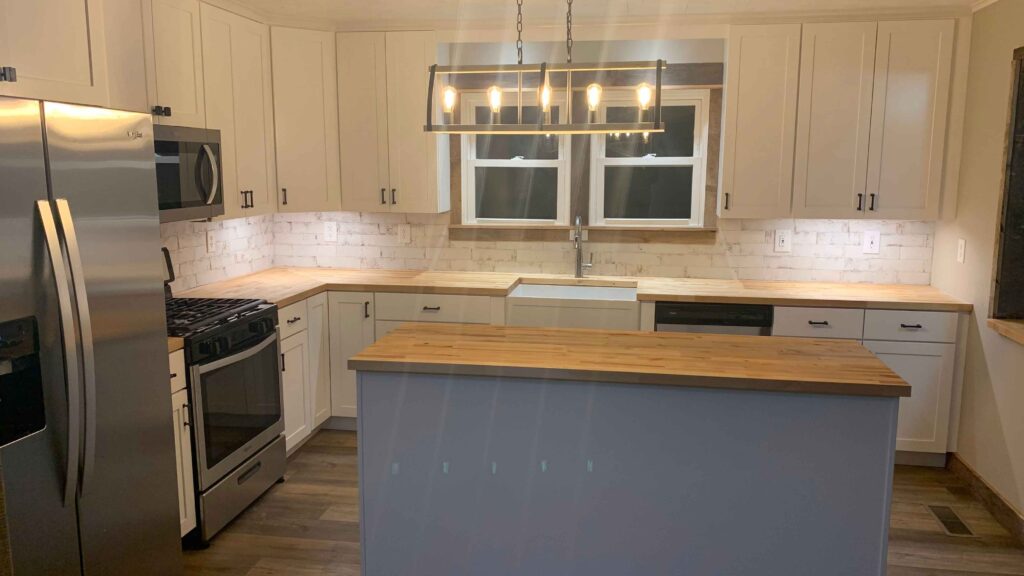 Amazingly, we wrapped production Friday night. The three rooms are seriously show stoppers. Rob and Dane have got to be Ginger Wizards with the magic they pulled off in that kitchen in that short amount of time.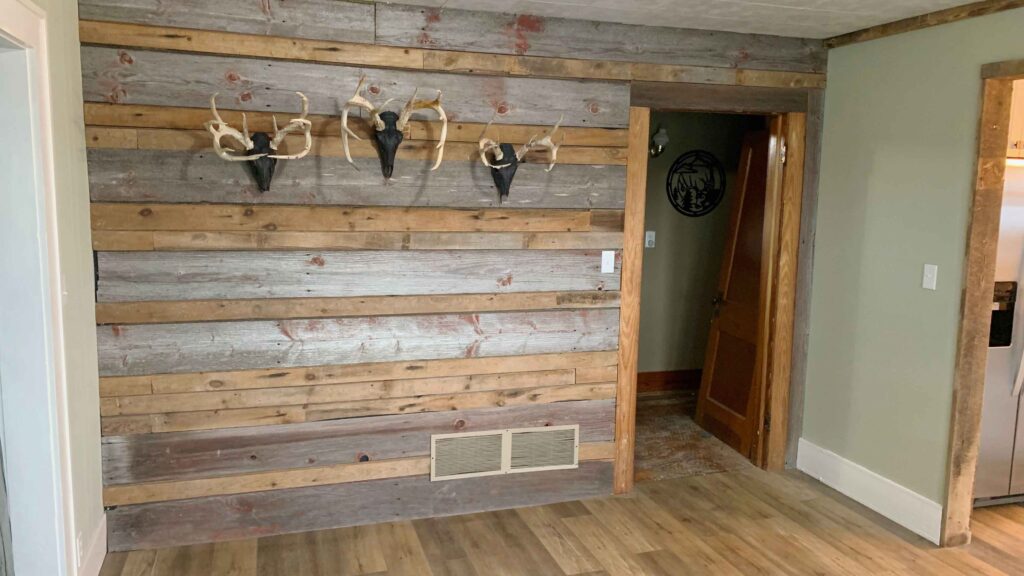 In what was once a den, the team collectively flipped into a dining room with plenty of custom pieces to go around. The barn wood accent wall is the perfect amount of rustic that compliments the trim we installed around the house.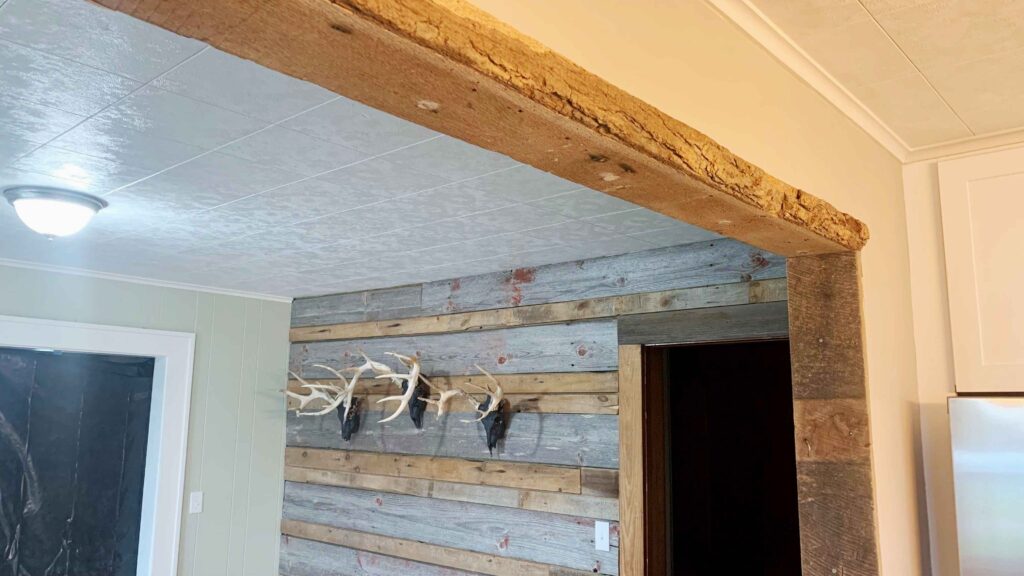 Also… this 100+ year old live edge white oak barn beam was a perfect fit for the threshold between the kitchen and dining room.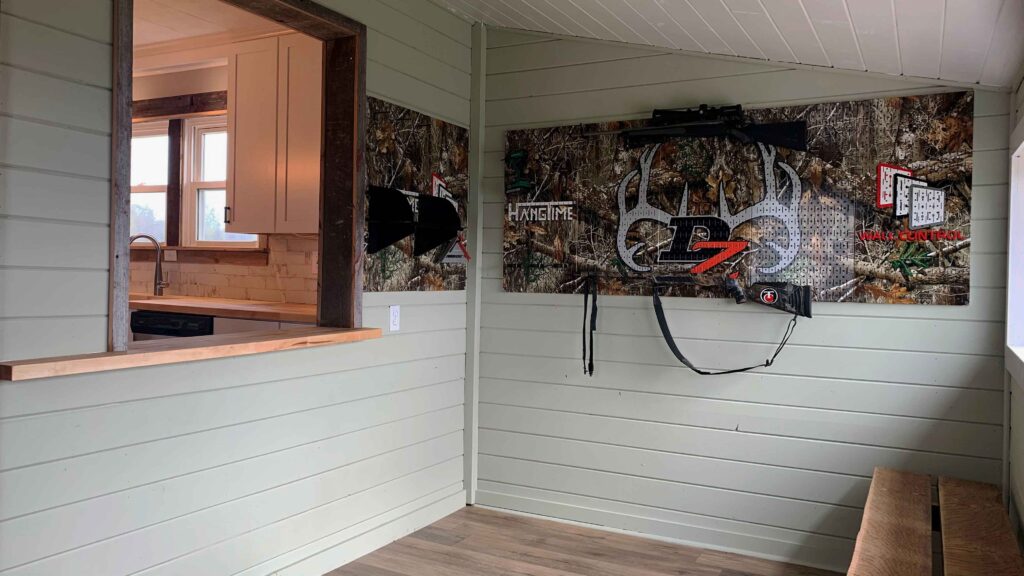 The mudroom is now also a literal "drop zone" for the DropZone TV guys for their gear when they walk in from a long day. Along with my custom built bench, I added Wall Control metal pegboards customized by Hangtime Store with RealTree camo, who just so happened to be one of Hal's sponsors.
What About A Sequel?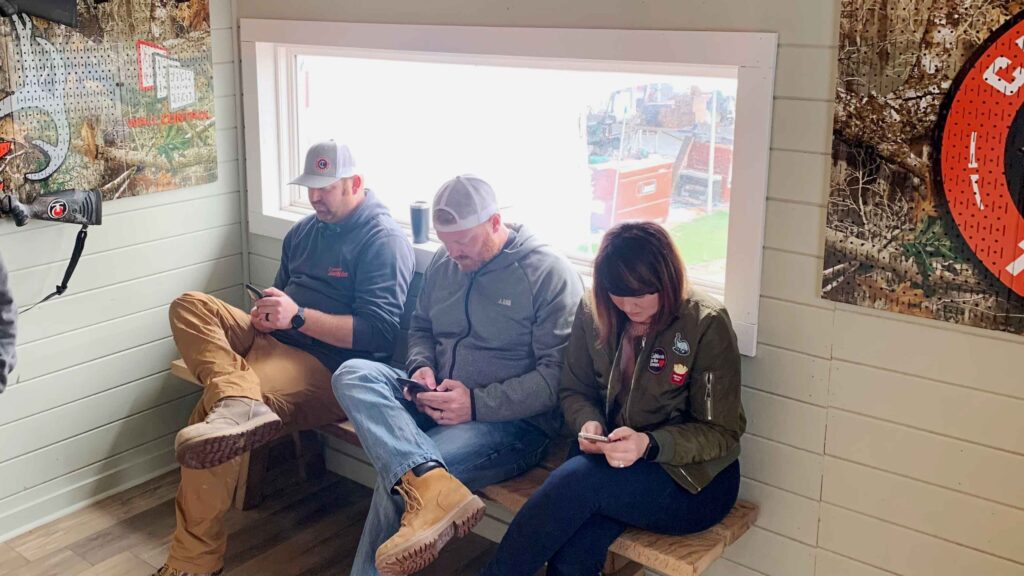 The biggest questions I've been asked are when is this airing and would you do it again? The simple answer is "I don't know". This was a pilot episode. So it gets sent up to networks as a concept to see if they want to pick it up. That's after all the editing. There was definitely a good amount of network interest while we were filming. Not to mention, Hal and his crew already have shows on The Outdoor Channel. So even if this pilot doesn't make it to air, the work we did will be on DropZone TV as the use the cabin for their hunts. Realistically we wouldn't see this show on TV for another year.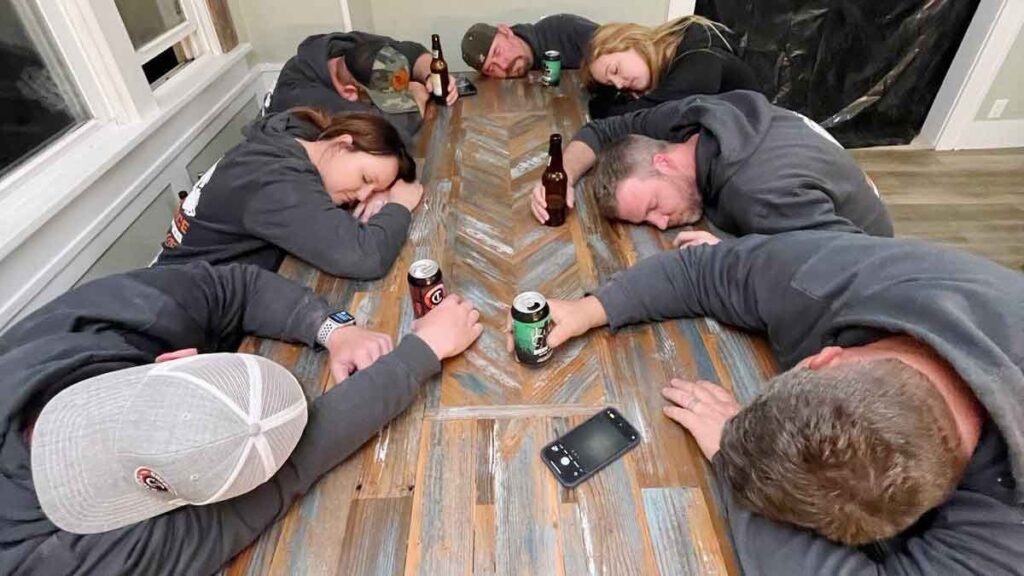 Would I do this again? Hell yes! Especially with this crew. Hal and Chris from C'Mon Media, John and Jacob our cameramen and then my maker friends achieved something truly special. But we legitimately all walked away from this with new friends who we were already missing the next day. It says something when you pull an exhaustive blitz of a build like this and wake up in your bed at home and want to go back for more. It was mentally taxing, physically exhausting and one of the best experiences I've had in years. Were there hiccups and things I'd like to see changed? Of course. But this was the first time any of us, from the production crew to us makers had done something like this. So stumbles will happen. But we learned from them. We stayed flexible and creative. And we're ready to flip the crap out of another cabin if the opportunity presents itself.
~Lazy Guy