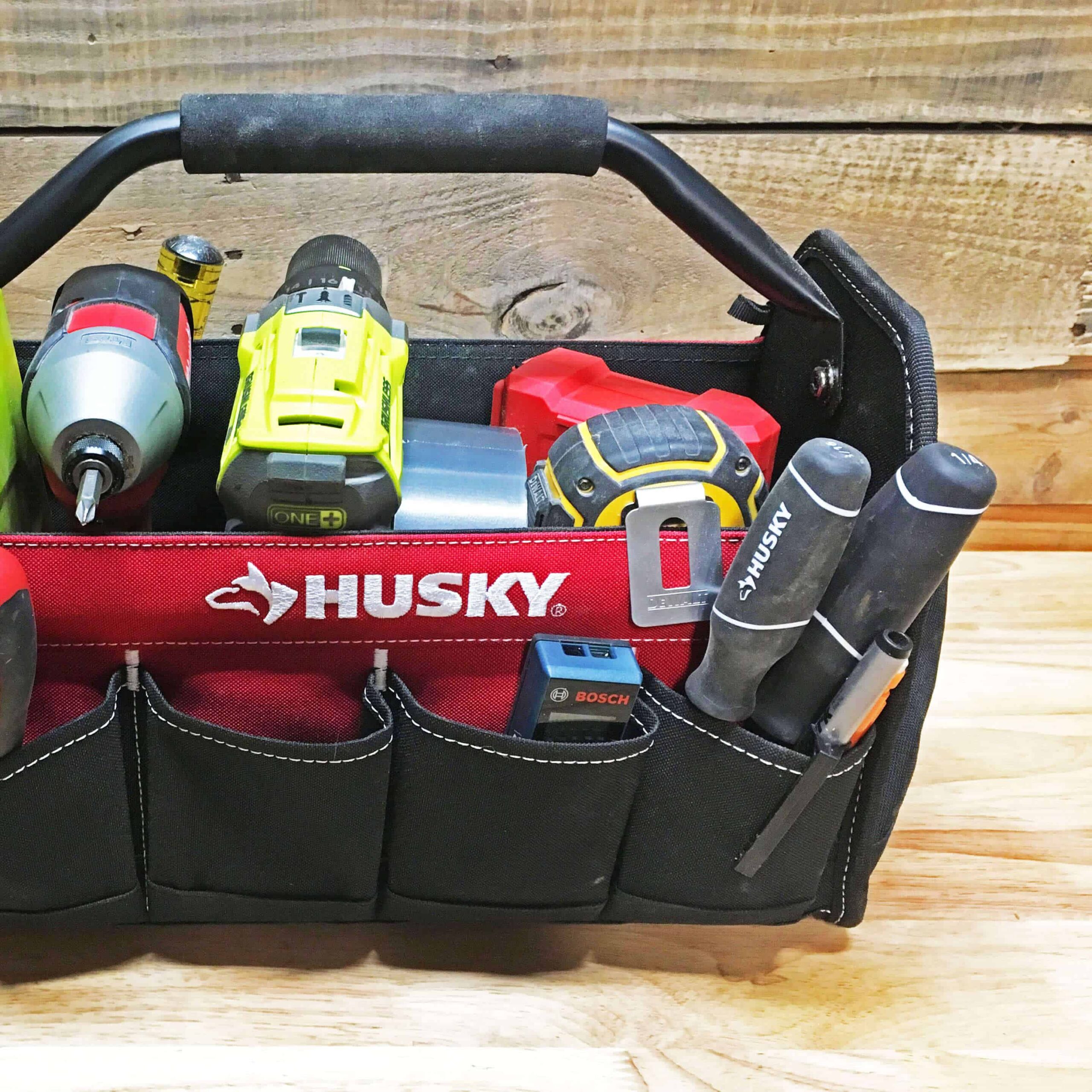 Prior to working with Home Depot I hadn't used a lot of Husky brand products.  Occasionally I'd buy a screwdriver set or some wrenches, but that was because they were in the right price range:  not the cheapest (because I've got standards) but not too expensive either.  When you hear that a product is an "in house" brand you typically don't think too highly of it (I'd like the house wine please…)  It always reminds me of Dr. Perky or Dr. Thunder, the Food Lion and Sam's Club iterations of Dr. Pepper (doctorates were easier to come by back then).  From the packaging you already knew who the brand was trying to emulate.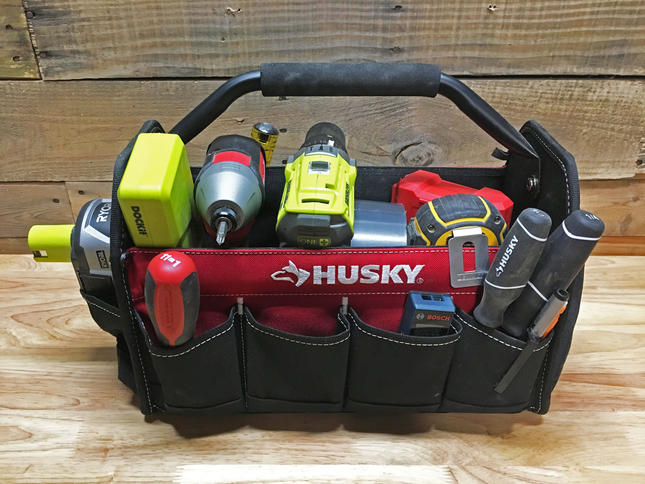 That's not always the case though, sometimes those in-house brands are trying to pave their own way, or in the case of Husky, split from the old path and start a new one.  A few years ago, Husky wanted to shake the inferior product paradigm and start becoming a name that contractors and pros associated with quality equipment (have you seen the Rolling Tool chest I reviewed last year?).   I've been to the product testing lab at Home Depot HQ.  They put each Husky Tools product through extreme torture to make sure it will out last everything else you toss in the back of your truck or keep in your workshop.  They push, pull, rip, tear, weather, smash and conduct chemical warfare on everything.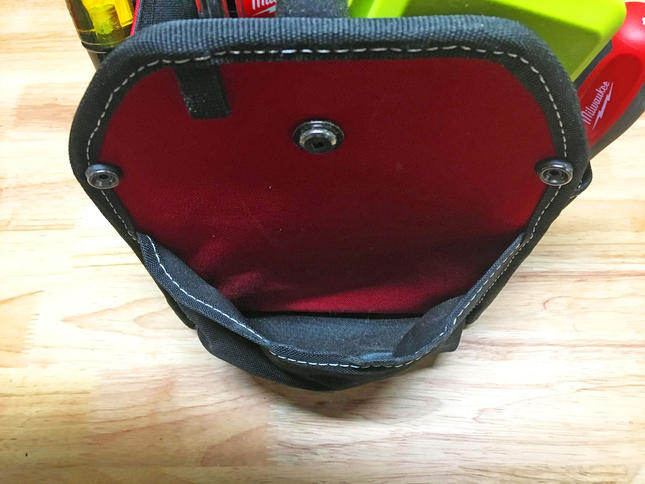 That's why with something like the Husky 15″ Tool Tote (*affiliate link) you see pictured here there's reinforced exterior stitching on all edges and pockets.  You're not gently pulling tools out or delicately placing them in a pocket.  No, you're throwing them in and ripping them out, which is why try as you might, you're not going to be able to rip these pockets off.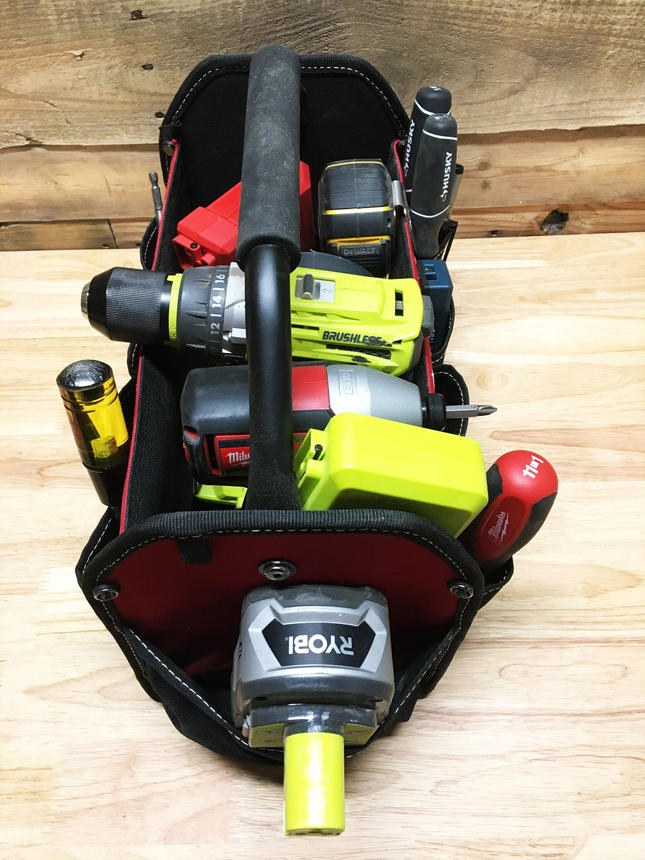 The same is true about the foam covered handle (that tilts out of the way) or the bottom of the bag (tote).  If you're throwing this around the jobsite, you'd expect the foam to tear off or the bottom edges of the bag (tote) to wear through.  Nope.  That's been thought of.  This bag will be around long after I'm gone which says something for a product that costs less than $15.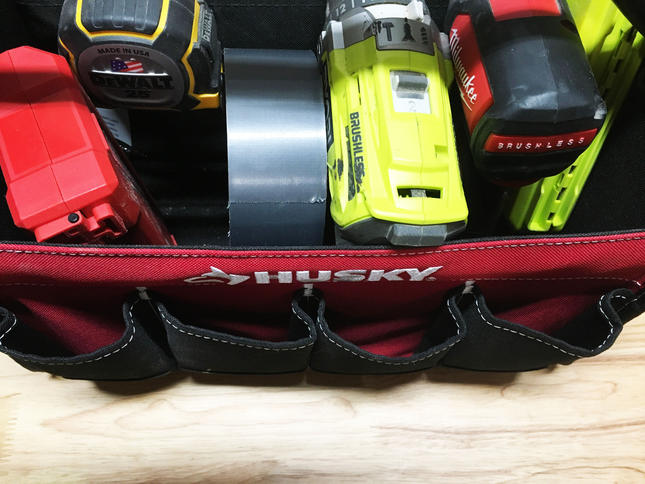 I'll let you in on a little secret though… Husky has two categories within their line.  Red on Black coloring means all of those standards for failure testing I mentioned earlier are met (and exceeded), but the product is designated for DIY'er and homeowner (weekend warrior) use.  Black with Red highlights and you're looking at Pro-Grade products.  The Husky Black line is like the big brother that went to the gym a few too many times.  The Husky 20″ Pro Tool Bag (not a tote) is the pro version of the bag pictured.  It's strong enough that if the beginning scene from Cliffhanger was filmed using this bag, Sylvester Stallone's character Gabe would have nothing to do the rest of the film because the material, hardware and stitching are strong enough that you could hang a car off of the straps.  That's the quality we are working with here.   So it's time to give the in-house brands a second look.
~Lazy Guy
*this post was sponsored by The Home Depot Pro-Spective Tool Review.  I have been compensated for my time and opinions for this post.  My opinions are my own.