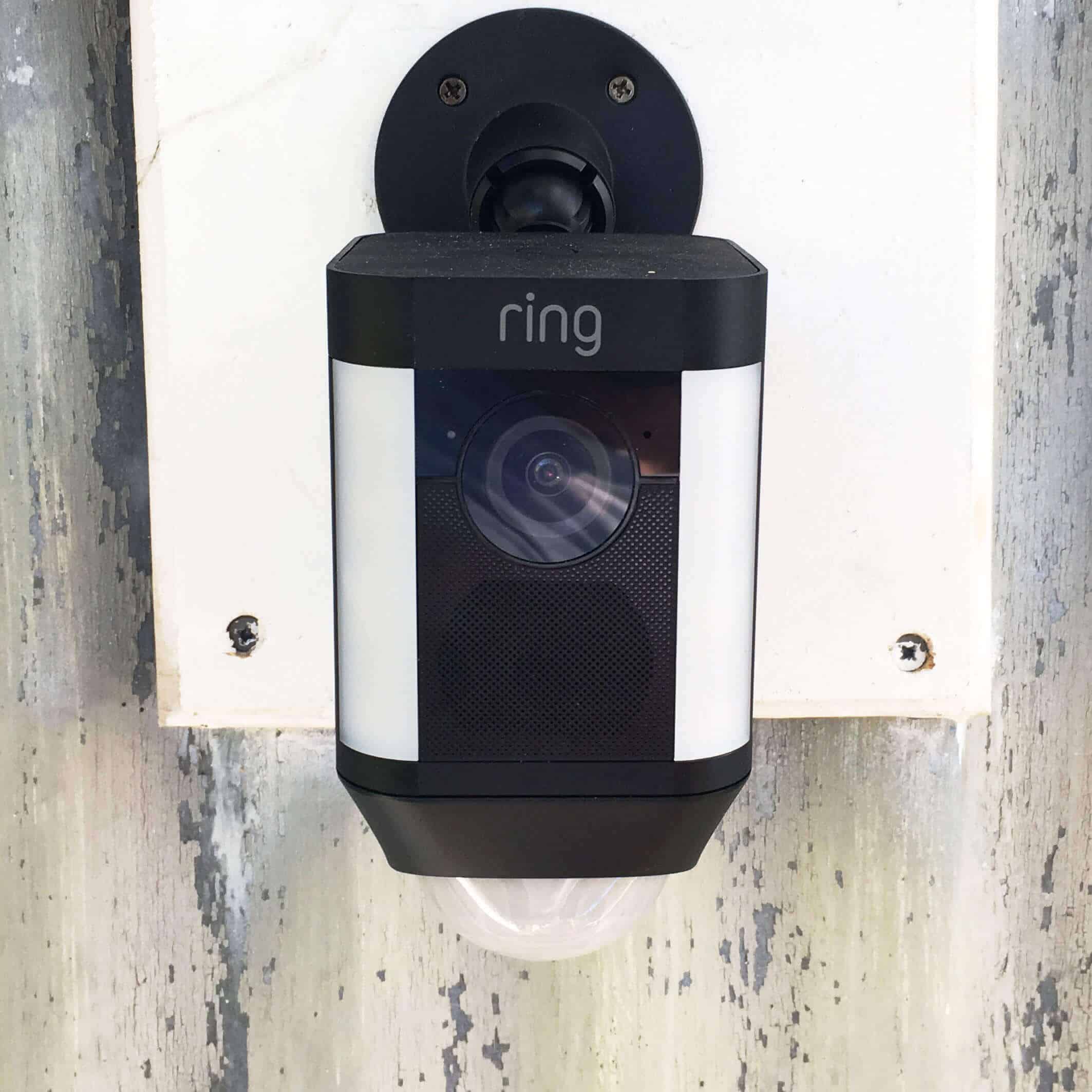 So you want an impenetrable compound while also harnessing the power of the sun?  Sounds a lot like a James Bond villain.  Or you're taking a look at the solar powered set up by Ring and their battery powered spotlight security camera.  Either way, you have a knack for detail and are at least using an eco friendly alternative to achieve world domination or at a minimum, a little peace of mind at home.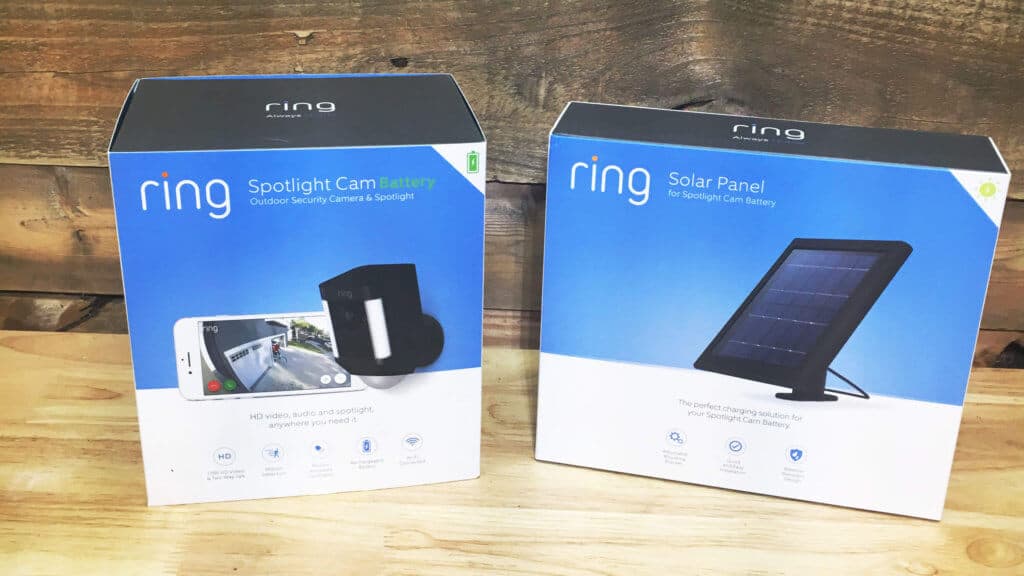 This post is part of an ongoing Smart Home Series sponsored by The Home Depot.
Ring In A Box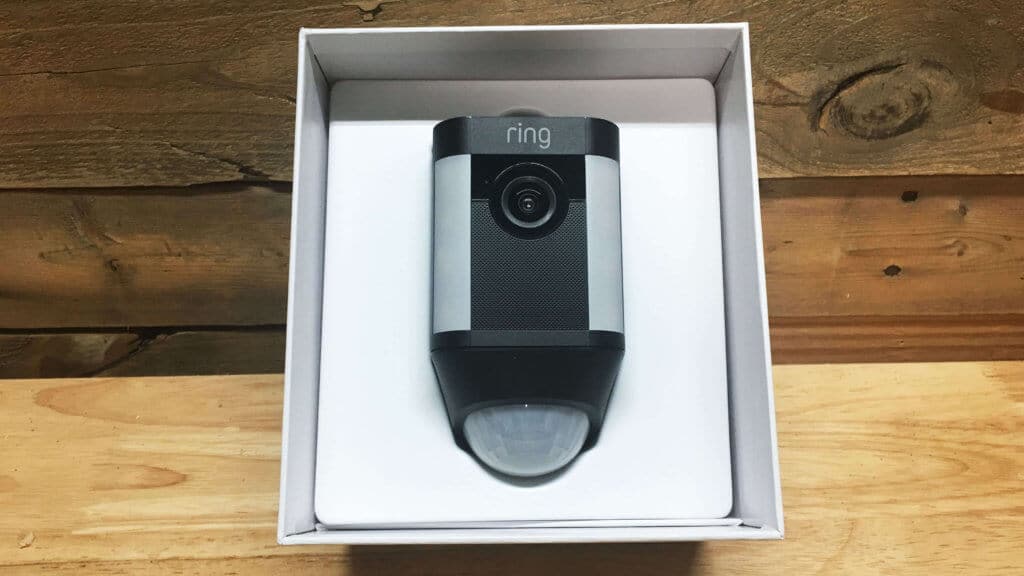 Despite my manly beard, collection of tools and affinity for making sawdust, I'm a nerd at heart.  Shocking I know.   I also love gadgets and new tech (and what feels like a subtle reference to the TV Show "Chuck"), so when it comes to products from Ring, I've been all in.  I reviewed the Video Door Bell and Wired Spotlight Security Cam last year and love them.  I fire up my app and it's like I have my own command center in the palm of my hands.  I can creepily look at people whenever I want as they pass by my house, I can set off sirens, activate lights and talk using a two way audio function.  And oh yeah… set up motion alerts so there's no sneaking up on me.  No, I'm not paranoid, I'm just rambling off features so I can quickly tell you how easy it is to install the solar powered spotlight cam kit from Ring.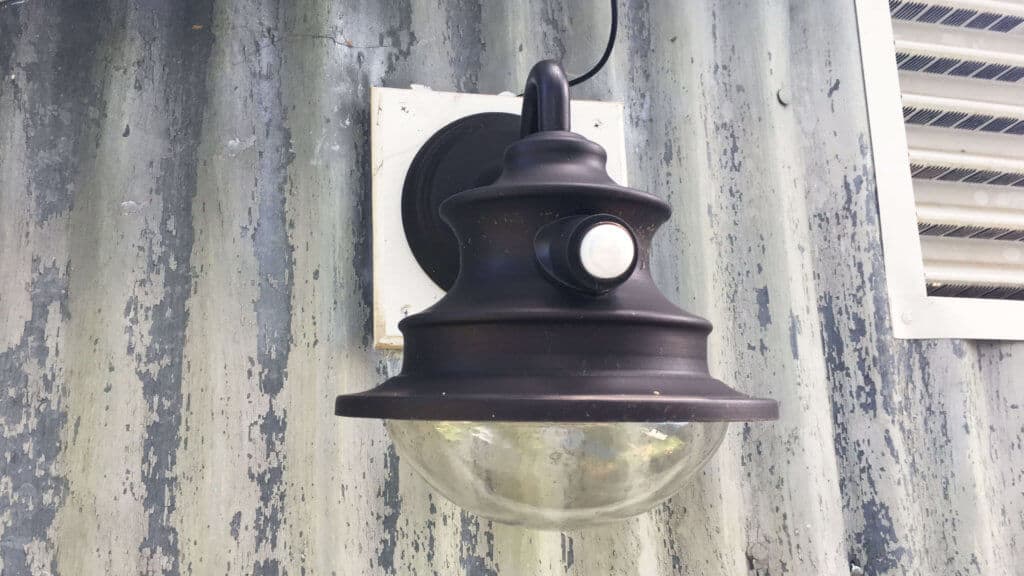 Since I'm already using Ring products, set up is even easier (because I don't have to set up an account or download the app).  For my original Spotlight Cam*, I just mounted the bracket, popped in the spotlight cam, plugged in the cord and synced up my device.  And in that sentence my friends, is why I'm using the solar kit now as well.  Not every outdoor space has access to an electrical outlet.  Unfortunately, when you live in the city in close proximity to lots of people and have nice things, other people sometimes want to come take a look and borrower those things (steal them) without asking.  While our original spotlight cam could pretty much view our entire backyard, we had several blind spots where someone could easily come in through our side gate and break into the back of our house without ever being caught on camera because of where it was mounted.  Or if it was at night, because of the worthless solar powered, motion sensing globe light (pictured above) that died within a few months of use… someone could easily walk in through the back gate and clean out my shop and be just outside motion detecting range without the extra light.  No bueno.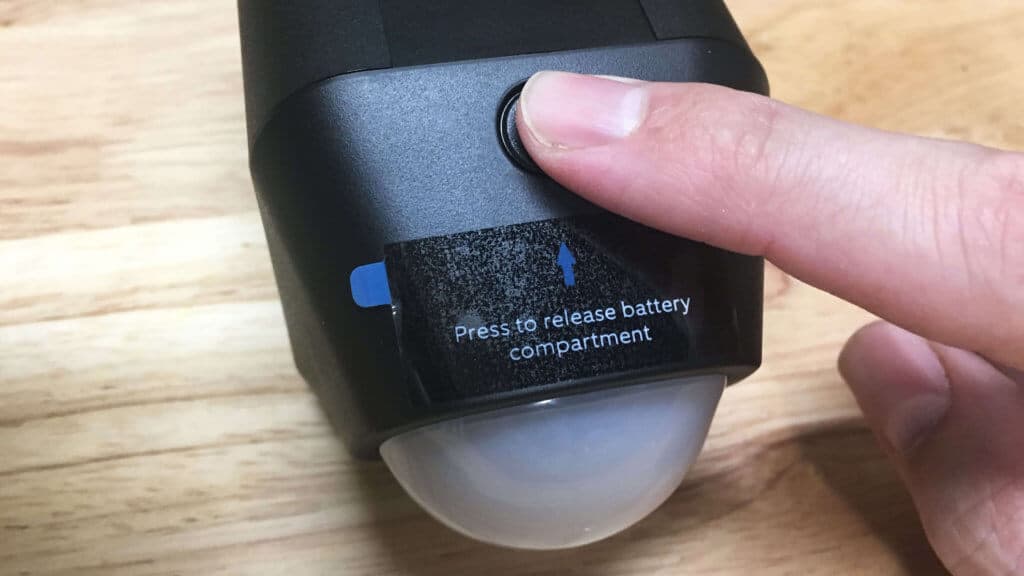 Right out of the box you get everything you need with the solar panel and the spotlight cam.  Grab the battery and the included USB cable and give the power pack it's initial charge before you do anything.  By the time you get everything set up it should be ready to go.  You'll also find the handy orange Ring screwdriver and all the screws (plus extra… which I needed) you'll need.
Installing The Spotlight Cam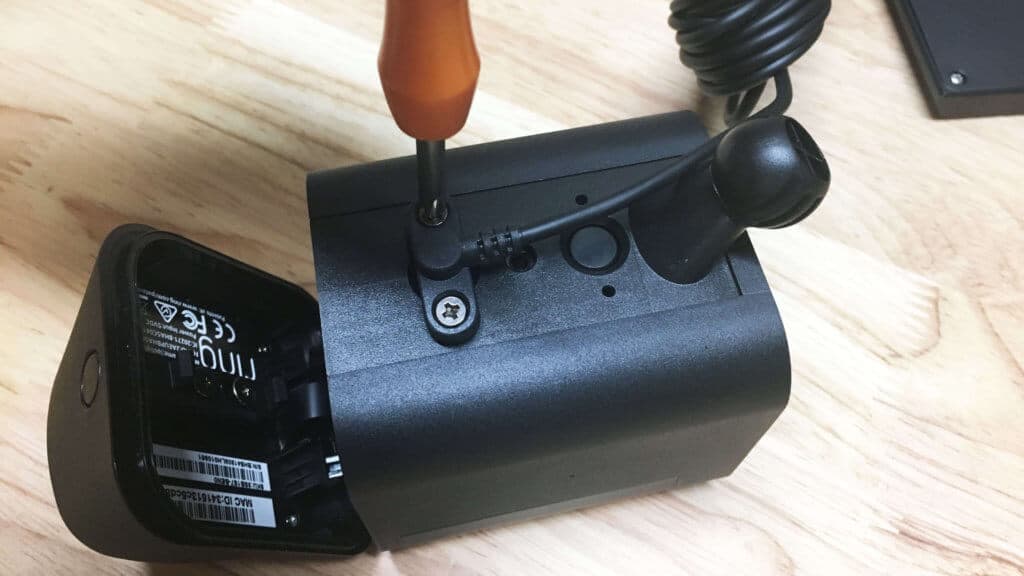 While the battery is charging, connecting the solar panel to the spotlight cam is as easy as pushing in a plug and tightening tiny little screws.  I 100% recommend doing this indoors because of how tiny those screws are.  I was using the original mounting block from the old globe light so I had to take these little screws off while on a ladder so I could run the power cable through the block and up onto the roof to the solar panel mount.  Sounds easy… but tragedy struck!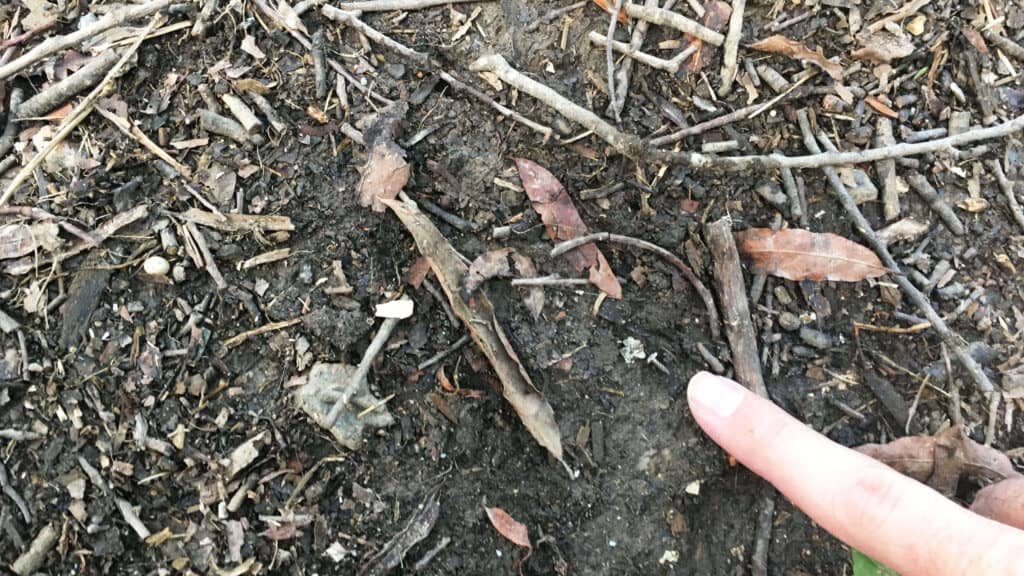 At some point both tiny screws fell out!  So after digging through the dirt under the ladder (with help from our chicken who would definitely eat a screw) I ended up finding one of the little guys.  Luckily, Ring anticipated my failure and gave me a second chance by providing that extra so I wouldn't haphazardly install my new camera.  With that disaster diverted, I screwed in the mounting bracket for the spotlight cam and easily popped it into place and tightened the clamp tension with that helpful little included screwdriver.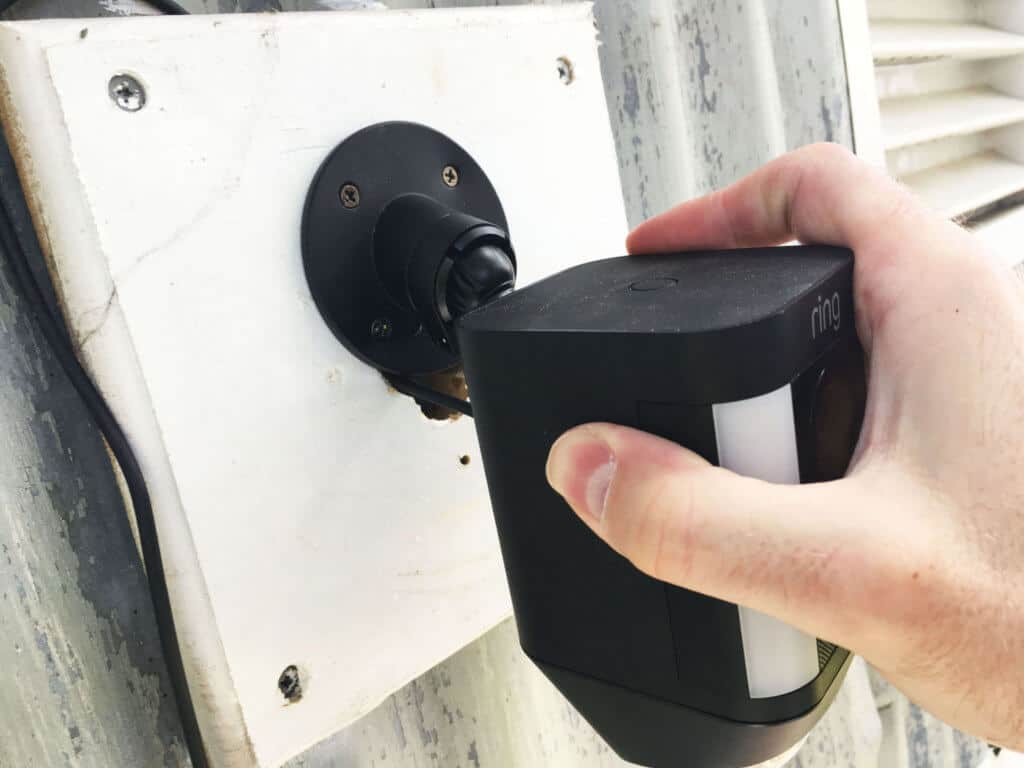 It honestly felt like it wasn't going to go in at first, but if you push it hard enough, the spotlight cam will pop right into the bracket.  This is that moment where I tell you to exercise caution if you're up on a ladder pushing anything… especially if you're on one of the top steps that you're not supposed to be on…
Solar Panel Installation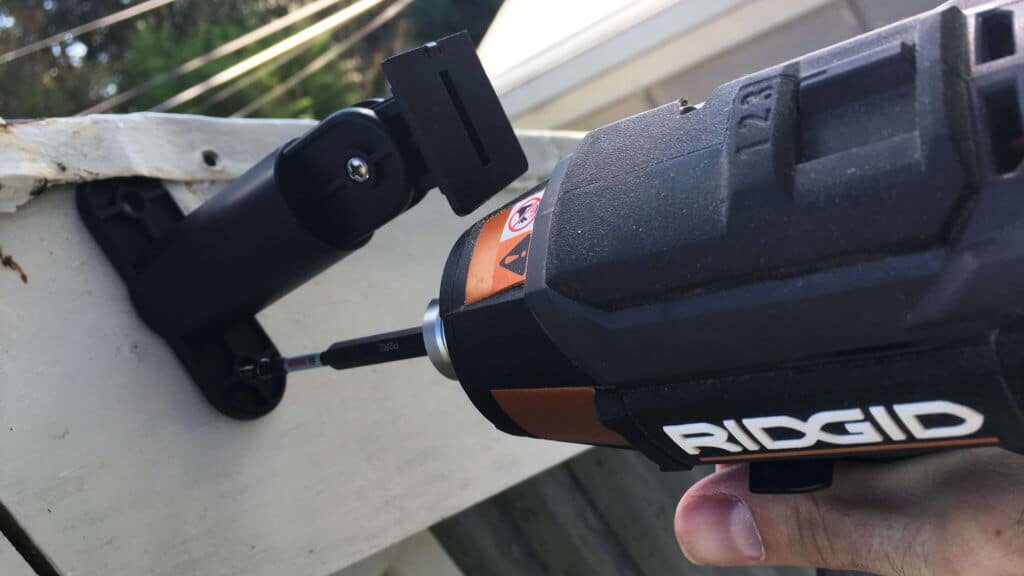 The solar panel install is even easier.  Just keep a few things in mind, you want to have as much sun exposure as possible even though you really only need a few hours of sunlight at a time to charge.  That's the failure of the old solar motion light we had.  The power cell charged daily and required all day sun exposure to really work.  The Ring Spotlight cam already has a tough little battery (with the option to add a second battery) so what's happening is the solar panel is charging the battery cell as needed.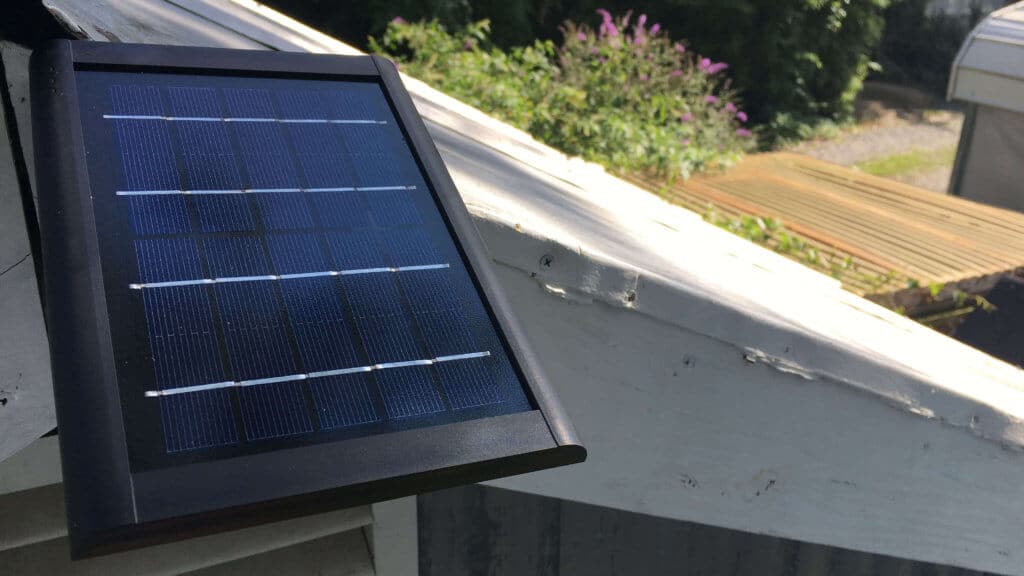 Also, you want to make sure your cable is long enough to run from the solar panel to the spotlight cam.  I know I know… basic stuff, but it's never fun to be up on a ladder… install something and then find out you have to move it four inches in the other direction.  You get 13 feet of cable so you should be fine.  So now the moment of truth…
Lights, Camera, Record!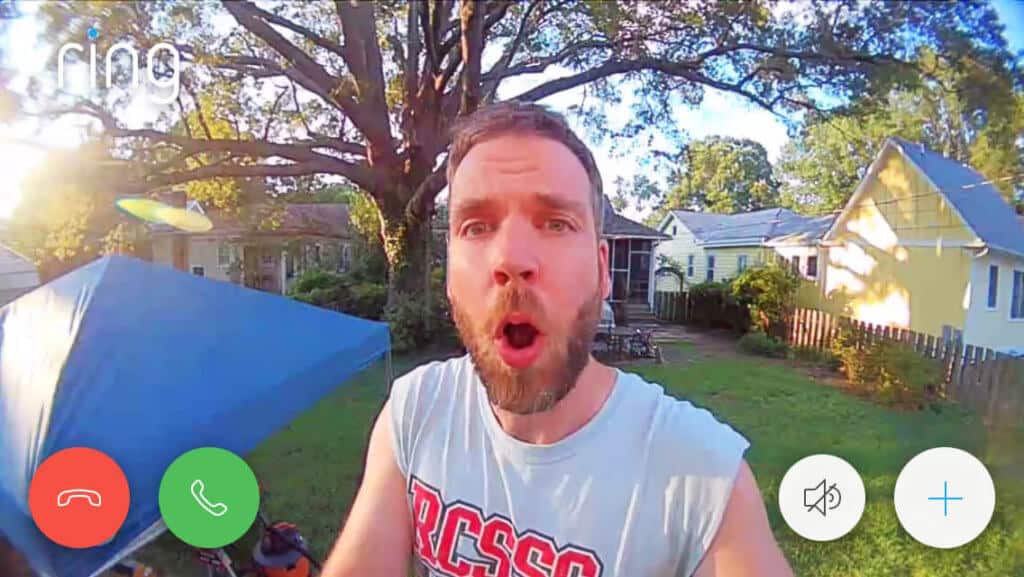 With everything mounted (plus already having the app installed), set up takes no time at all.  Slap in that charged battery, let the blinky light blink for 30 seconds and then fire up your app and hit "add device".  You choose the Solar Panel Spotlight Cam and follow the prompts.  Oh yeah… I should mention that you need to have a WiFi signal and this goes back to my post a few weeks ago about preparing your home for Smart Devices.  I added an Orbi Satellite specifically to boost my WiFi on my mesh network out to my workshop so I could have this solar cam in place.  If your WiFi is already strong enough you have nothing to worry about.  Please ignore my popup tent… it's been raining a lot and I needed to work outside of my shop a bit. Ha!
Also worth a mention, Ring products come with several plan options.  There's the Ring Protect Basic and Ring Protect Plus Plan.  The Basic plan lets you sync one doorbell and one spotlight cam for $3/month or $30/$36 (depending on deal) for the year with access to your Live View, motion alerts and all videos for up to 60 days.  The Plus plan includes ALL devices at your address for $10/month or $100-$120 per year.  You can skip the plans altogether if you want and just have access to instant alerts and live video, but there's no pulling up that info after the fact.
The Ring Solar Powered Spotlight Security Camera Kit is available at The Home Depot*
Solar Spotlight Cam vs Original Spotlight Cam
So head to head, what are the differences?  The original spotlight cam gives you a little more robust options when it comes to choosing your monitoring zones.  You get an actual live look at your camera view and can adjust how far your motion and monitoring zones extend.  In the app you can draw a stop line, like in our case, I don't need to have motion alerts for my neighbor's backyard I can see in my camera view.  With the Solar Spotlight cam I have I have a slider that adjusts the distance from Min-Max without a live picture.  The spotlight is also brighter on the original cam, but that's expected due to the power source.  One last thing to mention… the original cam has the option to adjust for the size of the motion from small animal to human signatures.  Which means our chicken won't set off the motion alerts while bee bopping around the backyard during the day.  So first night all set up with the motion cam, sure enough we get a motion alert at 2am…  a cat ran through our yard… he might have thought he was stealthily creeping along in the dark… but big brother is watching…
~ Lazy Guy
This post is part of The Home Depot Smart Home Campaign.  I have been compensated for my time and provided with product in exchange for my opinions on this product.  My opinions are my own.  Product links are affiliate links.