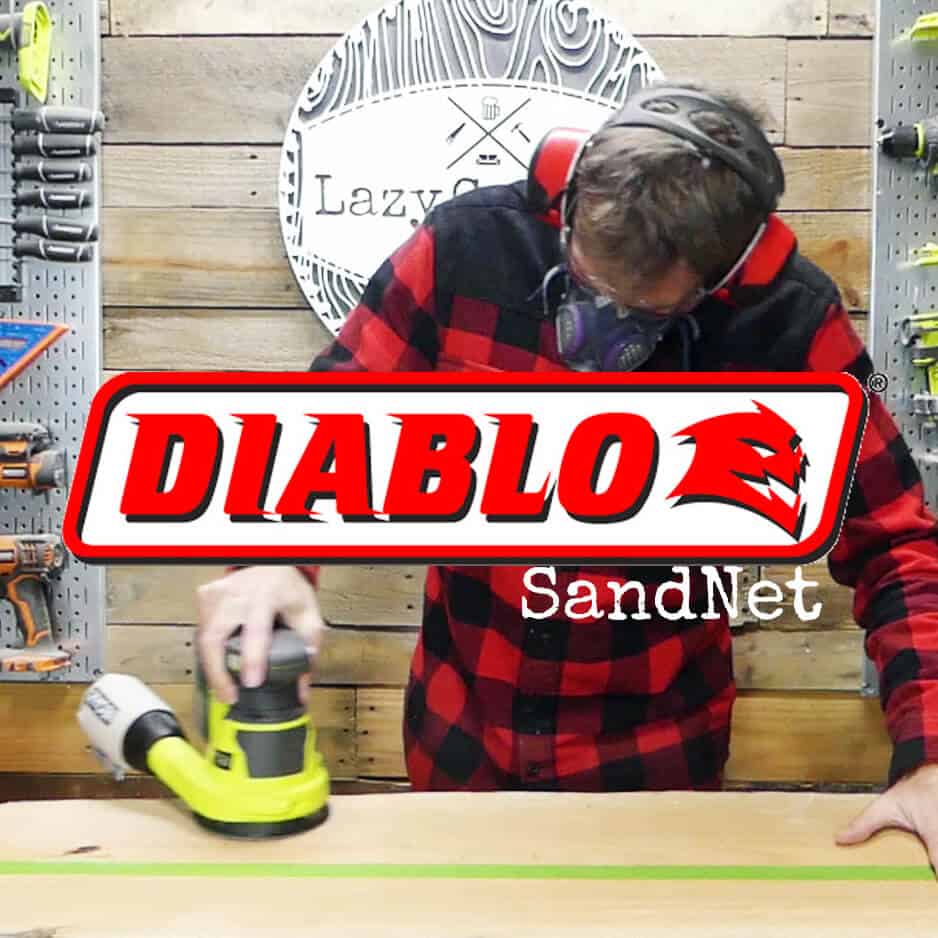 There is a moment in every woodworker and DIY'er's project where a sense of dread starts to seep into the back of their mind.  It oozes into the brain as the build progresses and their dreams start to become a reality.  It puddles and pools and starts to grow until the exact moment hits:  It's time to sand.  And let's face it, sanding sucks.  It's a necessary evil though.  You can't just go completing projects and leaving them with a rough surface.  Farmhouse style and rustic décor are a look, not a physical way of life with a guarantee to give you splinters.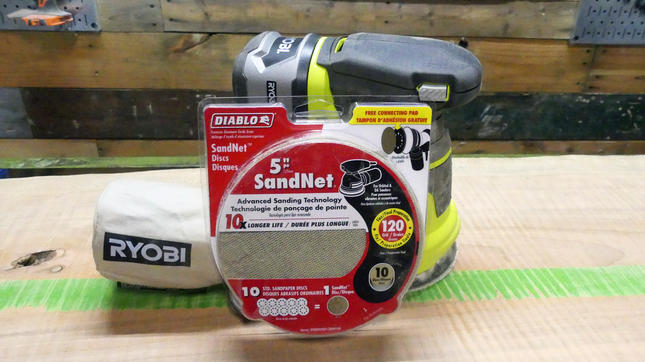 Using a power sander makes things more bearable though (at least it's quicker).  I pop in a battery and slap on a sanding disc to the bottom of my Ryobi Random Orbit Sander (*affiliate link) and start going to town (figuratively go to town, I physically stay in my shop).  A few minutes later I'll have a smooth surface, but my shop floor is littered with spent sanding discs as I run through the grit progressions and discard the worn out sheets.  Use a sanding disc past its prime and you're in trouble.  You can always see the telltale signs where it looks like someone used a Spirograph across the surface (little swirls everywhere!) doodling away like there's no tomorrow.  You can tell people those are "mill marks" but we all know you're full of it.  Your sanding disc wore out and you just went about your business droning through the monotonous task.
Well Diablo Tools is trying to shift the sanding paradigm.  No, your build isn't going to sand itself, but what you traditionally think of as a sanding disc is getting an upgrade.  You're used to thin sheets with little holes that are impossible to line up with your make and model of sander.  Then you churn along and your grit is nothing but a slick dark spot on the disc within seconds.  Pull that spent disc off, get another, rinse and repeat until you're done.  There's a reason why you can buy a CD tower sized stack of sanding discs and it has nothing to do with all of those sweet party mixes you burned on your fancy new CD-RW discs you were buying in bulk in college.  No, it's because they have notoriously short life spans.
Enter the Diablo Tools 5" SandNet Advanced Sanding Discs (*affiliate link).  Ranging from a Coarse 80 Grit all the way up to a Super Fine 400 Grit with fine, very-fine and ultra-fine in between (no word on Super-bad or Super Fly though).  You will have a variety of options for every project.  The difference from traditional discs comes in with the construction.  Say goodbye to the paper backing and hello to the mesh netting that is clog resistant and the DNA of this product.  It's a reusable surface that air from your dust collection just sucks right through leaving a cleaner work surface.  If you start to get build up you just shake or blow out the debris and get back to work.  The grit is made up of premium aluminum oxide grain that extends the life of each disc and turns its adversaries into dust.  Want to see the showdown?
How Does A Diablo SandNet Sanding Disc Compare?
---
Wood?  Metal?  Plastic?  You've got it.  The Diablo SandNet discs can tackle it, but that's not the exciting part.  One SandNet disc is supposed to have the shelf life equal to 10 standard sanding discs.  You read that right, 10!  So get comfortable with your new friend…he's going to be here for a while.  I've had to completely alter my sanding routine now that I've started using these discs.  I'd finish a progression and then toss a disc on the floor like a discarded peanut shell at a Texas Roadhouse.  Not anymore.  Now I've got a stack of varying grit SandNet discs that I can come back to on my next project like Sunday's delicious leftover meatloaf.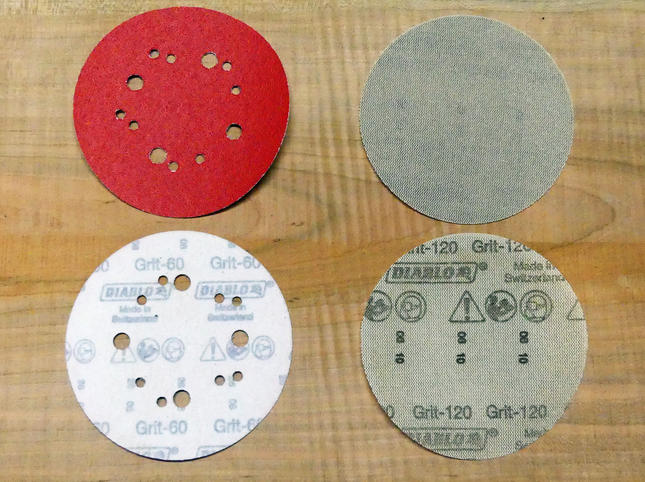 So where can you pick up these magical discs of fun?  You can grab a 10 pack at your local Home Depot for about $15.  Whoa now.  You're freaking out.  I can see that you're freaking out.  You just gave me that look that says, "but I can get a 50 pack of standard Diablo Sanding Discs for $20?"  And you're right.  You're spending about $1.50 per disc with the SandNets and $0.40 per disc with the Standard Diablo discs.  But then remember that each SandNet disc lasts 10x longer than a Standard Disc so you're really paying $15 for the equivalent of 100 discs with the SandNets (that's $0.15 per disc for you math-letes).  Mind blown.  I know.
~ Lazy Guy
*This post and video were sponsored by Diablo Tools.  I have been compensated for my time and provided with product in exchange for my opinion.  My opinion is my own even if it's generally full of sarcasm and fueled by beef jerky, it's still mine.