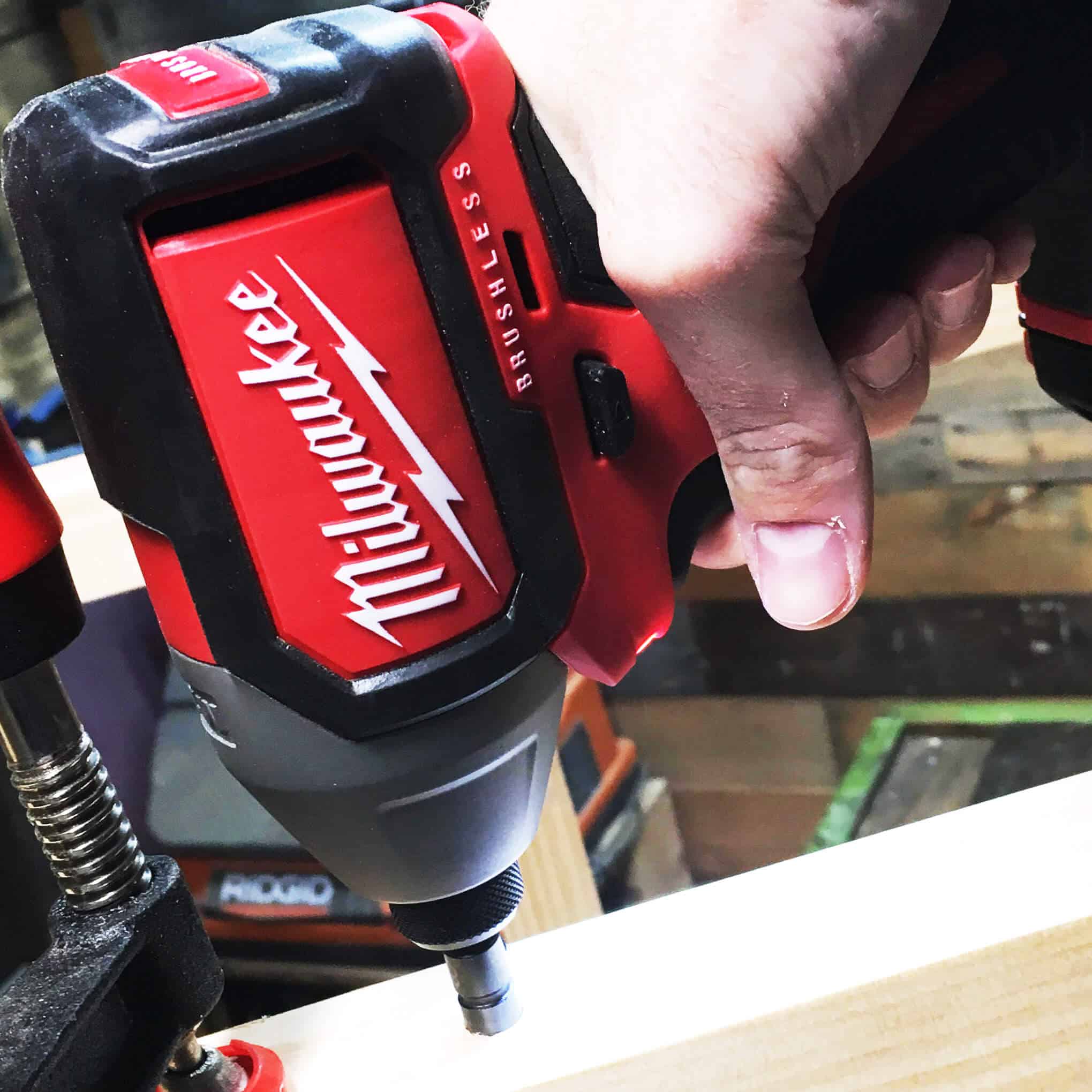 I was teased for about six months. I heard there was a chance I would get my hands on some Milwaukee tools as part of The Home Depot's Pro-Spective tool review. Their 25 ft. Premium Tape Measure and Tick Tracker came instead. I saw the quality in those products and yearned for more. I've tested and used the green power tools, the blue, the orange, the yellow and the turquoise, but not the red. People kept saying "wait until you try Milwaukee red". And so I've waited patiently leaving a spot on my tool wall for said mysterious red tool. Hoping. Waiting. Wanting. Saw? Impact Driver? And then it happened.
(model# 2150-21P)(*affiliate link) (driver, bag, battery and charger).
At this point I'd prefer not to disclose how many impact drivers I have in my shop. I have more drivers and drills than I have hands (and fingers…), let's just leave it at that. I have my favorites for sure, but I gave the old faithful a rest for a bit and I fired up the Milwaukee M18 for the past few weeks instead. I haven't been disappointed.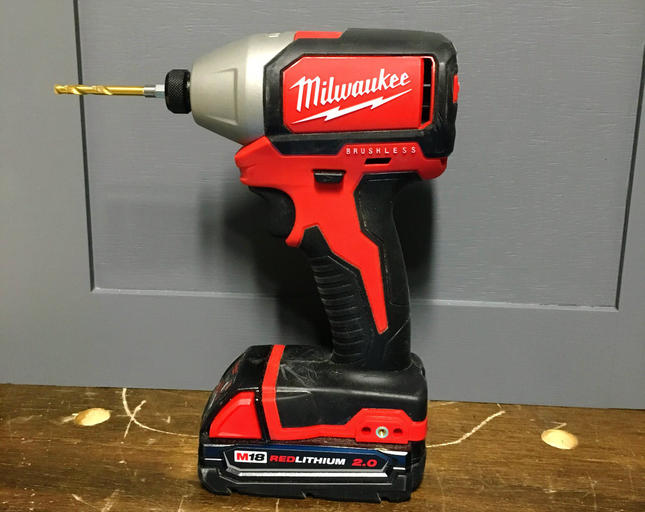 A Milwaukee Impact Driver For Everyone!
Let's find our place in this world though, because Milwaukee has at least 4 different models that are ¼" cordless impact drivers and sometimes we need a road map:
(
There's also a M18 Fuel with One Key Technology as well if you want to throw that into the mix

)

With only a $40 difference (bare tool pricing at the time of post) between the most powerful 18 Volt Model with the M18 Fuel Surge and this M18 why not just spend the extra cash? It all comes down to what type of work you plan on doing with it. Sometimes you don't need that extra torque and power (and sometimes you do).
The Milwaukee M18 Impact Driver In Action
If you're a DIY'er or a Pro-Sumer then the M18 will work perfectly for all your needs without leaving you with buyer's remorse. I've got an impact driver from another brand that has comparable power to the top model Fuel Surge and I can tell you I just can't use it on every project. I've snapped heads off of bolts and blasted screws right through my work surface because I went overkill with the tool I was using. If I was doing Pro-Grade work, it's definitely worth the upgrade, but the Milwaukee 2750 is right in my everyday wheelhouse for DIY projects.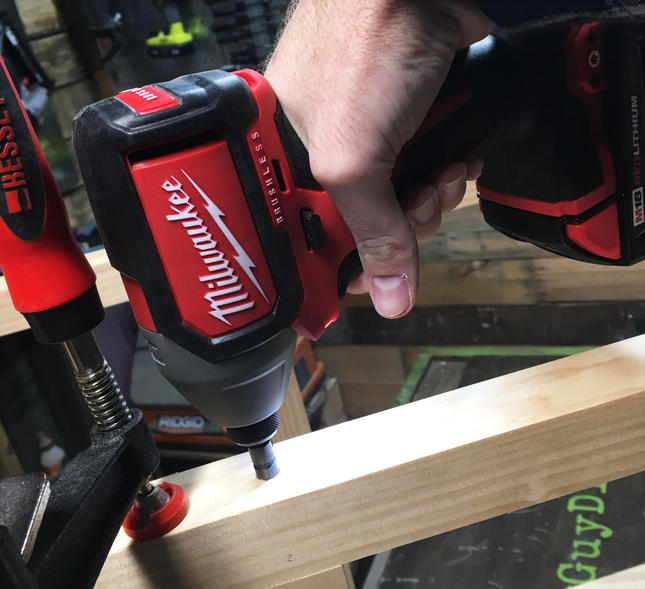 What about the power though? I ran this compact model through the gambit and I'm still on my original charge with the battery. I've yet to come across an application where I felt the power was lacking. PLUS, I finally got to use my Milwaukee Shockwave Drill Bits and Driver Bits (*affiliate links) in a Milwaukee tool! Using one company's bits in another company's driver always makes me feel dirty on the inside so it was oddly satisfying firing this driver up with Shockwaves in the chuck.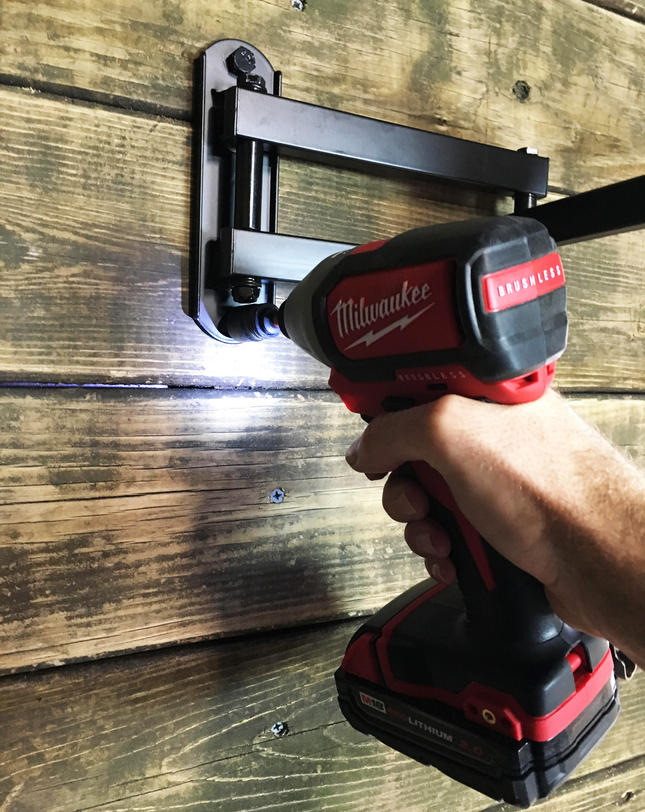 But what did I use it on? You name it and I tried it. SPAX Screws, Kreg Screws, lag bolts & decking screws. I tried them all. I drove, I removed and I dominated. The grip is very comfortable on this unit and the size falls right in line with other major compact drivers. You get a brushless motor which means more power and a longer lasting battery than previous non-brushless models. The gauge on the battery is also clear and easy to read and charge time was fast. My only gripe is with the work light.
Milwaukee mounts the single source LED's below the chuck which I found to be limiting when I was installing more planking on the walls in the dark corner of my shop. It's not a deal breaker, but as the self-proclaimed top dog in the trio of TTI Brand tools (and the one with a ton of focus on LED's) I expected a retina searing light on my first team red model.

The Final Verdict
If you're looking to jump onto Team Red this season, I expect the price point on this model to drop during the holidays, which means you get a great impact driver, battery and charger for what I'm guessing will be the $99-$120 range. That's very competitively priced with the other major tool brands plus you're getting the Milwaukee Pro-Grade pedigree to go with it.
You can pick up this model (and the others listed within the post) at your local Home Depot.
Want more Milwaukee? Check out these Milwaukee Reviews!
*This post was sponsored by The Home Depot as part of the Pro-Spective Tool Review. I have been compensated for my time and provided with product for my opinion on this tool. My opinion is my own. My red Milwaukee tool is now lonely. Please send more.