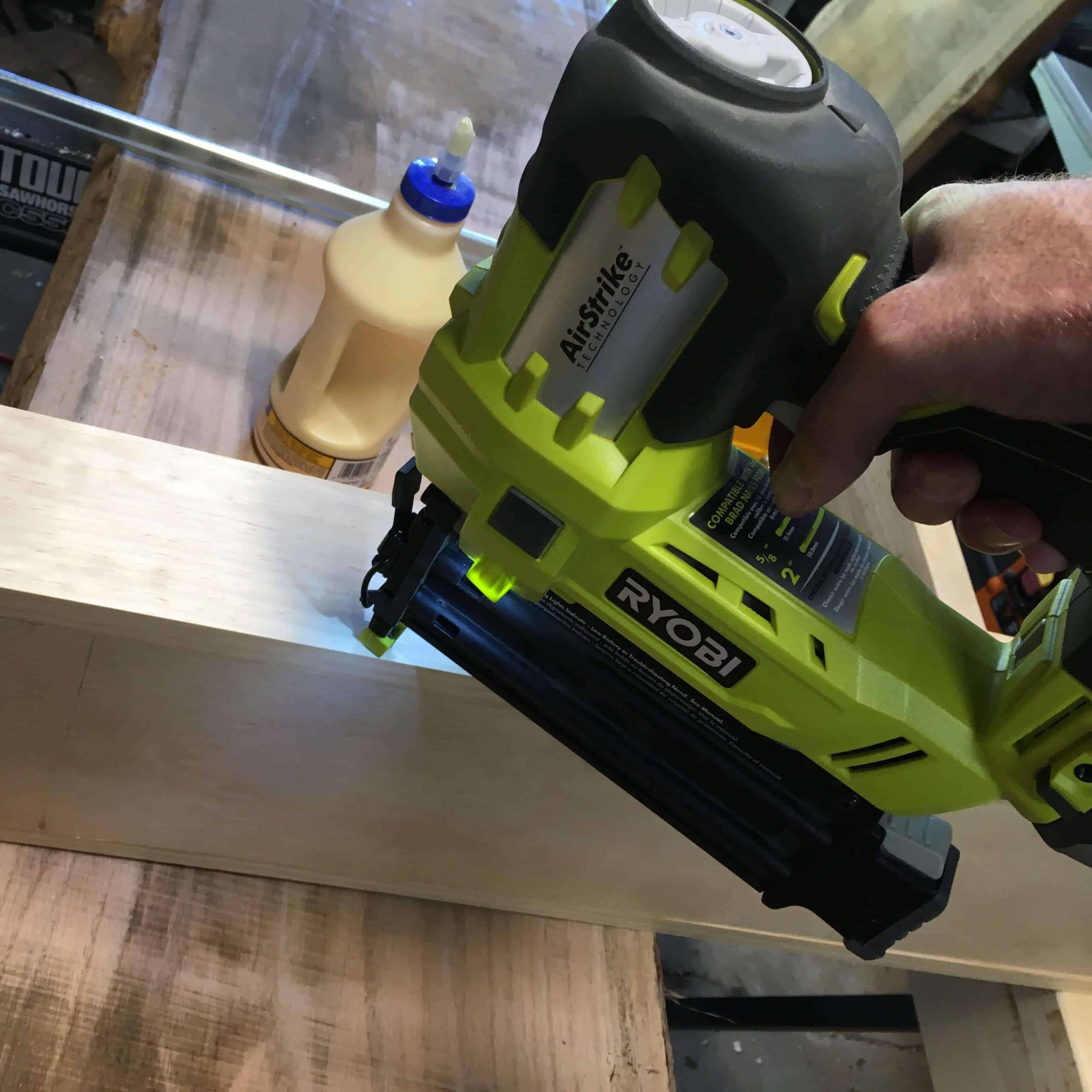 Well slap in some galvanized brads nails and call me Elisha, because I too am a Pneumatic Addict (bad DIY blogger joke, but she's cool, check her out). A few weeks ago I reviewed a handful of hammers, but let's be honest here… pneumatic nailers are more affordable than ever and offer such a variety of versatility and reliability that my hammers sometimes collect a fine layer of dust between uses.
Why A Pneumatic Nailer?
One of my first big tool purchases after a miter saw and a reliable drill was a pancake air compressor that came with two brad guns and a pneumatic stapler. Pulling the trigger (physically and with a purchase) on something like a nail gun is an incredibly satisfying case of cause and effect that lets your mind wander to distant thoughts of the house remodeling scene in the Lethal Weapon movies… But that's movie magic and an international crime syndicate isn't about to come to your house to kidnap your family (hopefully).
So rather than fighting off bad guys with a power tool, instead tacking down pieces of trim with 18 gauge brads. That's much safer and probably closer to the recommended usage from the manufacturers. Like most tools, pneumatic nailers come in a variety of shapes and sizes and it can be confusing to know which one is the best fit for you. So come on Goldilocks, let's take a look at a few of your DIY friendly options: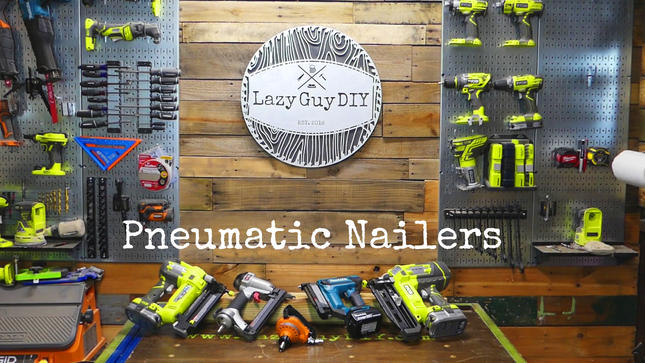 The Pneumatic Nailer Line Up
Pin Nailer: The Baby Bear of the group, Pin Nailers are 23 gauge and shoot the smallest nail. Much like Petey the bird in Dumb and Dumber, this nail comes without a head and maxes out at about a 1" length. This isn't a tool you want to use to permanently secure a piece of material. Just like a pin from a pin cushion, you're using this to pin decorative material into place while something more permanent like wood glue or adhesive holds it for good. The pin nail hole is so small though that you can get away without having to patching it most of the time.
Brad Nailer: The Momma Bear of the group has an 18 gauge nail with a small head that ranges from 5/8" to 2". Much like the pin nailer, you're mainly using this to temporarily hold material into place while your adhesive dries but it's got a lot more holding power. It's great for detail work on smaller trim and I personally use it in the assembly stage of bigger projects. I can tack a piece of material in place for dry fits and only have a tiny hole to patch before I finish the project.
Finish Nailer: Papa Bear generally comes in 16 gauge but also goes down to 15. The nails have a small head and run from about 1" to 2-1/2". Now you're getting into the tools that actually hold material in place. Of course you still want to use wood glue, but these are strong enough for some holding power. Molding, millwork, flooring and paneling, this is the gun and nail you want to use. It does leave a small hole, but it's small enough to clean up in the finishing step… thus… the finish nailer name.
Want to see these Pneumatic Nailers up close?
---
Alright, time to open up that checkbook (does anyone still carry one? Maybe just sign into to Venmo?). Which nailer is right for you? A year ago, most of the market still relied heavily on plug in air compressors to do their dirty work. Now the battery powered hose-less options are all the rage. But what do people do with all those hose fed guns? You get a battery powered compressor to run them! So there are plenty of options out there now which means pricing is even more competitive than ever, here are a few I recommend (*affiliate links to follow):
The Pneumatic Nailer Run Down
For The Frugal Rookie: Porter Cable: 6 Gallon Pancake Compressor w/ 16 gauge, 18 gauge & crown stapler. This is the updated OG model I originally purchased years ago and it's still going strong. You get a compressor and three pneumatic guns! There's also a stripped down version with just the compressor and 18 gauge nailer for $149. The individual nail guns are budget friendly with the 18 Gauge Brad Nailer to the 16 Gauge Finish Nailer. So one of these combo packs is a great entry level purchase into pneumatics. Plus having a compressor opens you to a world of other tools!
For The Growing DIY'er: Ryobi AirStrike Series: Ultimate One+ Combo Kit: 16 Gauge Finish Nailer, 18 Gauge Brad Nailer w/ Battery Pack & Charger. The Ryobi Green AirStrikes were the first battery powered (hose-less) models I ever used and the series continues to be one of my favorites. Working on a project without a tether is a game changer, throw in a work light on the front and these models are perfect for places that used to be hard to reach. If you just want to dip your toe into the platform, start small with the 18 Gauge One+ AirStrike and work your way up to the 16 Gauge Finish Nailer.
For The Furniture Maker: Makita LXT Cordless Series – Running on the 18v LXT battery series, these are tough tools for the tough maker. The Makita 23 Gauge Pin Nailer is feather light at under 5 lbs. as a bare tool. Once you're on the 18v LXT battery platform, step up to the 18 Gauge Brad Nailer or the 3/8" Stapler for $179.
For The Cutting Edge Tool Guru: The task at hand now is how do you take normal corded tools and pull the plug? RIDGID was one of the first on the market to answer that with an 18v Cordless Air Compressor. All of your pneumatic tools that run off of an air compressor still have a home but are a heck of a lot more portable and versatile when you can bring this little battery powered air compressor with you. Want to take it a step farther? Why even limit yourself to a set size of nails? The RIDGID Palm Nailer pneumatically drives any nail with a big enough head into material. Really… who needs a hammer?
~Lazy Guy
The post has been sponsored by The Home Depot Pro-Spective Tool Review. I have been compensated for my time and provided with product in exchange for my opinion on these products. My opinion is my own. Unless we share the same opinion, then that opinion is "ours" and we now have a beautiful budding relationship.