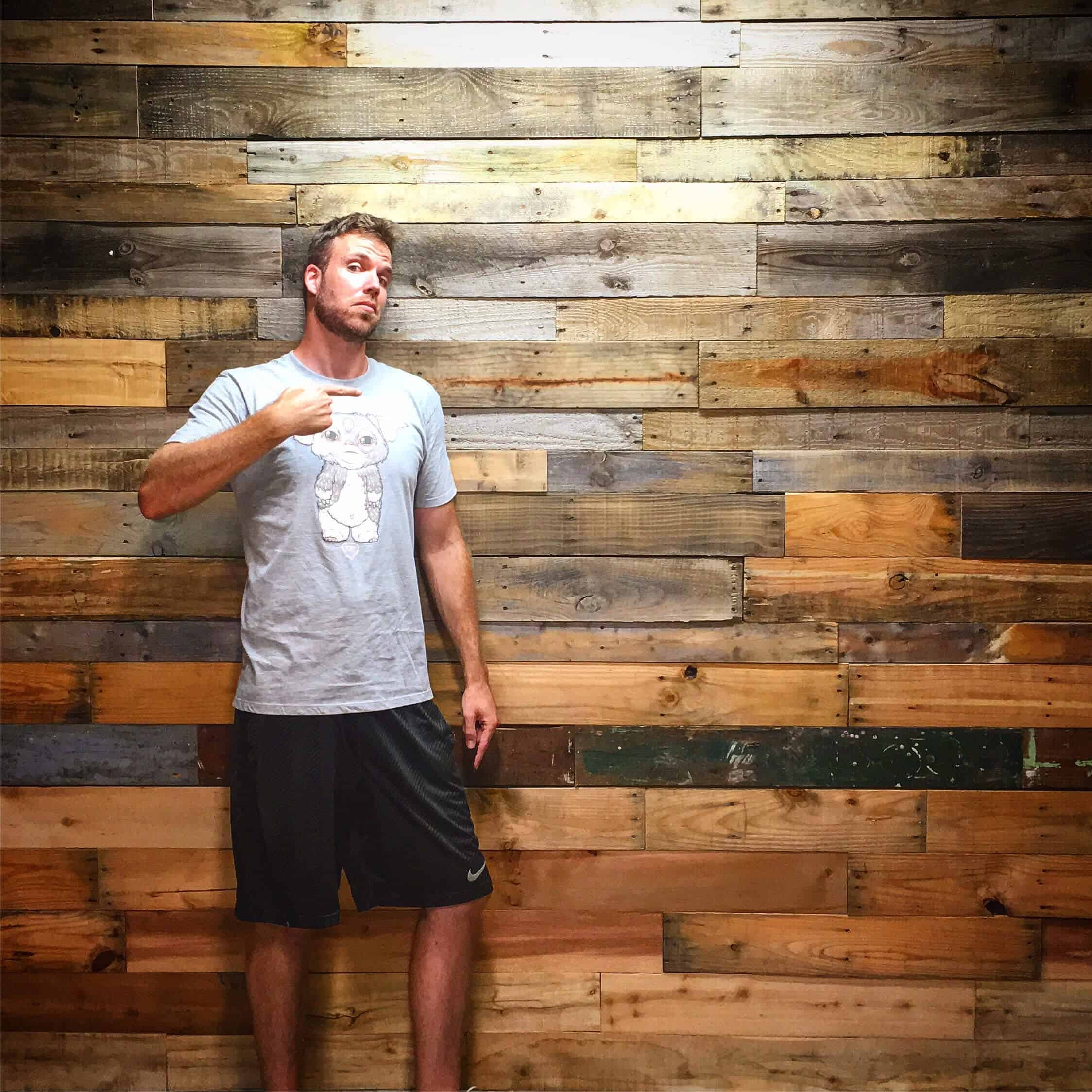 Soooo… I teased this post WEEKS ago and if you've been keeping up with my posts on social media you can absolutely see the lack of progress I've had since then on the wall. "Hey why is there a half complete pallet wall in the background of your photos? Still. Like, for weeks." This had absolutely nothing to do with the difficulty of the project and more so the priority of other projects. So finally… I bring you… the Pallet Wall tutorial!!!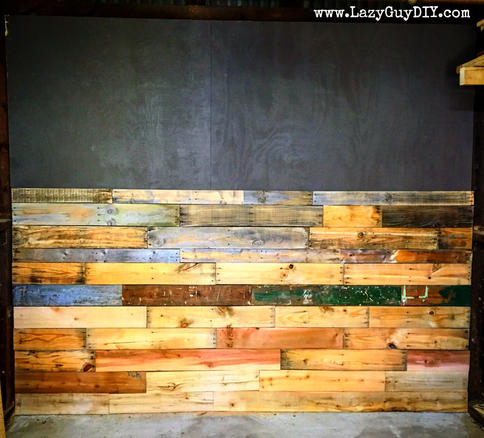 How To Break Down Pallet Wood
But wait, not yet. Seriously, I just said here's the tutorial and now I'm not sharing it? What a jerk. Oh but I am sharing it, but before we get there, we need to talk pallet wood. Contrary to popular belief, pallet wood does not grow on "pallet trees" out in the dark forests of the Great Smokey Mountains. It actually just shows up in assembled form, nicely stacked up, usually through some form of witchcraft or wizardry behind most commercial or industrial buildings. There are companies that sell disassembled pallets and you're welcome to purchase those, but I honestly will never pay for pallet wood. Especially with how simple pallets are to tear apart.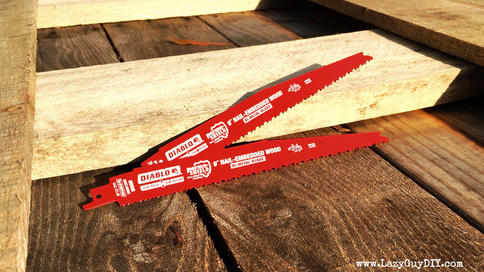 I've seen dozens of tutorials where people bust up pallets with fancy hammers and special pry-bars claiming each product is better than the other. It's all a load of crap. Sure they might work, but it's a waste of time, energy and money. Listen to me when I tell you that the only tools you need are a reciprocating saw and a demolition blade. I typically get the 9″ or longer blades so I have a little extra reach to get under the planks, but if you want to break down a handful of pallets in minutes, go this route.
If you don't already have a reciprocating saw, absolutely get a corded saw, the battery powered saws are convenient but you'll burn through the battery in minutes. You're better off staying connected to your power supply than swapping batteries every 5 minutes. But when you do use the reciprocating saw… you sure do cut through those nails like butter+. Well… metal butter. It's easier than prying boards off. But if you have a few pesky boards that you can't reach and absolutely need to pry off, I recommend the Dead On Tools Annihilator. It's the sort of tool you want in a zombie apocalypse. I've also decided that since I was able to spell apocalypse correct on the first try I've probably mentioned "zombie apocalypse" a few too many times.
Pallet Wall Prep
One of the very first things you need to do is make sure you have a flat surface to attach your pallet planks to. Whether you're installing directly to drywall or you're putting a sheet of plywood down first, you need something secure for planks to attach to. I absolutely recommend putting a sheet of plywood down if this is going in your house over drywall, because if for some reason you get tired of this awesome look, you can remove the planking and plywood and not have to worry about patching every single nail hole. For me, I was already putting plywood up over my framing of the garage, so I attached directly to that.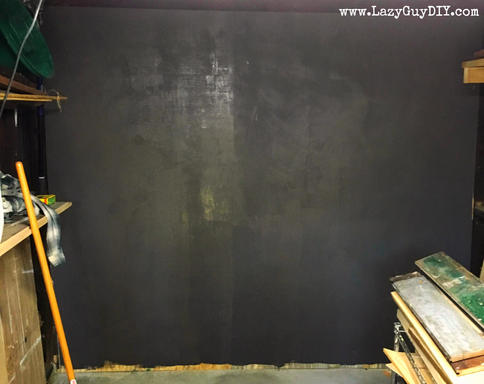 Before you start getting excited about using a nail gun… prep your backer wall. I painted my sheet of plywood with a random can of dark primer paint i had sitting around. It really doesn't matter what you use, just make sure it's dark. Pallet wood is imperfect, which is why we like it so much, so that means ultimately you're going to have gaps. The last thing you're going to want is for white drywall showing through. Join the dark side Luke! Or Kylo Ren, or Anakin. Whoever you associate with in Star Wars. Bottom line… use dark paint!
The Great Pallet Wall Debate
There's a debate in the builder community on whether you should start at the top or the bottom of your wall. The answer is it doesn't matter, but it actually does matter. Confused? It all depends on how much work you want to do. If you are going to trim out the edge where the planks meet the floor or the ceiling with a planks for a baseboard or molding you can start at the top or the bottom. You can easily hide any gaps with the overlay. But if you're going flush edges all around with no trim, start at the top. You're going to need to be handy with the table saw as well because those last plank in the row need to be cut down to width. You're better off having those pieces on the bottom row where the eye isn't automatically pulled to. Plus, if you're like us, you'll have a bunch of furniture and "stuff" in the way on the floor. Ha. When you break down your pallet wood you need to stack your planks together based on similar width. Typically the boards you pull off of the same pallet will be similar width, but there is definitely some variation from pallet to pallet. You need to make sure you have enough of the same width to fully run the length of your wall. If you start mixing random widths in, you'll know immediately when you put the next row up. Either by the giant gap that runs the length of your short board or if it's too wide, your rows will start to angle at the apex of the joint.
Cut. Glue. Nail. Repeat.
With your stacks separated, you are ready to roll. Here's what you'll need to get it done:
Miter Saw

Nail Gun

–

The Ryobi

Pneumatic Nail Guns are awesome!

No hose or air compressors!

Wood Adhesive – I used DAP Rapid Fuse Wood Adhesive
Knowing my wall was a 114″ across, my stacks were separated so I had a few inches extra for each row. From there I could cut off any busted ends or knot holes and not worry about running out of planks in that stack to reach the end.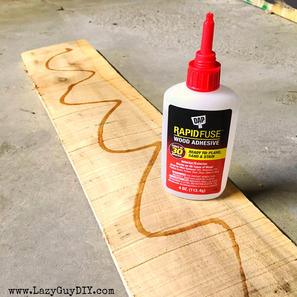 I grabbed my first plank and applied the DAP Rapid Fuse Wood Adhesive to the back in a zigzag pattern and then used my Ryobi AirStrike brad gun to attach it to the wall. So why the Rapid Fuse rather than wood glue or construction adhesive? Wood glue dries too quickly and construction adhesive is thick enough that your planks are never truly flat on the backer board. Rapid fuse looks like super glue and goes on as thin, but it also takes about 30 minutes to dry. So when I ultimately had my screw up and had to pull boards off the wall, my Rapid Fuse hadn't full set yet and allowed me to make adjustments. Alternate from left to right as to which side you start your next row on.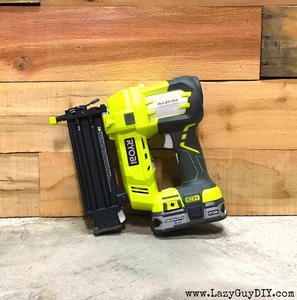 That way you won't have to worry about your joints lining up in consecutive rows. I liked to mix in random wood (that I had enough on hand for a full row) as well like the painted floor boards you can see in the pictures. I also mixed in a row or two of skinny planks with the majority of my wide planks. There really is no right or wrong combination. Unless it looks bad… then that was the wrong combination. What's also nice is that if your boards are looking a little drab, you can always give them a once over with a sander to bring out their former "un-weathered" natural color. I just used my Ryobi Random-Orbit Sander with an 80 or 120 grit sandpaper to spruce up areas that needed a little color enhancement.
See The Pallet Wall Go Up!
---
That's it my friend, it's honestly such an easy and quick process that you should be able to knock an entire wall out in just an hour or two at most. I did that half wall in 45 minutes by myself before I ran out of planks. No joke. To finish off an 8 foot by 9.5 foot wall, i think I used maybe 8-10 pallets total. I was fairly selective also on which pieces I kept. This is honestly such an easy project that you could very easily knock it out in a weekend. That's break down to install. Why it's taken me months… well… you know what the website is named. Ha.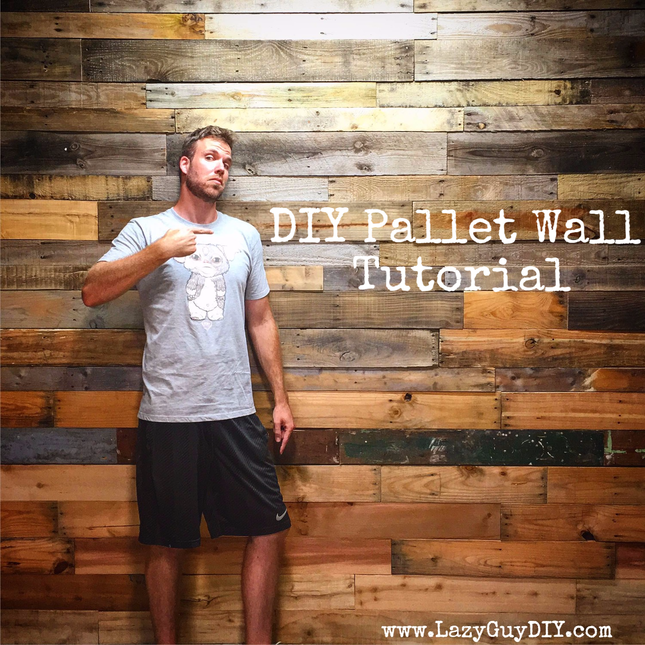 Stay tuned for more updates coming to the shop wall. This is only the back drop for my tool wall and primary workbench. I will say… the pallet wall is easy enough that I'm debating doing the same for the entire shop, including the ceiling. Oh yeah… it's going to get crazy. If I feel motivated. Ha.
~ Lazy Guy