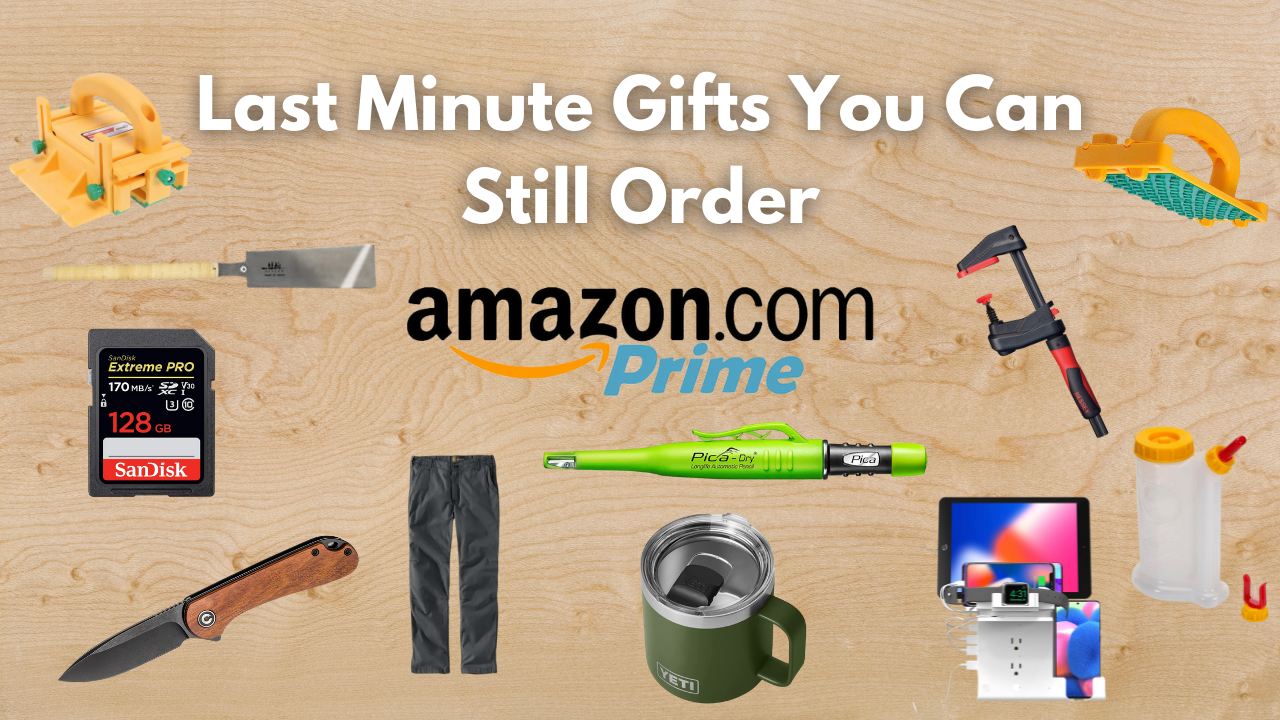 Hey guess what… it's less than 2 weeks away from Christmas. Have you picked up all of your gifts yet? No. Whelp… you're screwed unless you want to emerge from your cave and go out into public and fight the holiday crowds. OR… how about you take a look at these hand picked gifts you can order today and have them arrive before Christmas? Good choice.
* Affiliate Links To Follow
Oddly enough, the gateway tool into woodworking is generally a power tool these days. But the more you get into woodworking, the more you'll gravitate to hand tools. Suizan makes probably the most popular Japanese pull saws on the market. I'm personally a fan of the 6″ Dozuki Tenon Saw or 9.5″ Two Sided Ryoba Saw.
Want to say I'm cool but I also practice safe woodworking? Pick up one of the many variety of MICROJIG push blocks. For something quick and easy I like the Smart Hook Push Block that grips your material and has a drop down hook to avoid kickback. If you want to step it up and fully customize your push block to whatever scenario your cutting needs desire try out the GRR-RIPPER 3D.
Whether you're team TiteBond, DAP Weldwood or Gorilla Glue chances are you're going to leave the lid off and get the troublesome glue clot. While they are fun to pick at, grab yourself a Fast Cap GLU-Bot for a constant flow of glue that won't disrupt your workflow.
You know what you can never have enough of? Clamps! Err… wait on that one. Actually, it's also memory cards if you're a content creator. Whether you're just starting out or running a multi-camera rig, you're going to need memory cards and it's a practical gift that won't go un-used. Just make sure you check the camera is compatible or if they have 4K camera you get 4K compatible cards. I've been using SanDisk cards for years and love em!
Okay… now it's time… YOU CAN NEVER HAVE ENOUGH CLAMPS! Bessey Tool makes arguably the best clamp out there. Whether it's F-Style, K-Body Parallel Clamps, Trigger clamps or the GearKlamps, pick up any and all for your woodworker and you can't go wrong.
Recently I started seeing more and more GC's with these pencils clipped to their work gear and thought huh… sort of a luxury item. I'll use my normal BIC mechanical pencils. And then I got one of these PICA Automatic Pencils in the mail. And now… I'll never go back. I clip it to my workpants or work apron and it's a durable graphite pen (technically) that will mark and write on most surfaces.
If you followed my Instagram stories earlier this year you'll know that I spend way too much time picking out a new pocket knife as an Every Day Carry. Not too big. Not too small. Goldilocks and I needed it just right. Plus I really loved the idea of a wooden scaled knife. After running through Benchmades and SpyderCo and all the normal options, I landed on CIVIVI knives. The one finger flipping action sold me immediately after I already loved the look. The Elementum comes in a variety of options for scales and blades. Unfortunately, when I ordered mine, the Damascus blade hadn't been released yet and I was impatient.
Whether I'm in my shop or lugging my 3 interns around, we roll with a lot of devices. Kindles, Phones, Wireless headphones, Smart Watches, FitBits, Cameras and more… we rely heavily on tech. Which means charging is a pain. I picked up the RapidX My Charging Station earlier this year and it can charge up to 7 devices at once. With standard plugs, 3 USB and one USB-C plug you can juice up in bulk. The one caveat is that it requires two outlets to be plugged into at once, but right before a trip it's a lifesaver.
Carhartt Rugged Flex Straight Fit Work Pants
I'm a tall guy, but also fairly skinny (depending on how motivated I am), so work pants are an adventurous purchase for me. Actually, work clothes in general are. Usually they're really wide and unfortunate on me. Or now there's a skin tight trend as well that's crossed over into workwear that I think is… questionable. Skinny pants on dudes are best left for the clubs or the football field. Which longwindedly brings us to Carhartt's Rugged Flex Straight Fit work pants. Not baggy, not tight. Just right.
At this point in my life with 3 little interns, several full-times jobs and an ability to fall asleep anywhere and everywhere… it's safe to say I'm running on caffeine and spite these days. So I take my coffee seriously which is why I love a Yeti Rambler. Don't @ me because we're talking an expensive coffee mug. Hot or cold, Yeti makes hands down the best thermal controlled storage containers out there.
Order quickly. Time is running out. If you liked this random of all random line up of ideas. Check out the big ticket buys from my Woodworker's Gift Guide as well!
~Lazy Guy