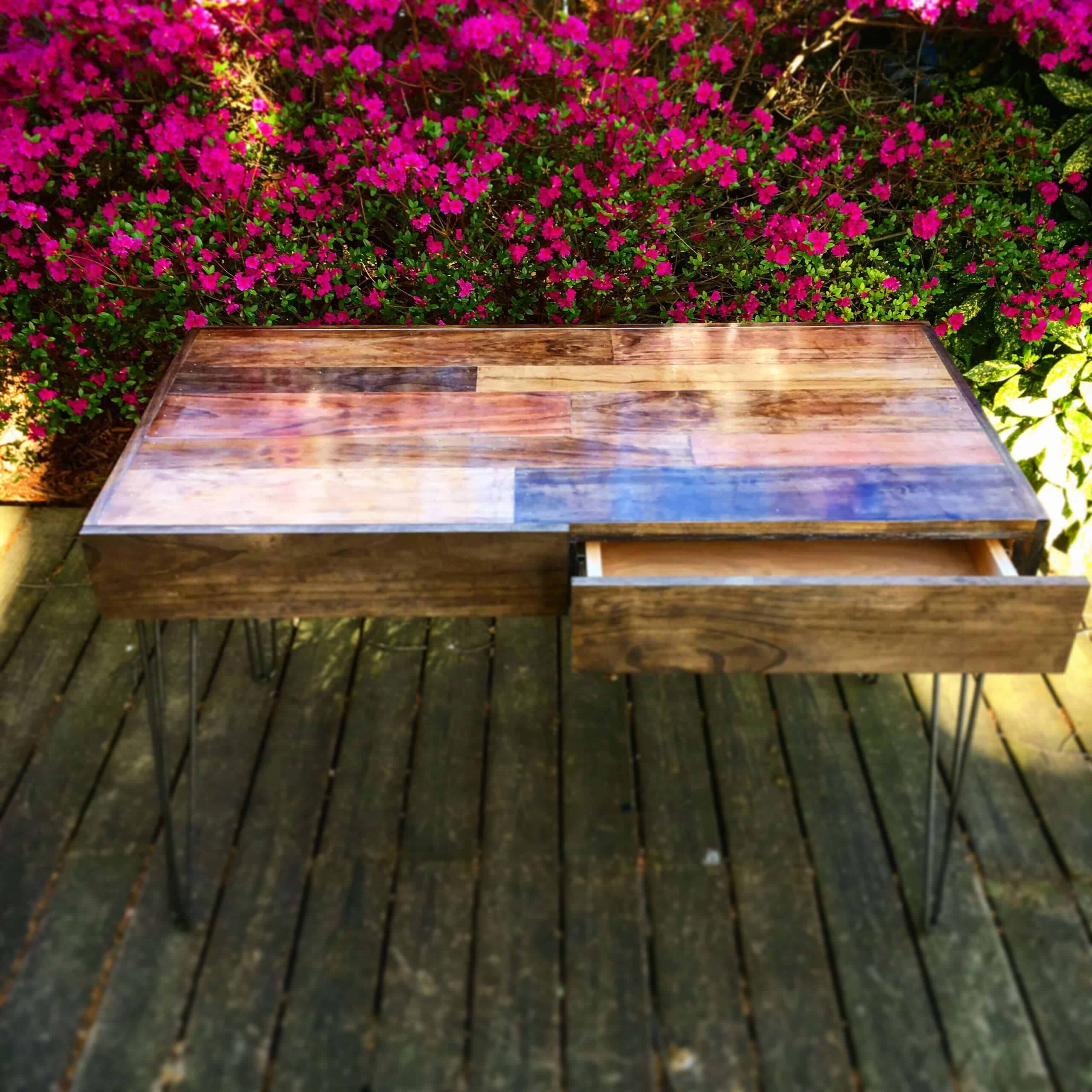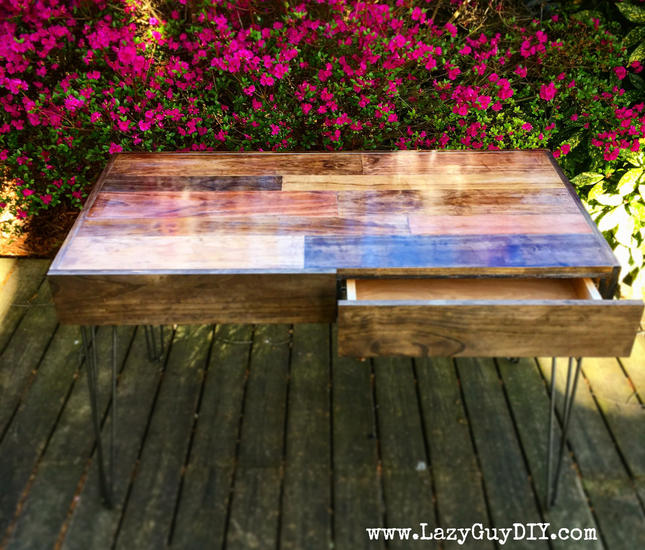 So first it was a patchwork dining table, then a matching bench, then a round kitchen table, now it's a patchwork desk. It's like the Fast & Furious franchise; it won't go away and each time we come back with more cars, a bigger cast and more 'splosions. Well… there were no cars harmed or 'splosions in this build, but I did change things up this time on how assembled the plank top. So if you like to live your life a quarter mile at a time, check out this build below or watch the build video if you're more about action than words.
---
Tools Used
Miter Saw
Table Saw
Drill/Impact Driver
Brad Gun
Circular Saw
Router
Kreg Jig
Material/Supplies Needed
2'x4' ¾" plywood project panel (desk bottom)
2'x4' ½" plywood project panel (desk top)
2'x4' plywood underlayment (drawer bottoms)
(3) 1x6x8 board (plank top, drawer faces, facing trim)
(3) 1x4x8 board (plank top, drawer frames)
(2) 1x3x6 board (drawers)
(4) 3/8" 26" three rod hairpin legs (

DIY Hairpin Legs

)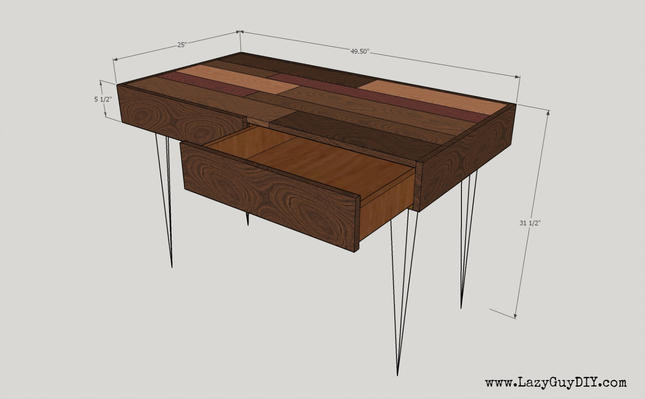 ---
Step 1 – Cut Your Planks
There are a couple ways to go about laying out your desktop with for the patchwork planks: You can measure everything accurately, pre-cut the planks to the exact width and length of your painstakingly cut sheet of plywood base… or you can do it my way.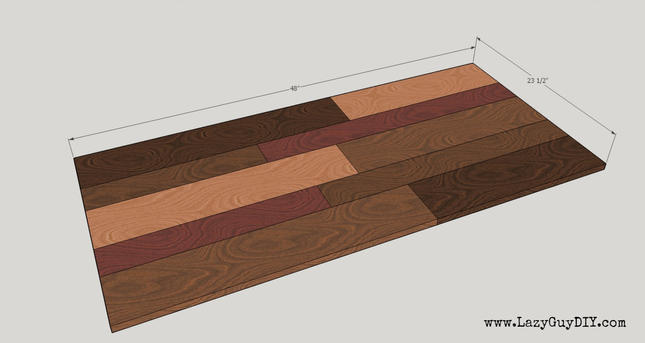 I bought a pre-cut sheet of ½" plywood project panel from Home Depot that is already 2'x4' which is roughly the size of the desk I needed to make. The problem is when alternating 1×6's and 1×4's to get the desired width for the top, you're never going to get 24" because 1×6's are really ¾" x 5.5" and 1×4's are ¾" x 3.5". Luckily, three 1×6's and two 1×4's come out to 23.5" which is good enough for me, I can cut off the excess plywood later.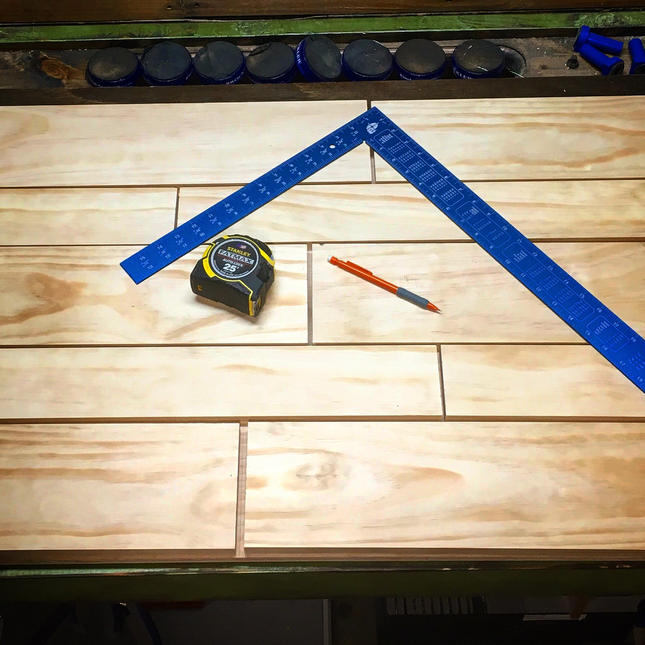 I laid my planks out on my plywood in the order I desired and then marked out my cut patchwork pattern for cuts. I then cut the planks using my miter saw and left about a half inch of overhang on the ends that I could cut off later. I've found that if I cut my planks to the exact lengths ahead of time something inevitably is longer or shorter and it's a pain in the butt to fix it later. So why not cut the excess off to give me a straight line all at once? It's very important at this point to make sure all of your pieces are the same thickness. If one board is thinner than the rest you need to toss it or sand the other down because one small board will make your entire surface uneven. This is a desk, so you want it smooth.
Step 2 – Stain Your Planks
I really wanted to make an "Insane in the Membrane" song reference here but I couldn't make it work… Instead of drowning in my tears of failed pop culture sorrow, stain your planks various colors. You can add paint colors and antique them like my previous patchwork projects, but for this desk we went all wood stain.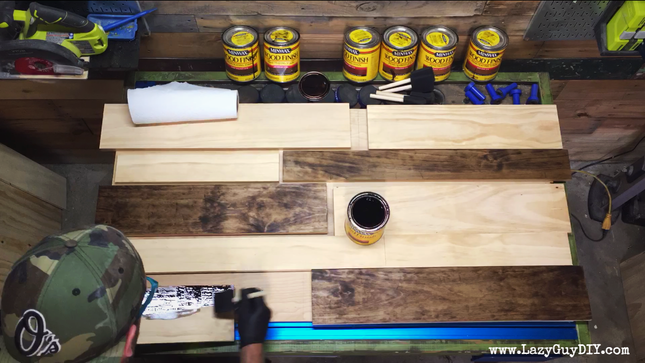 I used MinWax Wood Stains with a mixture of Jacobean, Special Walnut, Early American, Red Chestnut and Dark Walnut. I do recommend sanding the surface of these planks with 220 grit sandpaper prior to staining. I've found that some of this S4S box store lumber has a tiny film that makes the stain slightly splotchy sometimes.
Step 3 – Attach The Planks (The Remix)
Here's where things go differently if you've followed any of my previous patchwork plank builds. Normally I attach the individual plank pieces underneath with pocket holes and then build a support frame underneath for stability. This time I attached the planks directly to a plywood base. That's mainly because A: I hate plywood and B: those sheets of plywood would have been bigger than I could accommodate for those specific projects.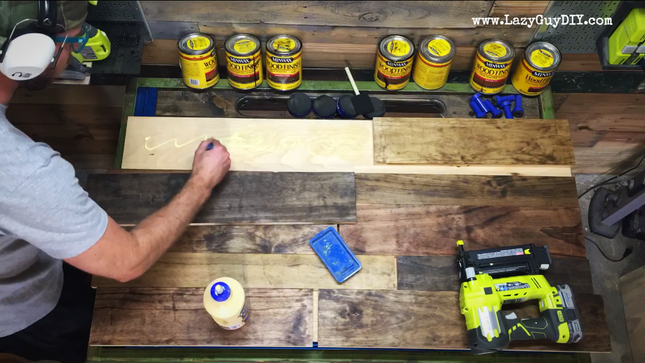 Here's why attaching directly to plywood is better… you get a smoother surface between planks. Ultimately, when using the pocket hole method, some of the planks will be slightly higher or lower and you get an almost cobblestone effect. It's actually great for a rustic table or bench. It adds to the look and was intentional before. However, because this was a desk you want the smoothest surface possible because you don't want to be writing and look like you're working on an etch-a-sketch.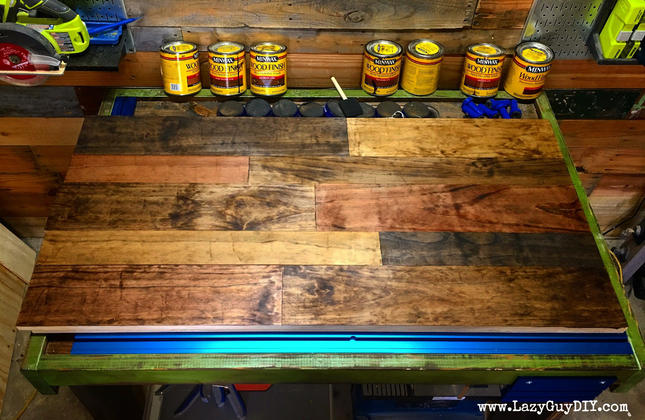 I started attaching my top row flush with the plywood using wood glue and my Ryobi AirStrike 18 gauge brad gun with 1" brads. Because the planks have already been stained, I made sure I used my Rockler Glue Applicator brush so I wouldn't get big glops of glue oozing up from the gaps. That's not something I want to try and sand off later because it would ruin the stained surface. Make sure you apply glue underneath and on all of the joints. I tried my best to follow a pattern on where I tacked the planks on with the brad gun because the holes would be slightly visible when finished. Remember to leave a half inch or so of overhang on the ends to be cut off in the next step. Not because it had too much to drink and was getting all handsy, but because you want it to look pretty later.
Step 4 – Trim The Fat
Time to get rid of that overhanging plank and the extra plywood. Our time together has been great, but you've got to go. It's not you… it's… well it's actually you. Using a circular saw and a straight edge for a guide, I cut off the excess material to the desired width and length.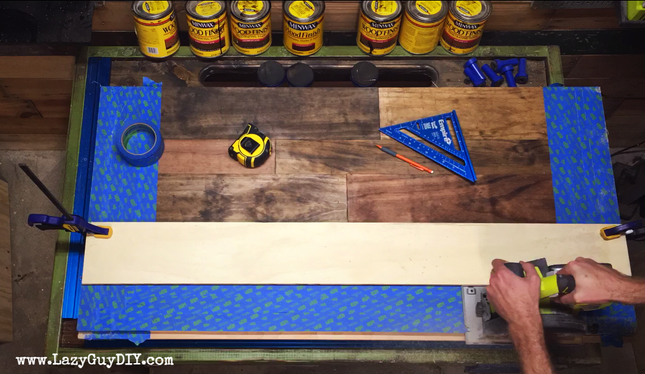 You will notice that I tape the surface first with painter's tape. This not only protects the surface from being scratched by my saw, but also prevents tear out from the saw blade. I use a 40 TPI diablo saw blade used for finishing cuts to get the smoothest edge. It is VERY VERY VERY important that your cut is square (you know this because I said very 3 times). If your desktop is wonky then your drawers and trim will never go together flush.
Step 5 – Frame Out The Drawers
So why didn't we buy two sheets of the same thickness of plywood for the desk frame? We have a ¾" project panel and a ½" project panel. Because we're making a sandwich and if you don't follow the recipe correctly with the right ingredients then you'll ruin dinner. Or mainly, ¾" planks + ½" project panel top + ¾" project panel bottom + 1×4 drawer frame = 5.5" which is the exact width of the facing frame and drawer fronts we're going to attach later.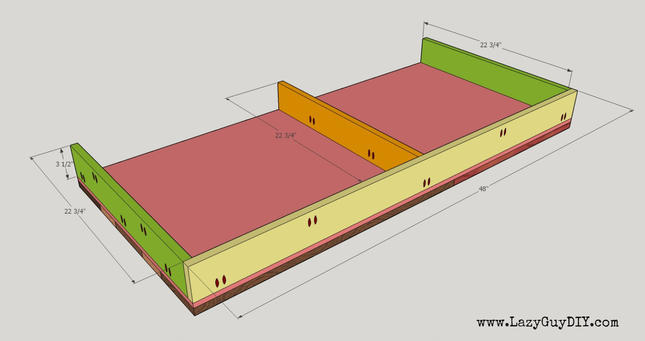 With the planks facing down, mark out and measure where your 1×4 drawer frames will be attached to the plywood. I went with a simple two drawer desk, so I needed a back piece (48"), two side pieces and a middle (of the same 22.75" length) of 1×4 for the framework.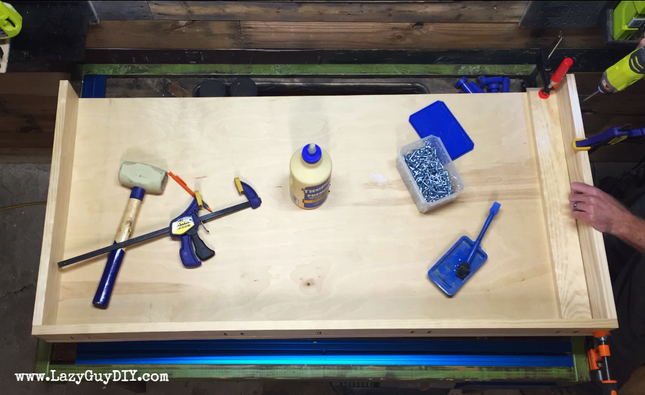 I pre-drilled ¾" pocket holes with my Kreg Jig on one end of the 22.75" side and middle frame pieces to attach to the 48" back frame piece. I also added top and bottom facing ¾" pocket holes on both side pieces to attach to the both pieces of plywood in the sandwich. Before you panic about using a ¾" pocket hole and attaching it to the ½" piece of plywood top, remember there is now an extra ¾" of patchwork plank above it, so you're fine to use a normal 1-1/4" pocket screw and not have it punch through. For the 22.75" middle piece you're only going to be able to attach to one side of the plywood with pocket holes so only pre-drill those to attach to the top of the desk.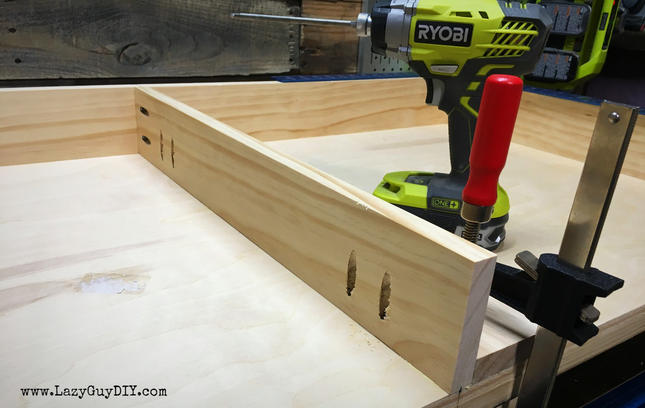 Remember to use wood glue in all joints and make sure the pocket holes are outward facing when you attach them to the plywood that way they aren't visible inside of the desk (plus we are covering them with facing trim). Once again, make sure everything is square, this is make it or break it time for when you attach your drawers later.
Step 6 – Attach Your Bottom…
Now it's time to attach the ¾" plywood project panel to the desk frame. It's not going to fit exactly because this is still a 24"x48" panel and your desk went on a diet and is 23.5"x48". I attached the panel with wood glue, the pre-drilled pocket holes and wood screws.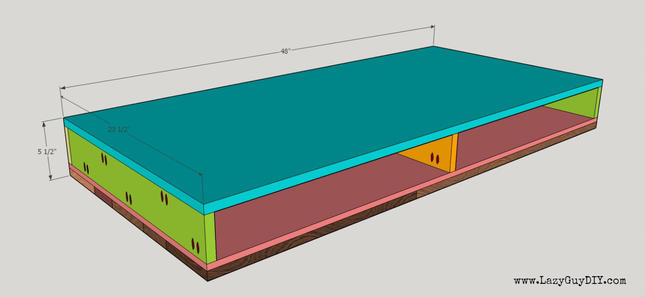 Be sure to line up the over-sized plywood panel with the front of the desk where the drawers will open and have the overhang reach over the back of the desk. Once the panel was fully secured, I used my trim router and a flush trim bit to zip around the edges to cut off the edges to give me a smooth and square edge.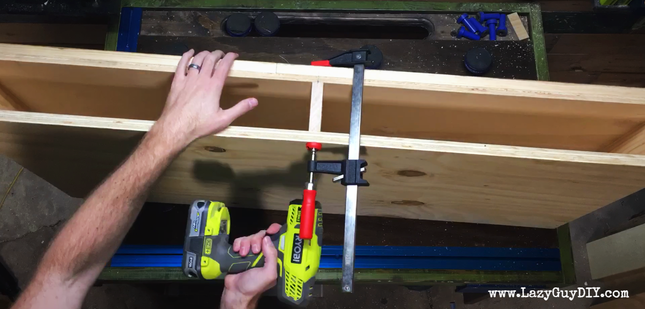 Make sure you add wood screws down the middle to attach the plywood to the drawer divide. Pre-drill then put your screws in. You don't want to split that middle frame piece.
Step 7 – Hide Your Hard Work With Trim
Cut your 1×6 trim pieces to length and stain. I used my darkest stain (Jacobean) for the trim because I feel like it really emphasized the patchwork. I cut the back piece longer (49.5") so the side trim pieces butt joint against the back piece.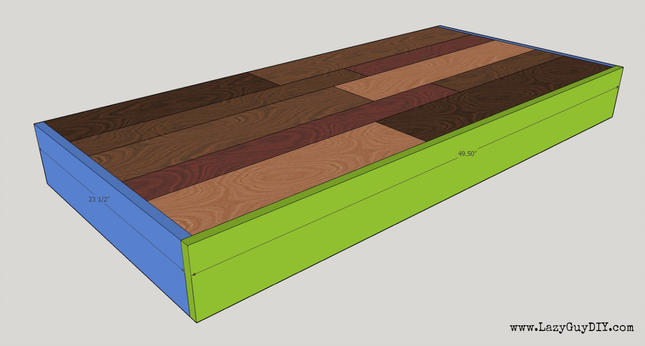 I attached the trim pieces with brad nails and wood glue. If you want to be extra thorough, you can add wood screws from the inside to attach the panels… but that seemed like a lot of work…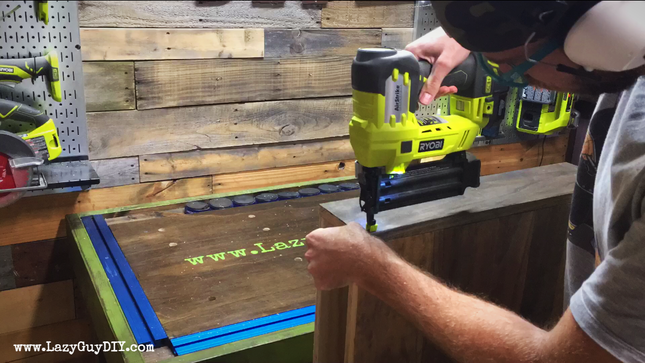 You'll notice in the video I used clamps to secure the trim work before attaching it, that will reduce any gaps you might get. I had a slight gap in a few spots and went back and added some tinted stainable wood filler. After it dried I sanded off the excess and wiped on a little of the Jacobean stain overtop to blend it in.
Step 8 – Start The Finish
Start the finish? What sort of cryptic crap are you spouting? Oh, the finish on the desk. Because you have all the trim work on and the desktop assembled, you can actually start applying your poly coats and letting them dry while you work on the next steps.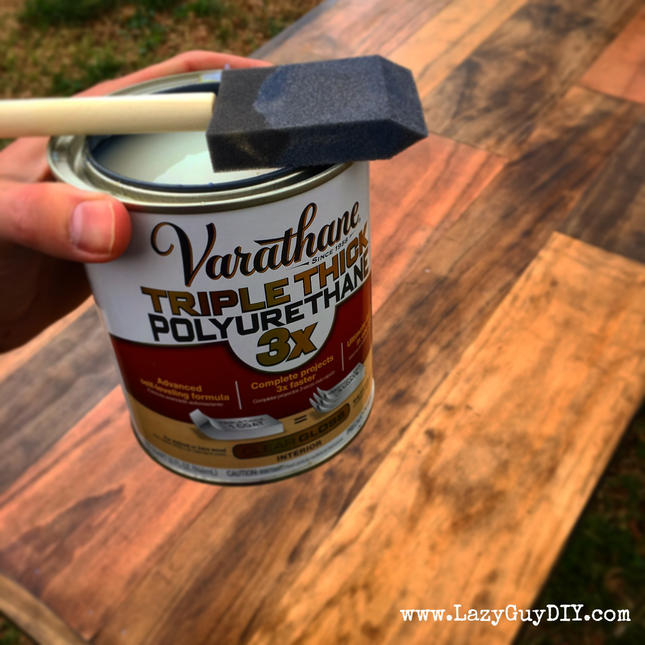 I used Varathane Triple Thick Poly for the first time and loved it. I typically use 3-4 coats of MinWax poly, but 3-4 coats of the Triple Thick Varathane is like 8-12 coats of the MinWax. Two coats in and it was smooth as glass. It's the ultimate Lazy Guy product. Look like you did a lot of work while you really did the minimal amount. Remember to hand sand with 300+ grit sand paper between coats for the smoothest finish.
Step 9 – Assemble The Drawers
Again, I must be off my game because I really wanted a "drop your drawers" pun, but I've got nothing. I typically use the monotony of my desk job to fill me full of sarcasm and spite so my posts are funnier… but apparently it's a good week. Ha.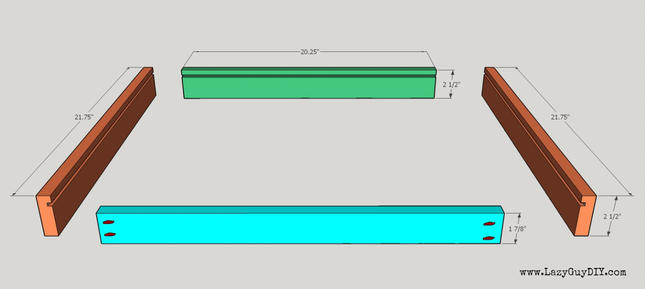 Because I'm using soft close drawer slides, if you use a different brand or a different type of drawer slide, your measurements might be slightly different. I dry fit the slides in the drawer and then measure the distance in between the slides and then subtract 1/8" for the best fit. The slides have a little wiggle room, so you want the drawer to be slightly smaller rather than too big.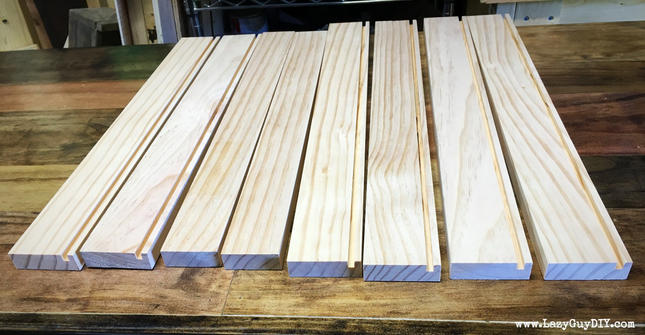 I cut my 1×3's to length for the drawer assembly and then pull out the table saw for dado cuts. You want to set your saw blade for a deep enough cut so the underlayment will make purchase, but not so deep that your drawer bottom will blow out with too much weight (because blowing out the bottom of your drawers is embarrassing for everyone involved). Make your first pass (in a kind, but gentle flirtatious way) on the two side pieces and the front piece of the drawer frame, leave the back piece uncut. This dado will be closest to the bottom of the drawer. Adjust your fence so the next pass (a little more assertively flirtatious this time) will be closer to the middle of the drawer. You want the dado groove to only be a little wider than the piece of underlayment. I keep a scrap piece of underlayment sitting around so I can dry fit for the snuggest fit. I find two blade width is too much. Once you pass the three drawer pieces through for the final dado cut, raise your saw blade to cut through an entire piece 1×3. Remember that back piece? You're going to cut it off completely on the same line as your last dado cut. Why is that? Because it allows you to assemble the drawer completely and then slide the underlayment in and just attach it with brad nails. I picked up this method from Jay Bates and love it, especially if I have to replace the drawer bottom at some point.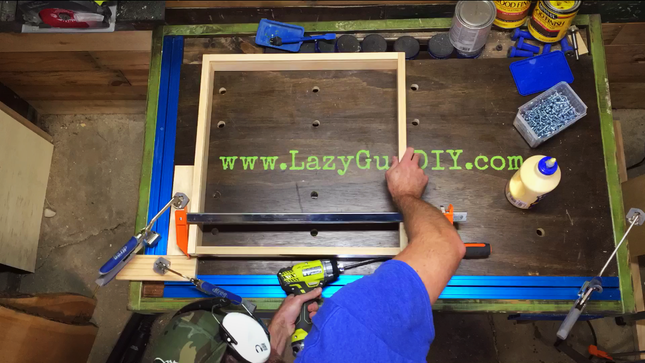 Using my Kreg Jig, I pre-drilled ¾" pocket holes and assembled the drawer frame with wood glue and 1-1/4" pocket screws. I then measure in between the dado grooves and cut a piece of underlayment on my table saw to slide into the drawer frame. Once you cut that… the magic happens.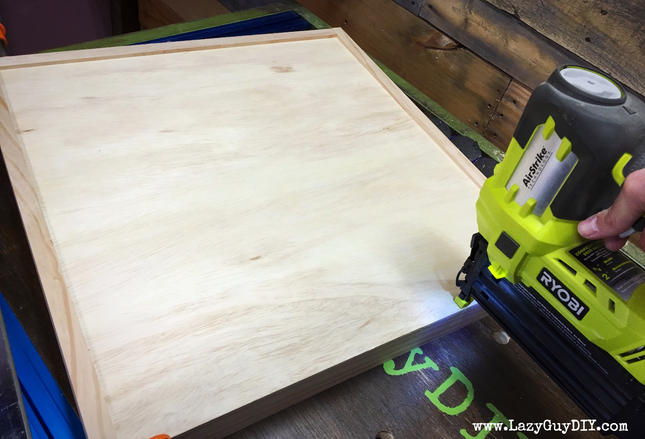 Slide the underlayment in and attach to the back 1×3 with a brad gun.
Step 10 – Install The Drawer Sliders
Remember that terrible 90's show called "Sliders" with Jerry O'Connell where they jumped through portals to alternate universes? Me either. I mounted the drawer brackets to the middle of the drawers themselves. I find it's easiest to draw a centerline on the actual drawer and then line up the bracket using that line and the screw holes. It's okay if you eyeball it… as my dad says… it's good enough for who it's for.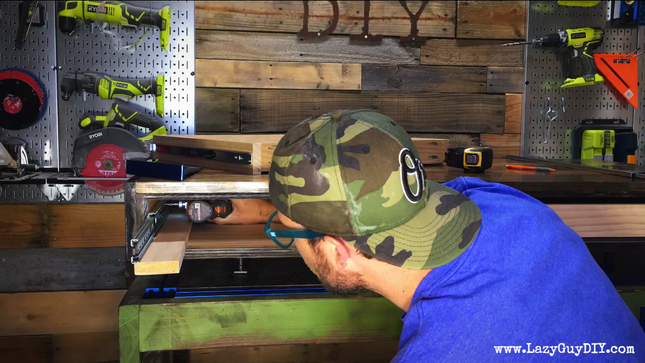 When mounting the actual sliding brackets to the inside of the desk, I cheat here because I have a nifty little RIDGID Palm impact driver that lets me drive screws in tough to reach spaces. If you don't have a low profile driver, you might need to attach these before you attach the bottom to the desktop. I used a scrap piece of 1x material, set the slide on top of it and drove the screws in. That easy. I did that on both sides and then my drawer easily attached.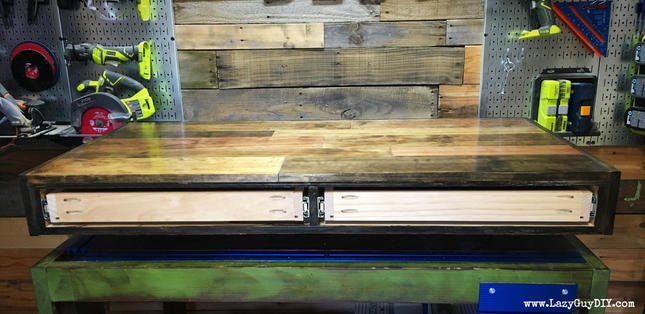 You'll notice I didn't attach the drawer faces yet… for good reason. I forgot about them… just kidding, I've got more in store for them.
Step 11 – Drawer Faces
If my "mathing" is right, with the trim, my desk is 49.5" wide. Cut a 1×6 to that length, mark the middle at 24.75" and then cut it in two. You now have your drawer fronts. For this build the client asked for hidden drawer pulls, plus I wanted to try something new…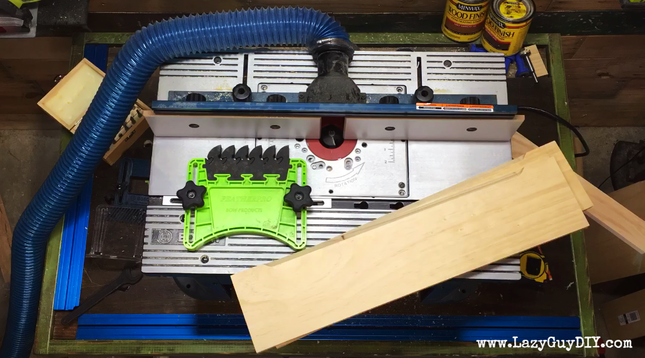 Using a 45 degree chamfer bit on my router table, I cut the pulls directly into my drawer faces. I measured 3" from each end and stopped the router before I cut all the way to the ends. This gives the desk an appearance of hidden drawers (if I do it right). Luckily they turned out perfectly.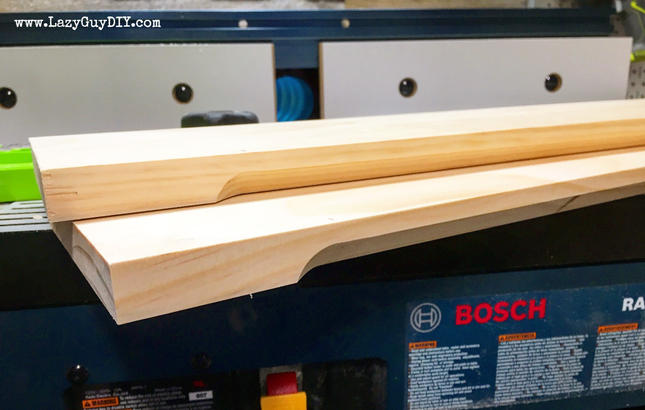 After staining and drying and it was time to attach the drawer faces to the actual drawers. This might be controversial to some traditionalists, but tough… I chose the easy way to attach these. I pre-drilled the drawer fronts, applied wood glue and then clamped my drawer faces to the front of the drawer and the desk so that it lined up where I wanted it. I then tacked the drawer face on with a brad gun, opened the drawer and then drove 1-1/4" wood screws through the back through the pre-drilled holes. Why did I do it this way?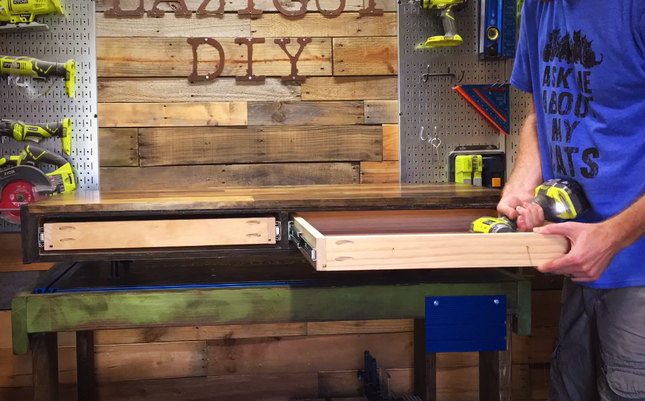 I could have measured and marked and measured again and attach the drawer faces directly to the drawer, but lining it up perfectly with the desktop would have been near impossible. I'd rather leave a tiny brad hole that I can patch and stain then fight with lining up the drawers the traditional way. Oh, you might have caught that I said I only stained the drawer faces, I didn't seal them yet. That's because I wanted to make sure I have everything perfect before I added the poly coats.
Step 12 – Add Your Legs
For this build, like several others, I used hairpin legs. I ordered these 26" three rod legs from DIY Hairpin Legs (if you use the link, you get 10% off your first order). What's really fun is that they now have 3-Rod legs in fun colors like the traditional 2 rod legs. These bring the total desk height up to 31.5" which is slightly higher than a standard 30" desk height, but the client wanted enough leg room so his daughter could easily sit legs cross under the desk drawers. The legs are delivered with 1"-1-1/4" screws, but they are going to be too long to drive in through the bottom. With the leg base panel and the plywood bottom, ¾" wood screws are plenty long enough and strong to hold the legs in place.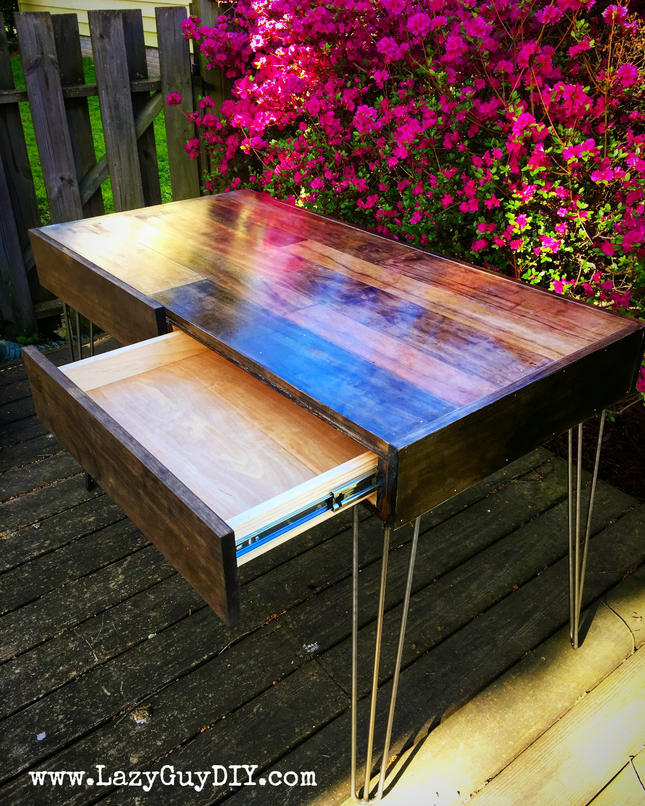 That's it! You're finished! I did end up applying 4 coats of the Varathane Triple Thick Poly Finish only because I wanted a really thick top coat for the desk. For something that's going to get a lot of wear and tear, I really wanted it to hold up to the rigors of homework (do kids even use pencil and paper anymore?).
If you have any questions on this build please feel free to contact me and as always, if you end up building one yourself, absolutely send me some pics! I love to see your work!
~Lazy Guy
Like the Patchwork Plank Top on this desk? Check out the other patchwork plank builds!