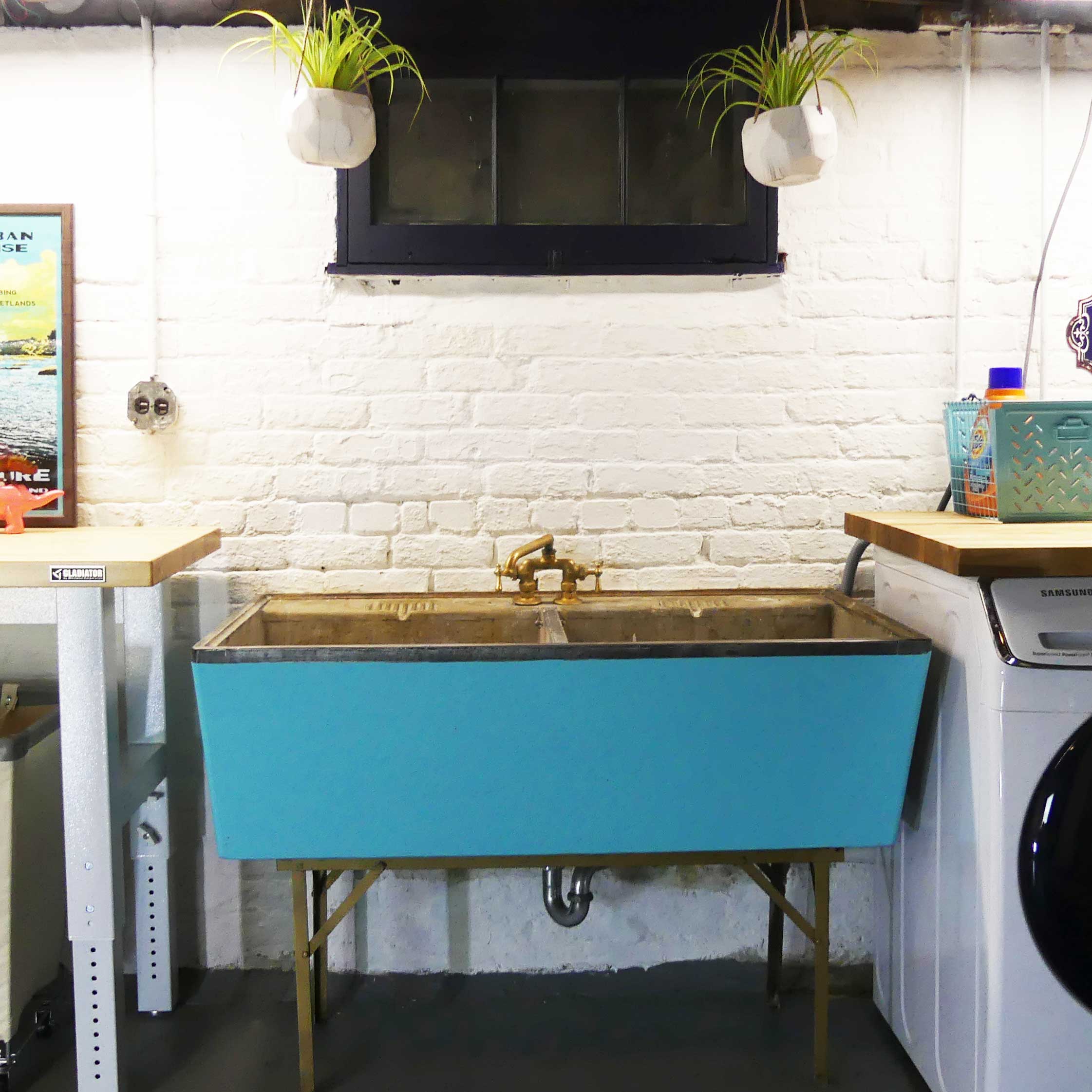 A while back we revealed our Scary Basement Makeover that came with a lot of new bells and whistles… but there was one element that stole the show: our original Concrete Double Laundry Sink. At first we thought the behemoth was a Soap Stone Sink given the age of our Craftsman Style home. After a little research (from the patent number we found on the bottom) we found we would have to approach this in a whole new direction. So find out how we brought this show stopper Vintage Laundry Sink back to life!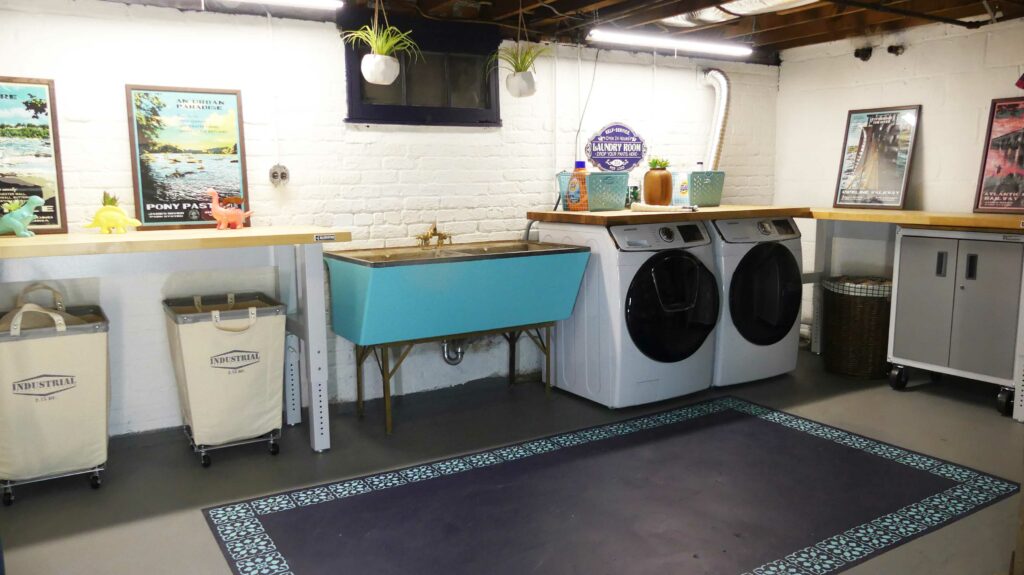 *This post has been sponsored by Dremel Tools and would not have been possible without the help of the Dremel Versa! Affiliate links included.
Concrete vs. Soap Stone
So why the big deal from the original post about whether this was Soap Stone or Concrete? It all comes down to restoration. The main ingredient in Soap Stone is talc, which is one of the softest minerals. A very light hand sanding and then a generous application of mineral oil and the Laundry Sink would really pop. Because Soap Stone darkens over time it was easy to confuse the two here. When I looked for the manufacturer's mark and found a patent number, I plugged it into Google and looked it up! Concrete!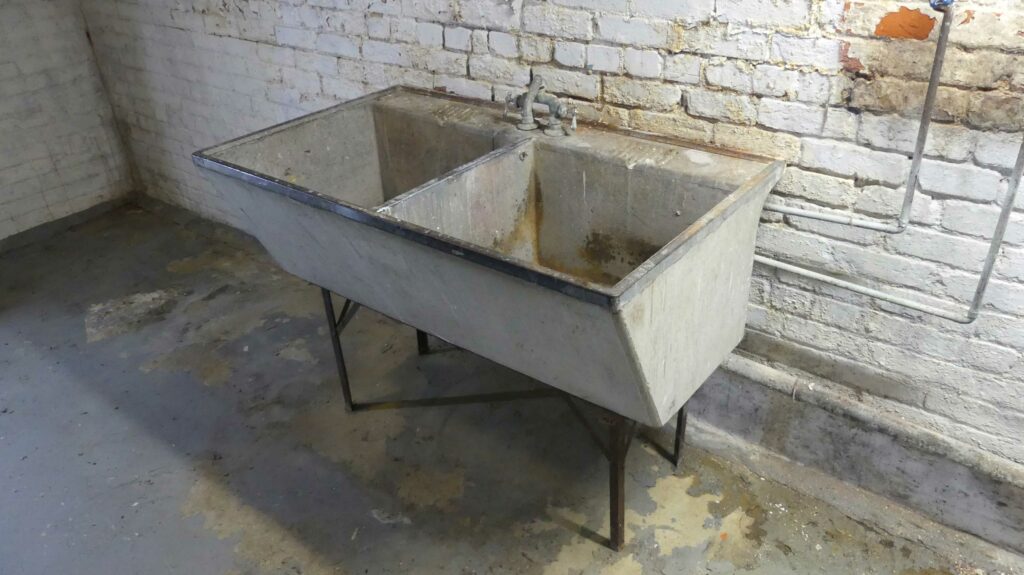 A big difference here is concrete made today versus concrete from almost 100 years ago. For Laundry Sinks like mine the concrete mixture contained a good amount of Portland cement which is extra strong, but still very porous. Going at this with a rough abrasive and the wrong chemical cleaner and I could do some serious damage.
Vintage Laundry Sink Clean Up
So how did I clean and restore the concrete sink? I had to break it down into sections because the outer wall, top edge, inside basin, inset washboard, faucet and metal stand all needed special attention. You can also check out this video below!
Outside The Basin
The outer wall of the sink was in relatively good shape despite being a basement eyesore for decades. It has it's fair share of dirt layers and paint splatters, but that were easily cleaned up. After consulting my buddy Scott Sidler from Austin Historical he told me I could lightly sand the basin with a random orbit sander and a high grit. With a dust mask on I quickly sanded out the wear and tear with 220 grit.
During my research of the patent number, I found out that this particular sink traditionally was painted black on the outer basin. So that explains the darker coloring and gave us the idea to bring in a fun color. Using the same tinted (Behr Key Largo Green) concrete paint I used in the Floor Stencil Tutorial, the pop of color went on easily.
Top Edge Of The Basin
Guess what's not concrete? The top edge of the Laundry Sink! It's actually zinc! It's there to reinforce a high traffic area that could have easily been chipped concrete after years of use. So kudos to zinc! However… it's also not something you want to sand with random orbit sander. The abrasive would just leave scratches. So now what?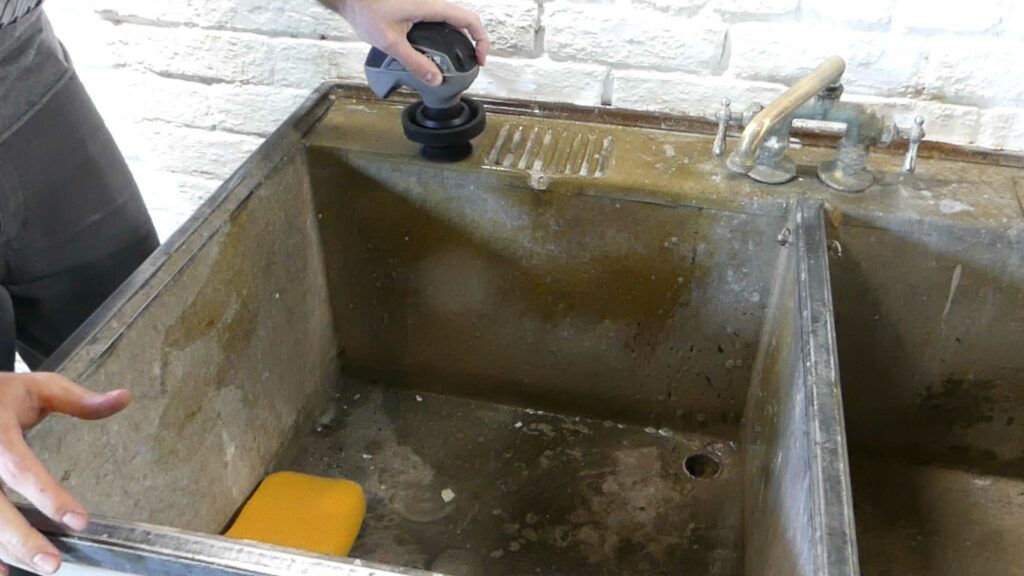 Time to pull out the Dremel Versa! Yes, it's a rotary tool, but you have a variety of scrubbing pads to swap out. In this case I used the non-scratch pad and wait for it… toothpaste with baking soda. A damp pad and a generous application of toothpaste shined the zinc edge right up!
Inside The Basin
The area of the Laundry Sink that took the most abuse is by far the inside basin. I'll admit… in the decade we've lived in the house I've cleaned quite a few paint brushes without much care to the inner surface. It started to look like a Jackson Pollock. With a lot more chipping and degradation sanding was out of the question. So now what?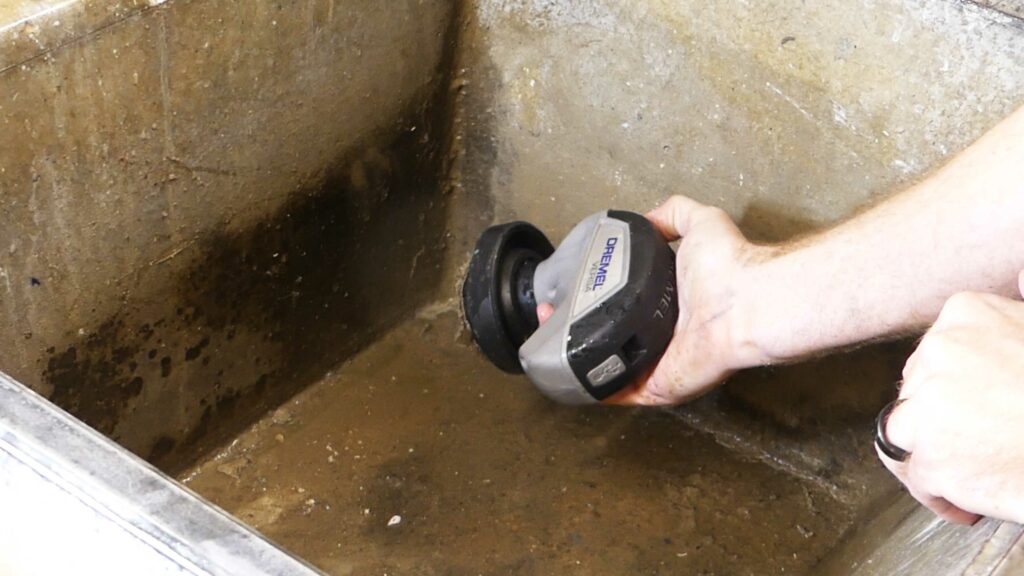 Again I used the Dremel Versa but this time I used Oxy Clean to scrub first using the bristle brush attachment and then the heavy duty scouring pad. You need to be extra careful about what chemicals you use on the inside. While a tough chemical cleaner can certain take the miles off, it will most likely disintegrate the original drain connection which is apparently nearly impossible to replace.
Also on the inside of one of the basins is an inset washboard. At first I thought it was a poured concrete form, but after a little scrubbing I realized it too was made of zinc! So once I took off the initial sink scum, I went back over with the Versa non scratch pad and toothpaste to make it shine!
Faucet And Metal Stand
To add a little bling to the sink, we decided we were going to paint the faucet hardware and the legs. At this point the legs had decades worth of rust on them. So I brought out the random orbit sander again with 180 grit and cleaned off the oxidation. For the faucet I brought out the Versa again with the toothpaste method and scrubbed off the years of soap scum.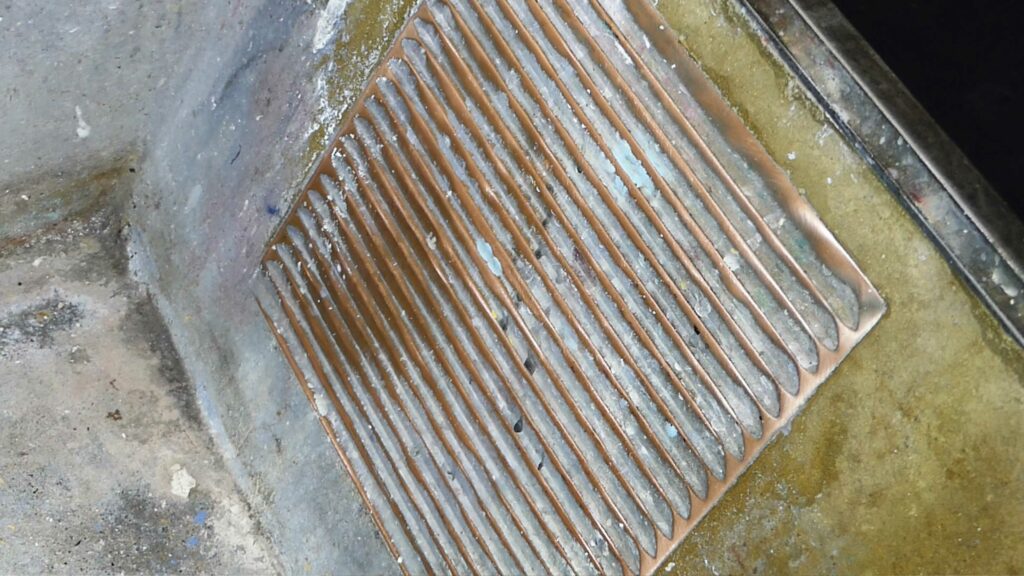 We then used Rust-Oleum Metallic Champagne Bronze Protective Spray paint on both the legs and the faucet for an added element of color. Making sure the room was well ventilated, I put plastic and cardboard down around the legs (since I just painted the floors!) and sprayed those in no time. For the faucet (since it was never going to be removed!) I surrounded the area with plastic and pulled the hardware through and sprayed into the make shift spray shelter.
Final Look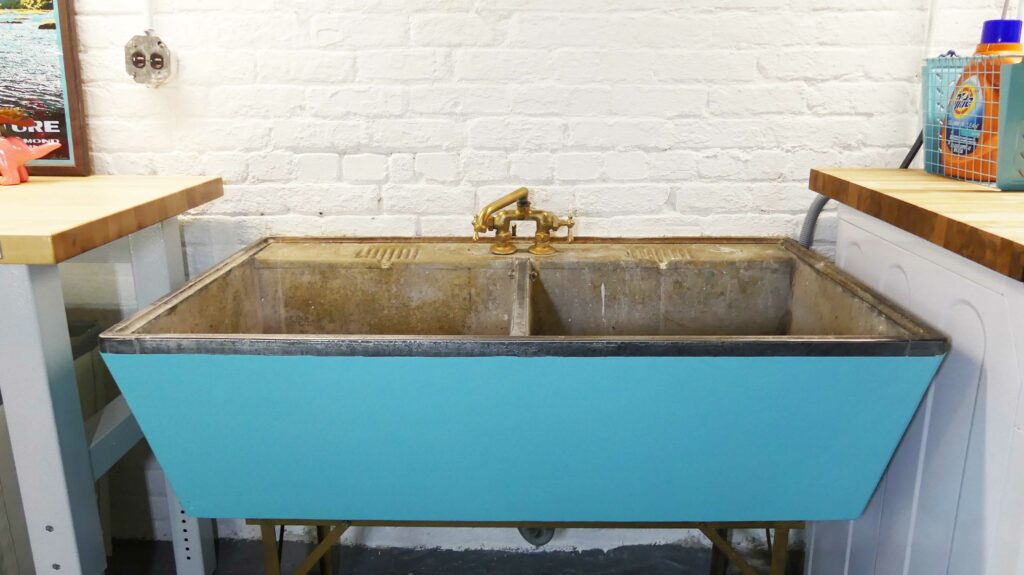 It's hard to look at this and not give a lame tagline like "from drab to fab!" but it's true. When I see people online talking about busting out these vintage laundry sinks with a sledge hammer I absolutely cringe. You've got an original piece of history that should last for centuries! So why not bring it back to life. But if you must get rid of it… try to salvage and sell it because believe it or not people will pay thousands for them. So put that hammer down!
~Lazy Guy
Don't forget to "Pin It" to Pinterest!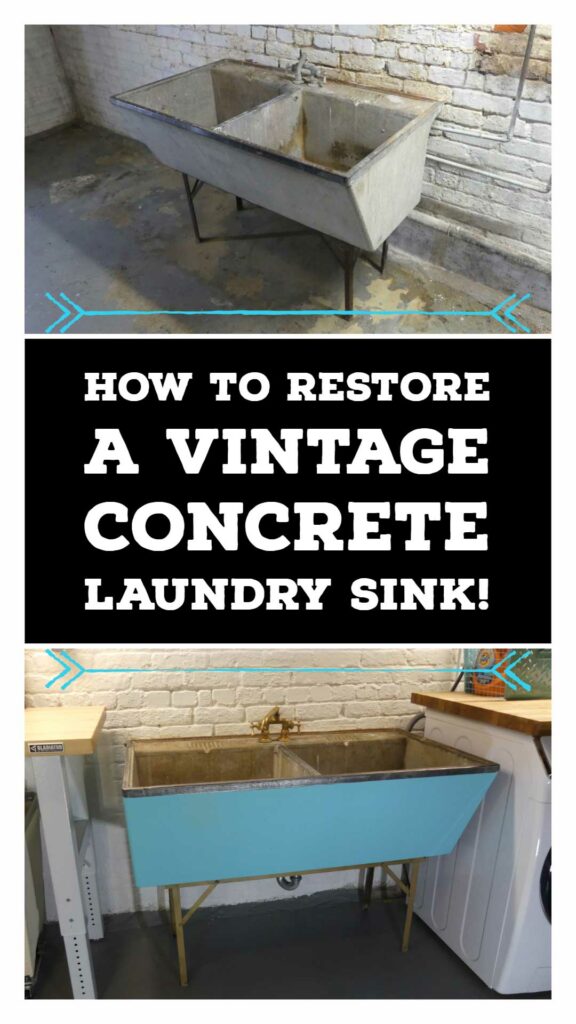 *This post has been sponsored by Dremel Tools. I have been compensated for my time and provided with tools in exchange for an honest application of the Dremel Versa. How did it work? I think the results speak for themselves!