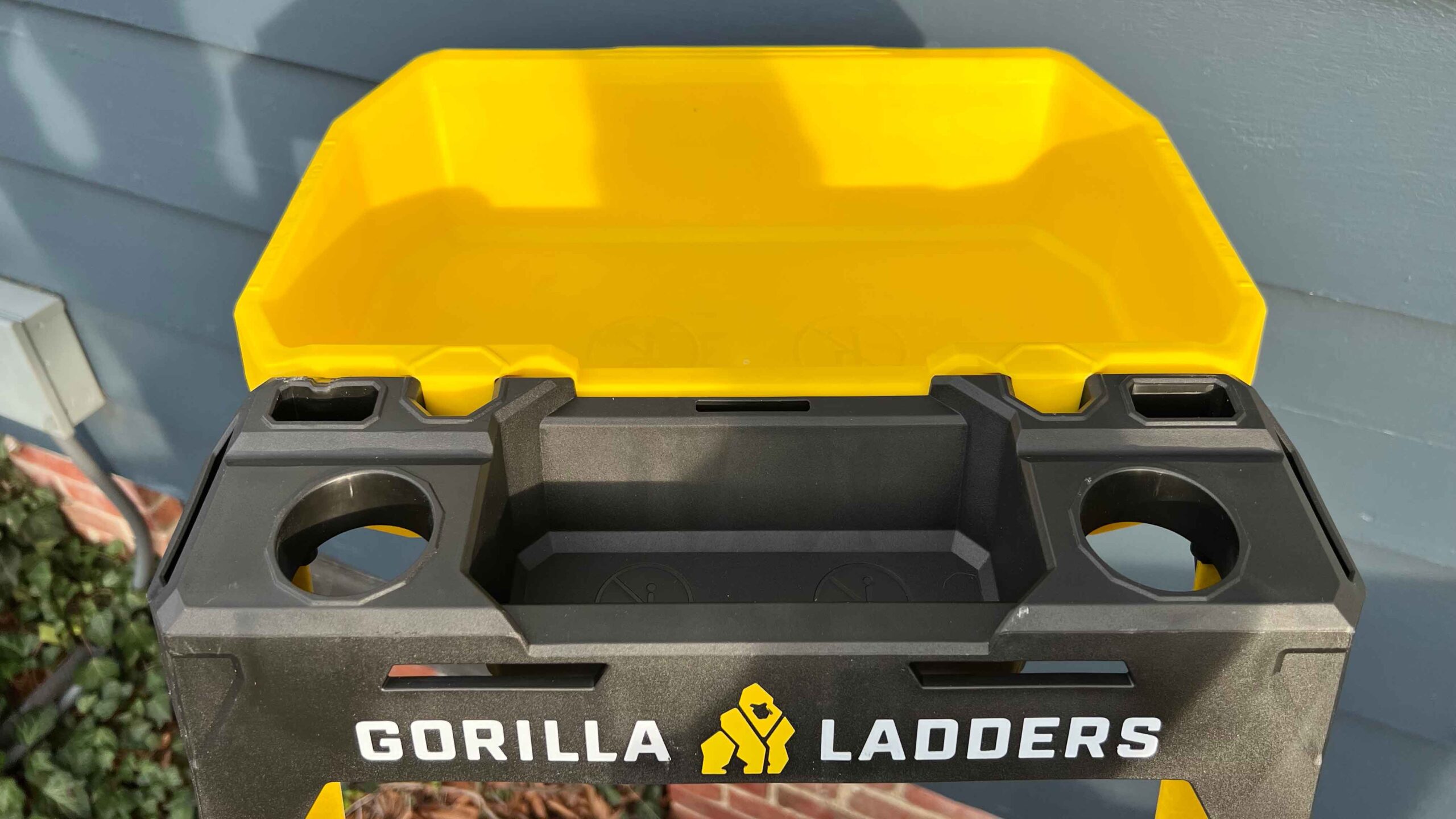 If you've been following along with the Lazy Guy DIY story, you'll know we're prepping our house of over a decade of city living to sell soon. I know, I know… we love this little Craftsman Style Bungalow that you've seen hundreds of projects started on (and sometimes finished) through the years. When it's time to move out that means it's time to knock out those projects I've been putting off for years. In good news, my friends from Gorilla Ladders and The Home Depot have sent me over a new ladder to try out and make my workload a little easier.
*This post is sponsored by The Home Depot. Affiliate links will be included.
You might remember a few months ago I partnered with Gorilla to review their 19 Foot MPXT Ladder. It's a Swiss Army Knife of heavy-duty ladders, but sometimes you need something a little more manageable for indoor projects. That's why I was happy to try out the Gorilla GLXF-5B 5.5 ft. Dual Platform Fiberglass Step Ladder with Project Bucket. Let's talk details.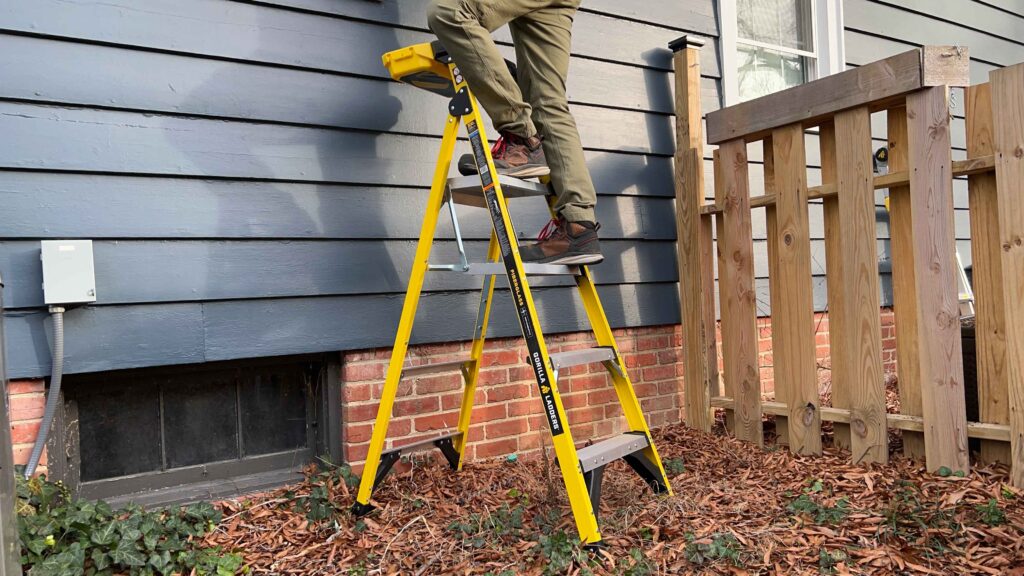 I'm going to be doing a variety of repair projects around the house in addition to tons of painting. With 9-foot ceilings, I'm not going to need some massive ladder that's cumbersome and tough to move. At 22 lbs. it's nice and light weight. I am often seen walking through the grocery store with a 1-year-old and a 4-year-old tucked under each arm screaming while the big kid follows with a cart. What I'm saying is, while I can carry more… it's nice to have a lightweight frame that's easy to maneuver mid project. Light weight doesn't mean flimsy though, it's rated up to 300 lbs.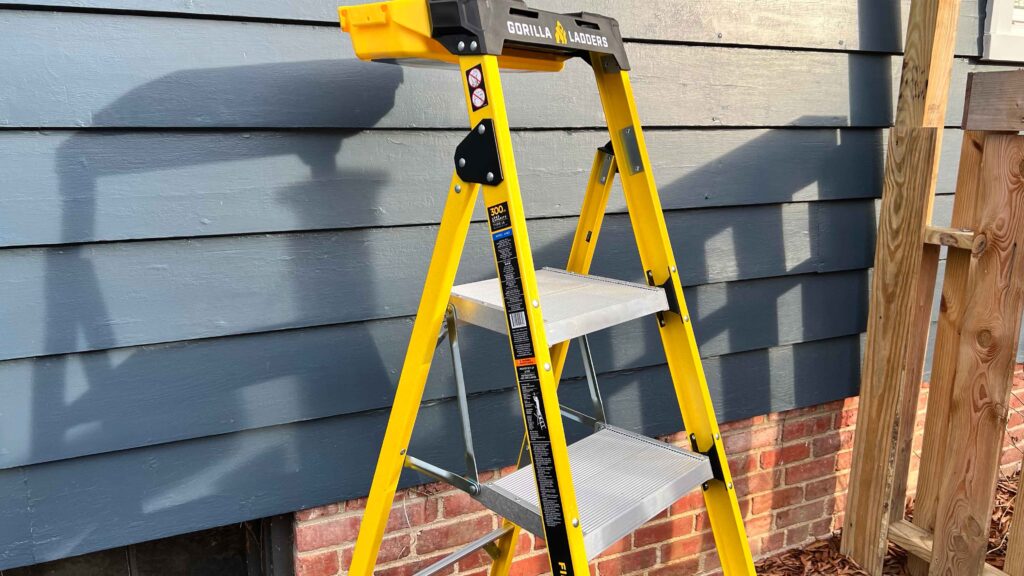 Okay, sounds like a basic step ladder though, right? Rails and steps that you walk up to do work on. Check. The Gorilla GLXF has two additional features that I really like that set it apart from a traditional ladder. The Dual Platform step is a really nice addition because you get a pair of boot sized steps to work securely on. I'm a big guy with big feet and as you go higher up on a ladder the steps shouldn't be getting smaller to aid you in your balance.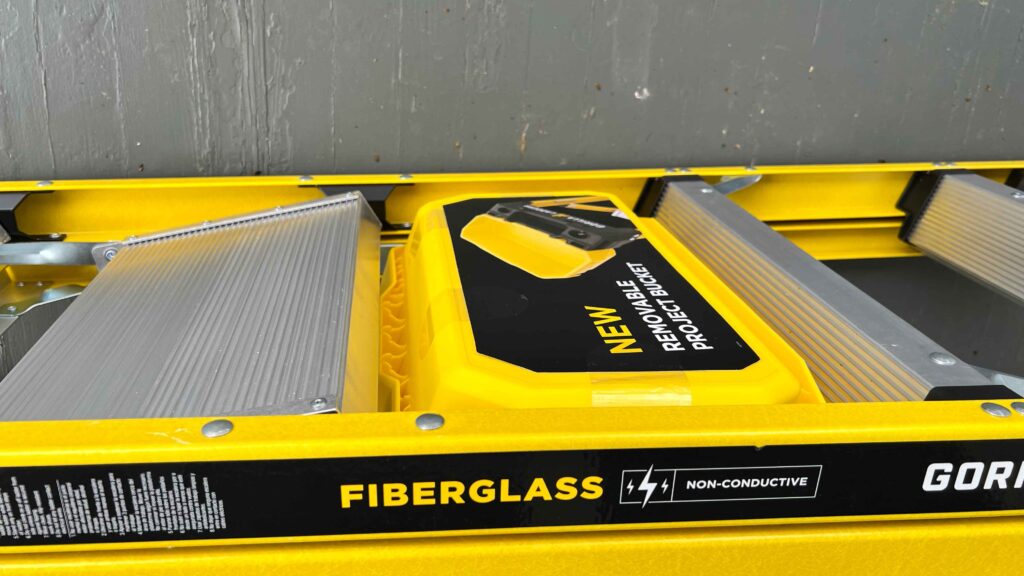 The second feature I love is the project bucket. You get a removable tray that's about 3" deep and 9"x16" wide that securely attaches to the Top Cap. I said "attaches to" because it pops off and then securely stores away between the rear side rails. That way there's no foot obstruction if you're storing the project bucket in place and still climbing your stairway to heaven.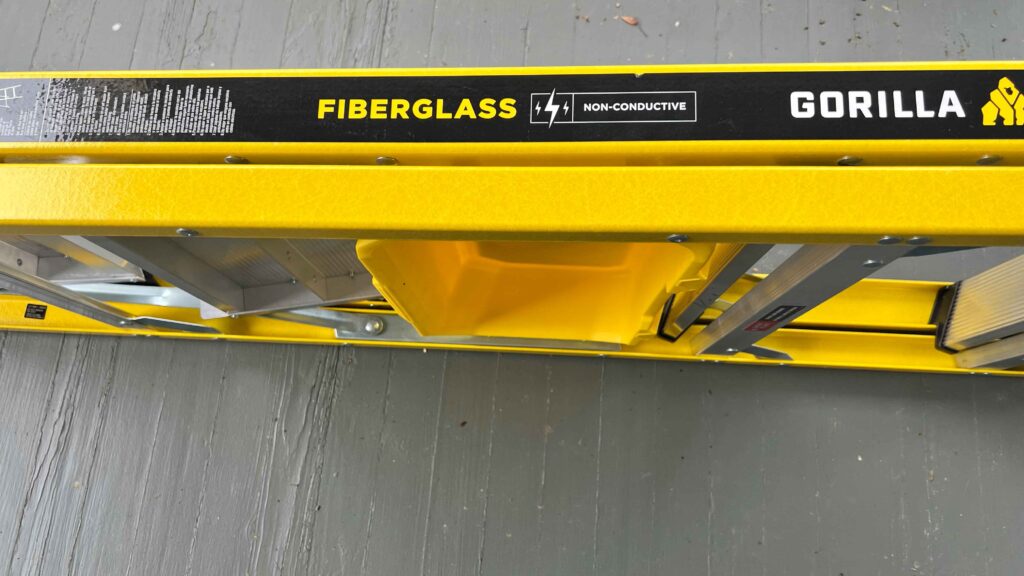 Gorilla also stands by the quality of their products with a Limited Lifetime Warranty which covers any defects in workmanship or materials for the life of the product under the original owner. I'm guessing this does not include what you might have seen Buffalo Bills fans doing in the tailgating parking lots with ladders and folding tables in their pre-game and post-game antics. Just a guess.
If you're looking for a sturdy ladder with a large standing platform and removable storage, make sure you check out the Gorilla 5.5 ft. GLXF at your local Home Depot. They currently retail under $150 which gives you a lot of bang for your buck compared to the competition.
~Lazy Guy
*This post has been sponsored by the Home Depot and Gorilla Ladders. I have been provided with product and compensated for my opinion on this review. My opinions are my own.