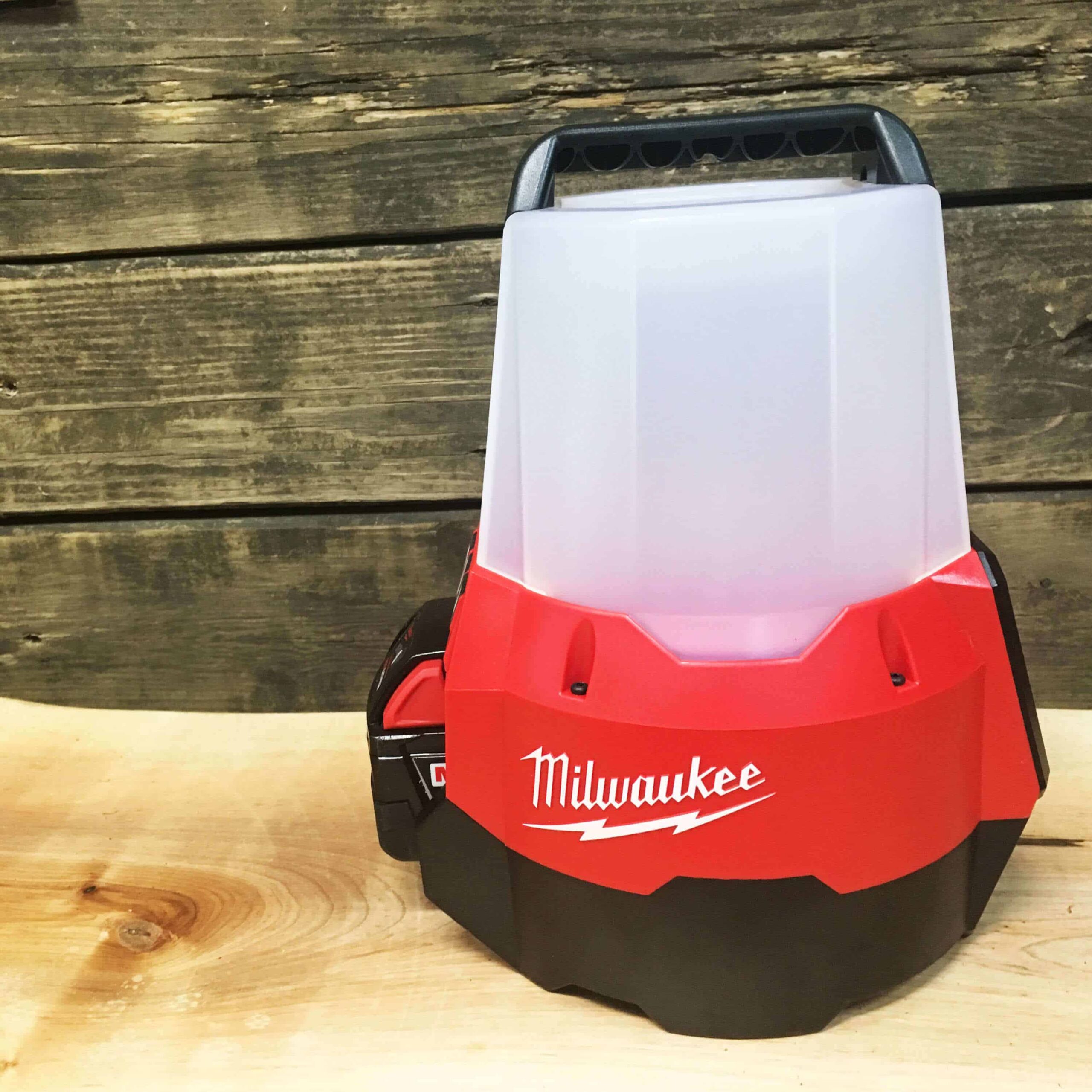 Attics, crawlspaces and even a little time (a lot of time) under the kitchen sink is where I've been spending a lot of what should be my workshop time recently.  As I begin to reacquaint myself with the deep and dark recesses of my house, one thing is becoming abundantly clear… there's not a lot of bright/natural light coming in.  I mean duh, we're talking about the places where spiders and stair monsters have their monthly meet-ups, but luckily I've been testing out a pair of shiners from Milwaukee's LED job site light line recently to fight back the darkness.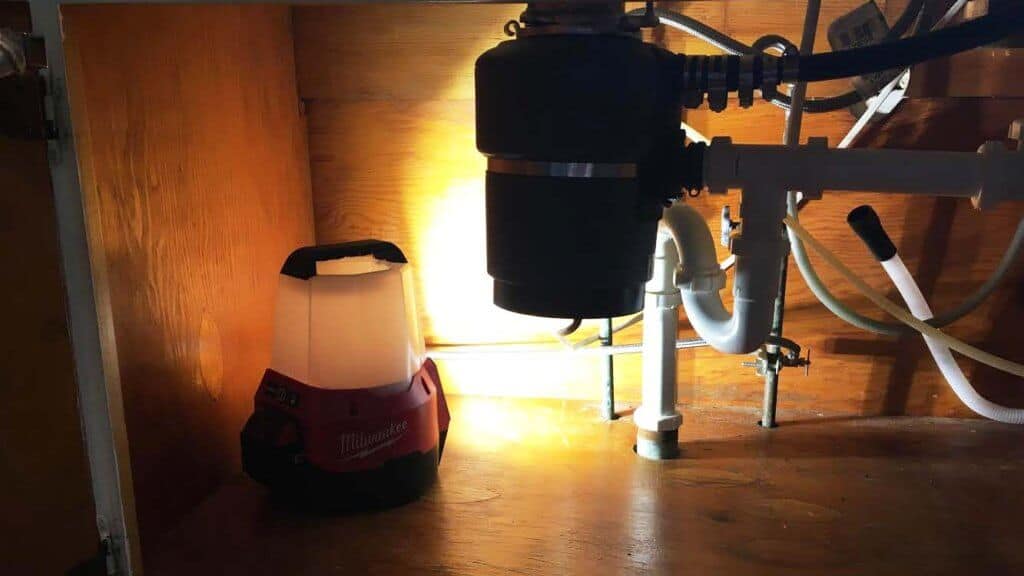 This Review Has Been Sponsored By The Home Depot Pro-Spective Tool Review Program
Out of all of the major tool brands, Milwaukee is easily leading the way with their LED job site light solutions.  Between the M12 and M18 lines, there are close to 20 different lighting products.  So what, they have like a bunch of different flashlights?  Not even close.  Back during the end of winter (when our heat died) I reviewed the M18 Rover light that I absolutely loved for how rugged it was and how well it adapted to working in tight (dark) spaces.  The rafter clip was a game changer.  This time we're taking a look at the M18 2200 Lumen Radius Compact Site Light (*affiliate link).
What I really like about the LED products from Milwaukee is that they know that not every situation is going to have a perfectly flat surface to set your light on.  While the M18 Rover stuck to (magnetically) or clipped onto surfaces, the Radius has a wide base (apple bottom?) and a monster 4-1/4″ metal hook on the bottom that let's you set your 2200 lumens up anywhere you can go.
Most recently I had been using the M18 Radius under my sink while upgrading the plumbing.  Because it's such a tight space and there were multiple components needing to be worked on from different angles, it was nice being able to switch from the task light to the area light depending on the situation.  So think direct beam of a flashlight for the task light and camping lantern for the area light.
With a standard M18 XC 5.0 Battery on High Mode (2200 lumens) you'll get up to 4 hours of run time.  Medium Mode (1100 lumens) up to 8 hours.  Low Mode (550 lumens) up to 16 freaking hours of run time!  But if batteries aren't your thing, this light also has an AC inlet so you can just run this sucker until the power goes out (the LED's have a limited lifetime warranty so good luck waiting for those to burn out).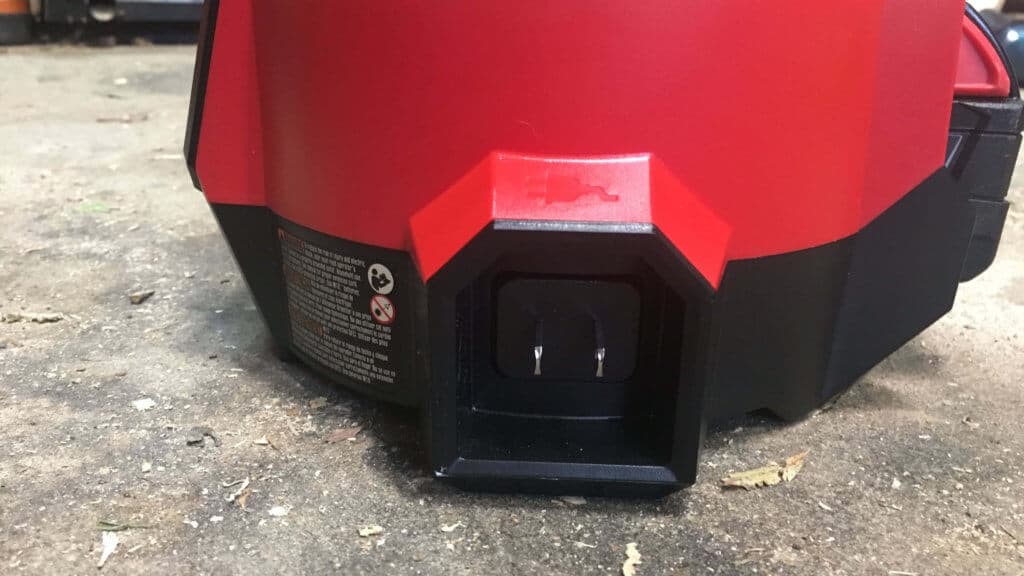 Need a little more or a little less out of your Radius lights?  Check out the rest of the family over at the Home Depot with M18 Radius Light line up with to 7700 lumens or One-Key add-ons if you're worried about someone walking off with your spiffy new lights.
Pick up your Milwaukee M18 2200 Lumen Radius Site Light at The Home Depot today!
~ Lazy Guy
*This review has been sponsored by The Home Depot as part of the Pro-Spective Tool Review Program.  I have been compensated for my time and opinion on this product.  My opinion is my own.