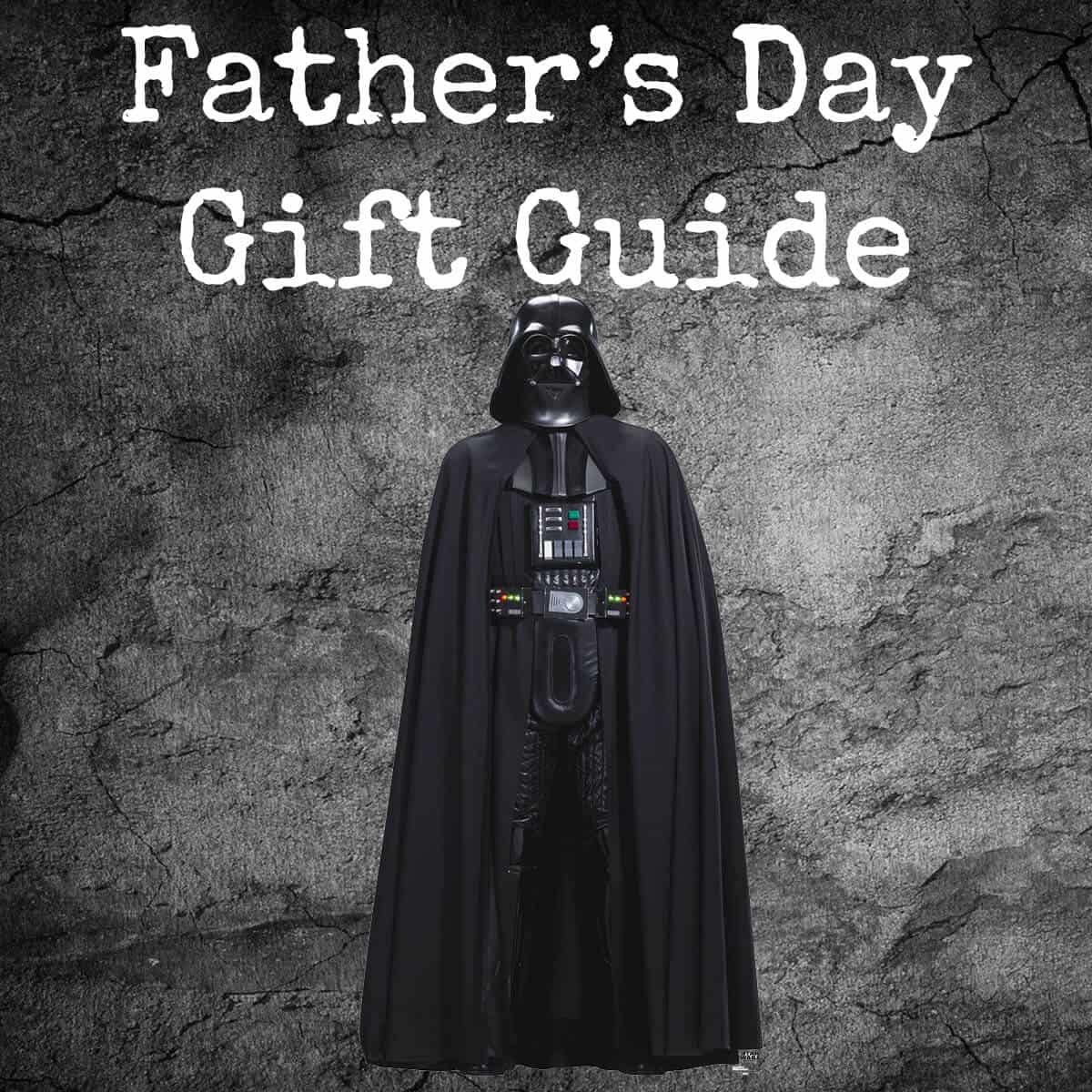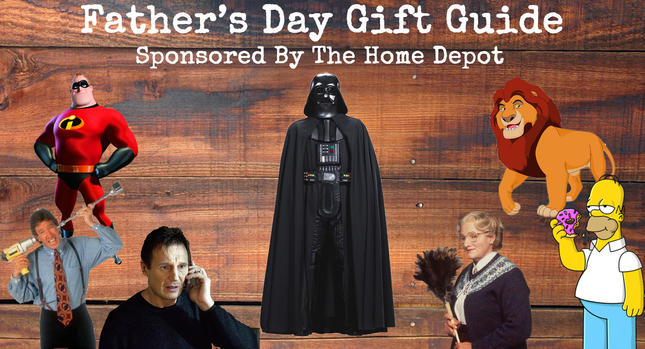 *This post is sponsored by The Home Depot and the Pro-Spective Tool Review.  I have been compensated for my time and provided with products in exchange for my opinions.  Which are very… well… opinionated… but mostly opinionated about movie quotes and awful dad jokes.  Links included in this post are affiliate links, which means if you make a purchase, a small portion of your sale goes directly to this website and not additional cost to you.
Well Hellloooooooooo!!! Because I am your father and I have a particular set of skills and I will find you.  It's the circle of life…  Dad's are great.  Well most of them.  Vader you got better as the relationship progressed.  So in honor of Father's Day, let's get dad some cool stuff!
To kick this list off I should mention I have my own Lazy Guy DIY Father's Day Giveaway going on right now that ends with a drawing on the evening of Sunday June 11th.   Details are in the link.  Enter quick!
Secondly, I want to mention that whenever I panic for last minute gifts I usually turn to Amazon Prime because… free shipping!  But guess what?  The Home Depot has free shipping on most orders over $45!  So you don't have to even go to the store to pick it up, just click the link and order away!  Prices in this post reflect the price during The Home Depot's Father's Day sale, so get buying or pay extra later!  With that said… here we go with awful dad jokes (that aren't mine) and some great tools!
---
"How does a penguin build its house?  Igloos it together!"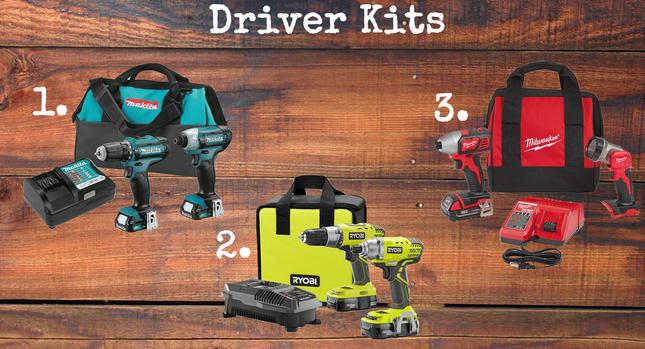 If your dad doesn't have an impact driver or drill driver, this is an absolute must to kick off his DIY collection.  Not to mention I question how much DIY'ing he's really doing without one of the most essential tools.  Without a proper driver kit, when he says he's going to the garage to build something, he's really just hiding to take a nap.  Each of these kits come with a battery and charger so it's almost like you're getting the drivers for free.  Free stuff!
Makita 12-Volt Max CXT Cordless Combo Kit

– $99.00 –  The blue kit is a great starter set up for someone just getting into DIY projects.  At 12 volts, it won't over power or intimidate someone new to power tools.  They are lightweight and perfect for the weekend warrior.  Throw in some of the industry leading

Impact Gold Bits

and dad will forget that time in high school…

Ryobi 18v One+ Drill/Driver Combo Kit

– $99.00  – Team Green comes strong with this 18v Pro-Sumer kit.  This is actually the combo kit I use in my shop as well and it is tough.  The impact driver is gritty and really toes the line on giving you near contractor grade power.  With over 70 tools in the One+ line up, this is a great kit to get you established into the Ryobi brand.

Milwaukee M18 18v Impact Driver/ LED Light Kit

– $99.00 – Want to really impress?  Milwaukee tools are known in the industry to be some of the toughest tools on the contractor job site.  So if your neighbor gets a look at dad using this Red impact driver they will know he means business. It's not a competition… but come on… it's always a competition.
"What's Forrest Gump's password? 1forrest1"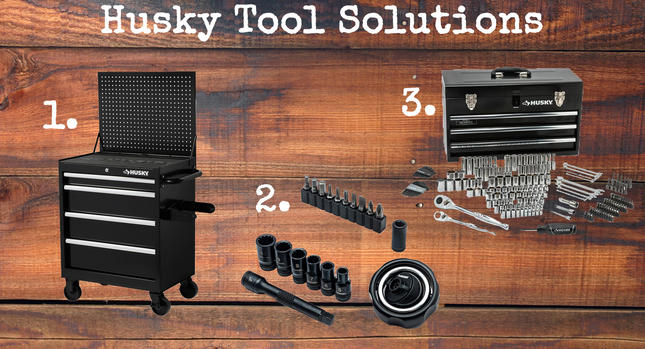 Most people don't realize that Husky Tools are actually an in-house brand for The Home Depot.  Not only do most of these tools come with a life-time guarantee, but they also get tested at some of the most extreme standards.  Home Depot has their own medieval torture chamber in the basement of their HQ to put these tools to the test to make sure they will last from one generation of DIY'ers to the next.
Husky 27″ 4 Drawer Project Center

– $99 – Does dad already have a bunch of tools but no where to put them?  This Husky Project Center doubles as a rolling tool chest and a flat surface that's perfect for tinkering on projects.  With a 50 lbs. load on each drawer, he'll run out of space before maxes these drawers out.  And let's be honest, you don't want dad to go drawer-less.

Husky 1/4″ Drive Gimbal and Socket Set

– $29.97 – Every time I use a socket set I either can't reach the bolt head or inevitably smash my knuckles because getting enough torque requires a freakish angle the sockets weren't meant for.  This drive gimbal attaches to the socket and fits in the palm of your hand to ratchet any bolt with it's unique gyroscopic design.

Husky (200 pc) Mechanic's Tool Set

– $99.00 – Purchase this socket set separately and you're dropping over $400 to try to match what you get here.  Sockets, wrenches, ratchets, hex-keys… Plus you get a tool box?  Not to mention it comes with their life time guarantee.  This might be first and last kit dad will ever need.
"Two peanuts were walking down the street. One was a salted."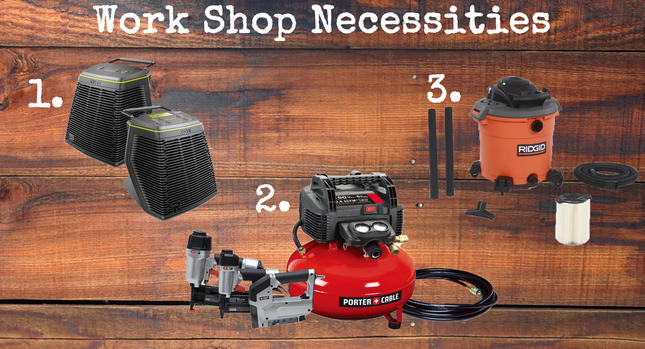 If your dad already has the basic tools in his shop or garage, then it's time to take him to the next level with these shop upgrades.  It's all about making some noise here just to show how hard he's working
Ryobi One+ Score Wireless Speaker Set

– $199.00 – If your dad is already using Ryobi tools then he NEEDS these wireless speakers.  Slap a One+ battery in the back, pair it with your favorite Bluetooth devise and take these speakers ANYWHERE and absolutely rock out.  You can add up to 5 speakers to this set up and space them as far as 150 feet apart.  I have them spaced around my shop and make the walls shake.

Porter Cable 6-Gal Compressor Combo Kit

– $199.00 –  After my miter saw, this was the very first big tool purchase I made a few years ago.  Having an air compressor is fun enough whether you're attaching a paint spray gun to it or inflating pool toys, things get real when dad has a nail gun, nevertheless two and a stapler (

not that stapler Milton

).  There's no excuses as to why a project can't get done when you have a 16 gauge and 18 gauge nailer in your inventory.

RIDGID 16 Gal. 5.0 Peak HP Wet Dry Vac

– $49.88 – This might be the steal of the sale with it marked down by almost half of the regular price.  If dad doesn't have a shop vac then he absolutely needs one.  Not because he's messy, but because a shop vac also double as dust collection.  I use a similar RIDGID model in my shop to cut down on piles of sawdust… plus you're giving him a manly vacuum.. maybe he'll start using the other one indoors too?
"To the man in the wheelchair that stole my camouflage jacket… You can hide but you can't run."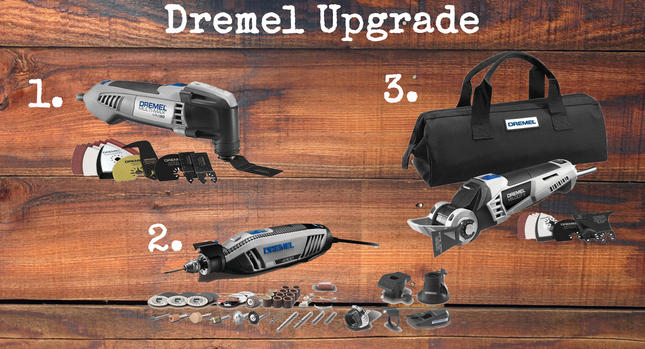 You've probably seen Dremels before and the little craft projects that go with them.  These aren't your basic rotary tools, these are the top of the line models from Dremel that make the hobbyist tremble with fear.  Dad isn't etching glass or fine polishing figurines with these (but he can!) he's cutting through metal and shearing off bolts with these bad boys.
Dremel Multi-Max 3.3 Amp Osculating Tool – $69.00 – Sanding in tight space, removing old grout or even cutting door jams, the Multi-Max is not your typical Dremel tool.  The osculating feature is there for one job and that's to remove stubborn material.  Not stubborn kids.  Don't worry, dad won't osculate you out of the house with this.
Dremel 4300 Series 1.8 Amp Rotary Tool – $119.00 – Don't be fooled by the rotary tool look, this is the Cadillac of the Dremel rotary tool series with all the bells and whistles you could possible need.  With a completely chuck to secure your bits to the most powerful motor in the rotary tool inventory, there are few jobs this multi-tool can't handle from cutting to sanding to polishing and etching. Did I mention it's got headlights?
Dremel Velocity 7.0 Amp 2 Position Osculating Cutting Tool – $159.00 – First off, it's called the Velocity and it looks like a mechanical parrot monster.  Dad will love it.  With more than twice the power of the Multi-Max, this Osculating tool is meant for the bigger jobs like cutting through pvc pipes, plywood, tile and even 2×4's.  This model bridges the gap between traditional oscillators and jobsite rough cutting tools.
~Lazy Guy