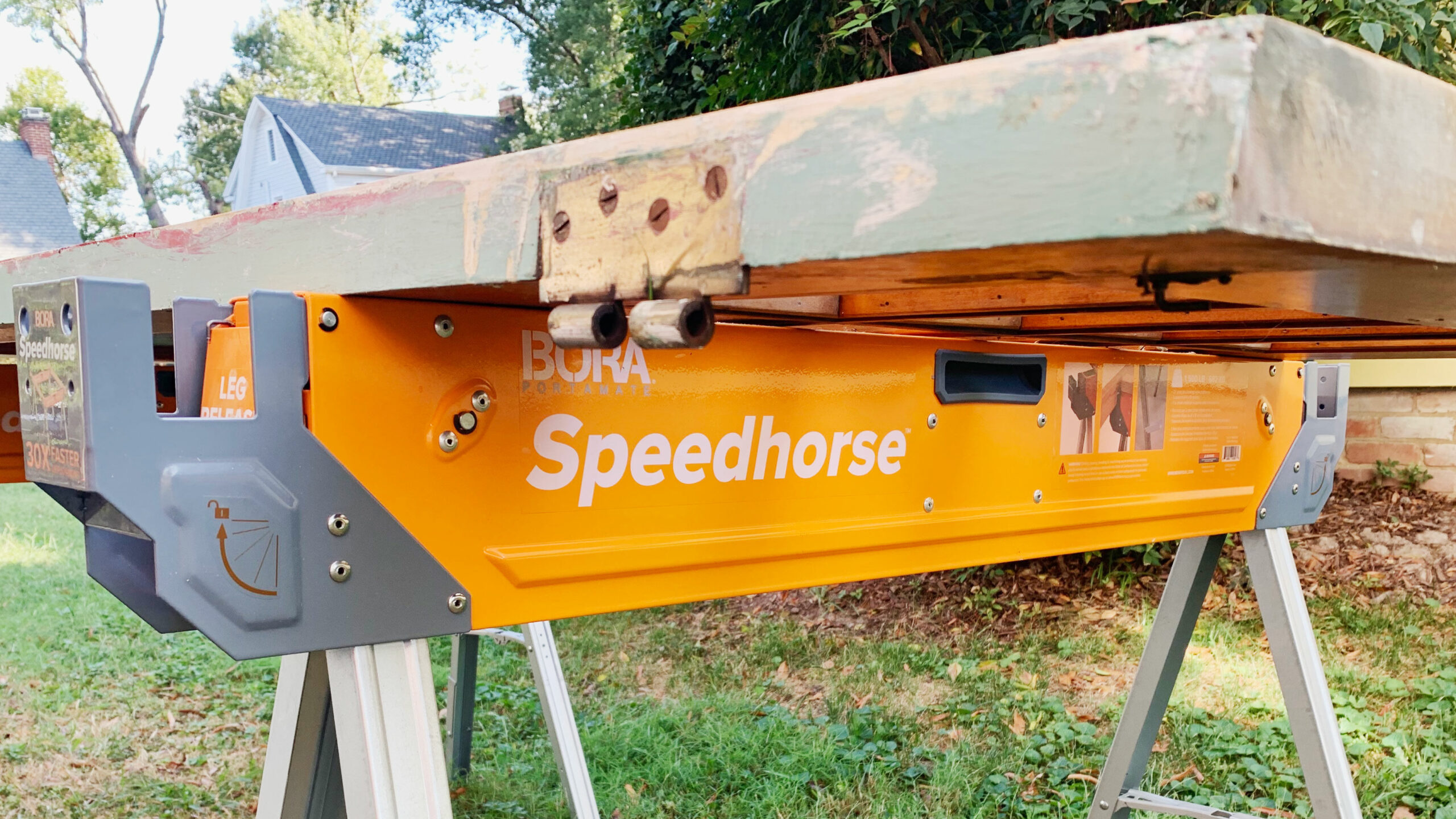 Press a button and my Saw Horses unfold themselves in 1.6 seconds? It's like Bora Tools is speaking directly to me and my laziness! The all new Bora Speedhorse is a premium metal saw horse that is going to seriously change up your workflow!
Upping The Saw Horse Game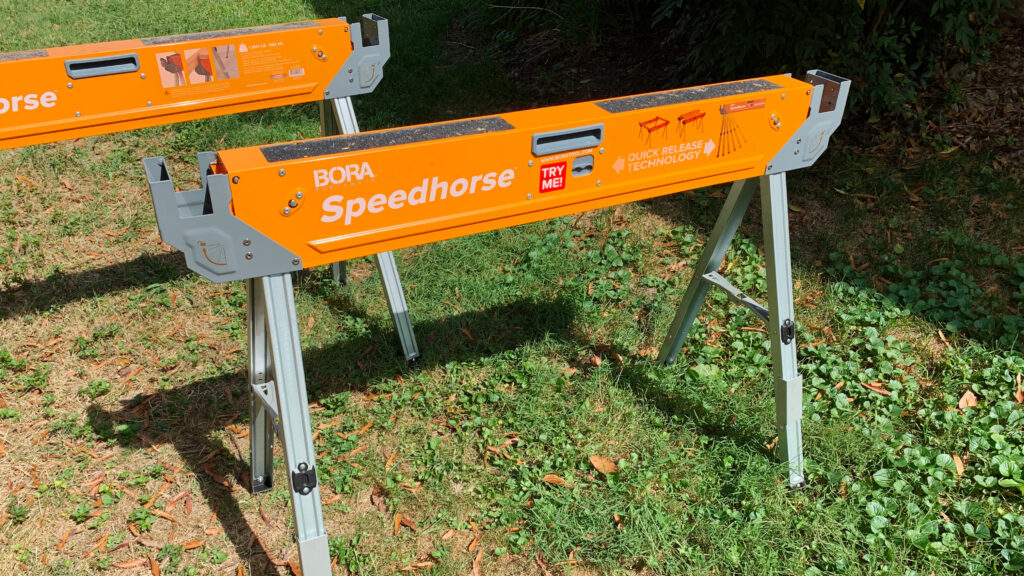 I don't travel to job sites for my work. I build everything in my workshop or my backyard, but that doesn't mean I don't need a sturdy pair of sawhorses for my workflow. Whether it's an assembly that's too big for my shop like a set of sliding barn doors or leveling live edge slabs, a good set of sawhorses are difference makers in my work environment.
Why A Premium Saw Horse?
I've bought those discount plastic sawhorses before and then watched them crumple under the weight of a build. I've also built sturdy wooden sawhorses before only to have no space to store them. So where did they go? Out in the yard to face the elements only to be wonky the next time I needed them.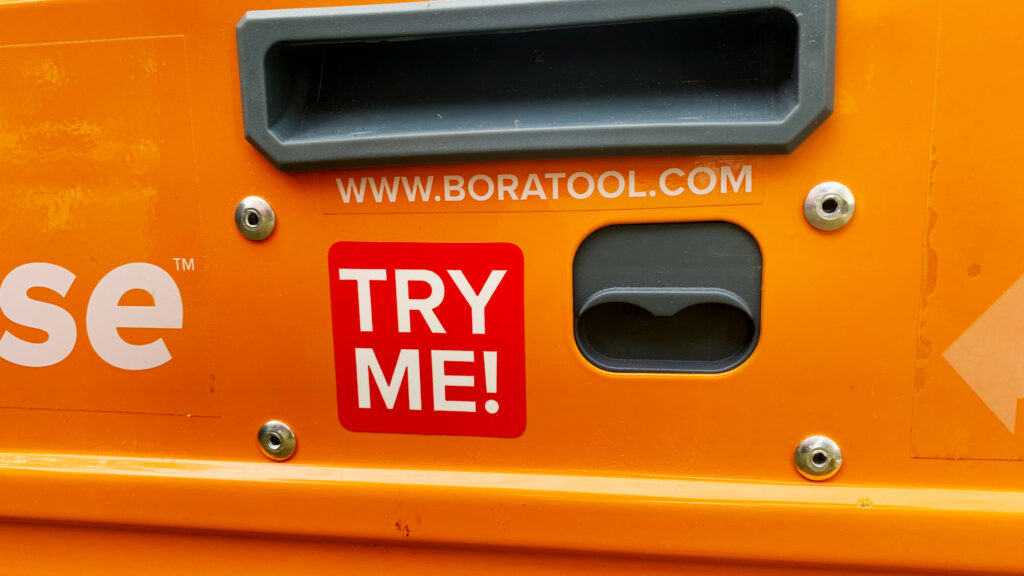 The Bora Tools Speedhorse is an all metal construction that has a support weight of 1500 lbs. each. Set up two Bora Speedhorses and you can distribute 3,000 lbs. of project (or a Mazda Miata). Those cheapy plastic sawhorses I mentioned above… 600 lbs max load per sawhorse.
Arguing Space & Time
While I love the ability to pull the trigger and watch the Speedhorse legs automatically flip down, to me that's just added value. It's a design feature that makes me like a product more, but 1.6 seconds to set up doesn't change my workflow significantly (watch the video to see it in action). What it does, though, is adds yet another design element to the construction that adds to the overall experience and quality of the build. So if I see a premium price on a tool, it better come with premium features… and the Bora Speedhorse does.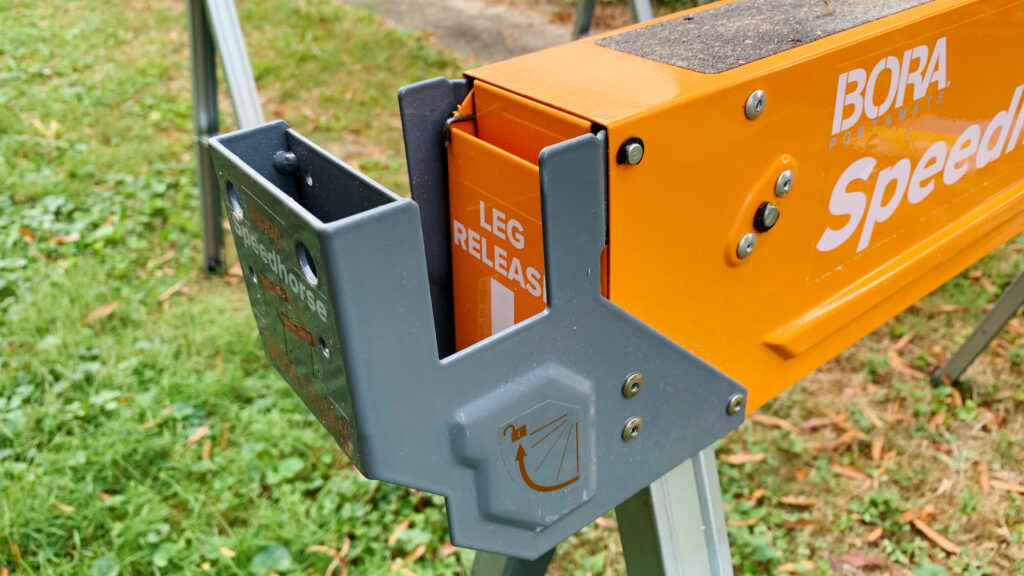 While the automatic drop down legs get the hype, the folding action gets my attention. Have you ever folded up other metal sawhorse only to realize the other leg had to be folded first? Pain in the ass right? The Speedhorse has non-sequential leg folding. Which means pick your poison, there is no wrong answer. Fold the legs up and the footprint for storage of these sawhorses is minimum. Space is a premium in my shop, so I was able to hang these right on the wall out of the way.
Extra Features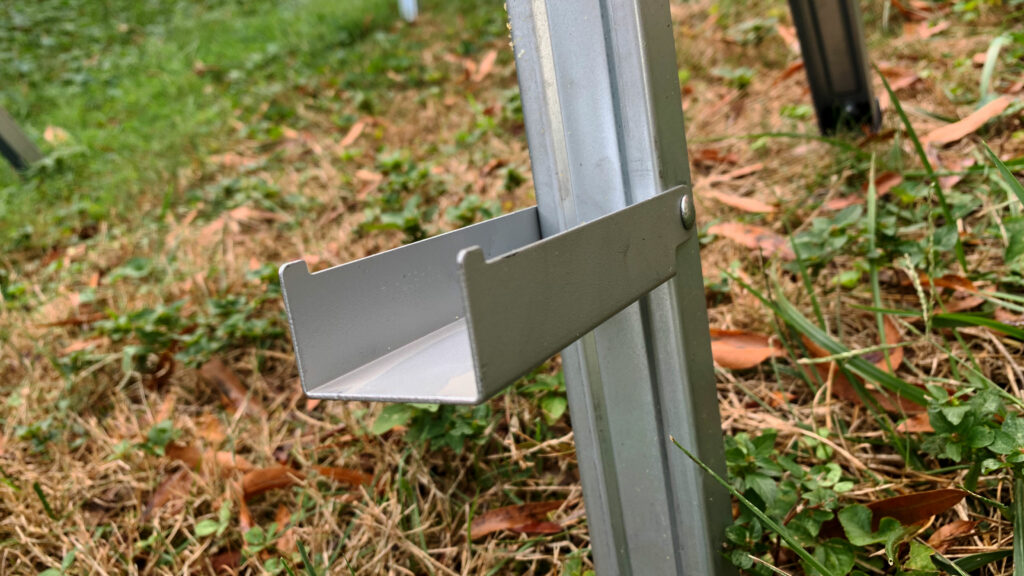 You get other great premium features in this model as well. There's a non-slip pad on the top in addition to pre-drilled holes to mount a sacrificial board for cutting. There are flip down supports on the legs for holding sheet goods. Then there are slots on the sides specifically made to fit 2×4's for creating an even more solid work surface. While these extra bells and whistles aren't exclusive to the Bora Speedhorse, they do add up for making it a solid set up.
Bora Tools Speedhorse Final Verdict
I hear your complaints already. At a price of around $150 +/- for a pair of sawhorses, the price might cause some sticker shock. However, the last metal sawhorses I purchased without batting an eye were $70 each. The stability and features those provided added value to my work space that were worth the investment. The Bora Tools Speedhorses improve upon those sawhorses in every way. If saving a dollar and buying cheap equipment is how you run your shop, then this is not the product for you. But if you invest in quality tools and expect quality features and results, you'll know the value you're getting with these.
The Bora Tools Speedhorse is available for purchase at The Home Depot and Amazon.
~Lazy Guy
*This post was sponsored by Bora Tools. They have provided me with a pair of Speedhorses in exchange for an honest review. My opinion is my own.