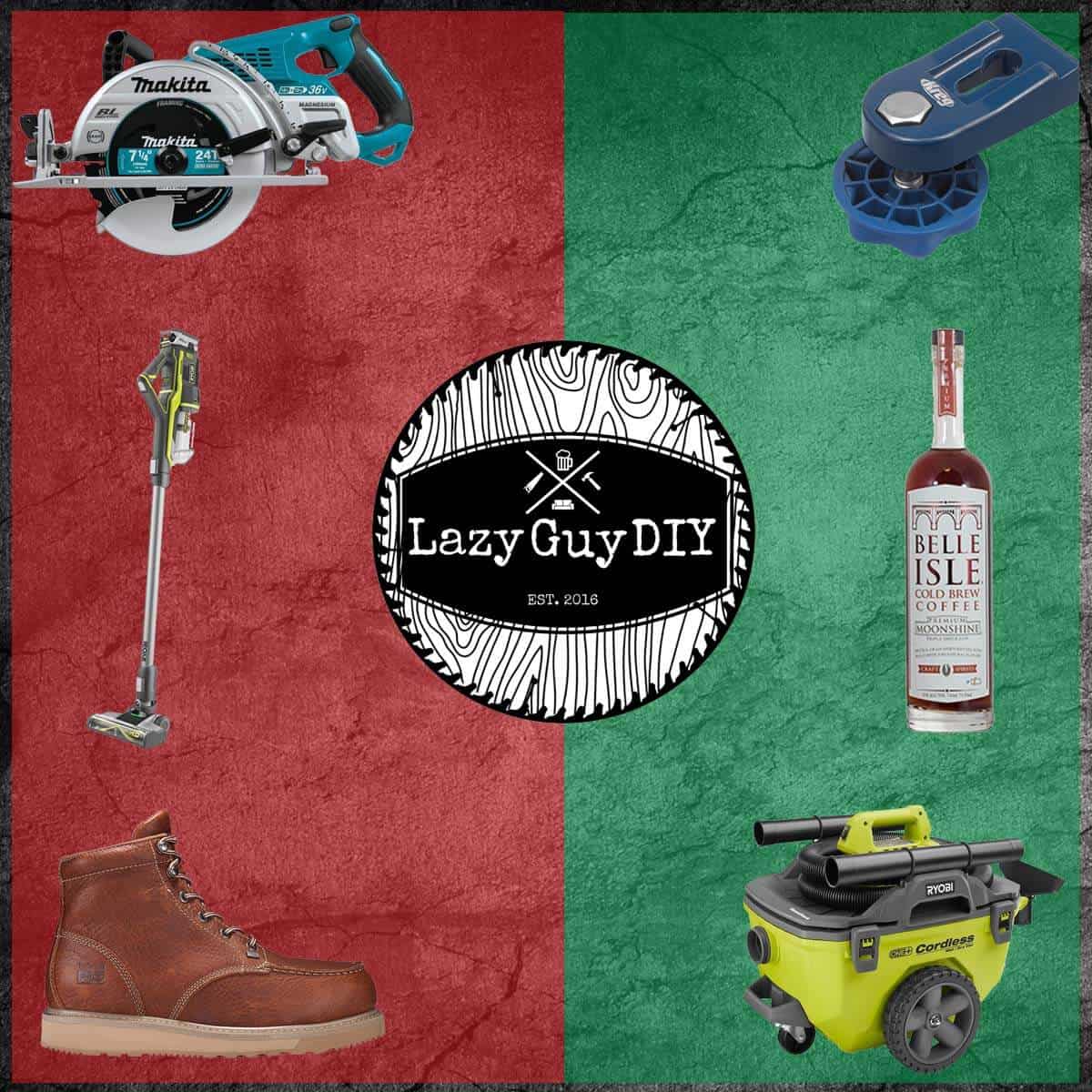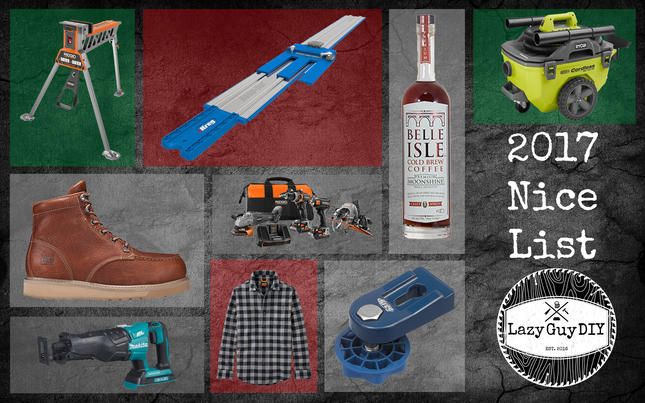 It's that time of the year again.  It's time for your significant other to give you dirty looks while you start eyeing power tools that weren't budgeted for this holiday spending season.  "But it's on sale and I NEED this!"  Well you've got a choice:  You can either buy it yourself and face the consequences (and there will be consequences) or maybe slide this gift guide their way and hope some of my favorites this Holiday Season make it into your pile of gifts!  I've hand tested everything on the gift guide (especially the bonus pick) so you're absolutely getting the Lazy Guy DIY stamp of approval with these choices.  Links below are affiliate links which means if you make a purchase our holiday gets a little merrier with a portion of the sale with no added cost to you.  So if you want to support your favorite sarcastic woodworker website, this is the way!
So let's check out the "Lazy Guy DIY Nice List" for 2017!
---

This trio isn't for the faint of heart or more importantly those stricken with "SAS" or Skinny Arm Syndrome.  Makita has been expanding the X2 LXT line this year with some of the most powerful battery driven power tools on the market.  The X2 means 2 times the batteries, so you'll be slapping in two power packs to fuel these monsters.
7-1/4" X2 LXT Rear Handle Brushless Cordless Circular Saw (XSR01PT)
Most pros consider this one of the best circular saws ever made.  The combined 36v power pack on this saw makes it virtually unstoppable.  The motor automatically changes speed and adjusts the torque so you get the best cut every time no matter what material you're pushing through.  If you've ever hit a knot or some especially tough timber, you'll know exactly how important this is.  The left mounted blade is also one of my favorite circ saw features because it gives the best line of site for your cuts (for us right handed folk).  The rear handle will also make you weirdo west coast worm drive fans happy as well.  I've said it once on this site and I'll say it again, this is one of my favorite tools I've used in the last year.
7" X2 LXT Brushless Angle Grinder (XAG12PT1)
Admittedly, I had never used an angle grinder before firing up this beast.  This is the equivalent of learning to drive on a Lamborghini.  36v of brushless motor spinning at 8500 rpms that's electronically controlled for maximum effort?  Sinead O'Connor said it best with her ballad "Nothing Compares 2U" but this is a lot less whiny and a lot more badass.  I learned a lot using this tool… like angle grinders can easily set wood on fire and melt plastic if it's it in the vicinity of your cut or grind.  With a potential garage expansion looming, you can bet I'll be wielding this this beast with two hands to remove the corrugated metal wall panels.
X2 LXT Brushless Reciprocating Saw (XRJ06PT)
If you followed along with my deck demo, you'll know there was a massive path of destruction and multiple casualties when it came to reciprocating saws.  Whether they were churning through batteries too fast, overheating or dying outright, I went through 4 different models before I found the right one and the 5th time was the charm.  You see I had the bright idea of salvaging the decking boards by cutting the screw heads off and saving each plank for future projects (which I have actually used), but it would have been a heck of a lot easier to just scrap it all.  The Makita paired with Diablo Demo blades made short work of a long running project.  Hot blade changes are about as easy as you can get with the tool free blade swapping.
---


If you follow me on Instagram, you'll know my Ryobi friends have been blatantly mocking me recently.  They sent me two vacuums in a 30 day period.  Clearly they are trying to tell me something.  I GET IT, I'M MESSY.  YOU'RE NOT MY WIFE!  When I started drafting my angry email to the folks in Anderson I quickly realized it wasn't me, it was them… them releasing two products that physically suck but are all together awesome at the same time.  Battery powered vacuums that run on One+ battery line I already know and love?  Yep.  I'd like take a mulligan on my angry email.
18v One+ 6 Gal. Wet/Dry Vacuum (P770)
Let's paint a picture here… you're cleaning up your shop with your wet/dry vac and you're trying to reach that far corner by stretching the hose for all it's worth because you've inevitably tangled your power cord in the legs of some tool or workbench.  Then that top heavy sucker flips over and starts blowing sawdust everywhere.  Don't act like It's never happened to you.  Well cordless shop-vacs are here and they are glorious.  360 degree mobility plus a no-tip over design… it's fantastic.  The design is low clearance and perfect for storage in the shop while all the accessories fit nicely on the unit when you're finished.
18v One+ EverCharge Stick Vacuum (P718K)
I barely got this thing charged before my wife grabbed it and fired it up.  Much like the Ryobi Jet Blowers, this thing looks like a futuristic cannon, but instead of churning a vortex for blowing leaves it's sucking up all the messes I make.  Stick vacuums are great because they are perfect for us tall folk to easily vacuum under furniture.  The roller brush angles on a gyro-type (not the Greek food) pivot like some of those really expensive models so you're not accidentally taking it up on two wheels like a Joie Chitwood Action  Stunt Car show.  The collection canister easily removes for quick cleaning and even better, the whole unit mounts to your wall so you can charge it while it's not in use.  My wife liked this so much I still haven't had a chance to really use it.
---


Team Orange came out strong this holiday season with a couple of limited edition knockouts.  From the blacked out tool set to a remodel of a fan favorite, these RIDGID tools are on a limited run, so you better snag them while you can.
18v Limited Edition 4 pieces Brushless Combo Kit (R9628)
Like Gollum and his Ring of Power, when I saw this Limited Edition RIDGID Combo kit with the black color scheme, I immediately started talking about "My Precious" and hissing at anyone who came close to it.  Spoiler, I did not bite a short person's finger off as I tumbled into the flames of Mt. Doom to get it.  This kit includes two 4.0 batteries, an Angle Grinder, Hammer Drill, Impact Driver & a 7-1/4" Circ Saw.  If you're already a huge fan of Team Orange or even taking the plunge for the first time, this is a must have Limited Edition kit.
I'm going to be completely honest, when I got this, I had no idea what I was going to use it for specifically (I knew I was going to clamp something with it in general), what mattered is that I knew I needed to have it.  By the time the weekend rolled around the Super Clamp got set up and put to good use for hours and hours of fun.  Hands free clamping (with 1 ton of force) whether you're in the shop or a jobsite is a lifesaver if you're a one man show like me.  You can't easily take a bench vise with you, so having something portable like the RIDGID Super Clamp is a perfect fit for those who have an ever evolving workspace.  The tripod style base is extremely sturdy and it folds up easily for stow away storage.
---


Don't lie, we all know your typical workwear consists of gym shorts and ratty sneakers (probably a shirt too, shirtless woodworking seems problematic, yet freeing).  Comfort and convenience might seem like a good idea at the time when you throw those on, but as you start to see more and more shop injuries posted on social media, aside from making good decisions in the shop, your first line of defensive is to armor yourself up with quality workwear.  Timberland Pro is pushing a newly focused workwear line that, in my opinion blows away the traditional workwear brand.  I don't know if it's just a tall guy problem, but anytime I've purchased a shirt or a jacket from the other brand, I look like I'm about to go milk the cows in a midriff baring top that's 5 sizes too big.  Timberland Pro flips that paradigm.
Without trying to sound superficial, I put myself on camera quite a bit for Lazy Guy DIY and the last thing I want to do is misrepresent who I am.  If I'm not comfortable with a tool or even with what I'm wearing, you can tell.  That's not good business.  I tried a pair of carpenter pants once with double hammer loops… that's not me.  I've never used two hammers at once (although I should probably try) so holstering two at a time isn't my thing.  So when I started looking at the Timberland Pro clothing line I noticed very quickly that we were going to mesh.  I'm just a guy looking for some durable and comfortable work clothes, but also not look like I bought off the big and tall rack at my local Southern States Co-op.  My first Timberland Pro article of clothing was their R-Value Flannel shirt.  Not only is it woven with a fabric that's 2x warmer than normal flannel, but it also looked like a high end retail store purchase in the black and gray buffalo check pattern.  I wore it out to dinner to a chic Thai restaurant with my wife and then out again when brewery hopping with a buddy before it got blasted with sawdust in the shop.  The point is, it was functional, fit well and wasn't outside the realm of what I'd normally wear in and out of the shop.  That's a win/win.
I've got a lot of boots sitting around the house that go unused.  My wife can attest to the amount of space they take up.  The problem is if they aren't easy to put on, aren't comfortable enough for several hours of wear or they have a very specific purpose (like sub-freezing temperature hunting boots) they just aren't going to be put into heavy rotation.  Which means they ultimately get forgotten.  So I grabbed a pair of the Timberland Pro Barstow Wedge boots and I put them through a typical work boot test then said screw it and went unconventional one day as well.  I put in several hours of trench digging and shop time to start.  Quick lace eyelets on the top let me throw them on immediately with a pair of boot socks no problem.  An hour in I could already feel the foot bed molding to the sole of my foot.  Several hours later and I had zero fatigue from boots out of the box.  With that test passed, I brushed off the sawdust and decided I would wear them to my desk job.  Eight hours of feet planted firmly on the floor, eyes glued to a computer screen and the ever present dress code police that like to call you out if you aren't wearing your typical loafers and button down.  Not only did they stay comfortable throughout the day, but I also got compliments on how they looked.  With the reinforced alloy toe blended with the vintage craftsman look, I could easily wear these boots anywhere and anytime.  They'll only look better as I break them in with extended shop time.
---


You'll be hard pressed to find a DIY'er out there that hasn't heard of the word "pocket holes" before thanks to the folks at Kreg Tools.  Some traditionalists outwardly condemn the pocket hole, but secretly they're just jealous of how much easier these products make woodworking.  Kreg Tools has expanded far beyond that original "As Seen on TV" product and are now charging full speed into other arenas that can really benefit for their way of thinking.
Plywood and other sheet goods are a necessary evil.  The problem is, unless you get your Home Depot to cut it for you ahead of time or you've got a great table saw set up, a sheet of plywood is not "one person shop" friendly.  I could always get a track saw for breaking down sheet goods, but then… that's a $400-$1500 purchase for a tool with a very specific single purpose.  Wouldn't it be nice if I could slap any old circular saw into a jig and run it over a track for straight and accurate cuts every time?  What's that?  You can?  Tell us more info-merical sweater guy!  The Kreg Accu-Cut is just that.  Take your trusty circular saw, attach it to the same jig used for the Kreg Rip-Cut and run it down the 48" track for cuts.  Beautiful.  I've used it with Ryobi, RIDGID, DeWALT and Hitachi saws with no compatibility issues.  This is a budget friendly solution for sheet goods that any DIY'er would love to have.
If you're already using the Kreg Clamp Track or base plate, I'm sure you love it like I do with their bench clamps.  One problem… I only have track on two of the four sides of my workbench.  I sometimes I have to get really creative with clamps when assembling some projects.  Luckily, I've got a bunch of premeditated ¾" bench dog holes drilled into my work surface that I never use.  Kreg must have known that because they've just come out with the Bench Clamp Bases that slide right into those ¾" holes and attach their clamps for easy use.  I'll take 6 please.
---


Dremel Ultimate Corded 3 Tool Combo Kit (CKDR-02)
We've reviewed a lot of Dremels this year (I think we're now up to 7) but this is the first combo kit that combines all the pieces like Voltron in an Ultimate Combo Kit.  This pack includes the MM20 Multi-Max, SM20 Saw-Max, Dremel 3000, 15 accessories & carrying case.  If you're a fan of the Dremel line this is a combo kit must have that you can cut, sand, grind and restore your way through the holidays.
Diablo Bi-Metal & Carbide Hole Saw Set (DHS009SPC)
Hole saws get expensive quickly and more often than not, the cheap versions don't hold up and even worse, the plugs get stuck with no good way to pop them out.  This kit from Diablo offers 5 saws from 2″ down to 3/4″ that have a 40% increased cutting capacity and even better, a SnapLock Plus Mandrel system that allows for quick changes.  It's as easy as changing out a drill bit in a speed chuck.
---
*Bonus Pick *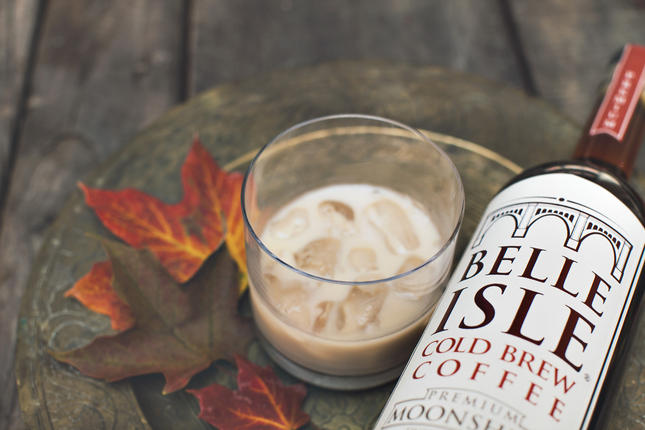 Holiday season means holiday parties.  We both know you'd rather be in the shop instead of putting on your best Uncle Eddie dickie with shear V-neck and schmoozing with people who don't want to be there either.  So whether you're putting your feet up for the day or counting down the second until you can leave after the Secret Santa gift exchange, how about we all just slow it down and enjoy the moment with "The Dude Abides" cocktail?
Ingredients:
2 oz. Belle Isle Cold Brew Coffee Premium Moonshine

1 oz. Milk (or cream)
Preparation:
Combine ingredients over ice, shake & strain into a rocks glass over fresh ice.  Abide.
I'm not talking about the creepy guy at a party offering you a pull off some mason jar full of rubbing alcohol with floaters in it moonshine.  Belle Isle is a legitimate, Richmond, Virginia made, Premium Moonshine that's smooth enough to sip in a glass.  Gone are the days the fellas were distilling in a guest bathroom and trying out new recipes with the softball team.  Pick up your own bottle (21 or older) of Belle Isle Premium Moonshine here! 
But wait… What about the Holiday Giveaway Winners?  I made you scroll through this entire post just to find out who the winners were… muwhahahahaha!  It pays to follow me on Instagram because we just wrapped up an awesome giveaway thanks to our friends at Home Depot.  First prize… a Cadillac El Dorado… Second Prize a Set of Steak Knives… Third prizes… Oh wait, this is family friendly and not Glen Gary Glen Ross.  Our prize winners are:
RIDGID Limited Edition 4 piece Brushless Combo Kit – @Cityboyfarmgirl 
Husky Tools 109 piece Mechanics Tool Set – @dc_carpentry
Winners are being contacted via Instagram.  If you're these people… check your DM. If you're not these people and still want these awesome tools, go back and read this post and then pick up these kits because they are available for a limited time at your local Home Depot.
*This post has been sponsored by these great brands and the Home Depot as part of the Pro-Spective Tool Review.  I have been compensated for my opinions.  Links provided within the post are affiliate links where Lazy Guy DIY might be compensated for steering you towards the awesome products above.