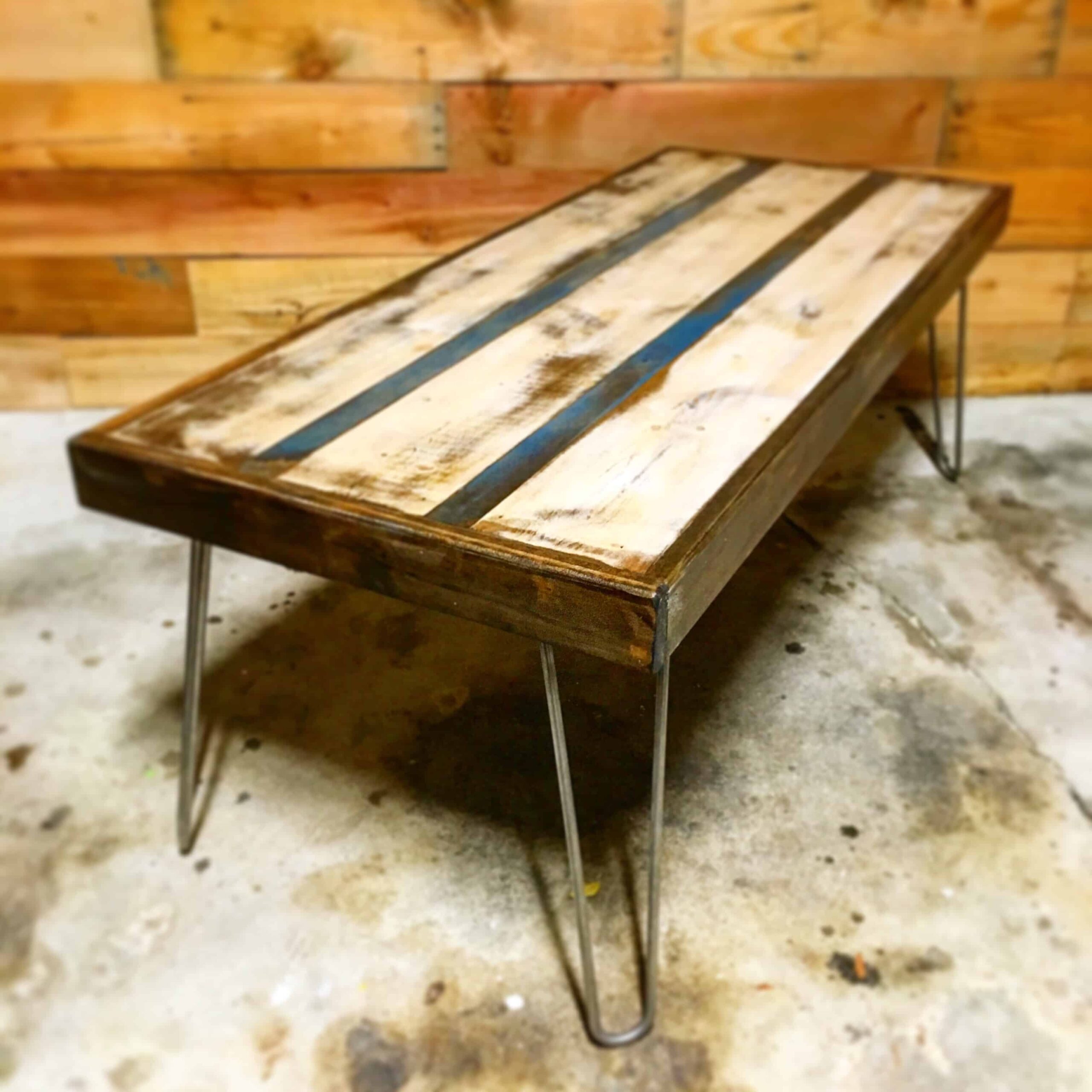 For those new to my site, I like to give a little personality to my builds so you know there's a story behind the piece.  In this case, I have an awesome sister-in-law who is a rabid Yankees fan.  Which is funny because she used to do the taxes for another team in the AL East and probably let them know how big of a Yankees fan she was while onsite (in the nicest way possible).  They returned the favor by giving her tickets specifically to games when the Yankees weren't playing and also with a nice framed print of their team's baseball stadium.  I am not a Yankees fan.  It would be more fitting if I was a Red Sox fan, but alas, I love my O's.  Still, I couldn't bring myself to make a coffee table for my sister-in-law with an "in your face" Yankees logo on it with pin striping… so I came up with the next best thing as a Christmas present.  Oh, and don't worry, someone (my wife) already spoiled the surprise of this being a Christmas present…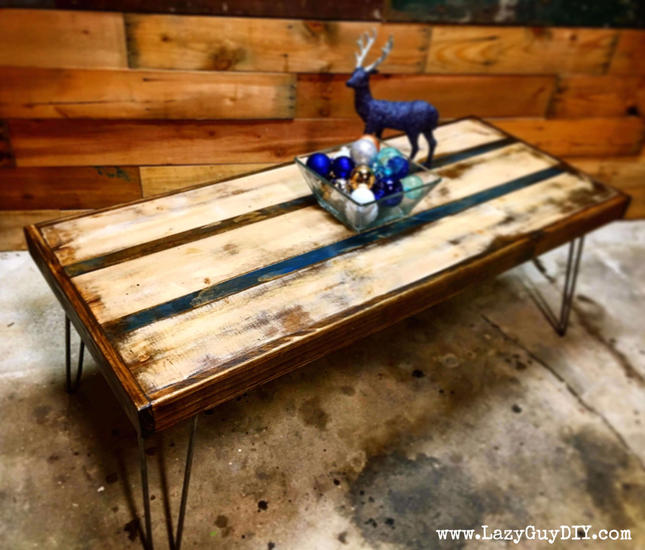 ---
Tools Used
* Below are affiliate links, so if you click and purchase you're on your way to supporting your favorite DIY'er.
Miter Saw
Table Saw
Drill/Driver
Kreg Jig
Nail Gun
Palm Sander
Clamps and Clamps and more Clamps
Router (optional for round over)
Wood Glue
Materials Needed
Set of 4 – 16″ Hairpin Legs –

(www.DIYHairpinlegs.com)

1-1/4″ Pocket Screws
1-1/4″ brad nails
(2) 1″ x 6″ x 8′ board
(2) 1″ x 4″ x 6′ board
(2) 1″ x 2″ x 6′ board
(1) 1/4 sheet (2′ x 4′) of 3/4 plywood
Cut List
(2) 1 x 4 x 48″ Side Apron
(2) 1 x 4 x 21″ End Apron
(3) 1 x 6 x 48″ Top Plank
(2) 1 x 2 x 48″ Top Plank
(2) 1 x 6 x 19.50″ leg base
(1) 19.50″ x 48″ plywood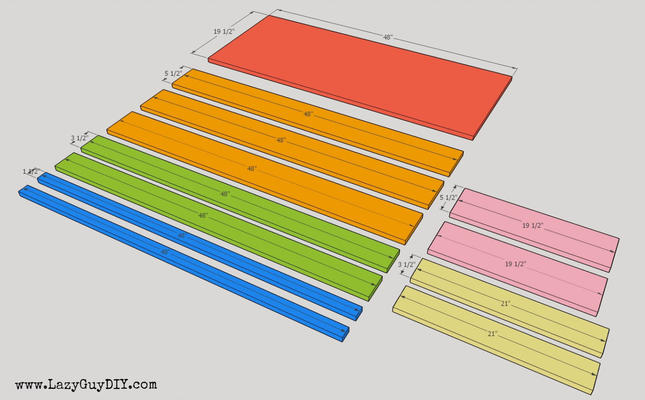 ---
Lazier than Lazy Guy and don't like reading?  Well you made it this far in the post… liar.  I also took a time lapse of the build so you can check out the build process from start to finish.
---
Let's Get Building!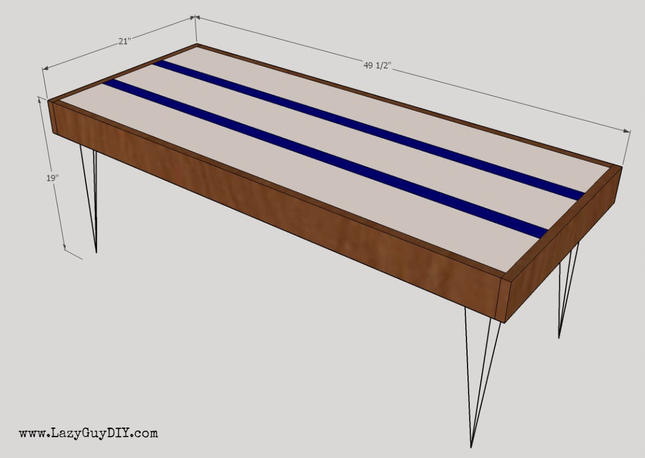 Step 1 – Table Table Assembly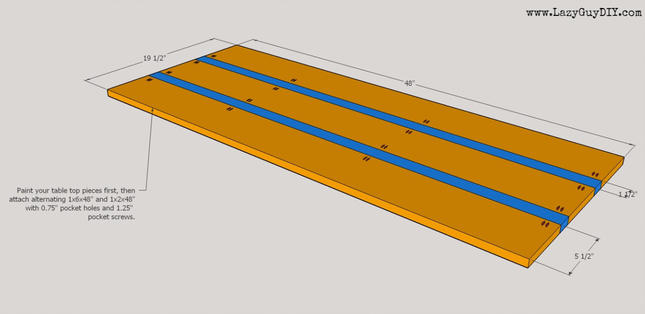 Don't be fooled by this Cremesicle and blue slushie color combo here, there's nothing ice-creamy and fun about this step!  There are no sunshine and rainbows in this build…well maybe there's holiday spirit.
After you cut your 1×6's and 1×2's to 48″, add 3/4″ pocket holes to the 1×6's to joint to the 1×2 pkanks.  This was my first time using my Kreg Jig K5 Master system… and needless to say, I liked it a lot.  So much so, that in the video you can see I added at least 20 additional pocket holes that were never used.  Whoops.. Before you get all antsy in the pantsy and want to attach the planks for the table top, take a Snickers time out.  I know this is the first step and you're already taking a time out, but this is a marathon, not a sprint.
Unfortunately, this is a hurry up and wait step.  Before you attach your planks together, they need to be painted.  It's too much of a pain to try and paint them once they attached.  So I would recommend cutting this boards first, painting, then cut your remaining before (all 6 of them while you're waiting for paint to dry).  The good news is the surface doesn't have to be perfect, so as long as things are mostly dry you can attach your planks with your pre-drilled 3/4″ pocket holes with 1-1/4″ pocket screws.  Make sure you're assembling on a completely flat surface, you don't want any buckling or your top will be wavy.  Then again… if you're making it for yourself… it's good enough for who it's for.
Step 2 – Table Top Base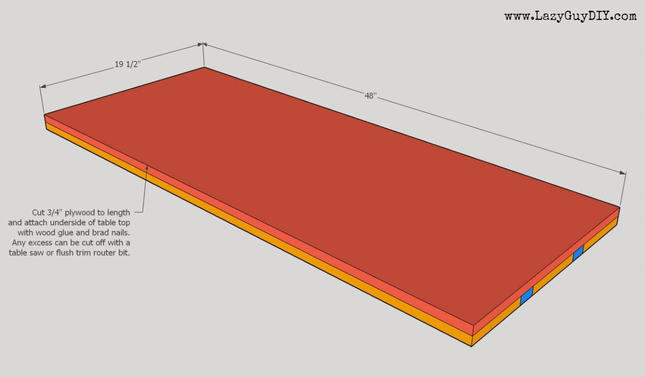 Whoa whoa whoa.  We just did all of that work with the under carriage of the planks and now we're going to cover them up?  Yes.  Don't get sentimental.
Cut your 1/4 sheet of 3/4″ plywood to length.  You should only have to trim down the short side to 19.50″ inches.  If you're sheet isn't exactly 48″ long and your planks from step 1 are slightly longer, you can always chop off the excess with a table saw or use a flush trim bit on a router.  When the plywood and the planks are the same size, line them up and attach with wood glue and brad nails.
Yes, all those beautiful pocket holes are still getting covered up.  Give yourself a second to hold them tight and kiss them goodbye, you won't be seeing them again.  Ever.
Step 3 – Table Top Aprons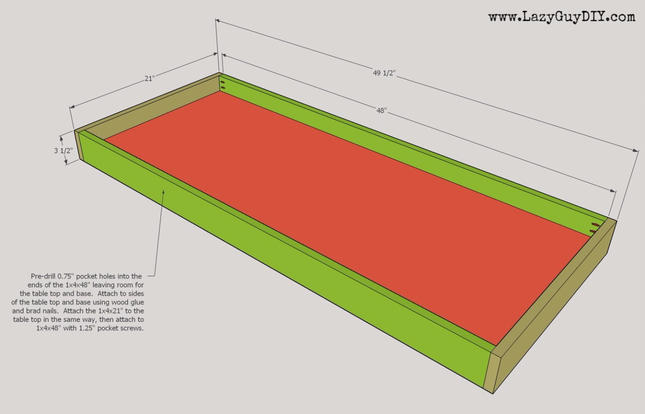 I'll admit, I have a man apron that I'll occasionally wear in the shop.  I also have a chef's apron I'll wear when I'm cooking.  If you've ever fried bacon without a shirt on, you'll understand.  Why you'd do that… I'm not sure, but much like the shirtless bacon fryer, your coffee table needs to wear an apron too.  Cut the side apron 1×4's to length, they should be right around 48″ and sit flush with the ends of the table top.  Pre-drill two 3/4″ pocket holes on each end, but give yourself enough spacing that the pocket holes are still exposed when you attach to the table top.  I don't generally advise you expose your pocket holes outside of a private setting, but if you're in your garage, it's okay I guess.  With the table top still face down, attach the side aprons with wood glue and brad nails.  Then cut the end aprons to length (should be 21″) and then attach with wood glue, brad nails and your pre-drilled pocket holes with 1-1/4″ pocket screws.
Step 4 – I Can't Feel My Legs!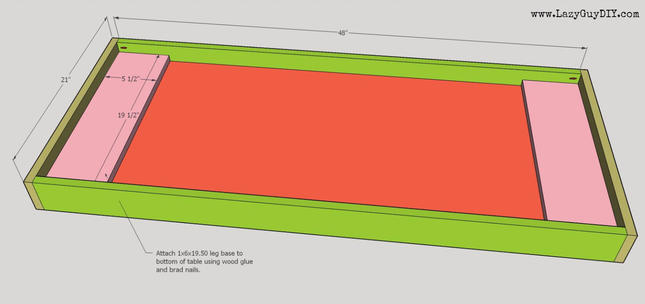 That step title is only funny to my wife and her family because their youngest sibling (number 5 of 5) would magically lose the use of his legs when it was time for him to go to bed.  Then someone would have to drag him upstairs.  So it's only appropriate that titling something that gives you a base for feet is dedicated to him.  Any who, use that last piece of 1×6 and cut two pieces to 19.50″.  The screws that come with the hairpin legs are longer than 1.5″ so a little re-enforcement to the base not only stabilizes the table, but gives you a little more meat to attach the legs too.  I attached with wood glue and a few brad nails, the screws from the legs will do the rest.
Step 5 – Bling It Out!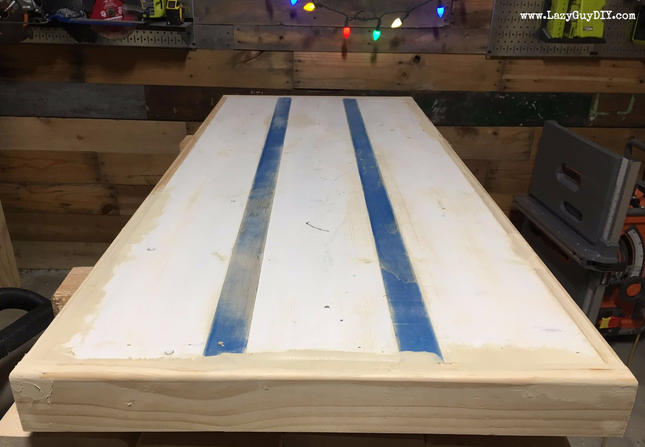 When you flip your piece over at this point, it's very easy to get discouraged.  This looks like… (_______) insert any noun with a negative connotation (Dog Doo, baby vomit, Tim Tebow throwing a football).   Stay confident though.  If you show someone and they do the ugh face, tell him to mind their own business, then remind them this is much like the very hungry caterpillar after he's been munching on 5 cupcakes, a piece of salami and so on right before he turns into a beautiful butterfly.
Take this time to route your edges if you have a router.  I used a 1/4″ round over bit.  If you don't have one, you can just sand the edges over with a palm sander.  Patch any nail holes or gaps you might have with wood filler and let dry.  Once the wood filler has cured, come back with a palm sander with a 120 grit and sand off all of the excess filler and around 25-35% of the paint on your planks.  Go back with a 220 grit and smooth out any rough spots.  You want the wood grain showing through in various areas for the next step.  Don't be afraid to go crazy, just remember, you want more paint showing than bare wood.  Thoroughly clean the entire piece of dust before proceeding.
Step 6 – Stain It.  All Of It.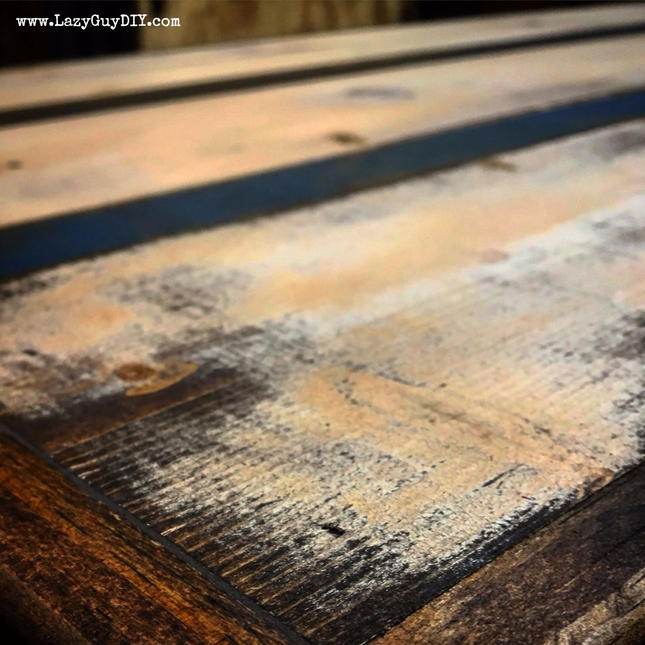 Stain the entire piece, from the aprons to the plank top (say that without thinking "from the windows to the walls").  Cover the entire thing with a darker stain of your choice.  I used MinWax – Espresso.  Do not use the poly and stain combo mixture, stain only.  What's great about all of that sanding you did in the previous step is that anywhere you exposed grain, the stain will take hold and really show throw.  Not only that, but it hides those awful Yankee colors that were right in my Baltimore Oriole loving face.  You can wipe off the excess stain starting where you first applied it and work your way around the table.  Leaving the stain on extra won't necessarily give you different results.  Remember Judgy McJudgerpants who thought your table looked like (______) in the step above?  This is where you wow them.  Just know that whatever paint color your first applied, it's going to darken up quite a bit.  You might want to try this technique on some sample pieces.  Or you might just want to toy with fate and wing it like I did.  Woodworking favors risk takers!  Wait what?
Step 7 – Attach Your Legs.  I Hear They're Important.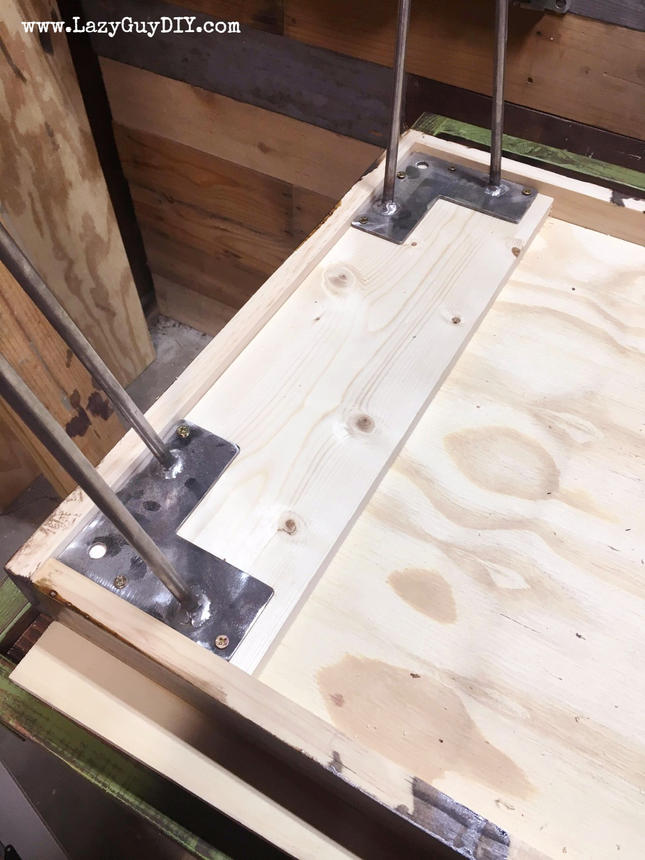 One thing a good coffee table needs are legs to stand on.  Seriously, otherwise you are one step away from being that college student that sleeps on a mattress that's directly on the floor and doesn't know what fitted sheets are.  We're sophisticated here.  We like our mattresses off the cold ground and with sheets.  Standards people!  Any who, I got these 16″ hairpin legs from the folks at www.DIYHairpinLegs.com.  The four piece, 2 rod set is typically on sale.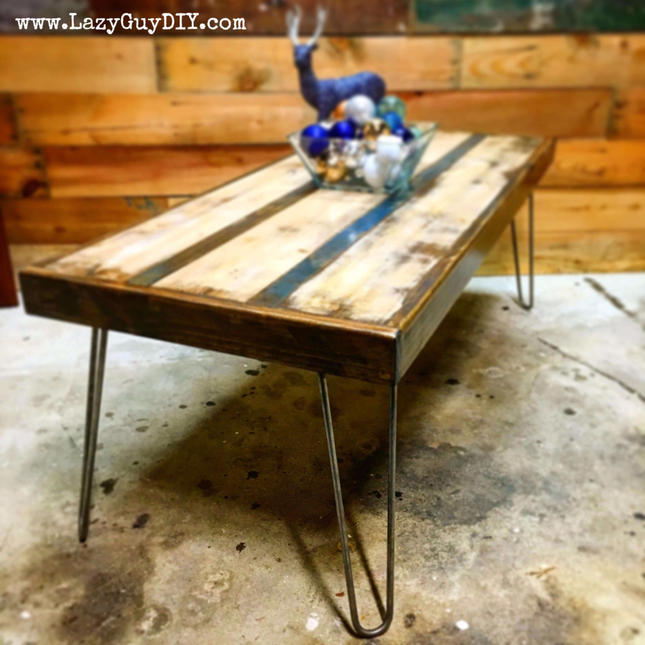 They give you everything you need to install them and maintain them.  I've given you an awesome looking piece to attach them to.  Seems like a match made in heaven. Or someone's cold garage.
Step 8 – Otter The Table…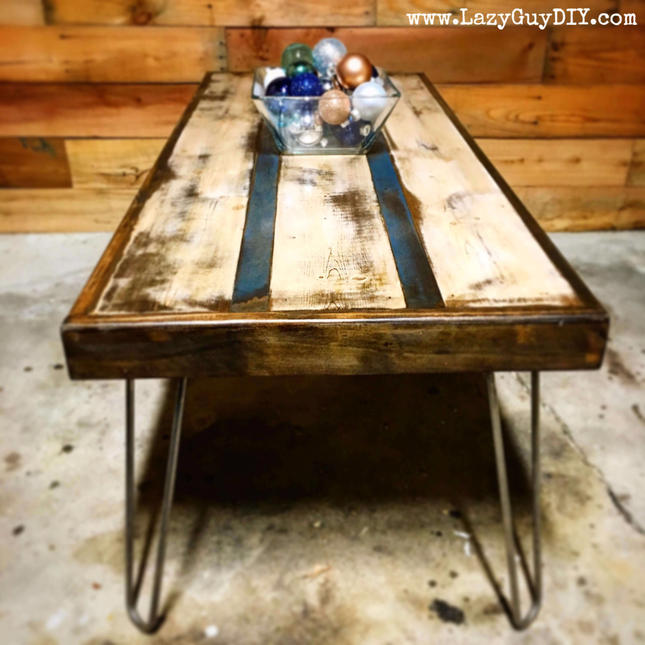 Sorry, sorry, I got my marine mammals mixed up.  SEAL the table.  I use 3-4 coats of MinWax Semi Gloss poly on most of my projects.  Apply the first coat, allow it to dry, and then hand sand (DO NOT USE A POWER SANDER) with 300+ grit sandpaper.  The initial texture after the first coat will feel slightly bumpy.  Sand the entire surface just enough to remove that texture.  Clean off the excess dust and reapply.  Repeat.  By the 3rd or 4th coat, the surface will be buttery smooth.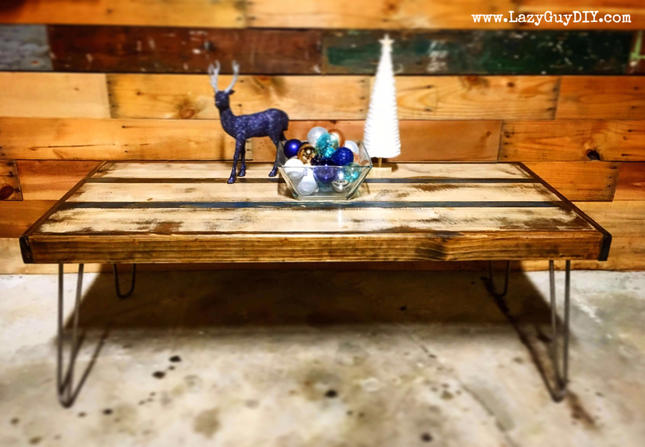 Now pop the champagne and throw the confetti.  You're done.  Try not to throw glitter though.  If there's one thing I know from having a toddler daughter it's that glitter gets every where and it will eventually end up sticking to the side of your face for several days.   There's no good explanation to your co-workers as to why you have glitter all over you.  Celebrating the birth of a coffee table is probably the least impressive answer.  Tell them you got glitter bombed by Ke$ha.
~Lazy Guy
Like Farmhouse Style Builds?  Check out these other Farmhouse Style build tutorials!