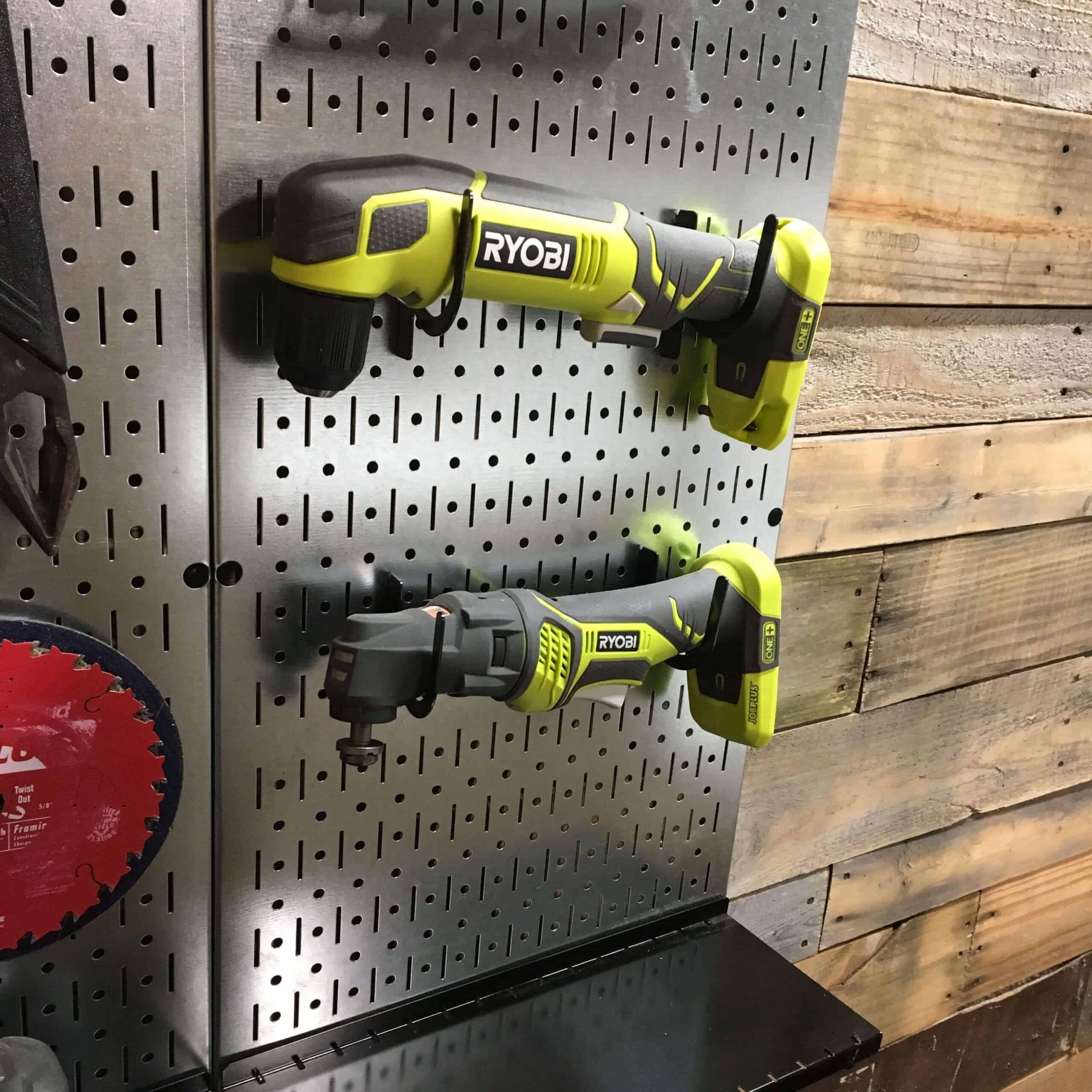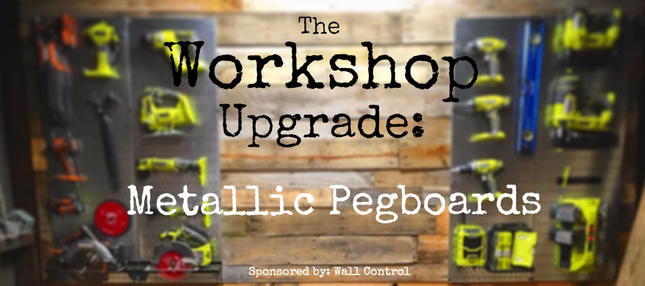 If you walked into my shop today, it would be impossible for you to not immediately notice one thing… there is a lot of chaos going on.  We're talking full blown Ian Malcolm Chaos Theory.  From stacked boxes, to lumber, to tools and extension cords, it's extremely hazardous for someone other than myself to expertly navigate the shop, but life, and Lazy Guy finds a way (hooray 1st Jurassic Park reference in the blog!).  But, there is that one place of Zen.  It's the Eye of peacefulness in the raging storm that is Hurricane Lazy Guy DIY.  Anyone can have a workshop with tools in it, but does that immediately legitimize them as someone who means business at first glance?  Or at a minimum, make your neighbor jealous?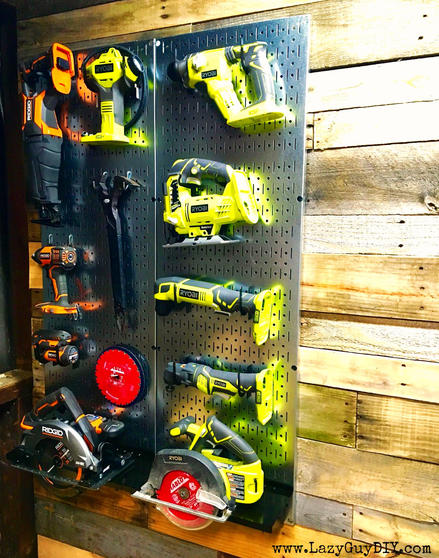 When you walk into my shop you are immediately taken back by the tool wall.  The bright green of the Ryobi tools sure helps, but it's the metallic pegboard from Wall Control that absolutely steals the show.  You can argue that this is a gratuitous display of product, but you're wrong.  This isn't the case where your dollar store BIC pen signs your name just as well as a $4000 Monteblanc pen.  This is actually one of those rare opportunities where you get total function at a budget friendly price and oh by the way, it looks absolutely stunning in person.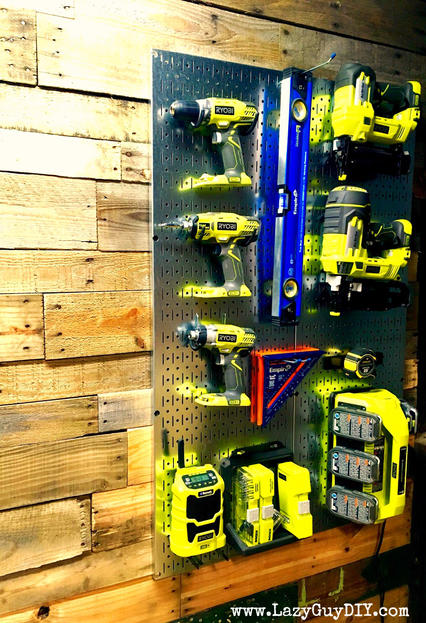 When I first decided to convert my ramshackle detached garage (let's be honest, junk storage unit) to my headquarters for this blog, I inherited a lot things in that move.  Wasp nests, the rats (ugh), a pink Barbie Power Wheels Jeep and a full sized, wall mounted pegboard to name a few.  The pegboard was your standard cardboard like composite you can pick up at any home store.  I immediately went out and bought a bunch of 1/4″ accessory hooks and started moving my tools in.  Great! I could bring all my tools from the basement and actually have a dedicated space to work on stuff!  I had just purchased my first impact driver and was ready to proudly display it and the rest of my tools I had collected over the years on the board.  Well the pegboard didn't agree.  The hooks started sagging after a day or two for anything that weighed more than a screwdriver.  And I didn't even have any screwdrivers on the board!  Then things started falling off.
While my garage isn't necessarily exposed to the elements, it does get the full blast of heat from having corrugated metal siding and all the humidity that comes from living in the South.  This wasn't going to cut it.  I could build workbenches with storage or wall units to house my tools, but I don't have a ton of space and the cost of materials was starting to get expensive.  So I went to the inter-webs and searched for a "pegboard alternative" and then the clouds parted and the light shown down from above and brought me to the website of a company based  in the State of Georgia:  Wall Control and their Metallic Pegboards.  Then I started looking at their options and prices and realized immediately that this was an extremely affordable upgrade for any DIY'er who not only wants to personalize their work space but also anyone who needs to organize their stuff and not have to deal with the mushy traditional pegboard that has to be replaced every few years. So enough world building.  Let's talk about the product.  The boards are 20-gauge steel that are manufactured here in the US.  It's not just a flat sheet of metal you are attaching to the wall like a traditional pegboard.  There's a formed flange around the entire border the lifts the board away from the wall.  If you've ever tried to push a peg hook in and hit a stud or the wall behind it, you'll immediately realize how important this feature is.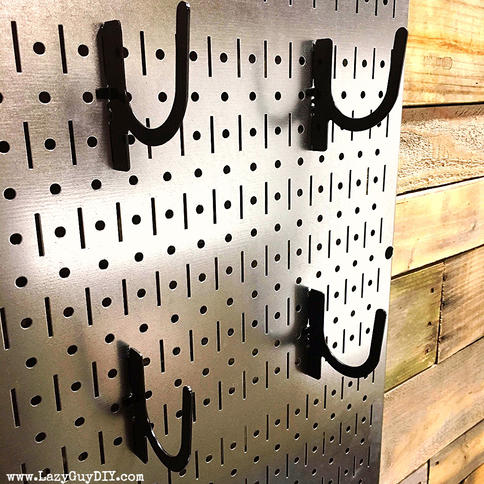 You will also never have to worry about these holes wearing out and fraying like a traditional mushy board and having your tools fall off.  Oh, and if you penny-pinchers want to justify spending a little more on these boards, having a $150+ impact driver fall out of the mush holes of the old boards and smash onto your workbench should teach you everything you need to know about cost avoidance.  Now there are other companies out there that produce a similar product, but what they don't tell you is that their pegboards don't accept traditional 1/4″ hook accessories.  You have to buy their own products at inflated prices.  The Wall Control pegboards fully accept traditional pegboard hooks in addition to taking it a step further.  You'll notice that the boards all have slotted grooves in addition to the traditional peg holes.  Wall Control also has their own line of Accessories & Hooks that fit exclusively into their boards.  Is that similar to the other companies?  Sure, but you at least get the option.  I use a little of both on my boards.  From Wall Control's line the U-Hooks, Shelves, Curved Tip Hooks and the Accessory Hangers are my coveted picks that I can't get enough of.  The 3″ U-Hooks are wide enough to hold most drills and drivers and in my case, also my oscillating tools.  Full disclosure, I was skeptical about the shelves until I started stacking my circular saws on them and realized how sturdy they were.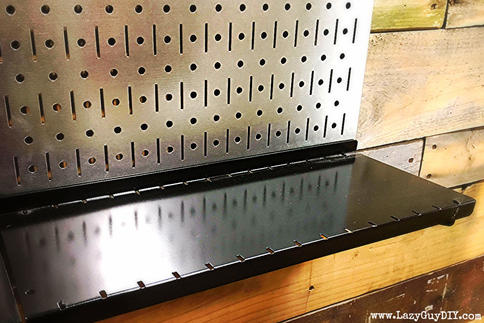 They attach with a simple bracket support and the shelf clicks into place on top.  I constantly ram into them if I have a project too close to the wall and I need to squeeze by and I have yet to knock them or my tools off the wall.  The real hero though, is the Accessory Hanger.  Do you know how often I lose my pencils and most importantly my tape measures in the shop?  It's easy to set them down and have them get covered up for weeks at a time.  The Accessory Hanger slides into the slots and gives me a dedicated home where I can easily clip all of those essentials and easily find them when I need them.  The struggle is real folks.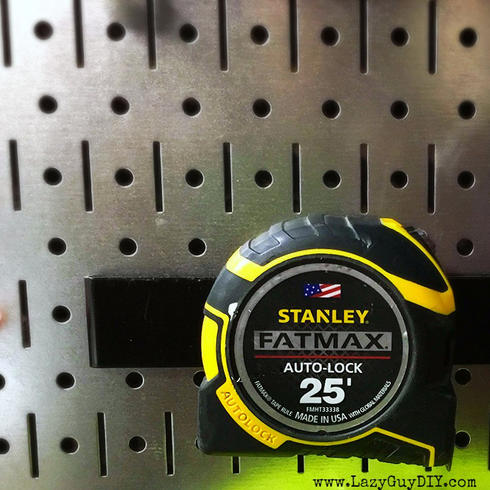 Don't think the galvanized steel is the look you want?  Come on people, industrial modern is so hot right now!  Well they also come in Red, Black, Blue, Orange, Yellow, Green, Beige and White.  That's enough options to match just about any shop, garage or craft room you could possibly want.  Did I say craft room?  Sure did.  A lot of the craft DIY'ers have started adopting pegboards to store their tools of the trade as well.  These aren't just for power tools and hammers.  The pegboards come in a variety of sizes.  From the 48″ x 32″ double boards I have in my shop, down to the tiny 3″x 32″ strips, there are plenty of options to match your need and space.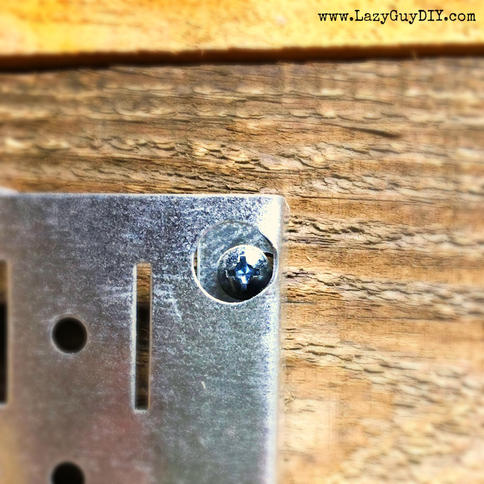 The Wall Control pegboards are also very easy to install.  Even though they are metal, they aren't ridiculously heavy (just ridiculously good looking).  I easily put mine up by myself.  If you have trouble getting helping hands, I was able to put mine up with one hand on the board and the other drilling the provided screws through the very convenient mounting slot in the flange.  I  mentioned it before, but these are meant to install directly onto the wall.  There's no framework to add underneath for spacing or mounting.  The pegboards are made in 16″ increments so you can easily mount to traditional stud spacing, but you can also attach with drywall anchors if you need to.  Because I knew what was under my pallet wall, I attached directly to the wall without the worry of located studs (and i'm lazy).  If these things fall off the wall, it's because the wall fell down with it.
When I originally envisioned my tool wall it was actually a much different picture.  I had thought about using industrial metal pipe for hooks and supports for shelving with flanges and the such.  That's your gratuitous display where function is secondary to just looking good.  What I ended up with is better than anything I imagined.  The Wall Control pegboards are very functional, will never need replacing and damn they look good too!
You can purchase Wall Control Pegboards and Accessories directly through the manufacturer's website or at the Home Depot.  Prices for the pegboards at the time of this post start $9.99 and go up.
~ Lazy Guy
Can't get enough tool storage solutions?  Check out my tool storage feed on my site for more ideas!
Products in this post were provided by the folks at Wall Control.  The posted opinions on their products are my own, because let's face it, it's MY website and I do what I want.  Muwhahaha.  But in all seriousness, I sought them out specifically to partner with because this product is so awesome.